Ladakh is India's truest travel frontier. Travelers can search for snow leopards, meet a king in Turtuk, or climb the Himalayas. But two must-see stops in the region are Diskit and Thiksey. Visitors will likely be flying into Leh, so after a night in the sleepy city hills, guests will want to make their way south for Thiksey Monastery.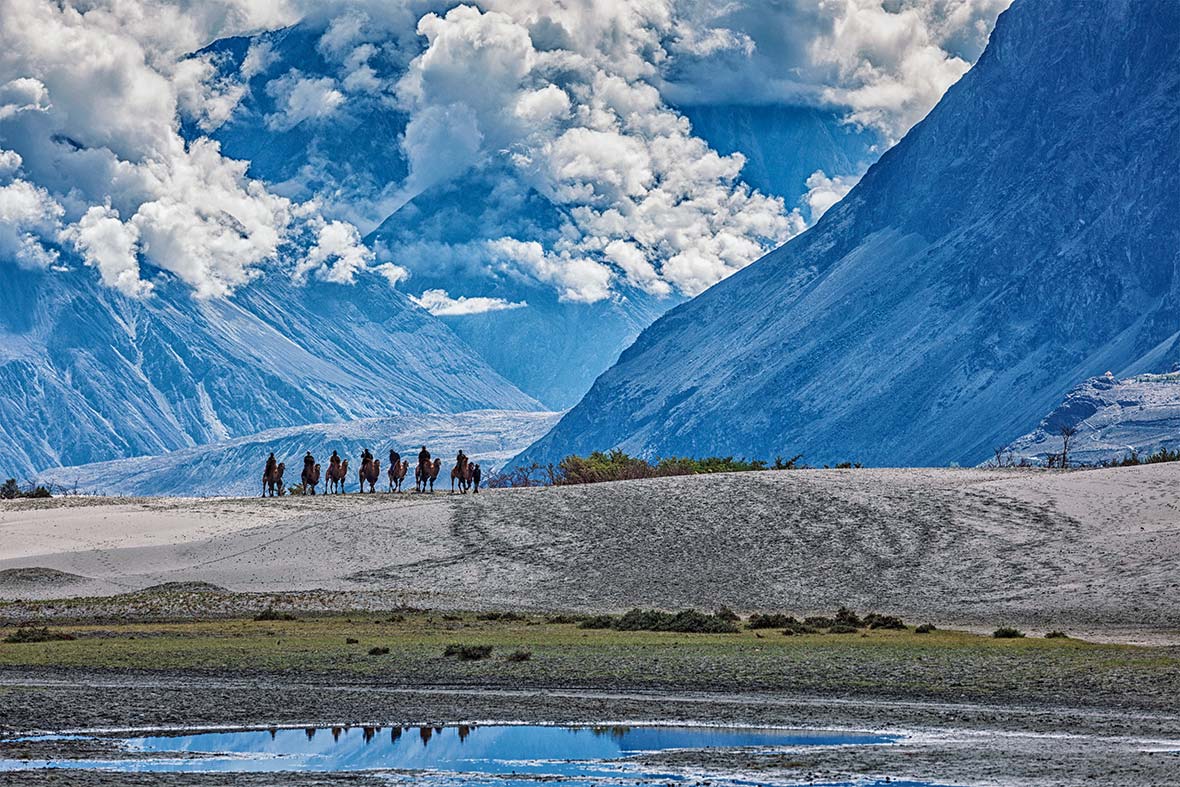 This photographer's dreamland is a Tibetan-style gompa that will seem very out of place to anyone who only knows India through the south. With roots stretching back to the 15th century, this incredible Potala Palace-like structure is an unmissable part of any trip to Ladakh.
From there visitors go through the Nubra Valley to Diskit. On the way, guests will traverse Khardung La pass; one of the highest motorable passes in the world, you can spot two-humped bactrian camels and glaciers along the way.
At Diskit travelers can rest their bones and enjoy the oldest and largest Buddhist monastery in Ladakh: Diskit Gompa. The Bhuddhist structures, statues, and artworks here are among the most impressive in Asia.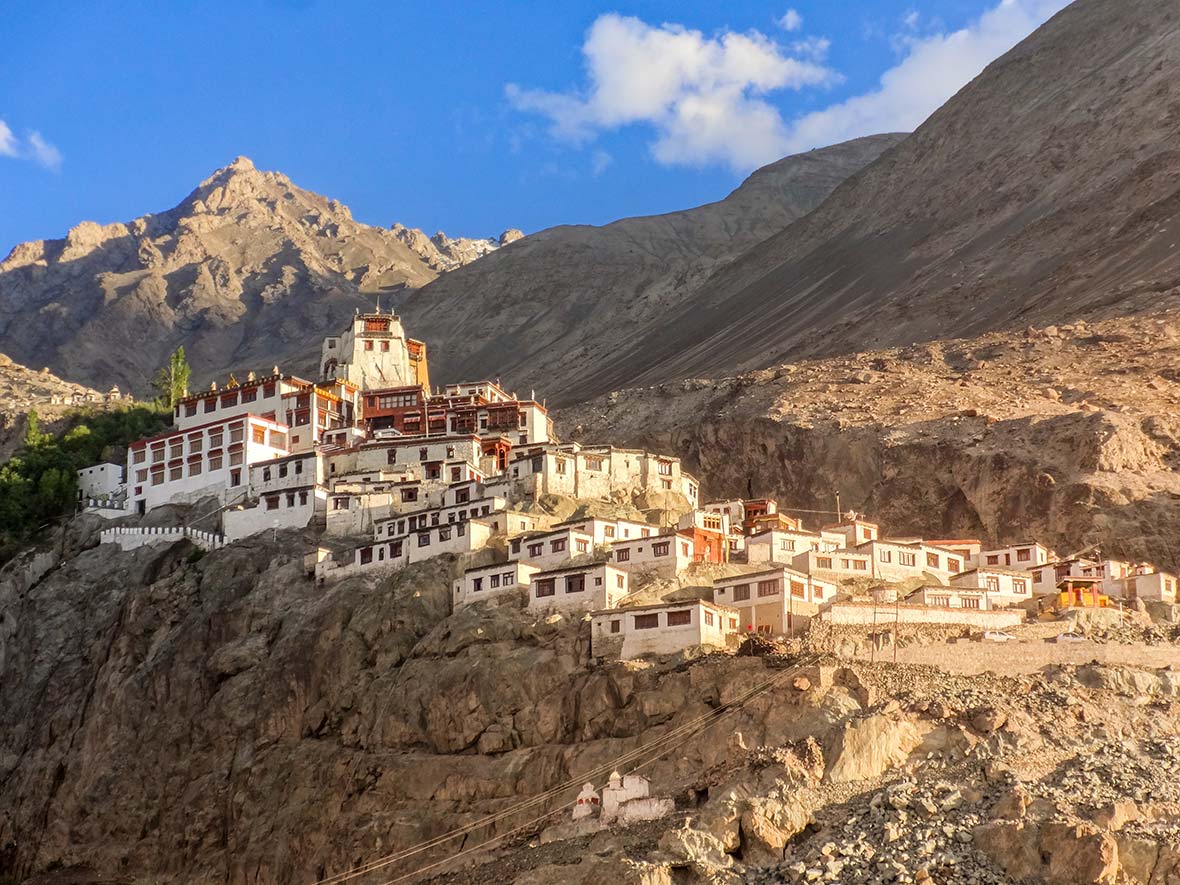 "We were ushered in to the main tent that acts as reception, the library lounge and the best chance at an internet connection in the camp. As part of our registration process, the resident doctor checked our blood pressure and oxygen levels to ensure the thin air was not having any adverse effects – and reminded us that as we were at 11,500 feet, we should take it easy, particularly on the first day, while we acclimatized to these heights (which included no wine – a rule we summarily broke within an hour to no ill effects)." – Victoria Hilley, Remote Lands general manager.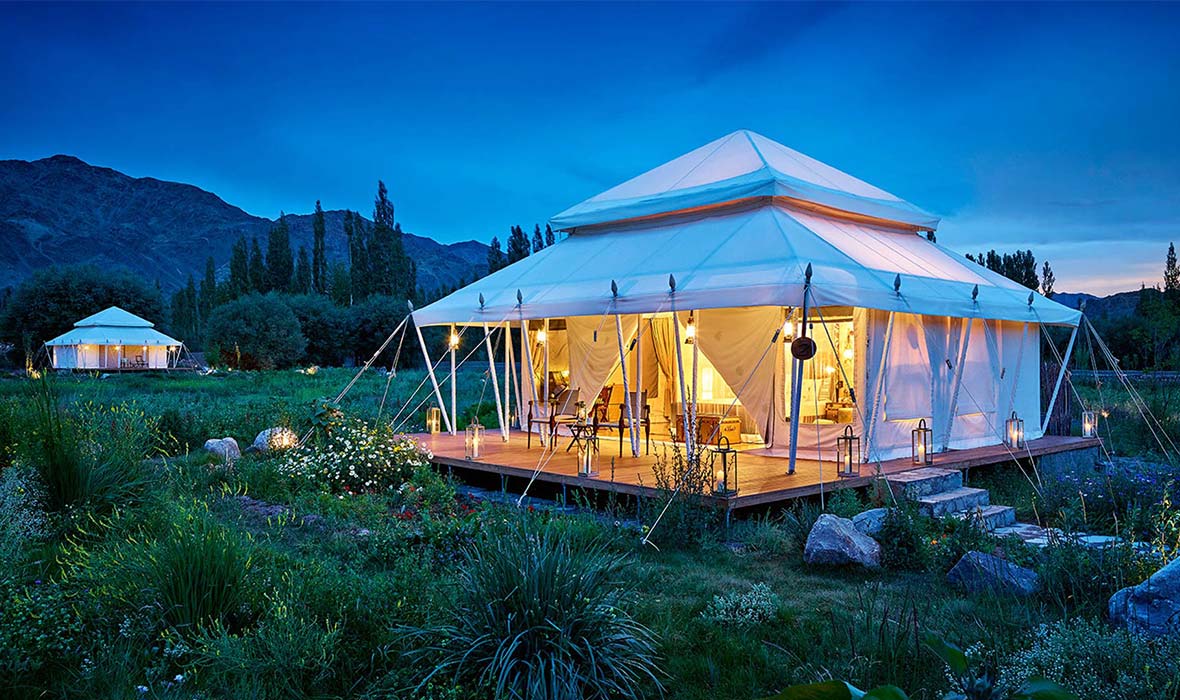 Ladakh may be the edge of the world, but there is still comfort to be had here, specifically with The Ultimate Travelling Camps in both Thiksey and Diskit.
The spacious, exceedingly comfortable glamping tents for which TUTC is known are perhaps best exemplified at the Thiksey Camp's Presidential Suite. Here the whole family can join in a North India adventure in the style of a Himalayan safari: excellent food, spacious luxury accommodations, a verandah area, and an extra wing which can accommodate two more beds.
Chamba Camp Diskit just outside Diskit village is done in a more rustic style, a mystique enhanced by the landscape. Camp Diskit offers many excursions, including the sand dunes at Hundar for a camel ride and hiking the holy Yarab Tso Lake.
Lurkjing furtively among the coarse, weathered mountains of the dry Ladakh region of India is one of the most illusive creatures in the natural world, a majestic beast of stealth and solitude. But, tough luck for the leopard because every photographer, videographer, and nature lover worth their salt wants nothing more than to catch a glimpse of this majestic cat in the wild.
Spotting one of the four to seven thousand remaining snow leopard adults is no easy feet – harder still to do so responsibly and with respect for the environment. Distinct for their thick white, yellow or gray coats, spotted with rings of black and brown, snow leopards are built for survival in the dry, rocky terrains on top of the world.
Rahul Sharma, an expert in finding the snow leopard, believes there are three keys to a successful snow leopard trek: comfortable accommodation, a knowledgeable guide, and very, very good luck.