With traditional Thai massage having been recently added to UNESCO's Intangible Cultural Heritage of Humanity list, ancient techniques that have soothed aching muscles for centuries have now been immortalized alongside the likes of Belgian beer culture and Indian yoga. The art of "Nuad Thai," as it's known in Thailand, is held in high regard as an area of traditional Thai healthcare, and there is no better place to experience this culturally fascinating practice in modern times than at one of Bangkok's most famous attractions – "Wat Pho," or the Temple of the Reclining Buddha.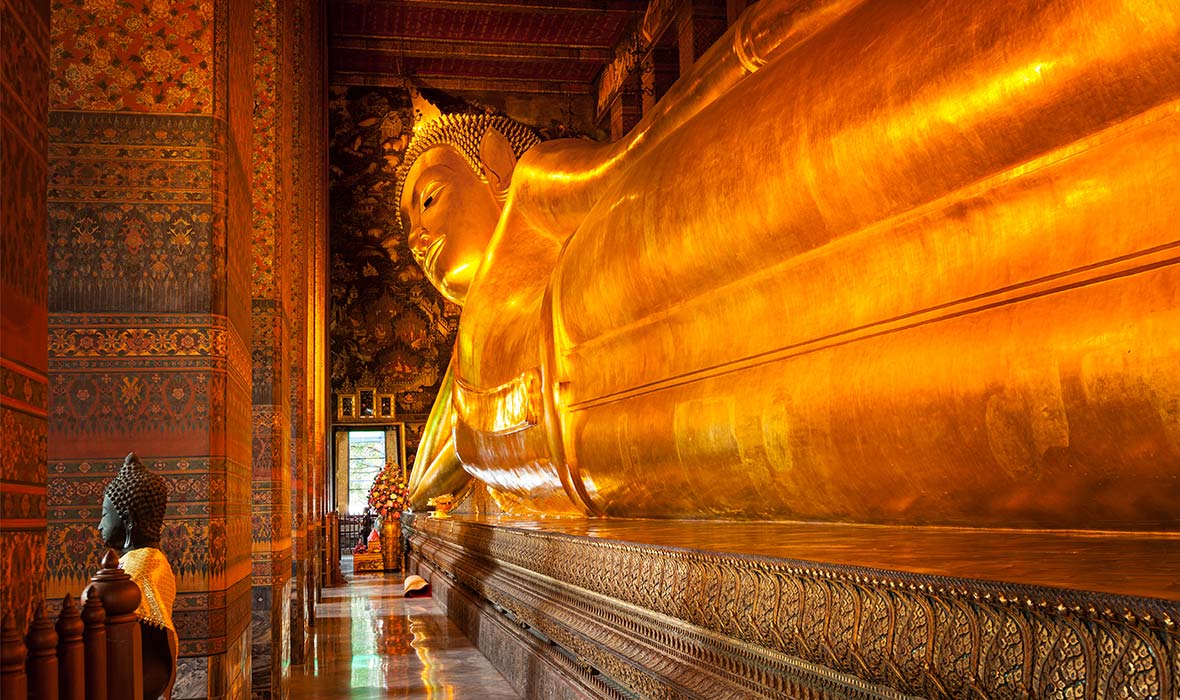 Thai massage therapists interact with patients by moving their bodies through a series of different positions intended to rebalance their body, energy, and structure. Typical Nuad Thai sessions can vary in length, but nearly any massage includes a therapist performing manipulations with their hands, elbows, knees, and feet, as well as applying hot, aromatic compresses to reduce inflammation. Nuad Thai massage therapy stems from working-class Thai society of the past in which villages had their own resident massage healers who would come to the aid of sore workers returning from the fields.
While hordes of tourists may flock to Wat Pho just to get a selfie with the famed gigantic statue of a reclining golden Buddha, it is also one of the world's best places to experience this kind of authentic Thai massage. The walls and pillars of Wat Pho have long been inscribed with decorations and images depicting traditional medicine – a visible testimony to the temple's history as a center of education. Among the images visitors may see when visiting the temple are diagrams showing the "sen," or energy lines, that Nuad Thai practitioners believe flow throughout the human body.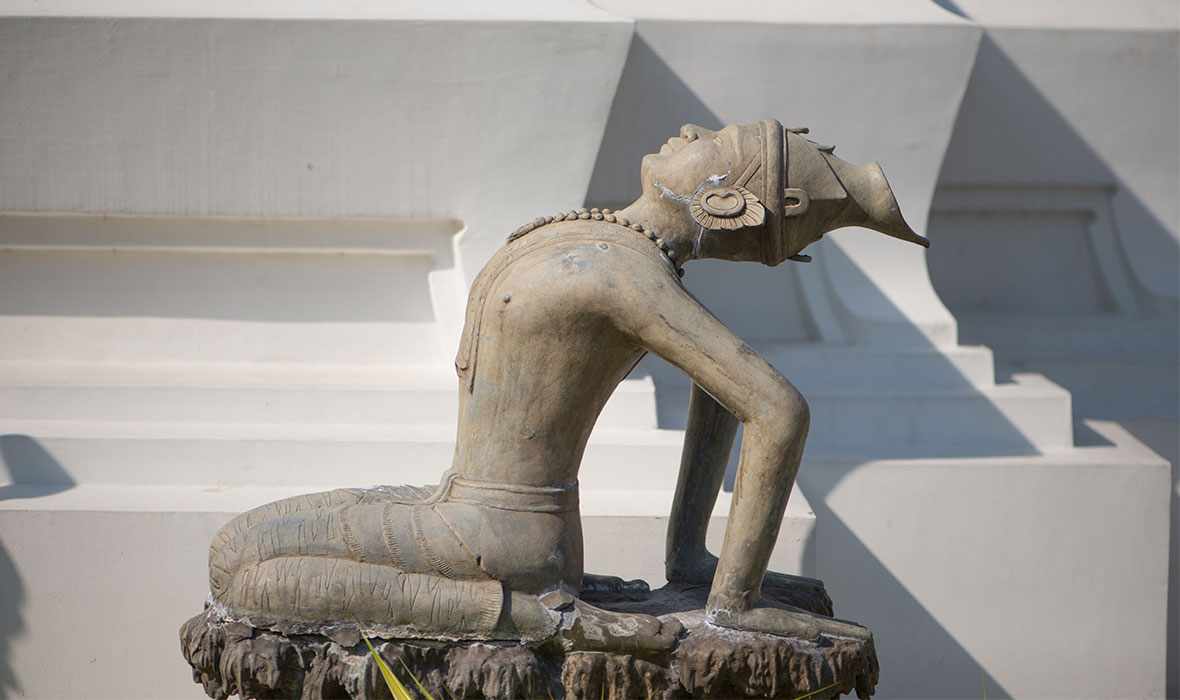 Travelers looking to book a massage at Wat Pho should highly consider doing a complete two-hour session to fully experience this fascinating cultural phenomenon. Common options include a foot, oil, or face massage, but traditional Thai medicine leaves the door open for other areas of emphasis, especially since Nuad Thai has always been used to treat a variety of different illnesses besides just sore muscles. For example, the in-house Wat Pho Thai Traditional Medicine School – which conducts classes for both amateurs and aspiring professionals – offers numerous courses within the two overarching distinctions of Thai massage for preventive health and Thai massage for therapy. "Short courses" offered by the school range from Thai Massage and Foot Massage to Advanced Medical Thai Massage, Women's Healthcare Massage, and Facial Massage, just to name a few.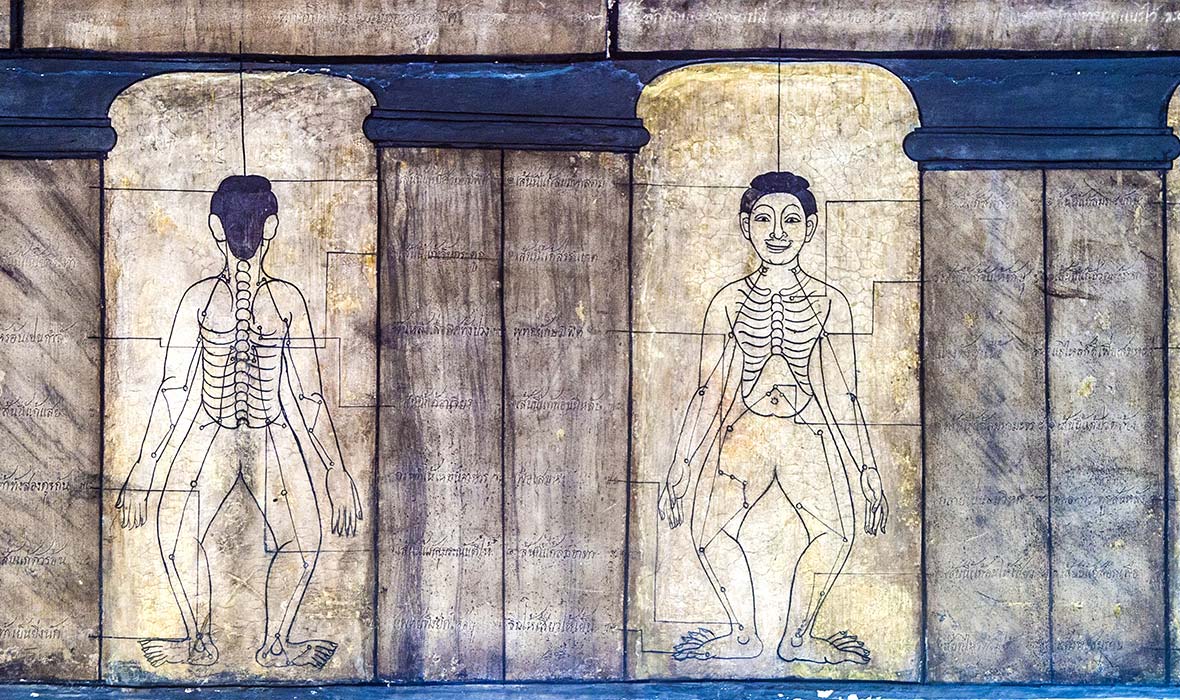 But those who are interested in mastering the art of Thai massage overnight should be warned: even the basic General Thai Massage course offered by the school is comprehensive and lasts a full five days. That said, anyone who does take the challenge and enrolls in the course will come away having learned all aspects of a basic-level Thai massage, starting from etiquette, hand-laying, alignment, positioning, and line massage. Professional-level courses can even take up to 30 days.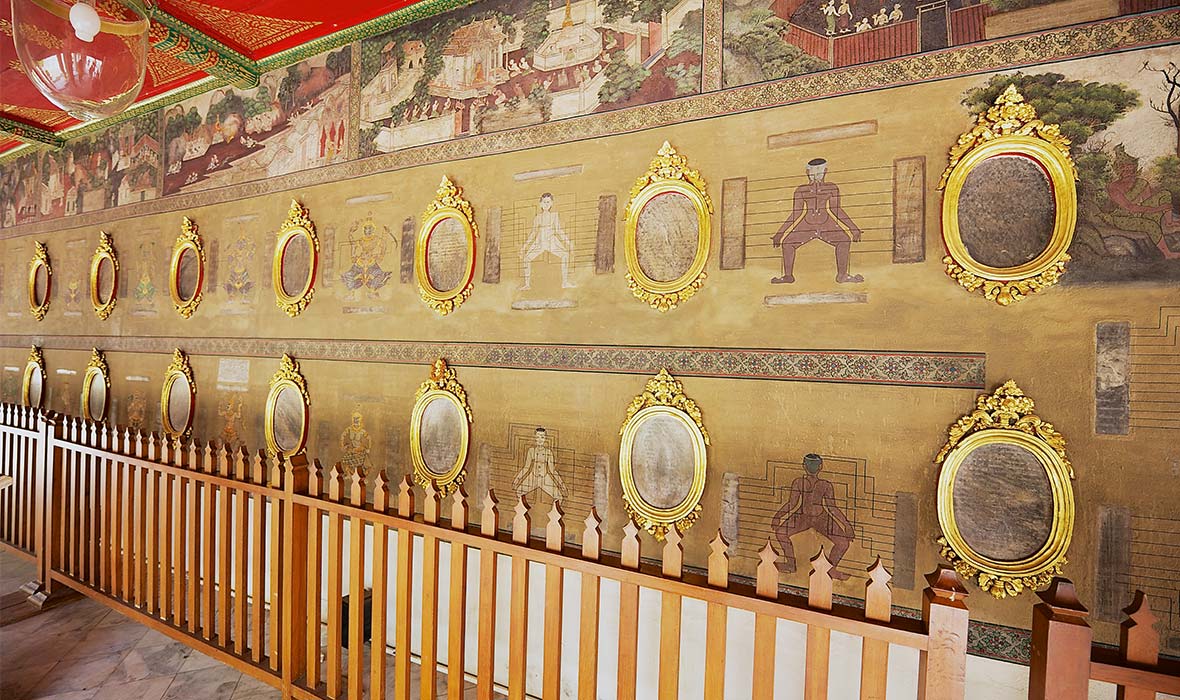 For travelers who are just looking to receive a massage, sessions at Wat Pho are carried out in the northern compound, which also houses the Thai Traditional Medicine School. Thai massage sessions have a reputation for leaving recipients with an invigorated, relaxed feeling for days after, owing in part to the fact that the at-times vigorous motions used by therapists tend to reach deep-seated muscle tissues. The massages generally don't use oil – just pressure and the occasional herbal heat compresses – and are ideal for on-the-go travelers who need to relieve stress and focus on wellness before returning to their day's activities.
The UNESCO "cultural heritage" tag has cemented the tradition of Nuad Thai massage as a human practice that should be remembered, revered, and preserved for generations to come.
Travelers to Bangkok visiting marquee sites like the Grand Palace, Wat Phra Kaew, Wat Arun, and even Wat Pho itself might easily overlook the opportunity to indulge in and learn about this unique healing discipline amid all of the other sights and activities in the capital. But this would be a big mistake, as they need only tap into the expert therapists behind the school at Wat Pho to experience the historic techniques of Thai massage firsthand.