There's not a whole lot you can't do in the Maldives. Underwater hotel rooms? No problem. Stargazing from a private observatory? Definitely. Classic movie on the beach? Why not. So, it really shouldn't come as a surprise that COMO Maalifushi is bringing a pleasure often thought best suited to mountain streams to the clear waters of the Indian Ocean. Yes, there is fly fishing – as well as deep sea fishing – at one of the most luxurious resorts in the Maldives.
This January through April 2019, COMO Maalifushi in the Maldives' Thaa Atoll will begin offering chartered fishing trips to both the flats and deeper reef bottoms that border the resort to the north and south.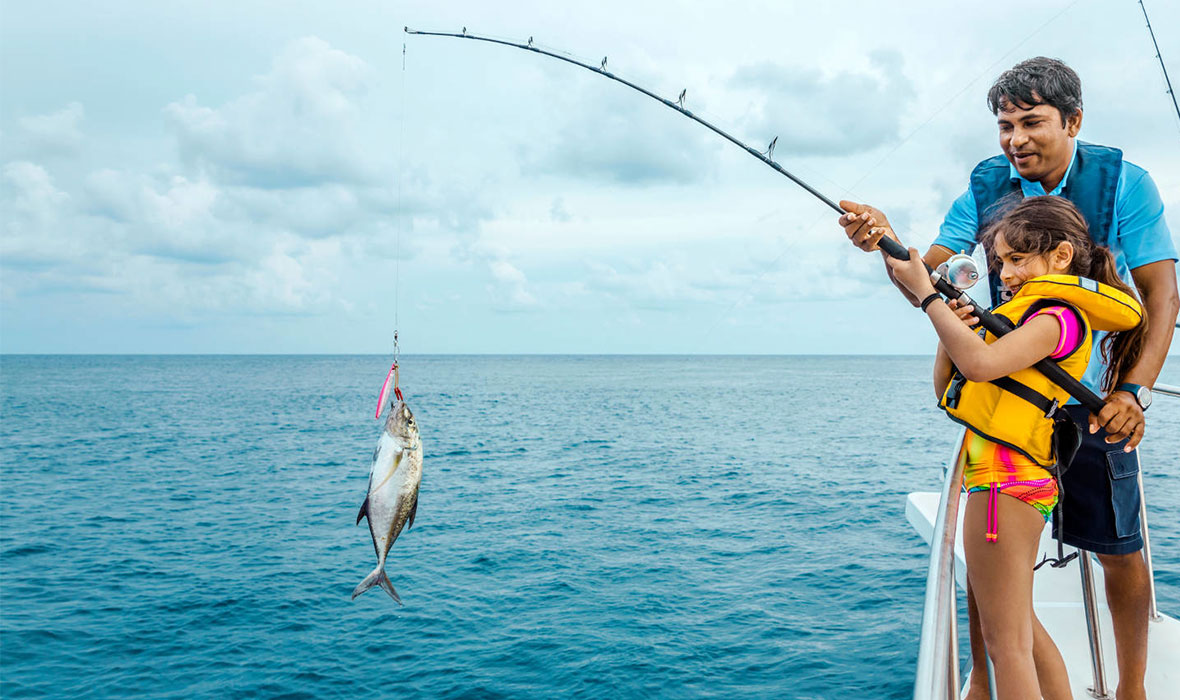 Guests may book fly, light tackle, or sunset bottom fishing trips, all of which include an experienced guide, charter of an 18-foot Hewes Redfisher flats boat, and a shot at catching a plethora of species including bonefish, triggerfish, tuna, six varieties of trevally (including the notorious giant trevally, or "GT"), red snapper, marlin, and many more.
Fly anglers in particular will find a wide diversity of species that inhabit the virgin flats and drop-offs that surround the Thaa Atoll. The most sought-after species for anglers looking to present a fly on the sandy flats – bonefish, triggerfish, and trevally – are exciting, vigorous fighters sure to run and often even jump clear out of the water, putting any angler's skill to the test before finally tiring and coming to the boat. Casting crab and shrimp flies to these feeding fish is often a visual experience that COMO Maalifushi's seasoned guides have mastered. In keeping with modern practices of responsible sport fishing, all charters venturing out onto the flats adhere to strict catch-and-release practices.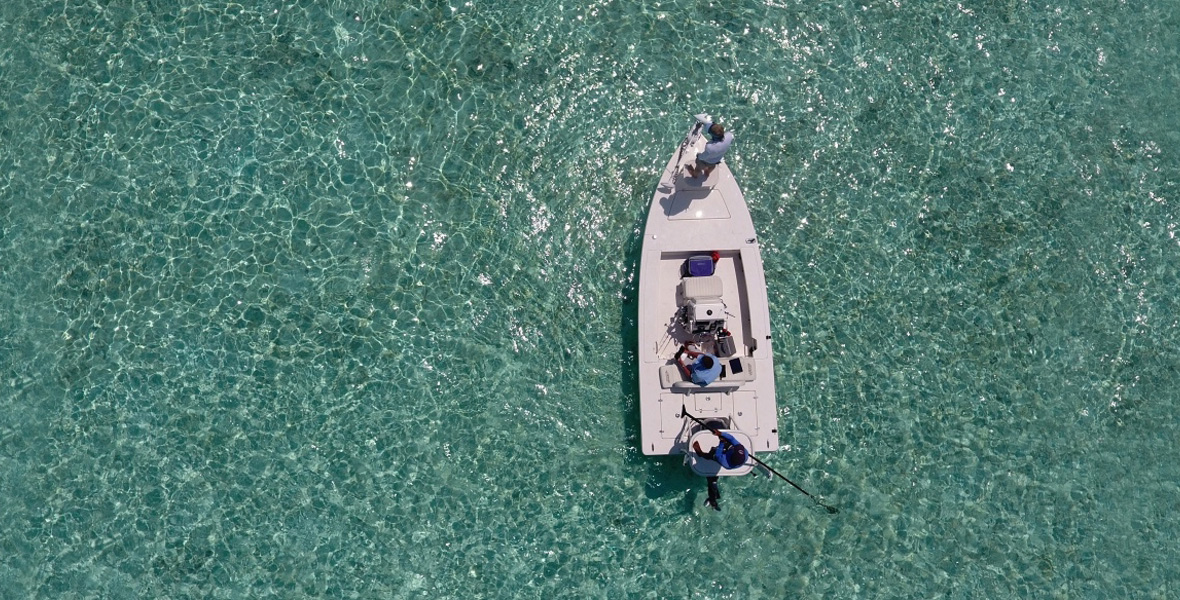 In addition to fly angling, light-tackle and deep-sea fishermen will also find ample opportunities to pick up species such as trevally and red snapper on lures cast beyond drop-offs or even marlin on jigs bounced down deep. Any flats-caught fish – whether on light-tackle lures or with flies – must be caught and released, but potential deep-sea quarry such as red snapper, grouper, barracuda, and marlin may be kept and prepared by resort chefs for lunch or dinner the following day. One exception to this rule is the billfish, which must be tagged and released immediately upon catch according to the resort's conservation policy.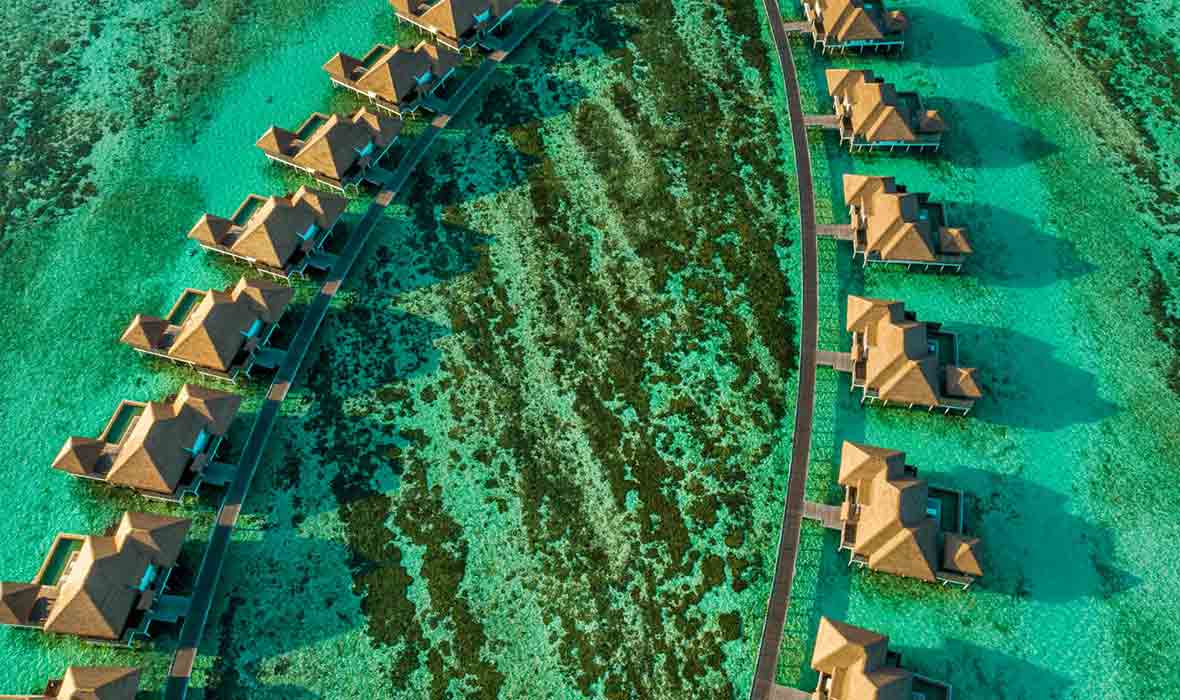 Guests on all of COMO Maalifushi's guided fishing trips can also expect to be outfitted with only the best gear and tackle, according to their chosen angling method. Fly anglers will be equipped with 9' 8-weight Scott Meridian rods and Hatch 7-Plus Finatic reels with fully sealed drag systems built to withstand even the harshest saltwater corrosion and long fights with hard-pulling, aggressive fish. For light-tackle fishing and deep jigging, anglers will receive G Loomis NRX Inshore 15- 40-pound rods paired with Shimano Twin Power 8,000 reels. Also available are Synit Razor jigging rods and sturdy Studio Ocean Mark L120 Hi or L30 Hi jigging reels that allow anglers to put the brakes on powerful fish on the reef.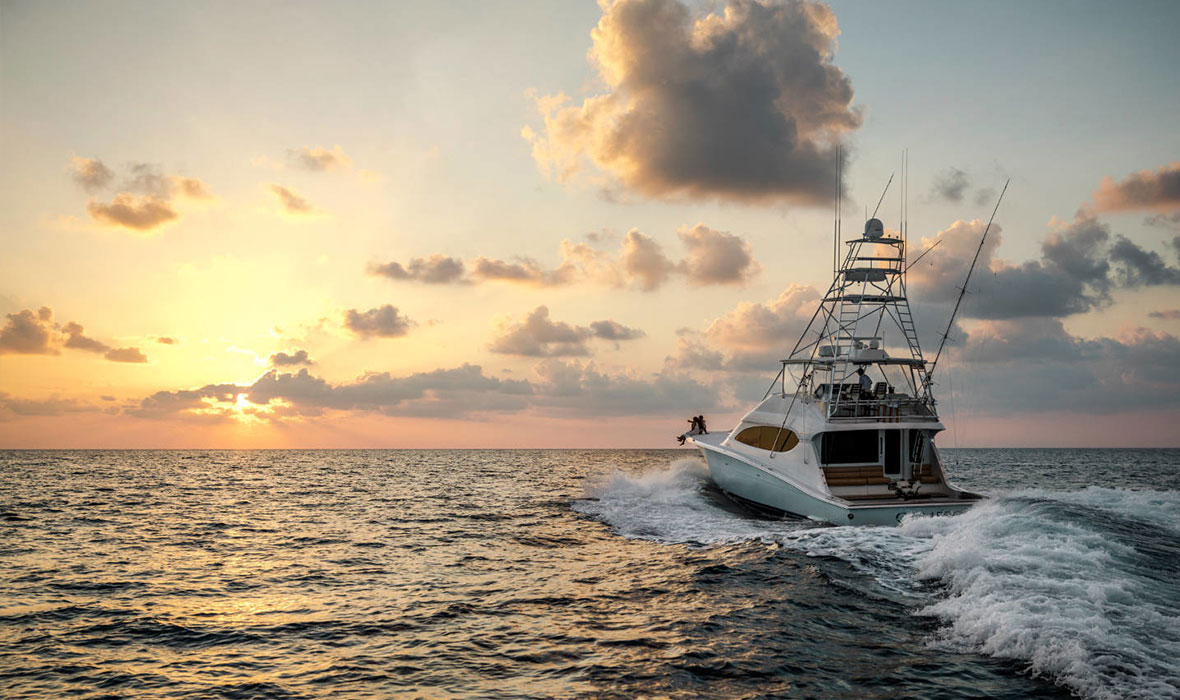 No description of chartered fishing operations at COMO Maalifushi would be complete without mention of the resort's 68-foot Hatteras yacht, "Cameron," which enables exploration of even the farther reaches of the Maldives archipelago. The yacht often sets out from the Thaa Atoll with a skiff in tow, allowing guests to access and fish as wide a variety of water types and environments as possible, from the skinniest flats to deep inter-atoll channels.
Anglers who are used to throwing down a sleeping bag in a tent during the course of a usual fishing expedition will be wowed by accommodations at COMO Maalifushi. A guided session spent chasing tailing bonefish on the flats will feel all the sweeter upon returning to one of the resort's 65 overwater villas and beach suites. Where dining is concerned, the resort's three restaurants: Thila, Tai, and Madi, serve freshly caught seafood accompanied by native tropical produce and artfully crafted cocktails. And any angler with a sore elbow or shoulder brought on by a day of tight lines and screaming reels is sure to find relief in one of the resort's eight overwater, ocean-facing treatment rooms or steam rooms. For guests seeking a more active form of relaxation after a day on the water, there is an open-air yoga pavilion.
COMO Maalifushi's greater ethos of sustainability that is evident in the practice of catch-and-release flats fishing pervades the resort in many other ways. Maybe most notable is a commitment to eliminating plastic products in daily resort operations. COMO Maalifushi provides guests with refillable glass bottles of water rather than plastic ones, for example, in a step aimed at reducing the immense amount of non-biodegradable debris that ends up in the planet's marine environments.