JW Marriott Emerald Bay is the property putting Phu Quoc on the map for luxury travelers, and earlier this year this ultra-luxe beachside resort opened a new haute cuisine dining option to offer their discerning guests: Pink Pearl. The Pink Pearl is – as the keener among you may have guessed – quite pink in design, drawing inspiration from Madame Pearl Collins. The venue will be bringing some much-needed French fine dining to this Vietnamese beach treasure.
Madame Pearl Collins was a prominent socialite and hostess of Vietnamese colonial times whose eccentric – yet stylish and ornate – tastes for lavish decoration and French colonial traditions are the inspiration behind Pink Pearl.
The restaurant, which opened as of October 2018, serves the best of French cuisine and includes a high-ceilinged main dining hall, five private dining rooms, and an intimate wine-tasting room. Guests may also opt to dine alfresco in the outdoor garden set against a backdrop of the lush tropical foliage, expansive coastline, and aquamarine waters surrounding the JW Marriott Phu Quoc Emerald Bay Resort and Spa.
The array of dishes prepared by the Pink Pearl's award-winning head chef, Amine Lakhdari, will rotate every few months with an eye towards bringing guests a classical 1920s French dining experience with a modern, innovative twist.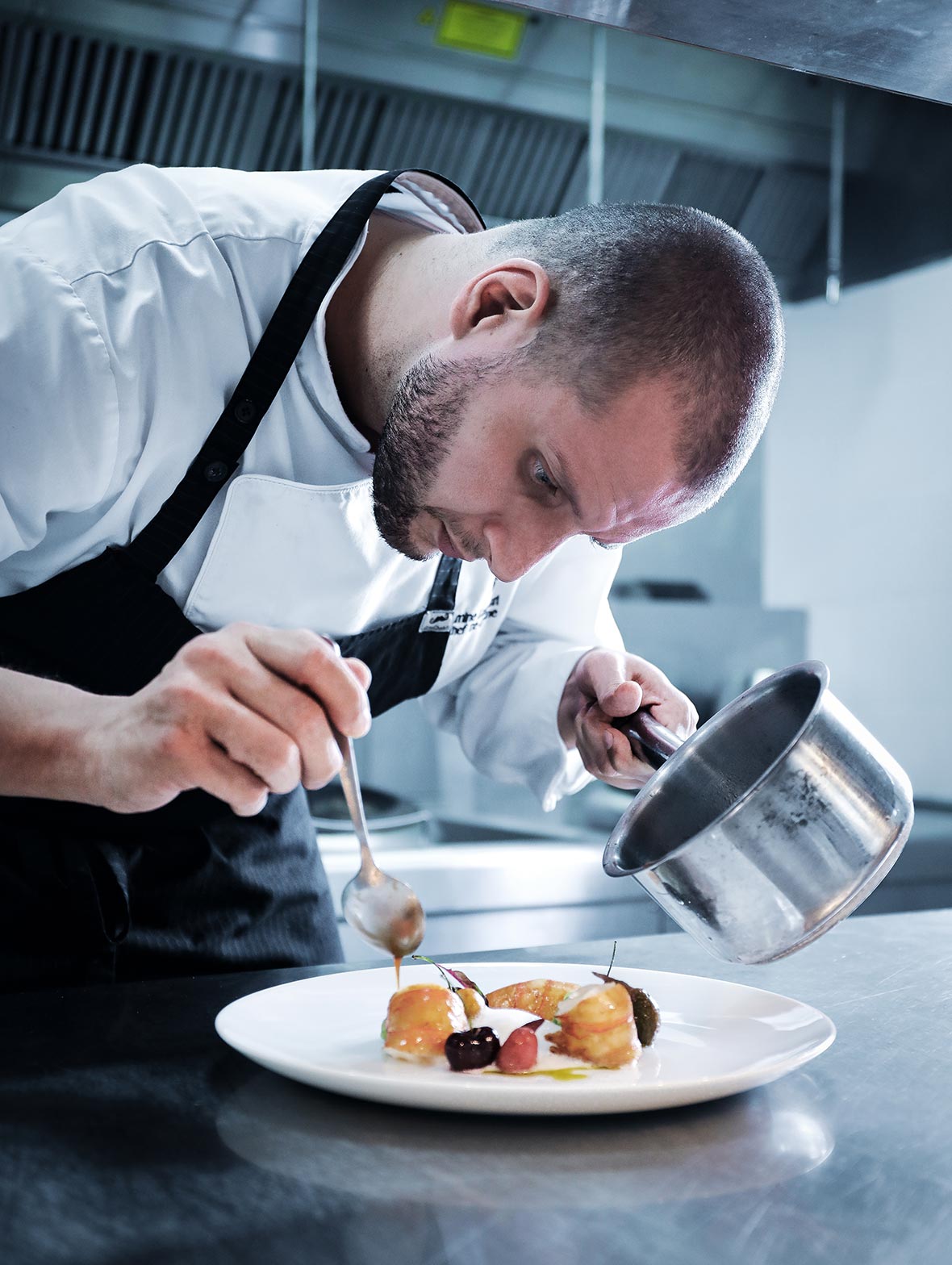 Chef Amine's approach to French cuisine is informed by his past experience working among the ranks of various French Michelin-starred restaurants. Pink Pearl's rotating menu speaks to an overall belief in utilizing seasonal, farm-to-table ingredients produced within immediate proximity to the JW Marriott Phu Quoc whenever possible.
Coupled with his additional years of experience living in Southeast Asia and refining his craft after moving to the region in 2012, Chef Amine's commitment to thinking outside the proverbial culinary box is evident in signature dishes such as the Phu Quoc Sea Urchin and Opera Pearl Marou Chocolate. The former is a nod to the sea urchin, a local treasure and delicacy, in which the spiny Vietnamese favorite is prepared with archetypical French techniques, and the latter is a creative desert paying homage to the sweet cocoa bean derivative that is one of Vietnam's primary exports.
Pink Pearl's colorfully adorned interior spaces – the brainchild of renowned luxury hotel designer Bill Bensley – blend tones of magenta, fuchsia, and ivory and feature plush couches with chintz cushions and artfully arranged tables crowned by fresh floral centerpieces.
In keeping with his wish to deliver JW Marriott Phu Quoc guests an overall theatrical experience built upon the legend of the French colonial high-society figure of Madame Pearl Collins, Bensley has also furnished the restaurant's spaces with a curated collection of sculptures. The immersive experience is also rounded out by the sounds of classical pianists and violinists and a French opera performed for diners from the mansion's upper balcony.
Bensley also designed the JW Marriott Phu Quoc Emerald Bay Resort and Spa as a whole, and Pink Pearl joins the ranks of the other dining options featured at this flagship Vietnamese resort.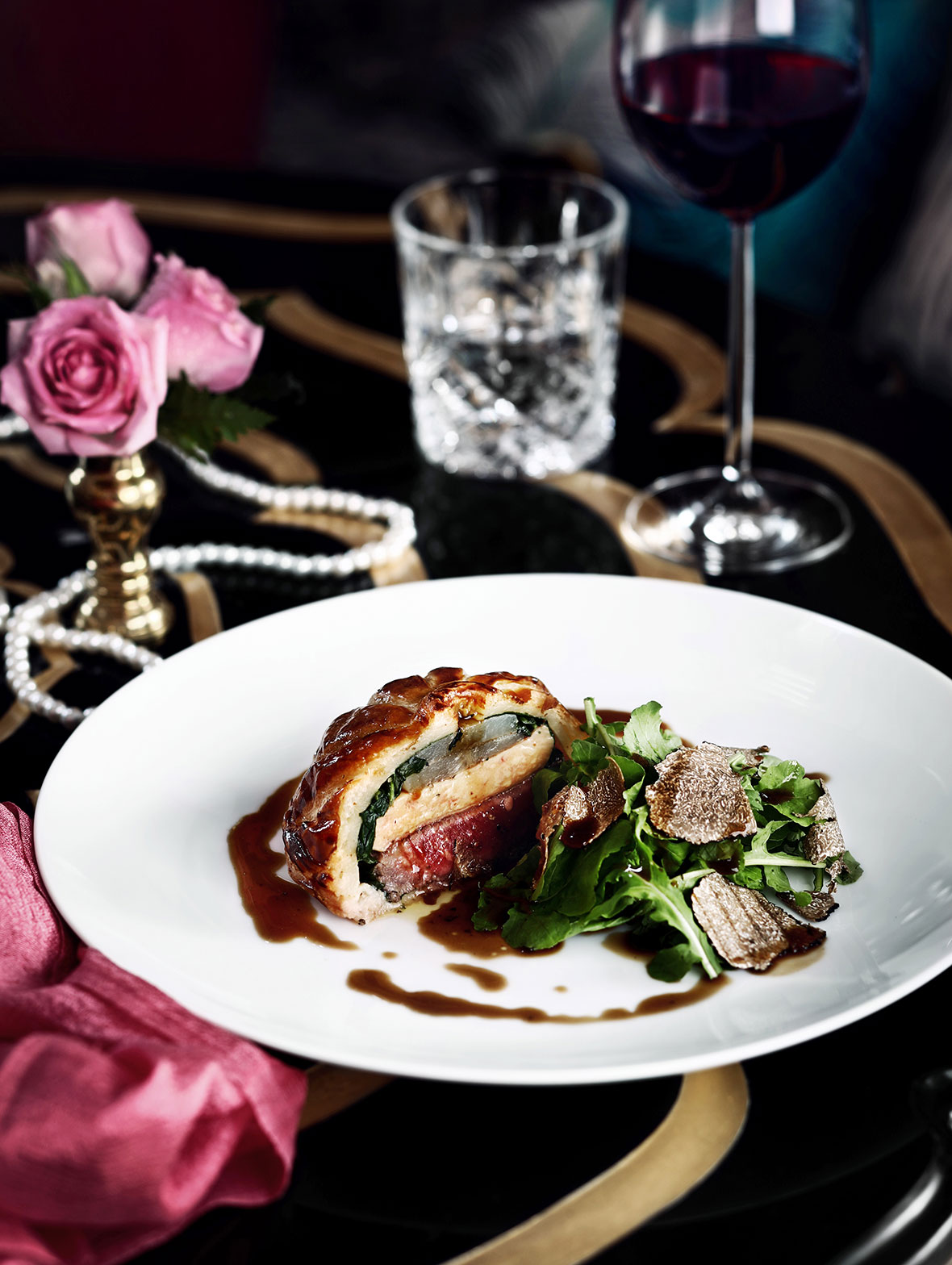 Aside from Pink Pearl, the resort's list of dining options is rounded out by Tempus Fugit, Red Rum, the Department of Chemistry Bar, and French & Co. Deli. While Pink Pearl now stands as the crown jewel of the five, guests will find quite a variety in these other options.
Tempus Fugit is a tranquil beachfront restaurant open for breakfast, lunch, and dinner with a focus on both international and local flavors. Red Rum is the most seafood-oriented option out of the five, featuring locally caught seafood, fresh produce, and quality meats. The Department of Chemistry Bar offers ample views of the sands and tides of Emerald Bay as "chemists" behind the bar prepare artisanal cocktails and serve tapas. Finally, French & Co. Deli is rooted in many of the same culinary traditions as Pink Pearl, albeit with an ambience and menu more akin to that of a classic French café or Parisian patisserie.
According to an initial press release published by JW Marriott, Pink Pearl will be open for reservations six days a week during the resort's high season and five days per week otherwise. There are 36 seats housed in the main dining hall, and the five private rooms and wine-tasting room can all accommodate between eight to 10 guests. Dinner reservations at Pink Pearl may be made by phone or by email.