Mostly known for deeply luxurious wellness-focused resorts in places like Fiji and the Maldives, late last year saw Six Senses open its first city hotel. Well, hotels. The ambitious project is comprised of two restored structures in Singapore's Tanjong Pagar conservation area, called Maxwell and Duxton, designed by two architects in styles about as different as can be imagined. The Maxwell is more traditional while the moody Duxton pushes the limits of design – even for a boutique hotel.
"One brand, one location, two designs, dual access," explains Singapore General Manager Murray Aitken. "They share F&B, a pool, a lending library and a gym." Guests can choose to have their breakfast at either location and food, drink, and services ordered at either can be charged to your room. Remote Lands recently had a chance to sit down with Aitken while staying at the Maxwell property and pick his brain about all things Singapore and Six Senses.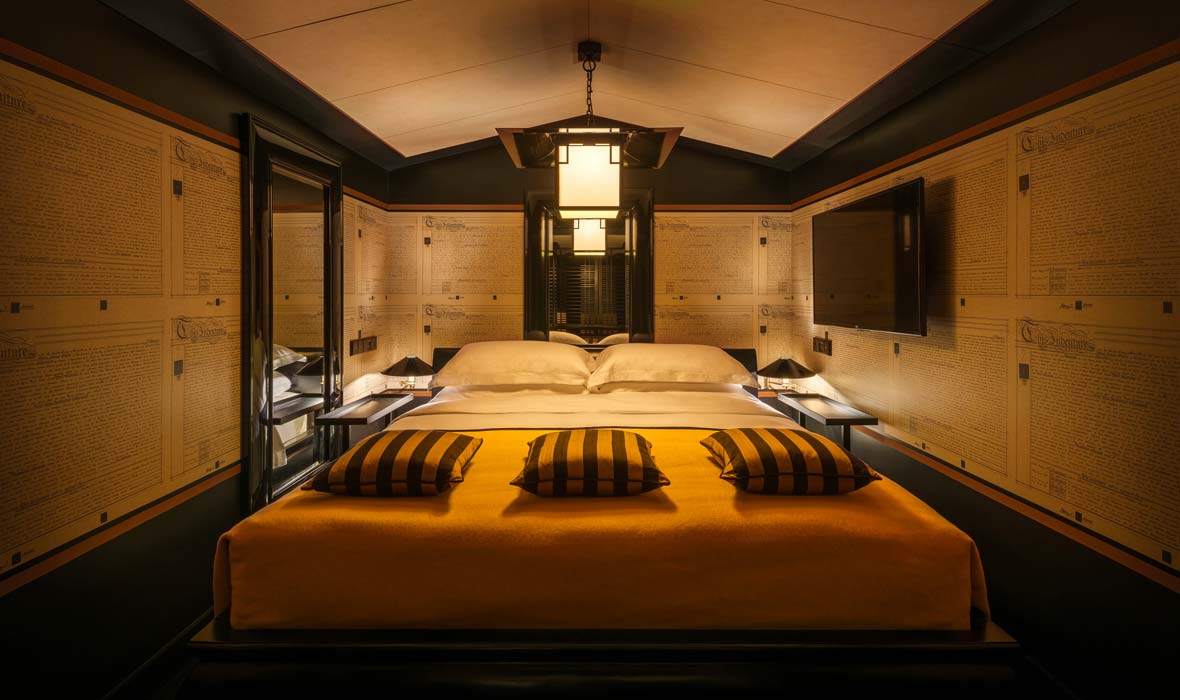 The two new properties, each crafted of eight conjoined shophouses, sit about five minutes' walk from each other, and as of next year, they'll have a deserving pitstop in between if the journey proves too tiring – the Six Senses Singapore spa, which is currently being created in a townhouse between the two addresses. To further provide a sense of place, the signature spa treatments will riff on Six Senses core spa offerings while incorporating traditional Chinese touches and treatments.
The big question on everyone's lips is 'Why would an owner do that?' The answer is simple in Aitken's mind: There were two beautiful historic buildings, each with its own history. Duxton has Chinese history – a famous opium den and brothel. That's how it ended up with the dark, mysterious, and deeply Asian vibe that make it one-of-a-kind.
"The common areas are kept in low lighting," explains Aitken. "Some of the more high-end rooms feature cosy little sitting rooms and dining rooms, each closed off from a cavern-like bedroom decked out in black and gold. It has that old opium den feeling. While this would appeal to hotel design fans because its just so different, it might be a bit off-putting to some."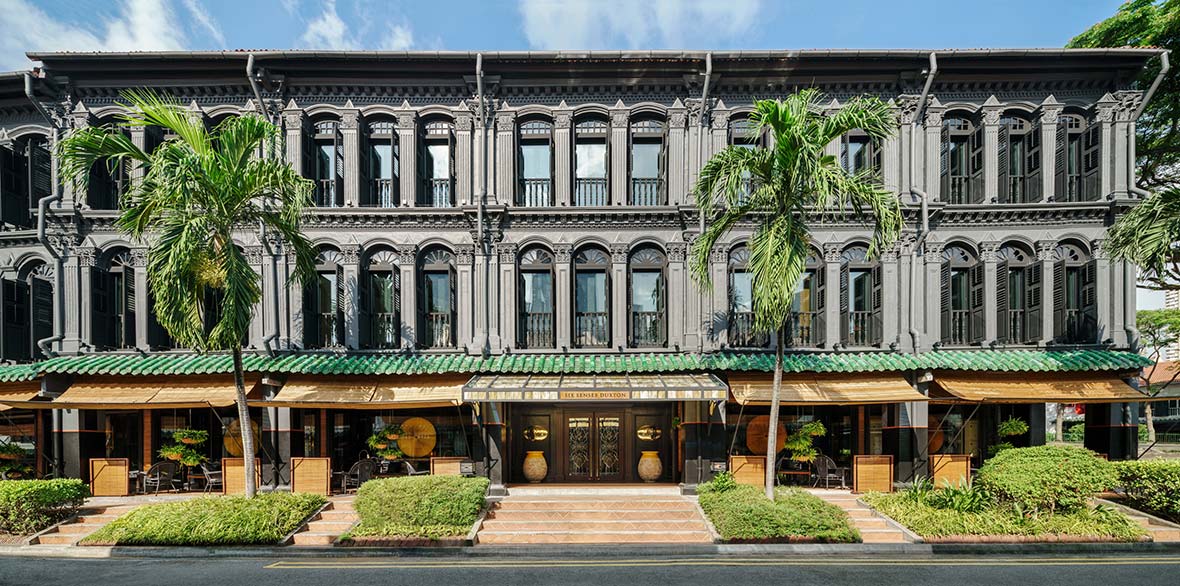 Despite the closeness of locations, the two properties could not feel more different. Maxwell, the larger property with 138 rooms, houses the pool, gym, and library, and was created by joining structures built between 1920 and 1929.
This location is the brainchild of Jacques Garcia, a designer with an aesthetic rooted firmly in the past, as is visible in projects such as The Costes Hotel in Paris, The Metropole in Monte Carlo, The Reserve in Geneva, and The Hotel Des Indes in The Hague.
Duxton is the dark dream of British designer Anouska Hempel, who reimagined conjoined three-story, pre-war conservation shophouses dating back to 1860 into a deeply modern stay with 49 keys. Mixing elements of Chinese, Malaysian and European design in a palette of dark shades with gold, she managed to grab the attention of the area's conservation buffs when she painted the entire facade jet-black. The management later relented and made parts of it dark gray, but the overall effect still appears black and is at once unexpected, intriguing and even a bit off-putting.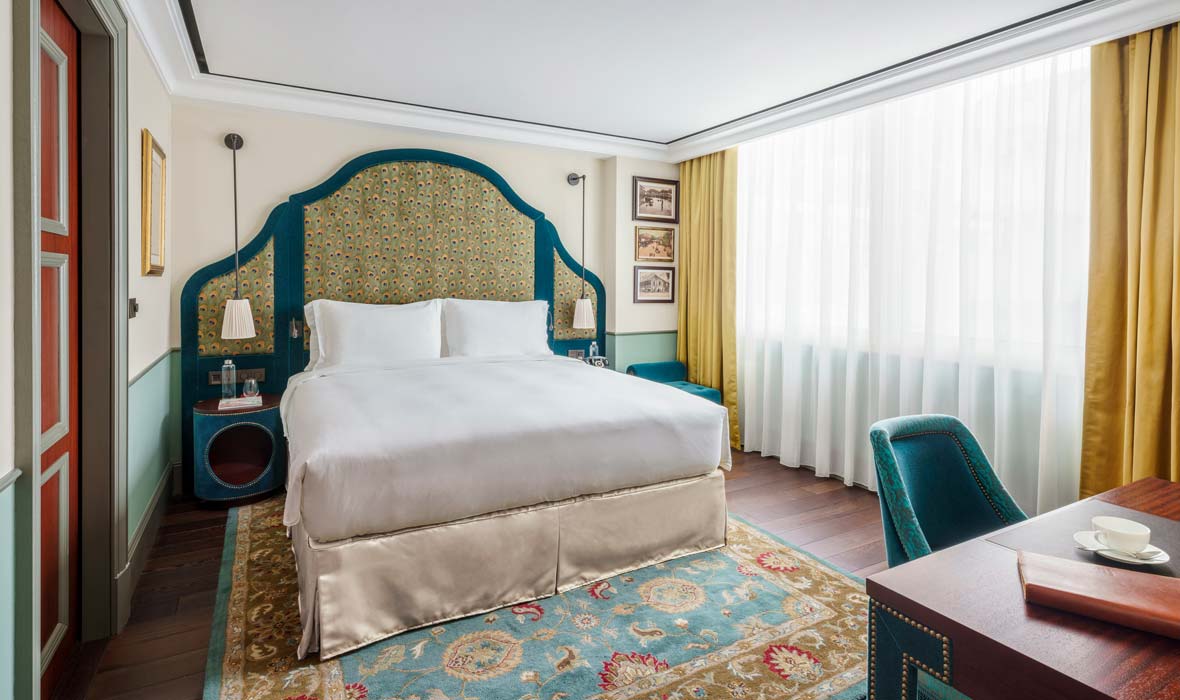 Inside, guests will find Oriental screens, dark settees and black laquer aplenty. The hallways are moodily lit by downturned lanterns creating a feel that is, by turns, spooky and romantic. This location is ideal for the artsy, experimental traveler and a haven for those that like to feel stimulated by a stay rather than simply relaxed by one.
Maxwell is for those Six Senses fans that like more traditional luxury. We stayed there and found our time relaxing and the beds, featuring organic, handmade mattresses imported from UK company Naturalmat, among the best we've slept in.
As expected in a brand of this caliber, the staff is lovely and attentive, starting from the moment you enter the front door.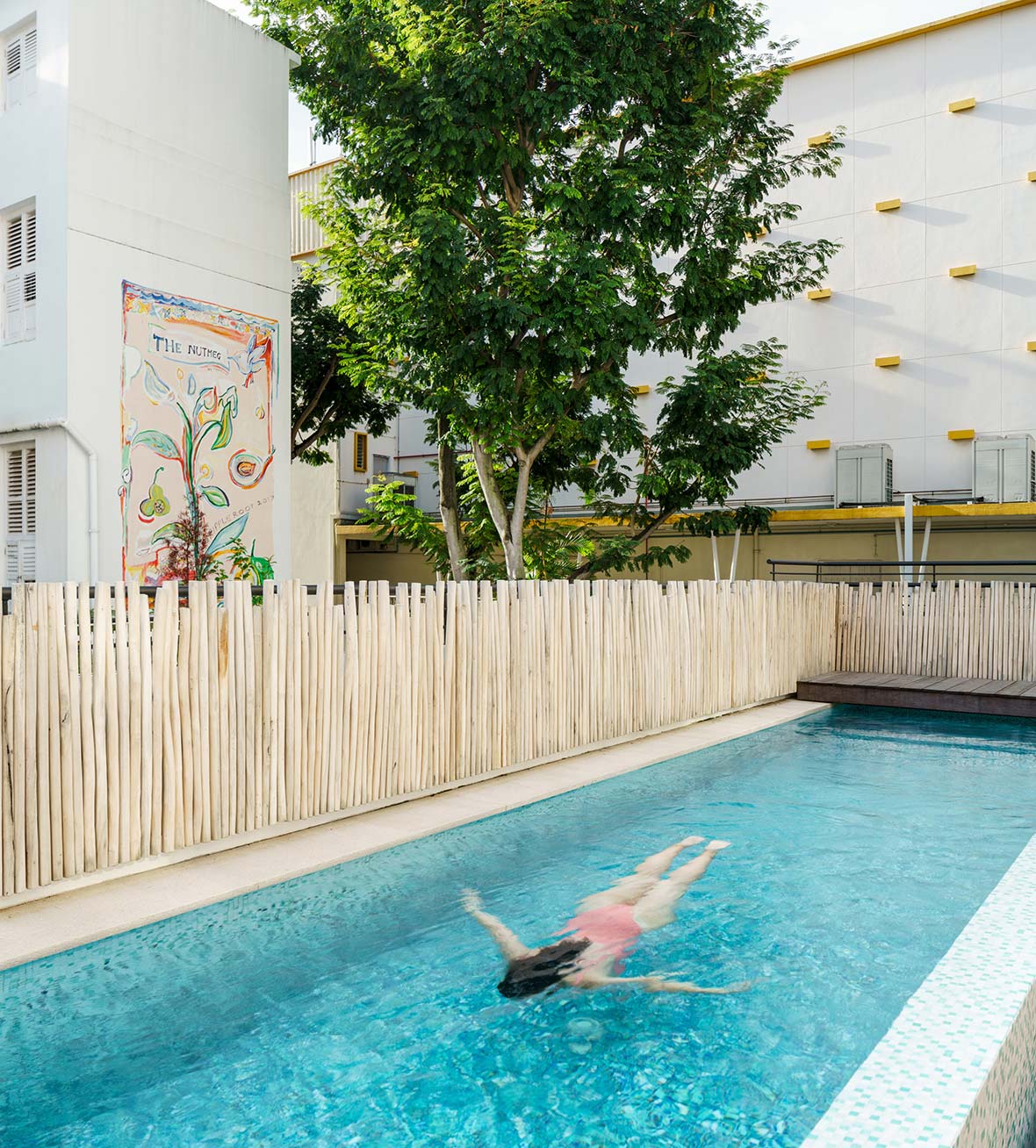 It may seem unusual, but they immediately lead guests to a oversized Tibetan singing bowl and ask them to remove their shoes before stepping in. The bowl is then struck, sending reverberations throughout the body. A traditionally-sized bowl is then struck while being moved around the body, creating a fully vibrational experience. By the time you step out a moment or two later, you've officially arrived.
The wellness and sustainability bent that define Six Senses is carried through to this first city outpost. This is as you'd expect for a small chain that has a Sustainability Manager in each location as well as a VP of Sustainability among its executives. The wellness here manifests itself through inspiring books, mind puzzles, traditional Chinese medicine cure-all Po Chai pills, and energy chimes in the room. Sustainability is everywhere – in both ways that guests might notice it, and ways that they assuredly won't.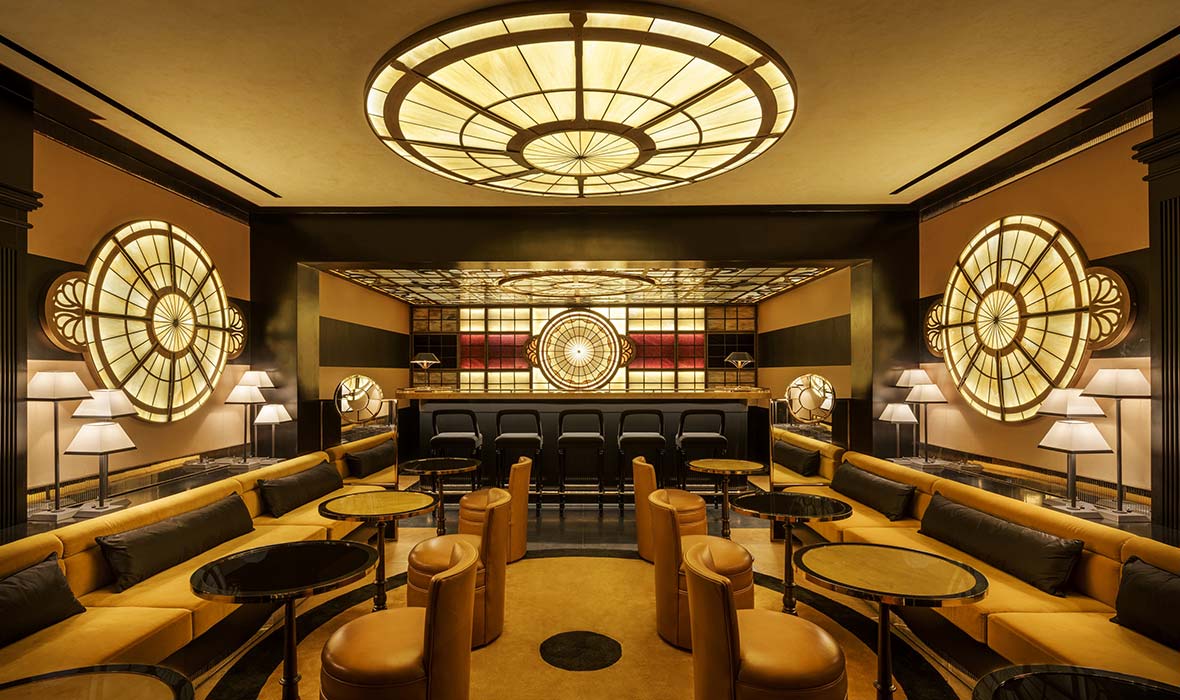 What guests won't notice is plastic – it's nearly non-existent at both properties. They also won't notice that the buildings have been designed for cross-ventilation to keep cooling costs low, and windows are glazed for more efficient insulation.
"For us, we live and breathe sustainability, it's part of our DNA, it's not just PR, that's the last thing it is. For us, it may become PR only because we want to spread the word about it let people think, 'Hey, I should do that too. There's PR in everything, but for us, that's not the core value."
The wellness value surprised and delighted us most at turndown. We returned from dinner to find a "nightcap without alcohol" in our fridge alongside a sunrise tonic for waking up as well. The evening drink is created to promote relaxation while the sun up version is for energy. We felt like Alice in Wonderland tipping back the tiny unmarked (reuseable, of course) glass bottles.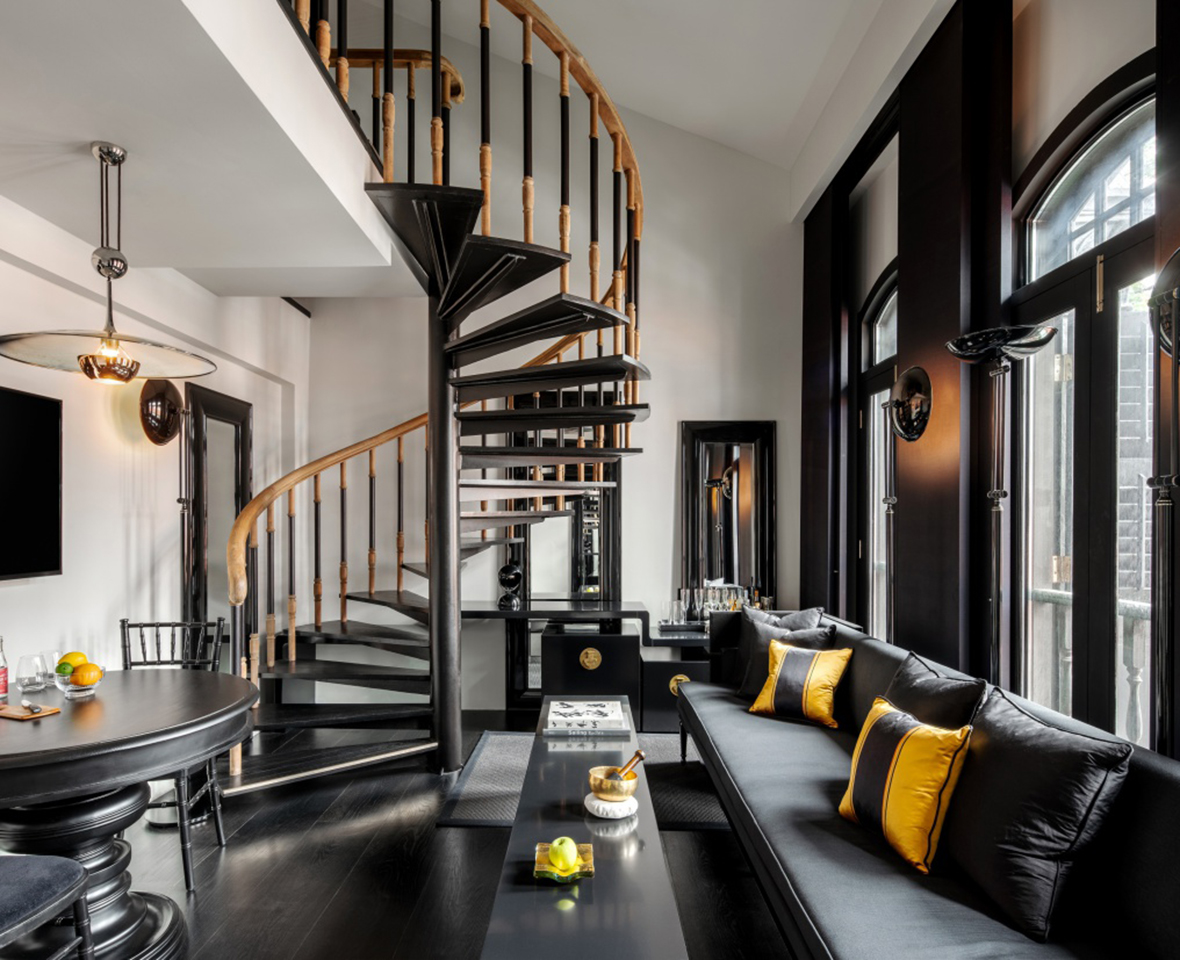 Other thoughtful details in the rooms included handmade sweets at turndown – matcha macarons, lychee marshmallows, and nougat during our stay – and real milk for morning coffee in the fridge, free of charge.
Among the unique selling points of this city property are the in-room tonics, and their partnership with Professor Zhang Mao Ji of Long Zhong Tang – a well-known Traditional Chinese Medicine physician with 40 years of experience whose practice sits across the road from Duxton. Doctors from the practice offer free consultations inside the hotel and a medicinal herbal dispensary. The doctor took one look and prescribed a 5-day kidney cleanse, which had us feeling stronger, more energetic, and less bloated by day two.
They've also teamed up with the nearby YiXing Yuan Teahouse. The family-owned business not only supplies earthy, delicious loose teas to all rooms but guests can also stop by their shop for a class on Chinese tea appreciation at their leisure.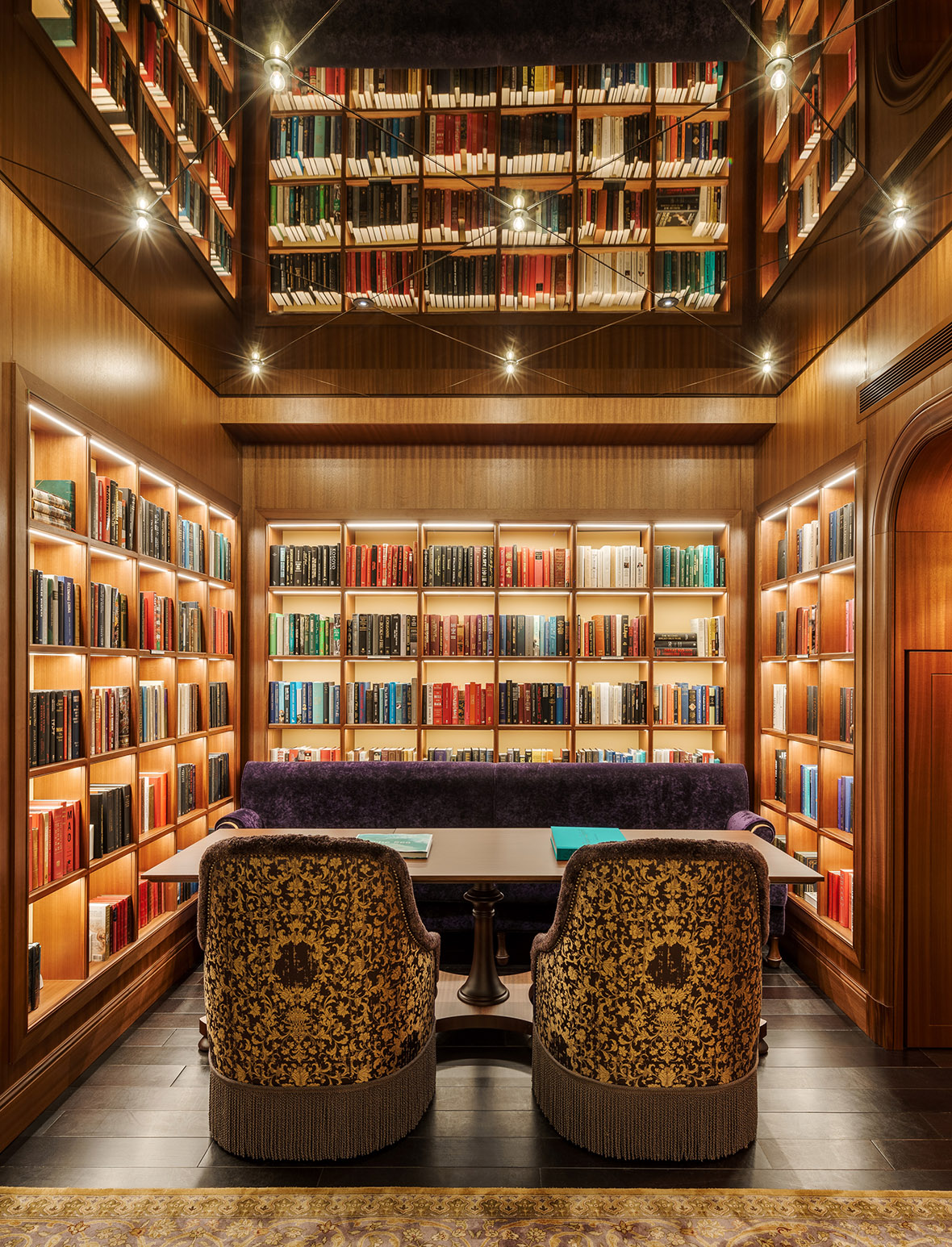 The food and drink is also wonderful, with healthy fare – we opted for an incredible Butter Poached Boston Lobster and Hamachi Crudo with fennel pollen and elderflower vinaigrette at Maxwell's Murray Terrace Brasserie. We finished by sharing a signature Dark Chocolate Truffle Sphere with no regrets about the dark, rich, not overly sweet treat. They also offer wonderfully modern Chinese fare at Duxton's Yellow Pot.
The included ala carte breakfast includes staples like avocado toast topped with flaky coconut "bacon," sourdough croissants and homemade tart apricot marmalade and berry jam and the tastiest grapefruit juice we'd had in years.
To sweeten the dining deal, they offer free ice cream outside Maxwell from a tricycle cart on most afternoons.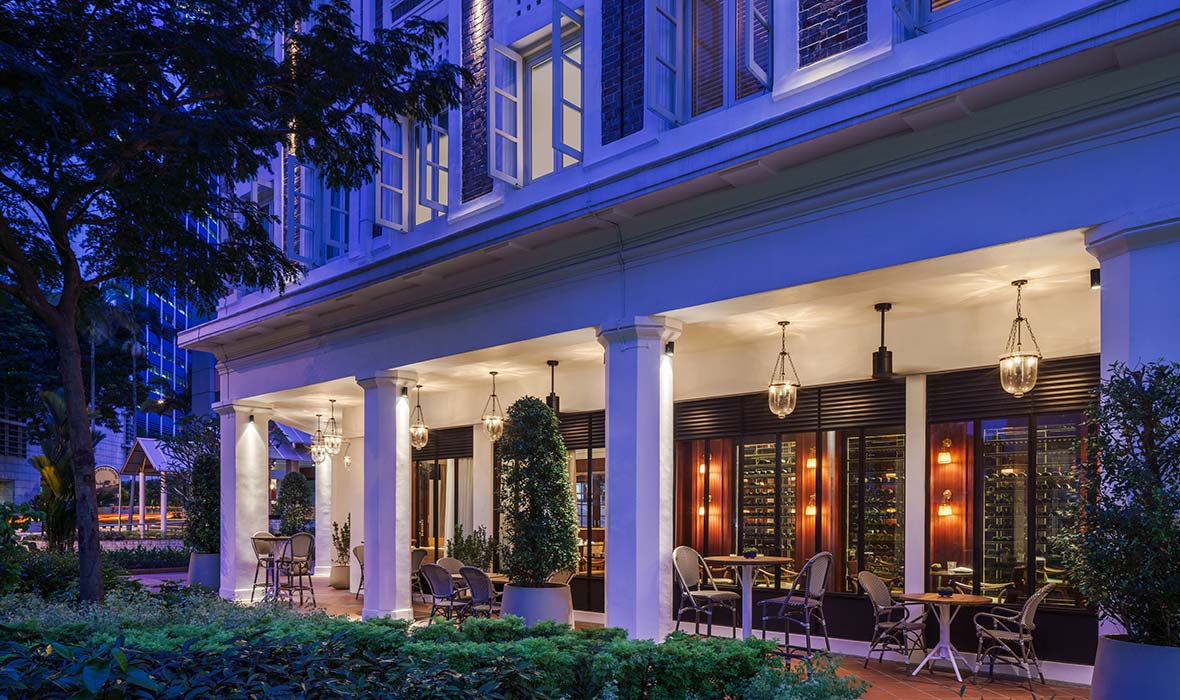 Coming soon for Maxwell is an edible garden with rooftop bar. Their lap pool, with an Instagram-worthy backdrop of a row of white cement curving staircases, is already open and very picturesque if not overly large. As Aitken said, "There are limits to what you can change on a heritage building."
Though Singapore's heritage structures come with their own set of headaches for owners, repurposing one firmly ticks the Six Senses sustainability sensibility. And Aitken sees the island nation's vintage structures as starting to create their own kind of draw.
"The desire for travelers to learn about and see heritage buildings in Singapore is becoming more popular, driven by the fact that the Singapore Tourism Board has preserved so much. Everyone wants to visit Haji Lane, Little India and Joo Chiat now."
He sees the dynamics of luxury travel in Singapore changing. "There have always been high-end places for business travelers but not on the scale of luxury, sustainability and wellness that we're doing."