Choosing a Phuket hotel can be intimidating. There's so much competition on Thailand's paradise island that one hardly knows where to start. Most, however, go to Phuket for the plush resorts retreats, and in this respect the Andara is an ideal choice. It's part glamour, part cliff-side getaway, part private pool paradise — all spread over acres of green. For the sybarite who likes the resort life, Andara has what you need.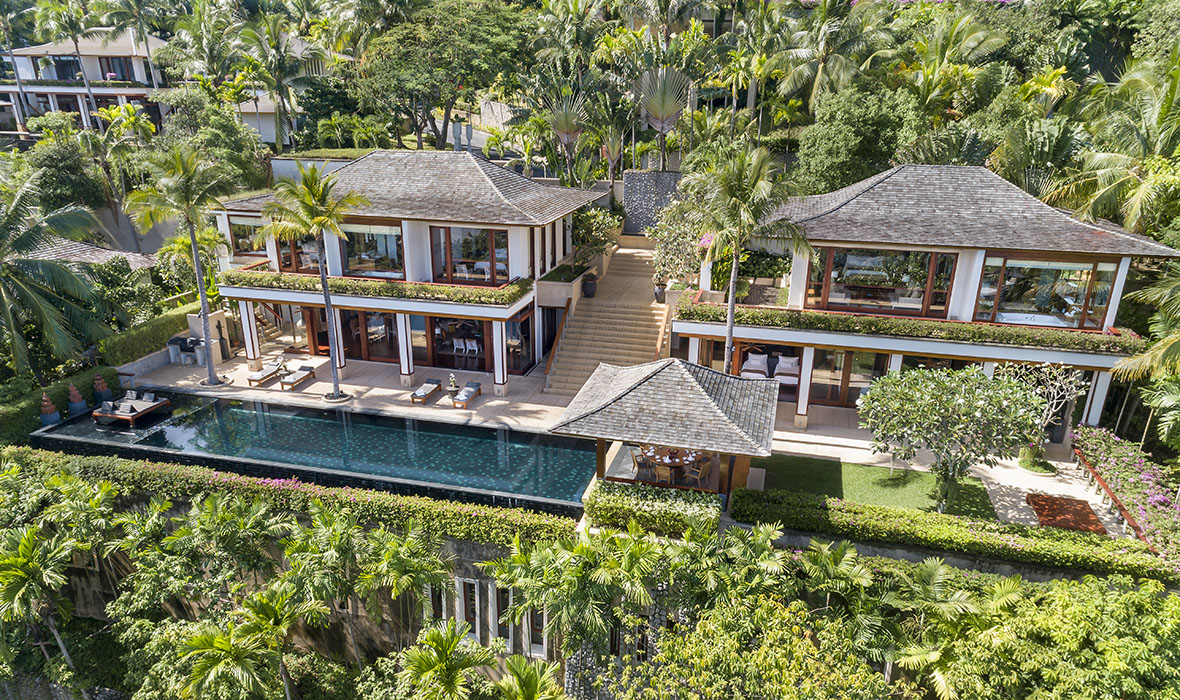 The view is one of the best reasons to stay at Andara. Set above the famed Kamala Beach, Andara looks down on the Andaman sea of the island's west, with villas, suites, and penthouses on a Phuket hill. In every accommodation, travelers to Andara will have a spectacular view of the ocean.
Sheltered from the noise and chaos of Patong further south, Kamala is more quiet but still near the action for which Phuket is so famous. The best season to visit for beach lovers is December to April, when the water is so calm that Kamala Beach makes for great paddle boarding and swimming. The waters around Phuket this time a year are at their clearest, so this is also an ideal time to book a snorkeling or scuba diving tour in the Andaman. When waters get a little angrier in the off-season, Kamala turns into a surf destination.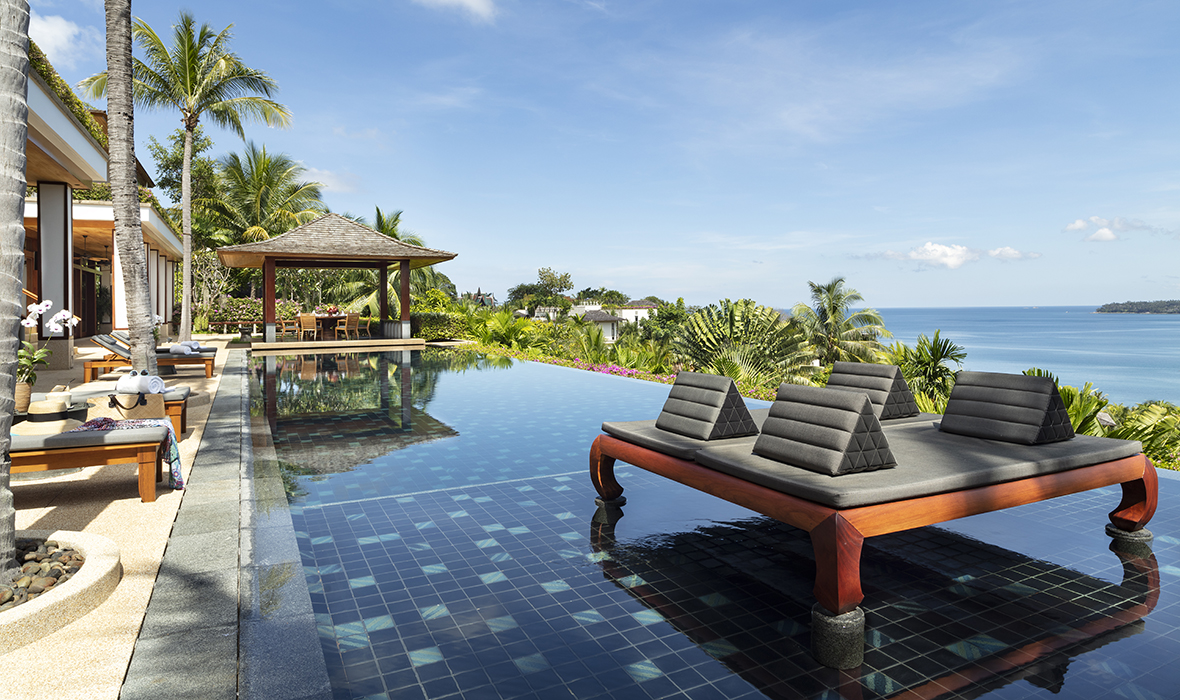 "The Andara is ideal for large groups, with colossal villas boasting three to six rooms each. Even better, each villa comes with its own personal butler and chef, so you won't have to lift a finger." – Remote Lands co-founder and CEO Catherine Heald.
Remote Lands recommends springing for at least a Pool Suite; after all, laying in your very own pool and looking out over the Andaman is one of the best reasons to visit Andara. The Pool Suites, starting at 214 square meters of space and with up to four bedrooms, feature spacious living areas and, of course, a private pool overlooking the ocean. The master bedroom opens directly onto the pool terrace. Similarly, the Penthouse Pool Suite, which begins at 270 square meters, includes a private staircase that leads to a roof-top deck with an infinity pool.
For a group of luxury travelers — such as a family vacation or birthday bash — there are the Private Pool Villas. These are the creme de la creme of accommodations at Andara: more than 1,160 square meters of space, up to seven bedrooms and bathrooms, and a pool up to 20 meters long. These gigantic villas can support a party of up to 14 and come with the chefs, villa attendants, and all the other elements luxe travelers have come to expect from a five-star Phuket resort experience.
The Andara is a haven for people who like the pampering of a first-rate resort and the fine diner will find plenty to enjoy in the room and at two stellar dining establishments. SILK Restaurant — which is also where visitors will enjoy their breakfast buffet every morning — cooks a blend of Thai and Western cuisines, and meals are best had al fresco. In the evenings, the venue takes on a more formal atmosphere, specifically at SILK Bar; here travelers are encouraged to sip on signature cocktails such as Pink Goong Sarong and the Crazy Monkey's Favourite Tom Yum. For something a bit more Western, diners should head over to La Seta for a pizza straight from the oven and, as this is Andara, a view of the Andaman Sea and a good wine.
Of interest to luxury travelers — particularly those with a large group — should be the Andara's customized 107-foot Baglietto Italian motor yacht, which features superb interiors, a dining lounge, five cabins, and one of the best venues from which to enjoy the limestone karsts of Phang Nga Bay. Up to 15 guests can enjoy a half day on the waves, and 10 guests can take overnight charters.
Ultimately, Andara is for the luxe traveler who likes a lot of space, relaxation, and an astounding pool view, a place to relax and enjoy a five-star experience.
Disclaimer: Andara Resort & Villas contributed to this article.