Remote Lands is proud to be featuring The Bill Bensley Trail, a once-in-a-lifetime, 15-day experience across four countries to see Asia through the eyes of one of the most extraordinary design minds on Earth: Bill Bensley. For a unique luxury experience, the InterContinental Danang Sun Peninsula Resort is important tropical stop on The Bill Bensley Trail and is unique in both its design and amenities. Travelogues from Remote Lands sat down with Bill Bensley to discuss why the InterContinental Danang is the ideal stop for beach lovers on The Bill Bensley Trail.
The InterContinental in Danang occupies a sensational peninsula. And something like 300 hectares of land, and that's where an endangered species of monkey lives called the long-tailed douc, and if you're lucky you can see them from the summit, from some of our meeting rooms.
What I like about that hotel — it's a larger hotel, 150 rooms plus — it occupies just a small postage stamp within this large national forest.
What I really love about the InterContinental is the fact that it explores so much of what is Vietnam. When I first started this project, I went to probably 40 or 50 Vietnamese temples all over Vietnam because places of worship — it doesn't matter if it's Rio, Barcelona, or Vietnam, the places of worship, historically, tent to be the places people put the most effort into. A church a synagogue, a temple, it doesn't matter, I always go to visit those places and that gives me the essence of the design energy of a particular country.
And, that information is distilled in 100 ways, 200 ways, 300 ways throughout the property. It's filled with color and it's filled with joyous monkeys throughout. And why monkeys? Because monkeys will always make people laugh. And that's one of my goals in life is to make people happy. My motto is laugh first, think later.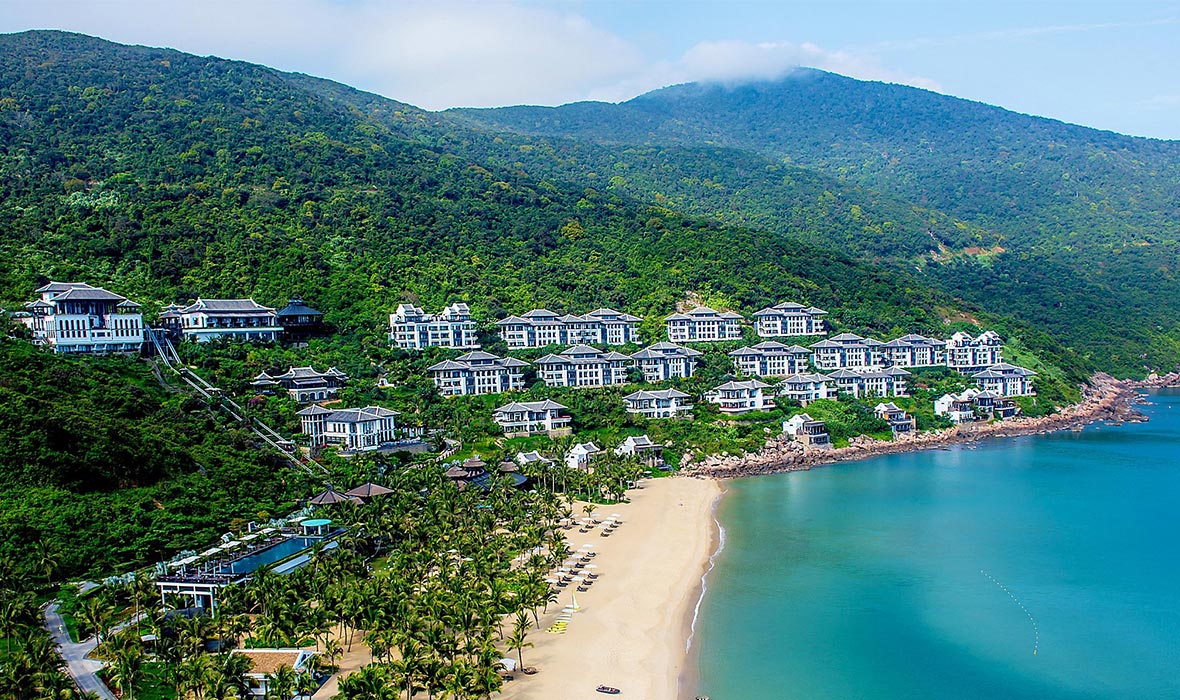 From Bill's kitchen in Bangkok to the charm of Luang Prabang to the rain forests of Cambodia and the beaches of Vietnam, explore four countries with the genius and charisma of one of the most exciting characters in the travel industry. Stay in tented camps, urban retreats, beachside getaways, and go behind the scenes for a look at Bensley's creative process. With anecdotes from the lively Bill Bensley and some of the finest accommodations on the continent, indulge in Southeast Asia like never before.
Hosted by Bill Bensley himself: Stay at some of the most acclaimed hotels in the world, hosted by the man who designed them.
Stay at the new Shinta Mani Wild: Experience this eccentric rainforest conservation retreat, deep within a national park.
VIP Angkor Experiences: Take an aerial tour of Angkor Wat by helicopter & enjoy a private dinner in an ancient Khmer temple.
MandaLao Elephant Sanctuary: Meet the elephants rescued from loggers and sustained through responsible tourism.
Dinner with Bill Bensley in his Bangkok home: Exclusive soirée at Bill Bensley's stunning private residence in Bangkok.
Sneak Peek at Bill Bensley's Design Process: Go behind the scenes of BENSLEY Design Studios for a peek into the magic of Bill Bensley's creative process.