Ranthambore and Bandhavgarh are overflowing with travelers keen to spot a tiger. Things at Kanha are a little more laid back; finding a tiger isn't as important as enjoying the sunsets on the dusty roads and forests teeming with deer and birds. With about 60 tigers, though, travelers who put in the effort should be able to find a Shere Khan of their very own.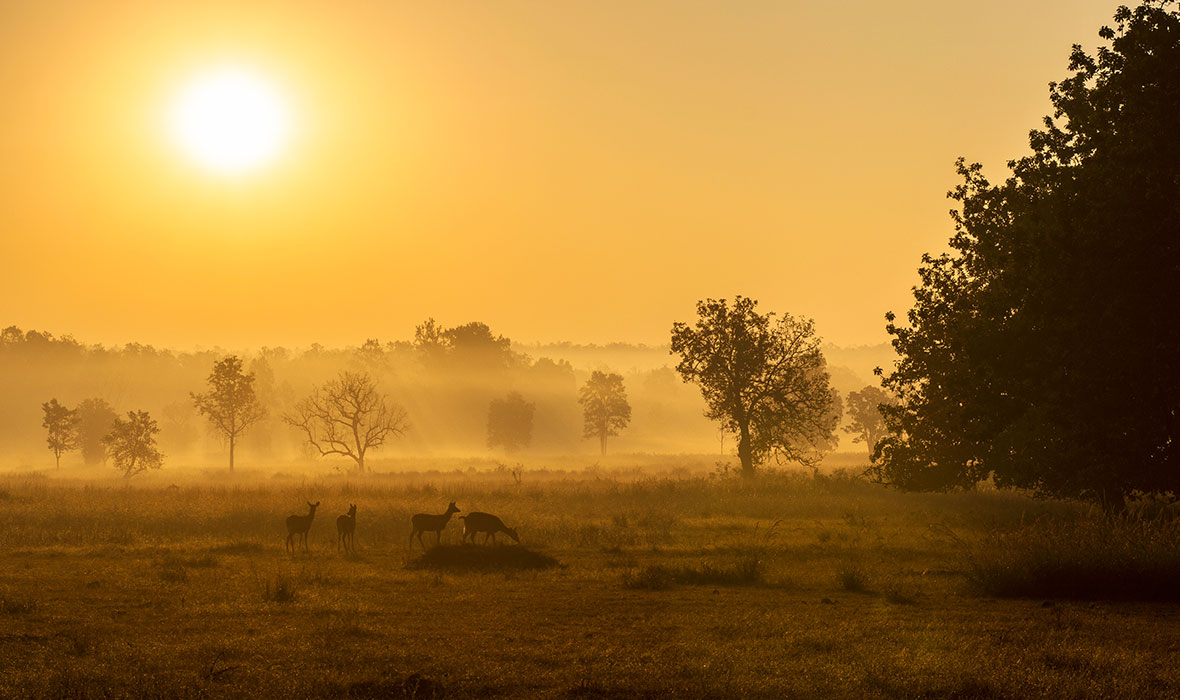 Found in Madhya Pradesh, it's said Rudyard Kipling's immortal The Jungle Book was inspired by the wildlife of Kanha Tiger Reserve and writings of British explorers in the region. While you'd be hard pressed to get the sloth bears to break out into song, the wild spirit of India is very much alive here. The likelihood of spotting certain species can vary with season. The mighty guar, for instance, is most likely seen as winter ends.
Travelers can best experience this wonder of nature by jumping in a 4×4 for full and half day jeep safaris through the park. Morning game drives are best, as both you and the animals will appreciate the cooler temperatures. Whether on foot or in a jeep, visitors will find dozens if not hundreds of deer on their safari and perhaps even a leopard if you're lucky.
Unforgettable experiences here include Bamni Dadar, a sunset point where travelers can watch the local wildlife milling about in scenes photographers dream their whole lives of capturing.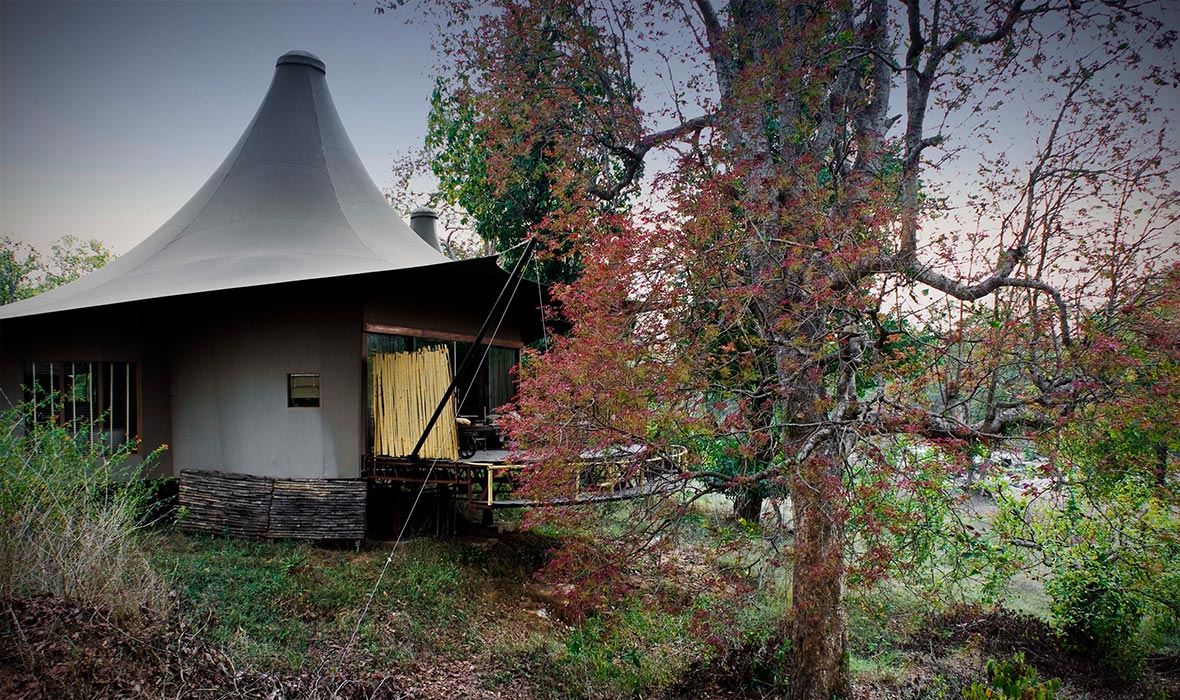 The digs in Kanha are somewhat more plush than what Mowgli had: Taj Banjaar Tola. After braving days of wild fauna, travelers can recuperate in palatial surroundings with one of the most impressive brands in hospitality. Two intimate camps, nine tents each, comprise the Taj Banjaar Tola. Found amid 90 acres of private sal forest interspersed with bamboo and lush meadows, the tents and dwellings feature private pools and indoor and outdoor lounge areas. Tented suites feature glass doors that lead out to a floating verandah, swimming pool, dining decks, and a tranquil river backdrop.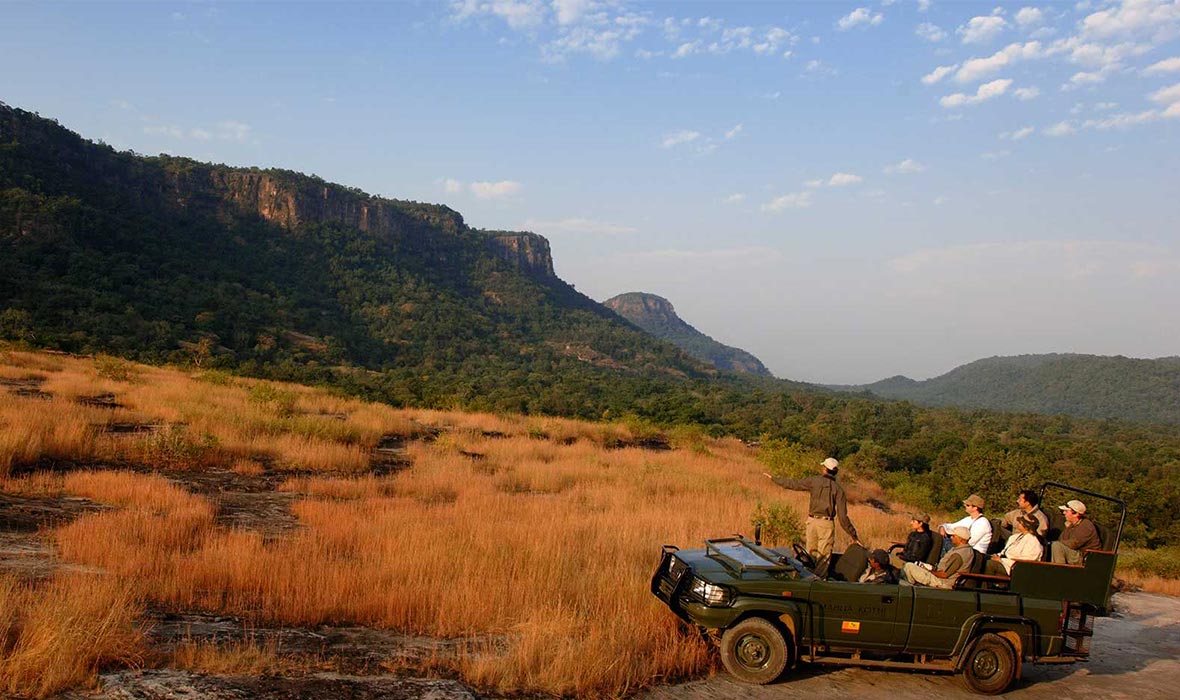 INDIAN SAFARI ADVENTURE
This 12-day Indian Safari Adventure itinerary is a Remote Lands escape into the wilds of India. Tigers, elephants, and ancient curiosities in Panna, Bandhavgarh, and Kanha National Parks. All of this makes for a holistic tapestry of India on a whirlwind tour that will see travelers staying in the very finest hotels and eating like maharajas throughout.
INDIA'S NATIONAL PARKS BY PRIVATE JET
Hop aboard a private jet and fly into some of India's most thrilling and exotic national parks, the last vestiges of the fearsome Bengal tiger. These tigers number less than 2,000 in India, so spotting one is a bucket list experience for many a traveler. Travelers start off in New Delhi before jetting off to Ranthambore, Kanha, and Bandhavgarh national parks for game drives, birdwatching, and more. It's an 11-day journey through India's biodiverse backyard.