Example Itinerary
Classic Tibet
Explore Classic Tibet on this 7-day journey to the roof of the world. Visit ancient monasteries where monks engage in lively philosophical debate, and see the home of the Dalai Lama. Enjoy a meditative walk with pilgrims at Jokhang Temple and see some of the oldest buildings in Tibet on a side-trip to the city of Tsetang. Also get to know the friendly Tibetan people and their spiritual nature; they maintain unique traditional practices such as pilgrimage prostration and sky burial. Last but not least, admire a truly magical landscape of magnificent snowy mountain ranges, mirror-like glacial lakes, and stark barren plateaus.
This itinerary is an example. It's designed to inspire you and provide you with thoughtfully curated ideas. You can choose to do this exact itinerary or completely personalize it. All trips are 100% bespoke.
Highlights
Potala Palace: Once the seat of the Tibetan government and the winter residence of Dalai Lamas, this impressive wonder is now open to the public and a must-see. The palace rises 13-storeys and took over 50 years to complete.
Inner Peace: Tibet's captivating atmosphere exudes a sense of spirituality that is quintessential to its identity. The serene quiet of the vast, high-altitude land, clean air, and its faith-driven people make Tibet feel a whole world away from everywhere else.
Tsetang: The fabled birthplace of the Tibetan people, Tsetang was the capital of the region since before the Middle Ages and the seat of ancient emperors of Tibet. A trip to Tsetang is like a trip back in time to learn about Tibet's early history.
Yamdrok Tso Lake: One of the most spectacular of Tibet's glacial lakes, Yamdrok is equally stunning and religiously significant. It is believed to be the home of many gods and goddesses.
Day-by-Day
Day 1
Lhasa
Arrive in Tibet's capital, Lhasa, where you'll be greeted at the airport and transferred to your hotel. The drive there will take around two hours, but it will provide stunning views of the Yarlung Tsangpo River and its backdrop of snowcapped mountains. Spend the afternoon at your leisure, resting up for the days ahead and getting acclimatized. The city sits at 11,450 feet, making it one of the highest cities in the world.
Day 2
Lhasa
Visit Potala Palace, a UNESCO World Heritage site, which was once the home of the Dalai Lama. From Potala, head to Norbulingka, a park founded in 1755 by the seventh Dalai Lama and home to the summer residence of the Lama lineage. Afterwards, stroll the cobbled vibrant street market of Barkhor Square, and visit Jokhang Temple, Tibet's holiest temple. Here, you'll have the chance to join other pilgrims circumambulating the temple and be blessed by one of the senior monks.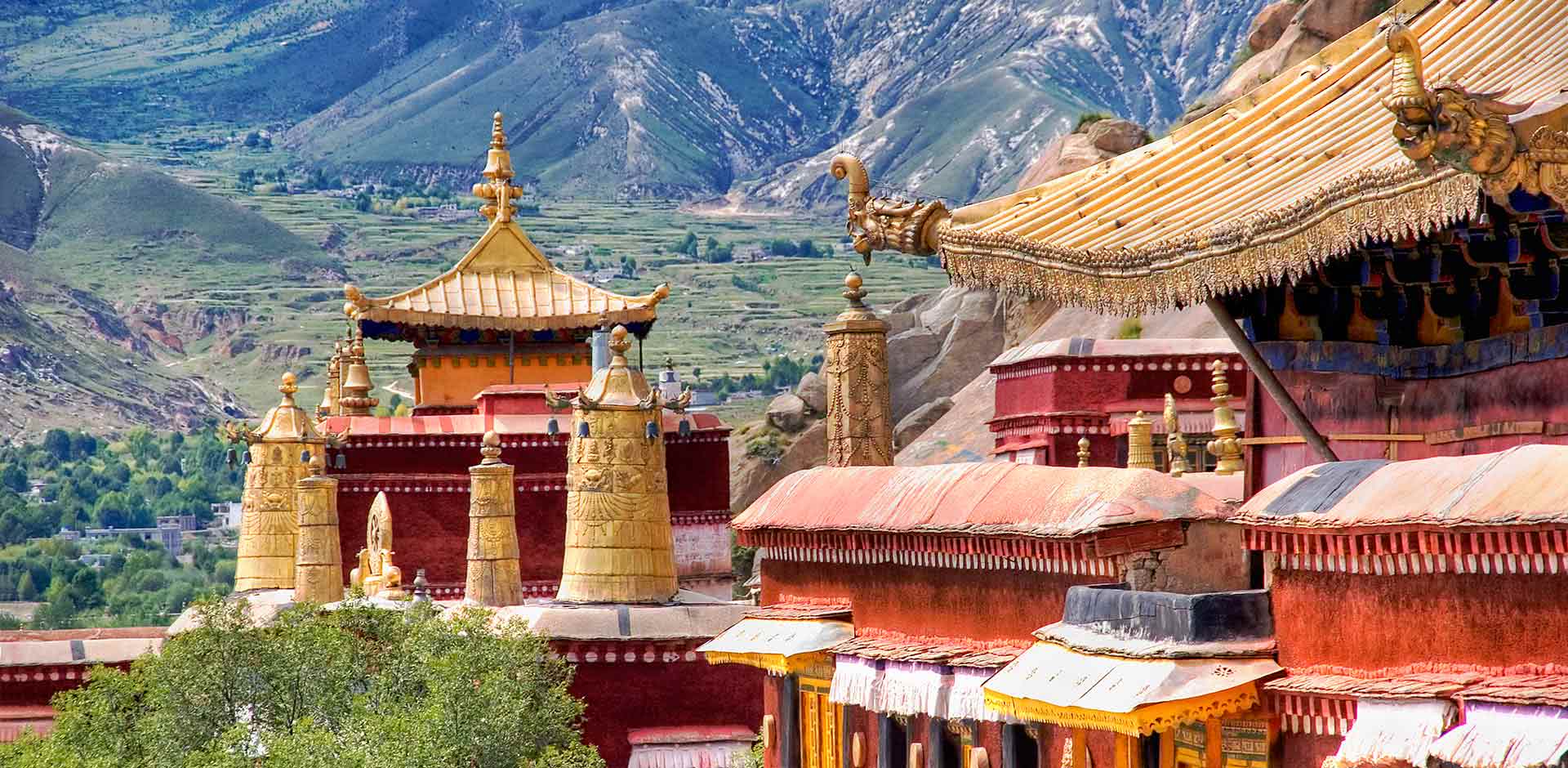 Day 3
Lhasa
Continue your tour of Lhasa's holy sights with a visit to the 15th-century Drepung Monastery, one of the largest monasteries in the world. Afterward, embark on a 1-2 hour hike, stopping at Sera Monastery, famous for its lively monk debates, where different aspects of Buddhist philosophy are discussed. Five-thousand monks live in this 15th-century building, which is one of three major "Gelupka" universities. Time-permitting, stop at the Tibet Museum which tells of Tibet's history and culture. It is also home to a rich collection of prehistoric cultural relics.
Day 4
Tsetang
Today you'll embark on the 115-mile drive to Tsetang, one of Tibet's largest cities. Visit Yungbulakang Palace, which dates back to the 2nd century AD and is said to be Tibet's first building. After that, pay a visit to the ancient Tadruk Monastery where you'll see remnants of intricate Buddhist artwork and ornate temple architecture. Tonight, check into Tsetang Hotel for the evening.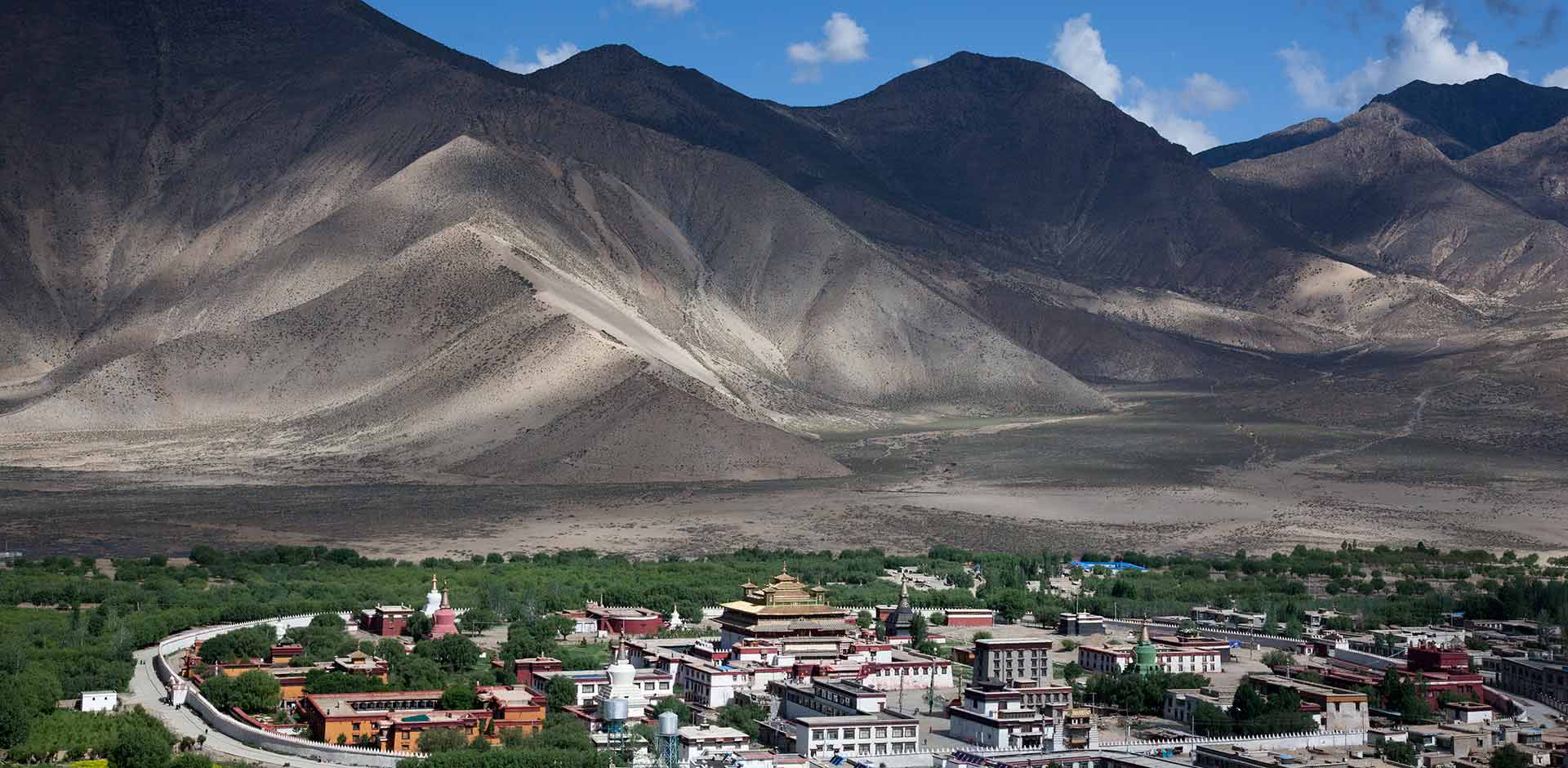 Day 5
Tsetang
Continue your exploration of Tsetang with a visit to Samye Monastery, one of the first temples built in Tibet and the site of the "Great Debate," that took place during 792-794 between the Indian Mahayanists and Chinese Chan, or Zen, Buddhists. Afterwards, visit the Chimpuk Meditation Caves—100 caves where the faithful practice personal spiritual exploration.
Day 6
Lhasa
Today you'll drive back to Lhasa, visiting Yamdrok Tso Lake along the way. Here you can follow one of the hiking trails and enjoy a light picnic with far-reaching views over jagged mountains and snow-capped peaks. Return to your hotel in Lhasa tonight.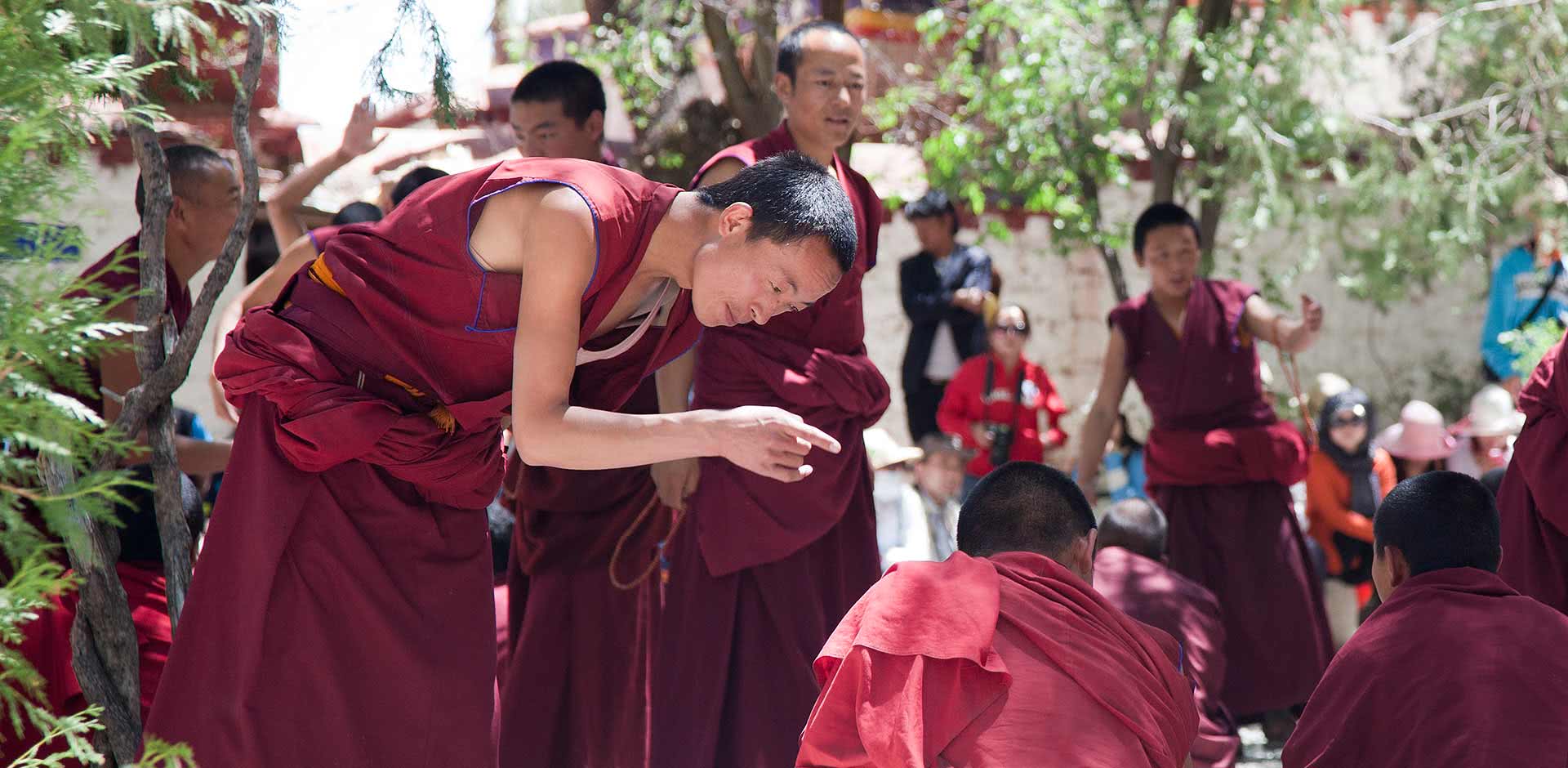 Day 7
Departure
After breakfast, spend your time at leisure and take another walk around town if you wish, before your private transfer to the airport for your flight onward.
TERMS AND CONDITIONS
Price is based on double or twin hotel room occupancy and includes accommodation, transfers, car/driver, English-speaking guide, activities and entrance fees, breakfasts and some casual lunches while touring. Flights and optional special activities will be quoted separately. Tibet visa cost and arrangement is included; China visa, if necessary, is not included. Most personal expenses, including dinners, alcoholic beverages, spa treatments and gratuities can be paid on the spot while traveling. Prices may vary depending on season, choice of accommodation and other factors.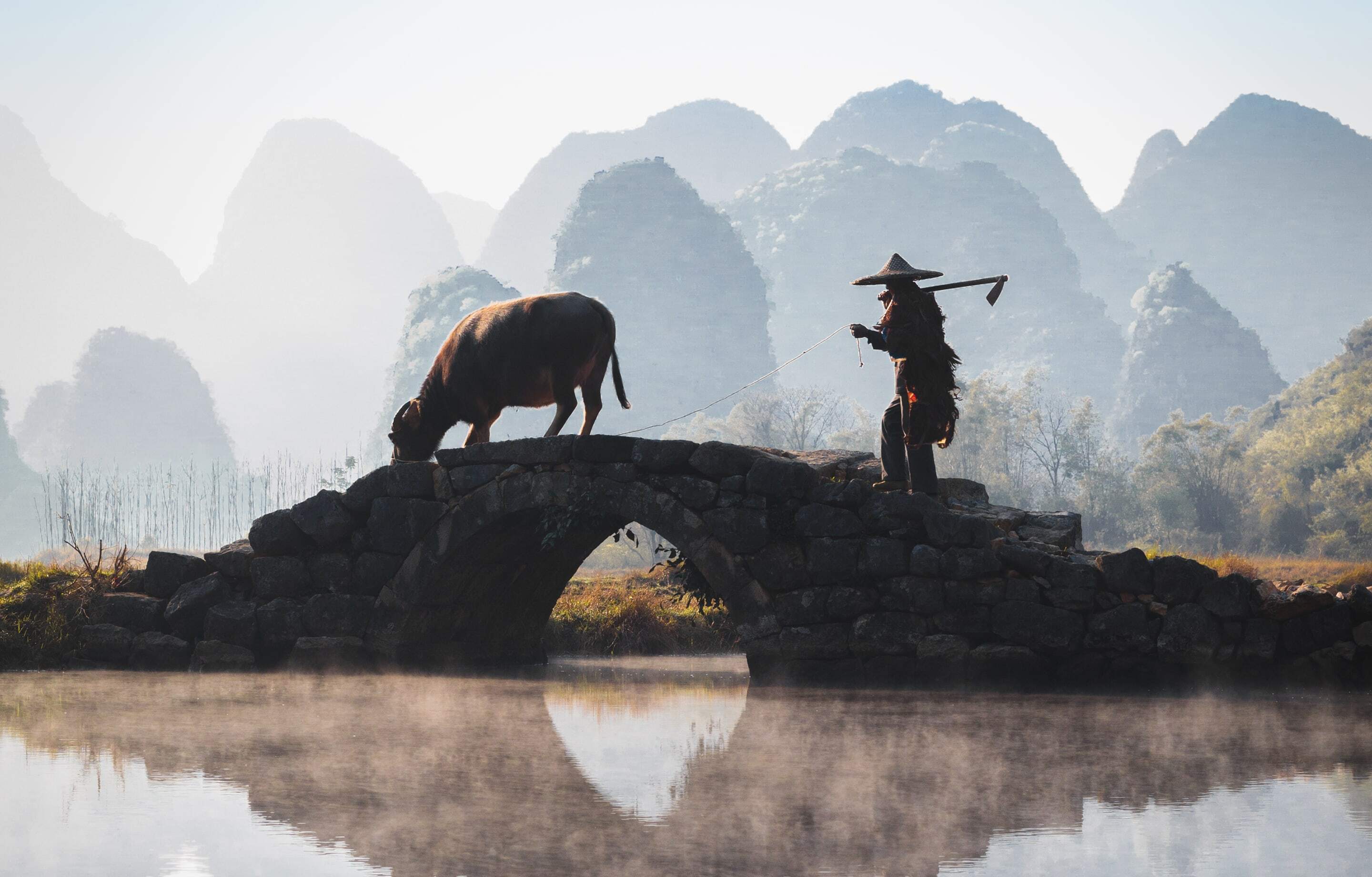 Why Remote Lands?
Exclusively Asia
With Remote Lands you'll travel with people who have made Asia the solitary focus of their own lifelong adventure. As our guest, you'll discover Asia on a journey that is completely, authentically your own, adapted from our own remarkable experiences and adventures over the years.
With Remote Lands you'll travel with people who have made Asia the solitary focus of their own lifelong adventure. As our guest, in the continent that our north American founders Catherine and Jay have adored and explored for decades, you'll discover Asia on a journey that is completely, authentically your own, adapted from our own remarkable experiences and adventures over the years.
Travelogues
An Asia-focused magazine brought to you by Remote Lands – a platform for adventure, luxury, and authenticity from experts and explorers around the continent.
What Others Say
Here is a small selection of the kind words our guests have said about us, as well as features by journalists and travel writers.
From the moment I happened upon the REMOTE LANDS website over a year ago, browsed the options, I knew that this would be well worth it. The entire staff is nothing less than professional with service that made us feel like royals.
This was truly the trip of a lifetime. Magical destinations, the most luxurious hotels in the world, and the most wonderful travel companions we could've wished for. We were treated like family everywhere we went and we have 14 new best friends.
We have used some of the top rated travel specialists all over the world and, without question, Catherine Heald and Remote Lands are at the very top of the list!
Stay Informed:
Newsletter