Example Itinerary
Romance, Relaxation and Renewal in Cambodia
Embrace the Angkor culture, history and landscapes on this getaway, and celebrate a special time in your life by exploring Cambodia's highlights and treasures that will leave you utterly enchanted and rejuvenated. Siem Reap is home to the country's most impressive ancient temples and ruins, a magical backdrop for canapes on a gondola, an intimate dinner on sacred grounds, and renewing marital vows. Escape to the bucolic countryside and ride through rice fields at sunset. Cruise down the Mekong and watch the story of quotidian Khmer lives on the river unfold. Finally, arrive at the sea and while time away on idyllic white sands and warm tropical waters. This journey to the heart of Cambodia is sure to evoke every emotion from awe, to compassion and absolute relaxation.

This itinerary is an example. It's designed to inspire you and provide you with thoughtfully curated ideas. You can choose to do this exact itinerary or completely personalize it. All trips are 100% bespoke.
Highlights
Ancient Temple Banquet: A once-in-a-lifetime event, this extremely exclusive dinner takes place on the grounds of an ancient Khmer temple. Be treated to an elaborate multi-course candle-lit dinner set under the stars, replete with traditional dancers and musicians.
Mekong Cruise: A cruise down the Mekong reveals its charms: endangered large waterbirds, remote villages build atop the water, and skilled craftsmen in silver and silk.
Private Island Living: It doesn't get much more romantic than a beachfront or overwater villa on a private island. Embrace the barefoot luxury lifestyle and enjoy the warm waters while sipping champagne.
Day-by-Day
Day 1
Siem Reap
Arrive in Siem Reap and meet your private guide and driver who will whisk you to your hotel. Freshen up and be ready for an evening aboard a gondola at Angkor Thom, slowly traveling from the south gate to the west gate. Be serenaded by traditional Angkor music and enjoy wine and snacks as you take in the sunset over the ancient temples. Return to your hotel for dinner or choose to dine at one of the city's fine restaurants and try signature Cambodian dishes. If you wish, step out into the warm night and stroll the Angkor Night Market, a fun and lively space to pick up unique tchotchkes and sample delicious street fare.
Day 2
Siem Reap
Rise early this morning to witness the sunrise over Angkor Wat, one of the world's most famous landmarks, and a significant religious center. Take in the grandeur of the 12th century temple as daybreaks. Then take to the skies in a private helicopter for a bird's eye view of Angkor Wat and the entirety of the complex as well as other temples and ruins. Make a landing at a remote temple for a picnic lunch and close up look at the mystical bas-reliefs. Escape to the countryside and visit a local village. You can choose to donate a water well to a family ahead of your visit, and today, meet the fortunate family and the newly built well at their village. Hop on ATVs and ride through the dusty roads and rice paddies as the sun sets over the bucolic landscape.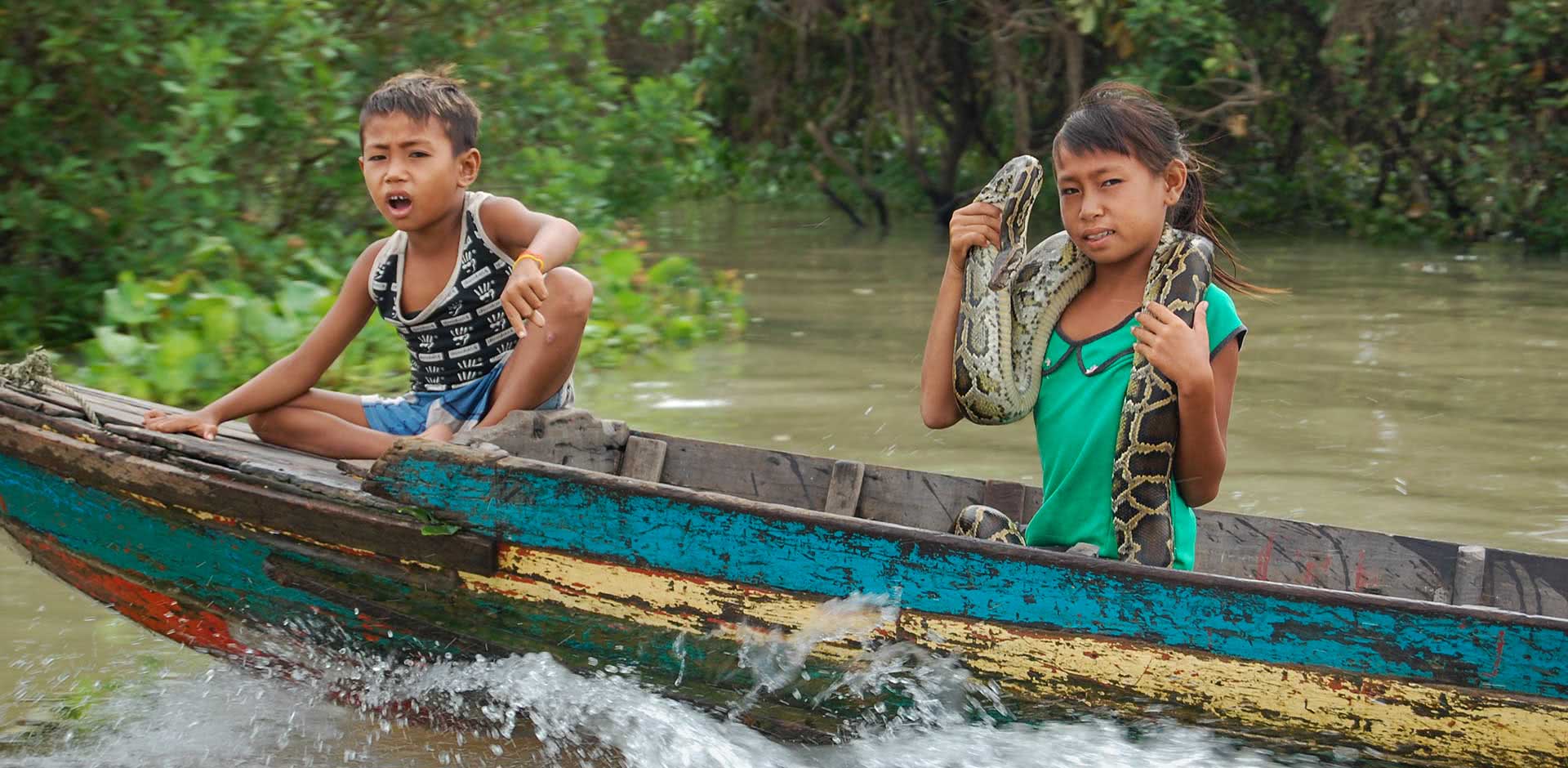 Day 3
Siem Reap
Couples looking for an enchanting experience will want to renew their sacred vows Khmer-style. Adorned in Khmer wedding dress and surrounded ancient Angkorian music, exchange vows and receive auspicious blessings from a monk in the middle of a private intimate ancient temple. Spend the rest of the day in blissful leisure or choose to visit a Khmer dance school where the students will perform a traditional dance or visit more ancient ruins. In the evening, be ready for a lavish multi-course dinner under the stars. Hosted on the grounds of a sacred Khmer temple and replete with traditional Cambodian dance and music, this magical experience will be unforgettable.
Day 4
Siem Reap-Phnom Penh
Check out this morning and depart for Tonle Sap, the largest freshwater lake in Southeast Asia and designated UNESCO Biosphere Reserve. Today you will embark on a river expedition that will take you down the Mekong to Cambodia's capital, Phnom Penh. Board the Aqua Mekong, a luxury cruise ship designed with spacious cabins allowing for plentiful natural light, fitted with modern amenities including an outdoor pool, spa, and library, and staffed with an experienced and accommodating crew.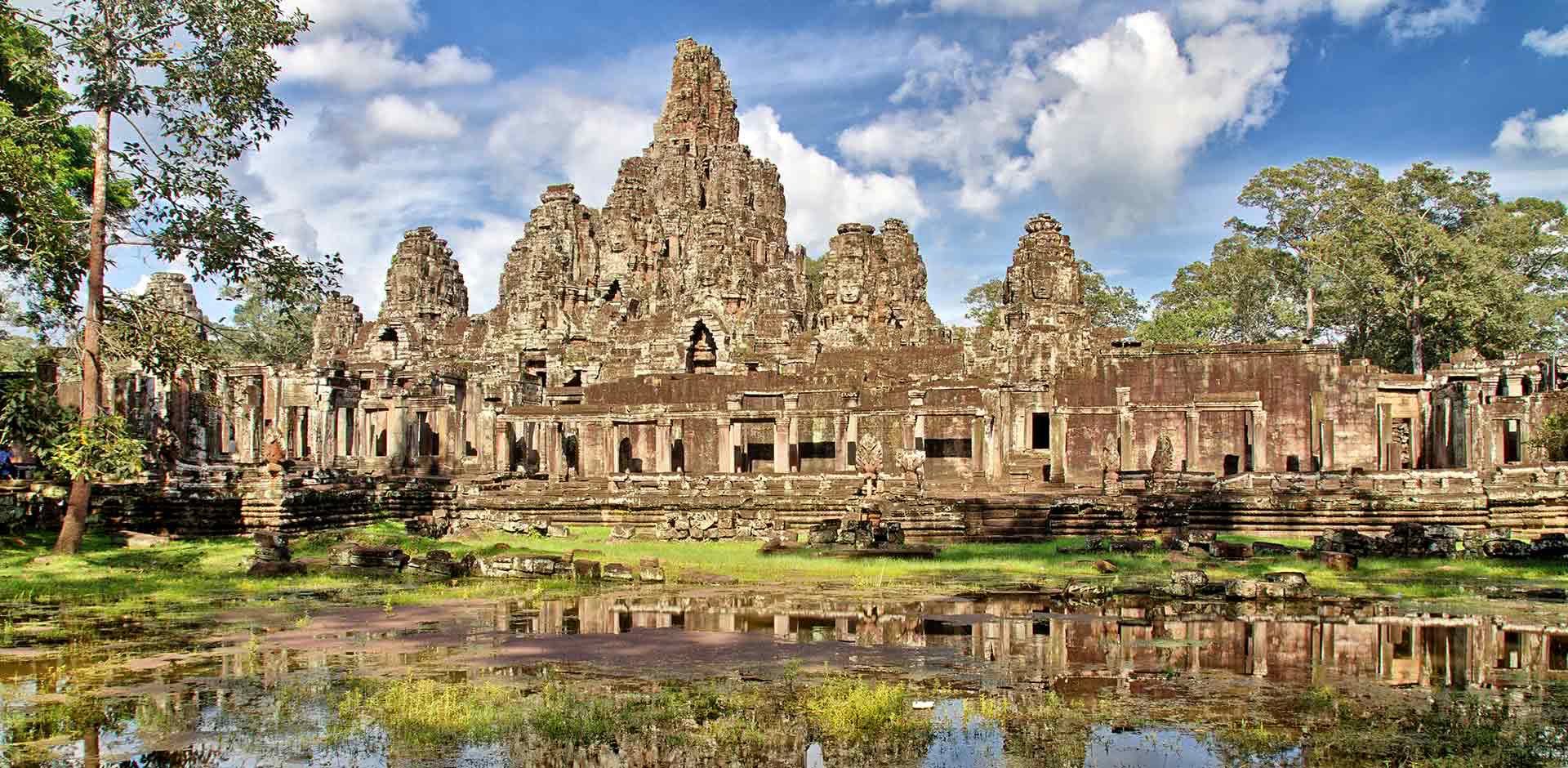 Day 5
Siem Reap-Phnom Penh
Enjoy excursions or time relaxing on the boat as it makes its way downstream. Today's excursions may include a trip to Prek Toal Bird Reserve, home to endangered large waterbirds such as the blackheaded Ibis, milky stork, and billed pelicans. Then, visit a floating village, accessible only by water. The villagers adapted to the fluctuations in water level by constructing buoyant bases to their houses and shops, creating a village that actually floats for several months out of the year.
Day 6
Siem Reap-Phnom Penh
Today's excursions may take you around more remote villages around the lake where you can witness villagers going about their daily lives to schools, churches, pagodas, karaoke bars, and police station - all of which are afloat on the river.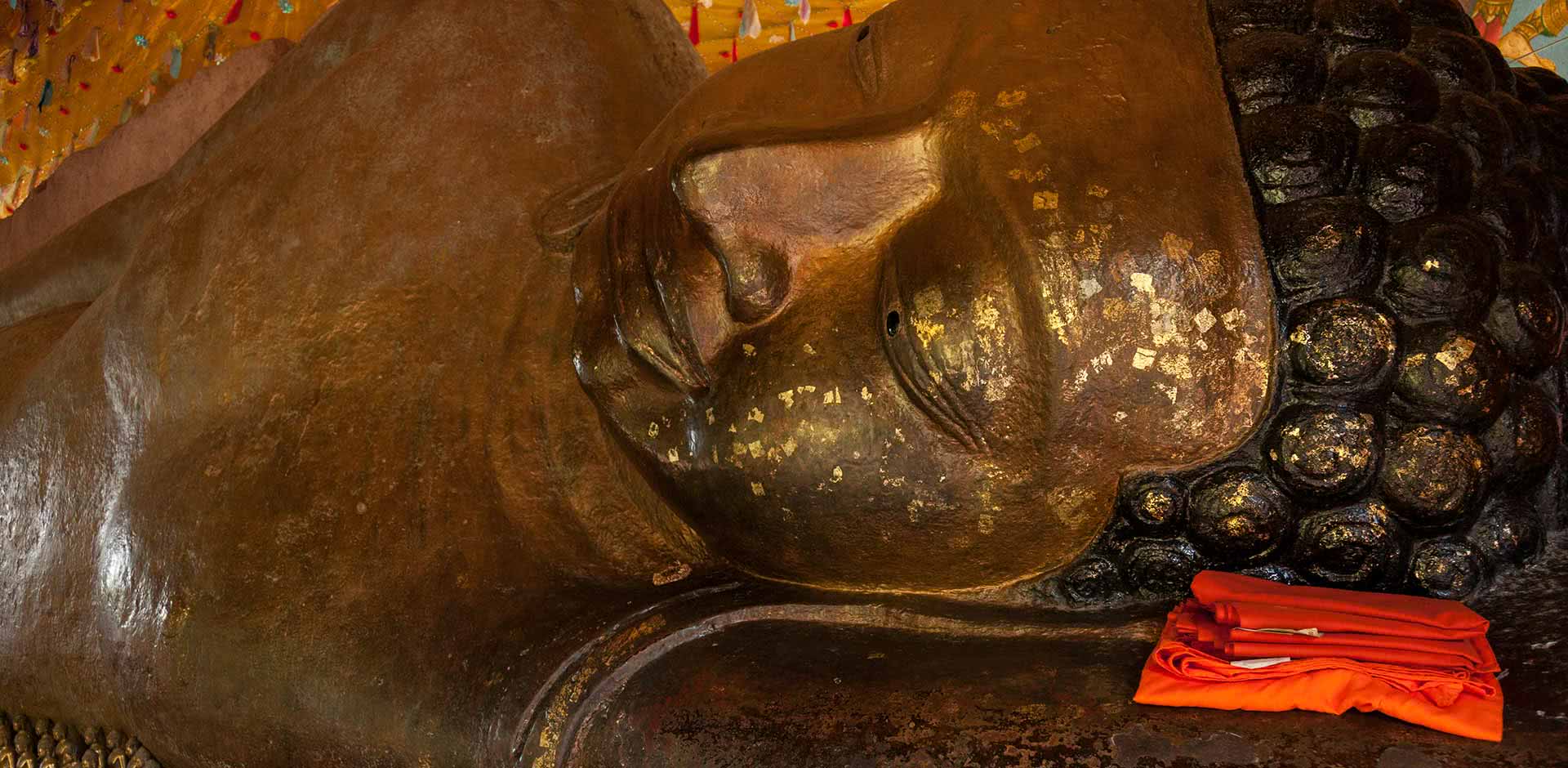 Day 7
Siem Reap-Phnom Penh
You may choose to join for a visit to Koh Chen, a silversmith village known for its quality craftsmanship whose bowls were regularly chosen by Cambodia's king as gifts for visiting dignitaries. In the afternoon, you will have the opportunity to explore the Mekong's 'silk islands' and watch skilled weavers at work. If you wish, hop on a bike and explore the island further.
Day 8
Song Saa Private Island
Arrive into port at Phnom Penh this morning and disembark. Meet your private guide for a half day tour around the city, visiting the stunning Royal Palace and Silver Pagoda. Those wanting a deeper look at Cambodia's history may opt to visit the somber Tuol Sleng Museum of Genocide and the Killing Fields to learn about the Khmer Rouge movement and how its brutal actions shaped the modern country. After lunch, drive south to the seaside Sihanoukville where a speedboat will take you to a private island resort, Song Saa, the last destination of your journey.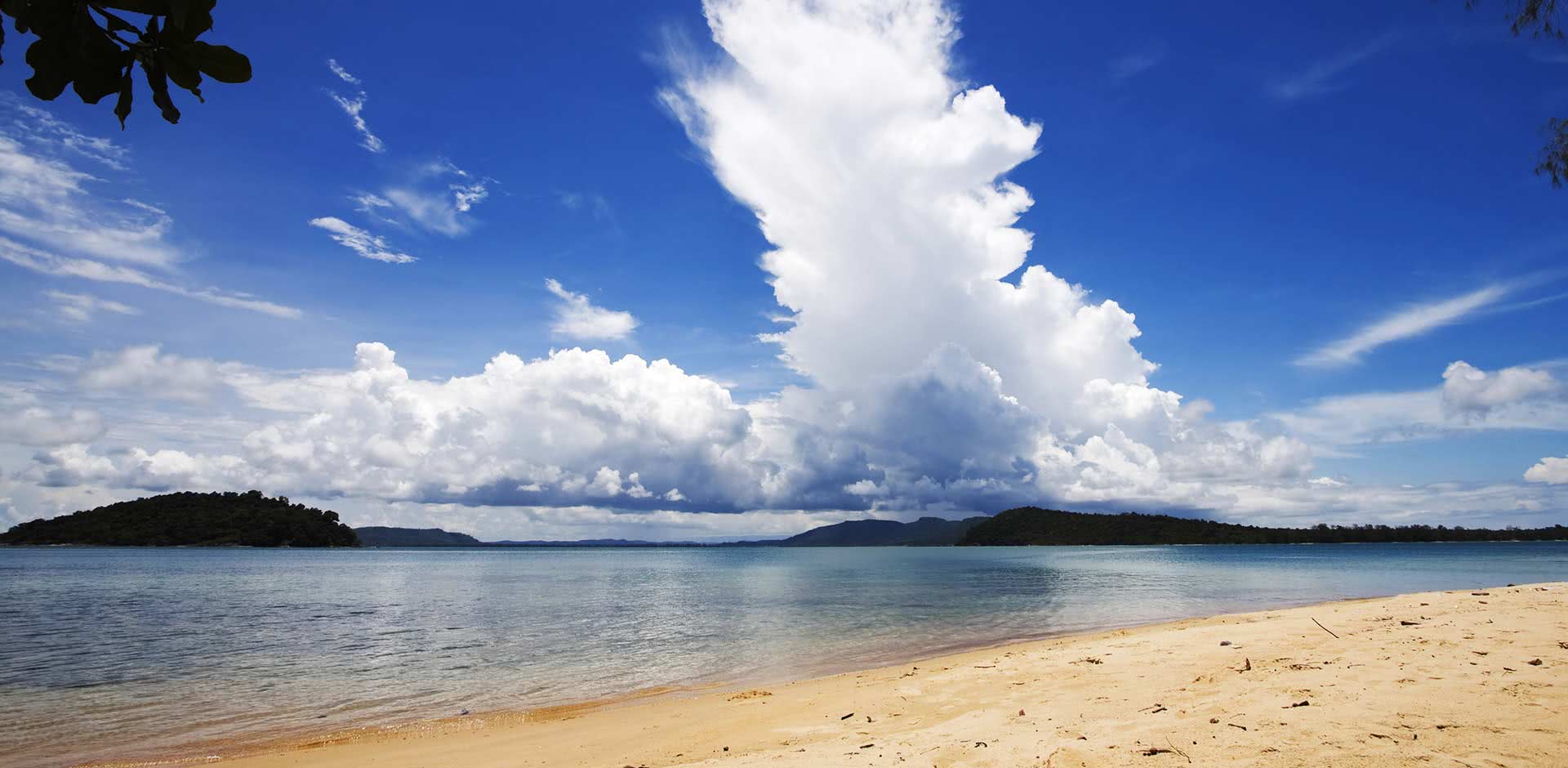 Day 9
Song Saa Private Island
While the day away lounging on your stretch of white sand fringed with palm trees and dazzling turquoise waters. Take a dip in the warm waters and snorkel out to discover the colorful reefs teeming with marine life, or go further out to Koh Rong Archipelago for a diving expedition to discover the home of barracuda, sea turtles, giant clams and dugongs. Enjoy the waters further with wake boards, kayaks, inflatable tubes towed behind a speedboat, water skis and stand-up paddle boards, all available at the resort's beach club.
Day 10
Song Saa Private Island
Spend the last day in total relaxation by the pool, sea or at the spa. For a truly indulgent treat, sail on a traditional long-tail boat to a private beach and soak in the tropical sun in complete serenity. Active guests may choose amongst a wealth of excursions and experiences such as a cooking lesson, tour through a local farm by buffalo cart, hike through the rainforest for wildlife spotting and tropical bird watching, and visiting nearby Khmer fishing villages. Cap off your final night with a romantic dinner on the beach under the stars, toasting to your journey through Cambodia.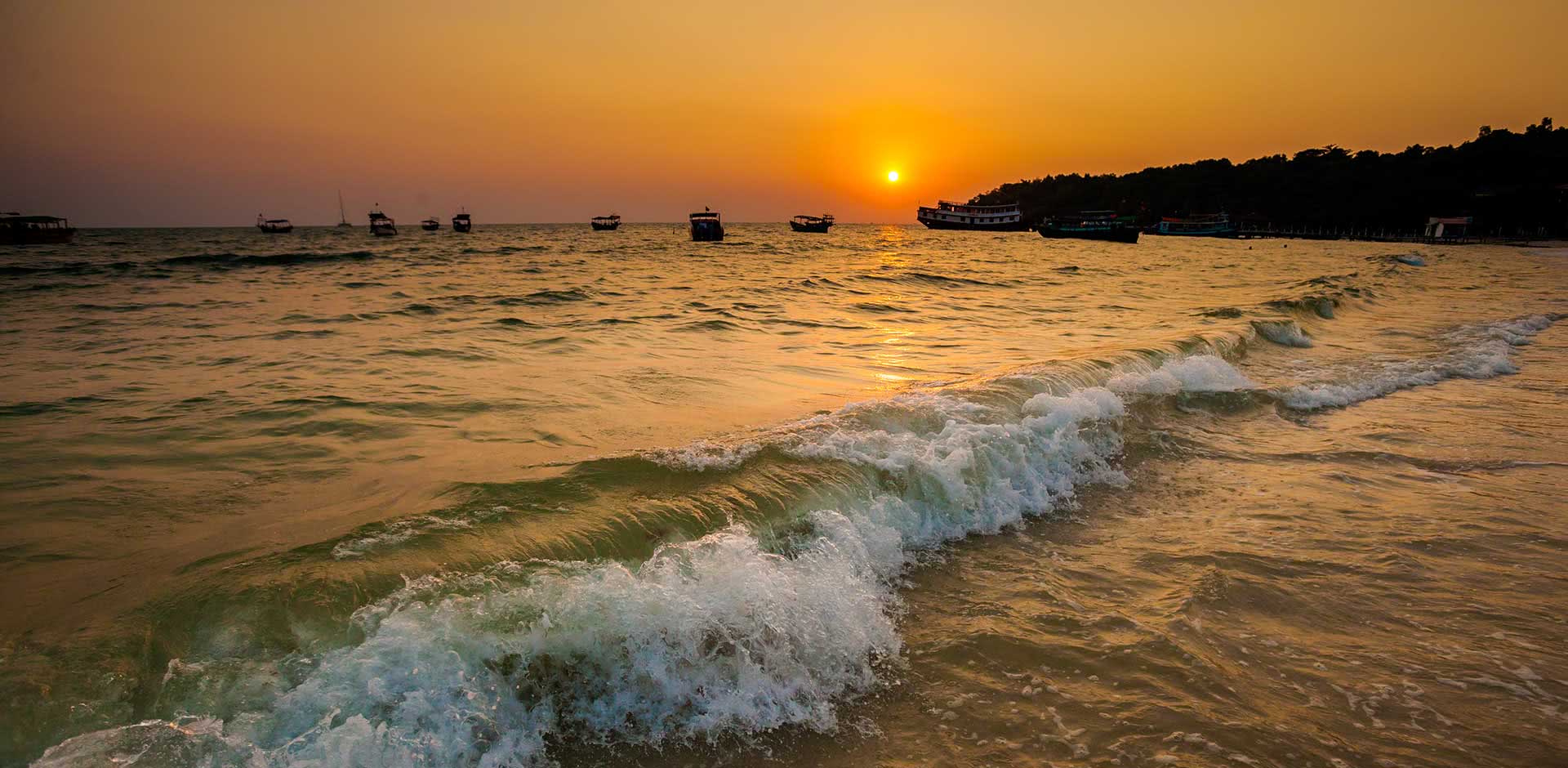 Day 11
Departure
Enjoy breakfast before taking the speedboat back to Sihanoukville and transferring to the airport. Fly to Phnom Penh or Siem Reap for your connection home.
TERMS AND CONDITIONS
Price is based on double or twin hotel room occupancy and includes accommodation, transfers, car/driver, English-speaking guide, activities and entrance fees, breakfasts and some casual lunches while touring. Full board and excursions are included on the Aqua Mekong cruise. Roundtrip speedboat transfers and full board included at Song Saa private island, excursions and resort activities may incur additional charge. Flights and optional special activities will be quoted separately. Most personal expenses, including dinners, alcoholic beverages, spa treatments and gratuities can be paid on the spot while traveling. Prices may vary depending on season, choice of accommodation and other factors.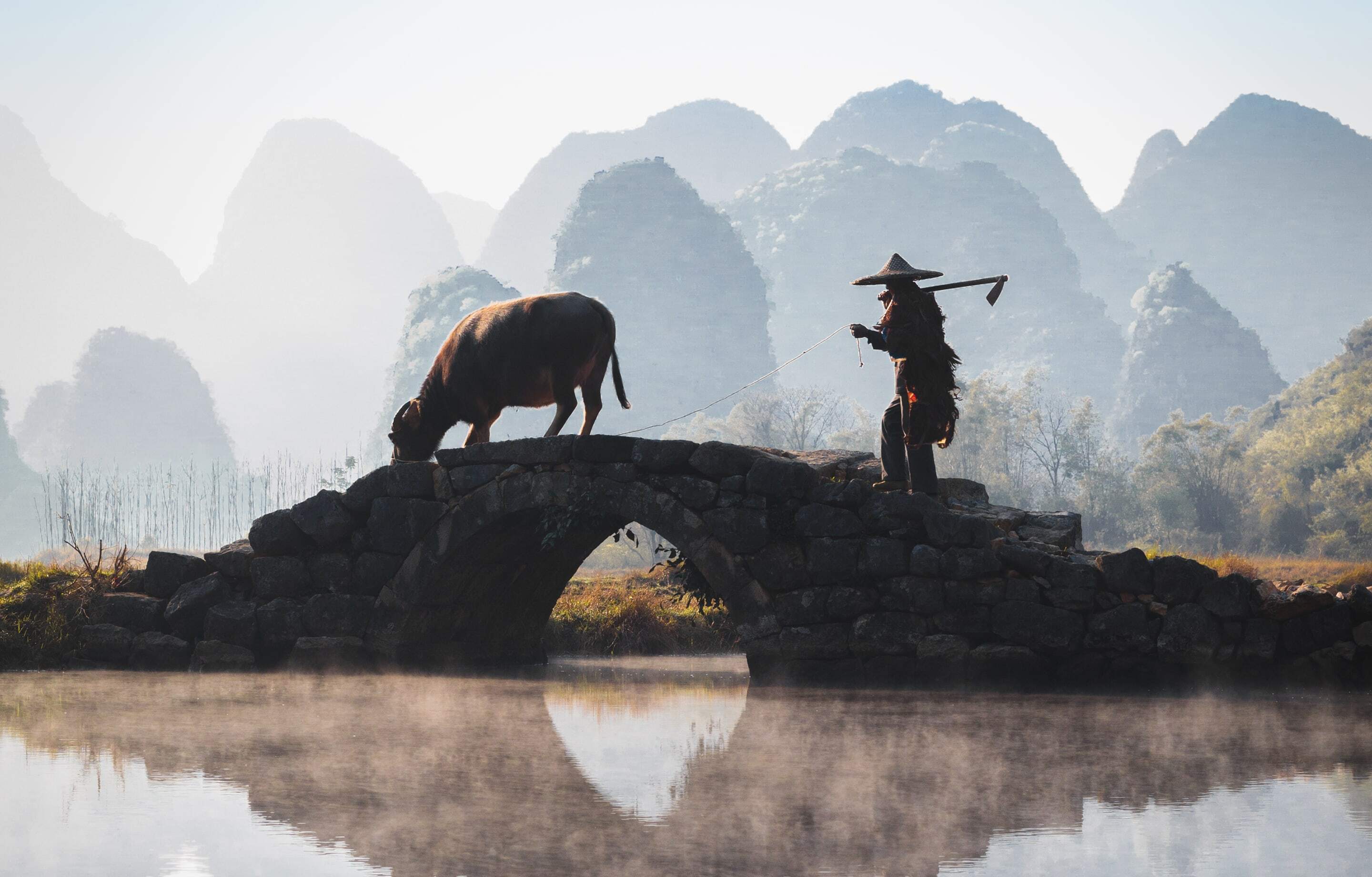 Why Remote Lands?
Exclusively Asia
With Remote Lands you'll travel with people who have made Asia the solitary focus of their own lifelong adventure. As our guest, you'll discover Asia on a journey that is completely, authentically your own, adapted from our own remarkable experiences and adventures over the years.
With Remote Lands you'll travel with people who have made Asia the solitary focus of their own lifelong adventure. As our guest, in the continent that our north American founders Catherine and Jay have adored and explored for decades, you'll discover Asia on a journey that is completely, authentically your own, adapted from our own remarkable experiences and adventures over the years.
Travelogues
An Asia-focused magazine brought to you by Remote Lands – a platform for adventure, luxury, and authenticity from experts and explorers around the continent.
What Others Say
Here is a small selection of the kind words our guests have said about us, as well as features by journalists and travel writers.
From the moment I happened upon the REMOTE LANDS website over a year ago, browsed the options, I knew that this would be well worth it. The entire staff is nothing less than professional with service that made us feel like royals.
This was truly the trip of a lifetime. Magical destinations, the most luxurious hotels in the world, and the most wonderful travel companions we could've wished for. We were treated like family everywhere we went and we have 14 new best friends.
We have used some of the top rated travel specialists all over the world and, without question, Catherine Heald and Remote Lands are at the very top of the list!