Remote Lands is proud to be featuring The Bill Bensley Trail, a once-in-a-lifetime, 15-day experience across four countries to see Asia through the eyes of one of the most extraordinary design minds on Earth: Bill Bensley. One of the stops on The Bensley trail is the Shinta Mani Angkor, just seven kilometers from Angkor Wat, the 12th century wonder of the world and the largest religious monument in the world. Bill Bensley sat down with Remote Lands to discuss the importance of Shinta Mani Angkor, and why it is such a pride of the Bensley collection.

In the Shinta Mani Angkor it's all about my interpretation of Jayavarman's wonderful 14th century work at Angkor Wat.
My favorite temple there is Angkor Thom, and there is something like 240 faces of Jayavarman at Angkor, and I took that as inspiration and modernized it and made it contemporary.
But really the most beautiful thing guest are going to enjoy is that it's a hundred percent private. In fact, Leo was there last week and no one is going to disturb you because there's only 10 rooms.
There's a beautiful swimming pool and both the back and front of the bedroom opens out into a garden and you have to walk through that garden into the bathroom and then you can climb some stairs quite high up – four and a half meters – to a sunning deck and a party deck and a bar upstairs.
Every room comes with your own Bensley butler, and they've been trained to know exactly what I like, and to go to the places I like to go to shop and the places that I like to go and see. And they know the places not everyone else knows, they know the backdoors, so you can see monuments pretty much by yourself.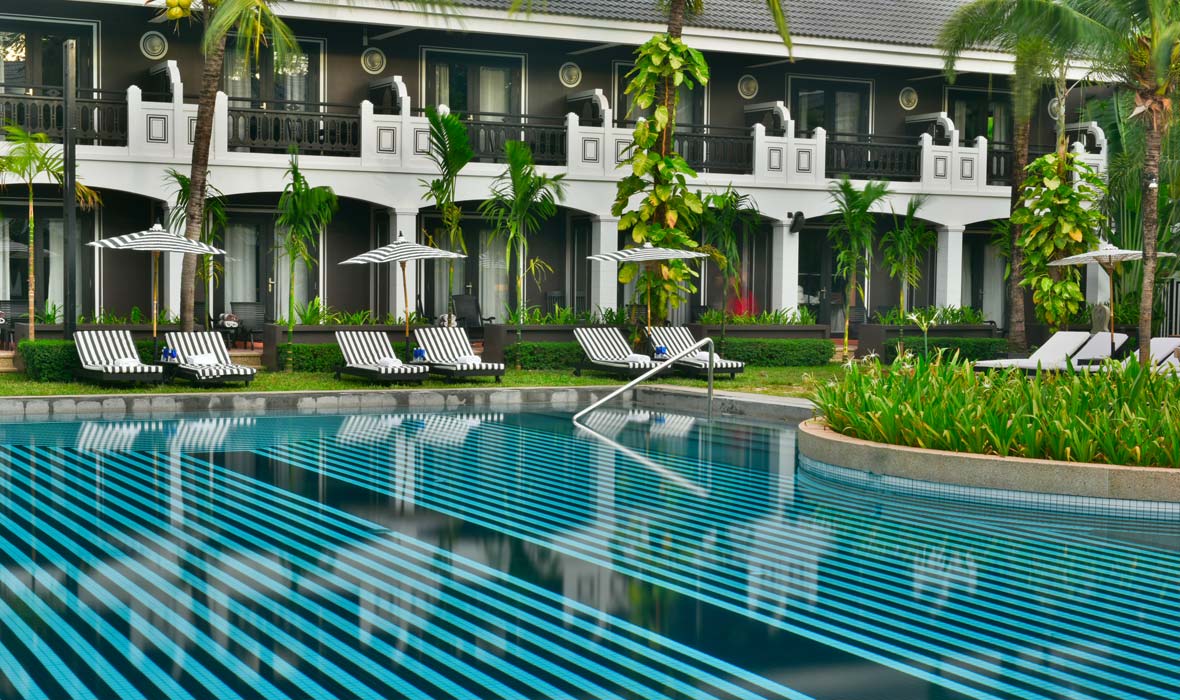 From Bill's kitchen in Bangkok to the charm of Luang Prabang to the rain forests of Cambodia and the beaches of Vietnam, explore four countries with the genius and charisma of one of the most exciting characters in the travel industry. Stay in tented camps, urban retreats, beachside getaways, and go behind the scenes for a look at Bensley's creative process. With anecdotes from the lively Bill Bensley and some of the finest accommodations on the continent, indulge in Southeast Asia like never before.
Hosted by Bill Bensley himself: Stay at some of the most acclaimed hotels in the world, hosted by the man who designed them.
Stay at the new Shinta Mani Wild: Experience this eccentric rainforest conservation retreat, deep within a national park.
VIP Angkor Experiences: Take an aerial tour of Angkor Wat by helicopter & enjoy a private dinner in an ancient Khmer temple.
MandaLao Elephant Sanctuary: Meet the elephants rescued from loggers and sustained through responsible tourism.
Dinner with Bill Bensley in his Bangkok home: Exclusive soirée at Bill Bensley's stunning private residence in Bangkok.
Sneak Peek at Bill Bensley's Design Process: Go behind the scenes of BENSLEY Design Studios for a peek into the magic of Bill Bensley's creative process.