With warm water, tropical seaside stays, and powdery beaches lined with palm trees, the teardrop island of Sri Lanka boasts world class surfing and kitesurfing. Along with the seasonal monsoons that make Sri Lanka a year-round surf destination, the consistent wind and shallow flatwater lagoons are a warm welcome to kitesurfers around the globe.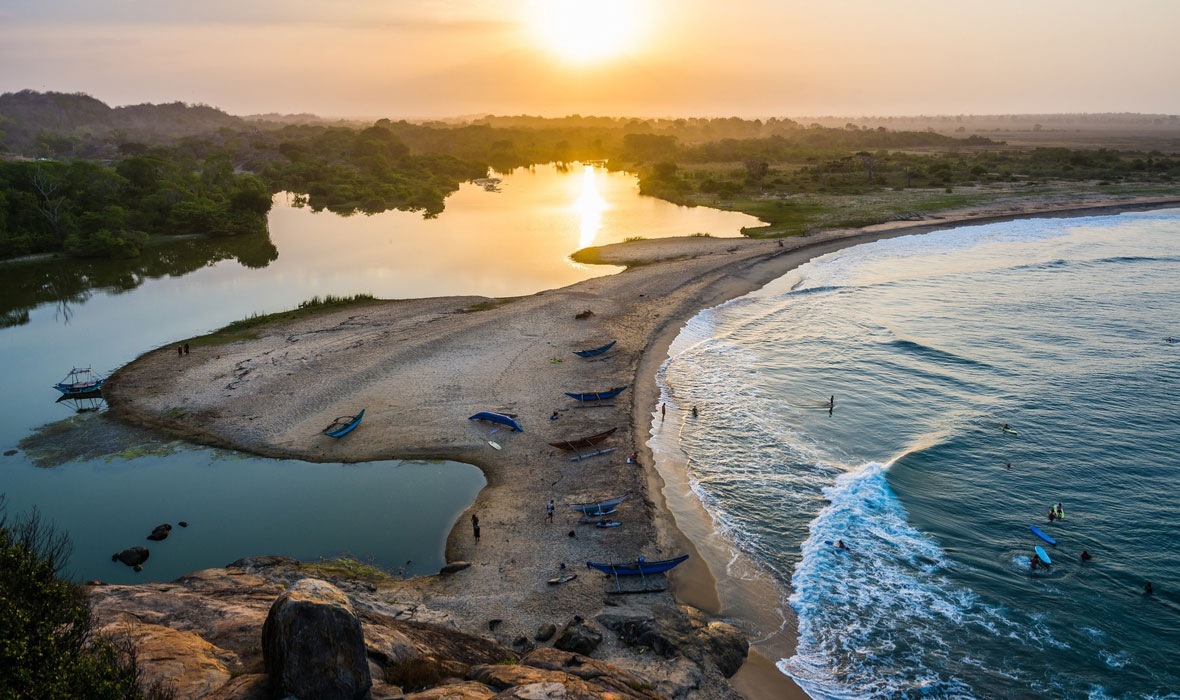 Tucked away on the east coast of the island, the surf season in Arugam Bay runs from April to September. While the South and central hills are battered by the northwest monsoons, during these months the east coast is graced by a tropical sun with warm, dry conditions, clear blue skies, and constant swells.
Frequented by surfers, the moon-shaped bay is home to two world-class surfing spots. Baby Point, as the name pretty obviously suggests, caters to beginners.
More advanced surfers flock to Main Point, where the best wave in Sri Lanka breaks over a reef and long-rides offer perfect conditions for longboarding.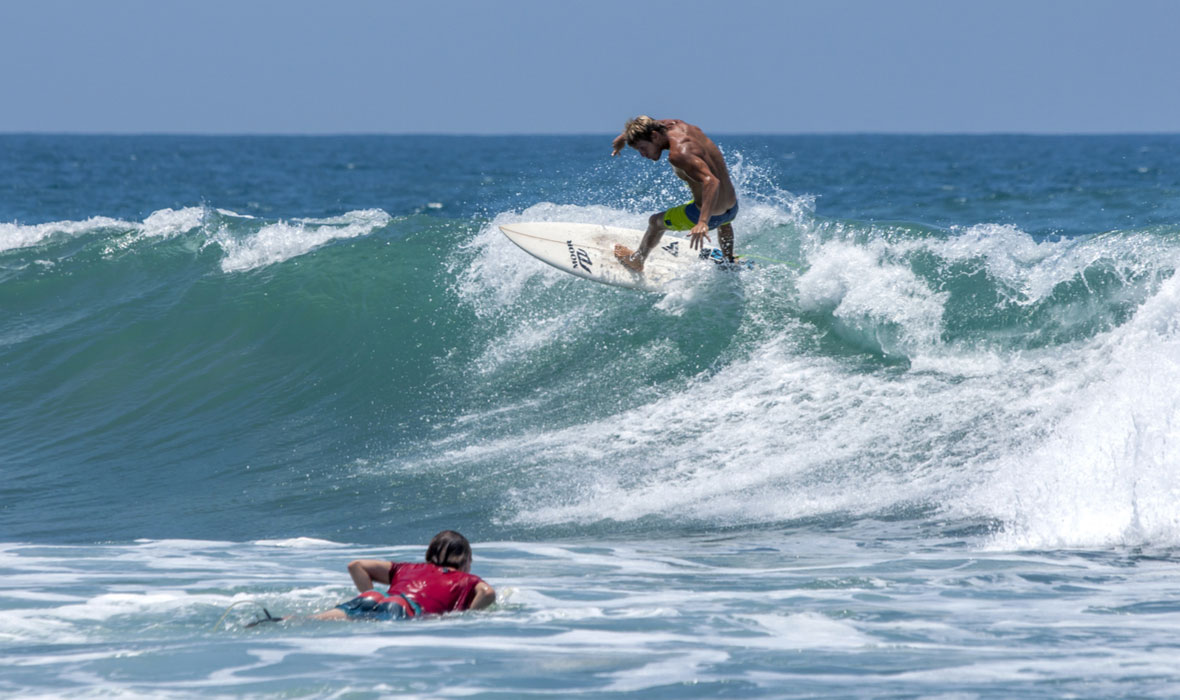 Only a short drive or tuk tuk ride from Arugam Bay, the right-hand point break at Elephant Rock is suitable for surfers of all levels. Further south is Okanda, with an exposed break; wild, fast, and sporadic barrels here attract experienced and more advanced surfers. In August and September, the right-hand point break in Pottuvil, four kilometers north of Arugam Bay, offers incredibly long rides over half a mile.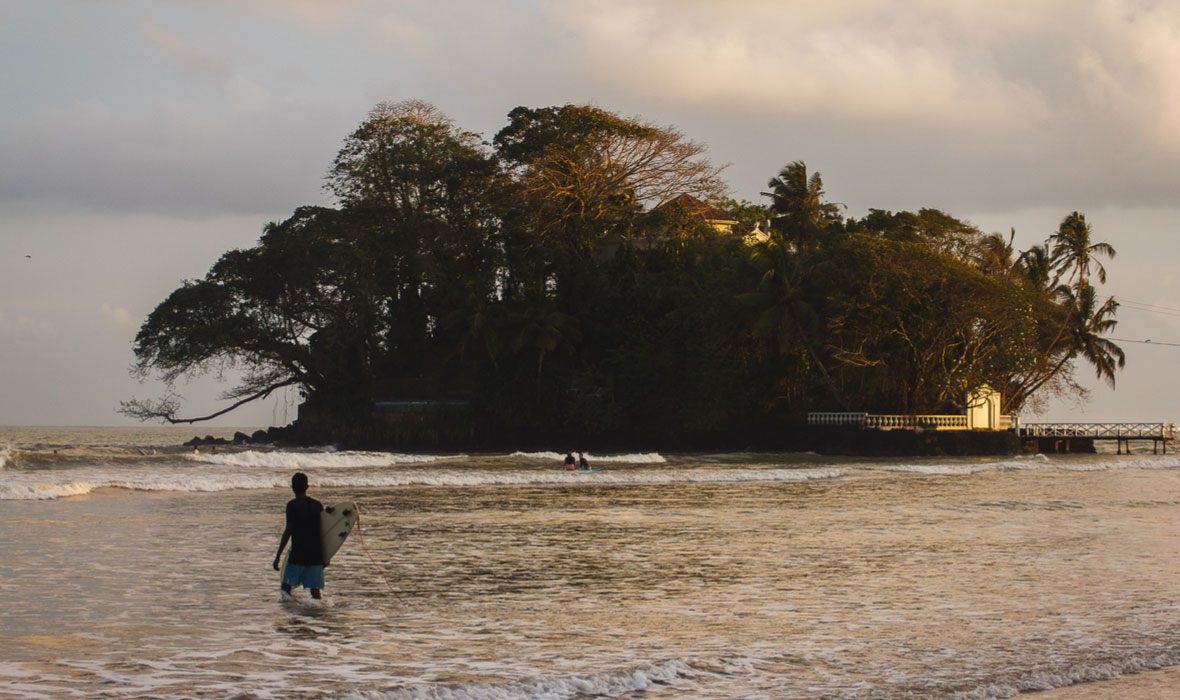 Weligama in Sinhala means "sandy village." The long, sandy stretch of Weligama offers ideal conditions for beginners. A laid-back village in the south coast, the surf season here runs from December to April.
While learners line up one after another, a quick stroll toward Mirissa will guarantee an uninterrupted surf session, especially for those who are working toward their intermediate levels.
Surfers should set off at dawn to catch the waves when they're quiet. The bay conditions make Weligama a reliable surf spot even when the rest of the south coast is blown out.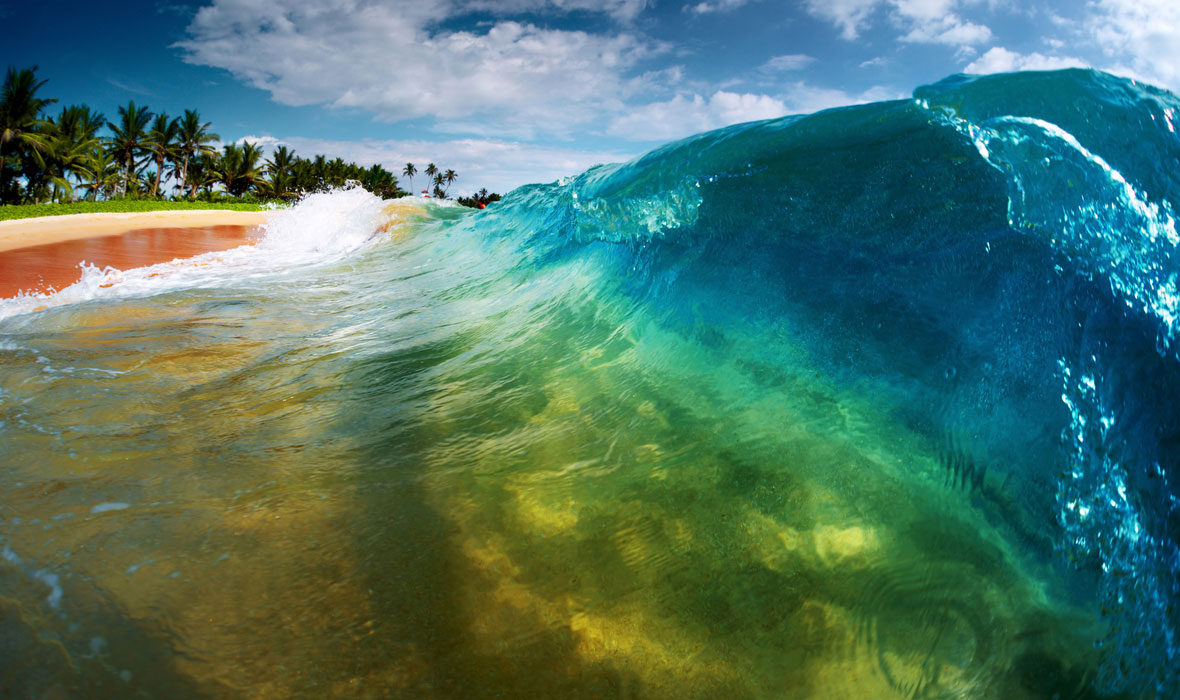 Beginner to intermediate friendly, these two mellow breaks sit opposite each other in the sleepy Midigama Bay. Midigama is an ideal surf location on the south coast, located north of Weligama. If you time it right, Lazy Left offers longboard-friendly rides up to 500 meters.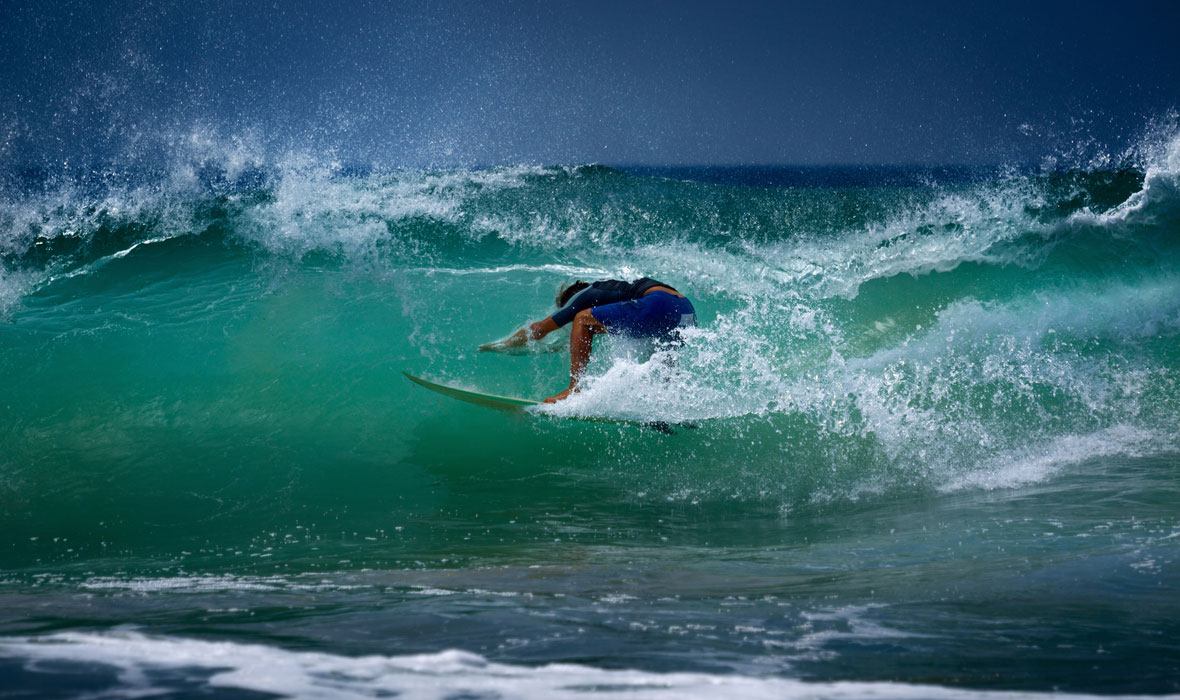 Usually predictable and holds up to six feet on a good day, with a juicy swell, mornings tend to get crowded at Lazy Left. The neighbor, Lazy Right – as the name suggests – breaks right, over the sharp reef and produces long rides all the way back to the sandy shore.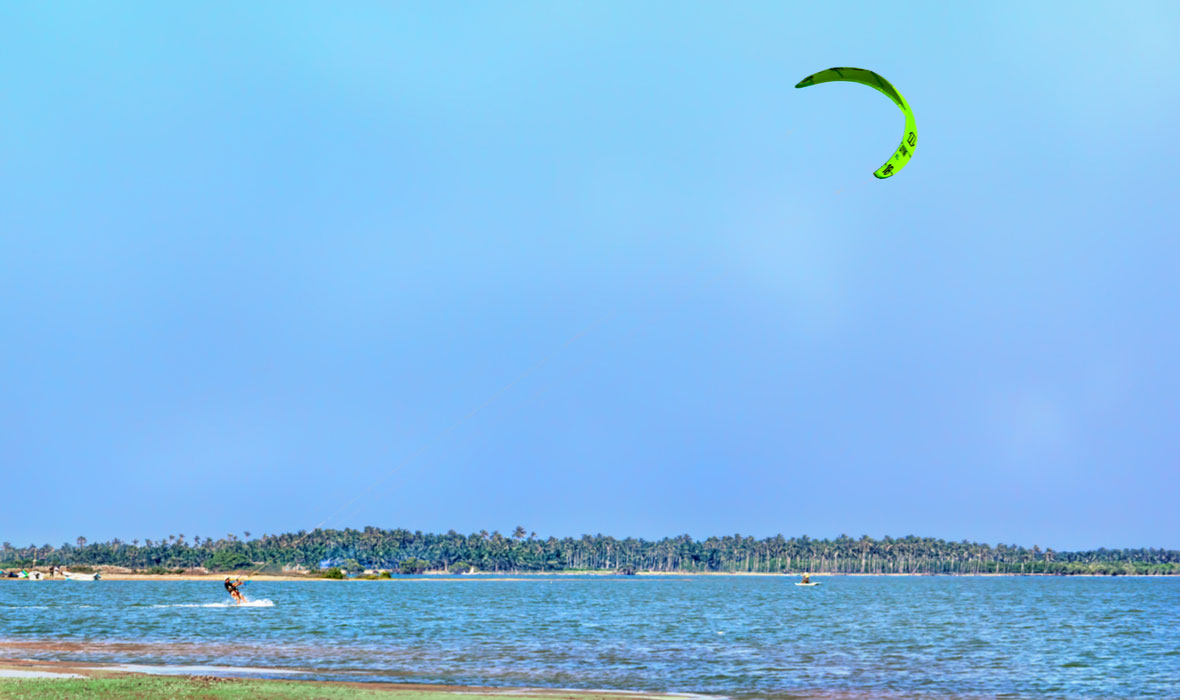 Located in the northwest coast of Sri Lanka, Kalpitiya is only a three-hour drive from Bandaranaike International Airport. Kalpitiya Lagoon is a large flatwater lagoon in the Kalpitiya Peninsula which stretches over 40 kilometers, popular among kiteboarders of all levels. The high season runs from May to October where the southwest winds blow steady, averaging 17 to 25 knots.
The shallow water offers perfect conditions for beginners and freestylers. To reach the unspoiled sand dunes, where the launching is done, a boat is quite useful. More advanced kiters prefer afternoon winds, and wave riders head to the Indian Ocean a few meters away to catch some waves.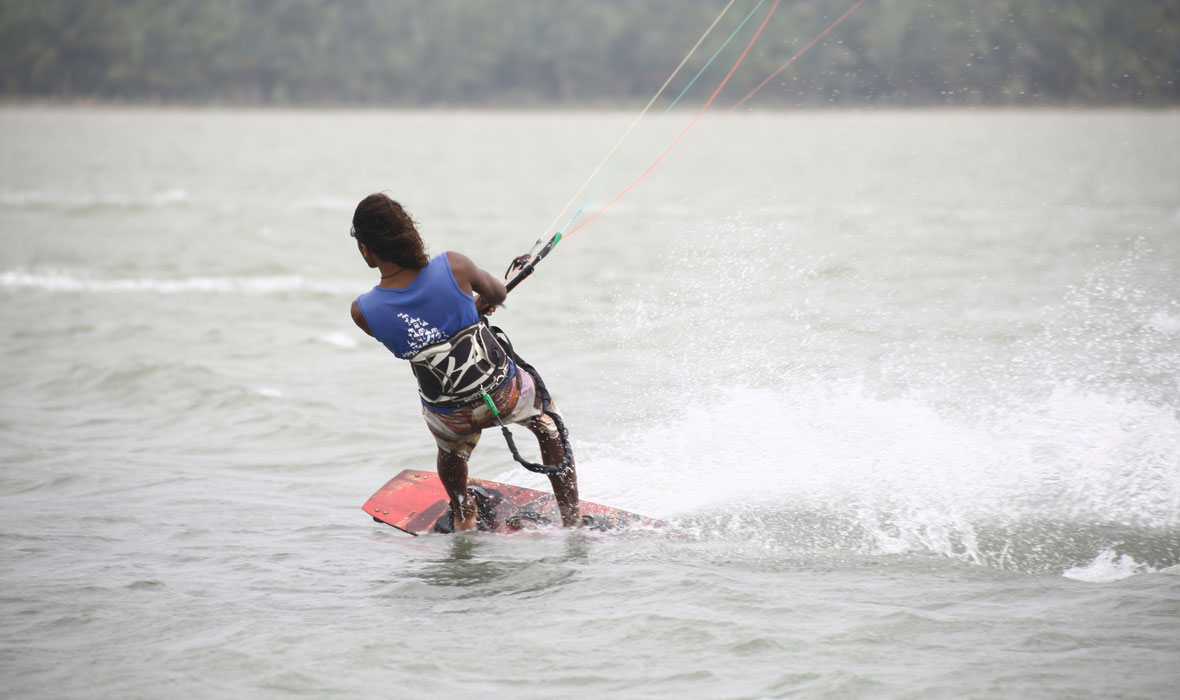 In Kalpitiya, unpredictable wind gusts are common, especially in the south end of the lagoon. Sharp seashells are often strewn on the shore with monsoon winds, so kiters must wear good quality surf shoes.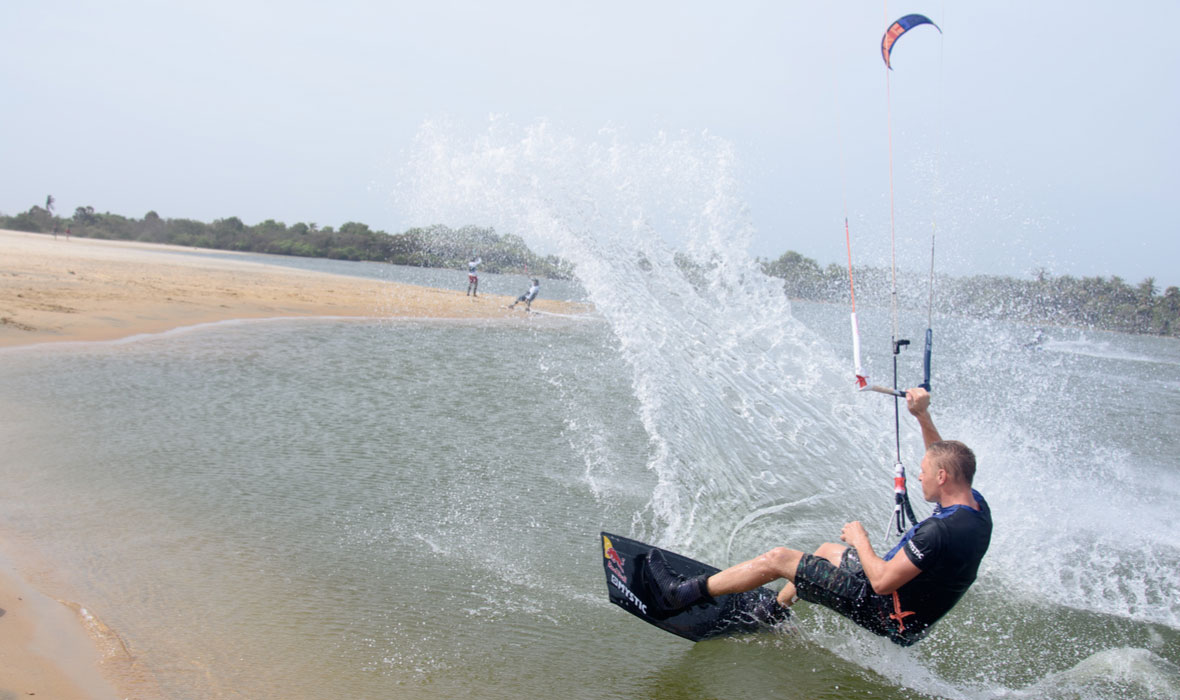 While the main Kalpitiya Lagoon is spacious, well-researched kite enthusiasts now prefer the two small lagoons in Kappalady where solo kitesurfing is possible, especially in the winter months of December to April. The wind averages 15 to 17 knots in the winter months. Kappalady is only 30 minutes south of Kalpitiya where the crystal clear, butter smooth flat water attracts beginners. A long, powdery sandbank sits between the Indian Ocean and the two flatwater lagoons. Lessons usually start during midday and are continued until dusk falls. Home to epic sunsets, kiters end their day with a sundowner while the setting sun casts a golden glow over the Indian Ocean.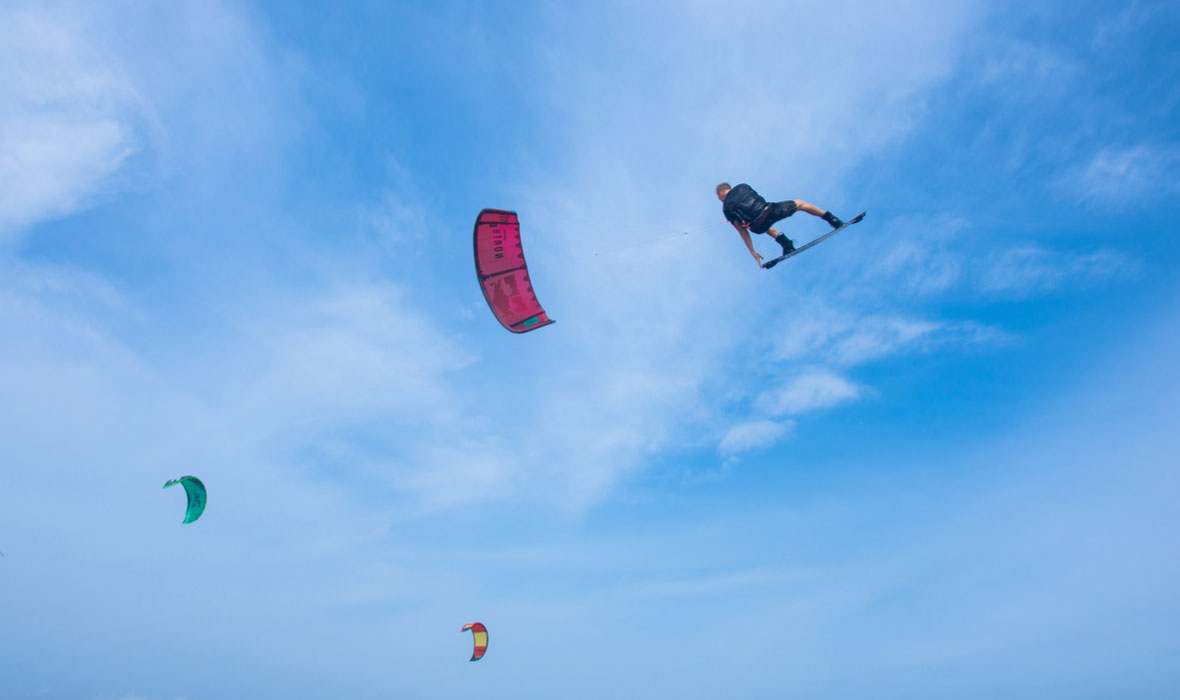 A few more surfing locations to check out in the south coast include the famous Unawatuna Bay, a coastal village south of Weligama and Hikkaduwa near Galle where large swells are frequent. For kitesurfers, Mannar is an emerging destination while Donkey Point in Kalpiiya is the go-to spot for downwinders.  Kite safaris are often arranged to nearby Vellai Island and Paradise Island north of Kalpitiya.