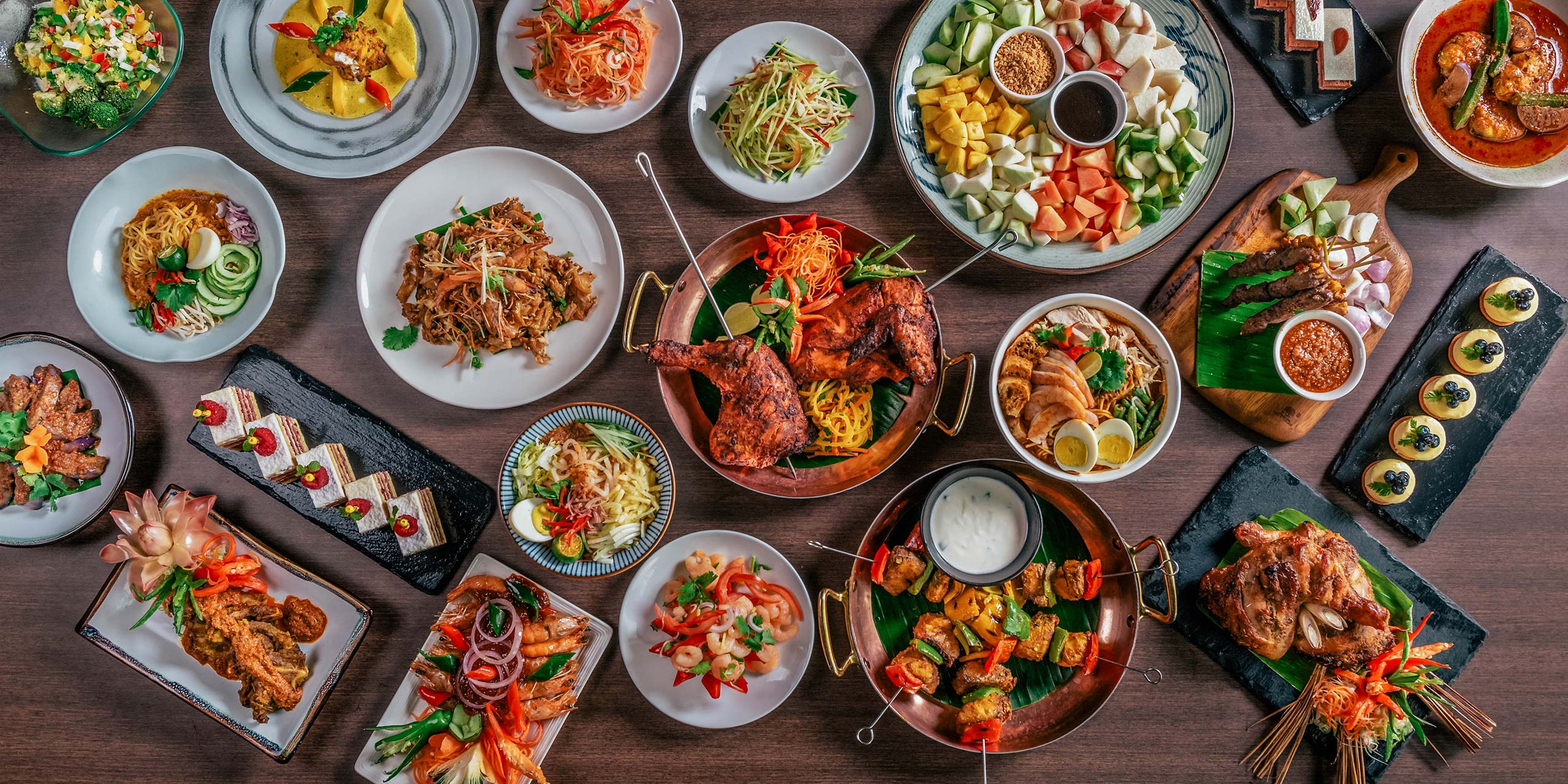 When Michelin released its first Malaysia guide in December 2022, including 97 restaurants, establishments, and stalls, they also gave out most of the 4 coveted stars to places that make foreign food. Local foodies were a bit taken aback — especially in Penang.
The island is fiercely proud of a food tradition that has turned heads worldwide. From Anthony Bourdain to Lonely Planet, the power of Penang food has mesmerized minds across the globe.
That was why, when pairing a name like Michelin—traditionally associated with haute dining and exclusive culinary experiences—with the grassroots street food culture in Malaysia, and specifically Penang, sounded like pairing the Devil with holy water to many.
What can the esteemed Michelin critics understand of food that's best consumed with plastic chopsticks and in disposable bowls, rubbing elbows with slurping locals and sitting by the roadside on metallic tables? Here are some of the culinary icons they might want to check out next time they visit Penang.
The Spice of Life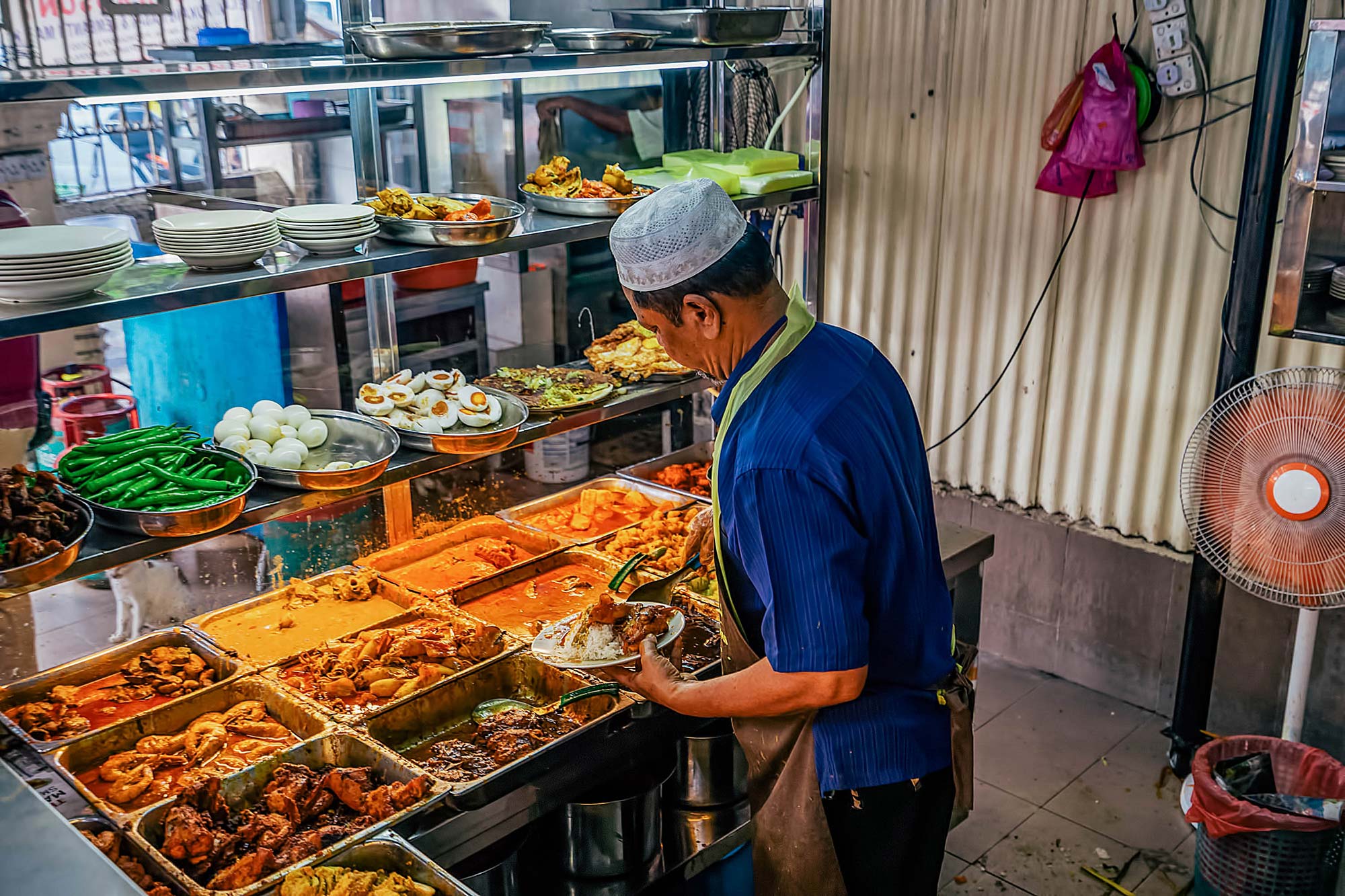 One of the most common options for eating out in Penang are the canteen-style buffets that are found at almost every food court in Malaysia. But in Penang, that tradition is taken to the highest levels of taste by expert mamak (Indian Muslims) who have created nasi kandar. Meaning literally "pole rice", the name comes from the way the Penang Indians used to carry rice and curry in buckets slung at the opposite sides of a pole to sell them for a living.
Today, nasi kandar has switched from the street side to restaurants all over George Town and the island. The way the food is arranged behind glass in exposed metallic trays from which one pick and scoops food over rice reminds of the school lunches and work canteens in the west.
From vegetable curries to all sorts of chicken and mutton (forget pork, for the halal nature of this dish), squid and seafood, nasi kandar is a tangy and earthy meal. The Malay ethnic group has its variation, nasi campur, which means "mixed rice", and the Chinese "economy rice". The thickness and spiciness of the curries may be different, but they are all rice dishes upon which customers throw all sorts of curries and veg dishes.
The tourist favorite in George Town tends to be Nasi Kandar Line Clear (tucked at the western end of popular Chulia Street). Many other choices exist including Restoran Mohammed Raffee in Burma Road, Deen Maju in Jalan Gurdwara, or Tajuddin Hussain in Queen Street.
Liquid Gold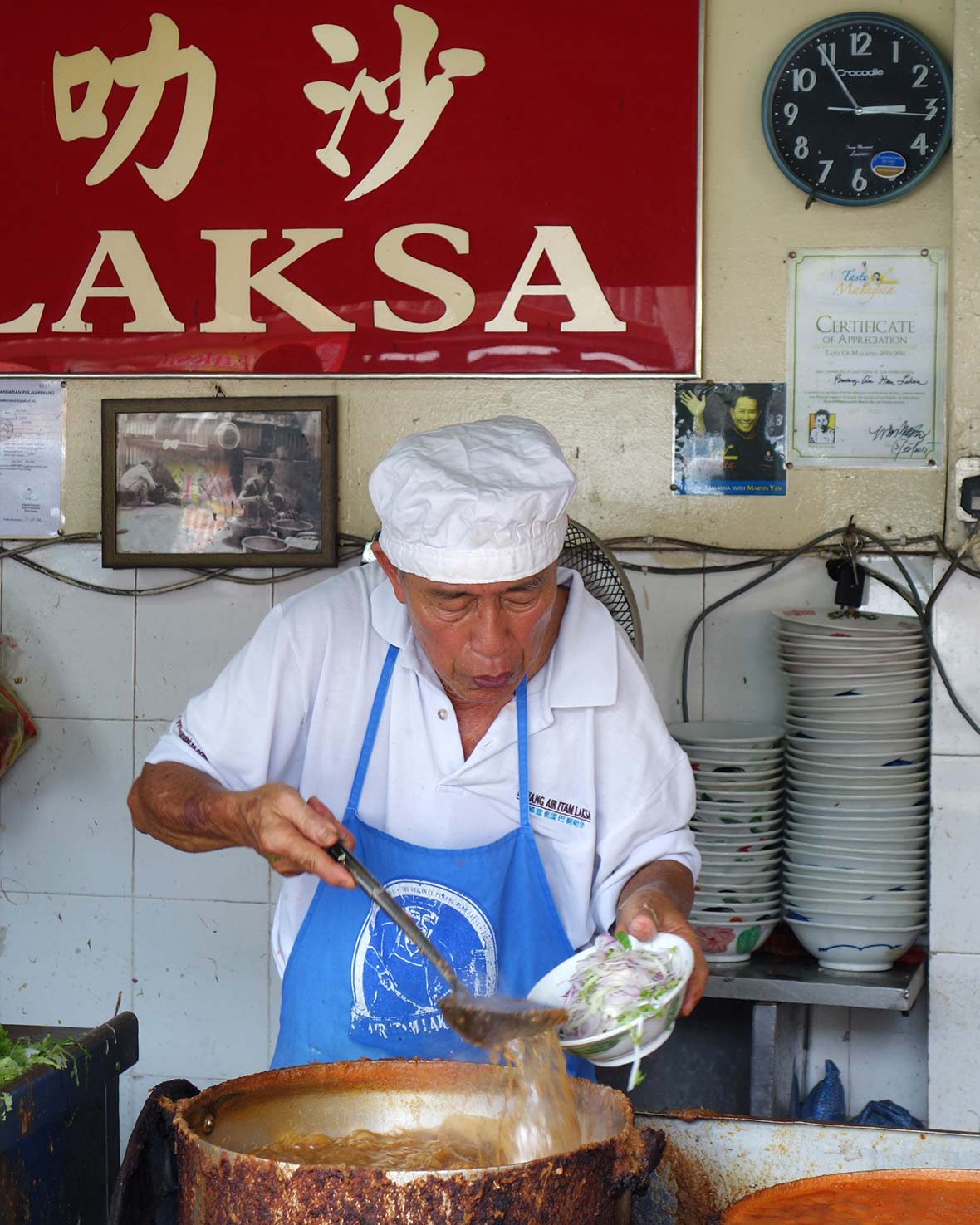 Tangy, fish-scented, heavenly broth served with a tangle of thick and juicy noodles: Penang assam laksa may be one of Penang's most characteristic and authentic foods. Laksa is generally served from humble little hawkers' carts on the street, Pasar Malam—which means "night market" in Malay—or food courts. However, some upmarket restaurants also serve this comfort food on their menus.
The laksa stall at Air Itam market might be the most well-known in Penang, having doled out the dish since 1955. Because of the cook's age, pandemic stress, and family matters, Laksa Air Itam almost closed during lockdowns. These days it's best to check their opening days on their Facebook.
Don't expect a fancy Michelin experience here: sit at one of the round metallic tables that spill around the stall and let yourself return in time on the round metal stool you'll be given as a seat. The taste of Laksa Air Itam is truly delicious. Your nose may water because of its spiciness. But consider piquancy a good sign, for no extra shrimp paste is required to enhance the flavor
Char and Wide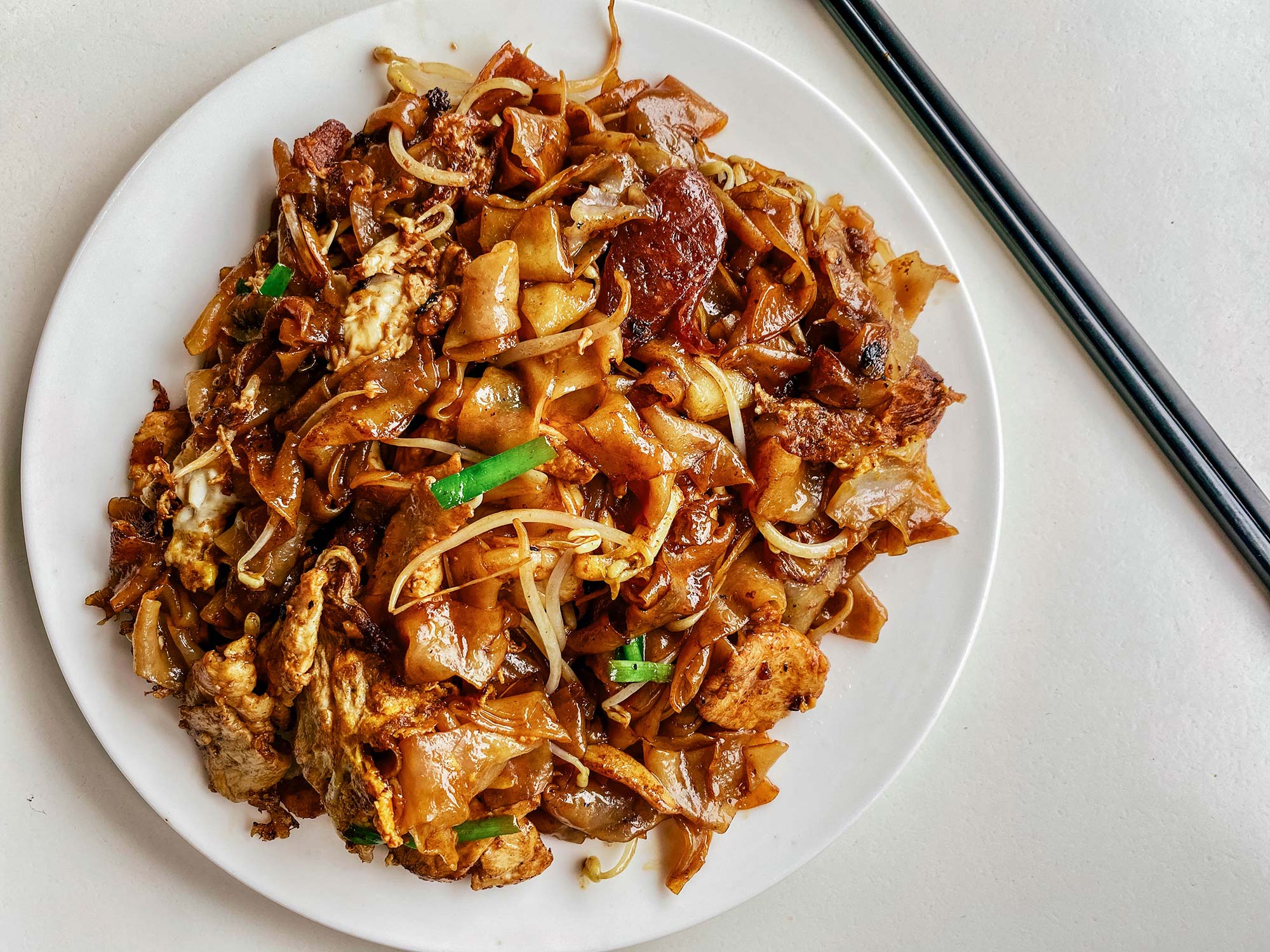 Char kway teow are large flat rice noodles, which are "charred" and fried with egg, bean sprouts and fat prawns, creating a very famous Penang Chinese noodle dish that people come from all over the country to try. The Malays also have their version, kway teow goreng, which differs slightly in preparation and ingredients, and locals consider as a very different dish. Two good places to try it are Ah Leng Char Koay Teow along Jalan Dato Keramat and the Tiger Char Koat Teow at Ping Hooi Kopitiam on the corner of George Town's Lebuh Carnarvorn and Lebuh Melayu.
Divine Dumplings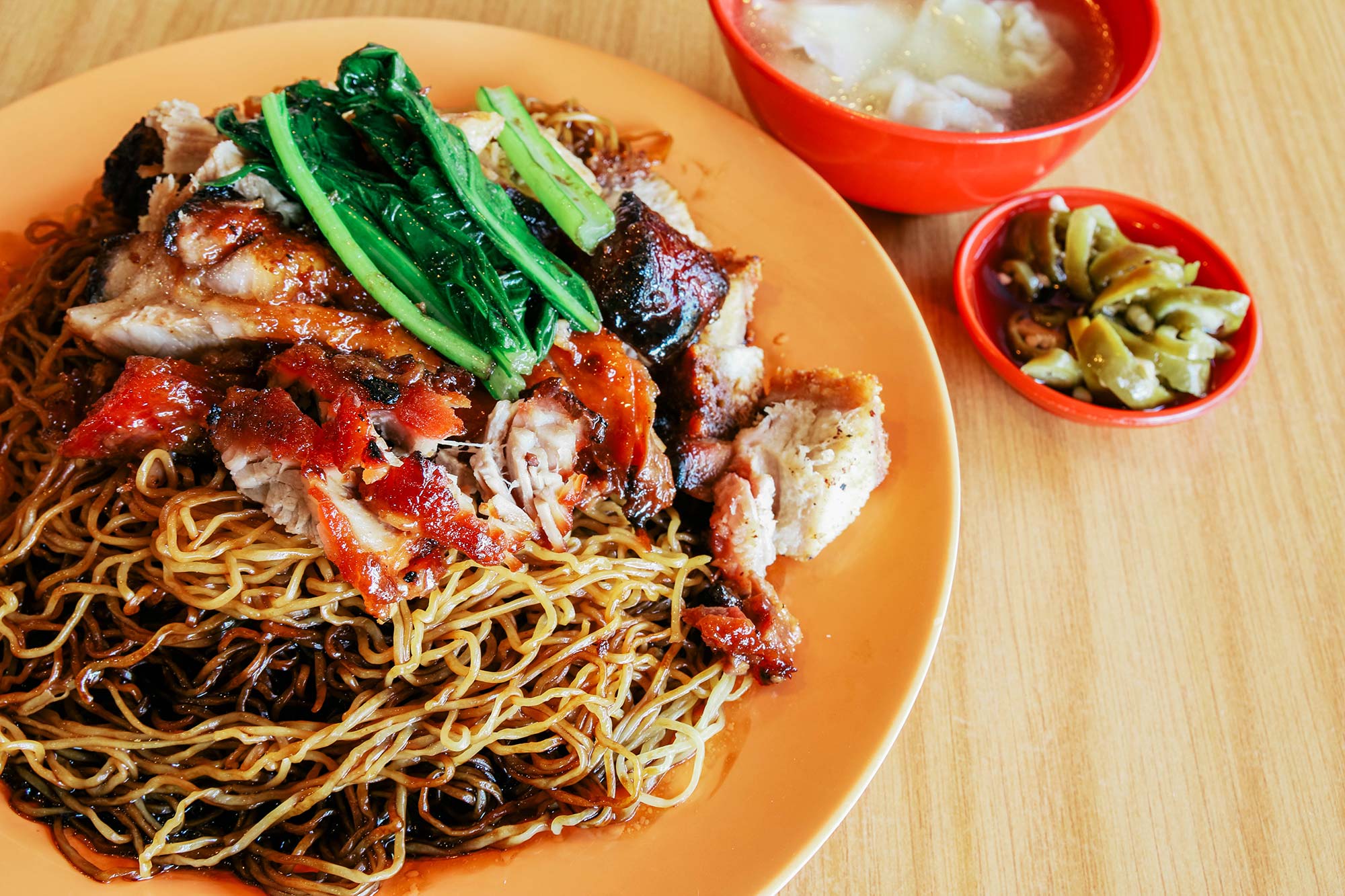 Wonton mee is a quintessentially simple Chinese dish of yellow noodles, wontons, veggies, and pork slices that can be ordered dry or in soup. The dry version is a favorite: the noodles are soaked in black soy sauce, garnished with herbs, slices of barbecued pork, fresh-cut green chilies, and wontons—meat dumplings wrapped in rice flour. Generally, the juicier the noodles, the best the dish, but it depends on the cook. Good wonton mee can be found in Lebuh Melayu and at Hong Kee Bamboo Noodles on Campbell Street.
Oodles of Noodles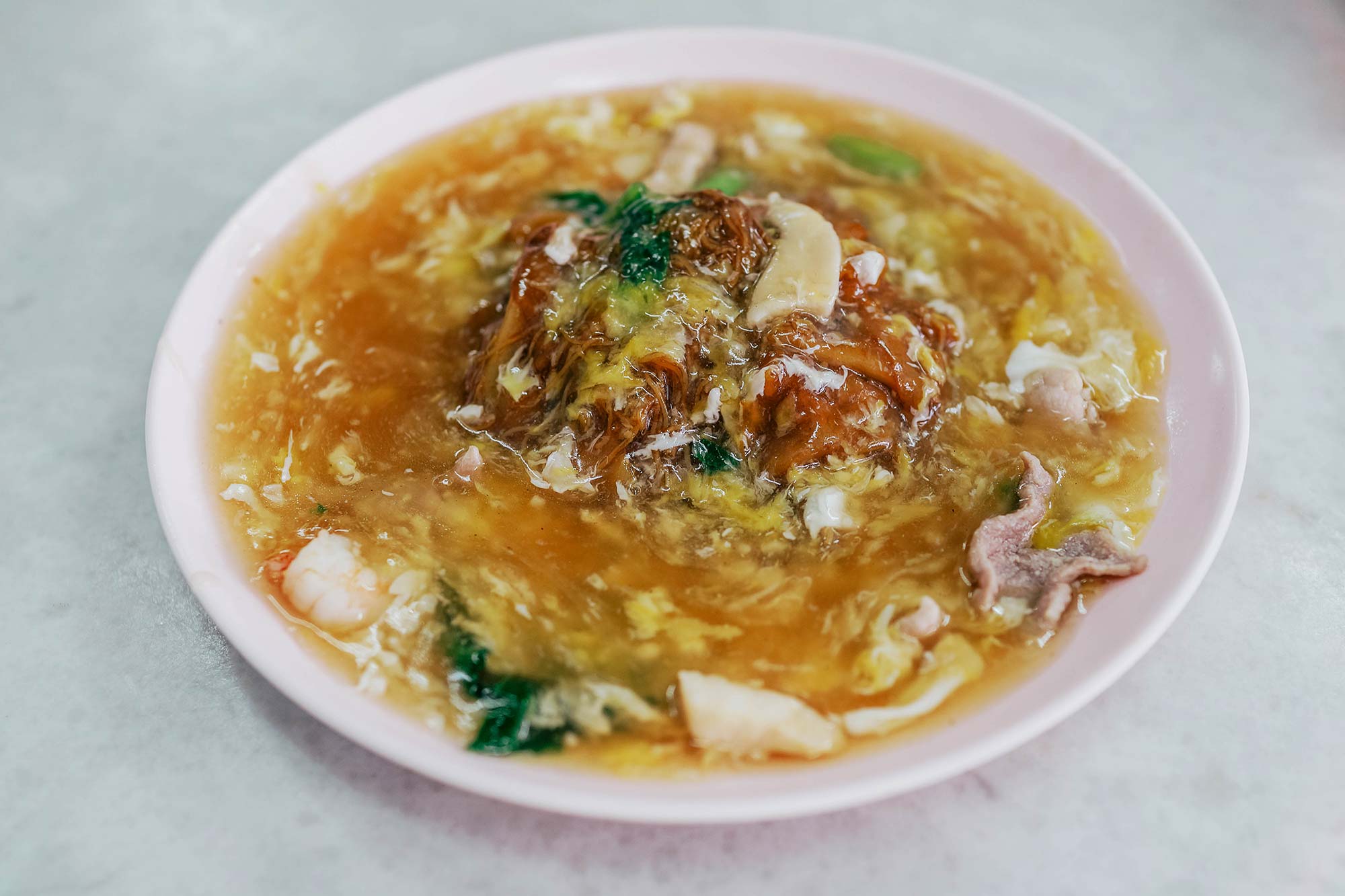 Char hor fun is another Chinese noodle delicacy mixing vermicelli and flat rice noodles cooked in juicy egg gravy and garnished with fresh prawns, pieces of chicken or beef, and chunks of choy sum — a leafy green vegetable. The egg gravy keeps the noodles silky and juicy, and it's unique to this popular dish, also known as wat tan hor—silky egg noodles.
Time for Tea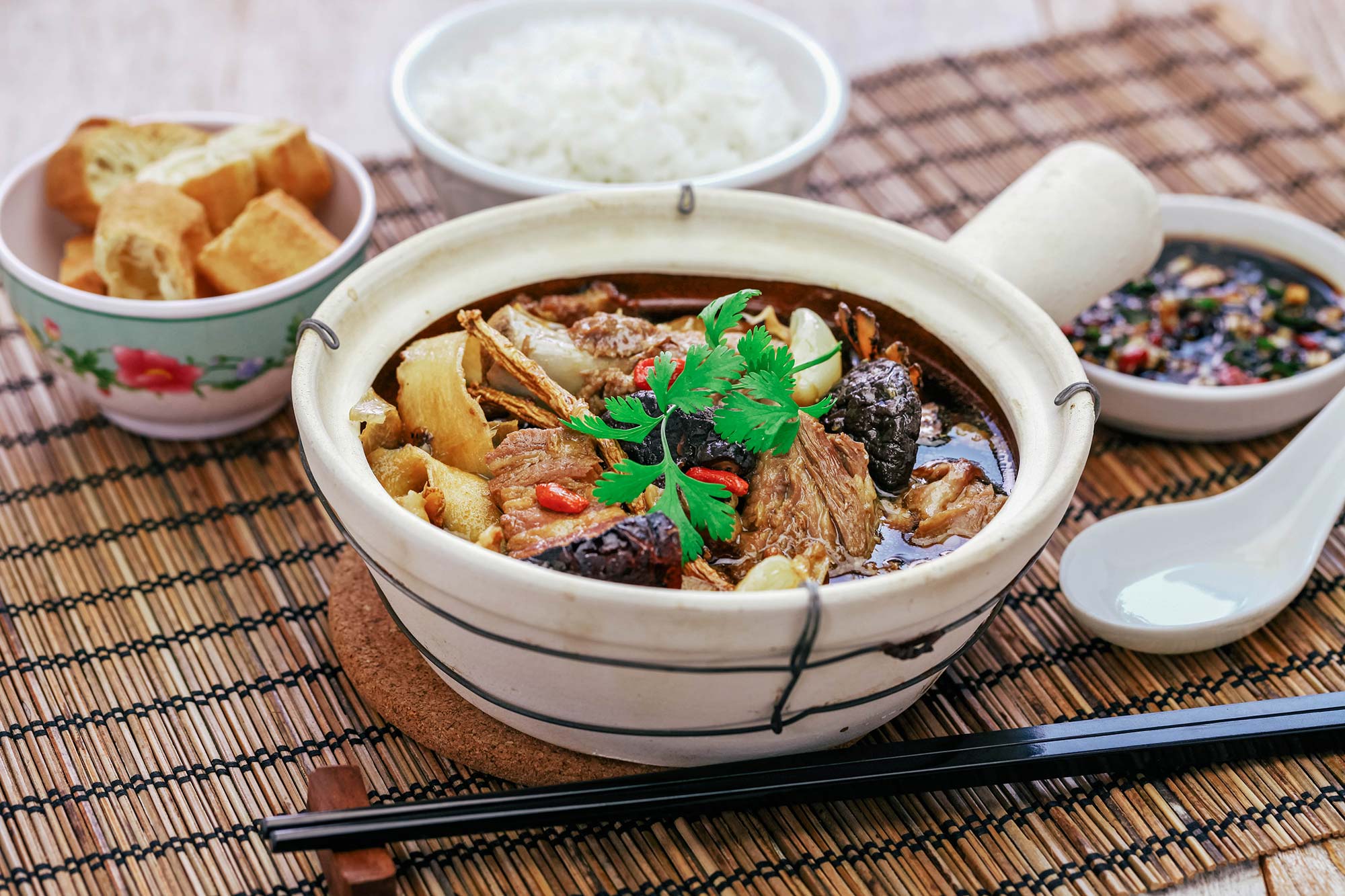 Bak kut teh is a pork rib dish popular in Malaysia and Singapore and widely available in Penang, where there are large Chinese Hokkien and Teochew communities. The name translates directly into "meat bone tea" and consists of a broth of spices (including star anise, cloves, cinnamon, garlic, and fennel) where pork ribs are stewed and cooked until soft and tender. Additional ingredients may include cubes of tofu, mushrooms, and other herbs. The broth is also spiked with dark soy sauce, which gives this dish a tangy taste and its dark color. Penang locals swear by Old Green House Bak-Kut-Teh along Burma Road and Kedai Kopi Clasic in Jalan Perak.
A Sweet Ending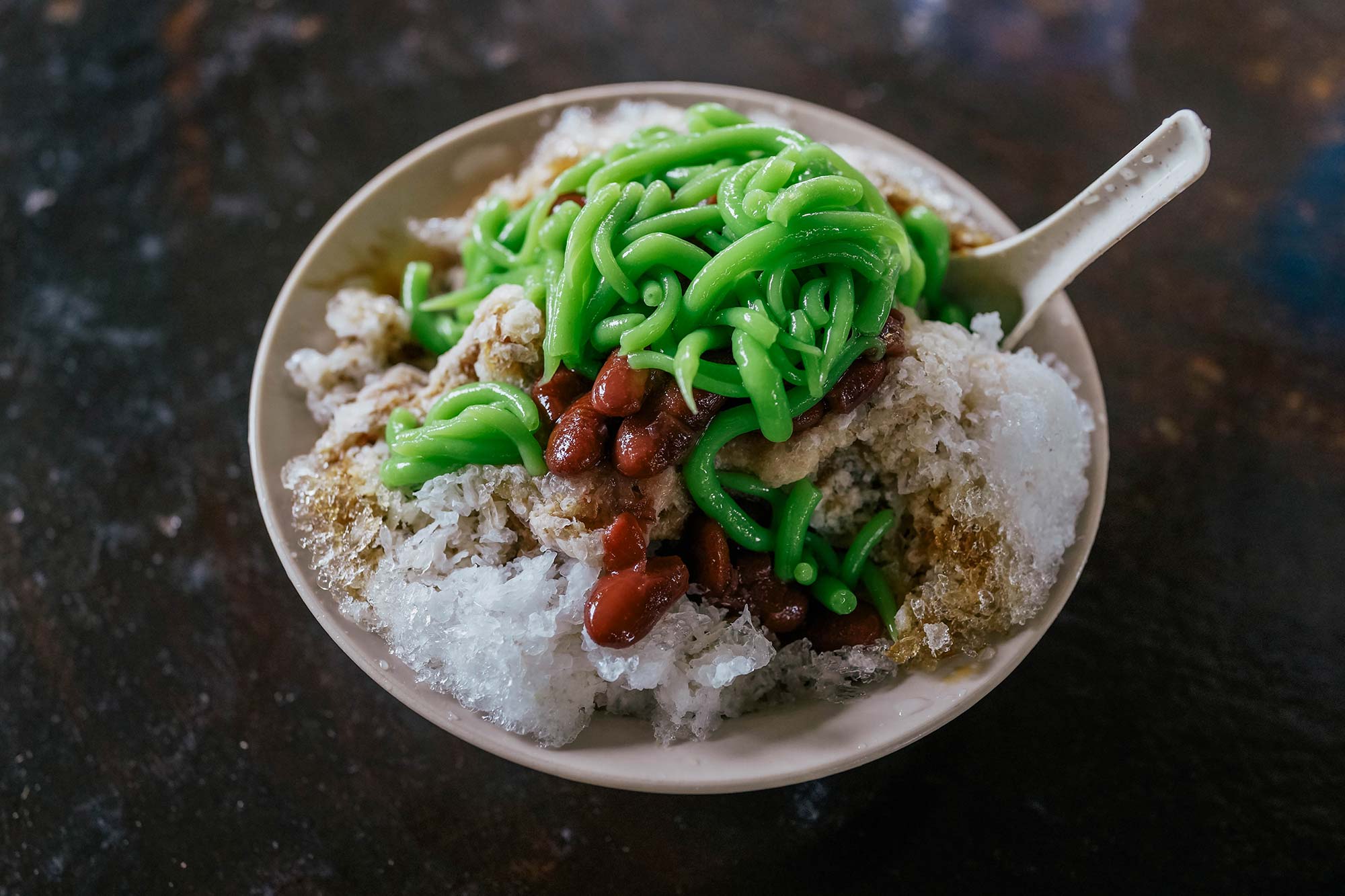 Not mentioning at least one dessert would do a disservice to the variety of Penang food. And cendol is a bowl of shaved ice with chewy green rice flour jelly, kidney beans, coconut milk, and gula melaka (traditional brown sugar). Yes, the concoction may sound strange, but the taste is great and unique and one of the most refreshing things to slurp down on any hot day in Penang. Tourists visit Penang Road Famous Cendol, close to George Town's central KOMTAR tower. Still, we recommend trying it at the market in Lebuh Cecil or Cendol Asli Pak Haji in Batu Ferringhi, the seaside resort area on the northwestern coast of the island.