Penang has long held a well-deserved reputation as Malaysia's food and cultural capital. With a plethora of restaurants and street vendors offering fantastic local fare, set against a vibrant backdrop of fascinating architectural heritage, street art, and history, the city has always been high on the list of 'must visit' places for anyone visiting Malaysia. For the fine diner, modern Penang boasts several restaurants offering cuisine and fine dining that can compete with any of the powerhouse cities of Asia.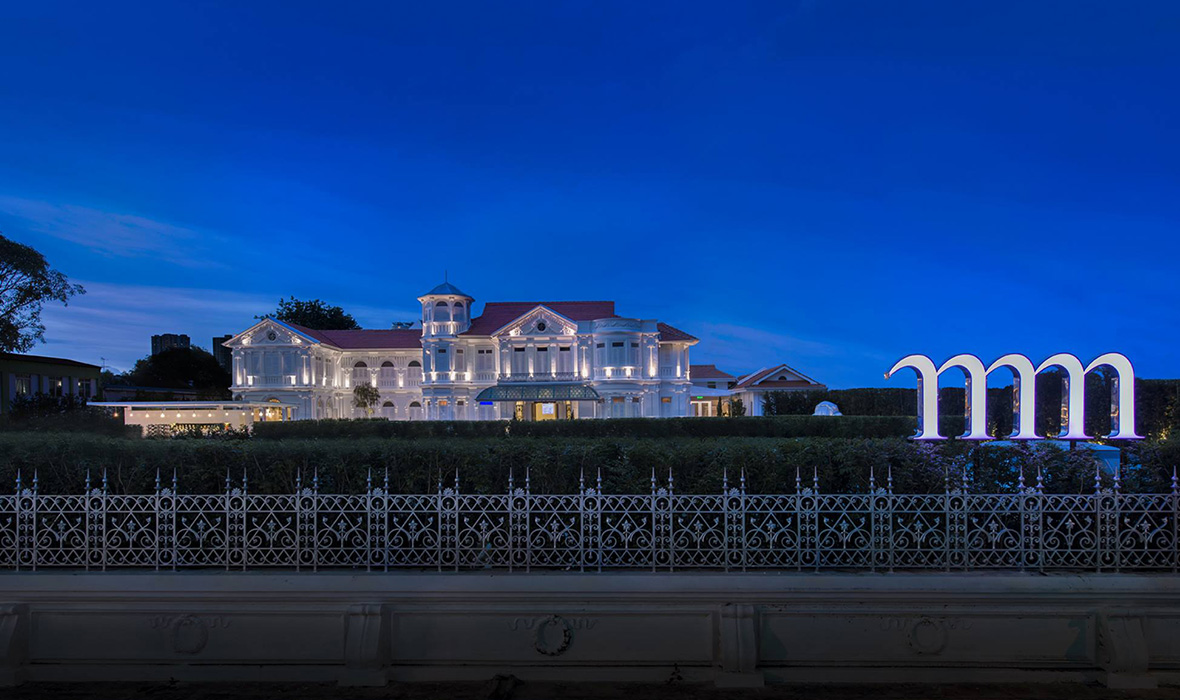 Situated in a beautifully restored colonial mansion that was built in the early 1900s for the former British governor of Penang (Sir Norman Macalister), Macalister Mansion is a quirky and sophisticated designer destination nodding both to Penang's colonial past and its colorful present.
Macallister's Dining Room offers a chic, aesthetic dining experience. The decor is pure colonial couture with all-white furniture accented by a giant faux white tree in the center of the room, flanked by idiosyncratic sculptures of stag and deer.
The kitchen at the Dining Room is headed by the amiable and Michelin-star restaurant trained Chef Lance U'ren.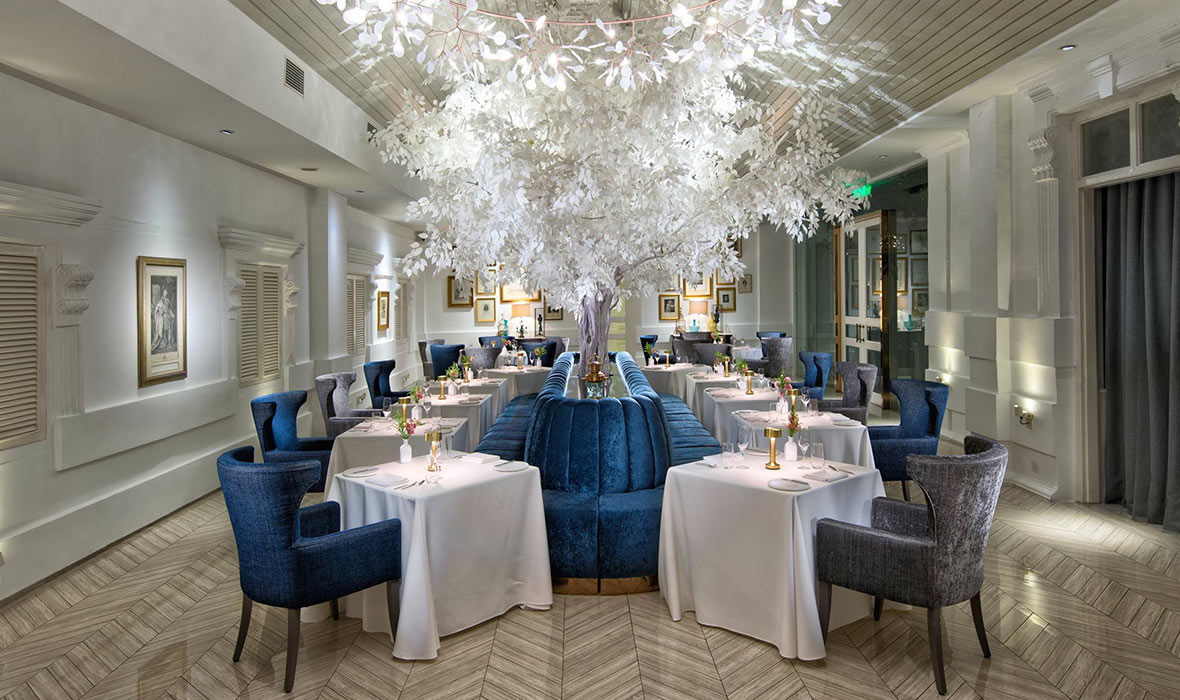 U'ren's menu of French haute cuisine is as tasty as it is sophisticated, and Uren prefers to vary it every couple of months. He likes to converse with the clientele, but without airs and graces, and his friendly manner makes for a relaxed atmosphere and a delicious meal.
If you prefer something lighter (or are visiting in the afternoon), then you may prefer to try out the less formal Living Room, Macalister Mansion's onsite café. Serving up light snacks, the tea and scones in particular are highly recommended. Again, the décor is a real talking point, with delightful wall stencils of cats, clocks, and a fireplace, along with hanging greenery and a fabulous checkered floor.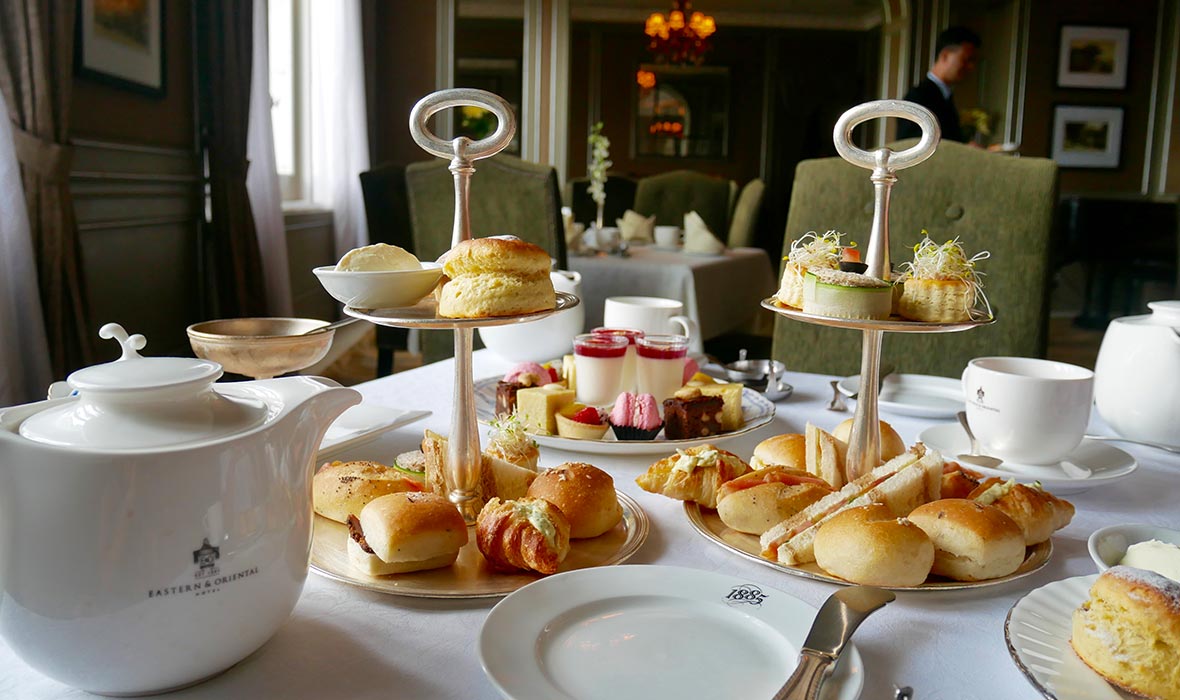 Set in the Eastern & Oriental Hotel, 1885 is a fine-dining restaurant presenting classic yet contemporary cuisine in a tastefully elegant colonial setting. Though it's perhaps a tad expensive, connoisseurs will appreciate the excellent presentation, service, and sumptuous European menu selection offering a variety in a selection of tastes and textures which will appeal to all palettes.
The superb wine collection offered by the knowledgeable sommelier includes an extensive selection from a well-rounded cellar. The 1885 restaurant is an extension of the Eastern & Oriental Hotel's colonial charm which also means that it has a dress code so remember to come suitably attired.
Indeed, many guests may find themselves coming off of the singularly luxury experience of the Eastern & Oriental railroad experience and continuing the colonial chic at this hotel.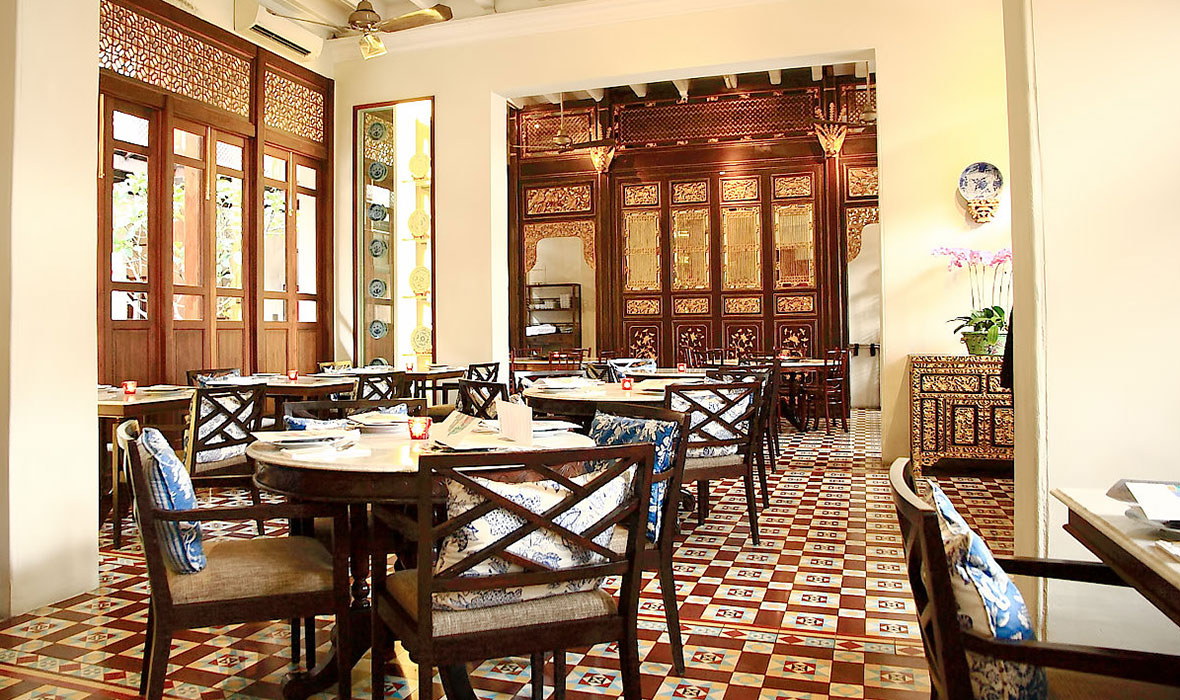 Kebaya restaurant is located under the roof of the wonderful Seven Terraces hotel, one of the city's prettiest Anglo-Chinese boutique hotels. Since its opening, it has developed an excellent reputation for refined Indo-Chinese cuisine with a strong emphasis on seasonal ingredients. The menu is a marriage of classic Peranakan (Indo-Chinese) dishes infused with surprise flavors through French cooking techniques. The result is absolutely delicious. designer food, combining seasonal ingredients with flair in each creation.
The restaurant's interior design too is a masterpiece in understated simple elegance, with white mosaic tile floors, intricately carved wooden antique Peranakan furniture and pots of fuchsia and white orchids.
All in all with its delightful décor and impeccable service, its easy to see why locals and foreigners alike rave about Kebaya.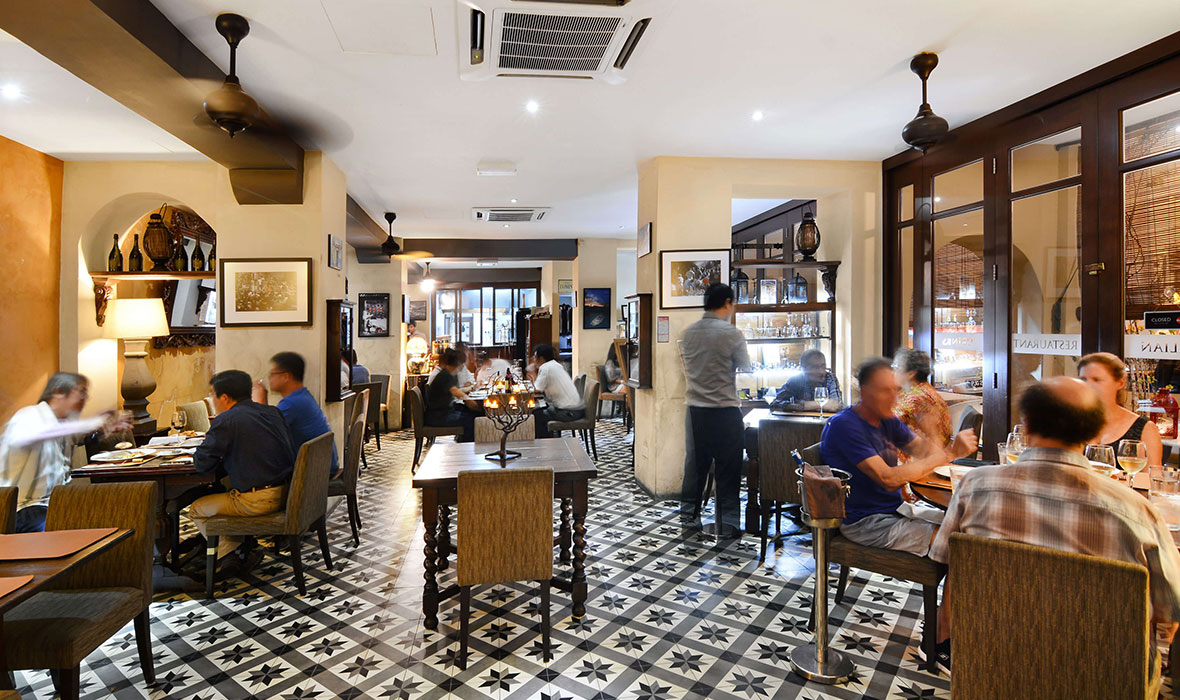 Penang's flourishing food scene continues to draw restaurateurs from far and wide, including Italy. Il Bacaro is one of the most successful, a Italian restaurant located in Penang in Campbell House.
A "bacaro" is a typical Venetian hostaria or tavern, usually located in the back streets of Venice where friends meet up to enjoy a glass of wine while sharing "cicchetti" (small plates of food) and simple Italian dishes.
Owned and run by the gregarious Venetian Roberto Dreon, Il Bacaro has successfully transplanted the concept of the bacaro to Penang.  Offering delicious and authentic Italian food from a menu is all about trattoria-style cooking that blends authentic finesse with home-cooked honesty.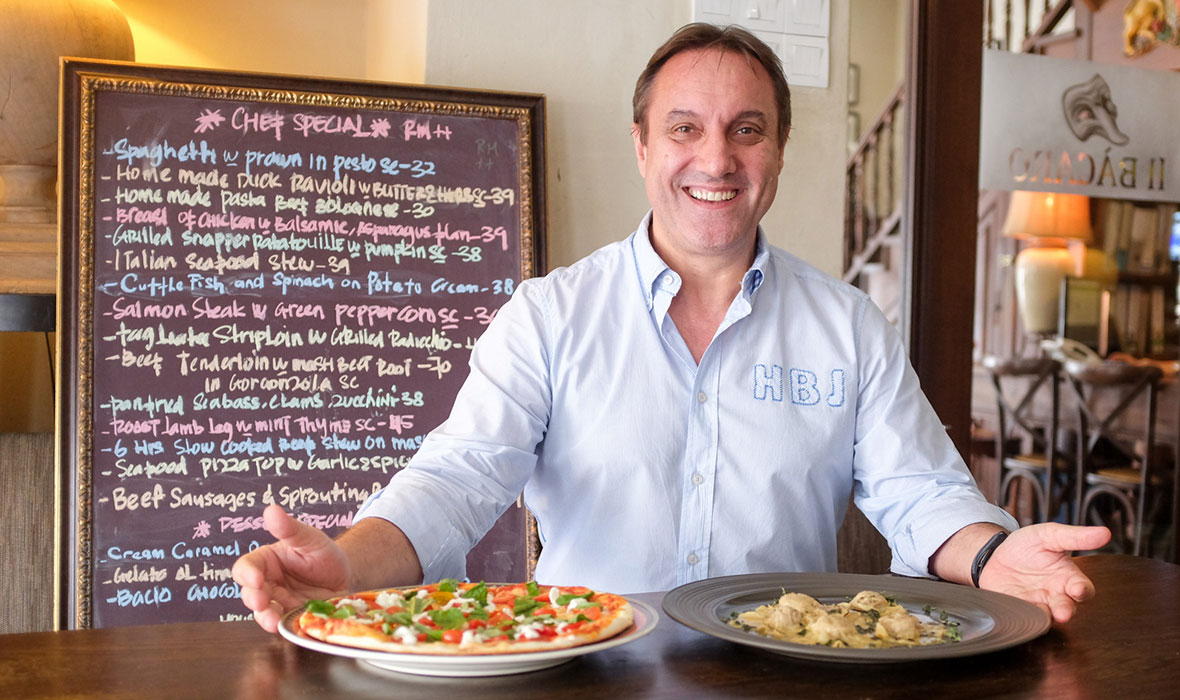 The kitchen prepares much of the pastas and sauces from scratch. Special Inferno Black Pizza, Gnocchi Tomato and Basil, and Ravioli of Duck are just a few of the dishes which have earned Il Bacaro of being one the best Italian restaurants outside of Italy.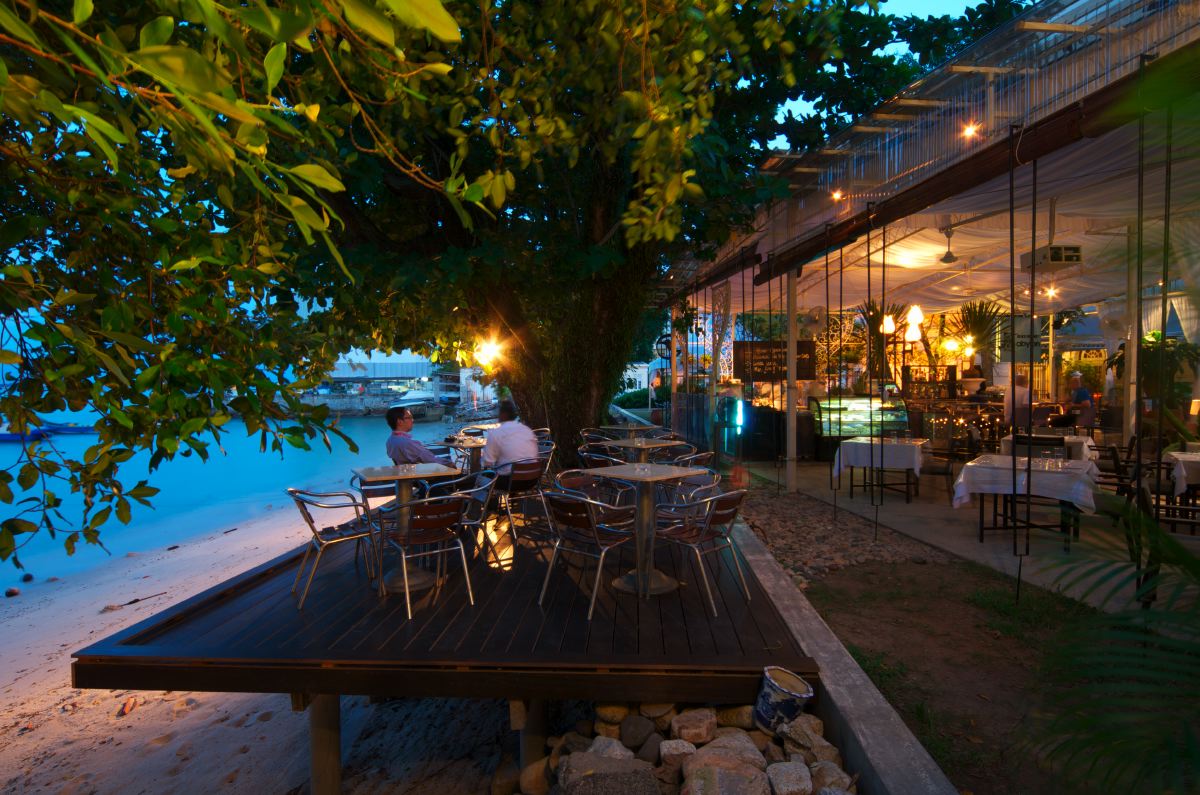 A popular upmarket lunchtime favourite with Penangites. Beach Blanket Babylon offers casual fine dining choices in a heritage mansion with beautifully manicured lawns along Jalan Sultan Ahmad Shah and overlooking the magnificent sea of Penang.
The menu may be a little limited for some palettes, but the food is truly excellent fusion cuisine.
Start with cream of mushroom soup and for mains try the char grilled rosemary chicken with black pepper sauce. The chef here also delivers appetizing Western main dishes such as burger and fries, fish and chips and grilled boneless chicken breast with some selection of delectable salads.
However if you are in the mood for local specialties, the laksa lemak is an especially popular choice. The place is really popular on Sunday when Men's Night takes place: there are discounts and half price on draft beer for all guys.