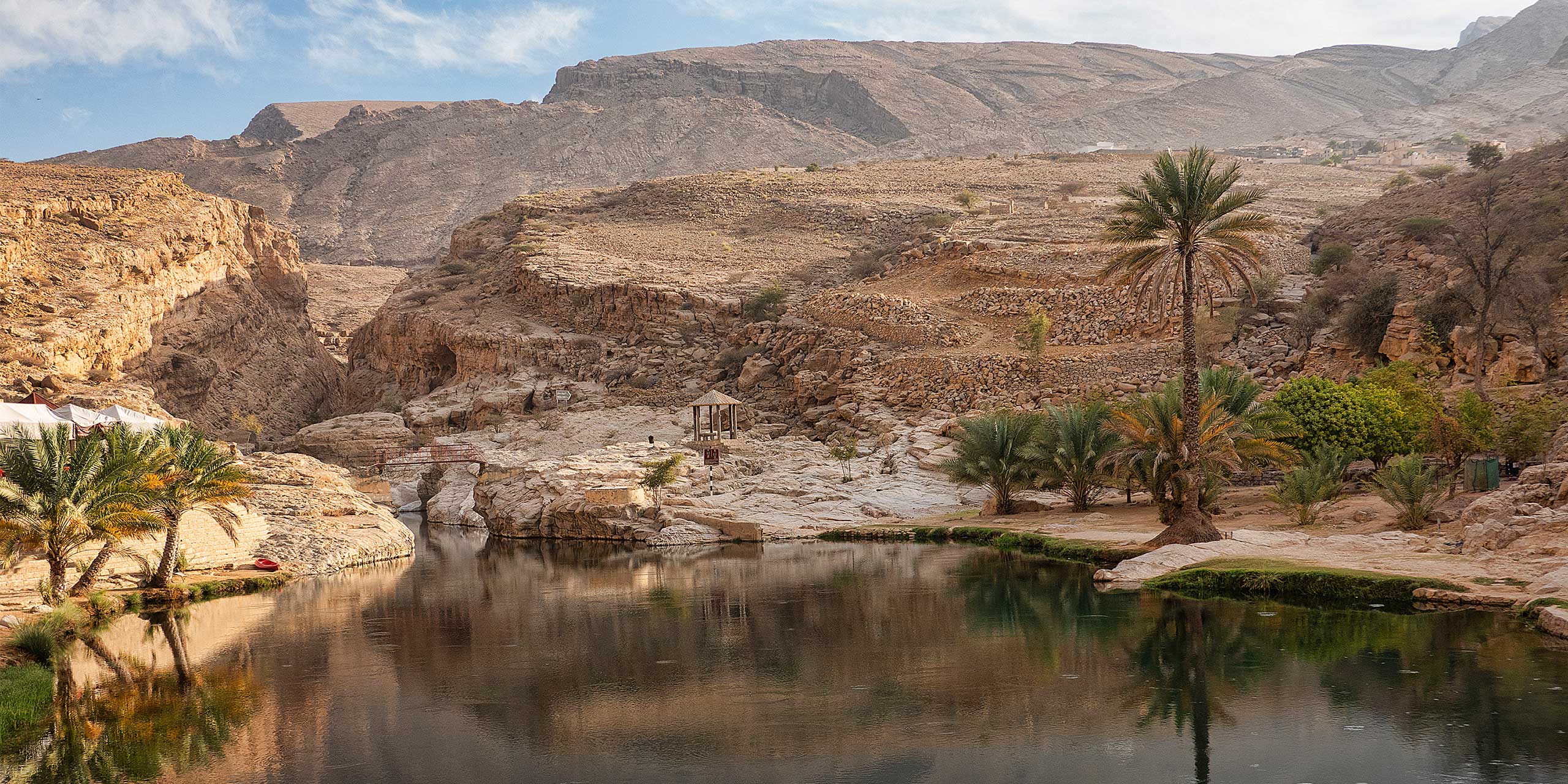 Having completed a stunning and brutal two-week hike across Oman's Hajar Mountains, my wife and I were looking for some less taxing travel experiences in the Sultanate. Given how Oman had delivered on all fronts already, it came as no surprise that the rest of our journey turned out to be the perfect Arabian Nights road trip.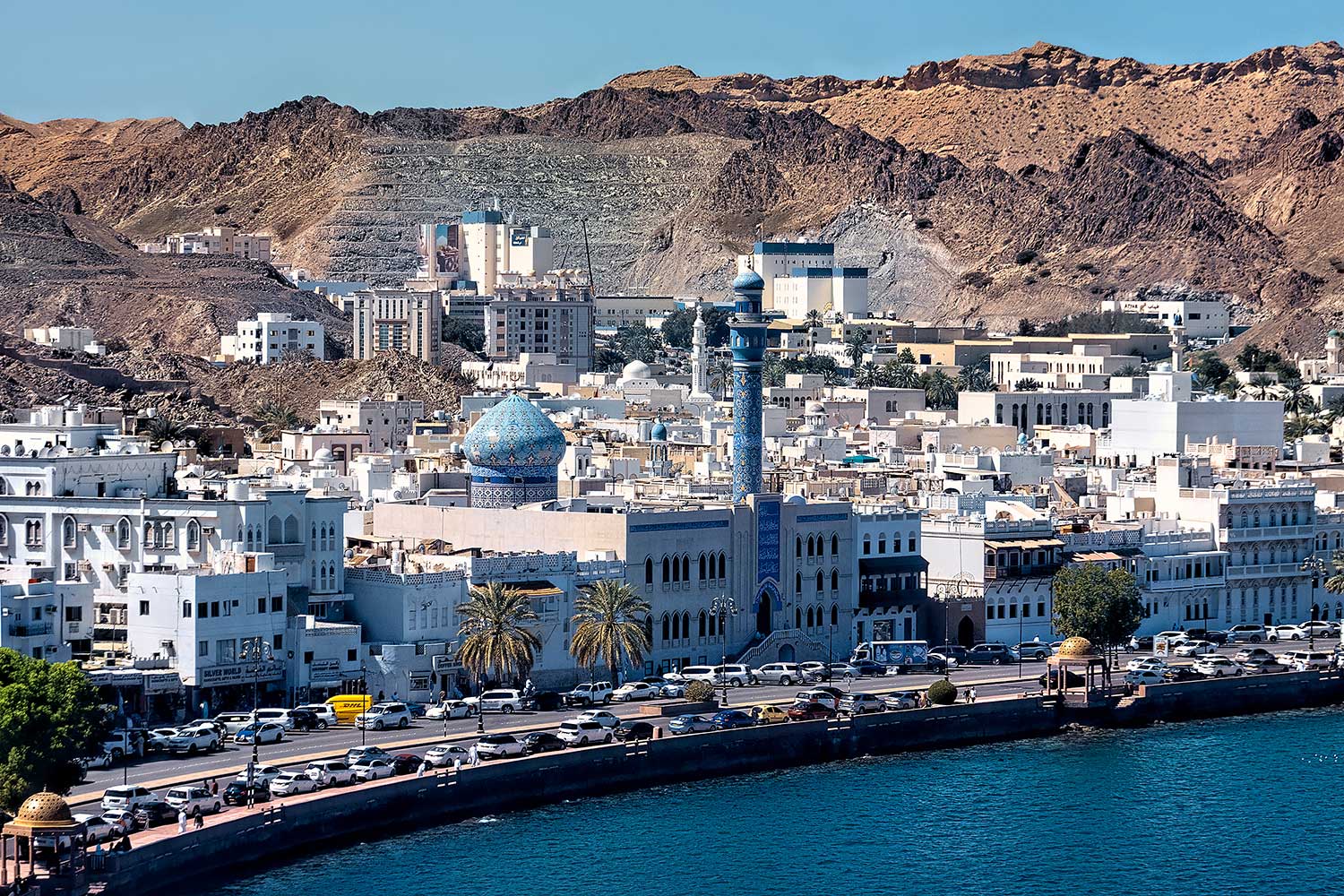 Oman is blessed with an amazing diversity of landscapes, historical sites, and cultural treasures. It's a desert country famed for its miles of desert and sand dunes, yet the dramatic Hajar range runs across the north of the country and features peaks just under 10,000 feet that get winter snow at times. These mountains are carved up by the Middle East's deepest canyons, their dry cliffs giving way to lush oases and pristine swimming holes at the bottom. While Oman's coastal plain makes up only 3% of the country, it has stunning white sand beaches and deep blue fjords. Add to this old medieval forts, castles, and atmospheric ruins, good food and outstanding hospitality, and it's easy to conclude that the future of tourism here is in great shape.
We started out our road trip in Muscat. The city sprawls along the water for miles, divided between a modern side full of hypermarts and boutique shopping malls and then the bustling old town port of Mutrah, where a seaside corniche meanders next to a harbor busy with arriving cruise ships and fishermen bringing in giant tuna and swordfish to the quayside fish suq to sell. We wandered through the labyrinthian alleys of the suq, where merchants in long white dishdasha robes invited us in for dates and cardamom coffee, trying to offer us vials of frankincense, or perhaps a box of halwa (not to be confused with Turkish halva), a unique gelatinous Omani sweet made of sugar and corn starch that is flavored with cardamom, saffron, nuts, and rose water, all of which are local staples.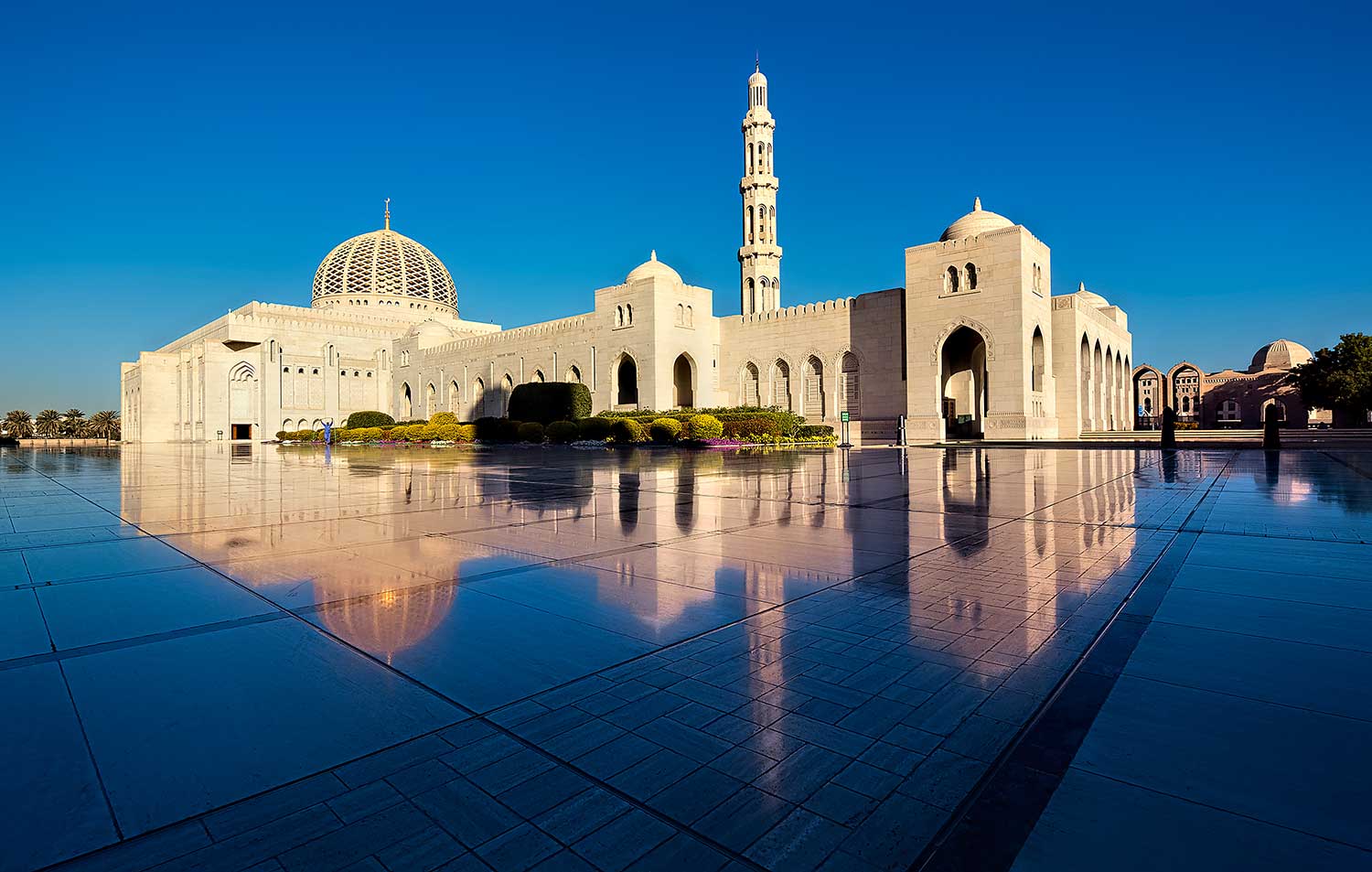 Over on the newer side of town, we stopped in at two of the country's most famed attractions, both stunning modern architectural wonders. The Sultan Qaboos Grand Mosque can hold 20,000 worshippers, its corridors are covered in marble, and the interior of this palatial building is just as impressive as the minaret and gold-domed outside, featuring a giant Persian carpet comprised of 1700 knots and an 8,500-kg gold-plated chandelier hanging above it. Nearby, the Royal Opera House commenced building around the same time as the mosque and showcases contemporary Omani design, with wind towers, a facade made of pink limestone, and a shining white exterior gleaming under the forever brilliant blue Muscat sky.
We drove out of Muscat, and headed out into the desert to investigate some of the deep canyons we'd seen when we'd been higher up in the mountains. While many of the wadis as they are called require off-road vehicles to access their interiors, Wadi Bani Khalid is an exception, with a tarmac road that winds into the Eastern Hajar. Here we were greeted by a classic desert oasis setting, with date palms and irrigated terraces fronting deep swimming holes that came out of the narrow canyon, with water from springs flowing out through the wadi even during the driest times of year.
On the coastal side of the Hajar, we visited another wadi with easy access, Wadi Ash Shab, where a boatman rowed us across the canyon mouth and we followed a trail about 45 minutes, eventually arriving at picture-perfect turquoise pools. Here, we swam through the pools and under the water below a rock, which led into a hidden cave with a waterfall. While these gorgeous canyons are now adventure travel magnets and tourist attractions, for years they were the lifeblood of Oman, where hardy shepherds and their families eked out lives, inhabiting mud-brick homes built just off the canyon floor, irrigating their date palms and other crops via an age-old system of narrow water channels known as aflaj.
In such an arid country, it is both amazing to see how the aflaj technology has played such a vital role in Omani life, as well as to see the results of how water and irrigation have shaped the present. Throughout Oman there are these incredibly photogenic crumbling villages made of mud brick, some of which will become dust in the wind, while others have been preserved and turned into living museums.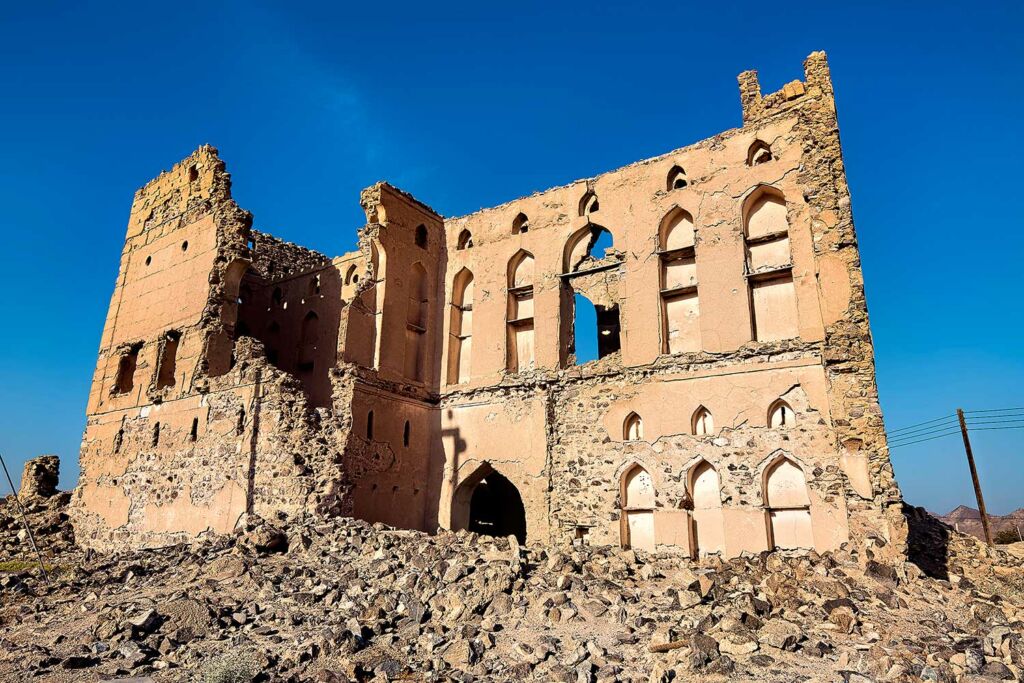 Much of Oman now gets its water via desalination, which has led entire villages to shift or become abandoned. The building of roads has also enabled villagers to build new hamlets just above or across the canyon from their former sites, meaning the old homes are left to the wind and sun. In the large modern city of Ibra, we came across a suburb called Munisifah, which rose to prominence due to being on the Oman-Zanzibar trade route and was inhabited by stately merchant homes. Today, the entire area is almost all abandoned, with stunning carved arches and decorated wooden doors fronting the crumbling houses.
Not so far down the road, the oasis village of Manah, also known as Harat al Bilad, is home to four mosques, 375 homes, and some 250 wells for water that date back nine centuries. Here, the entire walled community has been preserved by the government and turned into a museum showcasing what traditional Omani life was like, affording it a far different fate to Munisifah up the road.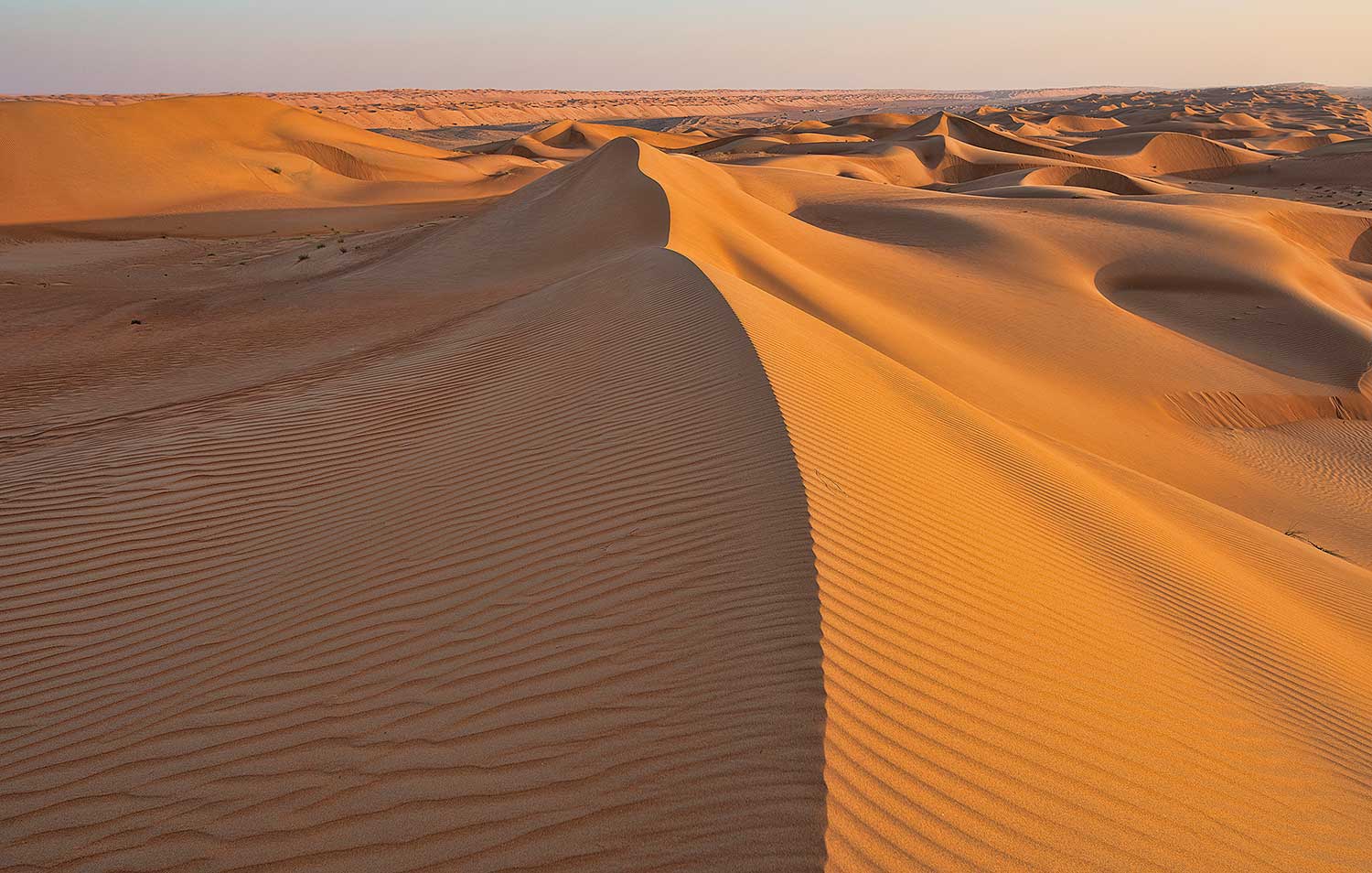 At Al Hamra, another oasis village at the base of Jebel Shams and Oman's Grand Canyon, most villagers have moved into the adjacent modern city. Yet the date palms and farms in the oasis are still tended to, the aflaj irrigation still working, and while most of the adobe homes are crumbling, others have been renovated and turned into stately bed and breakfasts or living museums.
As we drove further south, the crumbling villages, mountains, and wadi oases vanished altogether, and sand began to take over. Soon we were immersed in the land of the Bedouin, with sand dunes up to 300-feet-high rising on the side of the highway.
This area is called the Wahiba Sands, named after the Bani Wahiba Bedouin tribe who first inhabited the hot land. While a modern expressway runs right through the heart of the desert here, the enterprising Bedouins have set up camps snuggled into the folds of sand dunes just a few miles away, enticing travelers to spend a few nights living traditionally in goatskin tents, enjoying skies without light pollution and the magical colors of the dunes in the early morning and late afternoon.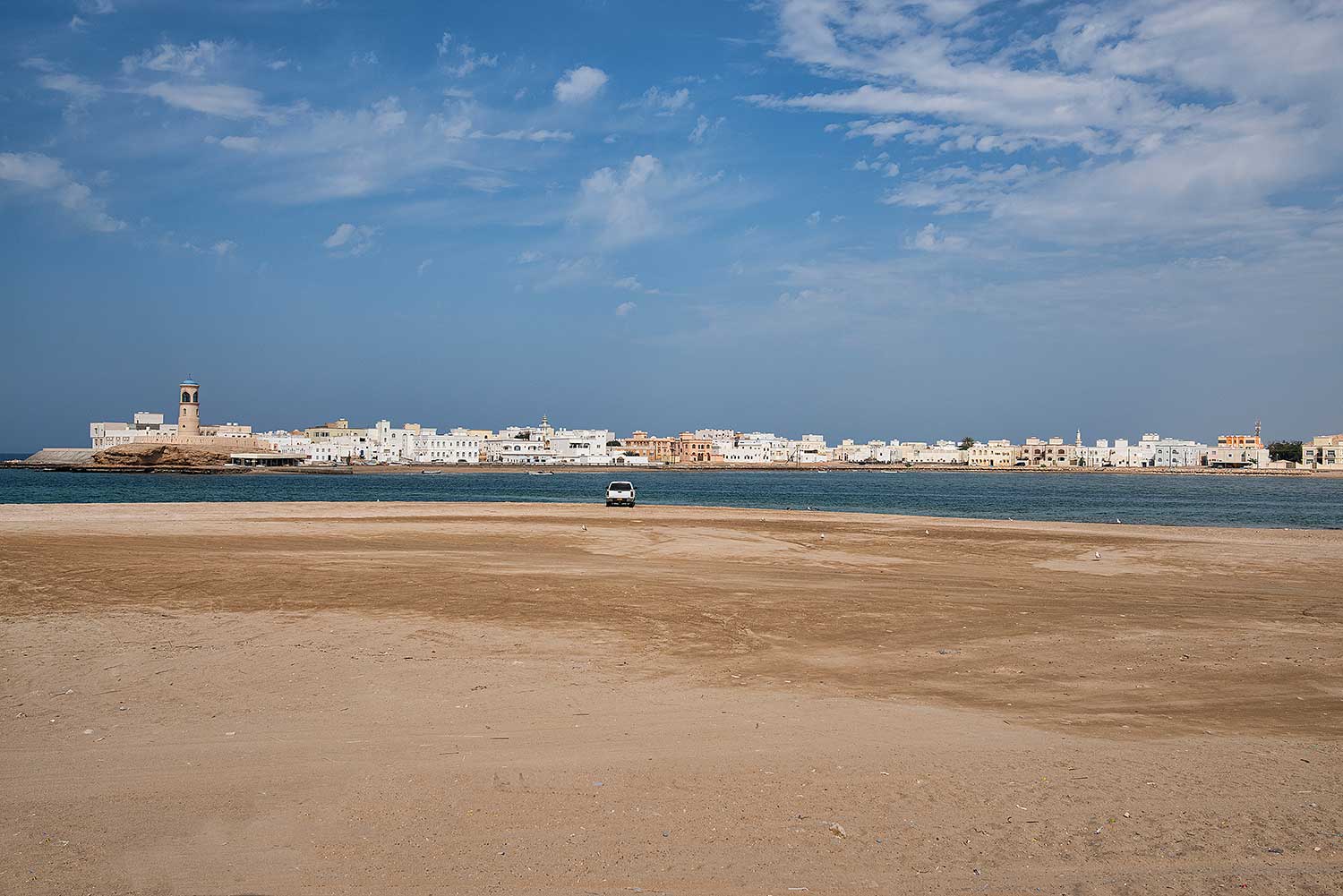 We opted for a stay at one of these camps. Camels still inhabit the Wahiba Sands, but these days the Bedouins favor Toyota Landcruisers. Mohammed was the quintessential modern Bedouin, offering us dates and coffee while he chatted on WhatsApp with potential clients from around the world.
We climbed up the highest dune outside of camp once the sand cooled down, and stood alone atop an undulating sea of dunes, constantly eroded, and sculpted by the wind, their angles and crests making them appear like waves in the middle of the ocean. We marveled at just how easy it had been to arrive here, minutes from a highway, yet having a secluded camp in the middle of the desert all to ourselves.
We'd been promised roast camel kebabs for dinner. And a jeep appeared driving up the dunes to the camp, delivering a whole set of takeout kebabs, hummus, salad, and fresh pita bread!
After a deep sleep under a star-filled sky, we headed out of the desert and to the final piece of Omani landscape we hadn't really explored, the sea. We drove east to city of Sur on the Gulf of Oman, which had been a prominent center for trade with Africa dating from the 6th century. The city connected India with Zanzibar and became the center of shipbuilding, with master craftsmen building traditional dhow sailing ships to carry goods across the Arabian Sea. African commerce dwindled after the British outlawed the slave trade, and when the Suez Canal opened Sur lost its prominence, but today still retains an exotic feel, feeling more like an African port than the Middle East, its lighthouse surrounded by whitewashed houses reminiscent of a Greek isle, somewhat decaying in the languid sultry air.
The dhow trade remains alive though, as a small factory just off of the Sur corniche is home to a group of workers, all of them from Kerala, India, who are incredibly skilled at carving exquisite wooden hulls, as well as putting together entire ships without needing a blueprint, Modern drills are about the only pieces of present day equipment used now, as the boat builders still use ancient techniques, elaborately nailing each piece of the giant ships together, which today are mostly owned by wealthy Qataris. The workers spend 3-6 months working to create just one boat.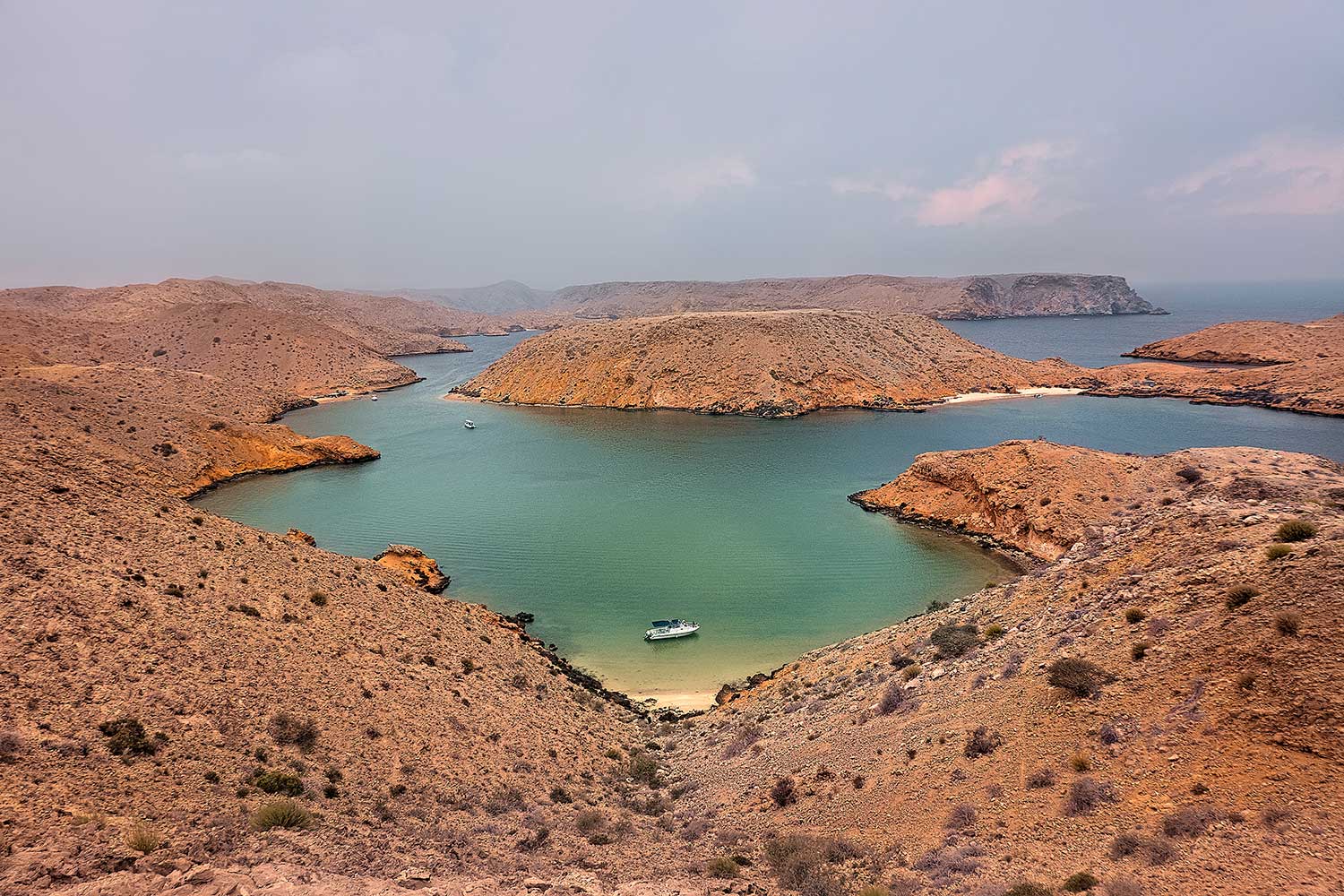 For a big city, Sur's beach is remarkably clean, although few use it during the day as the weather is so hot. But by late afternoon it transforms, kids coming out to play soccer, families going for walks, and plenty of impromptu cafes springing up, where old turbaned men sit and drink sweet karak tea, like Indian chai but often made with saffron and cardamom. We joined a group for a few cups, ruing having only one day left on our journey.
For our final night, we stopped just outside of Muscat.  We were only twenty kilometers outside the capital, yet up on the cliffs at Bandar Khayran, we had the place mostly to ourselves. Below us lay a series of fjords, beautiful blue bays fronted by white sand beaches that could only be reached via boat or hiking down.
Once again, the contrast with the desert hills all around was striking. I looked out at the horizon, the Straits of Hormuz with Iran just behind, not far away at all. There were supposed to still be pirates out there. Yet with all these strategic forts and castle ruins, perched up on beautiful viewpoints, I figured we were safely ensconced in as perfect an Arabian Nights fantasy as one could get.