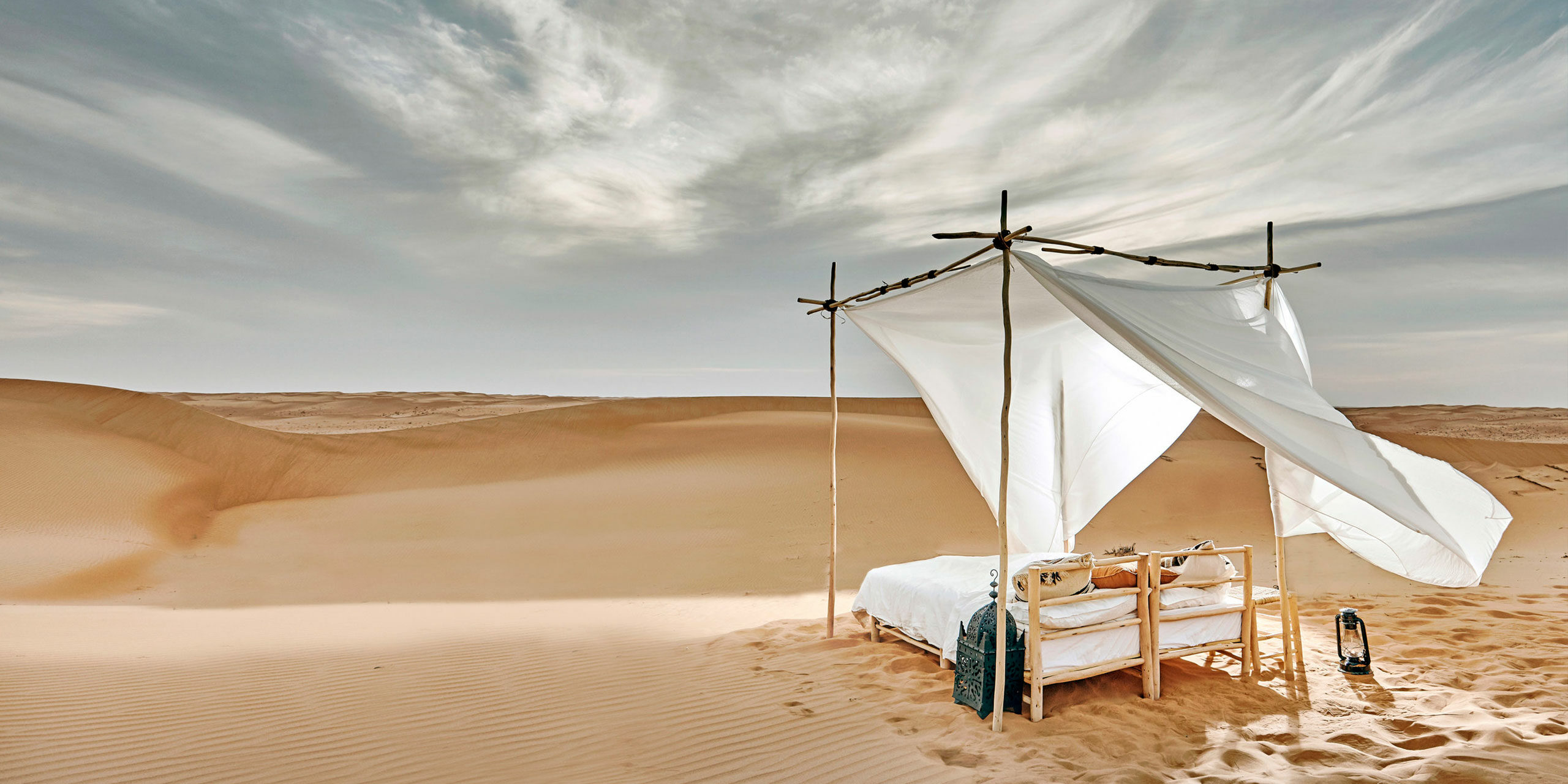 Due to the ongoing Covid-19 pandemic, the world hasn't had much of a chance to sample the delights of Magic Camps from Wahiba Sands, but it has slowly become the critic's choice for the finest tented camp accommodation in Oman — even beating out Wahiba Sands other camp, Desert Nights.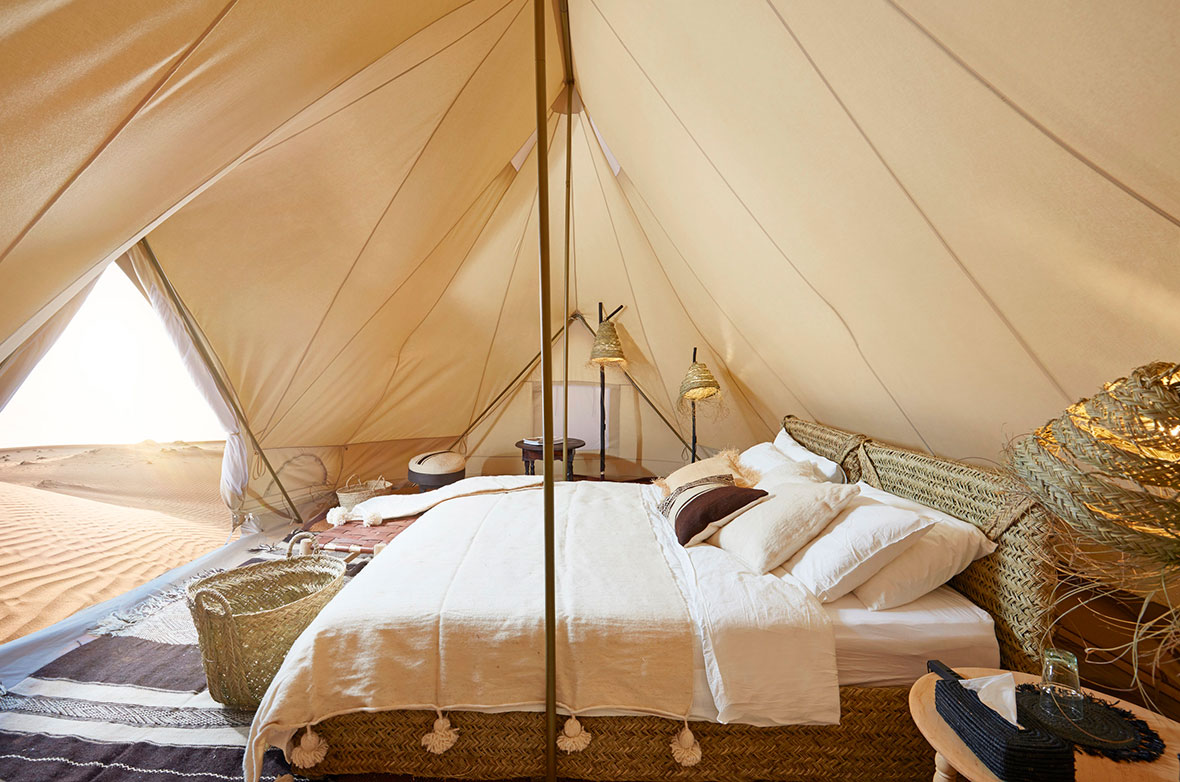 The eco-friendly hotel is a truly mobile experience, made of packable tents for temporary, green stays. The hotel, which provides electricity through solar power rather than a noisy generator to keep the sands quiet, only opened to the public in October 2019. The luxury bedroom tents cover 220 square feet, with a diameter of 20 feet and a height of 10 feet. Bedding can be configured with either a double bed or two twin bed.
The Magic Camps – Wahiba Sands is only open between the months of September and April, the summer months being too hot. Despite the bedouin nature of the stay, travelers will find on-site yoga, meditation sessions, and stargazing in the desert skies with a telescope.
Travelers won't find a fancy wellness center, multi-tiered swimming pool or state-of- the-art gym at Magic Camps – Wahiba Sands, but they will find camel trekking, sandboarding, dune riding in a 4×4, hiking with Bedouin guides, and hidden wadis.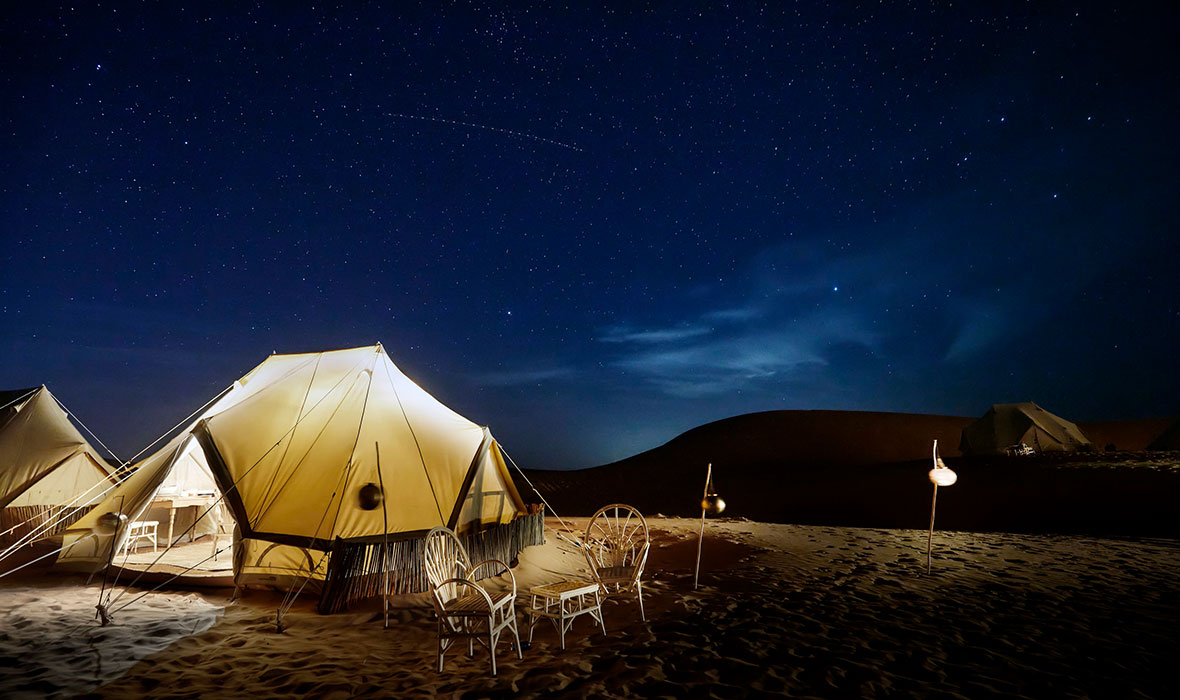 Magic Camps Wahiba Sands is an intimate and remote luxury camp that echoes the Arabian folktales of One Thousand and One Nights. The spacious canvas bedroom tents come with earthy interiors including cotton sheets, natural wooden furniture and artisan design pieces.
Magic Camps' private camps can be set up in a number of locations. The luxurious mobile tents are furnished with Arabian-style interiors, replete with cotton sheets and artisan-designed wooden furniture, under a cloth canopy that creates soft natural lighting. A highlight of a stay in one of Magic Camp is Sunset Lounge to enjoy the fading day's colors with a selection of refreshments.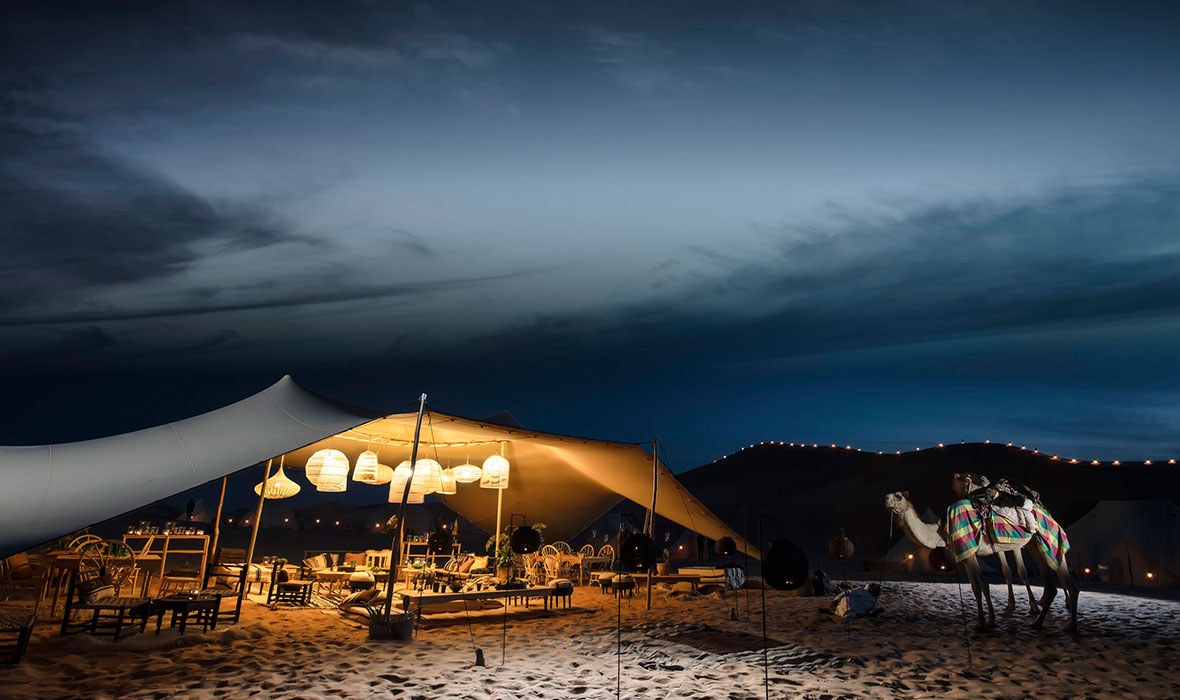 Nearby is your private bathroom tent, which consists of a portable toilet, an earthenware basin, a shower, fluffy towels and eco-friendly amenities. Elsewhere in the camp's desert oasis you'll find the cozy majlis seating area, dining tent, campfire and sunset lounge – the best place to watch the sky turn the same colors as the sand. Meals are prepared by an experienced chef, with dishes of both local and Lebanese origin, such as spiced lamb and marinated fish sourced from the Gulf of Oman.
Magic Camps – Wahiba Sands is a welcome addition to the other luxury camp from Wahiba Sands in Oman, Desert Nights Camp. Also a Remote Lands favorite, Desert Nights Camp is an exclusive five-star hotel in Oman that offers Bedouin-style tents in 4,800 square miles of mostly uninhabited desert space.
WHY WE LOVE THIS HOTEL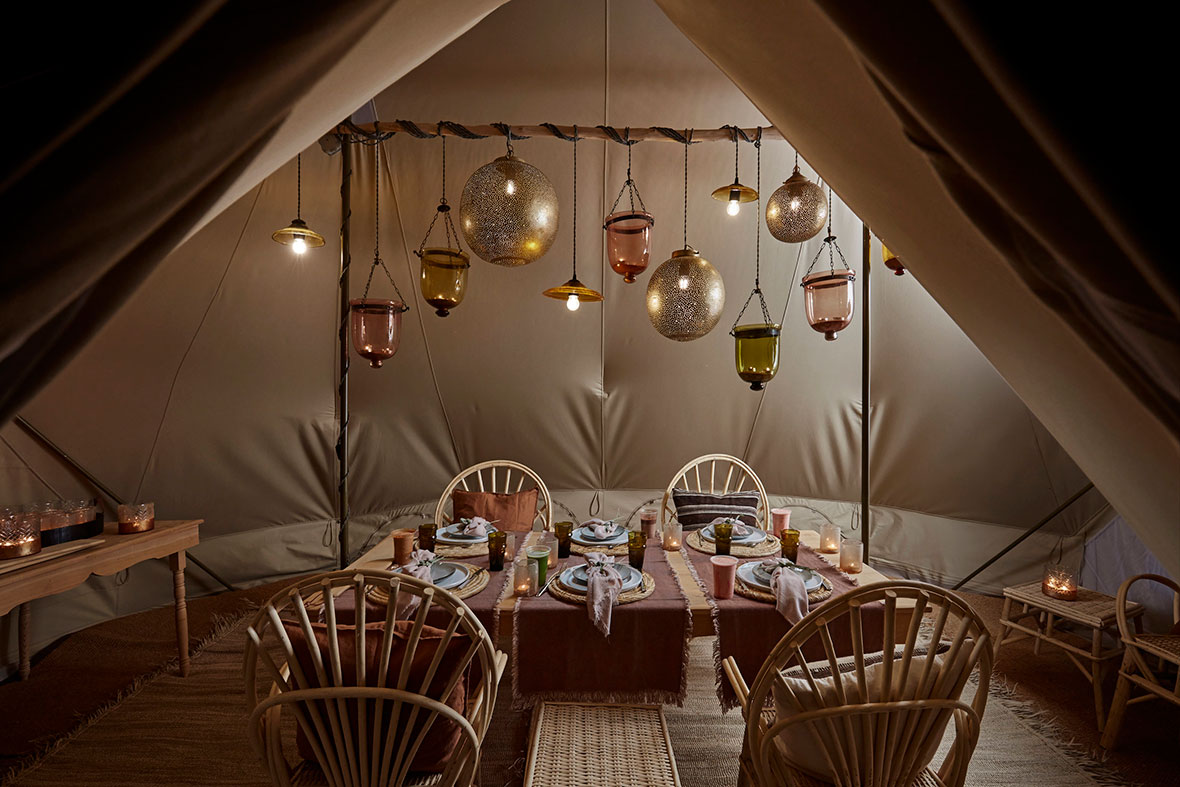 Remote Location: Magic Camps – Wahiba Sands is situated right in the heart of Sharqiya Sands, a 40-minute drive from the nearest road. This seclusion immerses visitors in desert life and guests can enjoy a peaceful retreat in the "middle of nowhere."
Sustainability: Magic Camps has a number of eco-friendly and responsible initiatives, including minimal plastic use, solar and battery energy rather than using a generator, eco bath amenities and choosing local products, especially in design. Quad bikes and dune buggies are forbidden, as the camp aims to emulate an authentic desert experience akin to Bedouin nomads, who leave no trace in their environment.
Chic Design: Remote, authentic and sustainable doesn't mean that design can't be fresh, contemporary and homely. Decor uses neutral-toned palettes, juxtaposing textures (many from natural materials and artisan detailing such as textiles and weaving) and a distinct "rustic chic" theme.