Example Itinerary
The Highs and Lows of Awe-Inspiring Al Hajar
The landscapes of Al Hajar, stretching from Muscat through to Jabal Akhdar, are varied and magical. Starting off through the vast mass of undulating red and white sea of sand dunes at Wahabi Sands, rises up to 650 feet. Playing host to a variety of flora and fauna, the dunes are a photographer's delight. Drive further and enjoy the cool climate up in the mountains of Al Jebel and Al Akhdar, famed for its fruit orchards that are typically laid out terrace-style along the slopes of mountains, endowed with natural springs and aflaj. The villages of Saiq, Wadi Bani Habib (the village of the old houses) and Al Ain dot the landscape as they look over the dramatic gorges and wadi's of the land. The roses of Jabal Al Akhdar fill the air with fragrance when in full bloom during the months of March and April. Discover incredible Mausoleum's, forts and castles displaying the highest achievement in Omani ceiling painting and beautifully executed wood carvings, steeped in culture and history, this three-day Oman tour offers some of the most naturally stunning and pristine scenes and experiences, from breathtaking scenery to ancient treasures.
This itinerary is an example. It's designed to inspire you and provide you with thoughtfully curated ideas. You can choose to do this exact itinerary or completely personalize it. All trips are 100% bespoke.
Highlights
• Landscapes of Al Hajar: The Al Hajar Mountains form one of the most photogenic regions of Oman, and travelers will wind their way to Jebel Al Akhdar, found 6,500 feet above sea level, for one of the best views in the country.
• Dune Bashing: Travelers can go sandboarding or dune-bashing in a 4WD and spend their evenings stargazing into the clear, quiet nights of the Omani desert.
• Omani History: Driving back to Muscat, travelers will find the Nizwa Round Tower Fort, Nizwa Souk, Bahla Fort, and Wadi Nakher, found in one of the deepest canyons in Oman.
Day-by-Day
Day 1
Muscat - Wahiba
Rise early to discover the scenic and rugged coastal route of Wahiba Sand and enjoy breathtaking glimpses of the blue waters off the Gulf of Oman, offset by pristine white beaches. Travel past the fishing village of Quriyat where flamingos and eagles can often be seen along the inland stream and then on to Bimah Sinkhole, a spectacular limestone crater filled with turquoise water. Heading on towards the Mausoleum of Bibi Miriam (currently closed for restoration work) for a photo opportunity and on through long winding roads offering breathtaking glimpses of the ocean until Sur, where a visit to the fish jetty and a traditional dhow factory is on the agenda. From here the tour proceeds to visit Wadi Bani Khalid, a small village embedded in the mountains and the Wadi itself filled with crystal clear blue water whilst enjoying the days' organized lunch. After lunch the tour heads to Wahiba Sands, enjoying an incredible roller coaster sensation, driving over the white sandy dunes before dinner and an overnight stay at Deserts Night Camp.
Day 2
Jabal Akhdar
After breakfast, the drive towards Jebel Akhdhar stops at the pretty village of Birkat Al Mauz, enjoying the lush green date plantations before continuing on through Wadi Al Madeen where a 22-mile stretch of winding road leads to Jebel Al Akhdar. Situated 6,500 feet above sea level, Jebel Al Akhdar is known as the green jewel of the Al Hajar mountain ranges, a truly unique spot in the Arabian Peninsula. Rest and relax prior to dinner and an overnight stay at Alila Resort before the next day's adventure.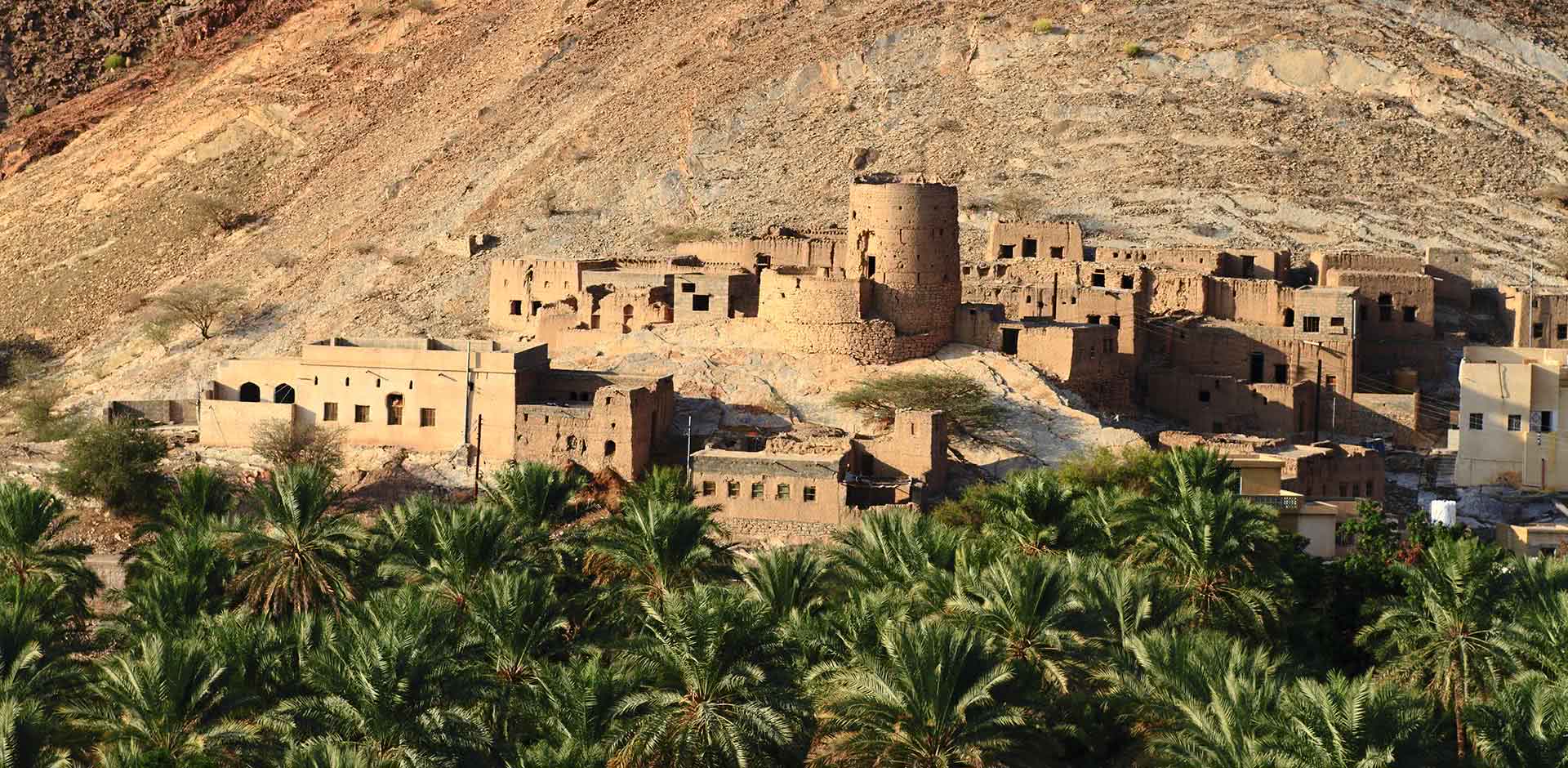 Day 3
Departure
Rise for breakfast before proceeding to explore the Nizwa Round Tower Fort and The Nizwa Souk. A quick photo opportunity detour via the World Heritage site Bahla Fort is enjoyed, followed by a short visit to Jabrin, the finest of Oman's castles built in the late 17th century. Next on the tour is Wadi Nakher, located in the depths of one of the deepest canyons as well as experiencing the terrace farming village of Wadi Ghul in Jebel Shams, where the highest peak offers spectacular views. Last stop on the tour before arriving in Muscat is the pretty mountain village of Misfah, with the only stone dwellings still in existence.
TERMS AND CONDITIONS
Price is based on double or twin hotel room occupancy and includes accommodation, transfers, car/driver, English-speaking guide, activities and entrance fees, breakfasts and some casual lunches while touring. Flights and optional special activities will be quoted separately. Most personal expenses, including dinners, alcoholic beverages, spa treatments and gratuities can be paid on the spot while traveling. Prices may vary depending on season, choice of accommodation and other factors.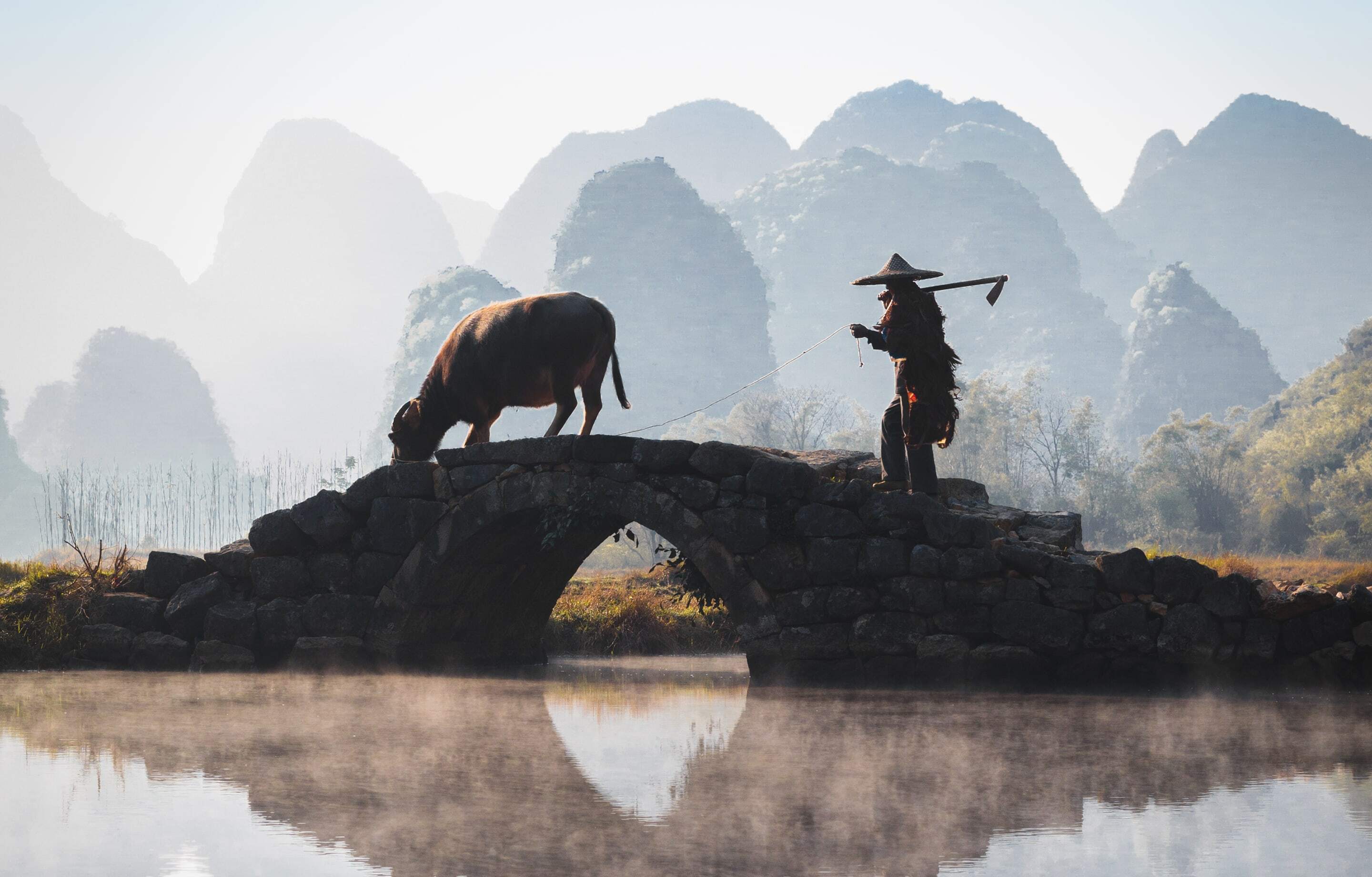 Why Remote Lands?
Exclusively Asia
With Remote Lands you'll travel with people who have made Asia the solitary focus of their own lifelong adventure. As our guest, you'll discover Asia on a journey that is completely, authentically your own, adapted from our own remarkable experiences and adventures over the years.
With Remote Lands you'll travel with people who have made Asia the solitary focus of their own lifelong adventure. As our guest, in the continent that our north American founders Catherine and Jay have adored and explored for decades, you'll discover Asia on a journey that is completely, authentically your own, adapted from our own remarkable experiences and adventures over the years.
Travelogues
An Asia-focused magazine brought to you by Remote Lands – a platform for adventure, luxury, and authenticity from experts and explorers around the continent.
What Others Say
Here is a small selection of the kind words our guests have said about us, as well as features by journalists and travel writers.
From the moment I happened upon the REMOTE LANDS website over a year ago, browsed the options, I knew that this would be well worth it. The entire staff is nothing less than professional with service that made us feel like royals.
This was truly the trip of a lifetime. Magical destinations, the most luxurious hotels in the world, and the most wonderful travel companions we could've wished for. We were treated like family everywhere we went and we have 14 new best friends.
We have used some of the top rated travel specialists all over the world and, without question, Catherine Heald and Remote Lands are at the very top of the list!