Siem Reap isn't widely known for its cuisine. But, for those with a palate for international flavors with a Khmer twist, this city has a surprising class to its dining that can rival the capital. Indeed, the cuisine of Siem Reap is evolving as the destination itself evolves, taking on more travelers and more flavors.
Whether it's world-class hotels bringing international style or local flavors in unique settings, Siem Reap's Khmer fine dining options are on the rise.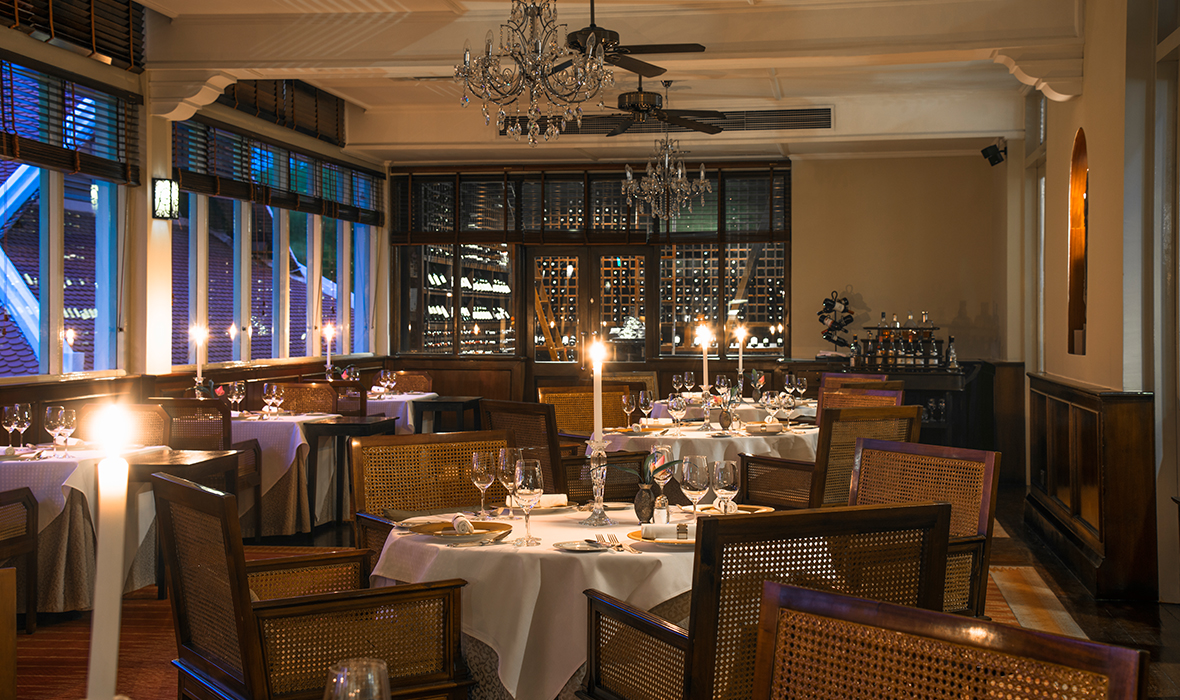 Restaurant Le Grand at the Raffles Grand Hotel d'Angkor Siem Reap offers royal Khmer cuisine, Western fine dining, and an impressive wine list.
The fabled Royal Khmer cuisine, handed down over the centuries by the chefs of the Royal Palaces, uses only the finest ingredients carefully blended to create a distinct epicurean experience.
Meals are often served in family style, with a variety of foods arriving together at the table with a heavy use of garlic, which won't come as a surprise to Khmer food enthusiasts.
A typical meal of traditional Khmer cuisine consists of soup, salad, a fish course, a meat course, vegetables, and rice, and would be cooked according to traditional Buddhist guidelines. The Restaurant Le Grand proudly maintains these traditions as one of the few venues for traditional Khmer cuisine in Siem Reap and the area of Angkor.
What's more, their new wine cellar offers travelers one of the finest wine selections in Southeast Asia, with more than 400 wines from around the world.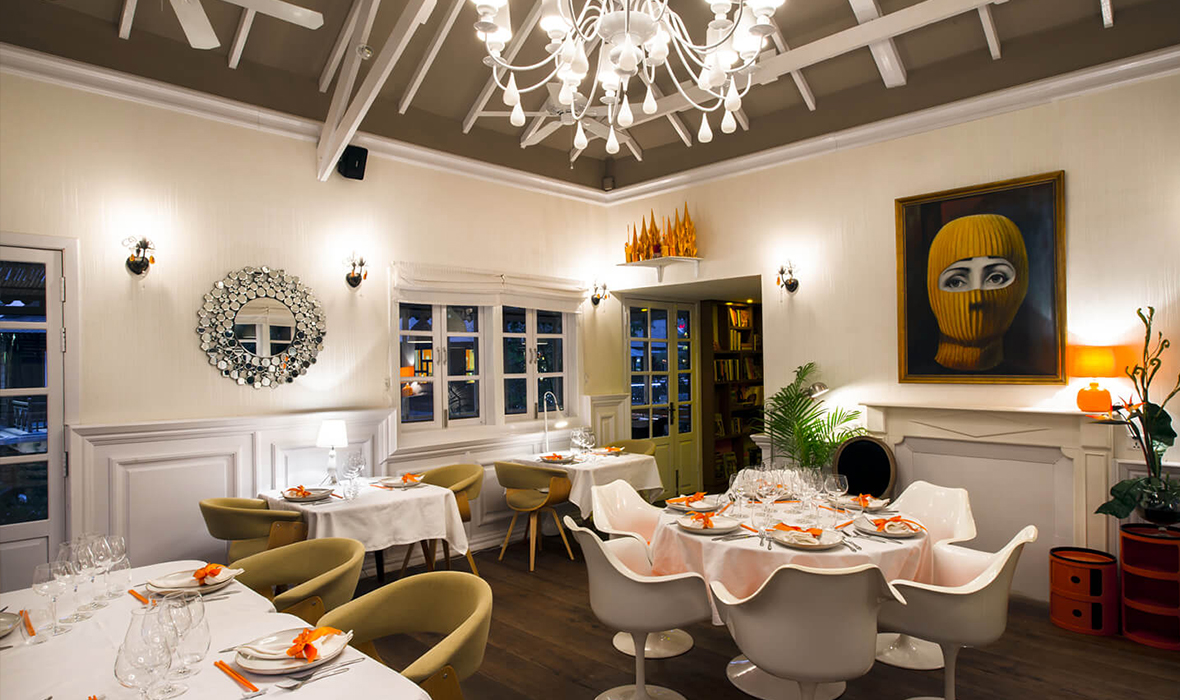 Part of the King's Road Angkor Village – an upmarket dining destination on the east bank of the Siem Reap River – Embassy features a new set menu each month that captures the unique flavors from the various provinces in Cambodia.
Students of Michelin-starred chef Régis Marcon, executive chef team the "Kimsan Twins" create a multiple-course 'active menu' that allows guests to learn a little more about Khmer fine dining. Each course includes a story that sources the individual ingredients of the meal from Cambodia: the freshness of cilantro, the zest of lemongrass, and the exotic citrus aroma of kaffir limes.
Guests sample dishes that fuse the nutty edge of taro, the intensity of sweet basil, and the tart sweetness of tamarind. For the more adventurous palate, the twins offer a double dose of spicy turmeric and star anise, the peppery taste of galangal mixed with the milder ginger flavor of finger root.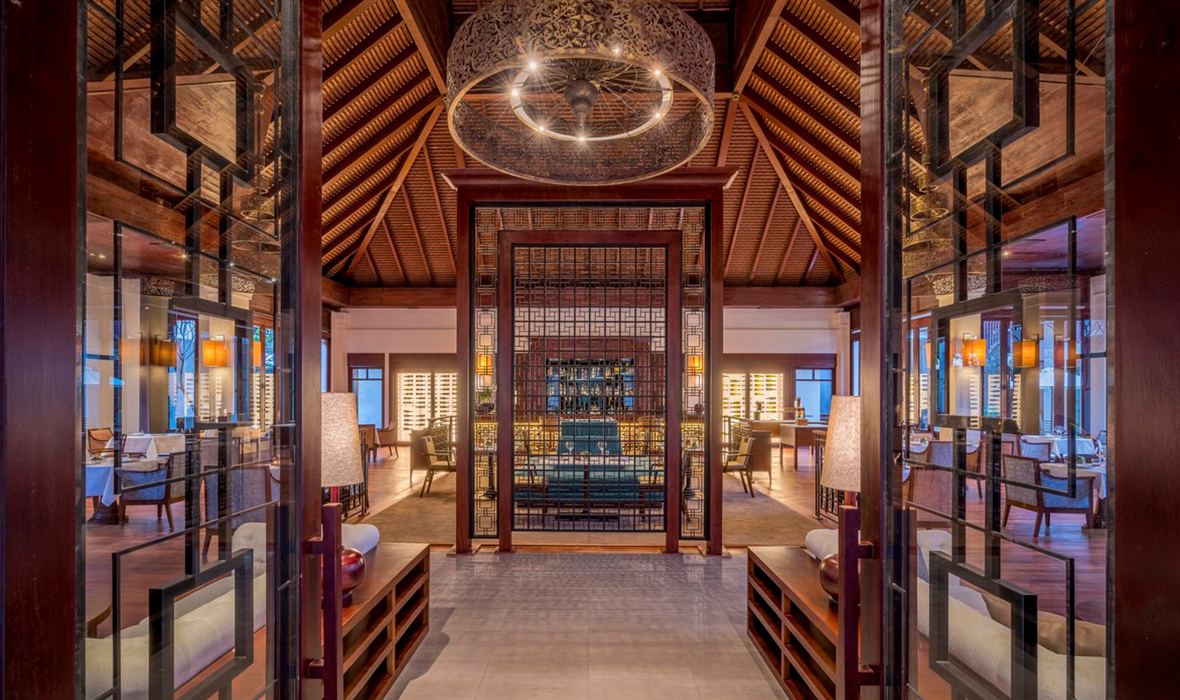 With an array of cuisine from across the Indochina region and the west, Anantara Angkor Resort's Chi Restaurant & Bar offers five-star finesse with original Khmer dining rooted in aromatic traditions. Chi, from the Khmer word for herb, flourishes in the resort's garden. Young German chef Kien Wagner – meticulous about using indigenous herbs, spices and chemical-free produce – plucks fresh each day, to create a thoughtful menu that fuses vibrant Cambodian and pan-Asian cuisine into contemporary artistry.
Large-portioned staples are filling. Travelers experience 'progressive Cambodian cuisine' in dishes such as pork knuckle featuring Asian-style marinated vegetables with a glaze of anise caramel; pumpkin and Tonle Sap fish soups; and 'rice paddy' herb and the medicinal moringa tree.
The Dining Room at Park Hyatt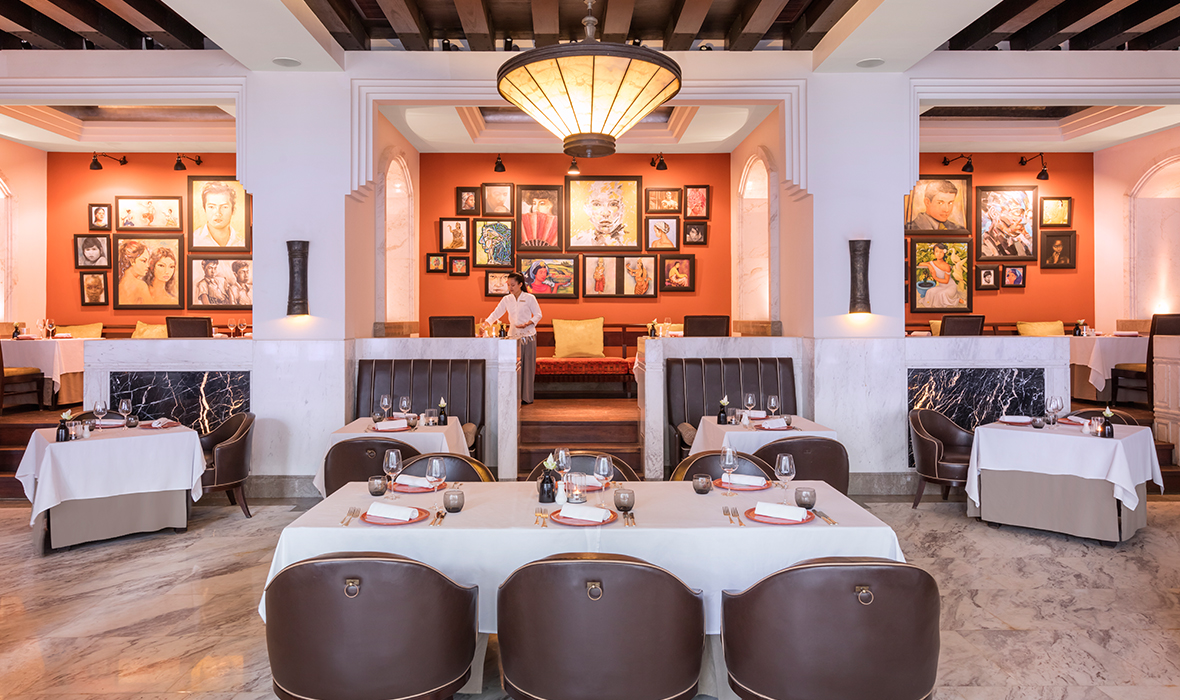 French cuisine and Indochinese inspiration serves as the underlying philosophy behind each culinary journey executive chef Pisith Theam delivers at The Dining Room, Park Hyatt Siem Reap's signature restaurant.
A native of Pouk, a village 20 minutes outside of Siem Reap, Theam uses local ingredients and recipes to create delicious plates that appeal to a variety of tastes. Signature dishes include chicken stir fry topped with a fish sauce from neighboring Kampot.
The Dining Room offers the best of Cambodian cuisine with flavorful options such as roasted eggplant salad for the luxury loving vegan diner. For dessert, cassava pudding and pumpkin cake are local favorites.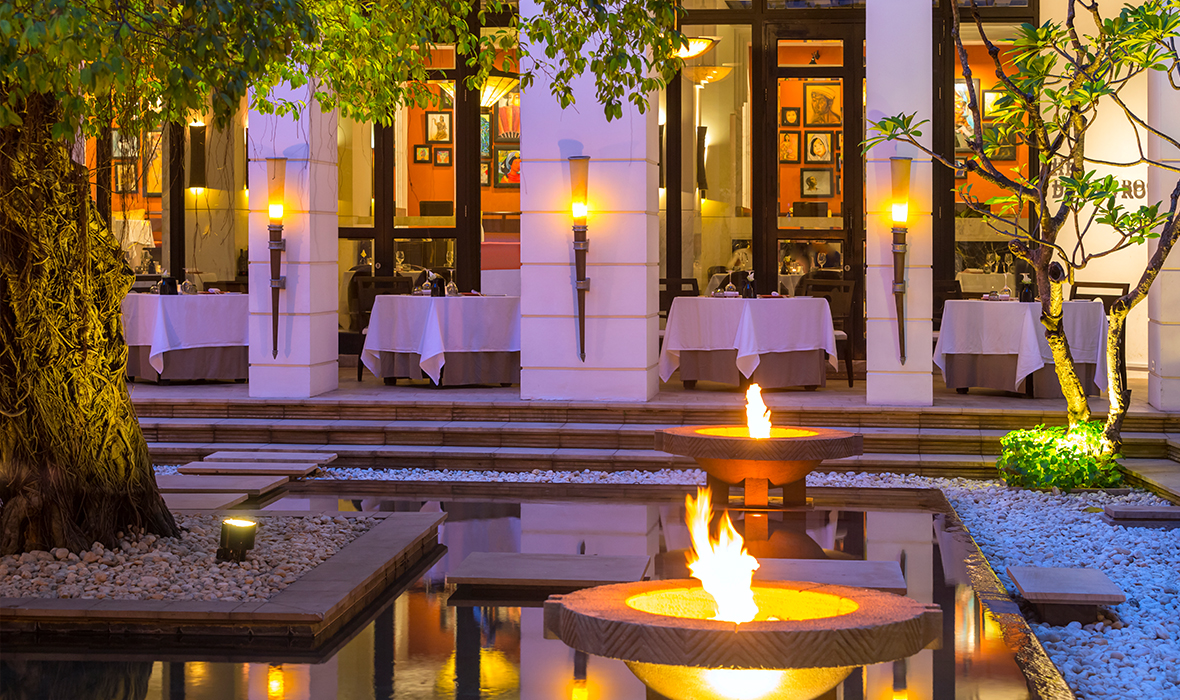 Travelers dine in the open-air courtyard, enjoying intricate finger and foot movements common to traditional Apsara dance performances and Bokator martial arts. Alternatively, indoor air-conditioned seating watching the performances through large picture windows serve as an equally viable option.
Park Hyatt takes special pride in its environmental social responsibility philosophy. The Dining Room only sources fresh, flavorful, healthy, yet environmentally sustainable and ethical food options by choosing fisheries certified under the Marine Stewardship Council (MSC) sustainable standard for wild caught seafood or Aquaculture Stewardship Council (ASC) standard for responsibly farmed seafood.
Spice Circle at the Belmond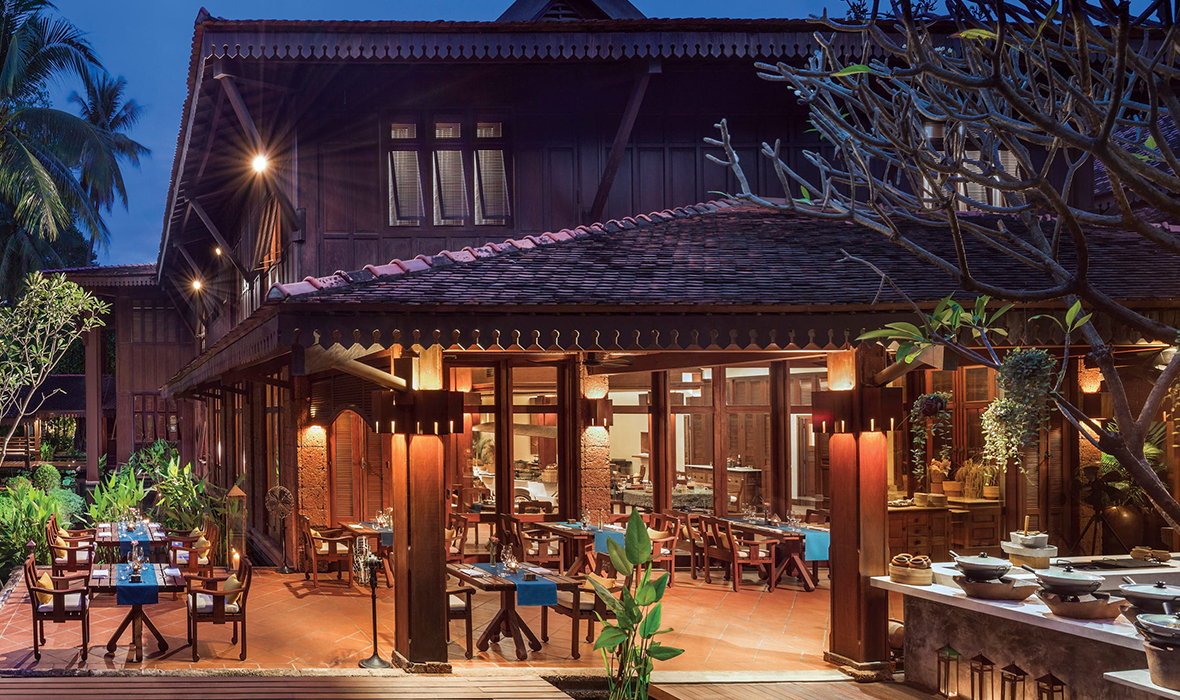 Spice Circle, is home to executive Chef Saul Garcia Ramos and his upscale presentation of the hawker-center style of dining. Located in the Belmond La Résidence d'Angkor, Spice Circle offers travelers a lively and engaged, yet authentic Cambodian culinary experience.
Whether dining in open-air lush gardens, or relaxing inside the air-conditioned dining room, travelers sample piquant dishes infused with chili and lemongrass, Kampot rice noodle salad, stir fries, or Khmer chicken red curry.