Siem Reap's first five-star property unveils a makeover that's as contemporary as it is classy, setting the Cambodian hotel on course for its second century in style.
By definition, heritage hotels trade on past glories: storied buildings whose illustrious history is in itself a principal lure for travelers keen to immerse in their comforts and curiosities. So when a classic hotel in a city famed for its intimate association with one of the world's most fêted archaeological parks undergoes a six-month restoration, the results are fascinating to witness: how to imbue a sense of modernity while retaining those hallmarks of tradition that are its raison d'être?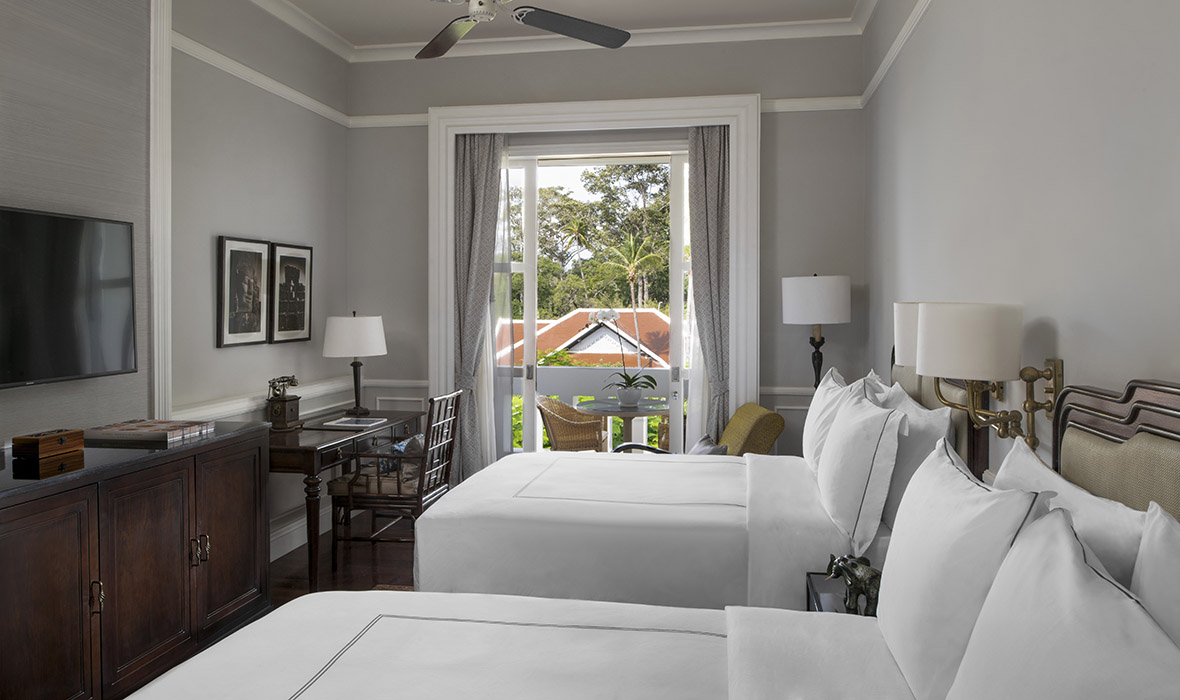 For the Siem Reap grande dame known to many simply as the Grand – the hotel only fell under the aegis of the Raffles brand as recently as the late 1990s – the answer lay in addressing subtle tweaks both inside and outside rather than a radical refurb. "The last renovation was in 1997," recalls director of marketing and communications Margaux Hontiveros. "So it was beginning to look old school. Basically, everything is brighter." 
Margaux's pithy summary of the new Grand is borne out with just a cursory glance of the Conservatory past the main entrance, where the same teak-and-wrought-iron elevator that graced the original hotel in 1932 – shuttling guests such as Charlie Chaplin and Jackie Kennedy – is polished to a T and discreetly tucked under the stairway. The ornate Elephant Bar, so named for the method of transport taken by customers on the old Grand Tour to arrive at the hotel from Angkor Archaeological Park, is newly decked out with beige-tinted, tubular chandeliers that loom above guests as they are serenaded by a resident pianist. The room sports a number of inviting sofas in a variety of hues where guests can luxuriate with an afternoon tea or cocktail (try the Sazerac, $8, for a perfectly balanced throat-cleansing hit of whisky, cognac and Angostura bitters).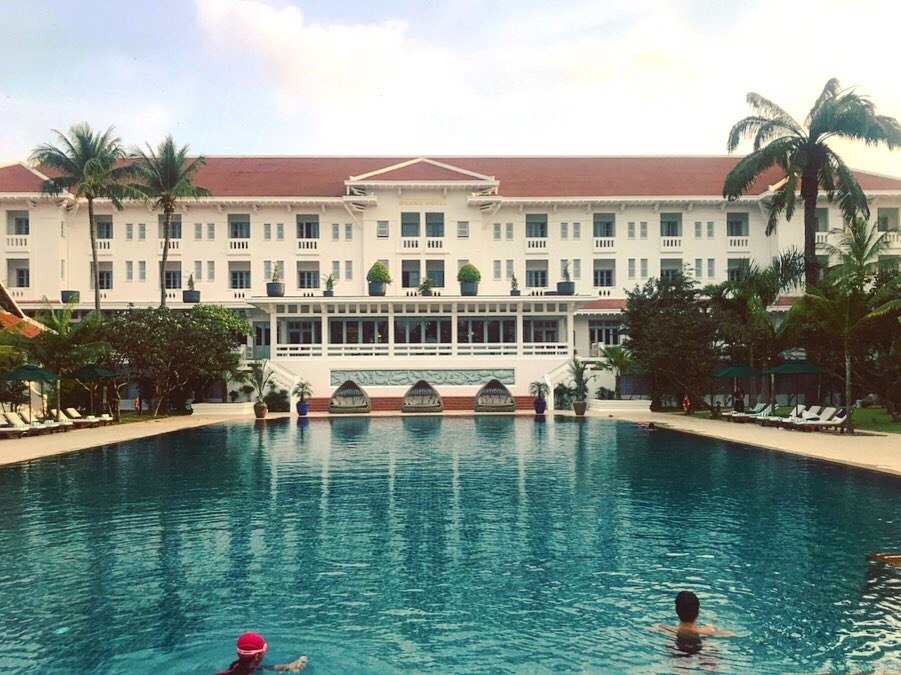 Next door is a new restaurant, simply named 1932, which replaces the French-Khmer cuisine of its previous incarnations with a solely Cambodian emphasis, masterminded by new executive chef Angela Brown. Here, classic local dishes are reproduced using progressive cooking techniques, and served on golden plates and ceramics produced by Siem Reap specialists Loyuyu with an aesthetic flourish that can only be described as pure artistry.
Among the mains, the Lok Lak Châteaubriand is the most surprising: far removed from the conventional plating of beef strips mixed with white rice with Kampot pepper sauce, the 1932 version presents a Wagyu striploin alongside grape purée, snap peas and a dripper containing a lok lak essence. The pumpkin soup starter is a velouté sauce infused with lemongrass and kaffir lime, and poured over a selection of meticulously selected herbs and vegetables. In this location within close proximity to Siem Reap's Royal Residence, 1932 is the only dining destination in Cambodia offering authentic Royal Khmer cuisine that's rooted in ancient Khmer recipes, and passed on to the Raffles by royal decree.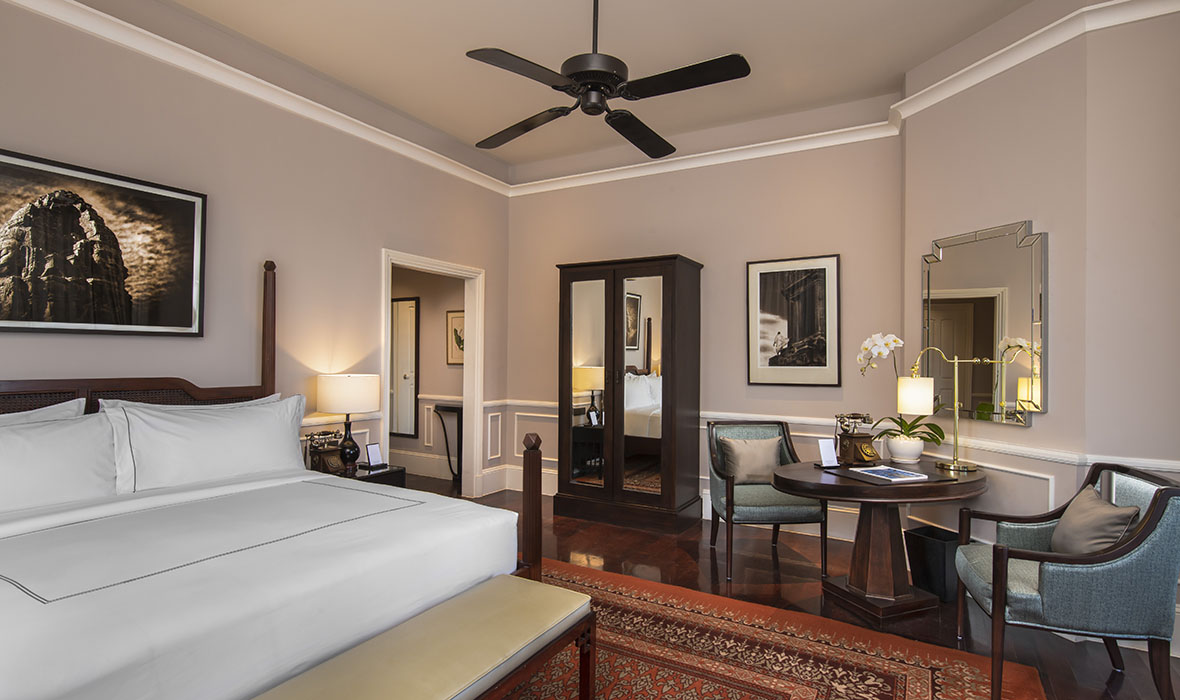 Café d'Angkor, the Raffles' delicatessen and brasserie, serves a sumptuous breakfast spread as well as an eclectic Western-Asian lunch – both indoors and outside on a patio overlooking the main grounds – with signatures from an extensive menu including a char kadao seafood dish fried in a wok and a Sihanoukville soft-shell crab.
In the guest quarters set along lengthy, monochrome-tiled corridors, graced by the evocative sepia-toned Angkor photography of acclaimed US shutterbug John McDermott, all 119 rooms feature subtle upgrades. There are new lighting configurations on the ceilings, ultra-cozy pillow-top mattresses and hardwood floors, as well as modern essentials such as a Segafredo coffee machine and USB charging stations discreetly positioned by the bedside. These contemporary add-ons and retro-fits blend in obtrusively beside more time-honored (but still fully functioning) facilities such as brass rotary telephones. The compact bathrooms are now opulently re-designed with cream-coloured marble, Italian tiling and rain showers, as well as claw-foot tubs in some suites.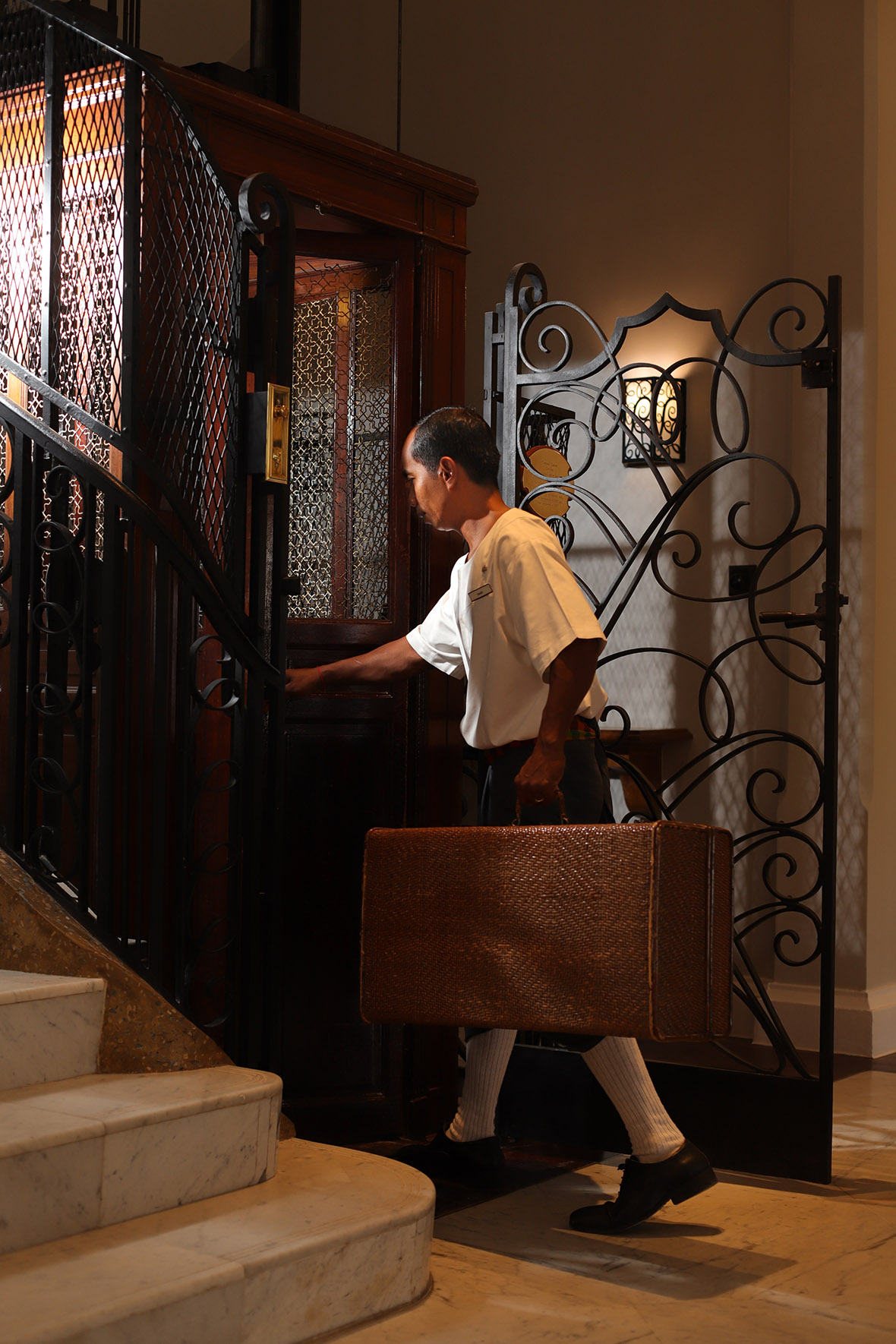 Within the 15-acre rear gardens there's one of the largest hotel swimming pools I've ever seen, now with enhanced cleaner edges that complement the surrounding cream-white flooring so that the grouting is now invisible. The immaculate setting beautifully complements the cyan-and-white color blend of the hotel's rear façade, near to which you'll find the Sugar Palm Club, which offers adventure activities for younger children. A new addition early in 2020 will be The Raffles Marquee, a fully air-conditioned tent in the gardens that's designed as a spacious venue for events and functions.
Ideally situated between the center of Siem Reap and Angkor Archaeological Park, the Grand offers a variety of tours that cover both the town and its nearby Unesco site. A four-hour overview of local artworks is led by Irish émigrée Robina Hanley, part-owner of the city's contemporary One Eleven Gallery, and stops at some remarkable repositories of local creative endeavor. Two highlights of the tour are Theam's House, a museum and atelier owned by reclusive Cambodian artist and collector Lim Muy Theam, and the multi-storey boutique and workshop of Madagascan fashion designer Eric Raisina. There's also a golden opportunity to visit the Angkor temples away from the maddening crowds in the company of Vespa Adventures Siem Reap, which navigates lesser-traveled routes around the world-famous Archaeological Park to offer alternative perspectives on its most recognizable structures such as Angkor Wat, Bayon and Ta Prohm.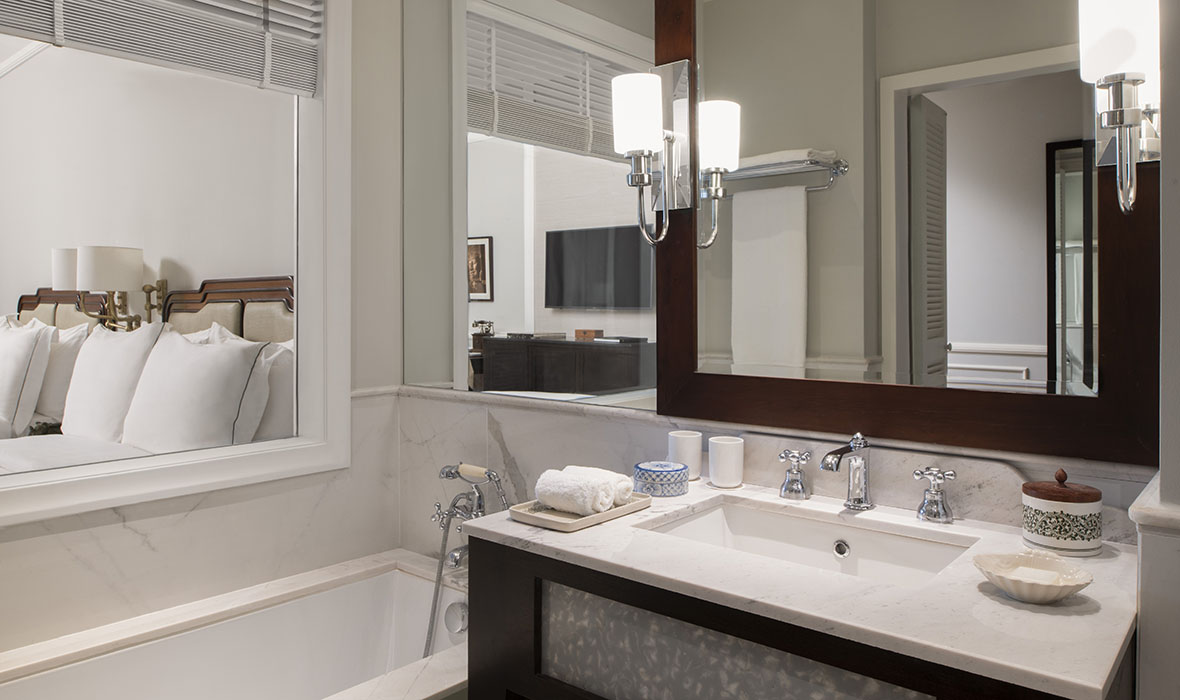 Further curated tours include the Khmer Culinary Discovery; an easy-going wander around the fashionable boutiques of Kandal Village in the company of a butler; and a journey through the Raffles' life and times with the hotel's resident historian, Saravann Mouth.
These are exciting times for the Raffles Hotels & Resorts brand: two new Asian hotels join this famous lineage in 2020, on the Indonesian island of Bali and in Udaipur, northern India. But the most talked-about opening next year is likely to be in London, where a 125-room Raffles hotel will open on the site of former prime minister Winston Churchill's neo-baroque War Office in Whitehall.
In the meantime, there's wonderful hospitality aplenty for visitors to embrace in the rarefied environs of Siem Reap's Grand Hotel d'Angkor, where the nostalgic spirit of Indochina – and the last golden age of Cambodian travel – fuses with the contemporary pulse of what has in recent years become one of South-East Asia's most vibrant and cosmopolitan cities.