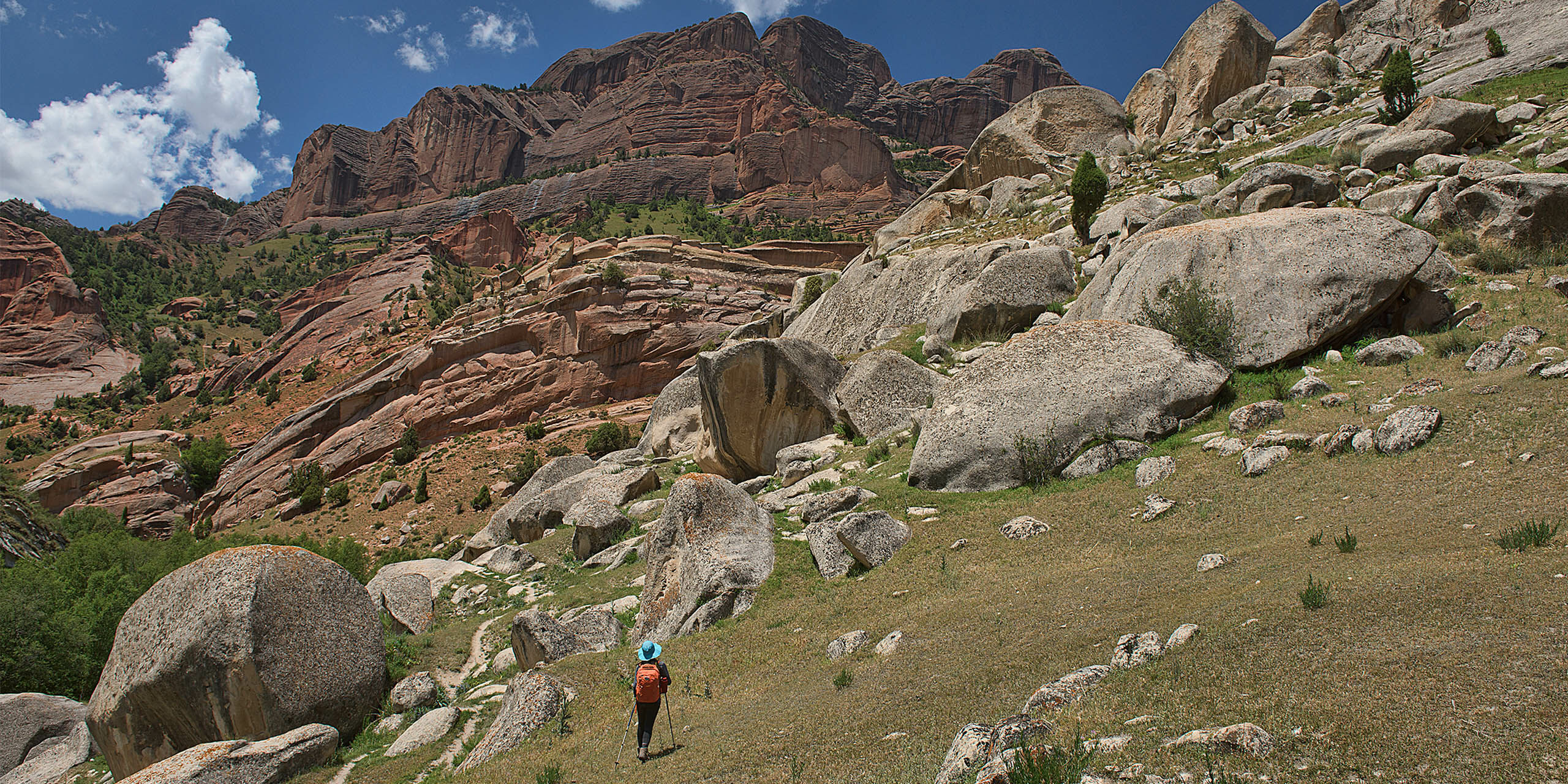 Southwestern Kyrgyzstan straddles the Tajikistan border. And near the scruffy village of Sary Mogul, the frontier is demarcated by the towering peaks of the high Pamir, with Peak Lenin standing guard, its 7134-meter domed and glaciated summit rising above the grasslands.
The best viewing spot for Lenin and the surrounding massive peaks is across the valley, in the splendid Alai Range, where my wife and several friends of ours headed off for a 5-day trek known as Heights of Alai. All of Kyrgyzstan is one big hiking/trekking paradise. But this chain of remote valleys instantly became one of our favorite mountain treks.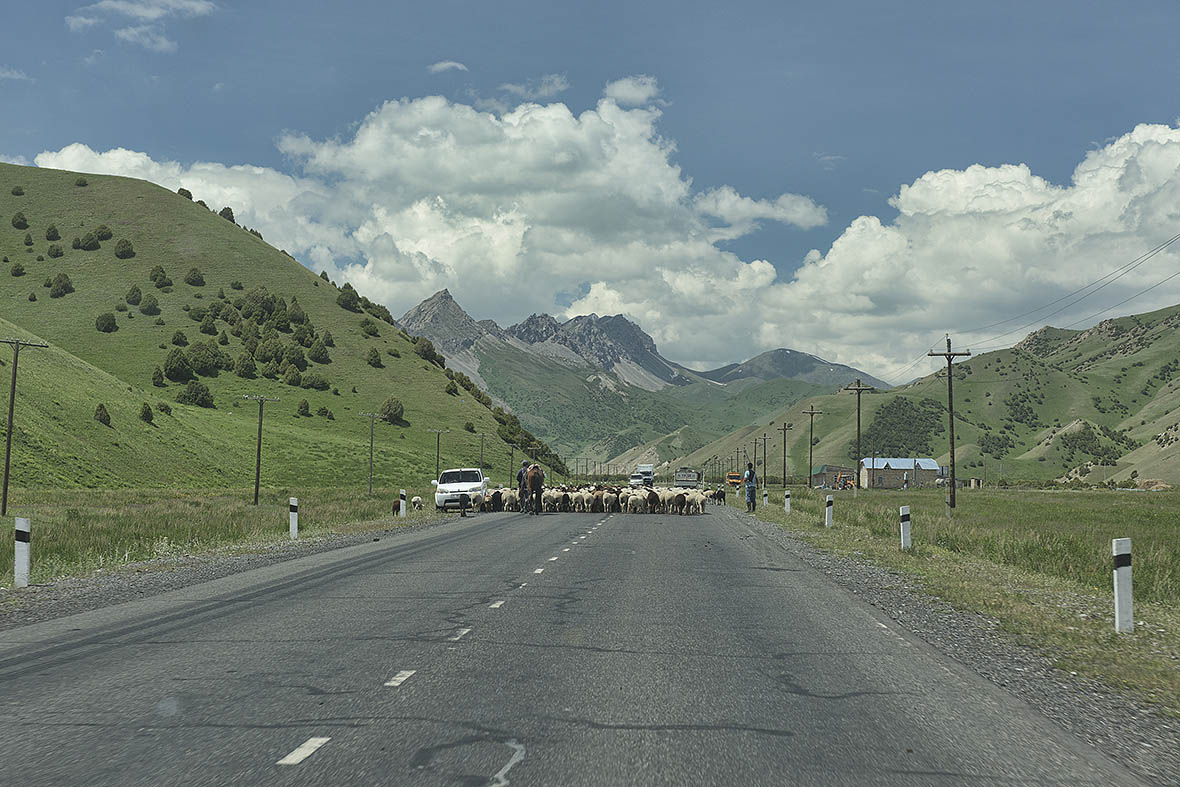 We arranged for a driver to take us from Kyrgyzstan's second city, Osh, to Sary Mogul, a little hamlet which, if it were in the Himalayas or Andes would be a well-developed trekker's paradise. Here, it is just a windswept collection of battered mud dwellings with a smattering of family-run guesthouses catering to intrepid travelers.
Pulling out of Osh, our driver stopped in the market to pick up a woman. The vehicle was already packed to the gills so we protested vehemently, figuring the driver was trying to make extra cash on the side. A member of our party called the agency, who asked to speak with the driver, and an argument ensued. Ten minutes later, our driver glumly dropped the woman back at the market, and off we went.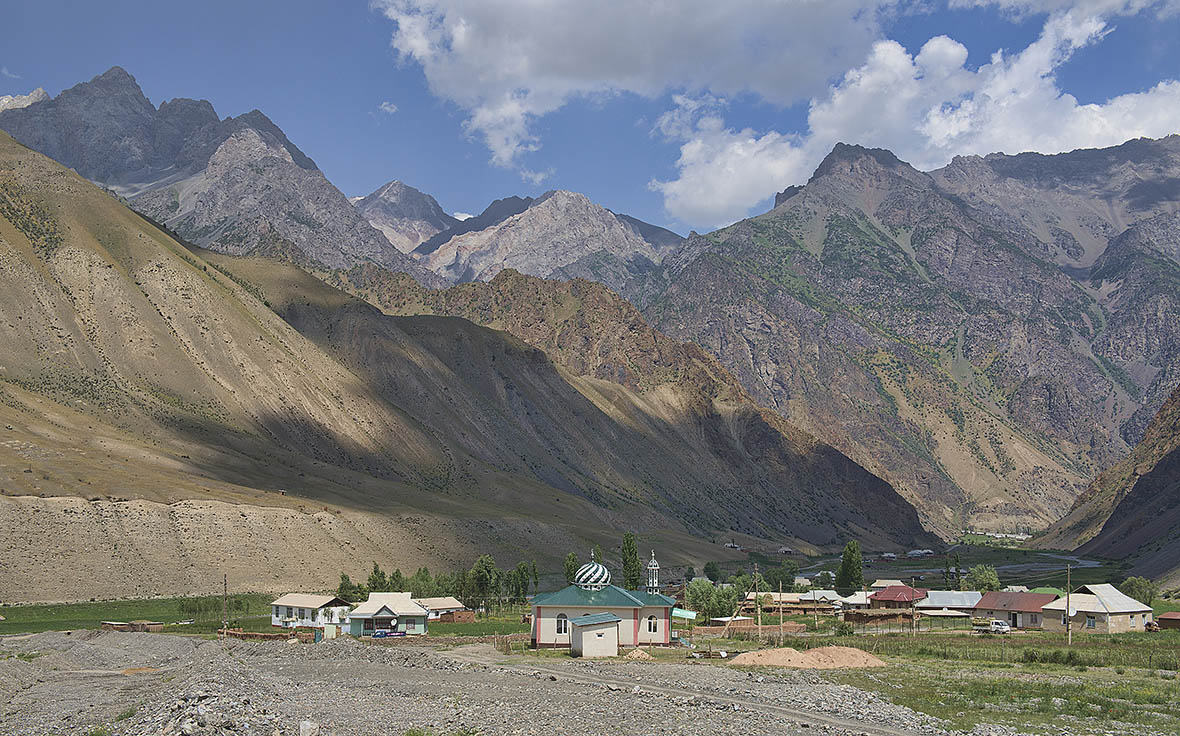 We sprawled out with a bit more legroom, feeling good about ourselves until I attempted a conversation with the driver in a mix of broken Russian, English, and pantomime. When we got to the usual questions about family, I asked if he was married, and he rather dourly informed me that he was and that his wife was the woman who'd been sitting in the van just 30 minutes prior! We all looked at each other in horror, realizing what an epic faux pas we'd just made. The trek was getting off to a most promising start.
In Sary Mogul, we checked in to the Lenin Peak Guesthouse, a cozy little place at the southern end of the village, run by a welcoming host named Abu Ali Ibn Sina, where his family welcomed us with freshly churned butter, nan bread, and raspberry jam. We divided up our supplies, repacked our gear, and met our porters, a couple of strapping young men fresh out of the Kyrgyz army looking to make some extra money during their summer break.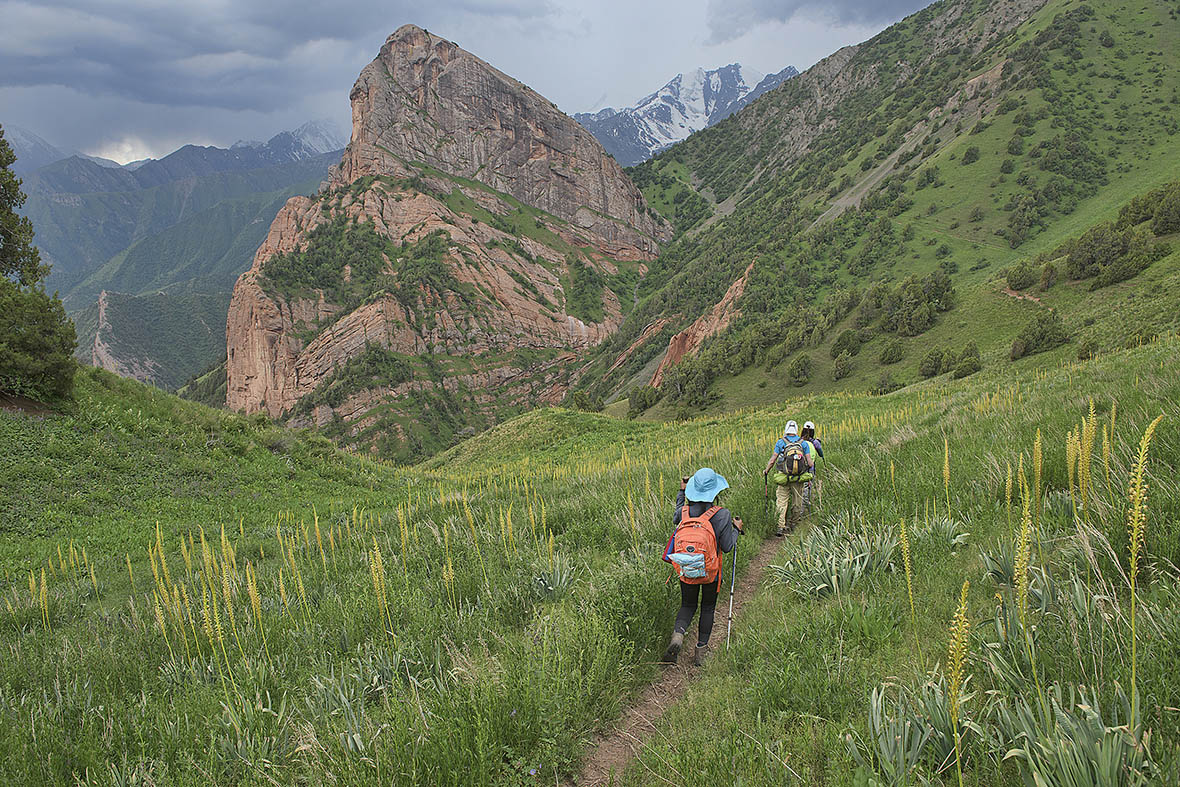 We awoke the following morning to sunny skies and headed out towards the Jiptick Pass, a 4135-meter heart-pounding alpine ascent that gave great views back down the valley, with Peak Lenin dominating the landscape in the background. Perhaps even more impressive than the views was one of our porters, 22-year-old Axol, who not only was carrying my entire backpack, but had strapped his backpack to the top of it, and must have been bearing the brunt of some 60 pounds.
The Alai Range here shows off all the best of Kyrgyzstan, with an incredibly diverse array of landscapes, from green valleys full of wildflowers to canyons and rock faces straight out of Zion National Park, with red and orange hues and dramatic granite walls. And it isn't only breathtaking nature that impresses, as Kyrgyz culture is on display too. There are verdant pastures where herders have set up yurts for the summer, several of which now double as homestays, where we were always welcomed with cups of steaming milk tea, fresh nan, yogurt, butter, and of course offered kumis, the Kyrgyz national beverage made from fermented mare's milk, which most definitely is an acquired taste and is guaranteed to knock off more than your socks.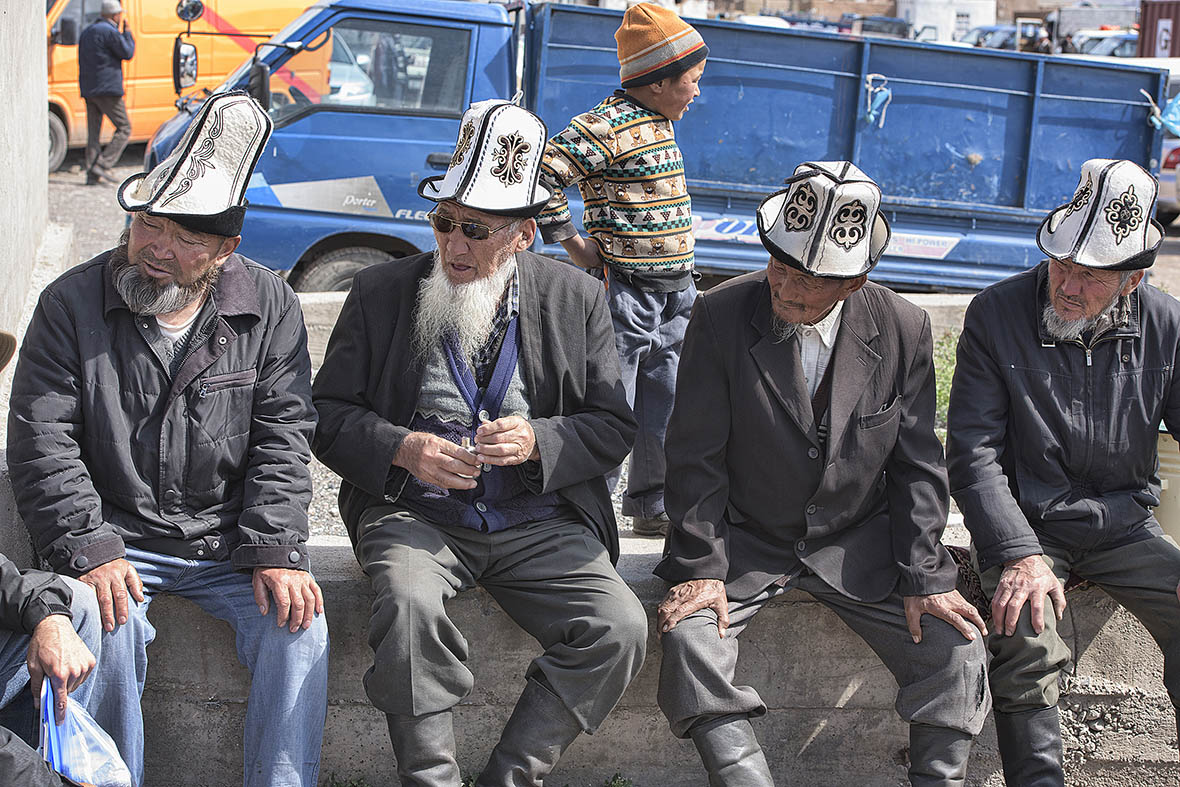 There are also entire villages set back in the deep valleys. We passed through Kyzyl Chara, a collection of tin-roofed homes, poplar trees, and abundant fields, set under towering jagged peaks. I was struck at just how similar Kyrgyzstan is to Switzerland, with its endless verdant mountain valleys, glaciers, alpine terrain, and genuine mountain culture, only this one doesn't have cable cars to the top of peaks, and all the thousands of tourists who ride them.
In Kyzyl Chara, as elsewhere, the men stroll around proudly sporting kalpaks, elongated felt hats made from wool, white with embroidered designs on them. The tall hats, which supposedly evoke the high snowy peaks of the country, are unique, and in fact, I later learn that they've been inscribed on UNESCO's list of Intangible Cultural Heritage and that the Kyrgyz even have a national holiday in March celebrating the kaplak.
Our journey continued, every day looking like the highlight film for a video on the best of Kyrgyzstan. On our fourth day, we began climbing up a river valley to the storied Sary Mogul Pass, which would complete a loop around the mountains, as well as give us some of the best views of the trip. Our agency hadn't been very forthcoming about information on this pass when we'd asked, only saying that it might still have some snow on it. What they didn't add, as we later found out, was that two parties before us had turned around, unable to cross the pass, having to return the way they'd come in.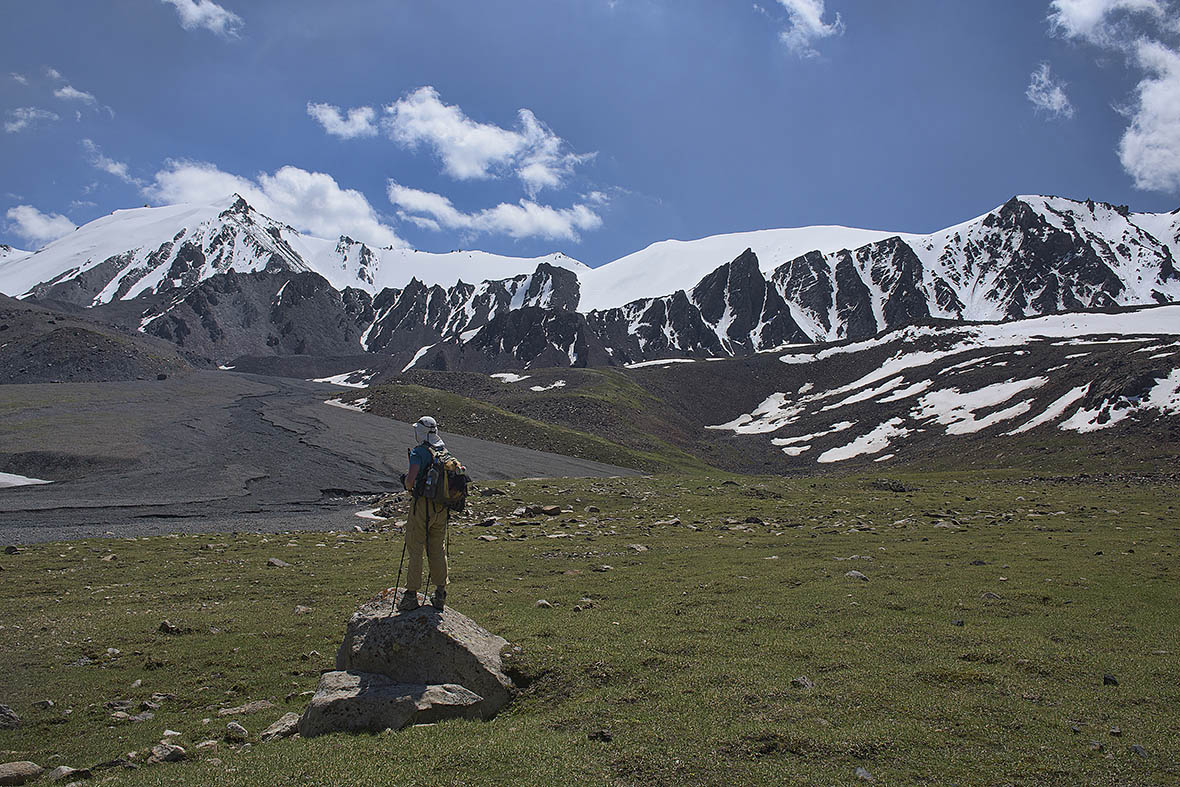 We crested the top of the valley and I immediately saw why, as in front of us lay this steep wall of snow, seemingly with no way up. Axol pointed towards the top and said, "Sary Mogul," and grinned rather sheepishly. The pass was still several miles walk away, and it was pointless to make any decisions about it without checking the snow conditions, so we pitched camp, ate most of the rest of our rations, and decided to make a go of it in the morning.
Some 12 hours later we were at the base of the pass, looking up towards the top at what looked like a vertical ramp. Even melted out, this pass would be steep but covered in snow, it was daunting. I kicked a few steps in to test the snow, and in the bright morning sun, it was soft, so we decided to press onwards and started trading turns kicking steps, zig-zagging our way up as safely as possible.
We made it about three-quarters of the way up without incident, and it looked like our worries about a snowy climb might have been exaggerated, but as we started nearing the top, the snow hardened, with a solid layer of ice just below the dusting on top. If we had crampons and ice axes, this would have been an easy jaunt, but we didn't, and now we were halfway up a pass nearing a point of no return. Not wanting to turn around, we opted for getting off the snow and onto a rock band at the side of the climb, which meant we weren't in danger of slipping on ice, but the rock here was crumbling and radically unstable.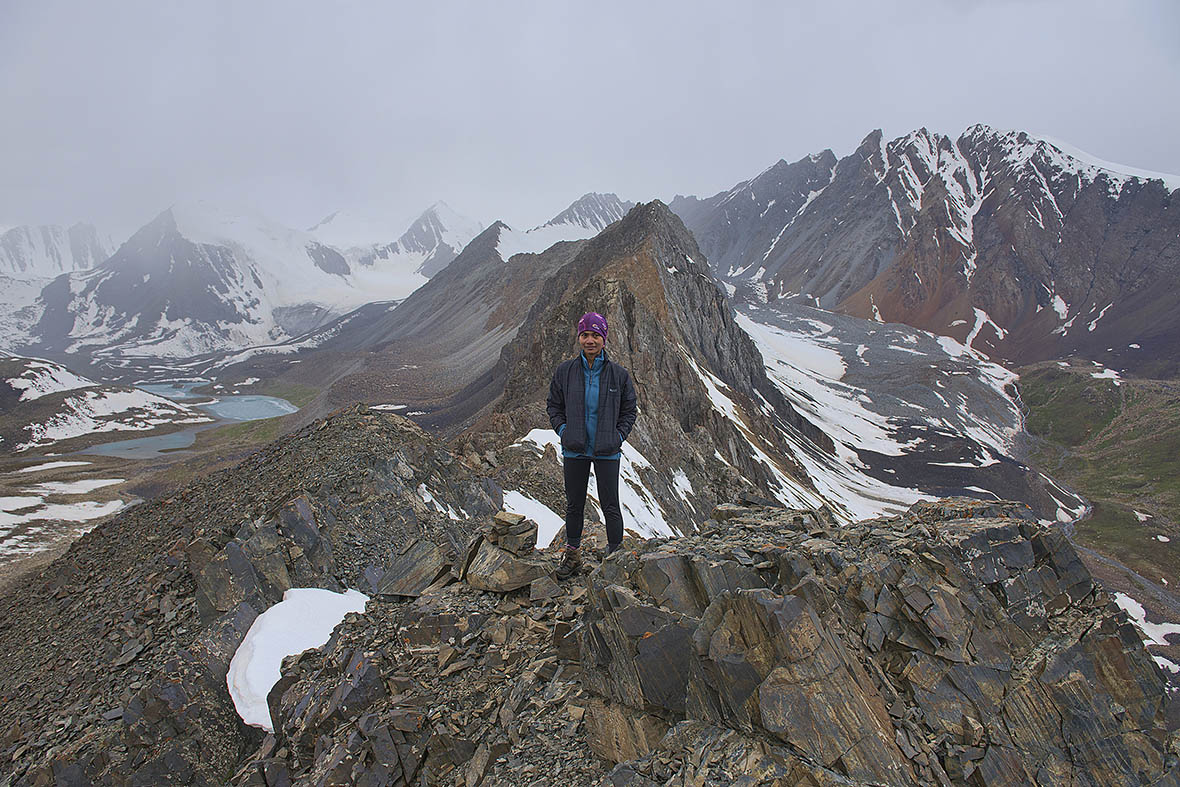 We started to hand over hand climbing, and I paused to look up, watching the weather starting to dramatically change, with storm clouds flooding the valley. I realized that we had committed at this point and couldn't back off, and it started to become scary. My wife slipped and almost fell, unable to trust any of the rocks she was grabbing on to hold, and the porters were having to assist one of our other friends to move by move, while I clung precariously to bits of rock trying to gingerly move from hold to hold. Somehow or other, we slowly made progress, and suddenly found ourselves back on deep snow, with a layer of ice underneath. We had to kick another 15 steps, did so, breathing nervous sighs of relief every time we inched forward, and then all of the sudden there was firm ground, and we were on the pass. Everyone was exhausted, shaking, and overwhelmed, but also exhilarated.
There was no snow on the other side of the pass it was just a leisurely walk down to the valley on the other side, and the views up here were surreal, with the crystal blue lakes of Besh Kol below, and a mix of red, black, and snow-covered peaks on all sides. The view of the Pamirs from here is said to be the best in the region, but as the weather had changed and was starting to rain, we just had to take satisfaction in what we'd accomplished.
A few hours later, we were back in the world of water and wildflowers, camped along a rushing river, warm, dry, and sated. As I climbed into my sleeping bag and my head hit the pillow, I thought about this magical Central Asian republic and knew I'd be returning again and again.