I expected to be impressed by Naoshima Island and Benesse House, but I can only now say that I was completely blown away. My husband and I are huge fans of renowned architect Tadao Ando, who designed just about everything on Naoshima, so I knew it was it would be special, but now seeing it in person I am amazed that it is this phenomenal.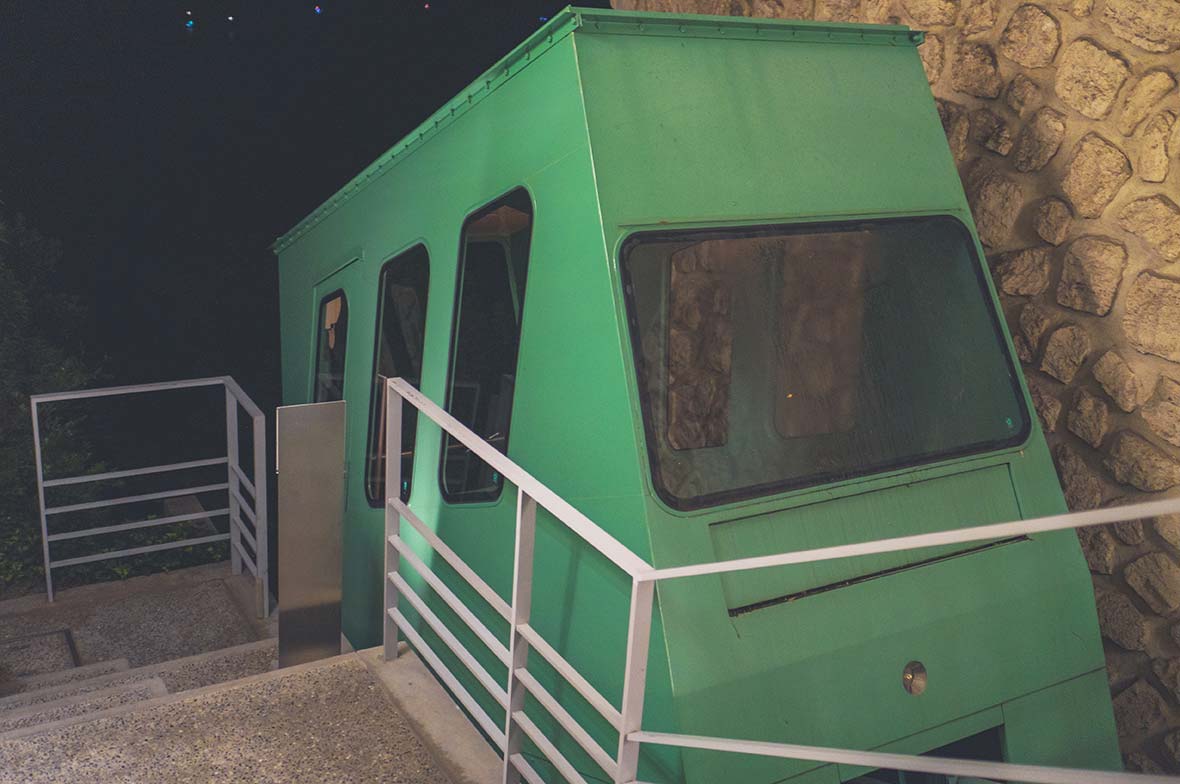 The raison d'etre of Naoshima, a small island about 10 miles in circumference, is based on the concept of "coexistence of nature, art and architecture" and the "perfect balance of light, sound, space, color and proportion". The architecture of Benesse House, the Chichu museum and Lee Anfung museum is indeed sensational, but then the art inside takes Naoshima to the level of uber-wow: Giacometti, Rauschenberg, Twombly, Hockney, Warhol, Jasper Johns, Frank Stella and Gerhard Richter to name but a few. Naoshima is very hilly and rocky but it also has some lovely golden sand beaches, and of course art installations peppered here and there. Part of the pleasure of Naoshima is wandering around the island and randomly coming across art at unexpected moments, which my "art run" this morning attested to.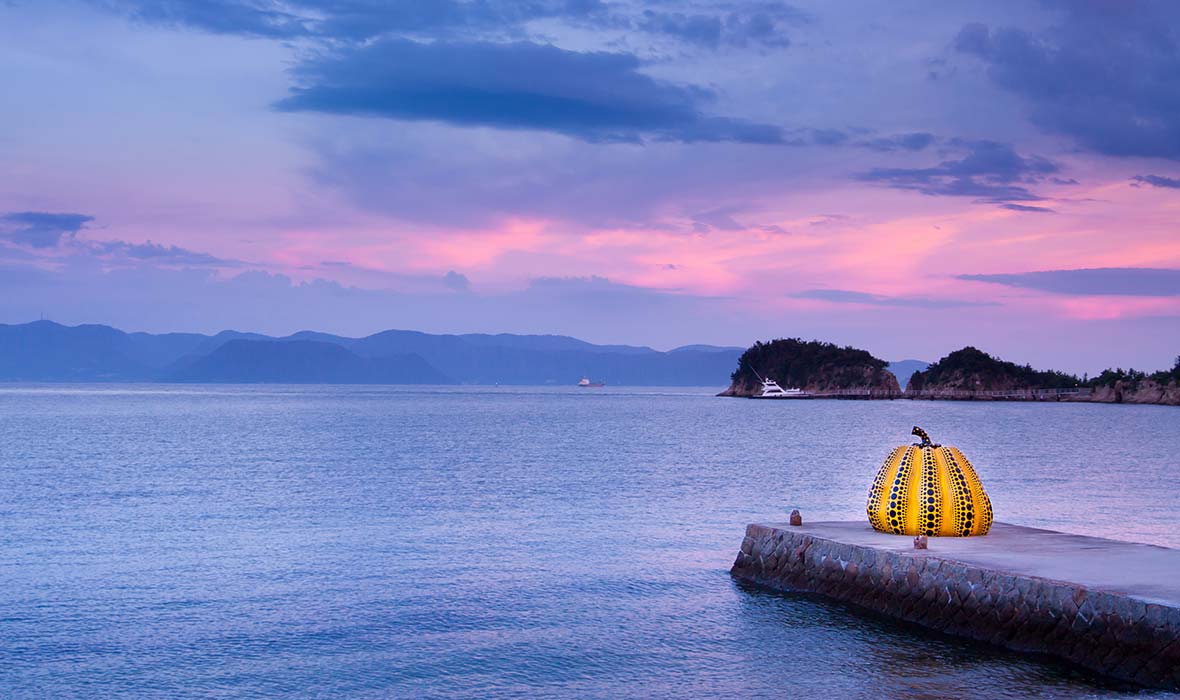 The museums are difficult to photograph or describe and to come close to doing adequate justice to the actual experience of being there. The Chichu Art Museum was designed by Tadao Ando, specifically for the works of Claude Monet, James Turrell, and Walter De Maria. Unlike a typical white-walled gallery, no other art could possibly be displayed here and when you visit you will understand why. The same is true for the Lee Ufan Museum which Ando designed specifically for Lee's marvelous sculptures and paintings.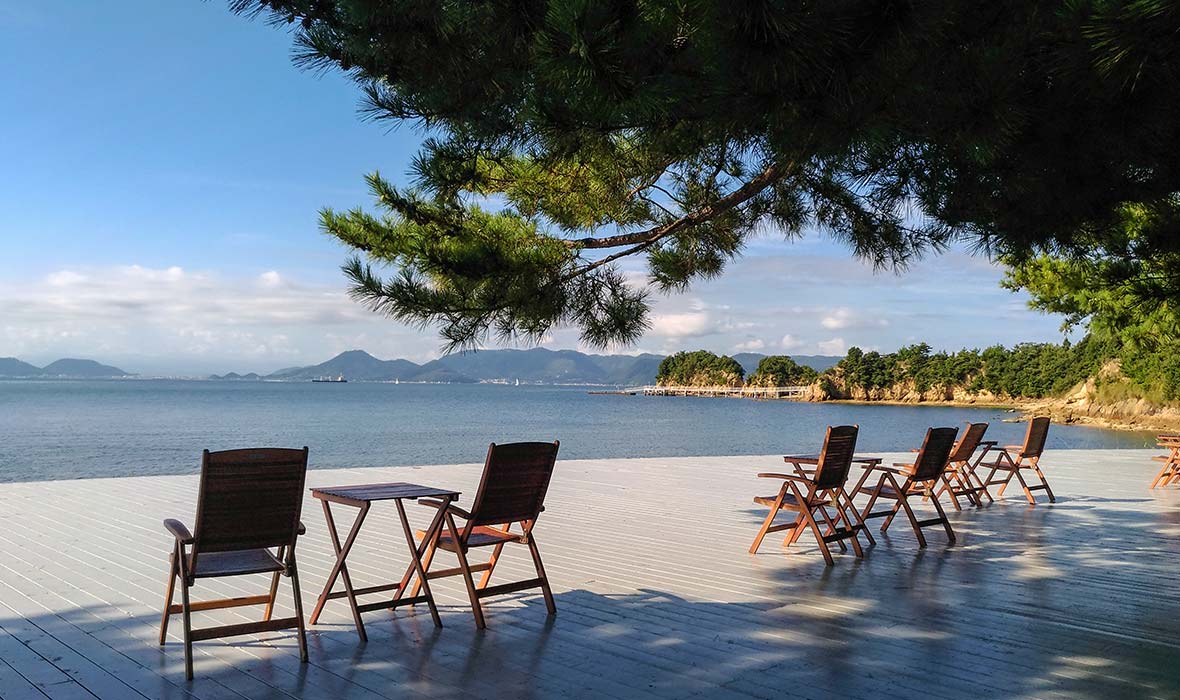 There is a small residential community on Naoshima with several hundred private homes, and within this area Art House Project was created. Seven houses scattered around the neighborhood have been turned into works of art called Kadoya, Minamidera, Kinza, Go'o Shrine, Ishibashi, Gokaisho, and Haisha. As you wander from one to the next you come across the local residents who are quite friendly and very proud to live on the extraordinary island of Naoshima and to share it with visitors. Minamidera by James Turrell is my favorite, and I don't want to spoil it by even attempting to describe the unusual experience. Ando Museum is a must-see with models of all the work by the Pritzker-prize winning architect laid out inside.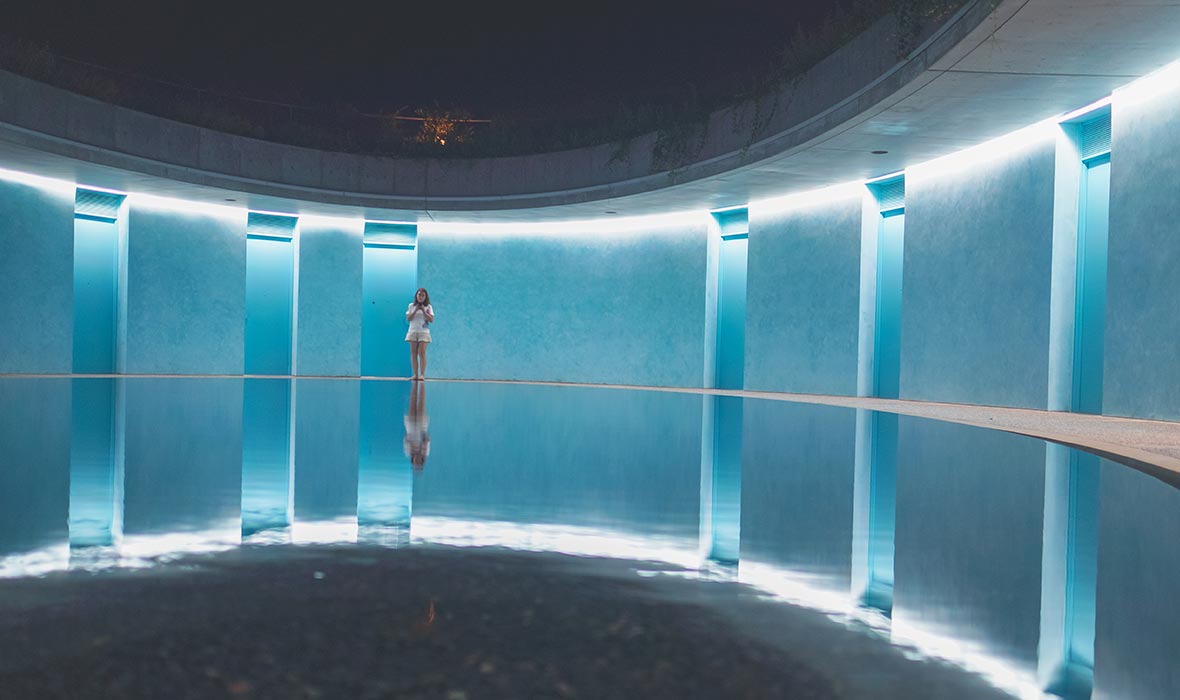 I checked into Benesse House and was escorted to a small monorail for the steep climb up the hill, atop which sits Oval House, arguably Ando's piece de resistance. I am in room #402 which has three original Richard Longs. The funny thing is that the bathrooms and furniture are unremarkable, but it doesn't matter because the building itself, the views from atop the hill and the art on the walls are so stupendous. I walked out onto my terrace to gasp at a stunning red sunset and some friendly Australians were having drinks on the terrace next door. I peeked inside their room and exclaimed "Oh it's Keith Haring!" and she replied in all seriousness "no, that's my husband Greg".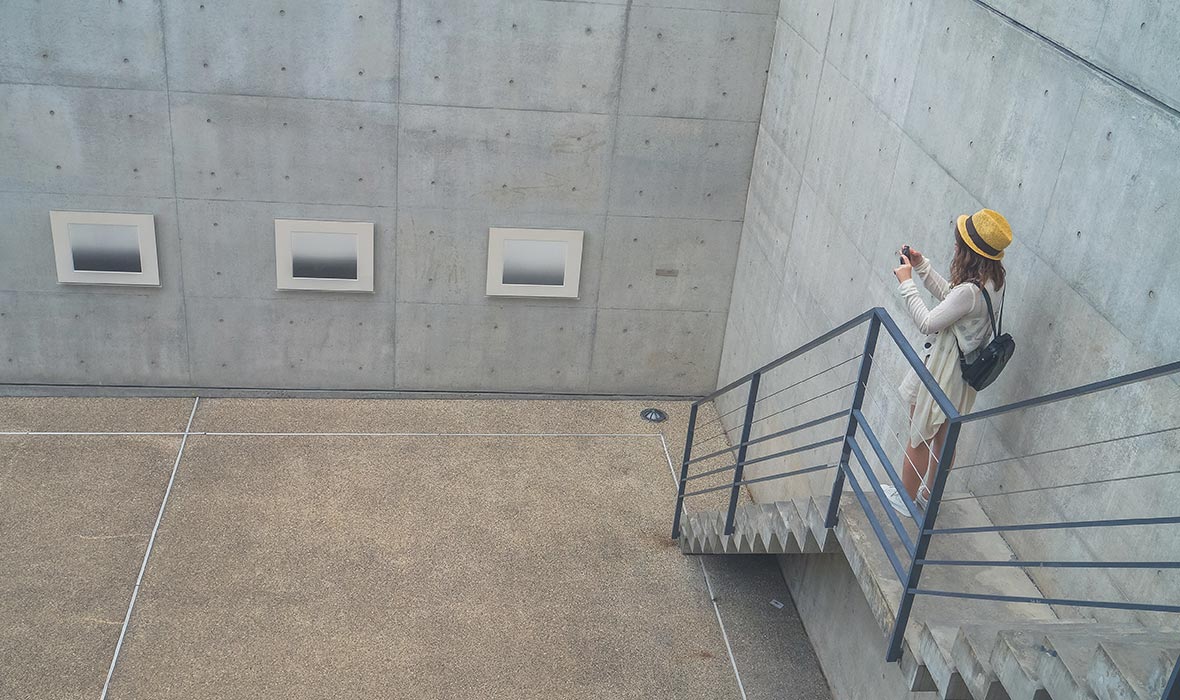 Benesse House has 4 separate buildings one can stay in which are (1) Museum House, the original building where the hotel reception and museum and Japanese restaurant are located (2) Oval House up on the top of the hill where one takes a fun 5 minute monorail straight uphill (3) the relatively new Beach House with its eponymous location and (4) Park House.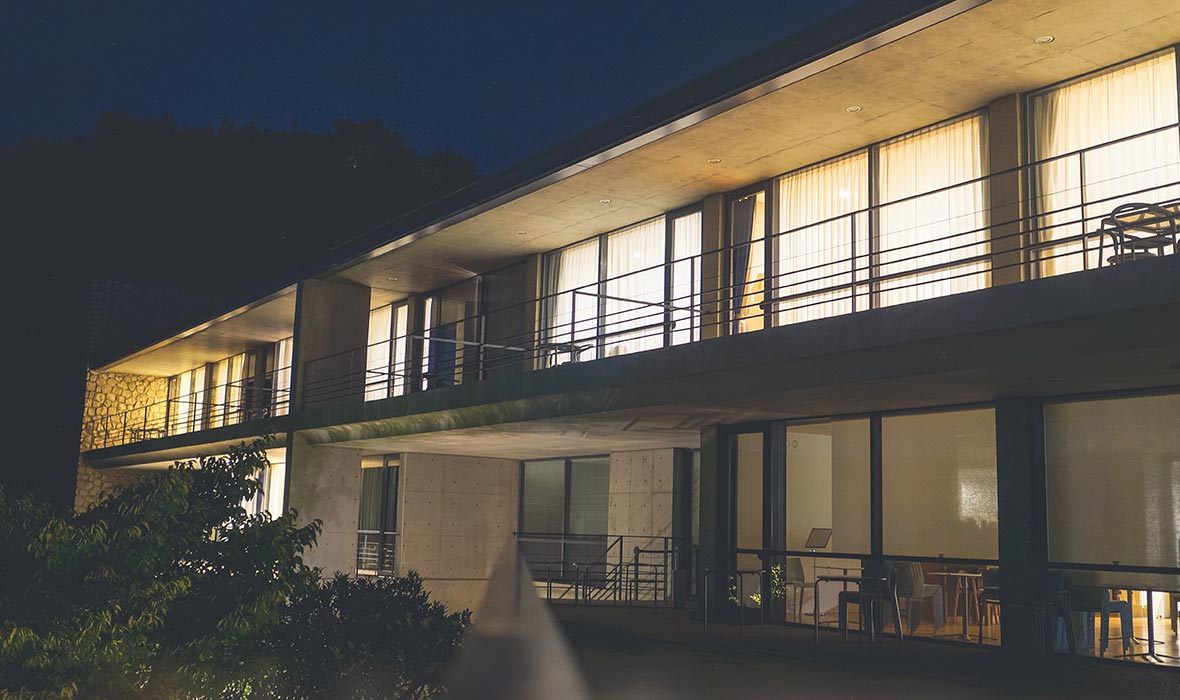 Only Museum House and Oval House have original art on the walls by Richard Long and Keith Haring as well as Cai Gou-Qiang, Josef Albers, Christo and Jeanne-Claude, Thomas Ruff, David Tremlett and other world-class artists. Park House and Beach House do not have original art – but they are newer and the furniture and bathrooms and much nicer and the rooms are bigger. However, for me the whole point of Benesse House is the art so I will always suggest that our friends and clients stay in Oval or Museum (unless you have pre-school age children who are only allowed to stay in Park and Beach).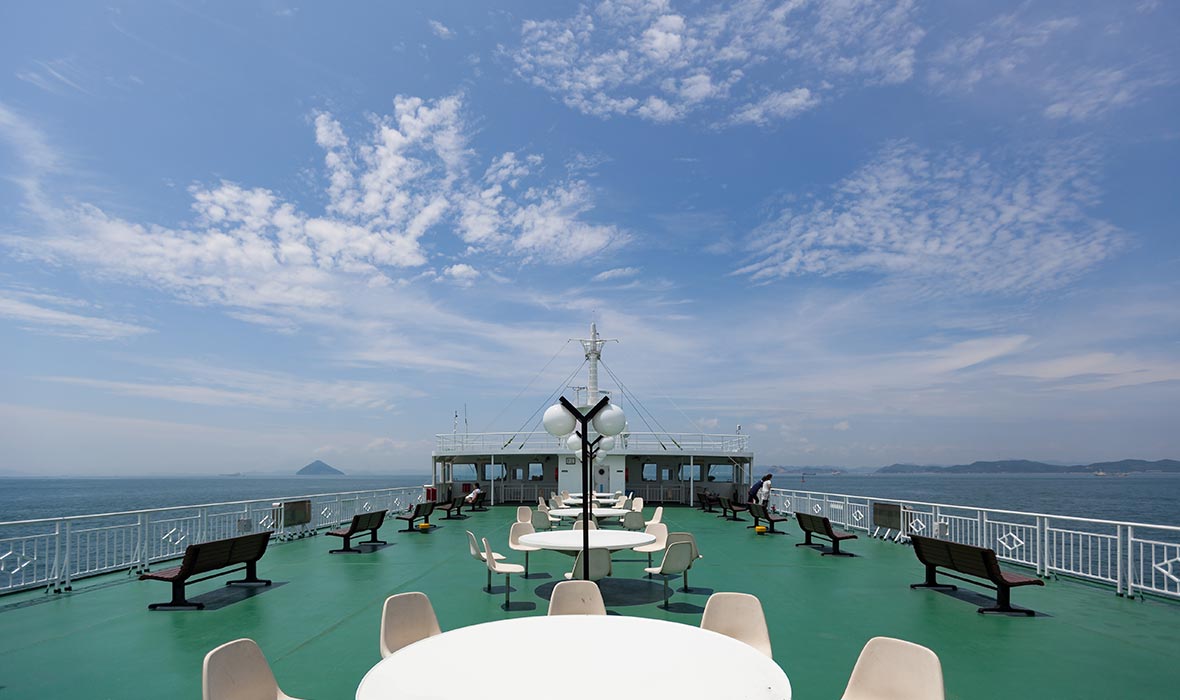 Reaching Naoshima is not exactly simple. I took a bullet train from Osaka to Okayama where my car, driver and guide met me. We drove one hour to Uno Port where we boarded the very large car ferry. After a 20-30 minute cruise through the Seto Inland Sea, we arrived at Naoshima and then drove another 15 minutes across the island to reach the hotel.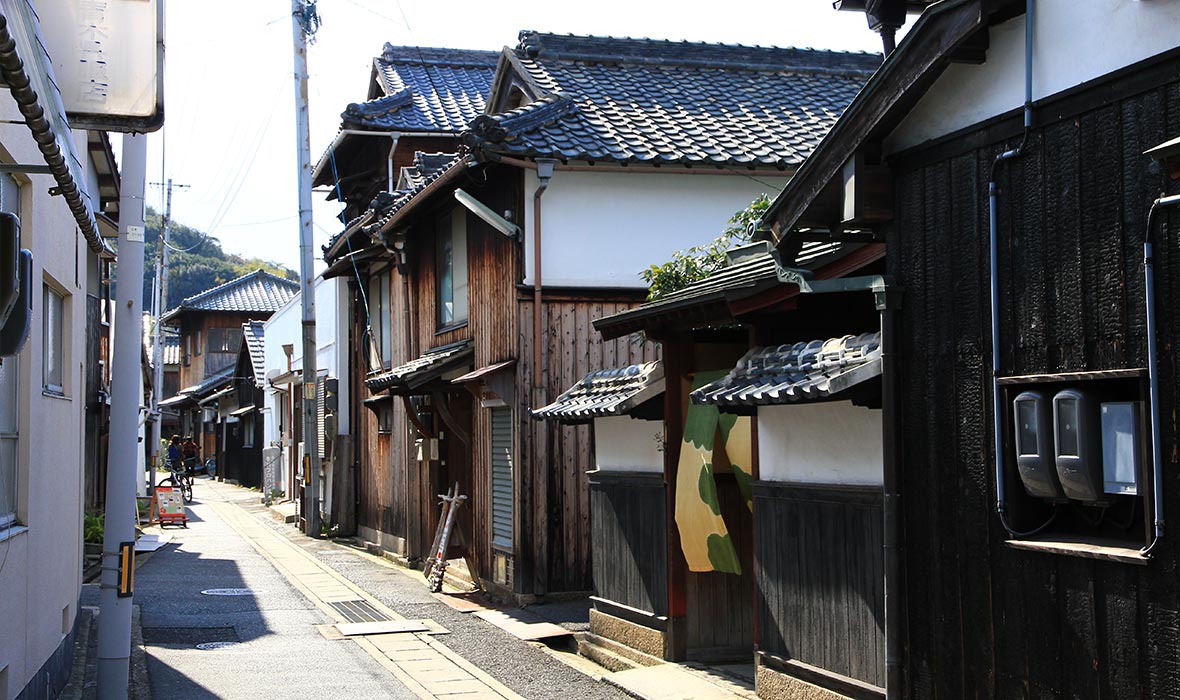 Logistics on Naoshima are also complicated unless you (a) are patient and don't mind waiting around (b) have loads of time and (c) enjoy riding buses. None of the above apply to me, so for anyone with my tastes I would HIGHLY recommend you bite the bullet and pay for a private car, driver and guide to take you around in the most efficient manner. Otherwise you can take the Town Bus and the Benesse House Bus and pick up bus schedules to plan out your day.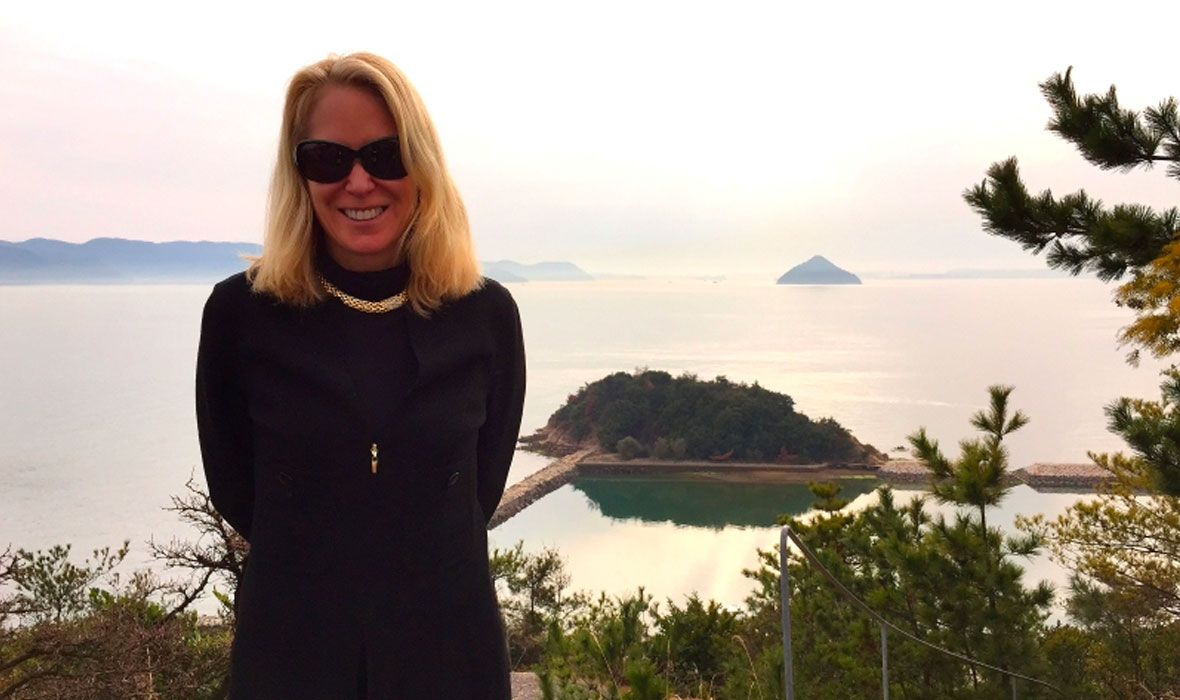 Some areas you do need to see on foot, so you can walk those areas and then be picked up and drive to the next interesting area and skip the steep hills and avoid the rain if it happens to be raining. Some people ride bikes which is fine for some areas of Naoshima, but there are some steep hills which can be a challenge.
Naoshima island and Benesse House could only exist in Japan. Where else could you have original works by world class artists in your room (it never occurred to me to check if it was bolted to the wall but I somehow doubt it) and throughout the lobby and restaurant and the main building with what appears to be zero security. I could have touched anything I wanted, which obviously I didn't do – but I was a bit naughty and I took some selfies. No one scolded me or said anything at all so I can only assume I was not being watched as I stood alone in the many large rooms of the museum cum hotel with not a sole in sight.
I want to come back to Naoshima and bring my husband next time and move at a more leisurely pace with more time to think and reflect. And next time I will spend a day or two visiting the nearby islands of Teshima and Inujima which are also important art destinations. I rarely use the word "exquisite" except in regard to Japan, and Naoshima Island definitely deserves that description.