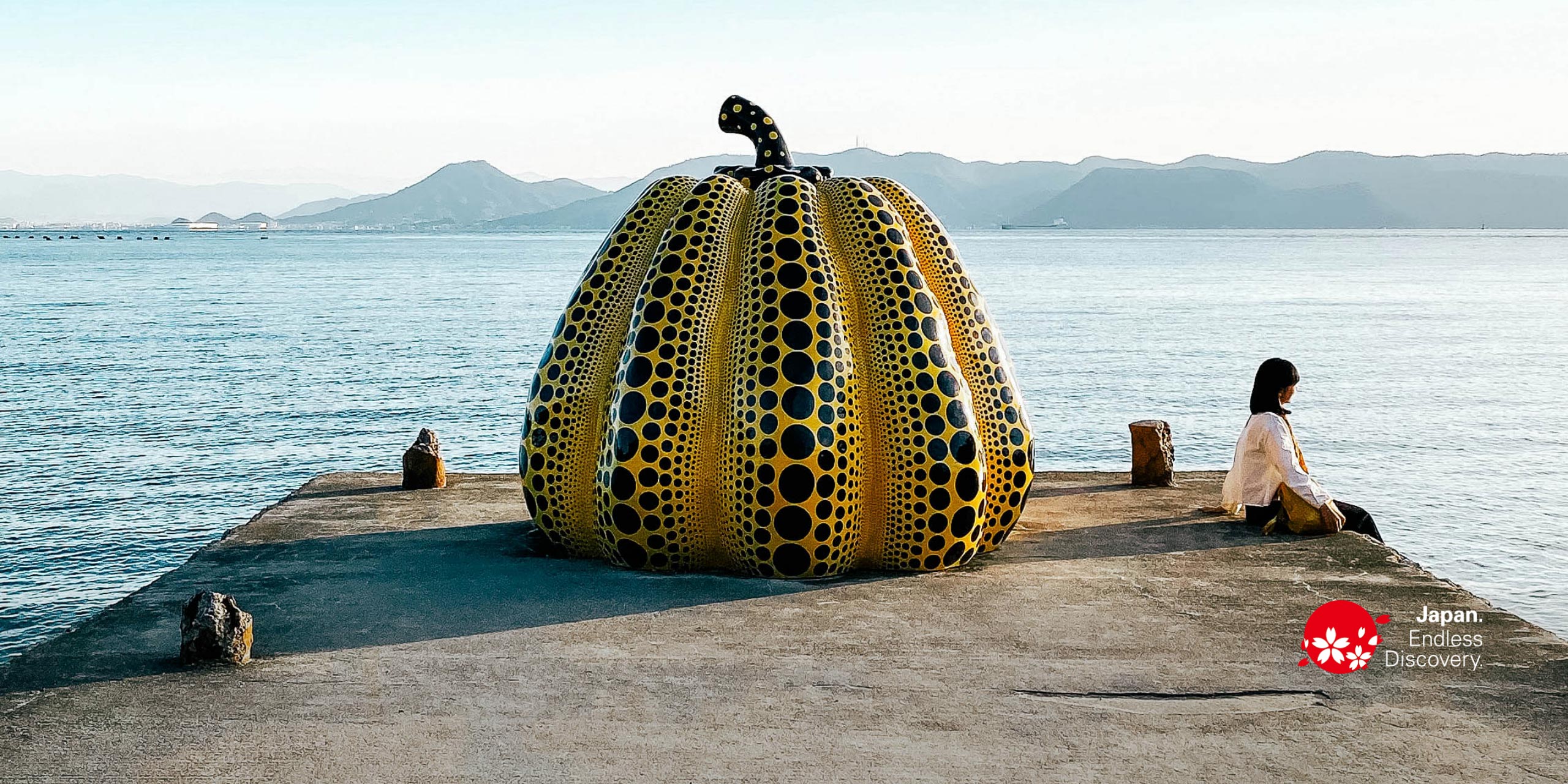 It began with a frog and a cat and bloomed thanks to a pumpkin. In 1985, Naoshima was an anonymous island, one of 7,000 in Japan. About three miles long and one mile wide, this outpost was home to just a few thousand people and received fewer foreign tourists than that on an annual basis.
That year the mayor of Naoshima, Chikatsugu Miyake, met with the president of Fukutake Publishing, Tetsuhiko Fukutake, who was looking to build a center for children on an island in the south of the country. They agreed Naoshima would be perfect for such an educational and cultural center.
This plan finally gathered pace with the 1989 opening of the Naoshima International Camp, which invited visitors to enjoy the island's nature while staying in Mongolian yurts. However, a frog and a cat were the most important signifiers of what Naoshima would become.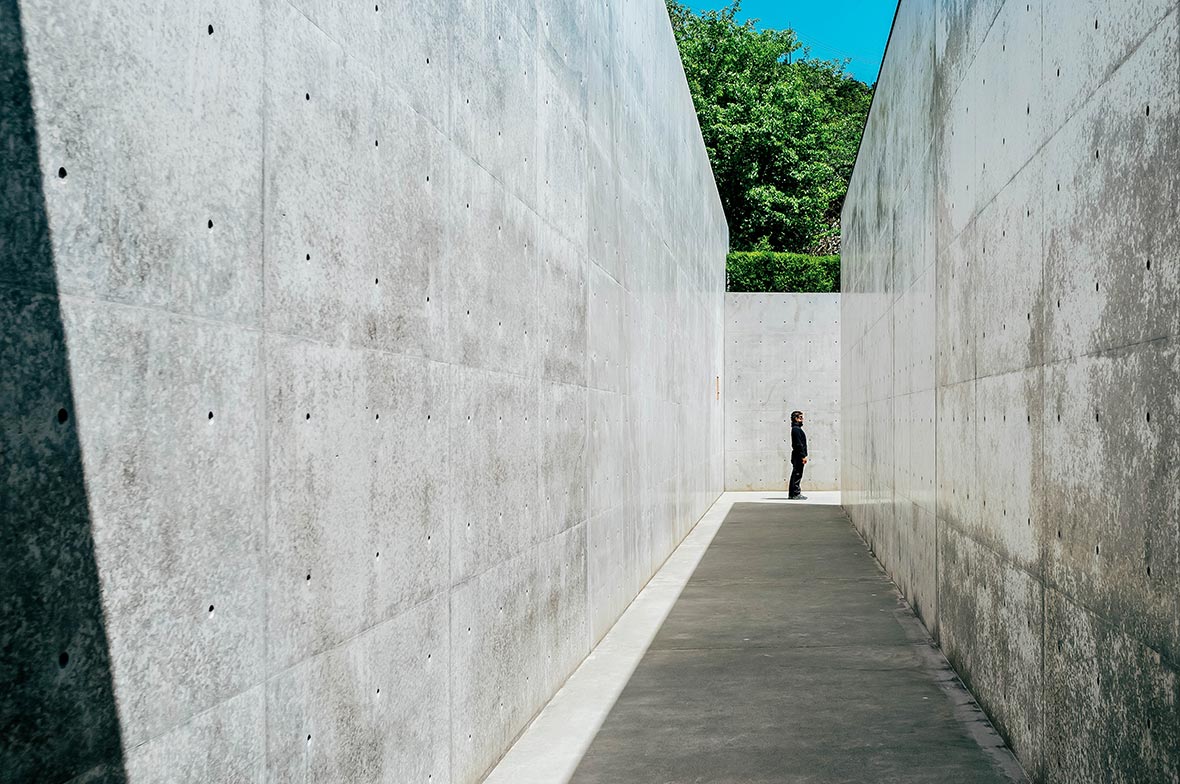 They were not wild animals roaming Naoshima, but rather the subjects of an unusual outdoor artwork by Dutch artist Karel Appel which in 1990 became the island's first permanent art installation. Naoshima's art credentials were boosted in 1992 with the opening of hotel-cum-museum Benesse House, which began hosting temporary exhibits of contemporary art.
What drew attention to Naoshima, and its artistic ambitions was a pumpkin-featured outdoor event in 1994. The idea was to use the island's natural splendor — its rugged coast, lush forests, and hilly interior — as a spectacular backdrop for audacious human creations.
One of these artworks was especially well received and, 28 years later, remains an icon of Naoshima, along with Keppel's Frog and Cat. That was Pumpkin, by perhaps the most recognizable Japanese artist on the planet, Yayoi Kusama.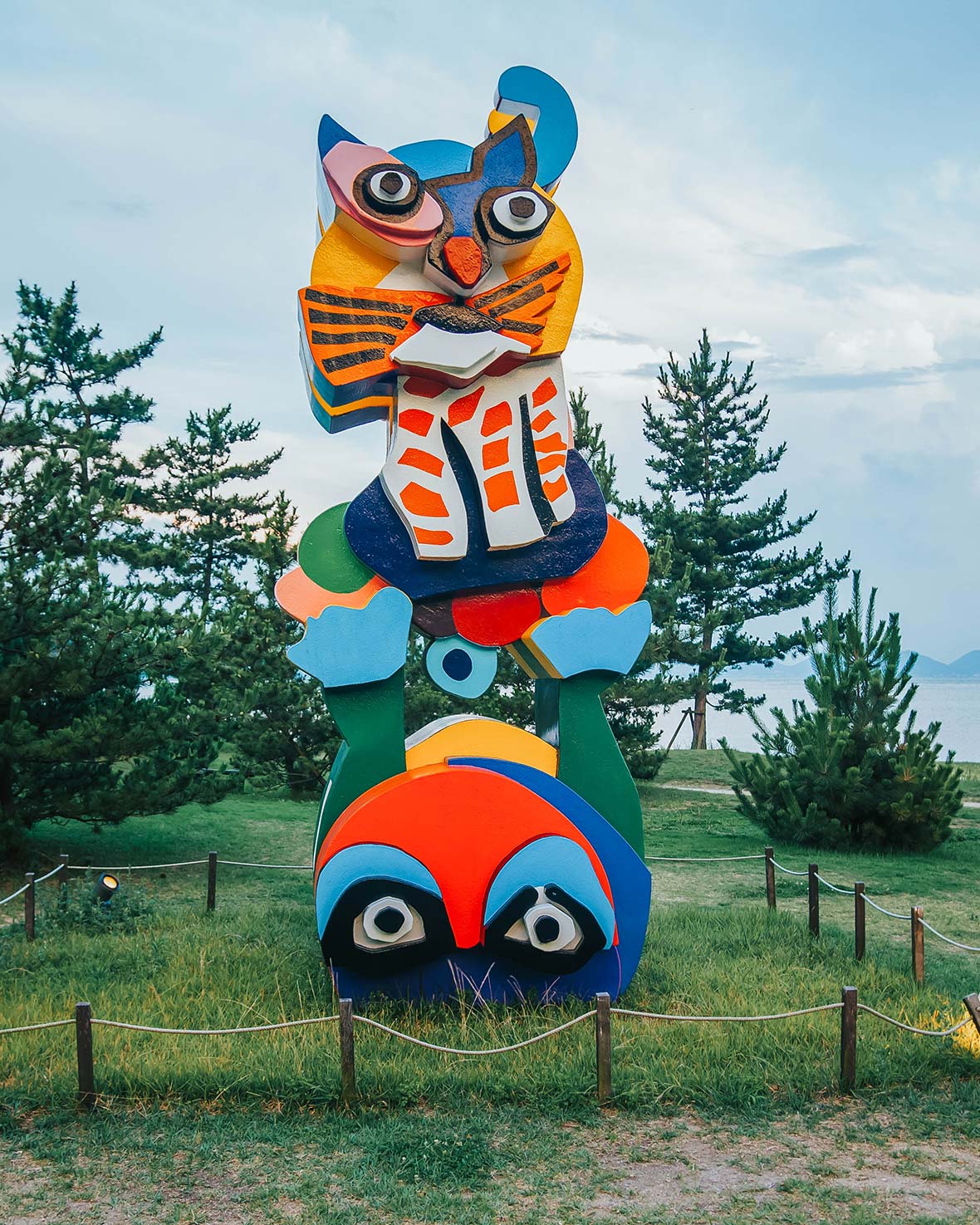 I choose the word recognizable because, once you see this brilliant artist, her image is likely to be long stored in your memory. The 93-year-old Kusama has glowing red hair cut into a sharp-edged bob that makes it look like she's wearing a helmet. Coupled with her ostentatious, rainbow-hued outfits, she stands out visually as much as her iconic vegetable creation.
Historic photos show that back when Pumpkin was unveiled, Kusama had plain old brown hair and a far more boring fashion sense. One thing that was noticeable then, however, and which remains now, was her signature polka dots that decorate this yellow pumpkin, which is 2m tall and 2.5 wide.
In the almost three decades since that was placed at the end of a pier in the island's south, a cluster of museums has sprouted around it, like an artistic vegetable patch. To its east is the Seaside Gallery. This building is an attraction of its thanks to its light-filled, avant-garde design by Japanese architect Tadao Ando.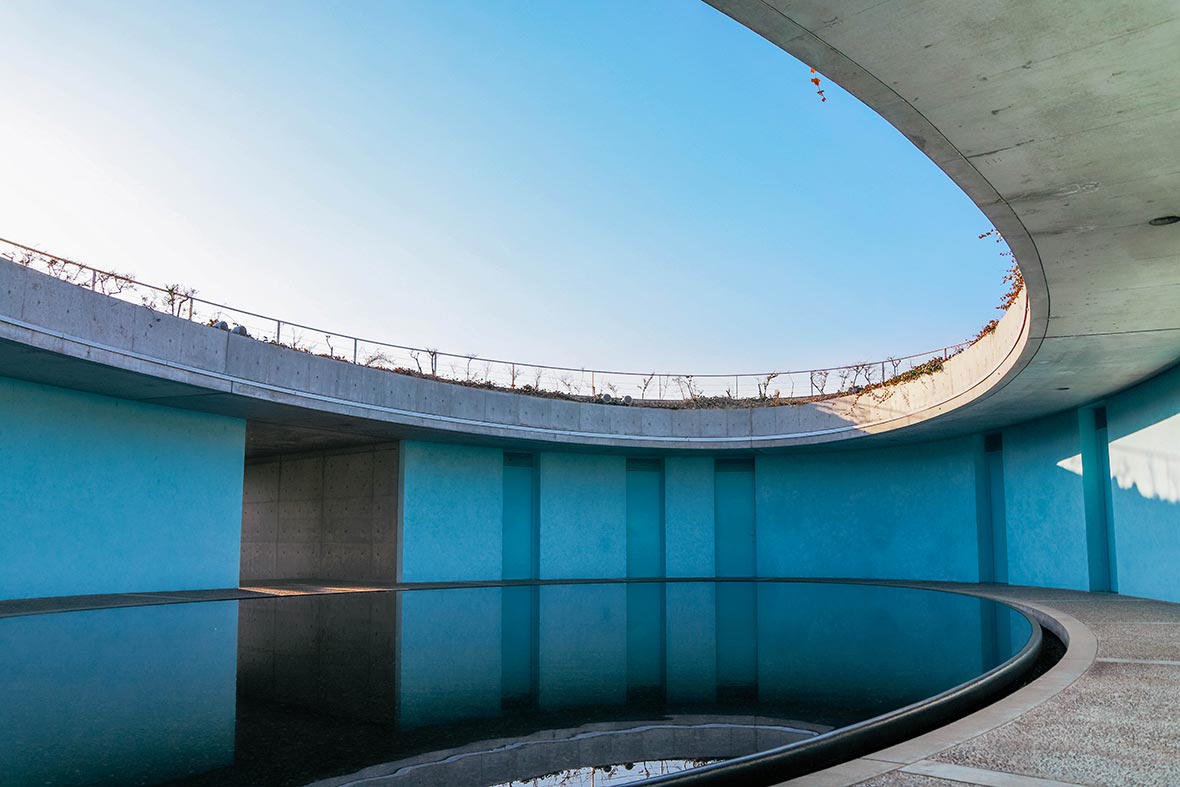 This art gallery, which has striking ocean views, sits in the shadow of the island's original art hub, Benesse House Museum, which is now a major tourist attraction. Also designed by Ando, that latter facility has a lofty perch looking out over the Seto Inland Sea, with this vista almost distracting from its wonderful collection.
Benesse House Museum has a mix of sculptures, paintings, and photography. It also boasts several installations designed specifically for exact locations within this museum, with the artists utilizing natural light to emphasize their work. Its collection is everywhere you look. This means that the museum's art is not just carefully arranged in galleries, but also positioned in halls, on staircases, and scattered across every open wall of the building.
The adjacent Benesse House Oval still operates as accommodation. This luxurious, six-room hotel is, as you'd expect, laden with art and blessed by beguiling views thanks to the floor-to-ceiling windows of its guest rooms.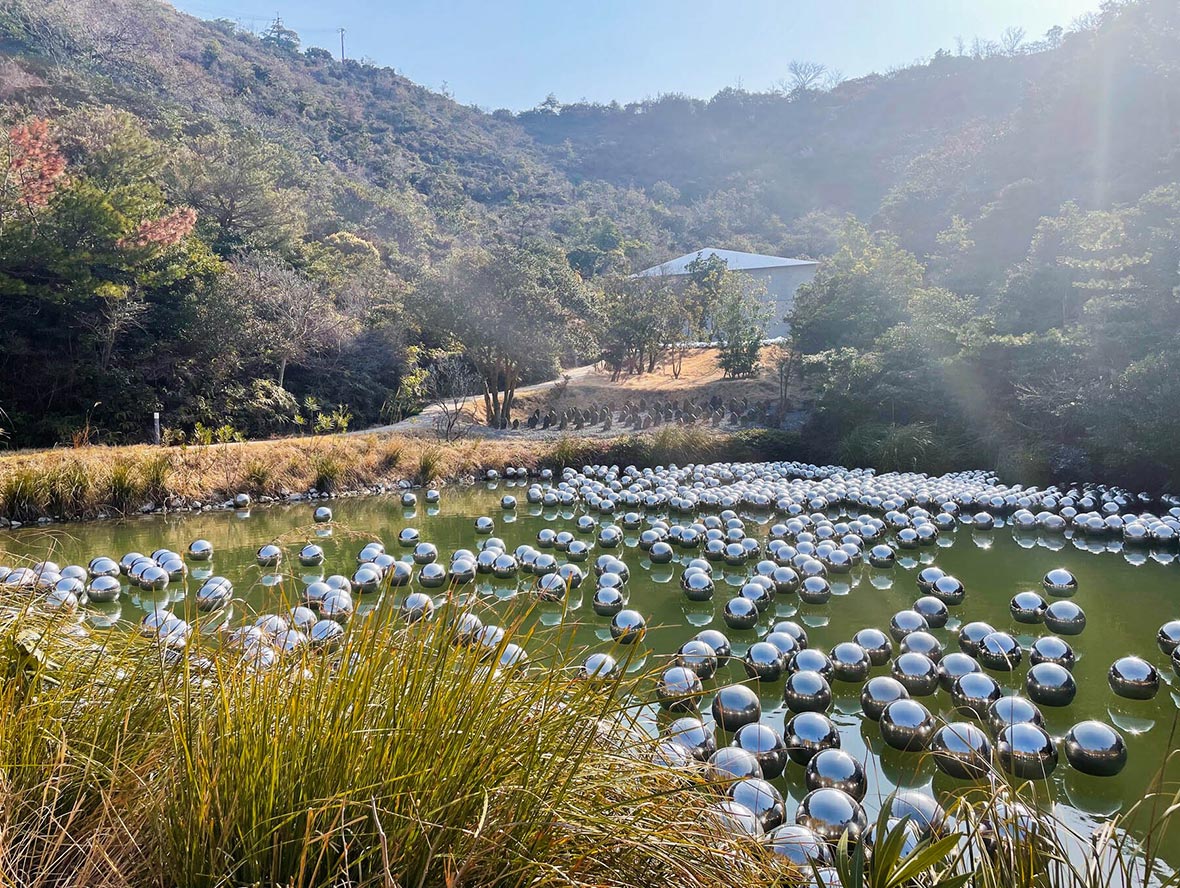 Nearby, in a small hollow brimming with greenery, is another unusual art site. It is called the Valley Gallery. Externally it looks like a small, futuristic grey shed, while internally it is dominated by an installation by Kusama, which appears like oversized, shimmering ball bearings strewn across the floor.
Further west, the Chichu Art Museum looks like a concrete army bunker. Another unique Ando creation, which is partly underground, has an enormously valuable collection of artworks by Claude Monet, Walter De Maria, and James Turrell.
Another partially submerged building by Ando houses the island's Lee Ufan Museum, a showcase of the works of veteran Korean painter and sculptor Lee Ufan. Rotating art exhibits, meanwhile, feature at the Ando Museum, a refurbished historic wooden home.
Tourists will also come across many more outdoor sculptures and installations sprinkled throughout the serene countryside of Naoshima. Its mix of museums, galleries, and open-air creations has turned the island into one of the most distinctive art sites in all of Asia. It's a remarkable transformation for what, 30 years ago, was a speck marooned in the sea.