Less than an hour from Singapore, Bintan's Sanchaya Resort has long been the first Indonesia stop for luxury travelers looking to head out on an adventure through Southeast Asia, in destinations like Bawah Reserve. But, now guests might want to stay a little bit longer for a round of golf. On February 19, Sanchaya announced cooperation with the Ria Bintan Golf Club for an experience that mixes luxury rooms with luxury links: the Sanchaya Open.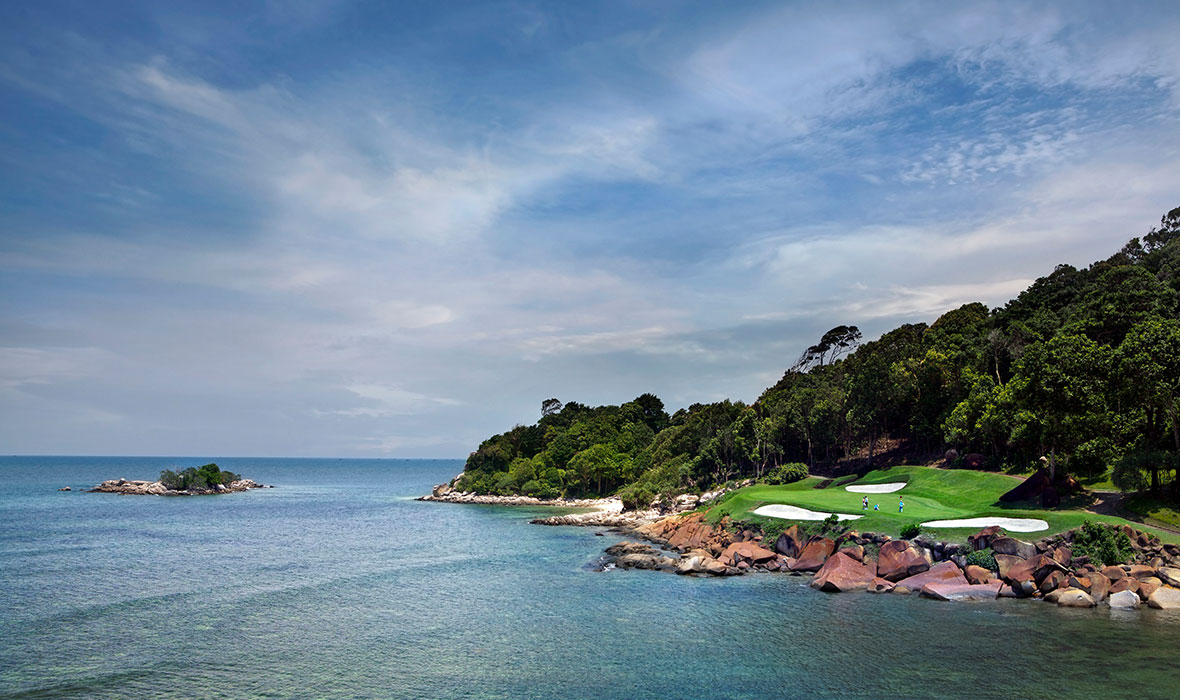 The Sanchaya Open is now available throughout the year and centers on a round of golf for guests of the elegant Sanchaya resort at the picturesque Ria Bantan Golf Club on Bintan Island's northern coast, a 27-hole championship course designed by golf legend Gary Player. Set along the expansive South China Sea, the 18-hole ocean and nine-hole forest courses are a golfer's, and sightseer's, dream. But a chance to tee off against a backdrop of forested shore cliffs and exotic tropical foliage is only one aspect of a two-day lineup that also includes a private sommelier-guided "Wine and Cheese Discovery" session.
The Ria Bintan's ocean and forest courses feature expertly designed hazards and fairways vary from moderate to treacherous. The ocean course cuts a path through the native jungle of Riau with eye candy at every turn as golfers play their way along views of the sea. The forest course, on the other hand, sprawls through densely lined avenues of towering trees and placid lakes and bears the club description of: "Golf here is no walk in the park, but it sure feels like it."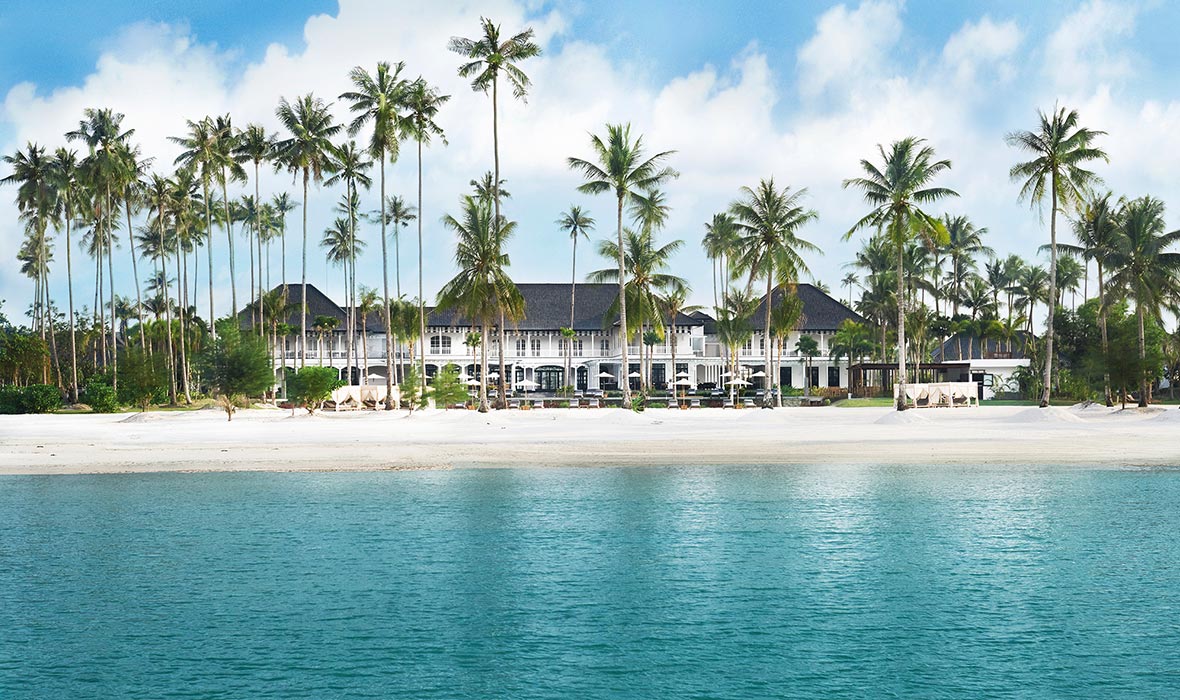 Resort guests who book The Sanchaya Open may elect to play a two- or four-person round of golf, depending on room selection and party size. The overall guest experience will also include express clearance upon arrival and prior to departure and complimentary shared transfer between Bintan Resort Ferry Terminal and the estate, as well as a daily a la carte breakfast.
After being transported back to the Sanchaya via complimentary ferry, guests can unwind at the resort's ocean-facing infinity pool or spa. The Sanchaya's Balinese-inspired wellness facility houses two air-conditioned couples' treatment rooms, verandas for reflexology, and two outdoor pavilions for Thai massages.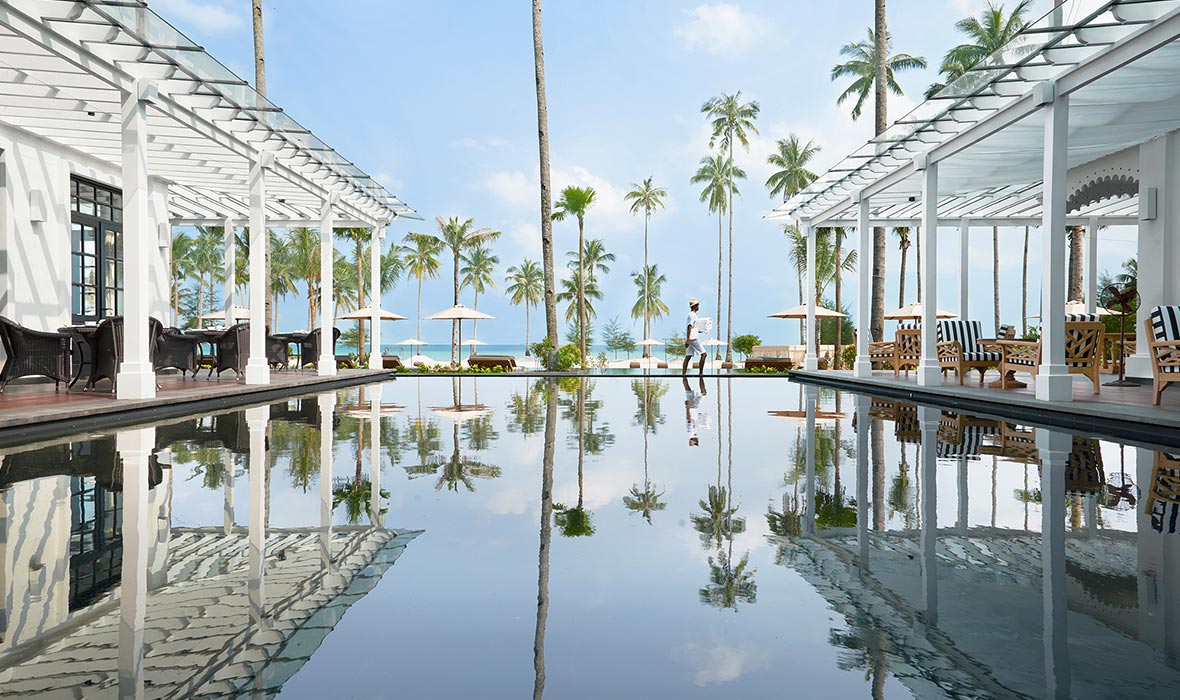 In keeping with the resort's tasteful leanings, an expertly led sampling of gourmet wines and cheeses is on offer, complete with estate Sommelier Jeroen L'abèe. The estate's glass-walled cellar includes award-winning wines which Jeroen will expertly match to Sanchaya Open guests' individual tastes and preferences. Savory dishes to pair with the wines will include port-infused stilton, camembert au cavaldos, truffled vrie, and Vacherin Mont D'or.
This decadent menu comes from the aesthetic of Sanchaya itself, which draws upon classic European refinement and privacy. Along with 29 villas and suites and a private residence, the Sanchaya is home to a clubhouse, two restaurants, a bar, wine cellar, wine-cheese-and-cigar lounge, infinity pool, spa, and even a croquet lawn. These top-tier amenities are available to all Sanchaya Open guests in the downtime on either side of ferrying to the Ria Bantan for their golf round.
Guests who choose to stay at the estate beyond their two-day Sanchaya Open experience before heading back to Singapore or continuing on their regional travels will find a family-oriented locale. The resort area on Bintan features white-sand beaches and plenty of chances to sample tasty, locally inspired cuisine. Guided eco-tours and watersports abound; one of the more recently popular activities is to take a short 20-minute flight in an ultralight amphibious plane.