Secreted away in Tokyo's Ueno rail station is platform 13.5, just a half mark away from being a bad omen to the superstitious but a long way from unlucky for those guided here through the Prologue lounge where bowing staff from JR East's Train Suite Shika-shima offer a literal red carpet welcome to guests about to embark on one of the world's most luxurious train journeys.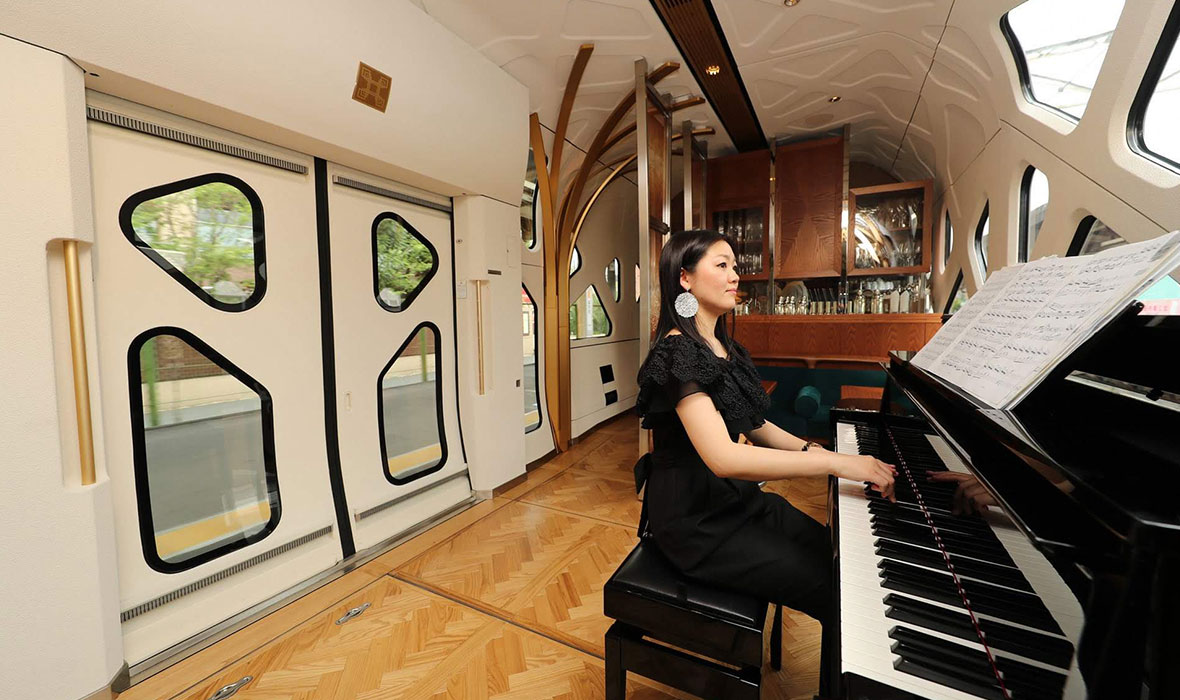 It is hard to get tickets for the Shika-shima, really hard. The futuristic looking ten-car train finished in champagne-gold with a gleaming black lacquer avant fairing has been fully booked in advance since its inaugural run three years ago, and it is now scheduling programs for 2020. The creators looked to the islands' geographic variety and seasonal changes for inspiration, hence the name Shika-shima, which translates from Japanese to "island of four seasons." This concept guided all aspects of the train's build from it's innovative power train, opulent interior design, trip itineraries, right through to it's gourmet menu.
Starting in 1964 when the first bullet train was unveiled, Japan's rail industry has continued to push the limits of technology and creature comforts for luxury trains. Train Suite Shika-shima provides a new level for those privileged enough to secure one of the 34 spots open for each journey.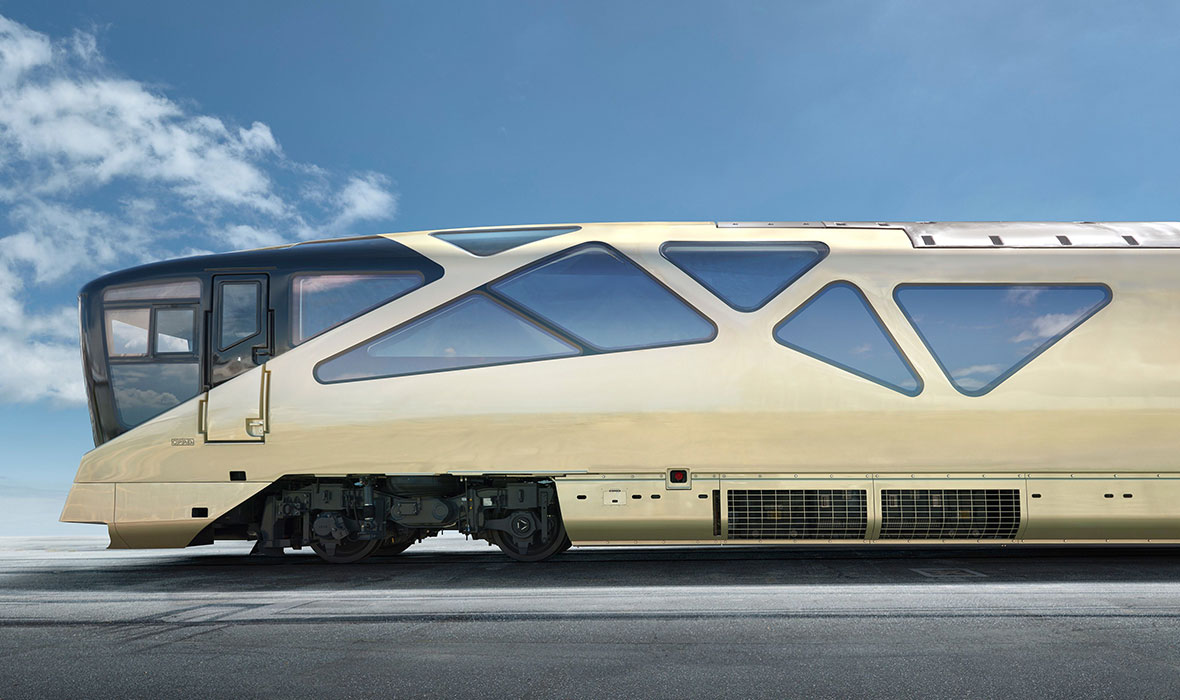 Two, three, and four day trips are painstakingly planned out to best appreciate the unique cultural, natural, and culinary experiences Japanese culture has to offer. Guests of the line are given exclusive access to historical landmarks, temples, and artisan workshops across the eastern part of the country while sampling seasonal treats and cuisine both in the train's dining room and gourmet eateries at stops along the route.
The interior was created to reflect the nature and geography the train passes through on its journeys. Both the first and last carriages were designed as observation cars with floor to ceiling windows that invite passengers to take in the changing scenery while relaxing in lounge chairs and sofas immersed a bright white interior off-set with plush, handwoven carpets inspired by the moss covered forest floors of Yamagata prefecture where it was produced.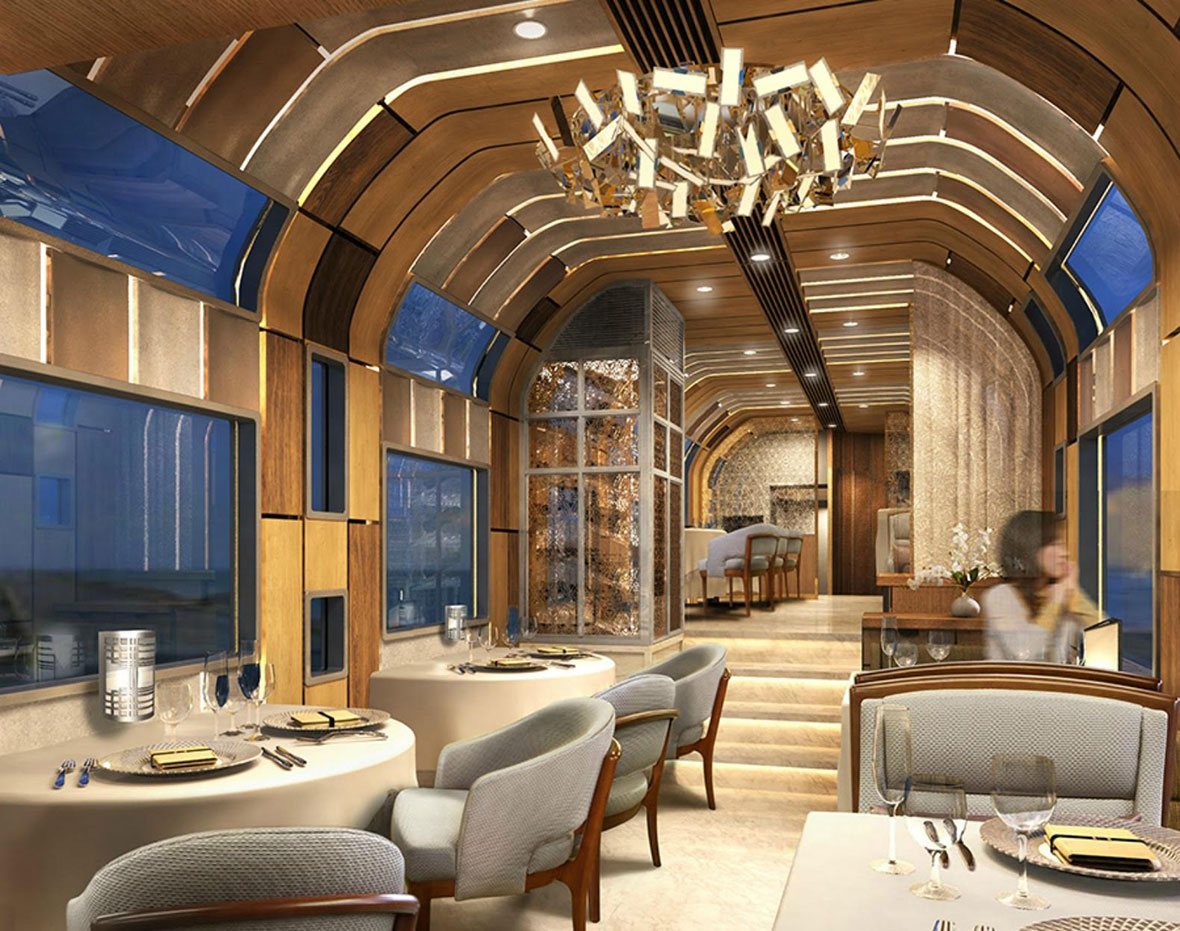 The forest motif is carried on into the Komorebi lounge where guests gather to mingle and enjoy gourmet cocktails and light meals 24 hours a day in a setting that features traditional Japanese arts and crafts throughout the modern seating area among floor to ceiling arboreal sculpted panels. As with any lounge worth savoring a drink, a pianist tickles the ivories of a baby grand piano, playing a selection of pieces assembled specifically for the journey by award winning composer Naoki Sato.
Lead designer Ken Kiyoyuki Okyama's past work on supercars with both Porsch and Ferrari are evident in the sleek form of the Shika-shima as it seems apt to lift from its tracks even at its moderate top speed of 110 kph. Okyama explained the aesthetic integral to his design concept; "To connect the past with the future, I have tried to imbue Japanese culture with new expressions, incorporating contradictory elements – static and dynamic, tradition and innovation."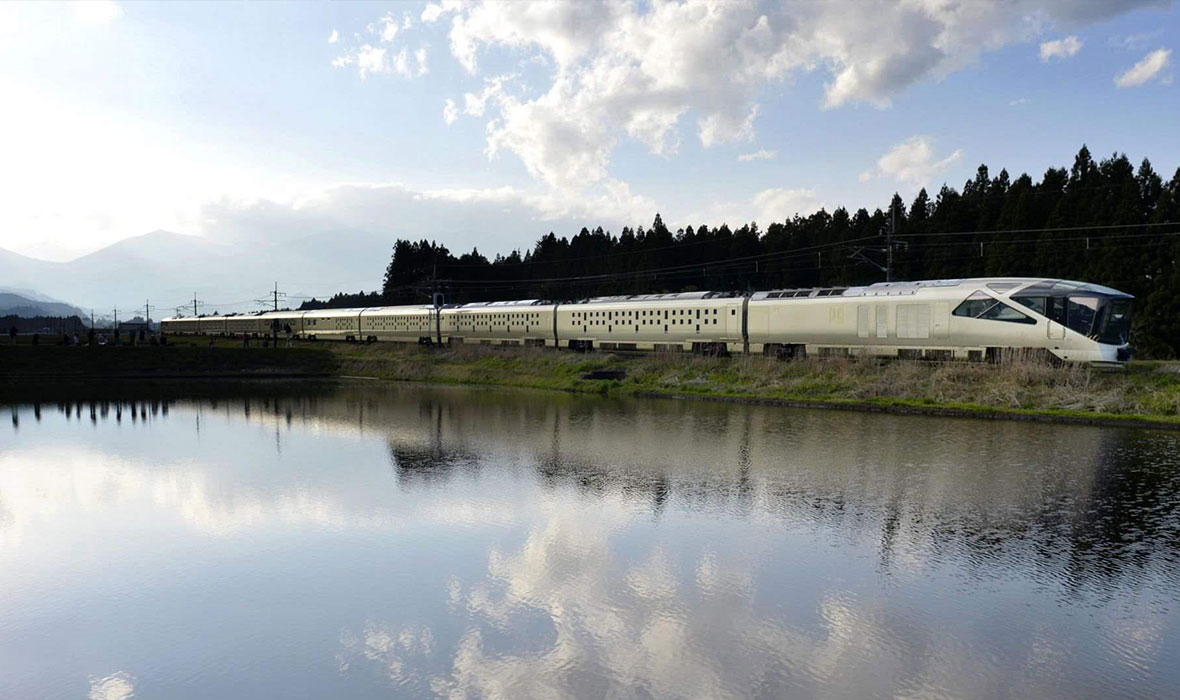 This balancing act is also evident throughout the train's seven cars of accommodation done in warm cedar and red lacquered panels. Two duplex suites occupy a single car which feature glass fireplaces and light-filled second floors occupied by traditional style Hinoki cypress bath tubs from the Kiso area of Nagano to soak in while the country, from coastline to mountain vista, glides by outside.
Each suite is a composition of warm woods and fibers with cool lacquer and hand-worked metal details. This concept carries into the dining room where a menu that abides to the four seasons aesthetic is created for each trip by Japan's first Michelen-star chef Katsuliro Nakamura who designs meals using seasonal ingredients from the eastern regions of Japan. In addition to meals created by on board staff, there are also periodic "memorable cuisine" events which bring cooks and chefs from renowned restaurants along the train's route aboard to create regional specialities.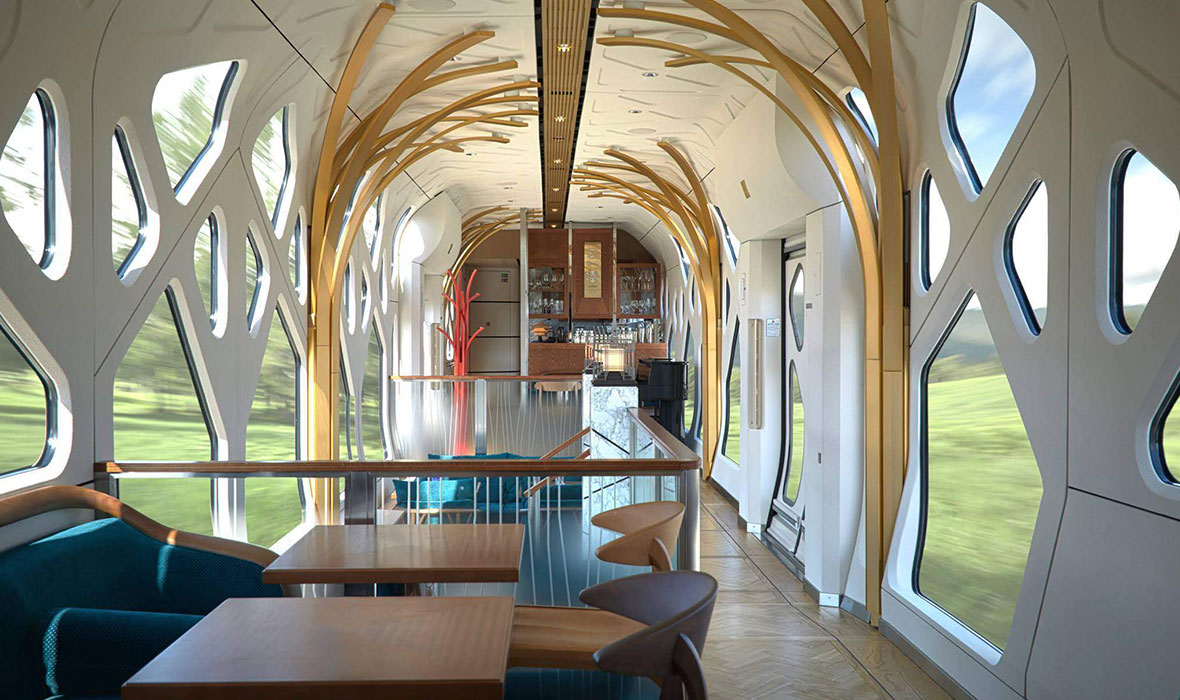 Dishes like roasted Iwate beef with a brush of black garlic sauce, or sea eel and cucumber garnished with edible flowers are served on settings made by artisans in Aizu in Fukishima Prefecture; custom-designed knives and forks created by the craftsmen at Yamazaki Kinzoku Kogyo, whose cutlery graces the tables of Nobel Prize award-ceremony banquets; and sake glasses handcrafted by specialists at Kobayashi Glass in Tokyo.
Though the train moves at only one third of some of Japan's fastest train lines, it's not for lack of cutting-edge technology. An advanced electronic diesel control system allows the train to access all lines in the country while also being the only passenger-carrying non-bullet train capable of travelling through the undersea tunnel linking Japan's main Honshu island with northern Hokkaido.
The principal members of the team who created Shika-shima strove to create a fully immersive experience into Japan's rich history of arts, crafts and cuisine while keeping focus on exploring the countries regional distinctions utilizing the most innovative technologies available. As Ken Kiyoyuki Okyama summed up Train Suite Shika-shima: "It's the future tradition of Japan."