WRITTEN BY
Jay Tindall
PUBLISHED ON
February 27, 2014
LOCATION
Dunhuang, China 
Step back in history two thousand years, when the Silk Road was first established linking traders, pilgrims, soldiers, and monks alike from Europe to Asia, and you'll find Dunhuang at the crossroads of the Northern and Southern route. This ancient Chinese city, an oasis in the middle of the desert, became a major stop along the famous route, and grew to hold immense importance due to its strategic position. The sight of Dunhuang's walls was known to bring huge smiles of relief to weary caravans of travelers who were in need of rest and refueling, and the city prospered greatly from the massive inflow of traffic. Dunhuang's importance grew with age, and became an important religious destination, with scriptures and pilgrims flowing across its grounds from West to East and back again. Eventually, Dunhuang lost its strategic importance, as Chinese trade migrated to the Southern sea routes, and the city is now mainly a tourist destination.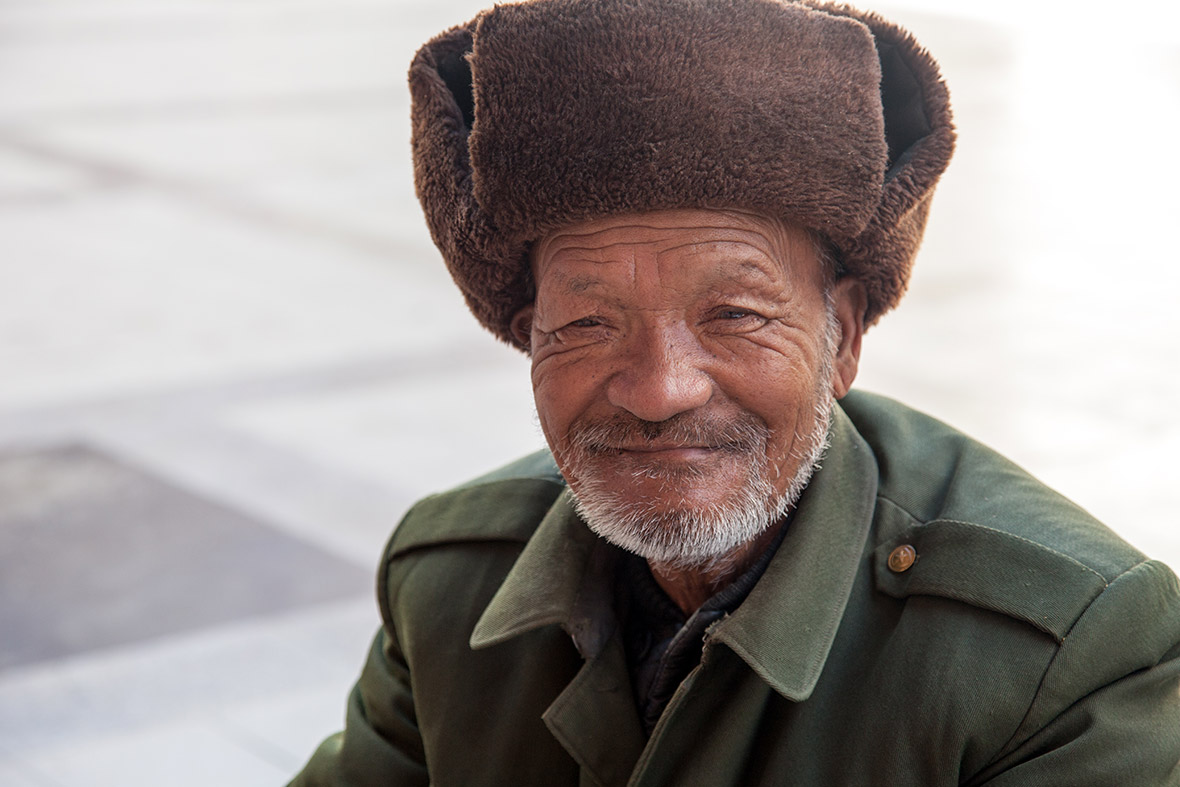 And what a tourist destination it is, with its ancient roots and natural beauty combining to make it both stunning and fascinating. I recently had the chance to explore this age-old oasis – camera in hand – on two separate trips. Below are my top five recommended activities for Dunhuang, based on my experiences trying them all out:
#1 – SUNSET AT CRESCENT LAKE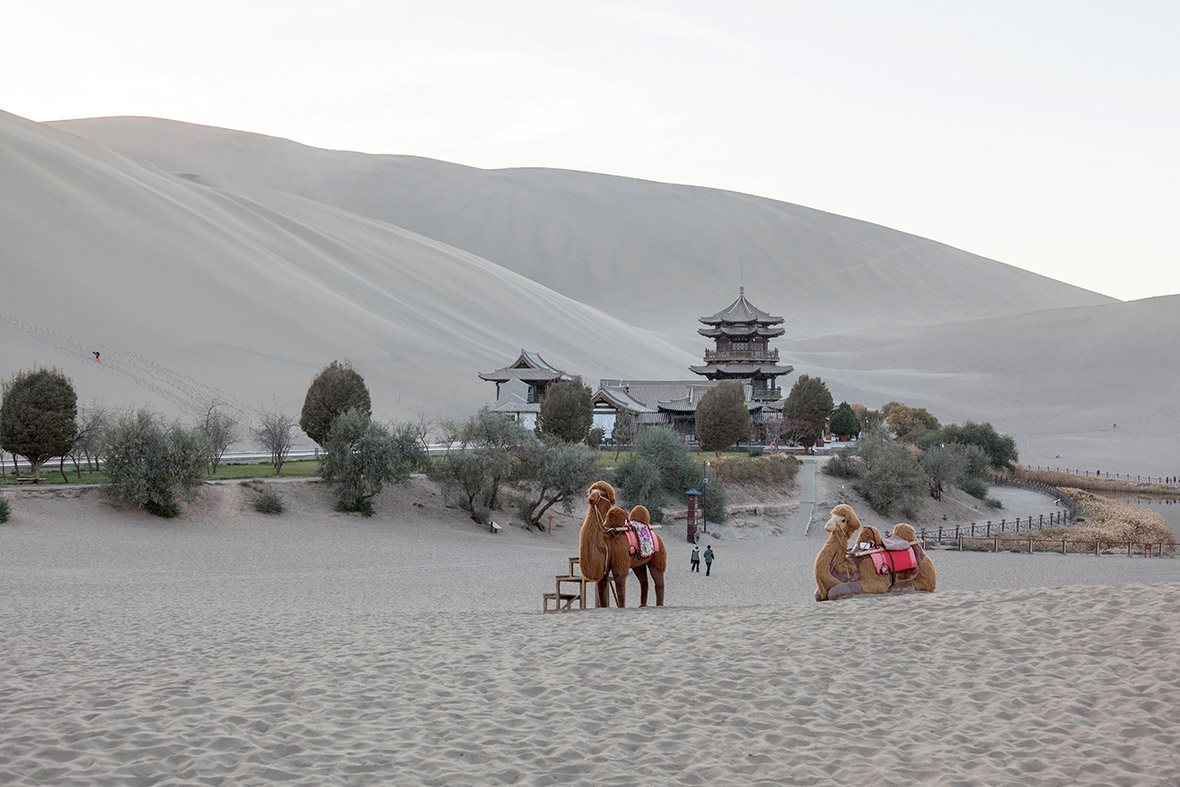 True to its name, this crescent-shaped lake is a popular tourist destination, just six kilometers from Dunhuang city. Desert sunsets are always a magical sight to behold, and sunset at Crescent Lake is certainly no exception. The sun, as it sinks beneath the golden desert sand dunes, appears to be gigantic, and makes for incredible photos. The area is unfortunately rather crowded during normal tourist season (May to September). Many tourists sport fluorescent orange boots to protect them from getting sand in their shoes, and seeing them on hundreds of people in the area certainly makes an interesting fashion statement! Besides observing a magnificent sunset and the area's natural beauty, there isn't much to do at Crescent Lake – the pagoda fringed by the lake is, though beautiful, merely an administrative building, with little to see inside.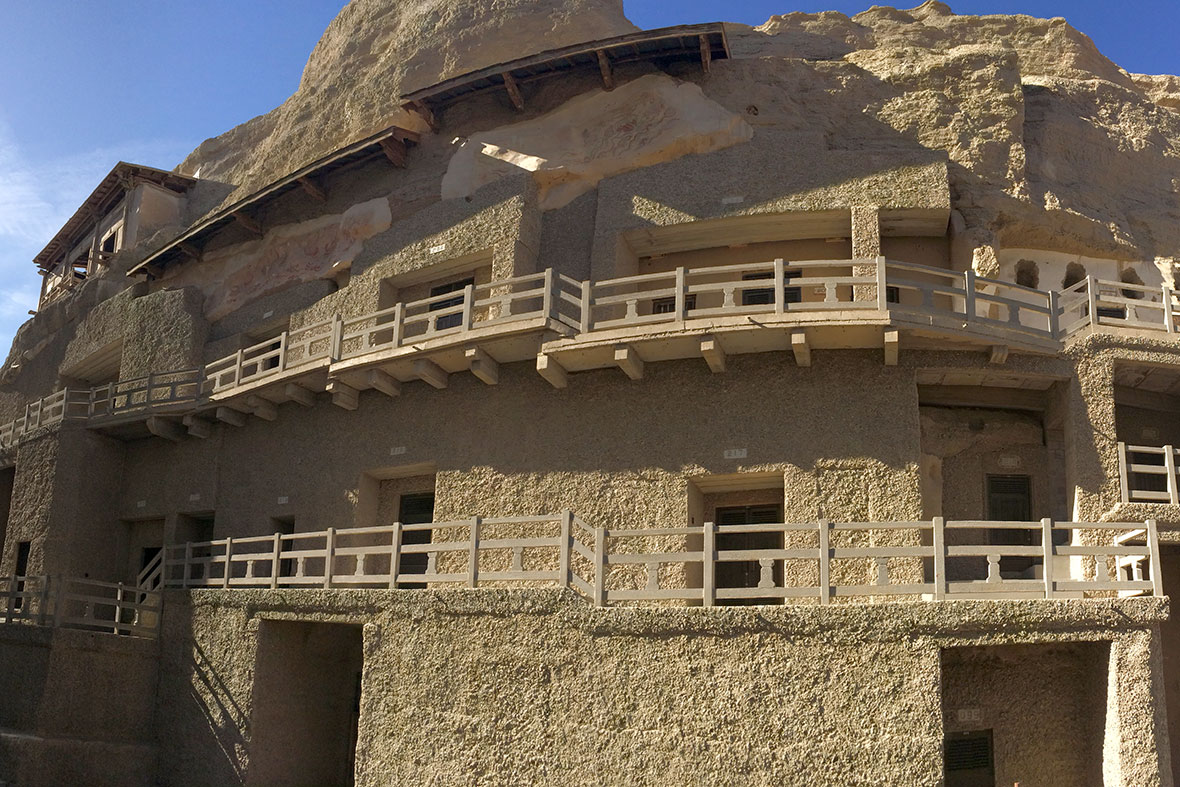 Those interested in Dunhuang's rich history will be intrigued by the Mogao Caves, which are one of the city's main attractions. Also known as the Mogao Grottoes or Caves of the Thousand Buddhas, this rock art sanctuary contains some of the world's most iconic examples of Buddhist art, spanning an entire millenium (from the 4th Century AD to the 14th), and it's little wonder that UNESCO named them a World Heritage Site. Today, visitors will discover just under 500 well-preserved caves, containing a colossal 147,638 square feet of murals and over 2,000 painted sculptures. The artwork covering these cave walls is of unmatched historical value, depicting scenes of medieval history in western China that allow visitors to place the area into proper historical context. Art lovers will be thrilled by the amalgamation of artistic styles from China, India, Turkey and Tibet, much of which was completed by travelers with clear artistic talent.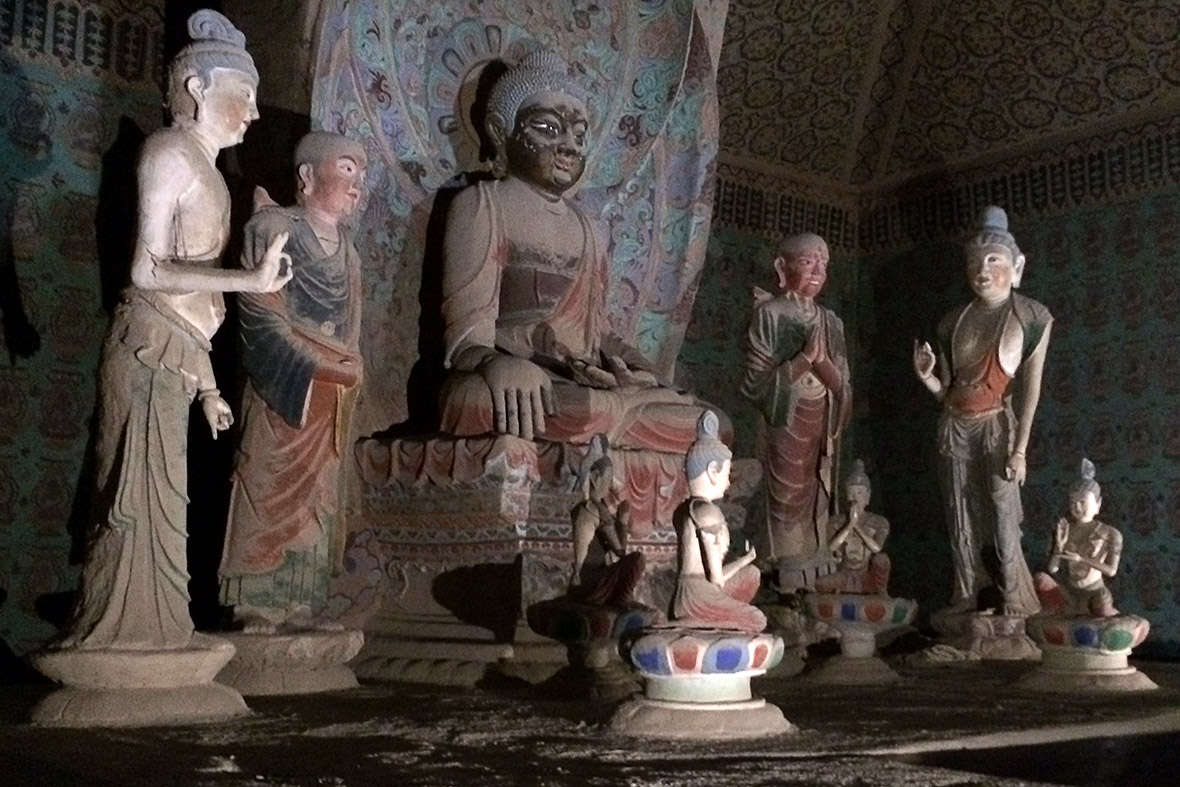 Security is tight at the Mogao Caves, and as a result, photography of any kind is forbidden inside the caves. For me, this was a real turn-off – my love for photography being a big driver of my travels. For Dunhuang, however, due to its important historical context and the sheer immensity of the place, I made an exception (and I did still manage to grab a few cheeky snaps anyways).
The entrance to each cave is blocked by a locked door, which may only be unlocked by expert guides. Behind these doors are caves of all sizes – from very small to absolutely huge. The most famous cave is the Library Cave (grotto number 17), rediscovered by chance at the start of the 20th century. The cave contains thousands of priceless sutras, manuscripts, and silk paintings, which, upon their discovery, drew much scholarly attention to the area. Great mystery surrounds the discovery of these important manuscripts, due to the fact that the cave was originally constructed as a shrine for a high-ranking priest. Scholars remain unsure to this day why this particular cave was chosen to store such scholarly riches, though one theory proposes they were stored and locked away there by locals in preparation for an attack. Unfortunately, most of the manuscripts and wall paintings were taken back to Europe upon discovery, where they remain today.
#3 – SUNRISE AND SUNSET CAMEL TREK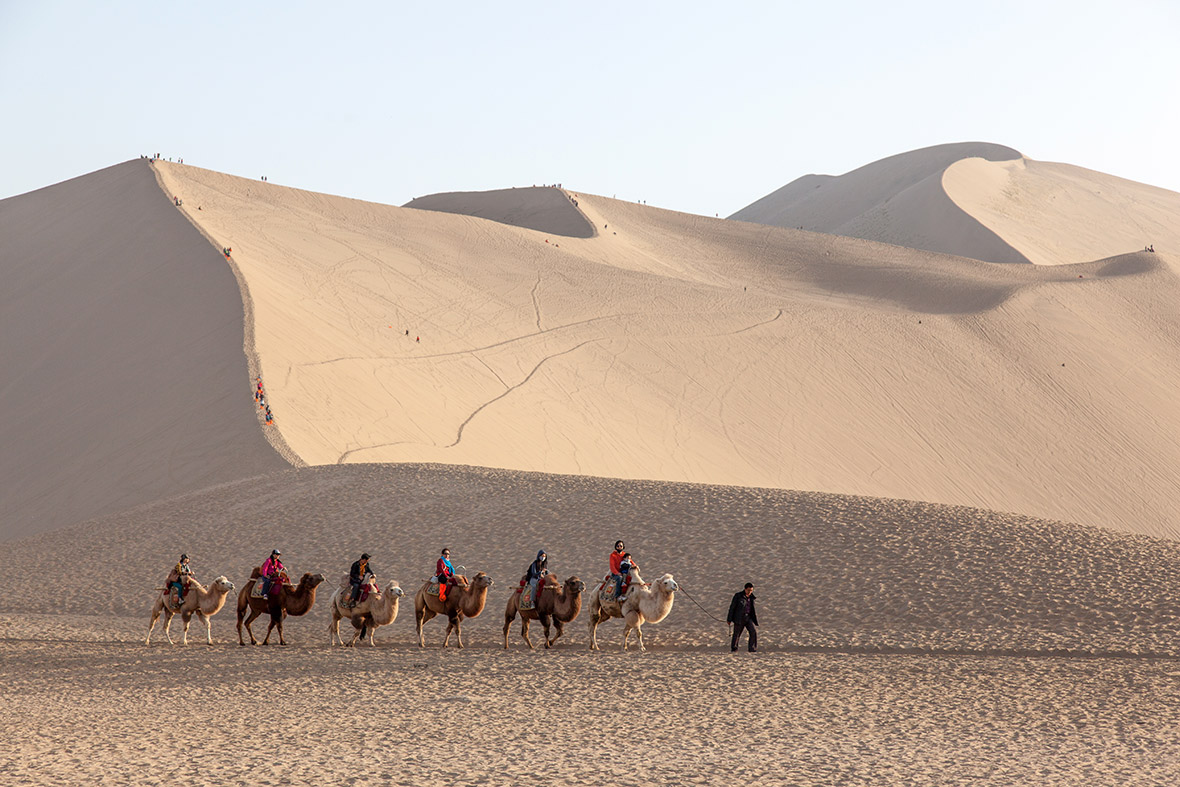 There are few things quite as special as plodding across the Dunhuang desert oasis at sunrise, the Mingsha Mountain Dunes singing as the wind echoes across their cascading peaks. To capture this incredible scene, an early rise is necessary, with most tours setting out around 4:30am. At this point in the morning, it's bitterly cold, and of course, quite dark. Luckily, the camels do the navigation for you, as you sit atop them for the 20-minute journey into the sands. Once arrived, I hopped off my camel and hiked up one of the highest sand dunes to set up my tripod, awaiting the rising sun. The freezing conditions were unwelcoming, and made me wonder why I subjected myself to such excursions. That was, until the sun began to paint a truly surreal scene, as they rose atop the pale golden dunes – that's when I knew my efforts had been worthwhile. My group was the first to arrive, but about a dozen Chinese tourists, armed with top-of-the-line professional cameras, began to arrive just as the sun peaked over the dunes.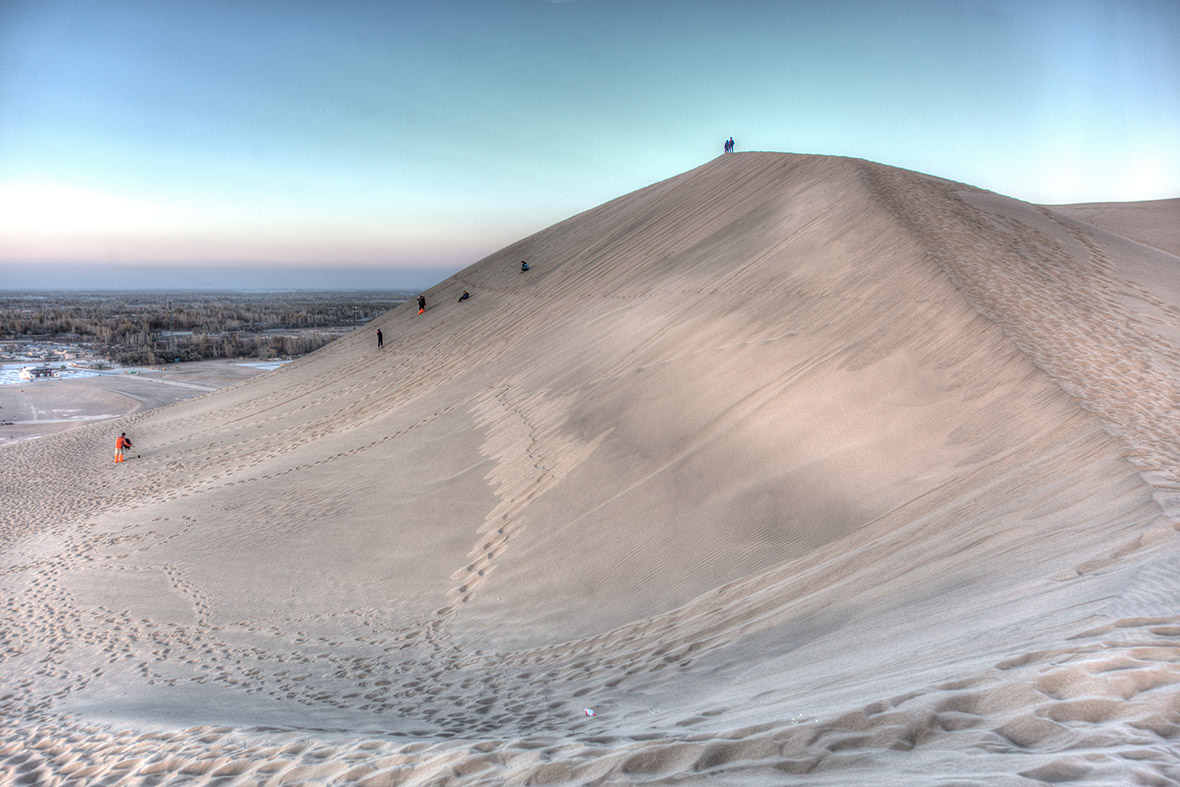 Sunset is the more popular time for a camel trek, probably due to it being at a more manageable time of day. This means the area is far more populated with tourists, which takes away somewhat from the unique feeling of being "alone in the desert." We hired our own caravan of five  camels and headed off to the dunes in the late afternoon. About 40 minutes in to our journey, we dismounted our camels and walked up a rather steep dune (which felt as though it were at a 90-degree angle!) overlooking Crescent Lake. From this position, we watched the incredible sunset, which was, as I'd predicted, awe-inspiring.
Those with an eye for adventure shouldn't miss the opportunity to see the sand dunes and Crescent Lake from the air, on an ultra-lite flight – a one- or two-seat fixed wing aircraft. I took a 15-minute tour that gave me an amazing perspective on Dunhuang, as I peered down at the historic scene below – the dunes and Crescent Lake unfolding before my eyes. It was at this position, high up in the sky, when the true size of the  desert became jaw-droppingly apparent, as rolling sand dunes could be seen as far as the horizon line. It was freezing cold at this altitude, but I'd do it again to capture that bird's-eye view. It's also possible to charter a small helicopter – I was disappointed to not have this option since the helicopter was in for repairs during my visit.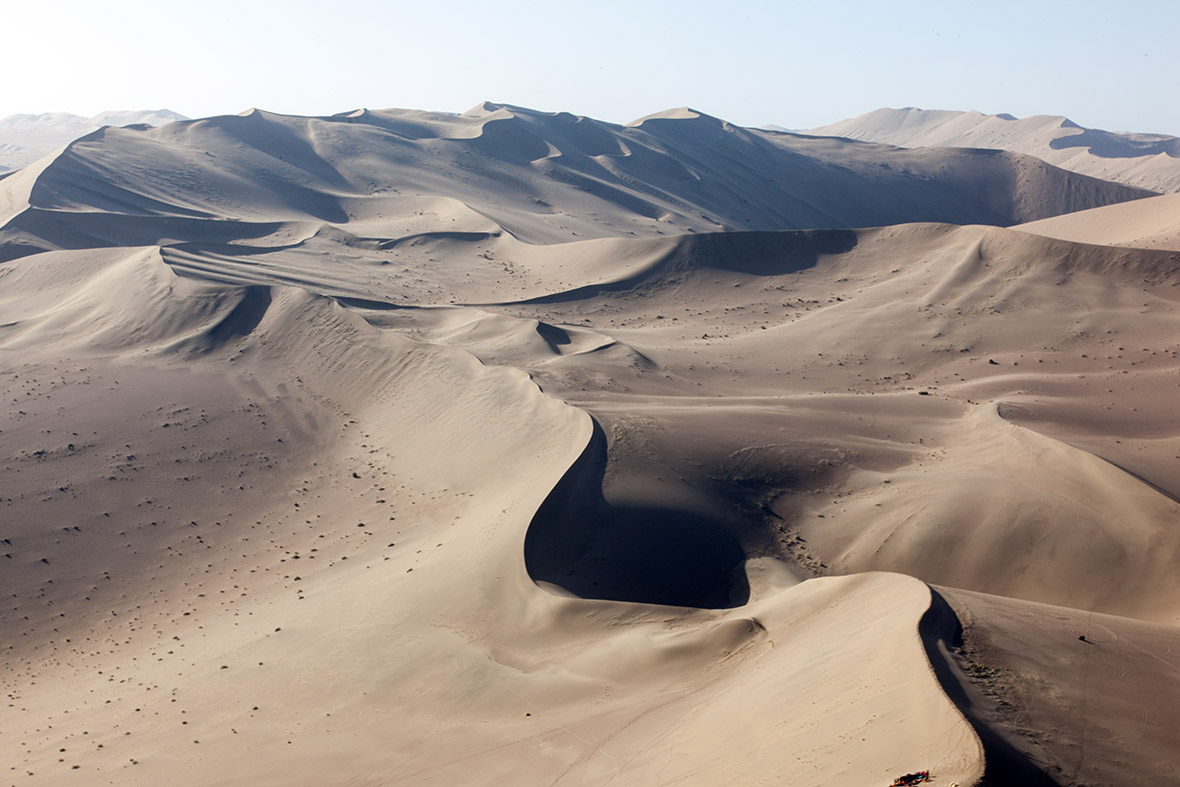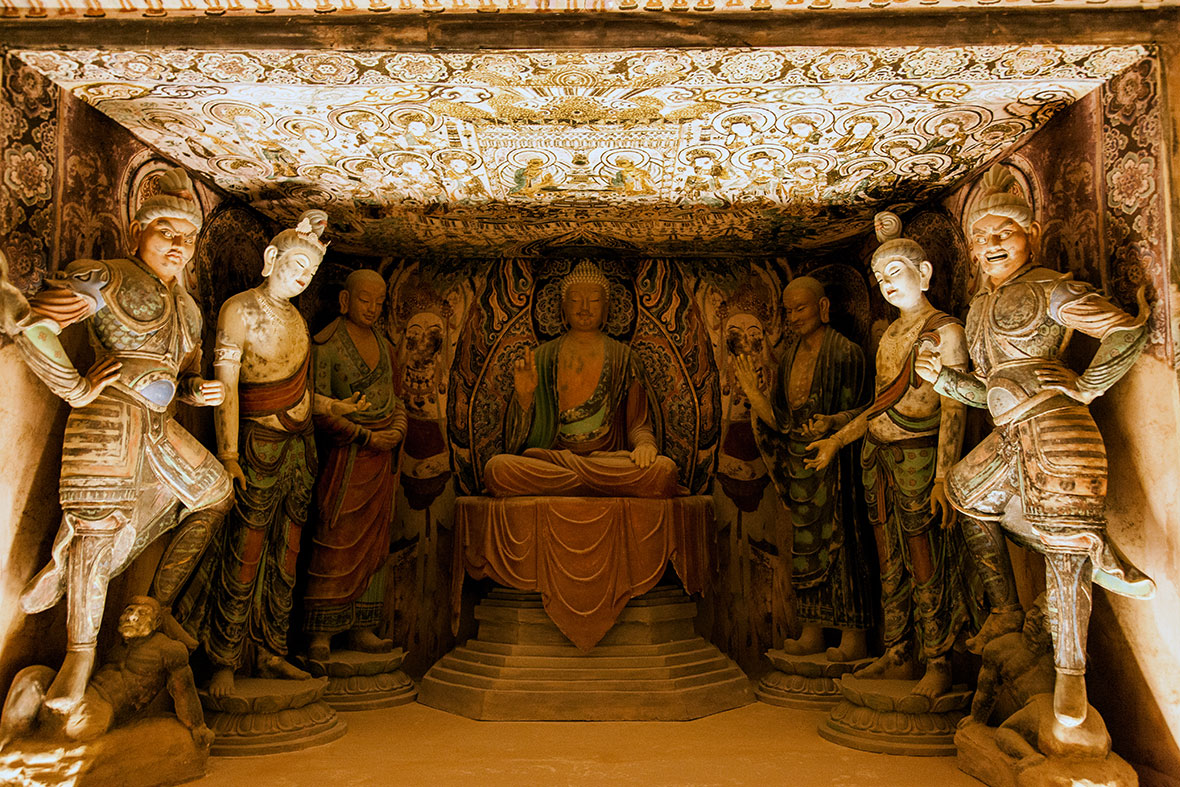 No trip to Dunhuang is complete without a trip to the Dunhuang Museum, where it's possible to put all of the city's historical sites and natural vistas into proper historical context. The museum is expansive (nearly 26,000 square feet), containing many original artefacts, as well as recreations. Here, it's possible to see written sutras from Cave 17, the Library Cave, as well as relics excavated from Han Dynasty graves, and exhibits illustrating Dunhuang's once flourishing culture.
The best months to visit Dunhuang are May – September.   However,  November – December is the  very end of tourist season,  and at this time, there are few tourists, making for a much more pleasant experience.  The weather during this time is quite cold in the mornings and evenings, but agreeable during the daytime.
Those looking to stay in Dunhuang's best hotel will be best served by the Silk Road Dunhuang Hotel. This comfortable option is ideally-located on the edge of the sand dunes, which provide a lovely scene during an open-air breakfast at the Starry Lounge.