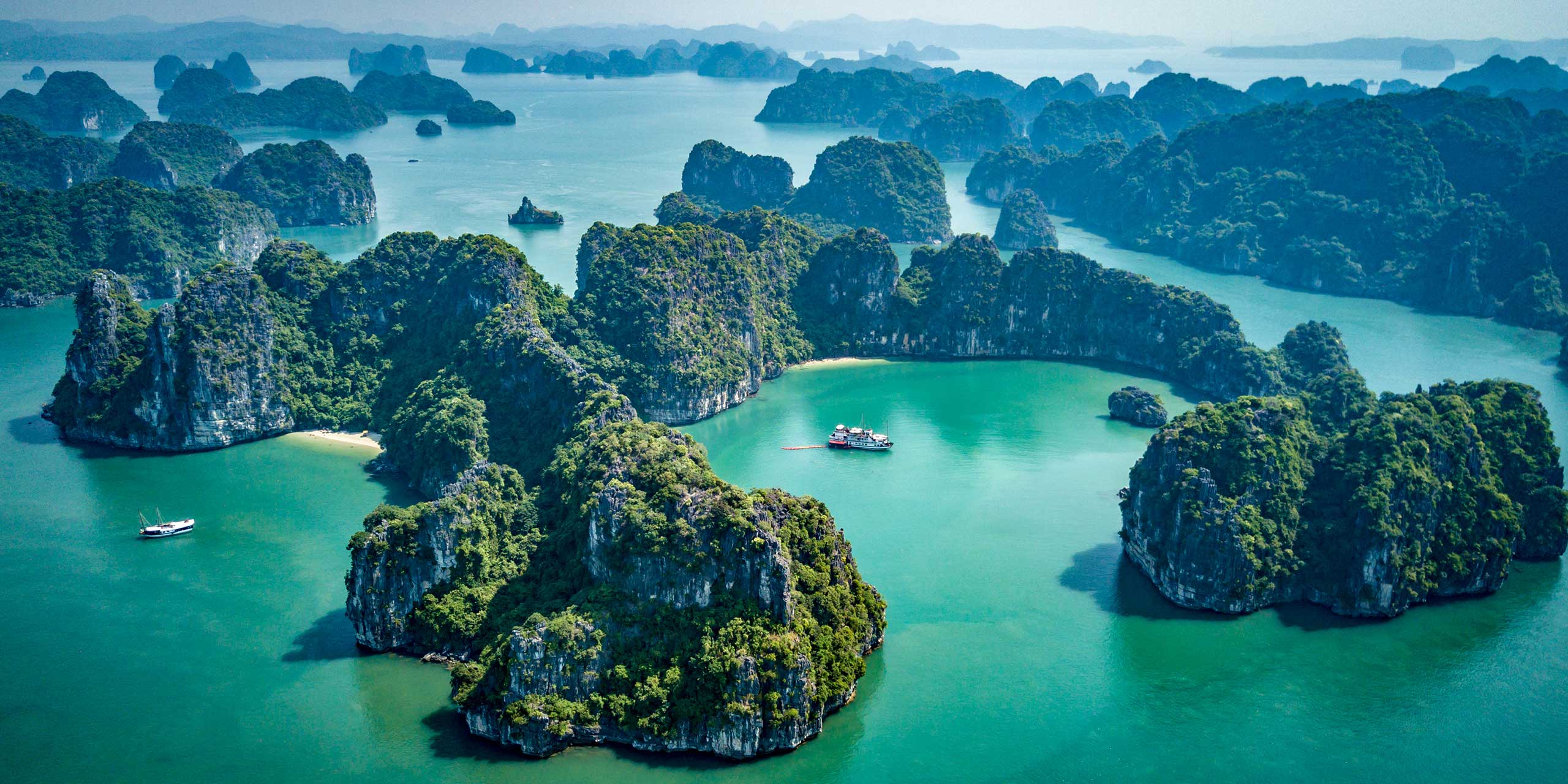 We are barely out of Hanoi when Vietnam's natural attributes begin to cast their spell. An early start to catch the morning seaplane from Noi Bai Airport to Halong Bay may have engendered a degree of weariness. But the outlook from my window seat is a potent revitalizing tonic.
First we soar above the patchwork of green rice paddies, the Red River pointing the way towards the ocean. The scenery is pretty. Really, though, it is a mere appetizer for what is just about to come.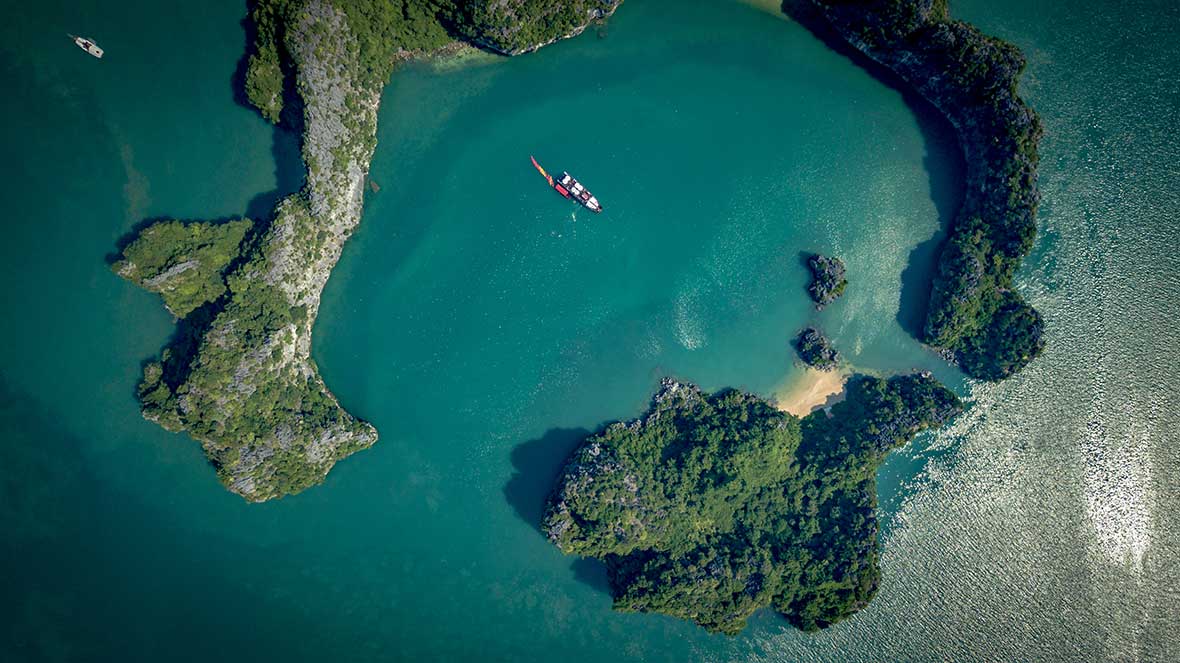 Heart-stopping sights come thick and fast in this part of the country. Nothing, however, can match the first glimpse of Halong Bay from above. Vietnam's premier bucket-list natural attraction is alluring from any angle, but the aerial approach is something special.
As our seaplane banks over Halong City and out over the bay all weariness is dispelled. One of Vietnam's most visited destinations, the bay has been the star of countless postcards and tourism campaigns. Despite its familiarity, I'm still taken aback by the visual splendor on display. The sun sparkles from a sky of brilliant blue and a congregation of jewel-like islands stud the emerald ocean.
It is a stunning sight, and a fitting way to reach arguably the most beautiful seascape in the world. Making it even more special is the fact that we are about to explore Bai Tu Long Bay, a relatively unheralded alternative to Halong Bay.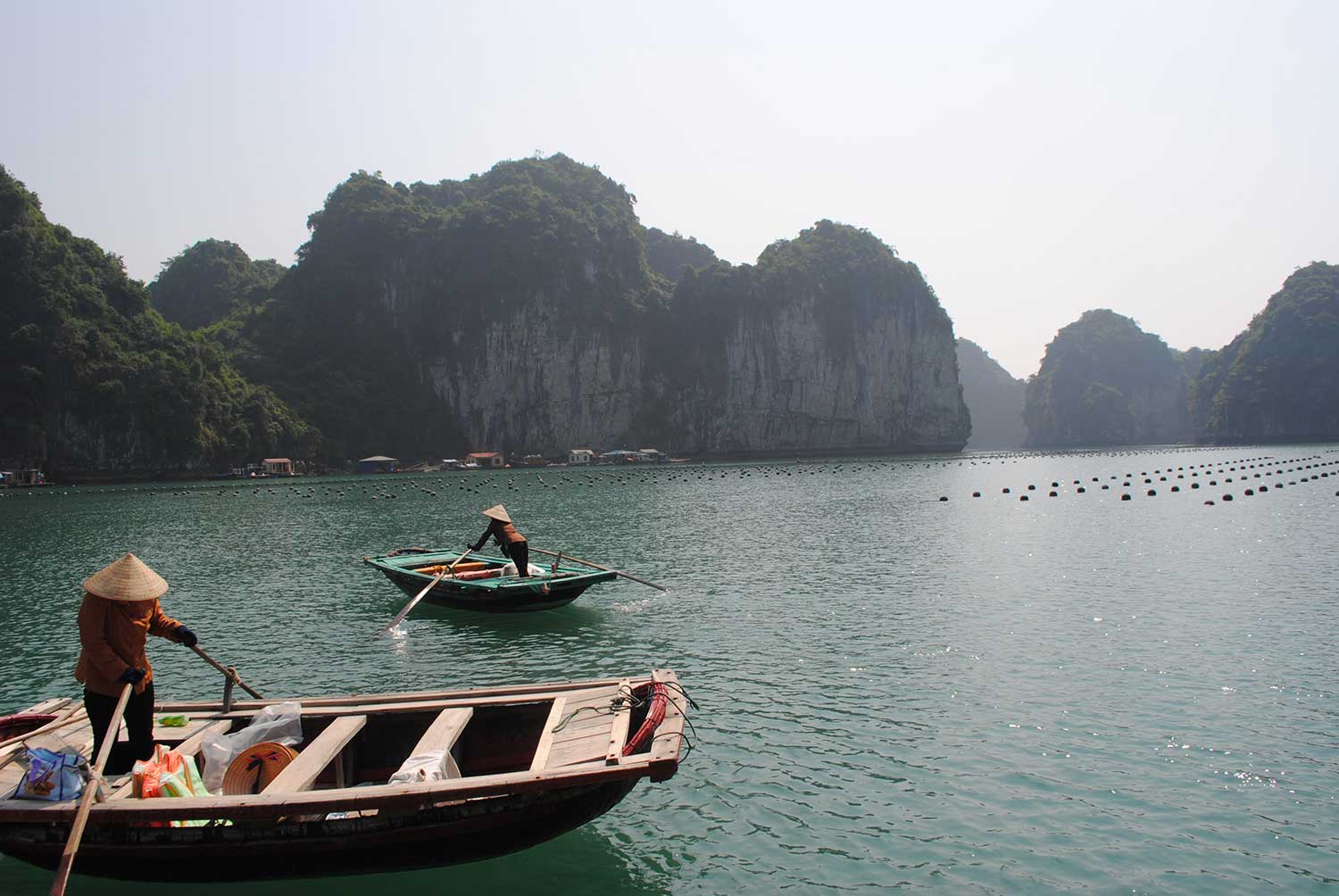 Although it retains all the majesty of its more famous counterpart, Bai Tu Long sees a fraction of the traffic of its immediate neighbour to the west.
The two seascapes are virtually interchangeable. Some say the limestone outcrops that jut perpendicularly out of the emerald waters of Bai Tu Long are not as lofty as the ones at Halong. However, you would need to be a seriously obsessed karst aficionado to notice the difference.
There are other similarities too. Cruises in North Vietnam largely stick to the tried and tested. And our three-day/two-night itinerary doesn't deviate much from those in Halong Bay. There's a bit of kayaking here and a visit to a cave there with a visit to a traditional floating village thrown in for good measure.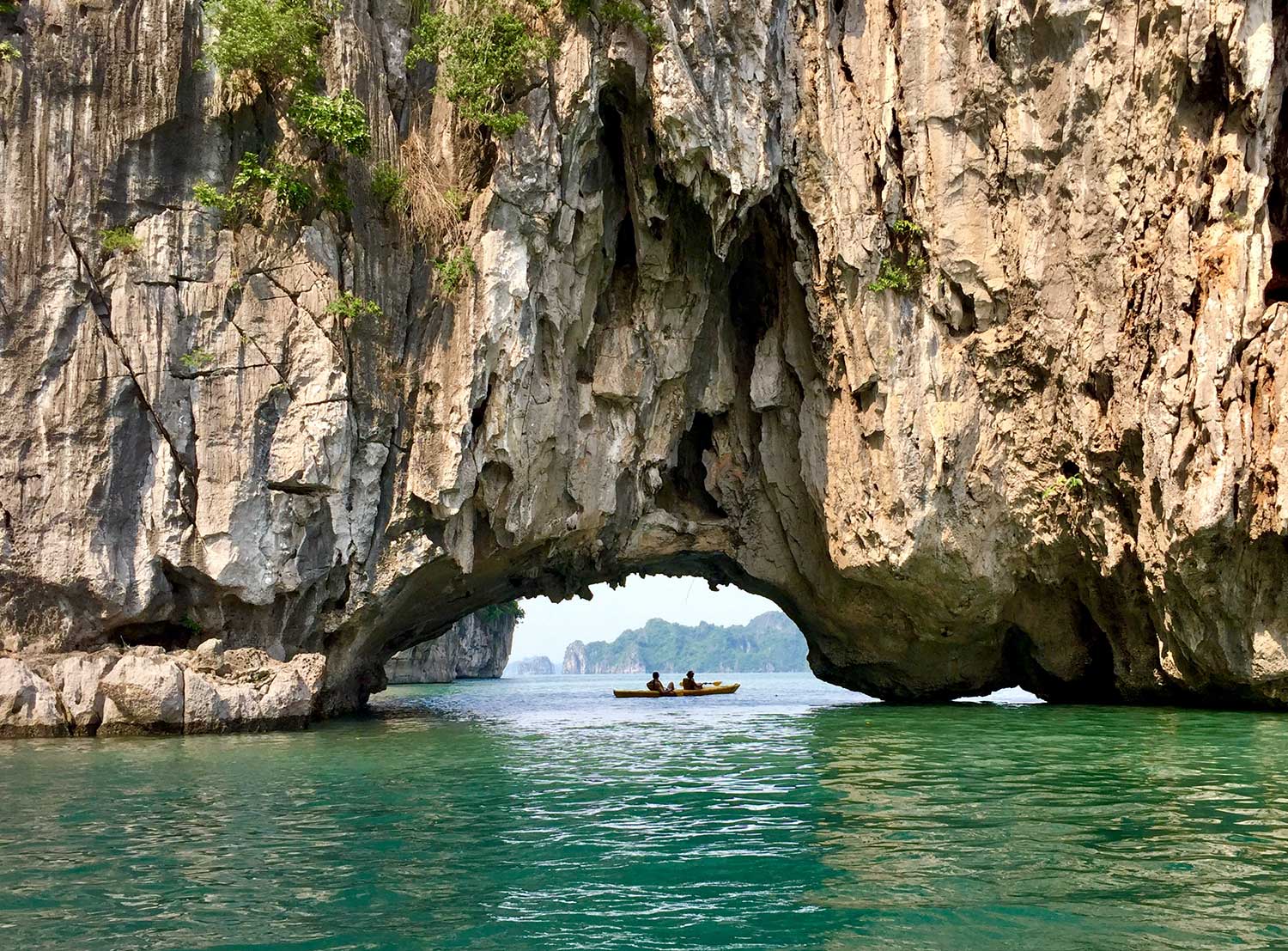 What is striking about life on our junk is how laid-back it is. There are six of us on the boat and we are not beholden to any schedule except from mealtimes when our talented chef supplies a succession of multi-course Vietnamese banquets. That leaves us with less than stressful dilemmas like choosing between a languid paddle through the karsts or a horizontal session with a book on the boat's sundeck.
The following day brings further opportunity for full immersion in the surroundings. This time, however, some effort is required, as we must pilot kayaks into the karsts. We cast off late in the afternoon as the sun casts long shadows on the water and bathes the limestone outcrops in a soft-focus glow. We are led directly towards an outcrop where a low chasm reveals itself. We busk our way through, using our paddles to fend off encroaching stalagmites and stalactites, before emerging in a lagoon enclosed by steep limestone walls.
Things are equally amenable back on the boat. Few things in life are quite as agreeable as watching a sunny day slip by while posited horizontally on a junk. It is a formula that would work anywhere in the world. In the spectacular surrounds of Bai Tu Long, however, this prosaic pleasure is nudged even further towards the stratosphere.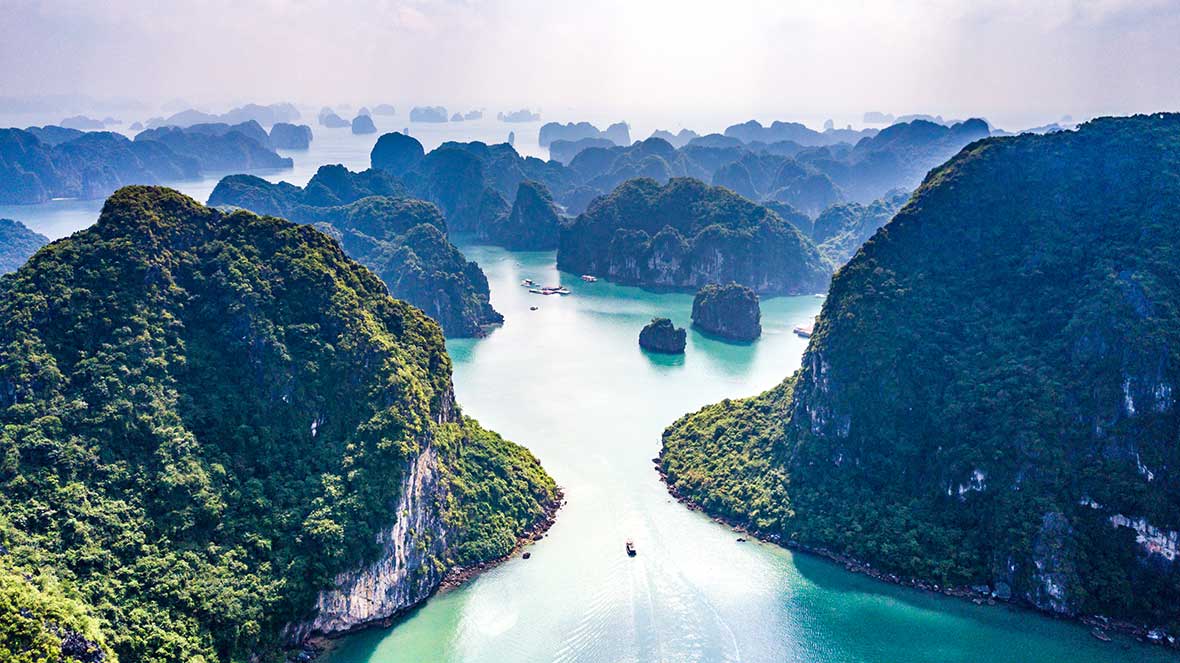 Lounging on deck with a gin and tonic, I engage in some conversation with my fellow guests. "I feel truly at peace here," says Aaf, a 56-year old art teacher from the Netherlands. "Bai Tu Long is different. There are a lot of activities to do, like if you want to hike or kayak or do some rock climbing. But equally it is possible just to do nothing and read your book, which is why I am enjoying it so much. Of course, it doesn't hurt that it is so beautiful."
With the memory of the previous evening's sunset, which could have been lifted from the big book of Southeast Asian clichés, still fresh in my mind, it is difficult to argue with her assessment.
The end of the second day is spectacular. The ocean and the jungle-clad karsts that rise vertically from the sea are so beautiful that it is hard to tear myself from the scenery. Today, the skies are a spotless blue and the sunset goes through a vivid repertoire of red, gold and purple shades. I order another cocktail from the bar, look out over the bay and reflect on a marvelously peaceful alternative to joining the steady flow of traffic headed to Halong Bay.