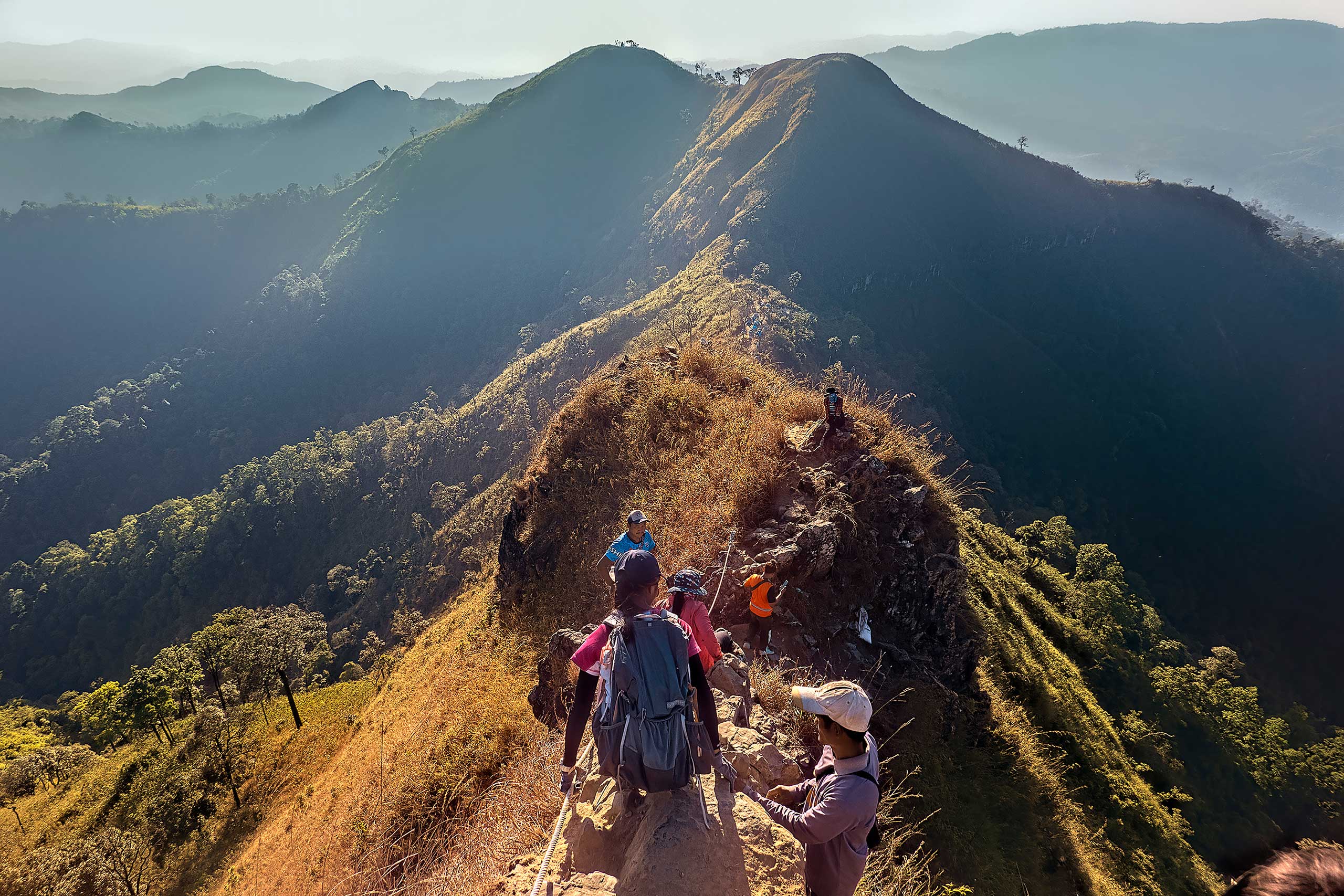 Kanchanaburi (both the town and province) is known for several things, notably being one of the quickest weekend escapes from Bangkok, and offering a combination of historical, cultural, and physical wonders to travelers.
It's home to the film-immortalized Bridge Over the River Kwai, the Burma Death Railway, and poignant War Cemetery (for Allied victims of the Japanese WWII occupation), and the striking Huay Mae Khamin cascades and multi-tiered Erawan waterfalls and adjoining national park.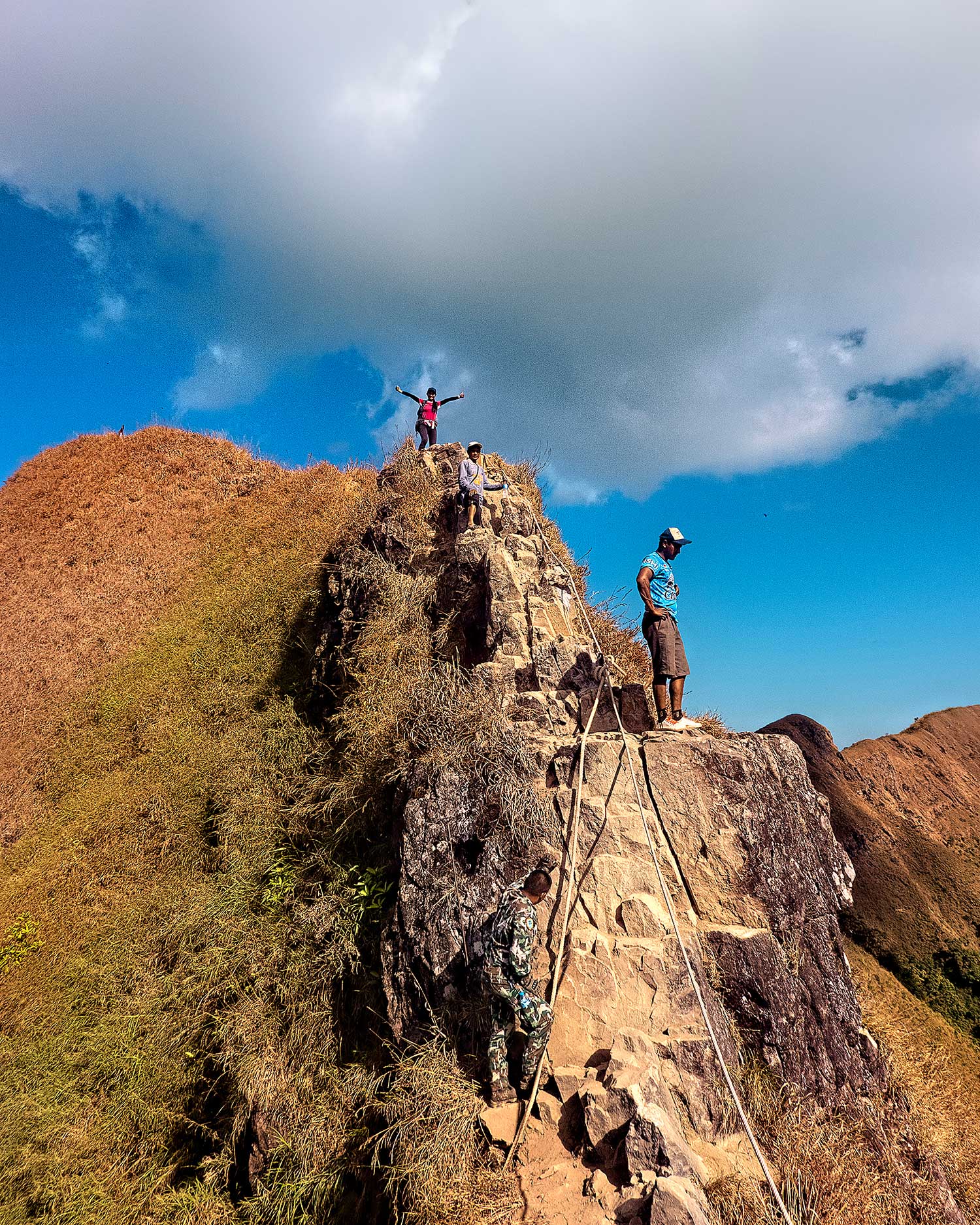 But my wife and I had been there done that, and were seeking something a bit more dramatic and off the beaten path, so we were making our way to two lesser-known national parks, Thong Pha Phum and Khao Laem, home to the pointed peaks of Khao Chang Phueak and Khao San Nok Wua, the third and first highest mountains in the province, which happen to feature some of the most dramatic and exciting scenery and intrepid travel opportunities in the country.
Outdoor adventure is something slightly new to Thailand. The weather tends to range from hot to baking hot to wet and hot much of the year, the jungle terrain features slightly less-than-friendly critters like leeches and poisonous snakes, and in years past, most Thais (and most visitors for that matter) would far rather sit under a beach umbrella with an ice-cold drink as opposed to making a sweaty slog up a mountainside.
Yet today camping has become in vogue, Bangkok is now home to a slew of outdoor gear shops selling lightweight equipment. And young Thais are taking to the outdoors in droves, making the most of the cooler and drier winter months to get up high, spend the night tenting it, and capture snapshots of some incredible landscapes.
These shots are made possible as winter months here tend to feature the formations of seas of clouds, where stable air mass conditions cause the humid valleys to fill with low cloud banks at sunrise, while the mountain tops above stay completely clear.
Khao Chang Phueak has become an Instagram darling in the Thai outdoor community over the past few years. The 1249-meter peak features a classic mountain ridge, extremely steep, narrow, and knife-edged up high, with the precipitous thin trail up it falling away into Thailand on one side and Myanmar on the other.
A hiker fell from here several years ago while taking a selfie, so the Thong Pha Phum National Park where the peak lies has instituted a set of rules and safeguards to ensure the mountain can be tackled safely.
A limit of 60 trekkers is allowed on Khao Chang Phueak each day, and there are both rangers stationed and ropes strung up at the most dangerous or difficult passages on the knife-edge traverse, making Khao Chang Phueak far more accessible to mere mortals.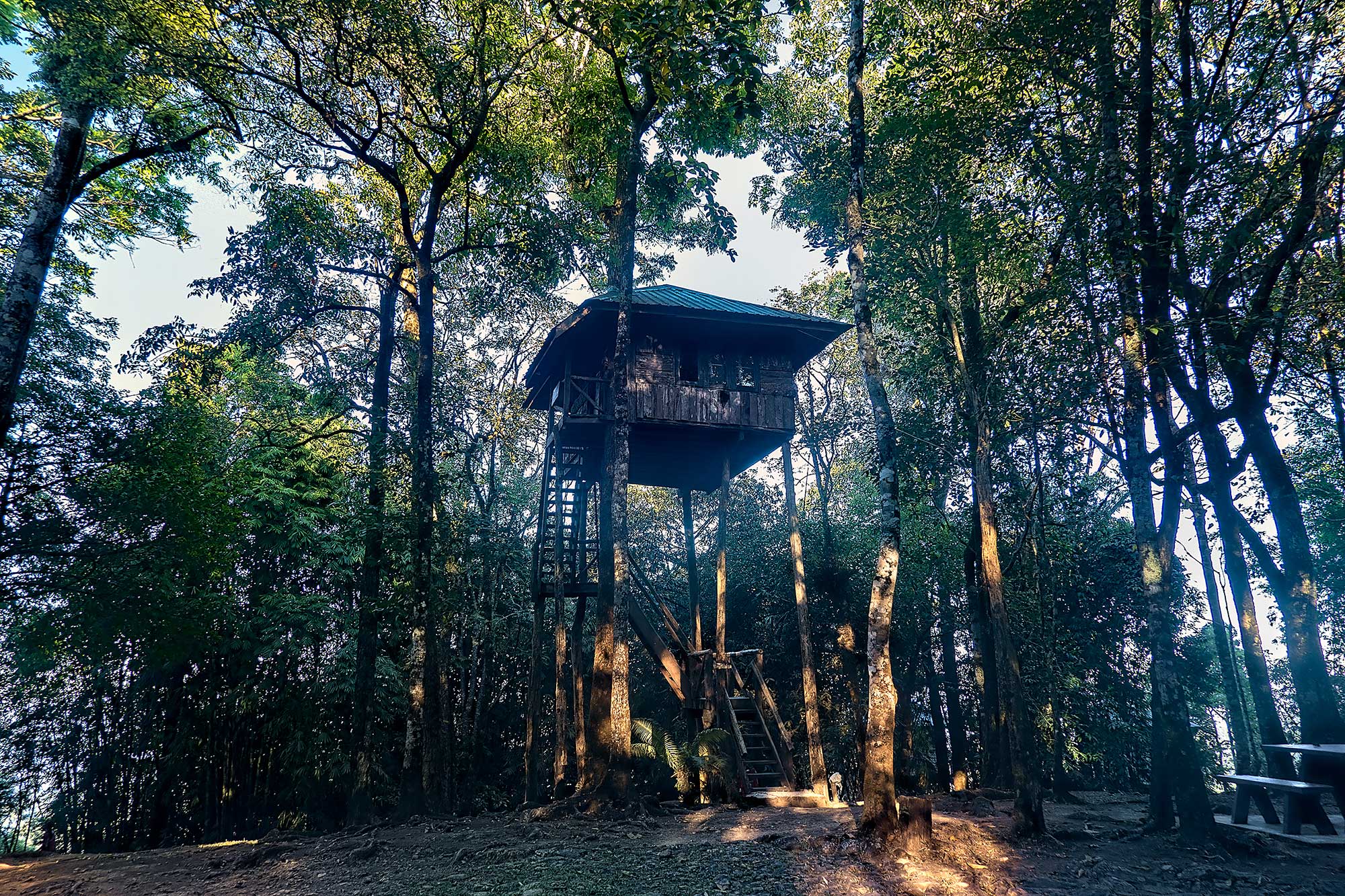 Getting one of the coveted permits to climb Khao Chang Phueak can be a bit akin to winning the lottery at times, but were well-prepared and organized in advance and soon found ourselves taking a pickup truck up the winding mountain road that led to the park entrance.
We were greeted by a large yellow-beaked great hornbill hopping around the front of the visitor center, while macaques yelped in the dense forest beyond. We upgraded our accommodation for the night from our tent to one of the park's unique Tarzan treehouse bungalows, figuring we'd be roughing it for the next few days, as well as maybe some wishful thinking that climbing the ladders needed to access the treehouse might help with calming our nerves and steadying our balance for what was to come on the ridge the following day.
A hikers' registration and briefing takes place at 6 am the day of the hike, where documents and bookings are checked, with rangers making sure everyone has the requisite tent, sleeping bag, and at least four liters of water per person, as there is no water source up at the campsite on the ridge.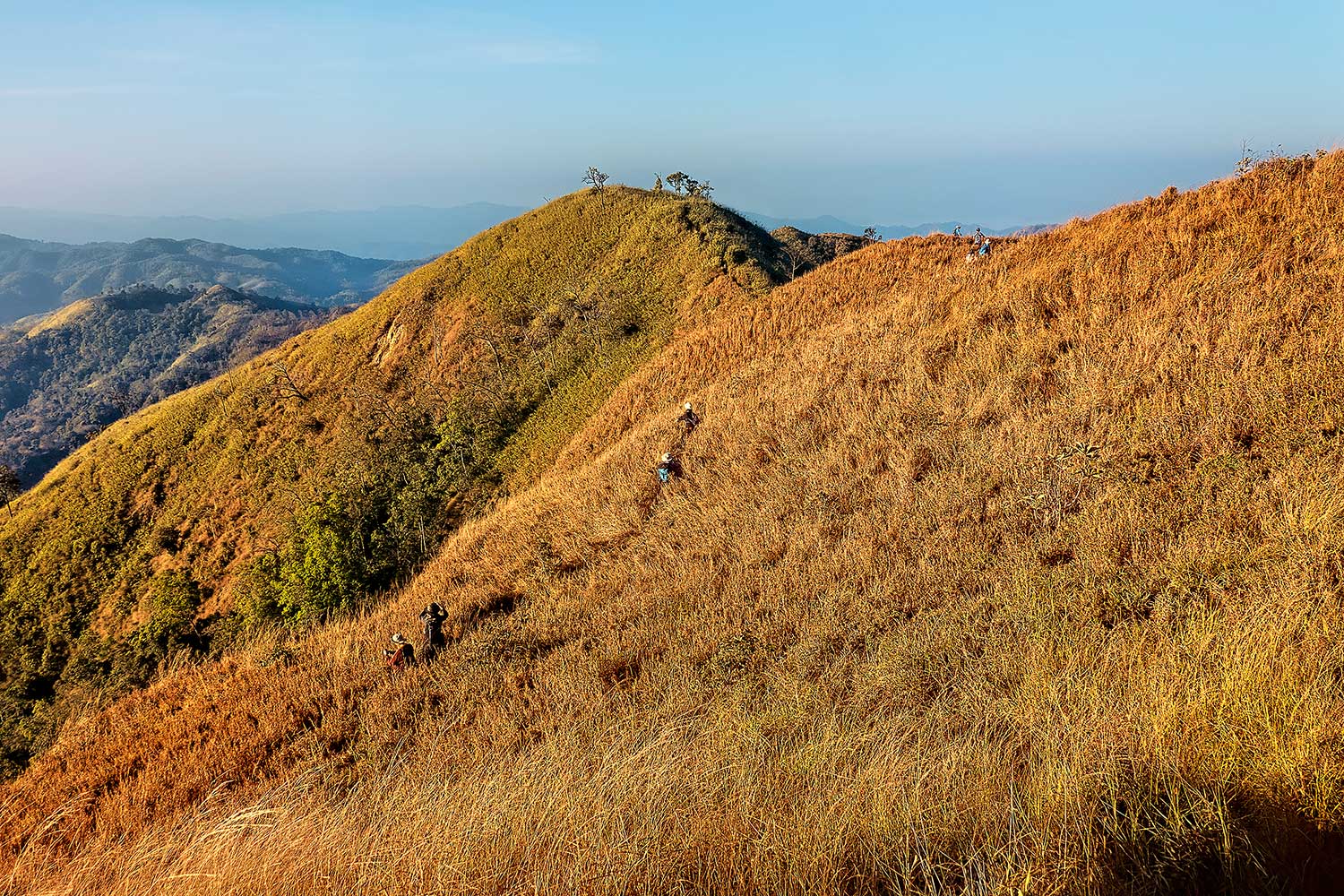 Several hikers opted for Burmese porters, who are hired from the nearby border village of E Tong and who carry a staggering 30kg up and down the mountain, to carry their belongings, but we decided to haul up all of our gear ourselves, as it was only eight vertical kilometers (five miles) to camp, from where we would just carry cameras and water to the summit.
The route up Khao Chang Phueak starts in jungle cover, but quickly ascends into open grassy slopes. Even during the morning hours, the heat gets relentless, and in full sun we're soon dripping with sweat and delving into our water supply. While the climb to camp is not that huge a gain in elevation, it isn't a steady or gradual climb in the least, as one ascends and drops over a series of small peaks which are part of the mountain massif.
The terrain is extremely vertical here, but there is a slim saddle set just between two steep peaks where a few tents can squeeze into the available patch of flat ground. We reached this spot just before noon and had the next three hours to eat, hydrate, set up our tent, and rest up for the late afternoon ascent to the summit.
I'd seen a few videos of the knife edge climb, and filmed on GoPros, they look terrifying. However, up on the rock, the terrain lays down slightly, and the climb features good hand and foot holds, with rangers on either side of you telling you where to place your hands and feet.
There are ropes tied in here to hold onto, making it tough to have an accident. The rest of our way up the ridge was magical, a narrow path climbing ever upwards to the rounded summit, bathed in pure gold in the late afternoon light. From the summit, a vast sea of limestone karst peaks and ridges lay in the distance, along with the shimmering water of the Vajiralongkorn Reservoir far below, a just reward for making the trek to these heights.
Feeling invigorated by our successful jaunt up this sharp peak, we hastened down the mountainside the following morning and took a bus along the length of the Vajiralongkorn Reservoir to Khao Laem. The gorgeous national park features 1500 square kilometers of pristine jungle, waterfalls, a beautiful lakeside campground. It is also home to Khao San Nok Wua, the highest mountain in Kanchanaburi at 1769 meters.
While the two twin summits here also feature steep climbs on narrow ridges, the more captivating attraction here is the vast wilderness surrounding the peaks, part of the massive Thung Yai Naresuan Forest Reserve, which is still home to a healthy tiger and sun bear population. As with Khao Chang Phueak, you can't trek here alone, as rangers are required to accompany groups up the mountain, due to the possibility of encountering wildlife.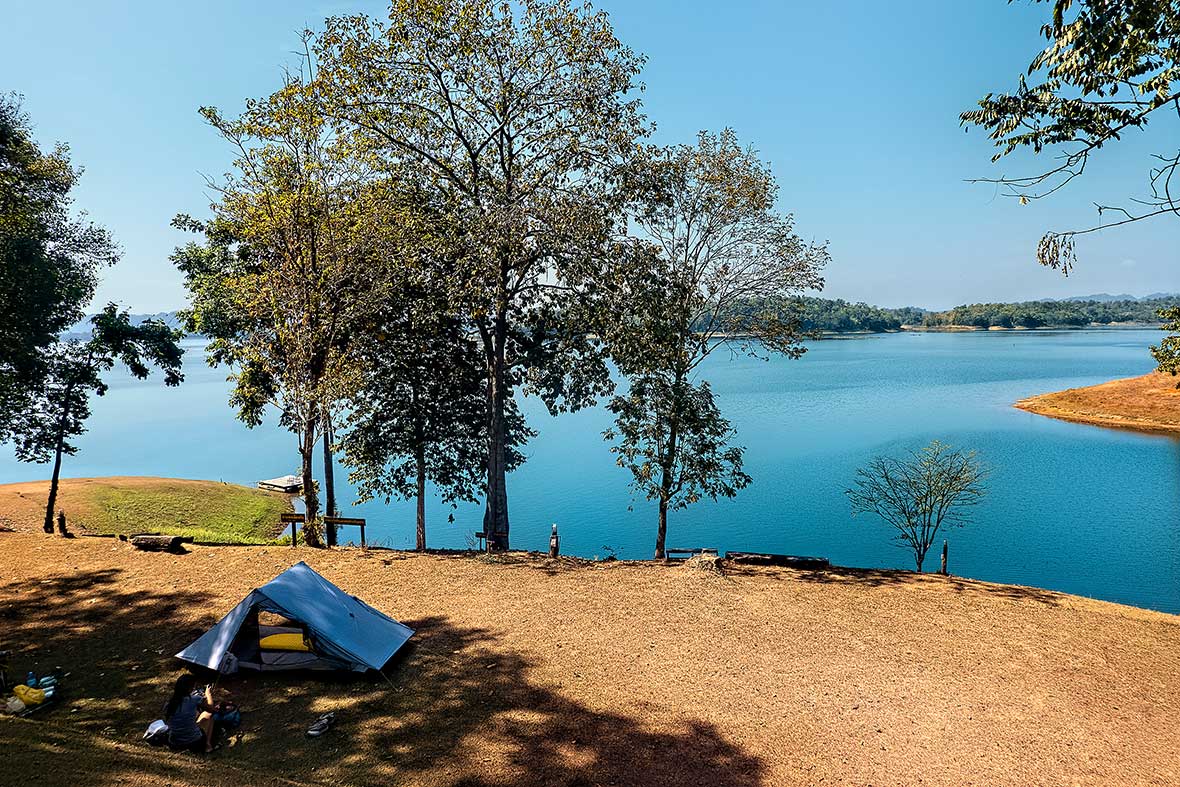 Preparing for this trek was far more relaxing, as the lakeside camp at the Pom Pi viewpoint along the Vajiralongkorn Reservoir must be one of Thailand's best. There are showers, a good restaurant, well-built bungalows for those who don't want to camp, a rental shop where you can pick up tents, sleeping bags, and sleeping pads, and a groomed shelf of perfectly flat camp spots which gaze out on the lake and surrounding mountains. Sunsets here are particularly vibrant, and with the hike registration not starting until 8 am, we spent a most leisurely and comfortable night.
The following morning, we were assigned a ranger, and taken by truck up to the start of the climb. This trek didn't feature as much exposure to the blazing sun, as it traversed a series of jungle-clad hills to reach the higher elevations. Our ranger, an outgoing and ever-smiling fellow named Bip showed us caves and other spots where tigers have been spotted, both by rangers and by camera traps, but assured us that the big animals have been monitored carefully, and tend to be quite territorial, and at least for now, were supposedly on the far side of the peaks, well away from where we would be camping.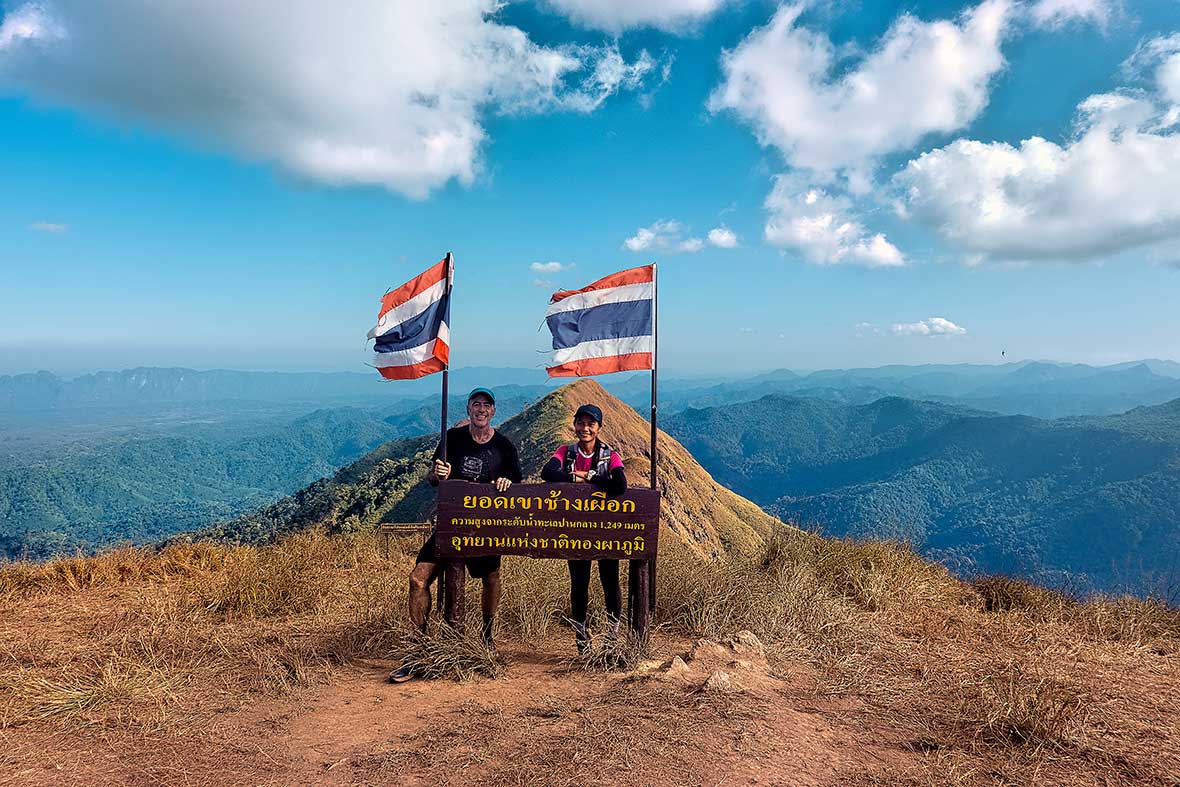 San nok wua translates as "the bulls' horns". And the two curving triangular peaks above the high camp here do look like a pair of cow horns. The setting here is sublime, with cool temperatures, 360° views of the surrounding lakes, peaks, and an immense swath of forested jungle below. And best of all, it was just a quick 10-minute jaunt from our camp up to both peaks, meaning easy access for sunset and sunrise. We watched a magnificent changing of colors from the top as the sun went down, retreated to our tent for some hot noodles, slept uninterrupted for nine hours, and then climbed back up to the summit once again, this time to see the surroundings get bathed in orange light while a sea of clouds slowly lifted in the valley far below us.
From up at these heights, in cool dry air, surrounded by mountain pinnacles, a cup of coffee in hand, and with nary a beach nor island in sight, it might have been easy to forget we were in Thailand, yet here we were. Thai Tourism runs an "Unseen Thailand" campaign each year, where they have started adding off-the-beaten-path destinations, and more adventure travel spots are being "discovered" and added to the lists each year. For a country that sees well over 10 million visitors a year and is often dismissed as over-touristed and over-developed, the perspective was far different from our mountaintop perch, well worth the effort and ascent, and one worth coming back for again and again.