Example Itinerary
Classic Vietnam
Duration

10 days / 9 nights
Price Per Person
Destinations
An otherworldly emerald bay dotted with limestone karsts and vintage wooden boats. Verdant fields worked by yoked oxen and children splashing in the paddies. Wide tree-lined boulevards with grand state buildings from the French colonial period. A ceaseless tsunami of motorbikes in the thoroughfare and sandwich, noodles, and coffee hawkers litter the pavement. A cruise down a sleepy river past golden yellow buildings with Chinese-tiled roofs and colorful lanterns. These are but a few of the vignettes that make up this 10-day classic journey through Vietnam, a country made up of dramatic landscapes, sublime cuisine, complex cultures, and diverse people. Travel Vietnam from north to south and experience for yourself the allure of this southeast Asian gem.
This itinerary is an example. It's designed to inspire you and provide you with thoughtfully curated ideas. You can choose to do this exact itinerary or completely personalize it. All trips are 100% bespoke.
Highlights
City & Country: See all of Vietnam's past and present, from the bustling metropolises of Hanoi and Saigon which anchor the north and south respectively, to countryside villages and hamlets, ancient cities and ruins, and colonial remnants.
Halong Bay Junk Cruise: The otherworldly seascape of limestone pillars, caves, secret lagoons, and sea gypsies is a fitting home for the 'descending dragon' for which the bay is named. Navigate the emerald waters on your own private wooden junk with iconic Indochine sails.
Hyper-localized Cuisine: Get a taste of the distinct and different regional cuisines as you travel from the north to central and then south Vietnam. Try the quintessential bowl of pho and banh mi, along with very local treats such as Hoi An's traditional cao lau noodles and rose dumplings.
War Remnants: The Vietnam War, known as the American War in Vietnam, was an intense conflict that reshaped the country. Though the country has moved on, remnants of this turbulent time can be seen at museums, landmarks, and on-site. Get a first-hand recount of the Vietnamese side when you meet a veteran at the Cu Chi Tunnels.
Day-by-Day
Day 1
Hanoi
Arrive in the capital city of Hanoi. This northern city was settled in prehistoric times, was once the capital of French Indochina, and became the capital of unified Vietnam after the northern forces won the war. Today it is a largely modern and compact city that still retains its idyllic charm. You will be met off the plane and escorted to receive your visa on arrival and through immigration. A private vehicle awaits curbside to take you to your hotel. Settle in and freshen up before this evening's exciting introduction to the city - a streetfood tour on the back of a scooter. Do as the locals do: pull up a plastic chair and tuck into savory and fresh dishes before zipping off to the next restaurant.
Day 2
Hanoi
Many of Hanoi's centuries-old monuments and palaces have been destroyed but there remain several historical and scenic points such as the peaceful Ngoc Son Temple in the middle of Hoan Kiem Lake and the ancient Tran Quoc pagoda. Take a cyclo ride around the Old Quarter in the heart of the city, evocative of its French-colonial past, and explore a fresh market by foot. Next up, see what life would have been like for prisoners of war at the Hoa Lo Prison Museum which exhibits former US senator John McCain's parachute from when he landed in the lake as a soldier. Wrap up the day with a visit to Uncle Ho's Mausoleum, One Pillar Pagoda, and nearby Temple of Literature.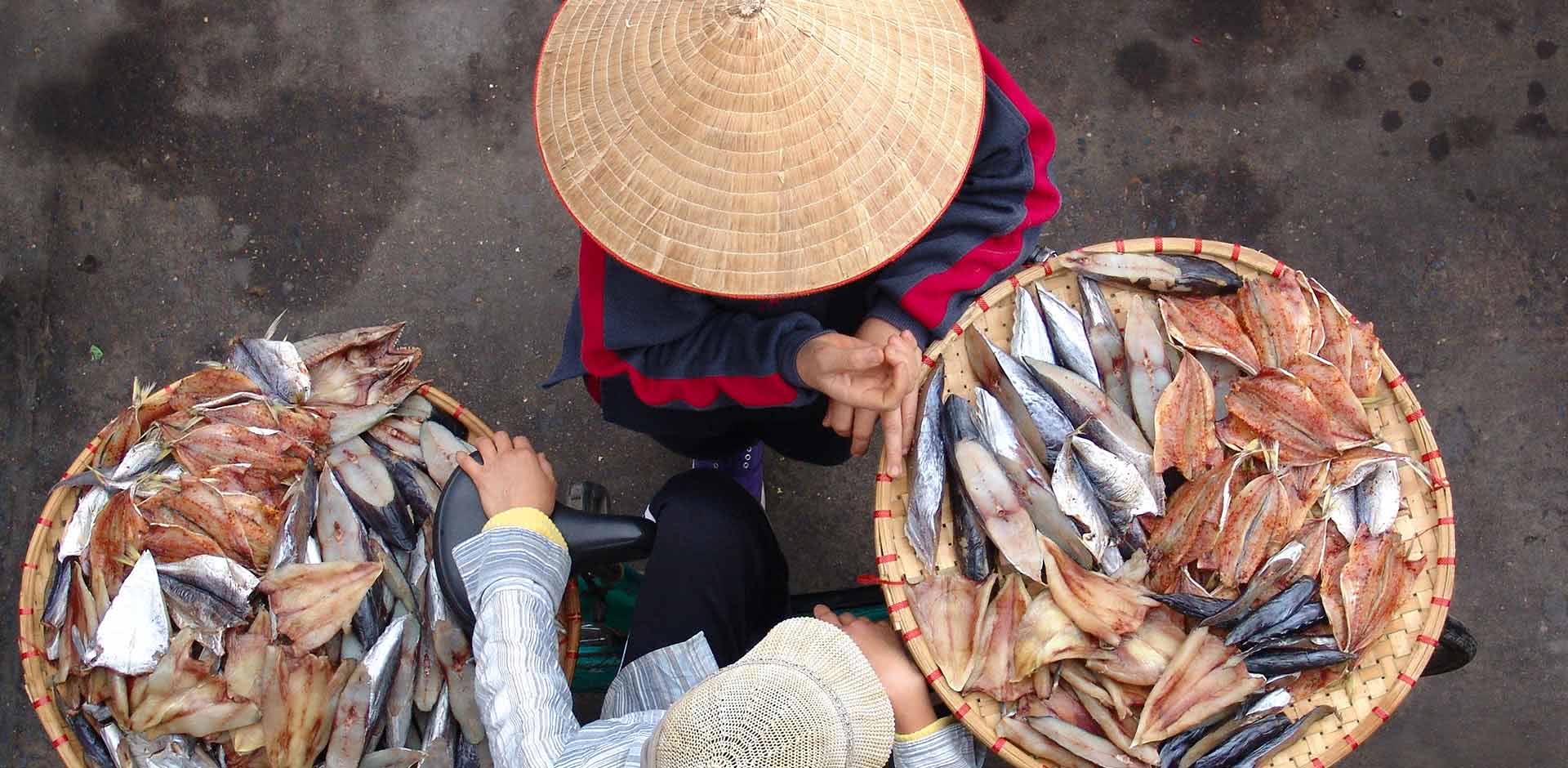 Day 3
Hanoi
This morning take a short trip to one of Vietnam's local communities just outside of the city. Bat Trang village is located on the left bank of the Red River and is known for its ceramics. It is tradition for small villages in the area like Bat Trang to have a specialty such as silk, water puppets, bronze casting, fans, and hats. In this way, generations of artisans hone their crafts to create high quality products that are circulated all over the country. At Bat Trang village, which was formed over 500 years ago, meet the community and witness their expertise in molding clay bricks into cups, plates, and decorative items. In the afternoon, return to the city for lunch and more insight into Vietnam's arts at the National Museum of Fine Arts, followed by a traditional water puppet show at the local theatre. Those interested in this unique variation of the ancient Asian puppet tradition can opt to meet a top artist and be welcomed to his home for a private show.
Day 4
Halong Bay
Today, you're setting off to see one of the world's greatest sights, the panoramas of which adorn the pages of coffee table books and National Geographic magazines: Halong Bay, also a UNESCO World Heritage site around 3 hours' drive from Hanoi. Make the most of this experience and opt to take a scenic seaplane flight from Hanoi to Halong Bay. It not only shortens the travel time, but also grants an unforgettable overhead vista of the entire bay. Explore this spectacular seascape in style on your own private cruising junk. Get up close to the limestone karsts by exploring the area by kayak. After a visit to a traditional fishing village and swimming in a secret lagoon, you'll cap your night off with a gourmet bbq beach dinner under the stars.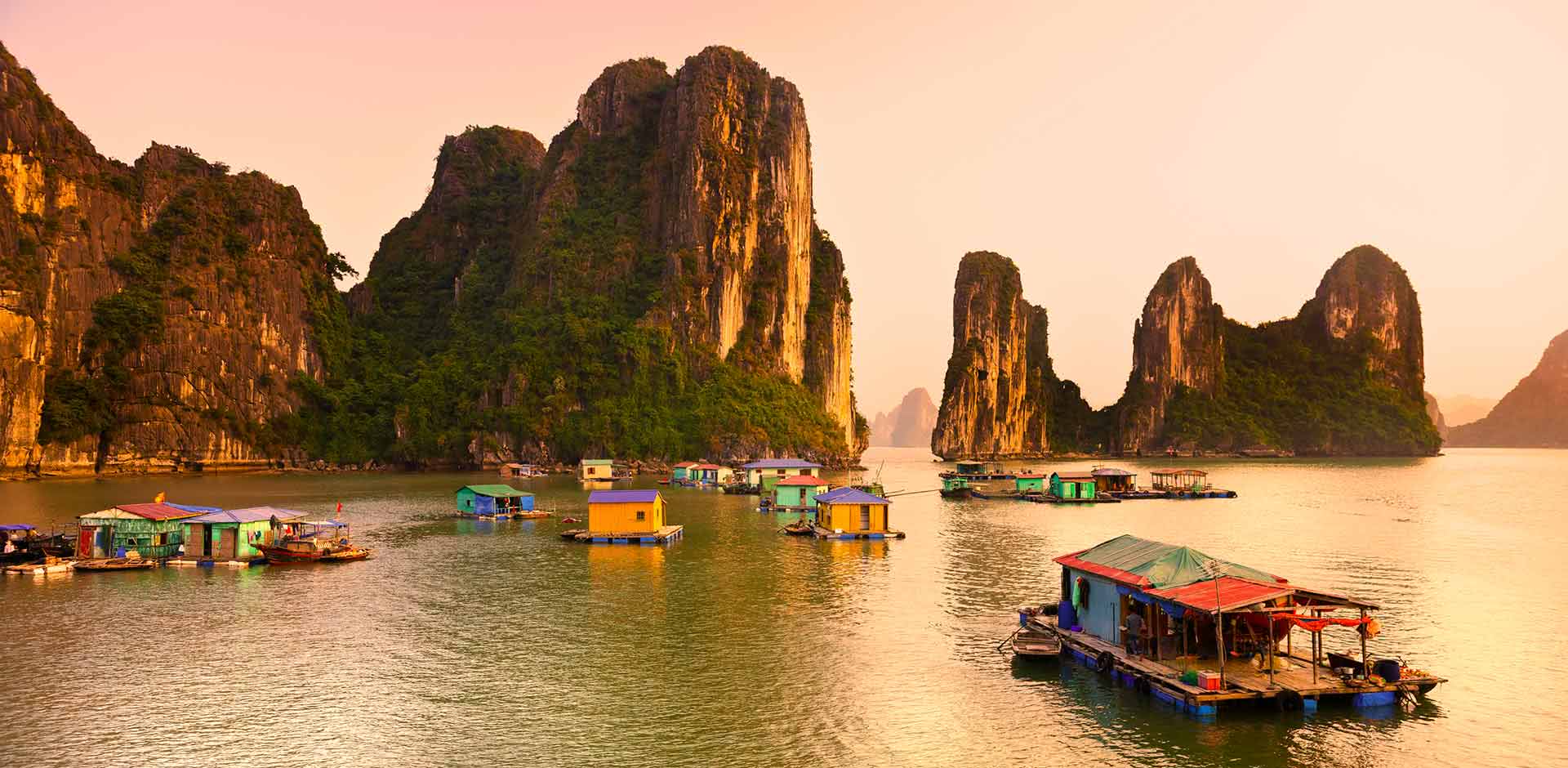 Day 5
Hoi An & Danang
Return to shore and drive to Haiphong for a flight to Danang. You are now in central Vietnam; Danang is a large coastal city known for its sandy beaches. Have a quaint seaside lunch before continuing along the coastal road to your hotel. After checking in and freshening up, head out again to explore the Marble Mountains. This cluster of marble and limestone hills are home to numerous caves and tunnels, many which were converted into Buddhist grottoes containing carvings, statues, and rockface reliefs.
Day 6
Hoi An & Danang
Take in the central region's serene vibe as you start the day relaxing on the expansive China Beach, just outside your resort. After breakfast, it is time to head to neaby Hoi An, a charming historical city. Explore its Old Town, a UNESCO World Heritage site with exceptionally-preserved architecture and street planning that reflects the foreign and indigenous influences that together create its unique identity. Admire the charming pale yellow buildings that house restsaurants, art galleries, cafes, and particularly tailor shops which is a specialty of the town. Have a special visit to a local family that is famed for their cao lau noodles, the specialty dish of Hoi An. It is said the noodles are best made in Hoi An due to the local water source which gives them a finer texture. In the afternoon, wind down with a relaxing cruise on the Thu Bon river. Disembark at a local village before heading back to your hotel. We recommend returning to town in the evening when its famous colorful lanterns are lit and the night market comes to life.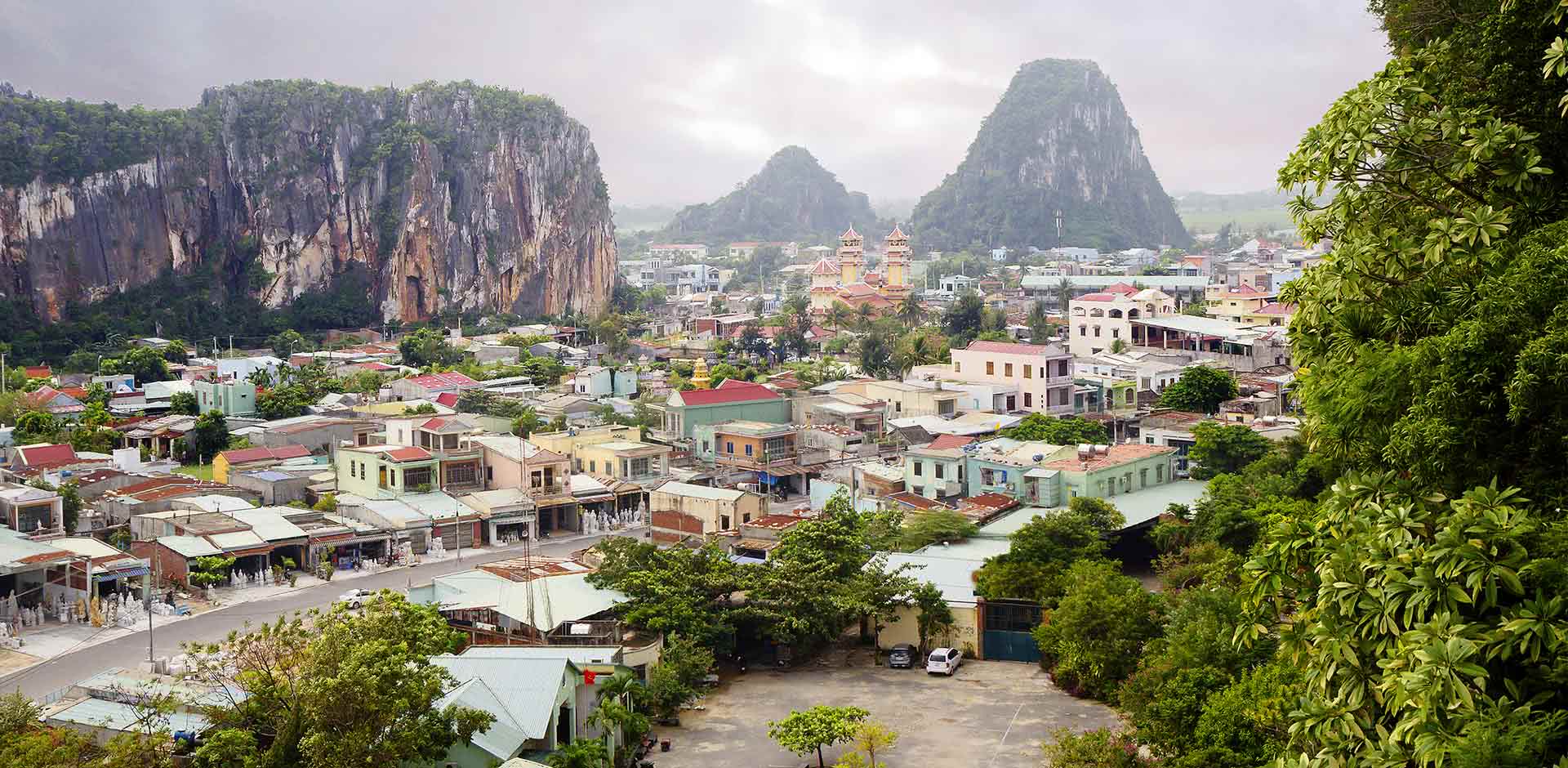 Day 7
Hoi An & Danang
Go for an peaceful bicycle ride through the charming countryside, past bucolic villages and farmlands. Stop at a village where you can get hands-on experience of a farmer's life by helping water crops, plant rice, and if you're adventurous, drive a water buffalo. Share a meal with a local family and enjoy the garden-fresh vegetables and herbs. After lunch, set off for the jungles to explore My Son temple and surrounding ancient ruins from the Cham empire dating back to the 4th century. These mystical Hindu grounds were recognized as a UNESCO World Heritage Site.
Day 8
Saigon
Head south to Saigon via flight from Danang in the morning. In the afternoon, experience the bustle of this exciting city which used to be the capital of the south. While Hanoi feels more quintessentially Vietnam with tradition dictating the way of life, Saigon more eagerly embraces modernity, innovation, and foreign influence, making it a dynamic international metropolis. Take a stroll around a downtown boulevard lined with impressive and historically significant French colonial buildings including the Opera House, the Continental Hotel, General Post Office, and City Hall. Then head to Cholon, the city's Chinatown, which dates back to 1778 and is home to a few temples, pagodas, a mosque, and a small Catholic cathedral. While in Chinatown, explore the main market, Binh Tay which is fringed by an outer wet market and a food court near the back where shoppers stop for snacks and buy takeout meals.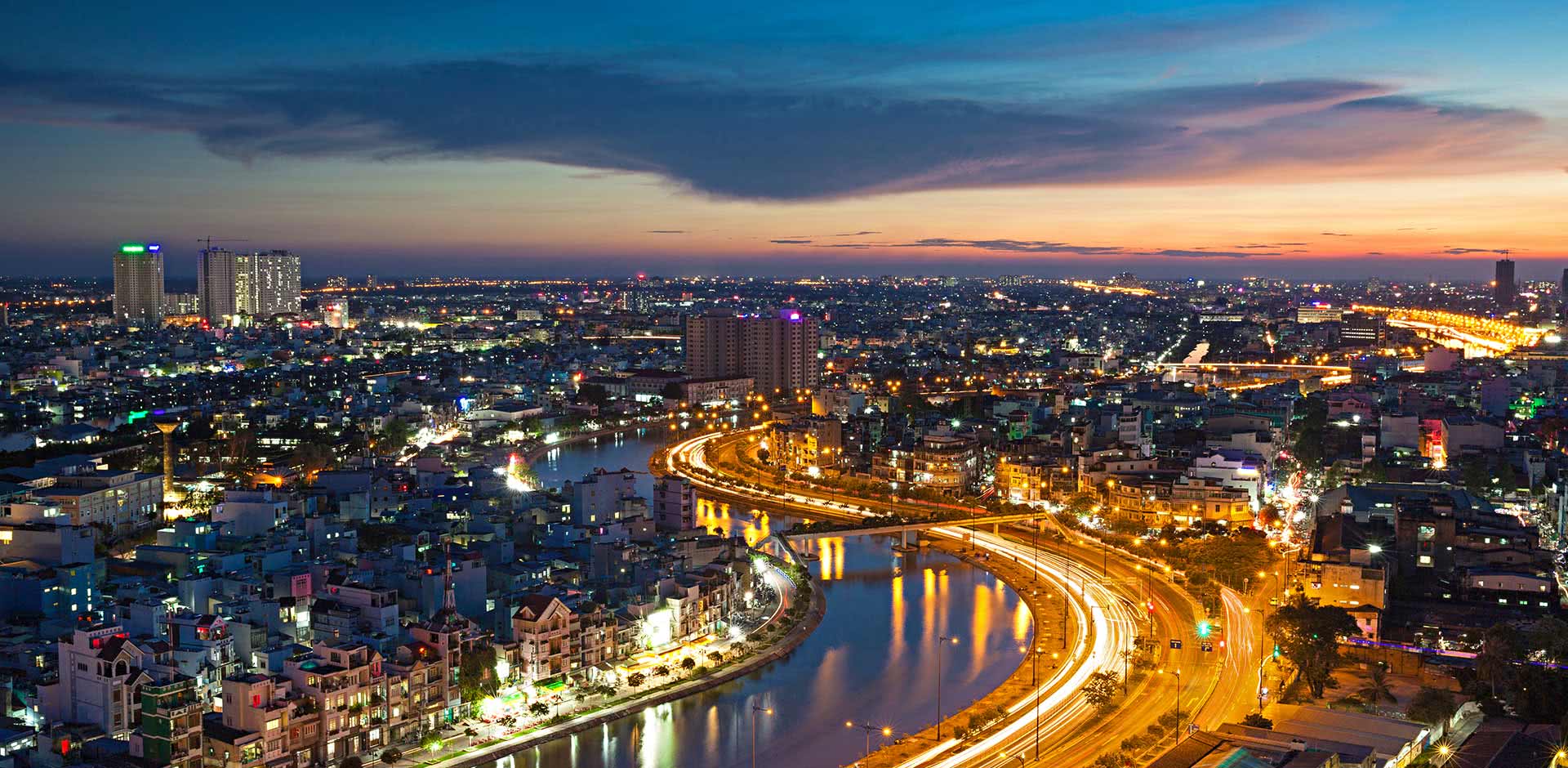 Day 9
Saigon
Your last day is dedicated to the history of modern Vietnam and the war that formed it. Start wtih a visit to the famous Cu Chi tunnels, a short speedboat ride away. This network of underground tunnels were once used by Viet Cong soldiers as hiding spots during combat. Here, you will meet a veteran who will take you through the tunnels and tell you his side of the story of the 'American War.' In the afternoon, you will visit the War Remnants Museum and the Reunification Palace, emotionally-powerful and historically significant sites that are must-sees for anyone who visits this country.
Day 10
Departure
Enjoy your breakfast, whether at the hotel or a last bowl of pho or banh mi on the street, and spend your morning at leisure until your private transfer to the airport for your flight onward.
TERMS AND CONDITIONS
Price is based on double or twin hotel room occupancy and includes accommodation, transfers, car/driver, English-speaking guide, activities and entrance fees, breakfasts and some casual lunches while touring. VIP arrival airport service with visa-on-arrival included. Flights and optional special activities will be quoted separately. Most personal expenses, including dinners, alcoholic beverages, spa treatments and gratuities can be paid on the spot while traveling. Prices may vary depending on season, choice of accommodation and other factors.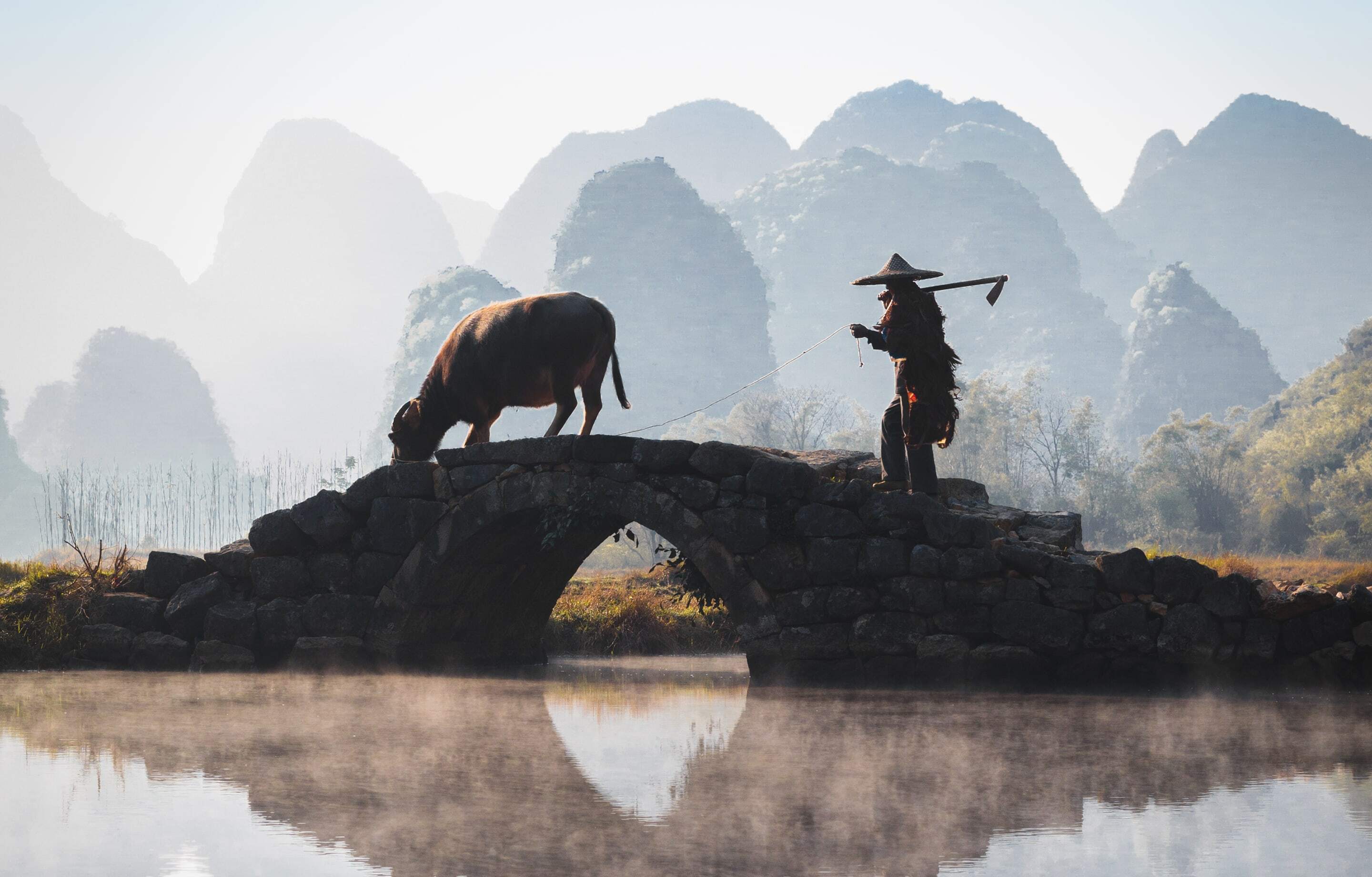 Why Remote Lands?
Exclusively Asia
With Remote Lands you'll travel with people who have made Asia the solitary focus of their own lifelong adventure. As our guest, you'll discover Asia on a journey that is completely, authentically your own, adapted from our own remarkable experiences and adventures over the years.
With Remote Lands you'll travel with people who have made Asia the solitary focus of their own lifelong adventure. As our guest, in the continent that our north American founders Catherine and Jay have adored and explored for decades, you'll discover Asia on a journey that is completely, authentically your own, adapted from our own remarkable experiences and adventures over the years.
Travelogues
An Asia-focused magazine brought to you by Remote Lands – a platform for adventure, luxury, and authenticity from experts and explorers around the continent.
What Others Say
Here is a small selection of the kind words our guests have said about us, as well as features by journalists and travel writers.
From the moment I happened upon the REMOTE LANDS website over a year ago, browsed the options, I knew that this would be well worth it. The entire staff is nothing less than professional with service that made us feel like royals.
This was truly the trip of a lifetime. Magical destinations, the most luxurious hotels in the world, and the most wonderful travel companions we could've wished for. We were treated like family everywhere we went and we have 14 new best friends.
We have used some of the top rated travel specialists all over the world and, without question, Catherine Heald and Remote Lands are at the very top of the list!