In the northernmost  regions of Vietnam exists a remote destination that has been open to tourism for a mere six years. Ha Giang is both a city and a province, and shares a border with China's Yunnan province, with a population of just over 700,000 people. This is one of Vietnam's poorest places, and it shows – not because it is decrepit or run-down, but just the opposite – not being reliant on a strong economy has kept the area pristine and preserved, virtually untouched by the harmful effects of mass tourism and big industries.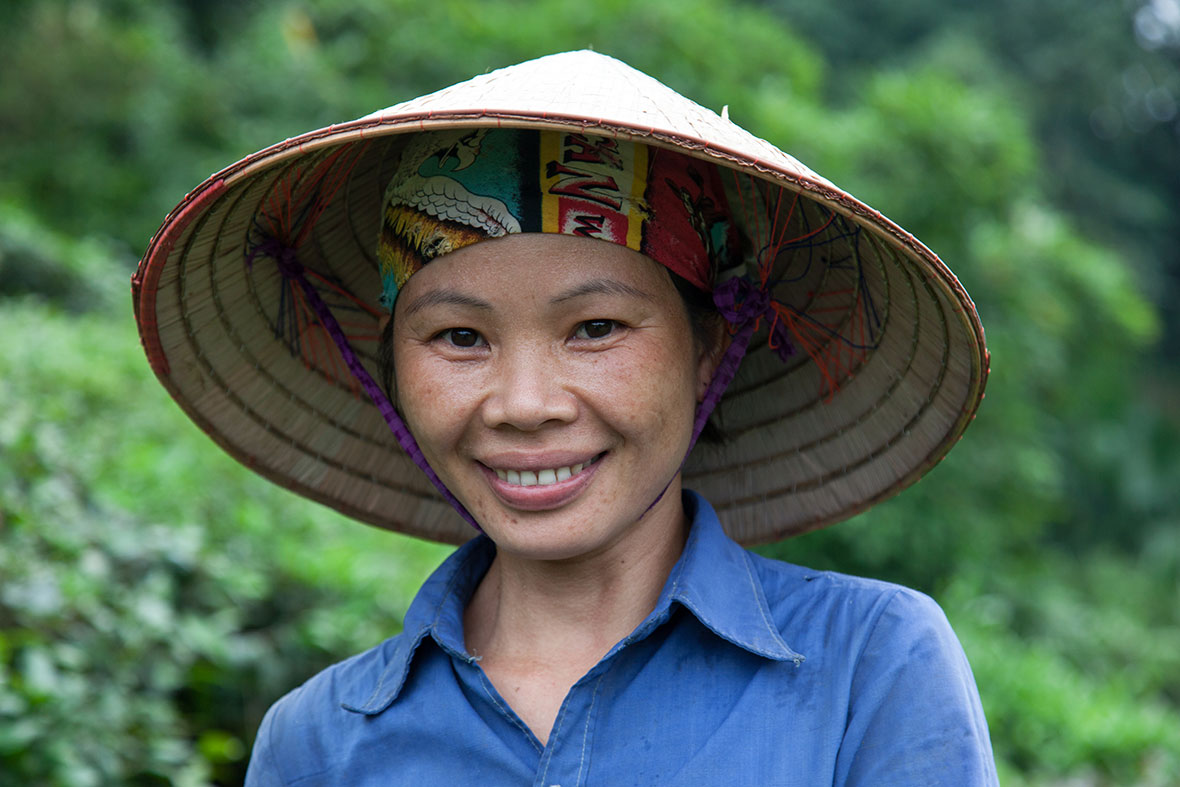 There is no mistaking Ha Giang for a luxury destination – this province is the definition of basic, though it was a lot better than I expected. Visitors to this area must be prepared for, and indeed enjoy, plenty of driving. I drove 25 hours in five days, which is pretty average. The hotels I stayed in were much like the place itself: comfortable and clean, but certainly not luxurious. They tended to be new, with features like hot water, air-conditioning, WiFi, and TV with English channels, but with very little service.
On the first day of our Ha Giang adventure, we drove six hours from Hanoi, stopping along the way at points of interest along the new highway that had only opened a few weeks before. This highway took us to Viet Tri (and continues on to Lau Cai, the gateway to Sapa), from where we took the national road to Ha Giang.
I was surprised to see rolling tea plantations that appeared to be straight out of India or Sri Lanka, though on a slightly smaller scale. We were in Yen Son district in Tuyen Quang province now, just outside of Tuyen Quang city. I snapped a few photos before we were back on our way.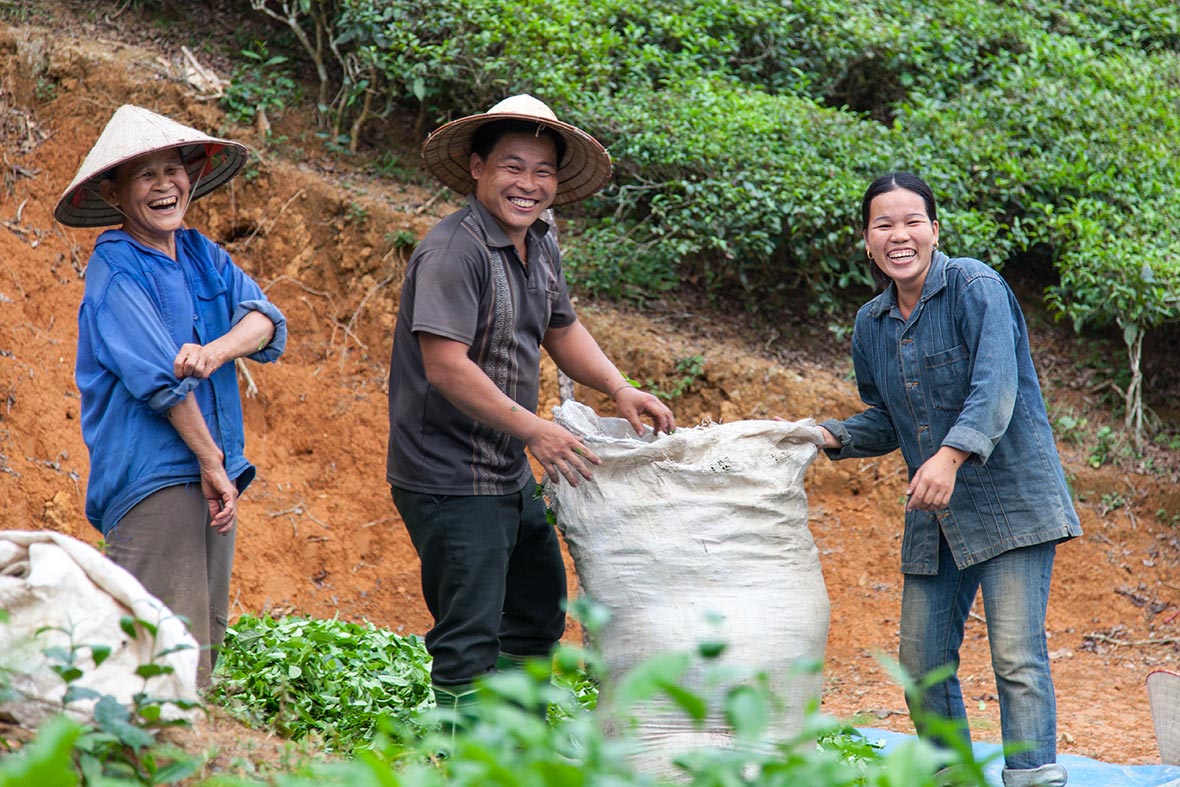 After crossing the border into Ha Giang province, we came upon a second beautiful tea plantation in Bac Quang district. This time, we decided to get involved: we jumped out of our vehicle and trod out into the muddy plantation, where we chatted with groups of terribly shy (not even wanting to show their faces to my camera), though extremely friendly workers. Clearly they didn't get many tourists in this neck of the woods, judging by their expressions, which seemed similarly bewildered and thrilled to be engaging with us. By the end, they were allowing me to snap as many photos as I liked of them, and they laughed with us as if old friends.
As the day came to an end, we rolled in to Ha Giang city and checked in to our simple but functional hotel – the Cao Nguyen Hotel – right in the center of town. It was by no means luxurious, but it was comfortable enough, and had convenient amenities like WiFi, a flatscreen TV, air-condition, and a proper bathroom, which was enough for me.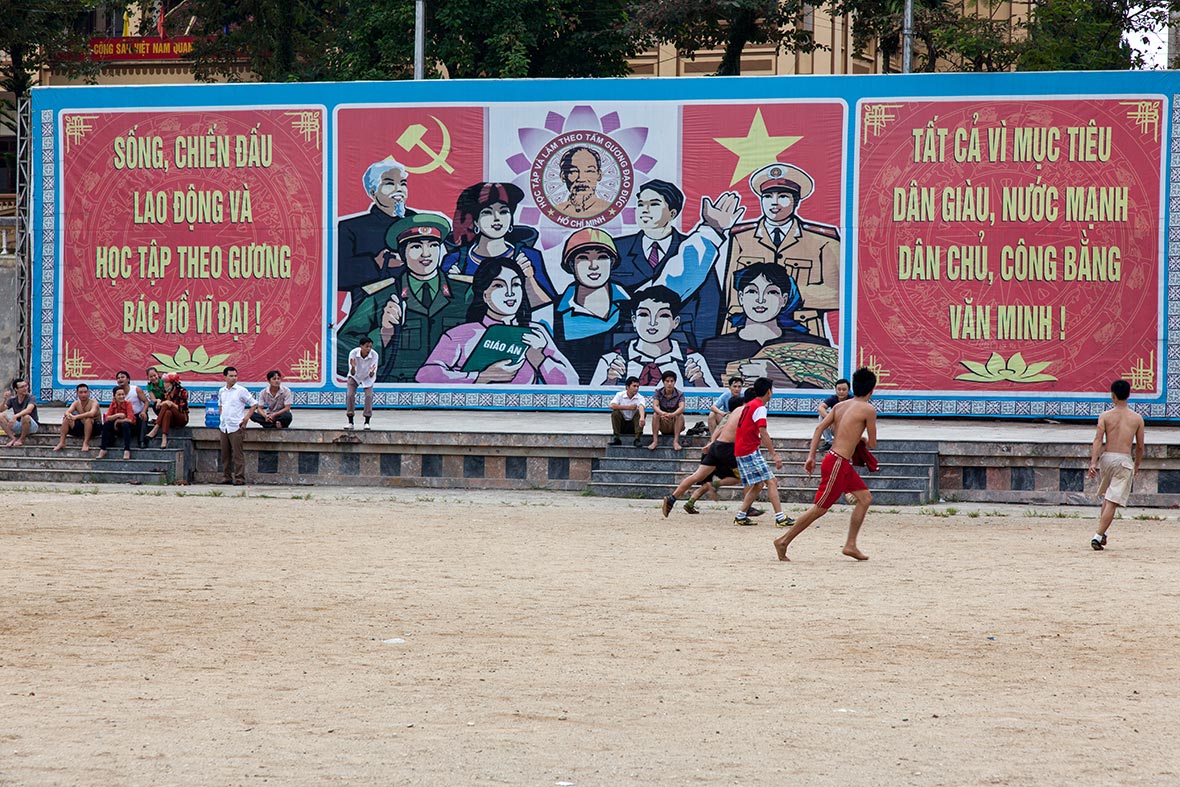 I was woken at the break of dawn the following morning by loudspeakers blaring communist propaganda. My hotel room overlooked a huge communist propaganda poster as well (I was to see several of these during my stay in Ha Giang). Still, in the glow of the early morning sun, I caught a glimpse of Ha Giang city surrounded by majestic karst mountains. It was magical.
We got back on the national road, heading towards Nam Bam. Along the way, we stopped and met some Hmong villagers who were building a house. We descended steep slopes to speak with them, and it was well worth it, for they got a great kick out of our visit. Despite the early hour – 9:30am – the men offered me several shots of local rice wine, which I dutifully drank.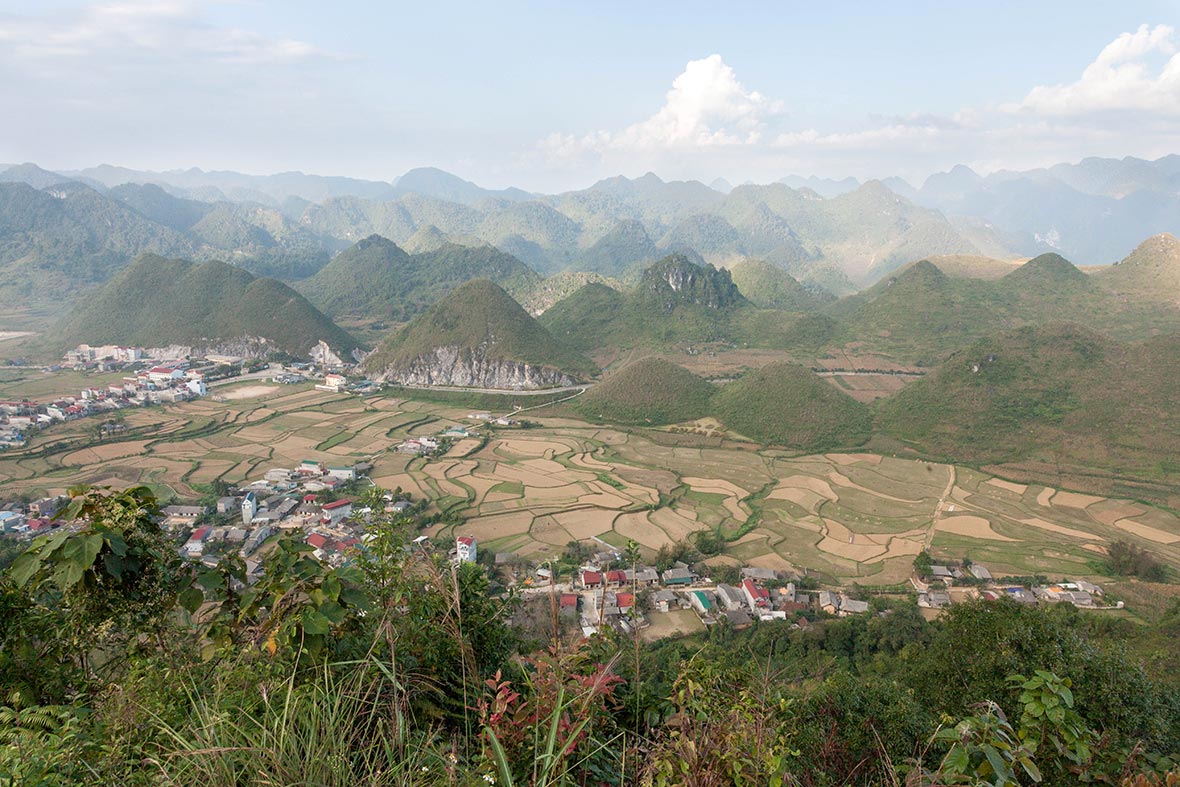 Our next stop was Quan Ba, known as "Heaven's Gate". We stopped at a famous viewpoint overlooking a Red Dao village, and it was easy to see where the place got its name. The view was simply spectacular, with mountains encasing fields and fields of rice paddies. We just had to go and see it close up, so we ventured into the village.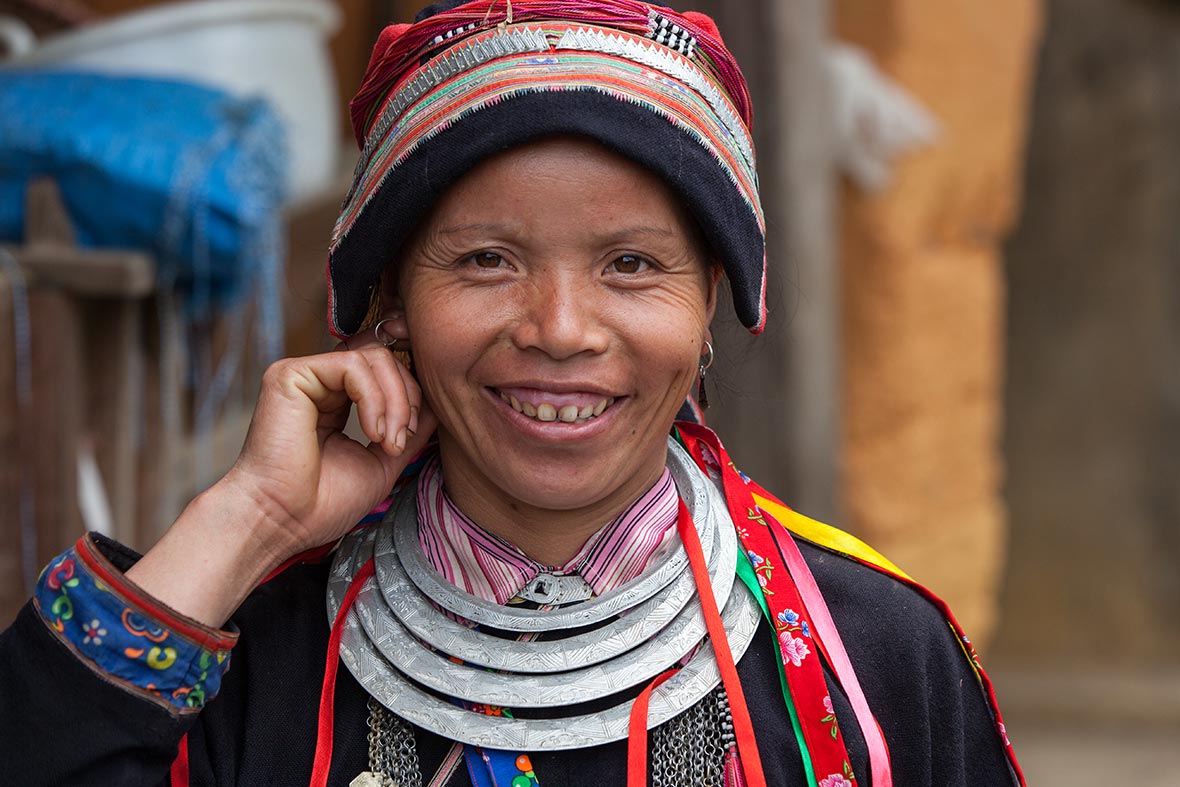 The village I visited is not well-known to tourists, and once again, we didn't see a single other foreign traveler here (indeed, I hadn't seen one since I'd left Hanoi). I was also surprised to not see any of the local Vietnamese groups I'd seen stopping at viewpoints visit any of the villages. I'm not complaining – the lack of tourists makes the visit all the more authentic, which is something I crave when traveling in these remote spots. We were invited inside a local Red Dao home, where we engaged one of the families in a conversation to learn more about their daily life. This also gave them the chance to get to know us, and once they felt familiar and comfortable, they were quite happy to pose for photos. We had a really good time with them.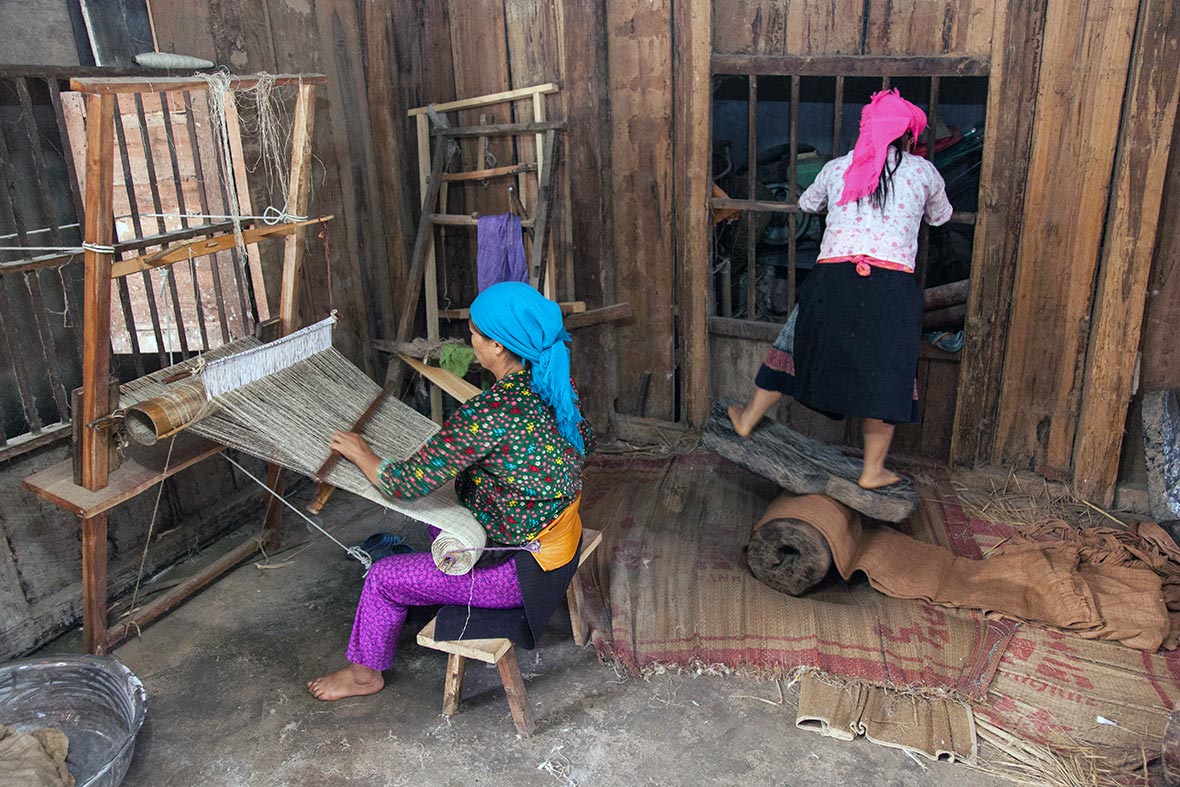 We ventured down into the valley in Lung Tam to visit a Hmong textile workshop. The Blue Hmong of Ha Giang are renowned for their vibrant indigo batik blended with patchwork and cross-stitching. Since we were the only ones there, we were treated to a private demonstration of traditional Hmong textile techniques. I thoroughly enjoyed speaking with the local women and observing their nimble hands at work on the fabric.
We climbed a steep and bendy road to the Yen Minh pass, and stopped several times to snap photos of the stunning rice terraces that unfolded below, before passing through the town within the valley.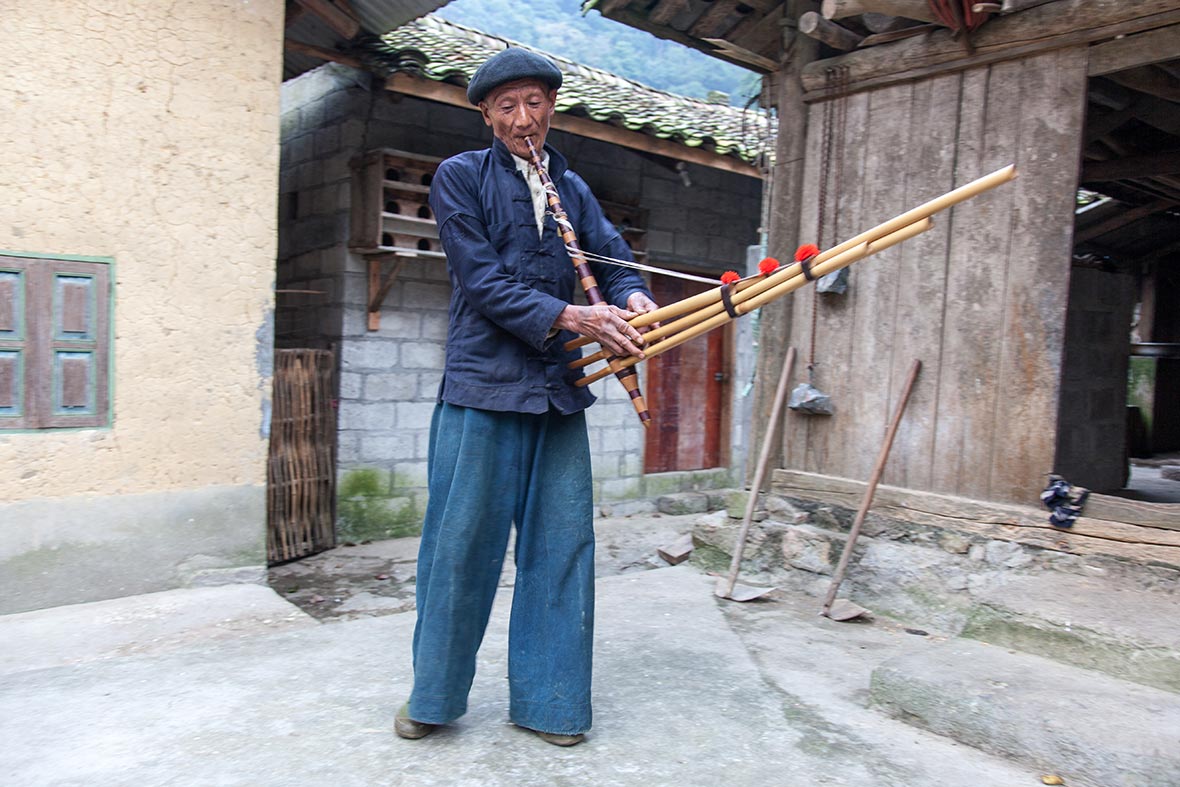 Eager for more local encounters, we drove to a Hmong village called Lung Cam Tren. My guide Cao had arranged a very special private musical performance for me. An old Hmong man played for me on his Khen. The Khen is a wind instrument that dates back about 3,000 years. It consists of a set of bamboo pipes of varying sizes arranged in two rows. It reminded me of a bagpipe, and he played while spinning round and round for more than three minutes each time. It seemed like a lot of work, and I learned that very few people can play this traditional form of music – it is a truly dying art form. The Khen is normally used by the Hmong to commemorate special occasions, so I felt truly honored.
We got back on the road and drove 17 miles to Dong Van, where we checked in to the Lam Tung hotel. It was a simple but new hotel that provided a decent base for me, from which to explore the area. Dong Van is known as a tourist hub, being the northernmost border town in Vietnam, under four miles from the Chinese border and Yunnan province. In spite of this fact, I was surprised to only see a handful of foreigners here (which was becoming a welcome theme of the trip).
On the third day of my Ha Giang journey, we checked out of our hotel and hopped back into the car once again. We were headed to Lung Tao commune to see the fields of purple flowers that bloom in October and November.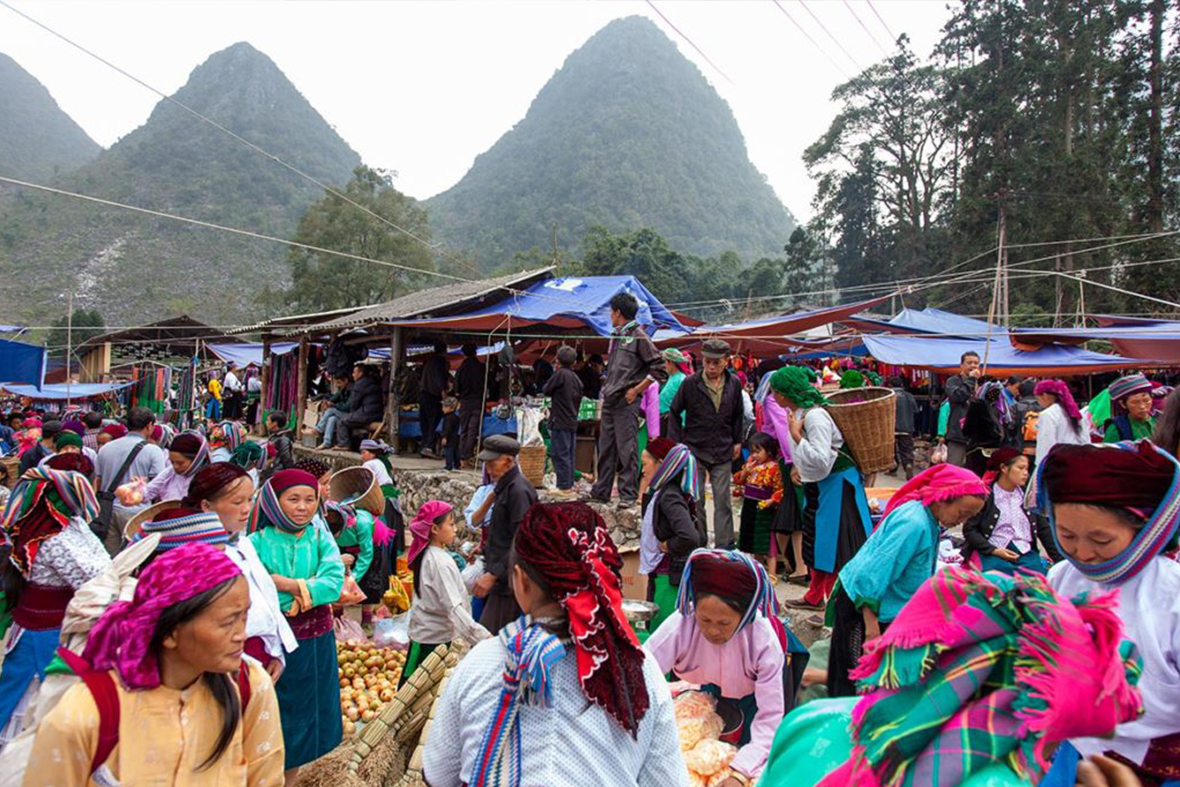 We followed this up with a trip to one of the busiest markets I've ever been to (and I've visited quite a few!). Xa Phin market also happens to be the site of the former Hmong King's palace. The enormous market is based on the lunar days of the snake and pig. I saw a sea of vibrant pink and blue scarves – part of the traditional Hmong attire.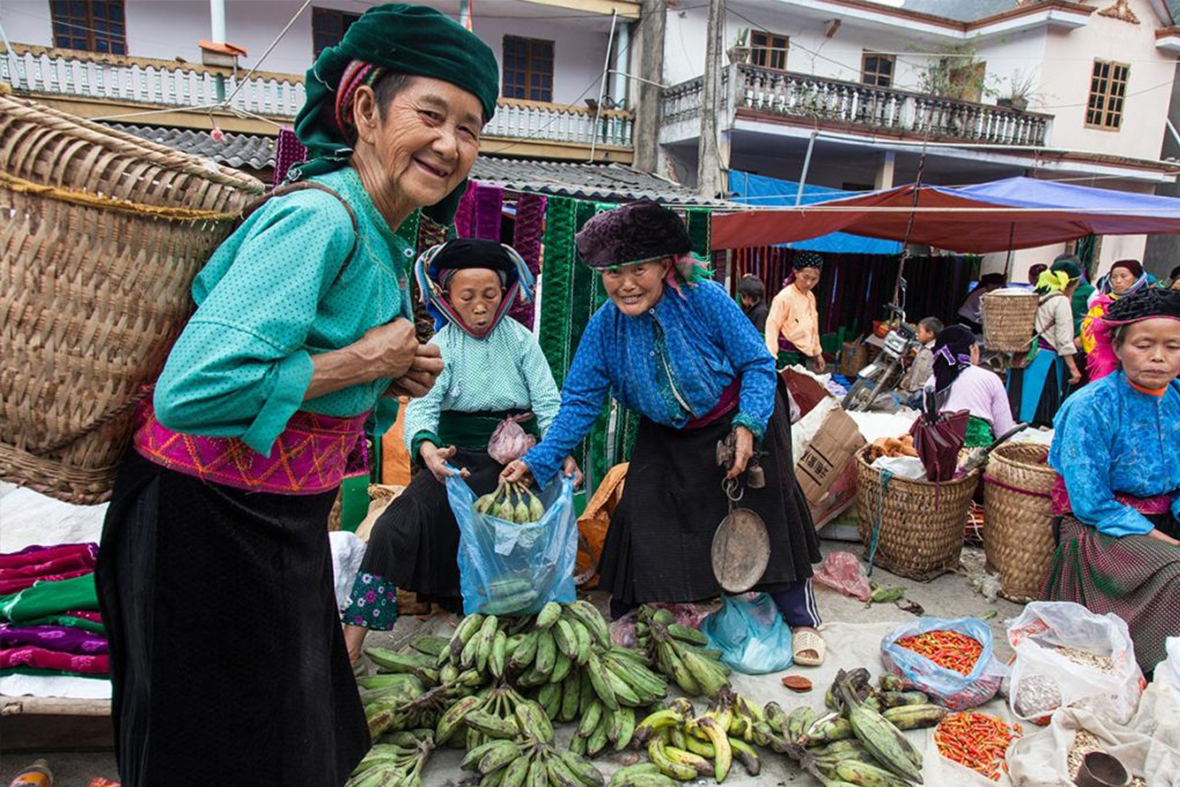 There were hundreds of men and women buying and selling everything from fruits, vegetables, cattle, pigs, clothing, and more. We learned that villagers had walked for many hours in both directions to get to and from the market, and its attendance is an important social event for the tribes. We spent two hours watching and engaging with the people in the market, and then headed for the palace of the former Hmong king, which was teeming with local Vietnamese tourists.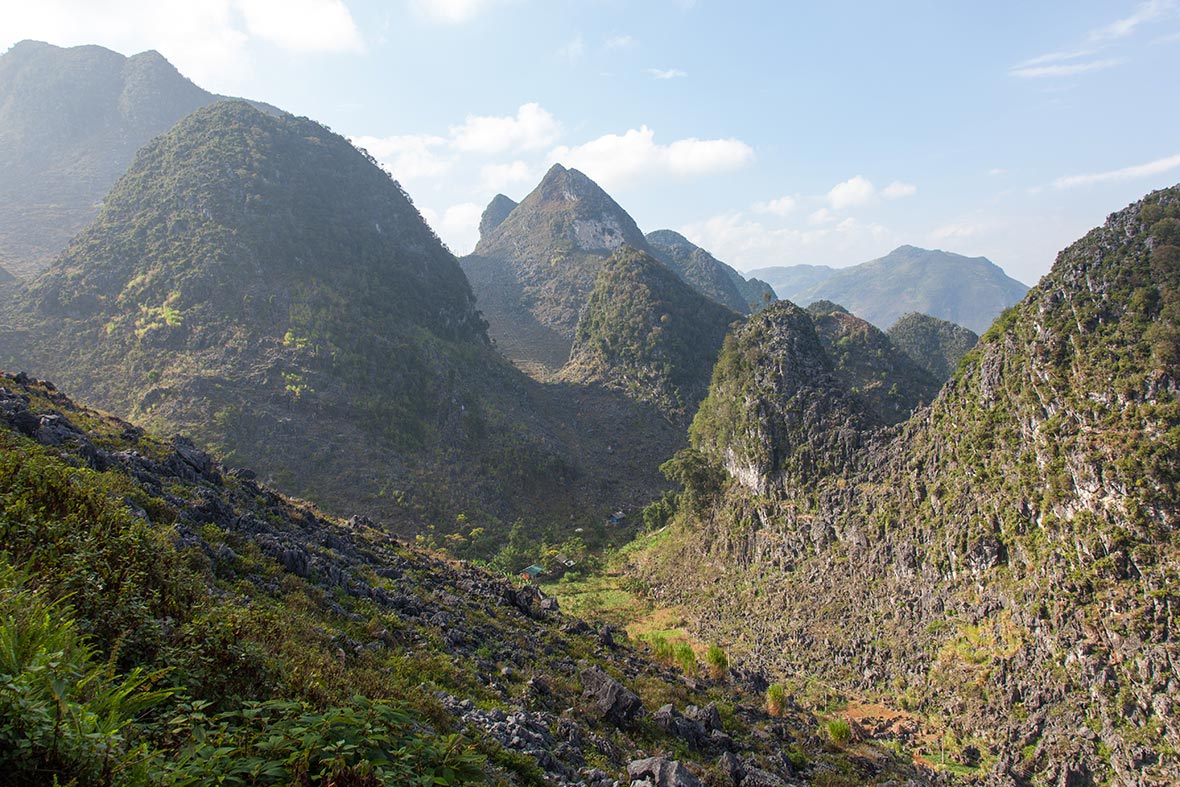 We went back to Dong Van for lunch, and then drove to Meo Vac, crossing over Ma Pi Leng pass along the way. The pass is a spectacular stretch of road overlooking stunning rock formations, rice terraces, and gorgeous scenery. We stopped at every possible opportunity to take photos, of course!
Once in Meo Vac, I spotted a young Vietnamese boy dressed in a police uniform walking with his family. I knew this was a shot I couldn't pass up, so I offered him some candy (with his Mom's approval, of course) in exchange for allowing me to snap his photo.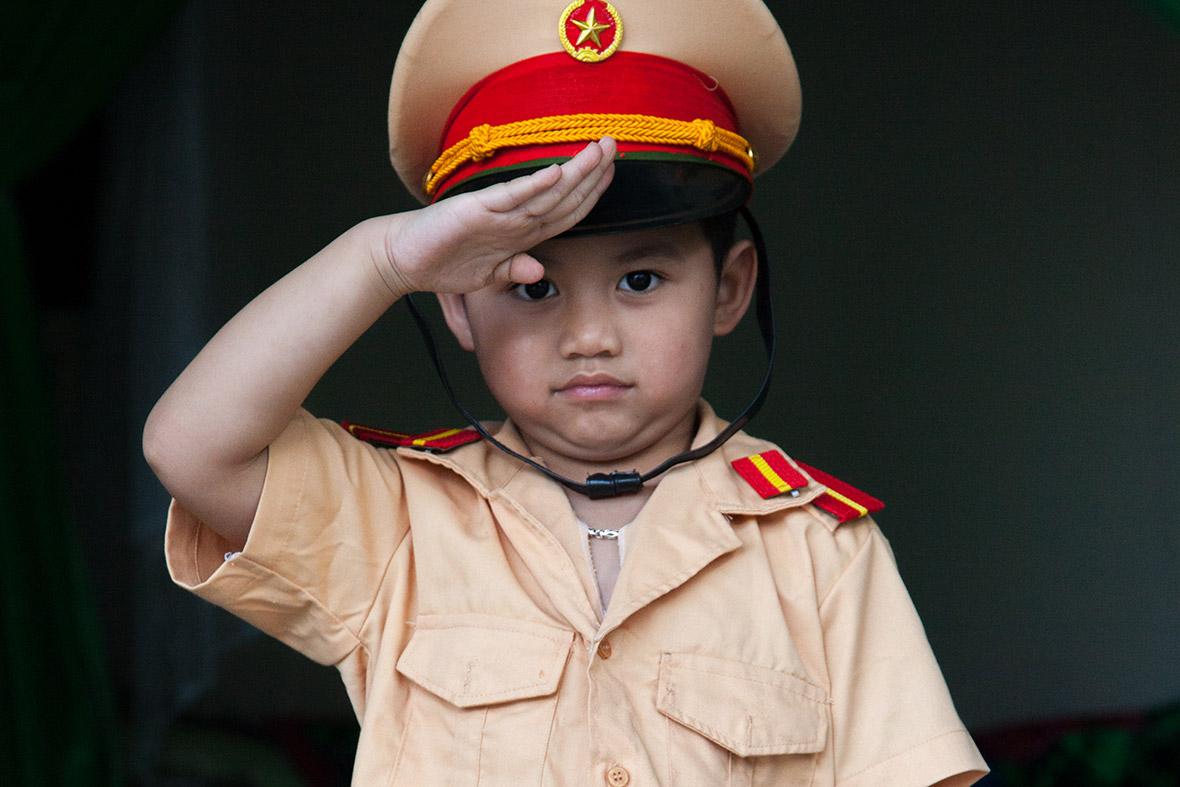 While in Meo Vac, we made our way to a small Lolo village. My quest was to take photos of the fast-disappearing tribe that inhabits the area. The Lolo are split into two groups: the black Lolo and the flower Lolo. The flower Lolo, of course, have the most colorful costumes. Today, there are only 9,000 Lolo remaining out of both groups combined. We visited several families, and some of the women were happy to pose for photos for us, which was a particular trip highlight for me!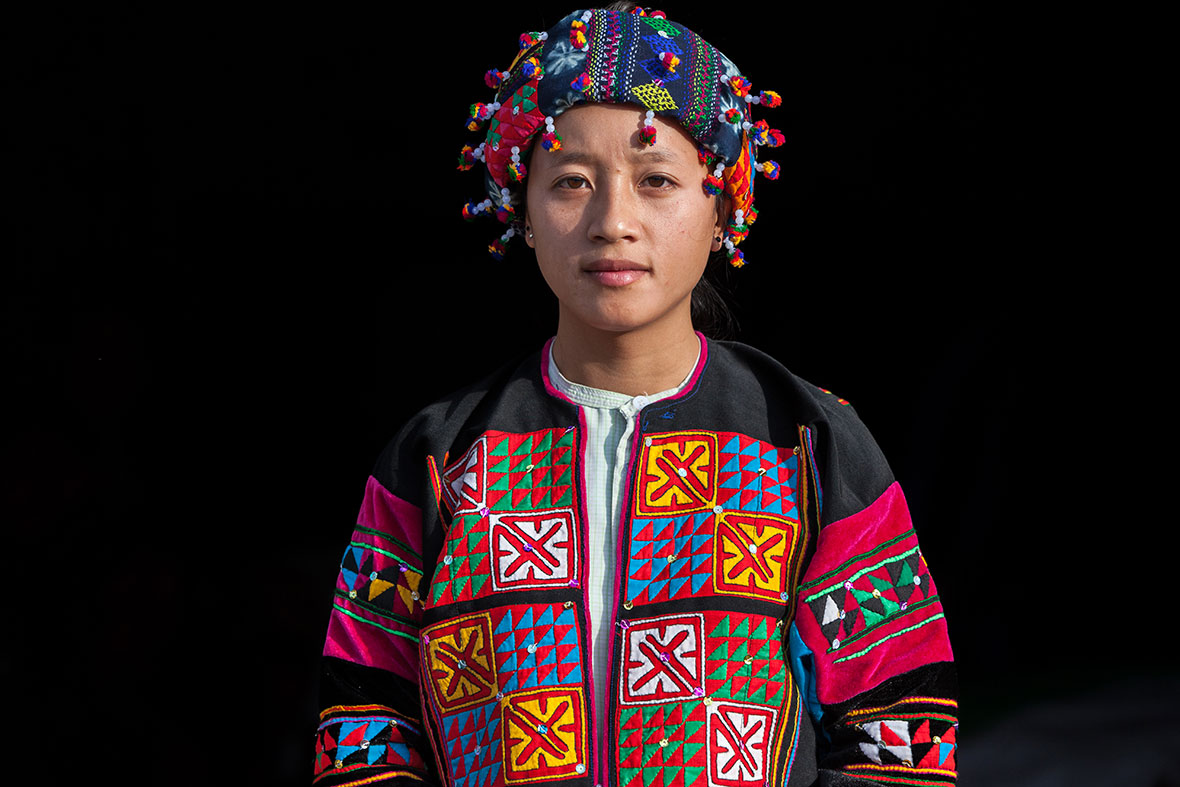 As the day winded down, we headed to our hotel for the night: the Auberge de Mao Vac. It is a new guesthouse modelled after a traditional Hmong house, with modern comforts like private rooms, WiFi, and a cafe. It was clean and comfortable, with the best showers and bathrooms of the entire trip – though they were shared bathrooms in keeping with the "family-style" concept. Set within a farming community, this hotel is not for light sleepers, but those who don't mind being sung to sleep by cows, chickens, and other animals will enjoy a pleasant night here.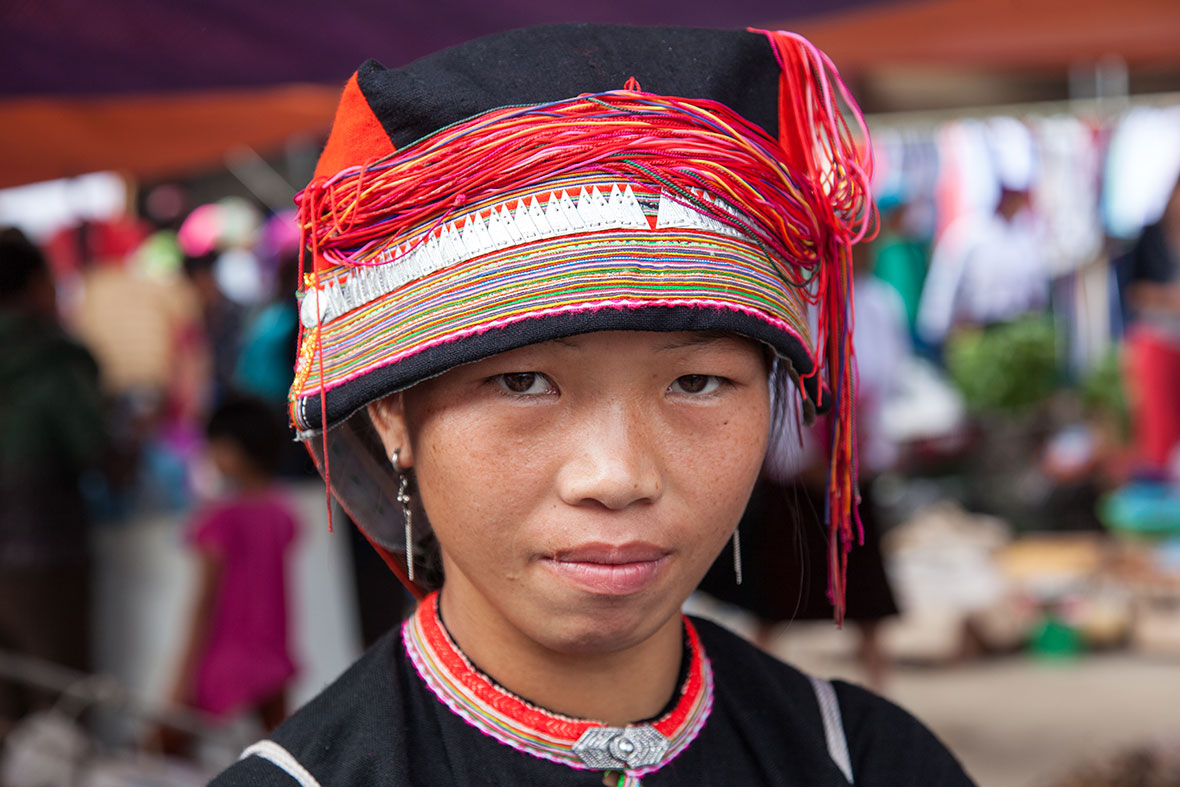 We awoke to the sound of – you guessed it – animal noises, and the ever-pervasive communist music piped through the village over loudspeakers. We were headed to the Mao Vac Sunday market, just a quick five-minute walk from our hotel. The market was populated by both Hmong and Red Dao tribal members. It was much easier to navigate than Xa Phin market – though it was also crowded and one of the biggest markets I'd seen – and I found the people more open as well.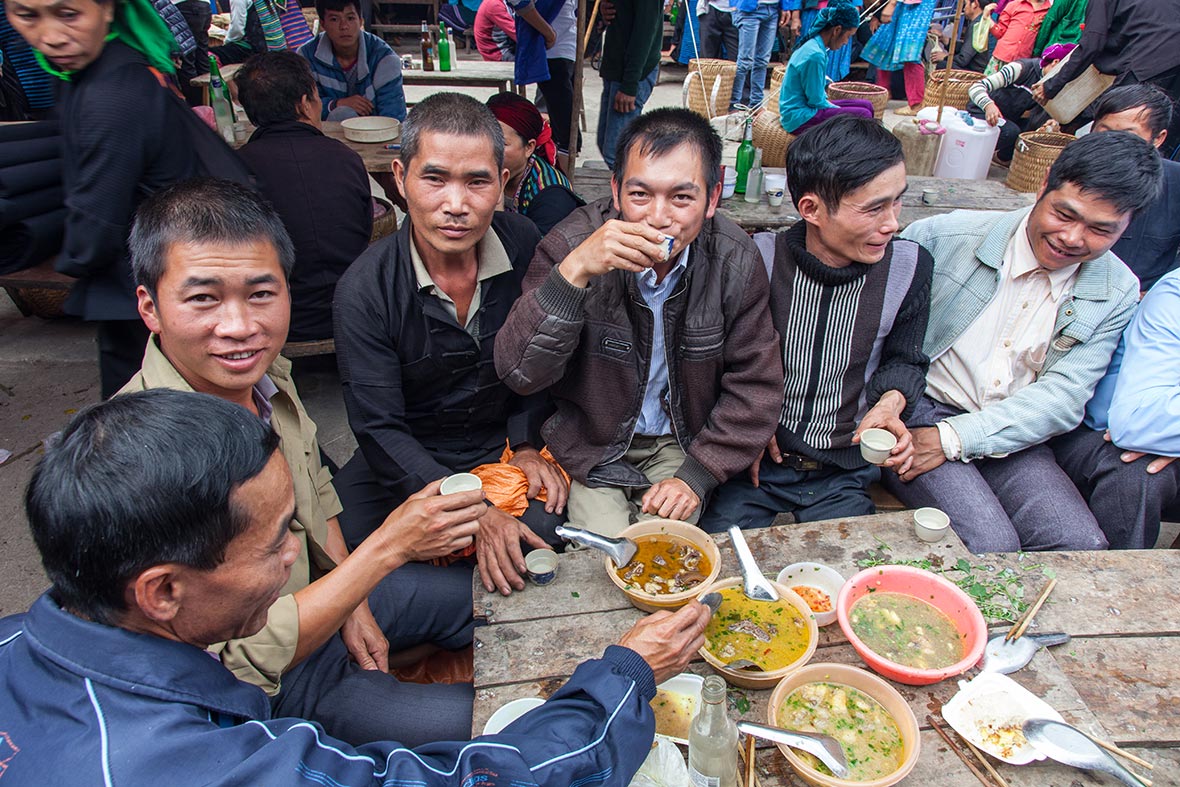 I saw fruits, vegetables, clothes, and animals being sold at every turn. We chatted and joked around with some of the local women, and the men were constantly offering me local corn wine (known as Ruou Ngo in Vietnamese), which they delighted in seeing me drink. One thing that stood out to me on this trip is that the Hmong and Red Dao men drink a lot of booze, and time of day is no concern. It can be 9am and you'll see groups of Hmong and Red Dao men at this market knocking back glass after glass, getting wasted. Cao told me he'd seen men passed out on the side of the road on their way home from the market.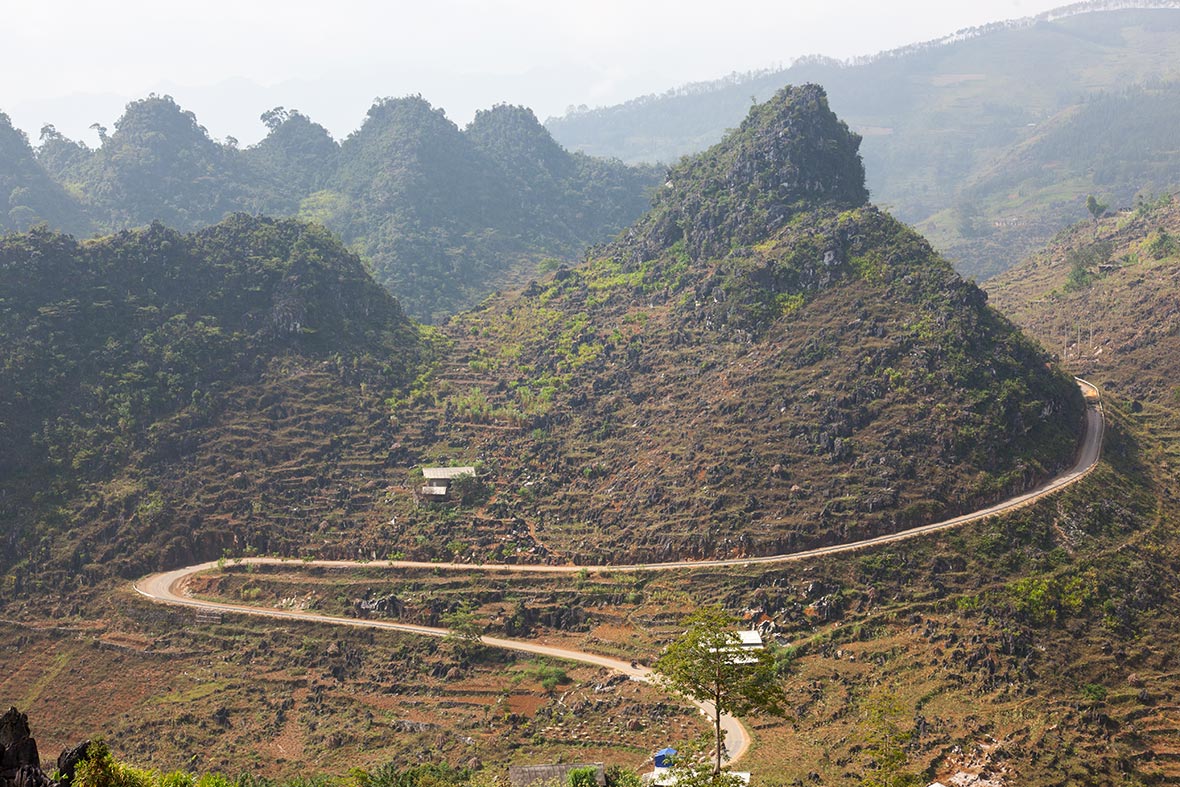 After the market, we drove 20 miles to a Mau Due rice terrace. Here, we found a number of Red Dao women trudging down a long path back to their villages. We followed them, heading down the path and across the river to check out the rice fields and explore a Tay village. The Tays are the second-largest ethnic group in Vietnam, and they usually build their villages at the foot of mountains.
Next it was back to Yen Ming town, where we enjoyed a delightful local lunch, and stopped at Nam Bam for a few photos of the Red Dao once again. We revisited Quan Ba pass, and then headed back to Ha Giang city.
On the final day of our trip, we drove a final six hours back to Hanoi, stopping along the way at one point to trek into the tea fields and speak with the girls who were picking tea. Once in Hanoi, we boarded our flight to Bangkok and headed home.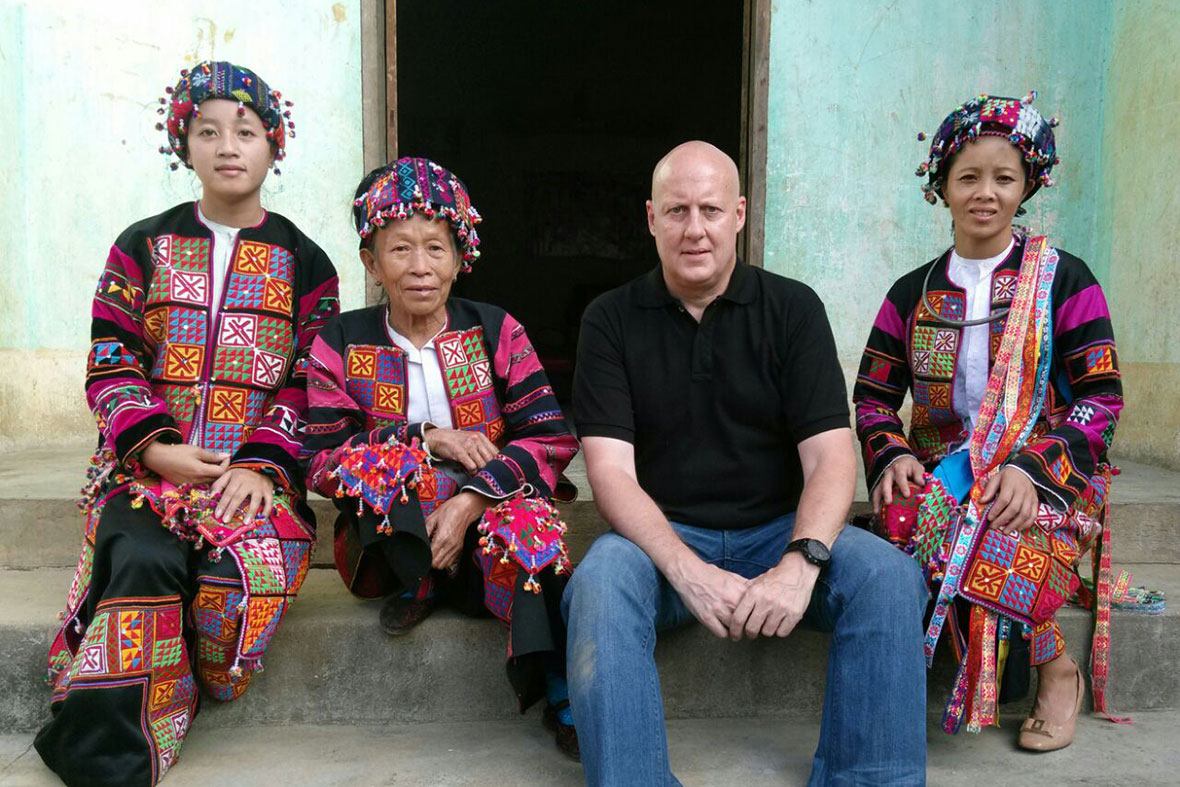 My visit to Ha Giang made me excited about Vietnam once again. I get a huge thrill out of these kind of authentic, non-touristy experiences that can only be found in some of the most remote corners of the world, and Ha Giang is definitely one of those places. It was a real honor and treat to have the chance to meet with members of rare tribes, and take in some of Vietnam's most exquisite scenery.