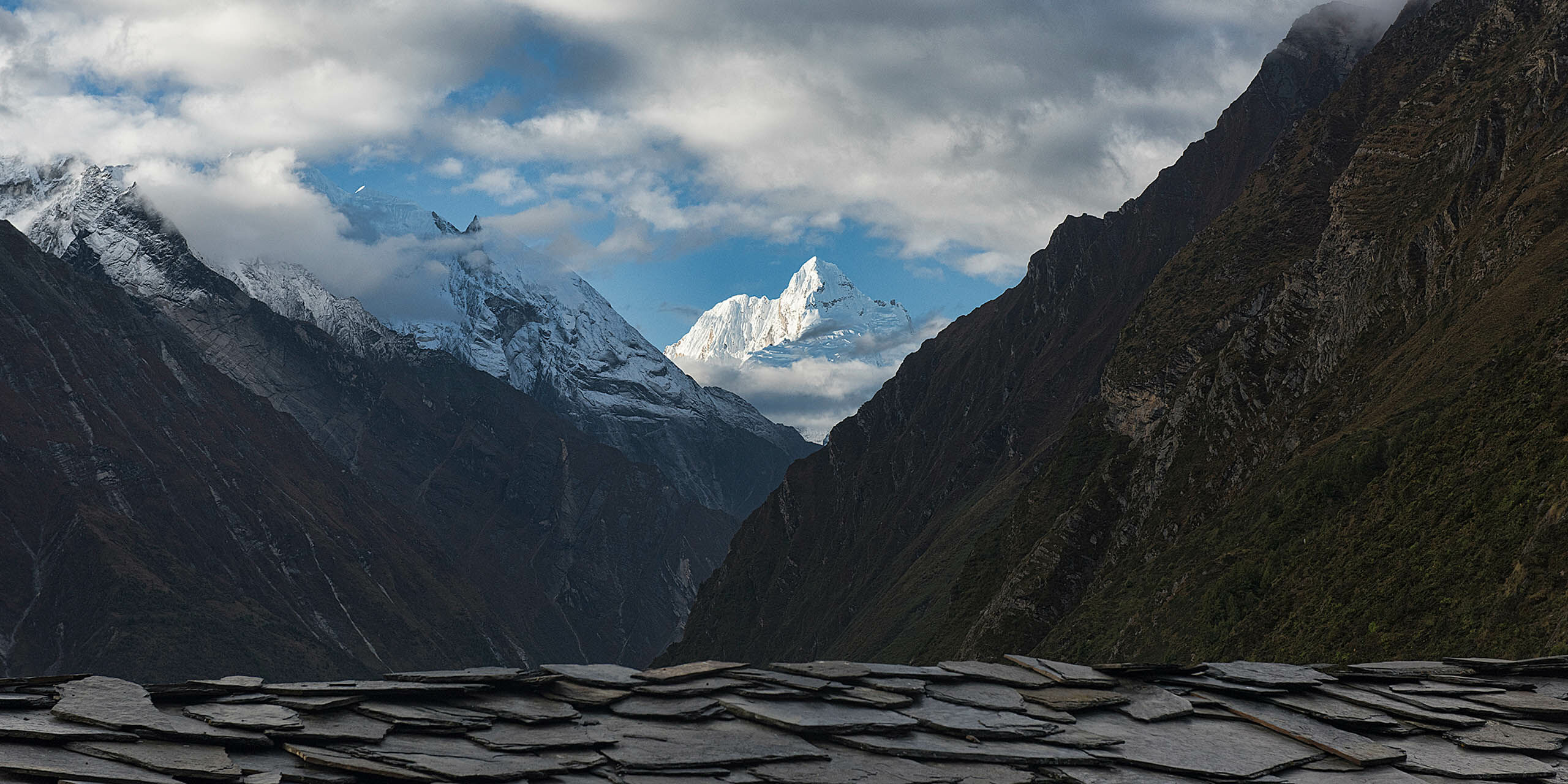 The Himalayas are high on every adventure traveler's bucket list. However, if you are planning a trek to Everest Base Camp or the Annapurna, you are going to be in good company. Plenty of it. I've been coming to the Himalayas for years, and Nepal has been my favorite country in the world for many a moon, but the crowds in the Everest and Annapurna regions have just become too much. Covid gave us a short respite, and a few brave souls got to experience the Himalayas without the masses, but as travel has picked up again, the dusty trails and lines of trekkers have returned. I opted on a recent journey to explore the little-known Tsum Valley, a Tibetan side valley located off of the Manaslu Circuit Trek, and a magical place that has only been open to outsiders for the greater part of a decade. It offers adventurers the chance to see a traditional part of Nepal that has all but disappeared elsewhere.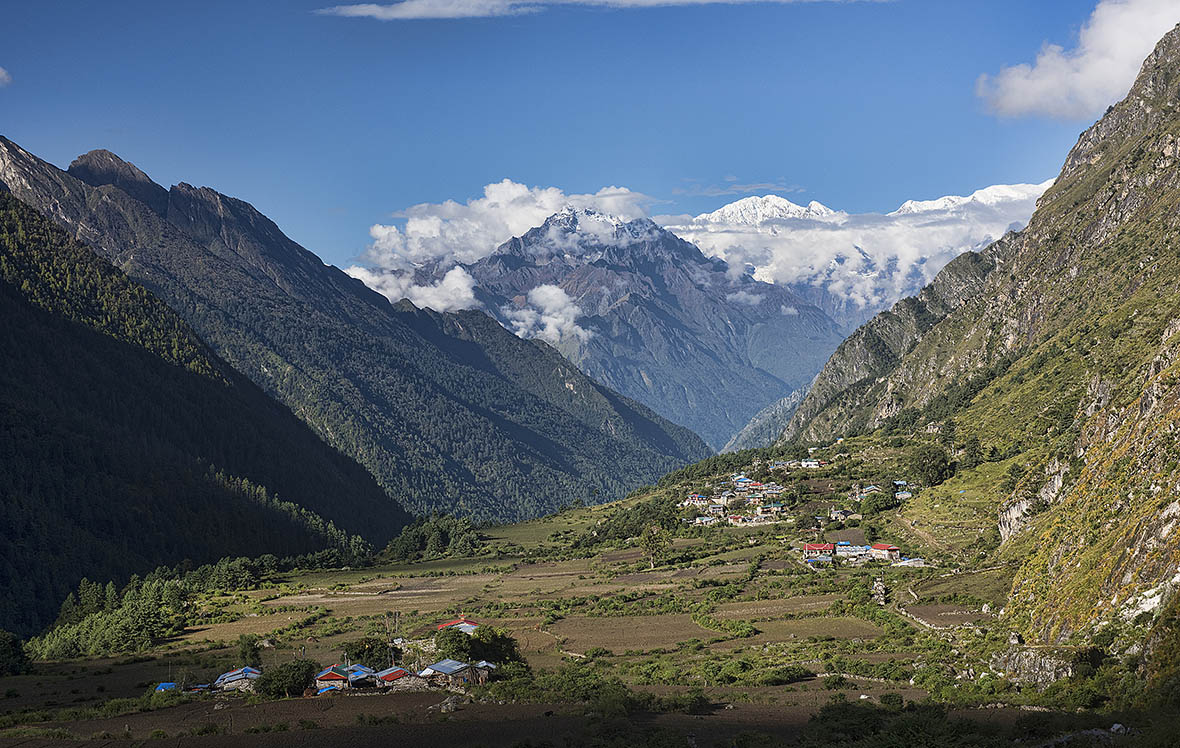 Other than some of the remote regions of western Nepal, the Tsum is one of the most secluded valleys in the Himalayan Kingdom. It's a four-day walk from the nearest road and is inhabited by the Tsumba, a Tibetan group of pastoralists, who practice shagya, a culture of non-violence rooted in Buddhism. The Tsumba adherence to this means there is no hunting in the Tsum, making it one of the best places in Nepal to spot wildlife. Bharal sheep and Himalayan tahr deer are commonly spotted on slopes, and even elusive snow leopards can be seen at times.
Trekking the beginning of the beautiful Manaslu Circuit to get to the Tsum, I passed through a warm subtropical landscape with rice terraces set above the roaring Budhi Gandaki River. Further afield, the lower reaches of the Tsum are at around 2000 meters, which is fertile growing terrain in Nepal. Tsum comes from the Tibetan word "tsombo," which means vivid, and the villages here are a lush basket of green fields made up of beans, wheat, millet, and buckwheat. Although if you pass through in late October as I did, the harvest will be in full swing, with crops turning golden and being hung to dry in the sun.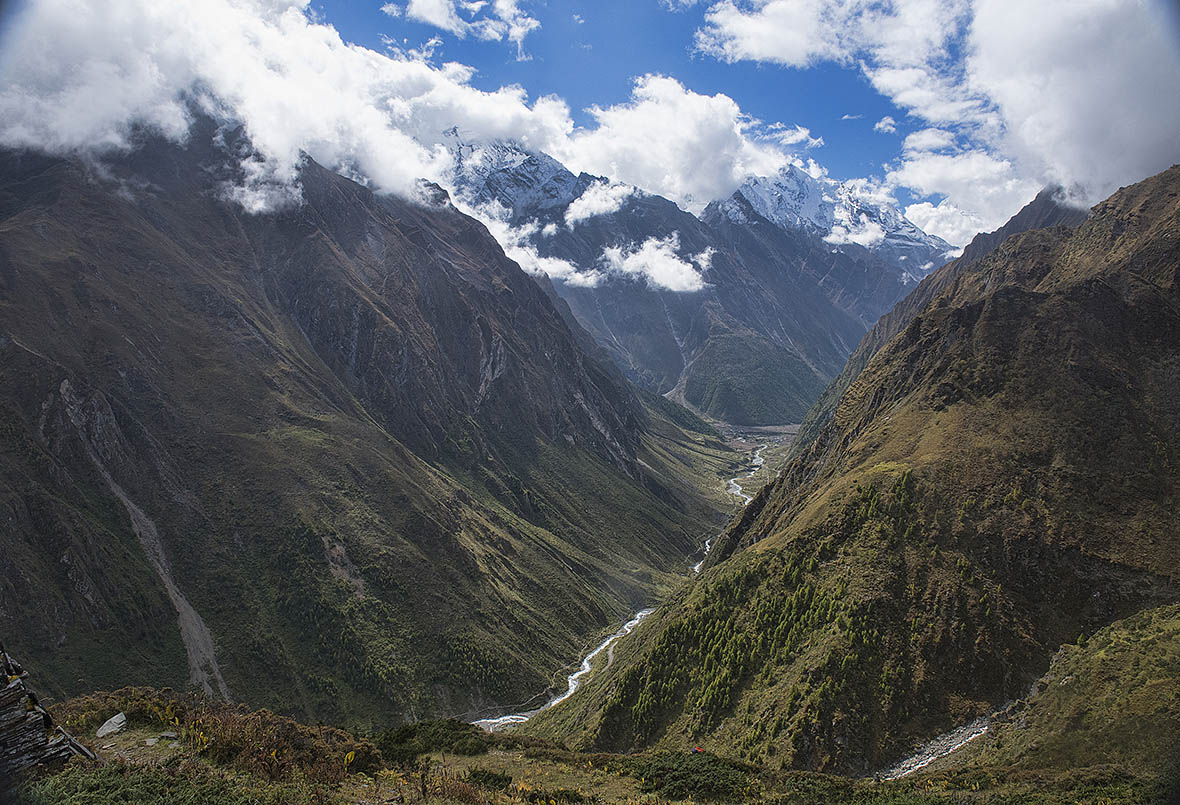 As one leaves the Budhi Gandaki and climbs up into the valley along the Siyar River, stone chortens and Sanskrit-engraved mani walls mark the entry into the Tibetan Buddhist world. As opposed to the Everest region, where the higher elevation lodges have been set up solely for tourism, here I'm on a trade route that has been used for centuries, weaving up to the high passes at the top of the Tsum that leads into Tibet.
From Lokhpa village up to Chumling is probably the hardest part of the trek, as the trail crosses landslide zones, falling away in places to the valley below, with constant maintenance needed by villagers to ensure their safe passage. In one precarious spot, I had to wait several hours, as porters and villagers combined to cut steps into a steep slope with loose boulders, making it safe for our party to proceed.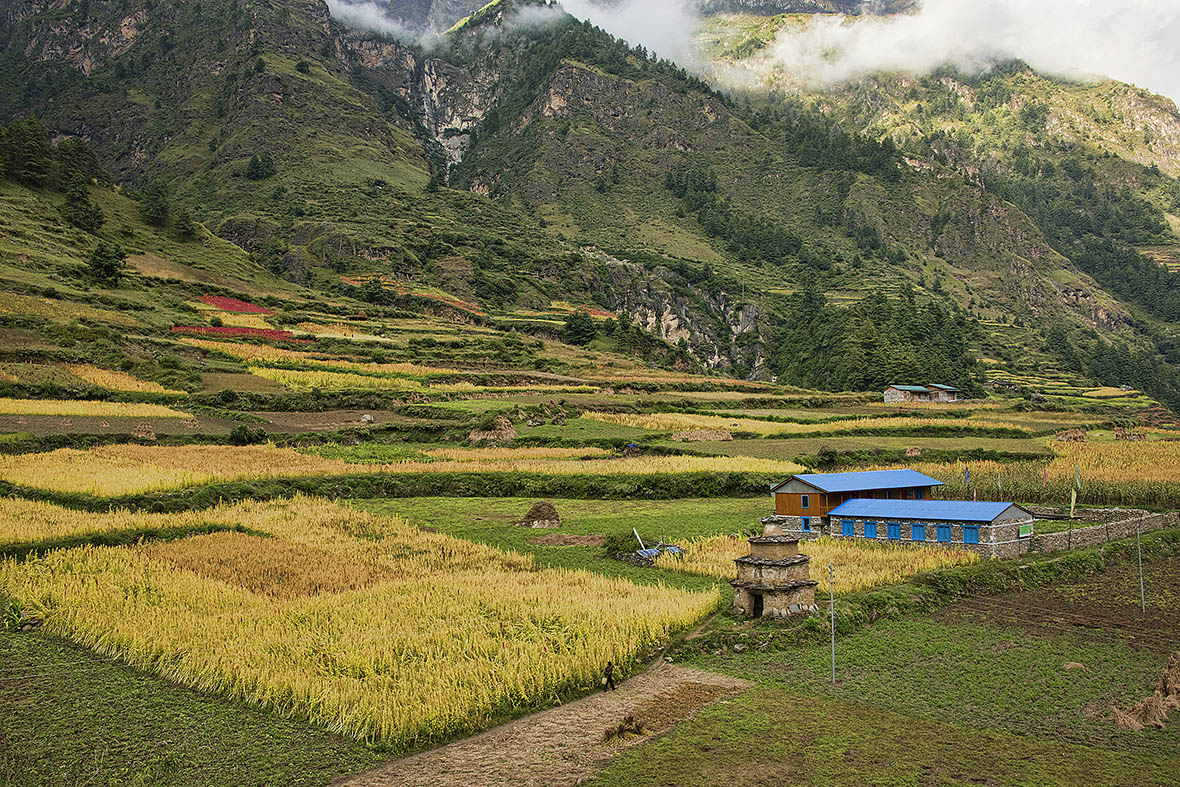 Higher up, the Tsum flattens out into an enchanting valley, wide and filled with tilled land. Colorful amaranth and golden barley and millet give the valley an Impressionist painting feel, and I'm not the first traveler here to be enchanted by the landscape. Padmasambhava, an 8th-century Buddhist monk also known as Guru Rinpoche blessed this area, naming it a beyul, or hidden secret valley, only open to those of pure heart and mind. According to tradition, beyuls tend to be cut off from the rest of the world and resemble a Shangri-La, reachable only by pilgrims who make the effort to reach them.
In Chhokhang Paro, a large village set on a flat plateau of arable land at 3000 meters, I stop for breakfast at the New Milarepa Guesthouse, run by the amiable Pembu Lama, a 27-year old who left the village when he was nine to go study in India and has recently returned to help his family run a new teahouse lodge for trekkers. During his time in India, Lama was exposed to the outside world, and he says that without the internet, newspapers, or little communication it can be hard to remain here, especially for any young people who have traveled. "Other than tourism, there isn't much to keep young people here these days," he says, but then quickly adds, "Yet you won't find a place with more fresh air, peace, and quiet, and no stress than here, and as long as we can make a living, my family will stay.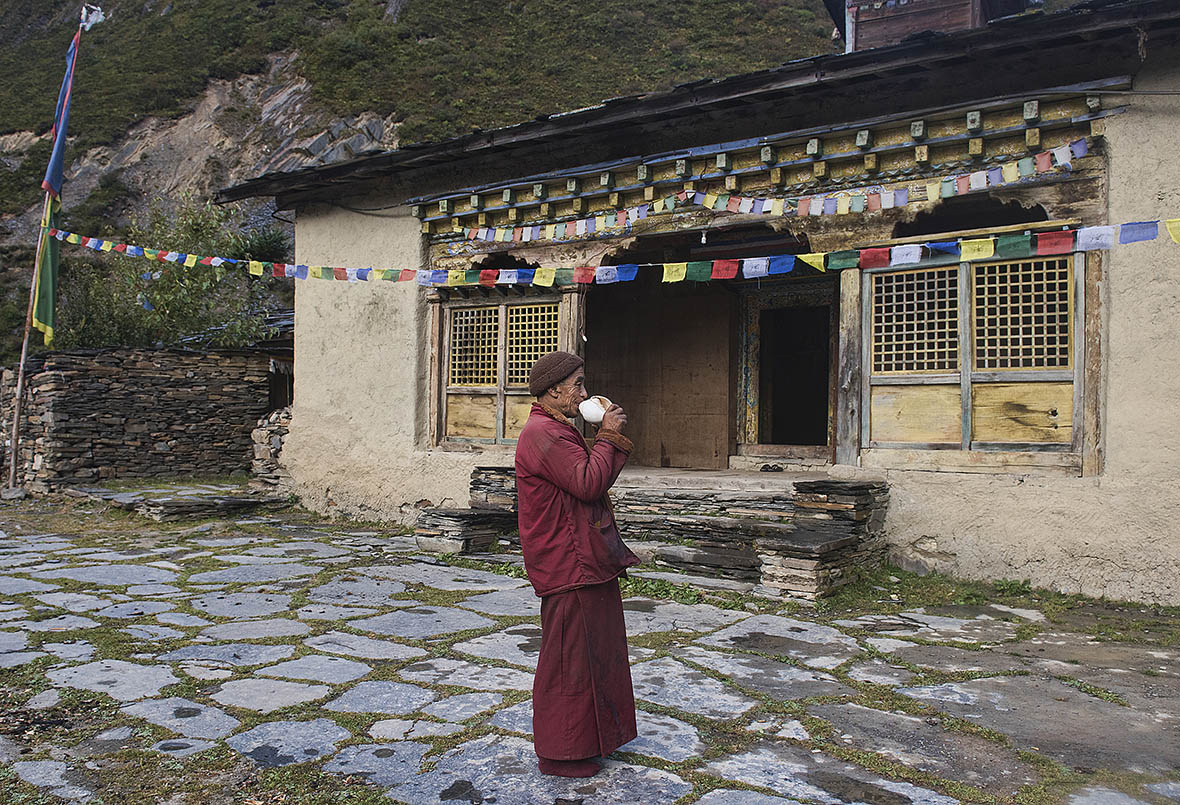 There is something more than tourism that keeps the Tsum economically afloat. Yarchagumba (Ophiocordyceps sinensis ), a caterpillar fungus promoted as Himalayan Viagra, grows in the highest reaches of the valley here and is considered a prized herbal remedy in Chinese medicine. Picked by villagers during the wet monsoon months of May-July, it sells for over $25,000 a kilo, although it has recently been put on the IUCN's Red List for vulnerable species, with the conservation union hoping that governments will put pressure on its collection. While I'm not in the Tsum during the growing months, when I ask my lodge-keeper about it, he whips out a small dried piece of the fungus for me to check out. It's the local version of Tibetan gold.
Climbing higher into the Tsum, old women leading yaks with bundles of firewood tied on them pause from their journeys down-valley to lift their hands folded in prayer to salute me in respect, and their children following along do the same, a far cry from more popular trekking routes like Everest where kids beseech trekkers for candy or money. In this part of the Tsum, monasteries play a big role everywhere, and I'm also constantly passed on the trail by maroon-robed monks. The revered Tibetan saint Milarepa is alleged to have spent time here, and he blessed the Tsum, calling it Kyimolung, which means the "hidden valley of happiness."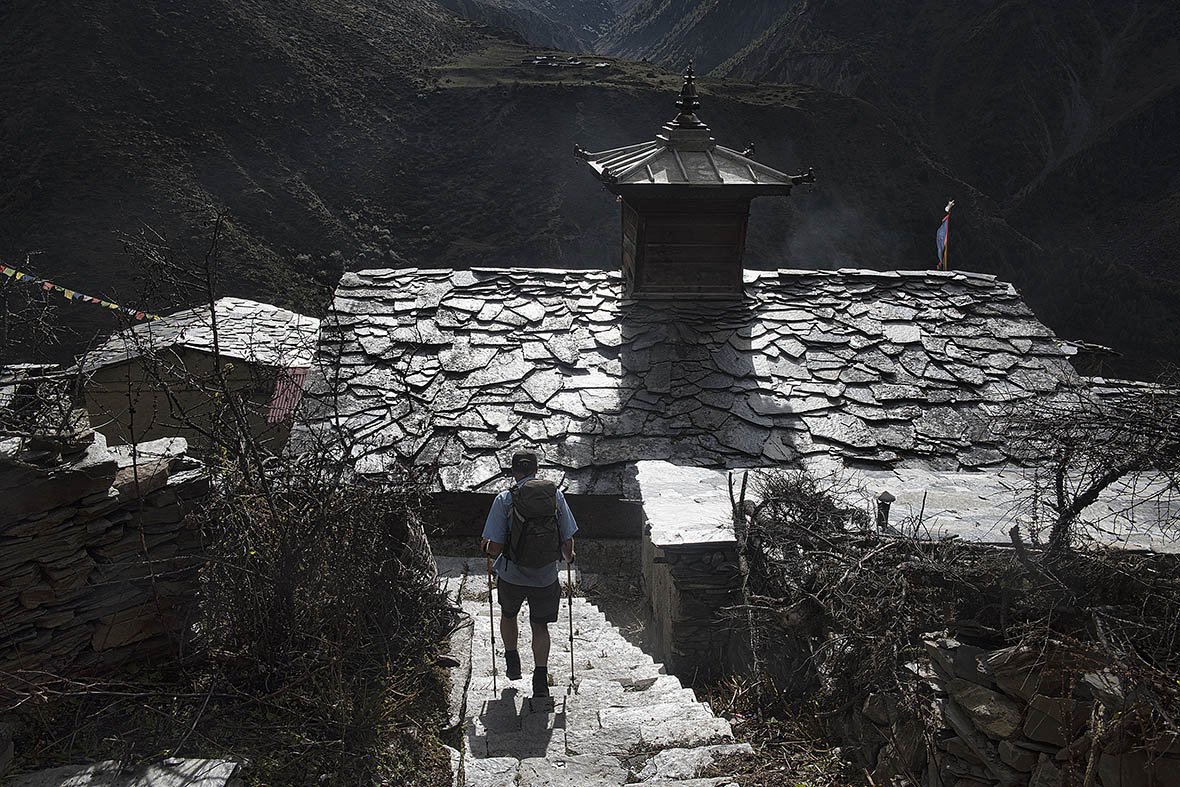 Mu Gompa, at 3700 meters, marks the end of the Tsum, or at least as far as foreign visitors can go. A large slate-roofed monastery sits on a hilltop here, looking out at the passes into China above, and down the valley towards the snowy peak of Himalchuli, a 7,900-meter giant that dominates the landscape. Trekkers can stay in the monastery guesthouse here, which is basic, but welcoming.
A lone monk stands in the monastery courtyard and blows into a conch shell, calling the monks to evening prayer. I dig into a platter of dal bhaat, the lentil and rice curry that fuels most of Nepal, and stare down the valley at the snaking Siyar River, which I've followed up to get here. This hidden valley of happiness reminds me why I continue to return to Nepal.