Example Itinerary
Blast Off in Central Asia: 14 Days in Kazakhstan & Uzbekistan
Fourteen days, two countries, eight cities and one rocket launch: there are not many journeys that you'll make quite like this one. Over the course of two weeks, you'll be treated to all the important historic sites of Uzbekistan and its ancient Silk Road cities, as well as witnessing a once-in-a-lifetime event – the "Soyuz" rocket being launched into space from the cosmodrome in Baikonur. The itinerary route starts in the Kazakhstan's largest city, Almaty, and a trip to the highest sports complex in the world. After a journey through the rugged Kazakh landscape to the launch site in Baikonur, it's then on to explore three of the world-renowned jewels in Uzbekistan's ancient crown: Khiva, Bukhara and Samarkand; each city as elegant and fascinating as the next.
This itinerary is an example. It's designed to inspire you and provide you with thoughtfully curated ideas. You can choose to do this exact itinerary or completely personalize it. All trips are 100% bespoke.
Highlights
• Astrotourism: Watch, wait, and then feel the wall of sound hit you moments after the Russian "Soyuz" rocket blasts off into space from the launch site in Baikonur.
• Mountain Skating: The highest sports complex in the world includes an outdoor ice skating rink, which overlooks Almaty and is flanked by snowcapped peaks.
• Azure Architecture: The mesmerizing Shakhi-Zinda necropolis of Samarkand is noted for its blue-tiled mosques and mausoleums.
Day-by-Day
Day 1
Almaty
After touching down in Almaty, Kazakhstan's largest city, a short tour kicks off proceedings. Visits to Panfilov Park, Zenkov Cathedral, Central Mosque Medeo skating rink (part of the highest sports complex in the world) all feature on the bill. After lunch in Medeo, a short cable car trip Kok-Tobe awaits, which, as the highest point in the city, offers incredible panoramic views. Overnight in Almaty at the Ritz-Carlton.
Day 2
Baikonur
This morning fly to Kzyl Orda and drive a few hours out to Baikonur and see the city's main attractions: the Museum of Baikonur Cosmodrome History. The fascinating exhibits include various models of different rockets over the years, spaceship artifacts, and several personal items associated with the careers of Yuri Gagarin and Sergei Korolyov.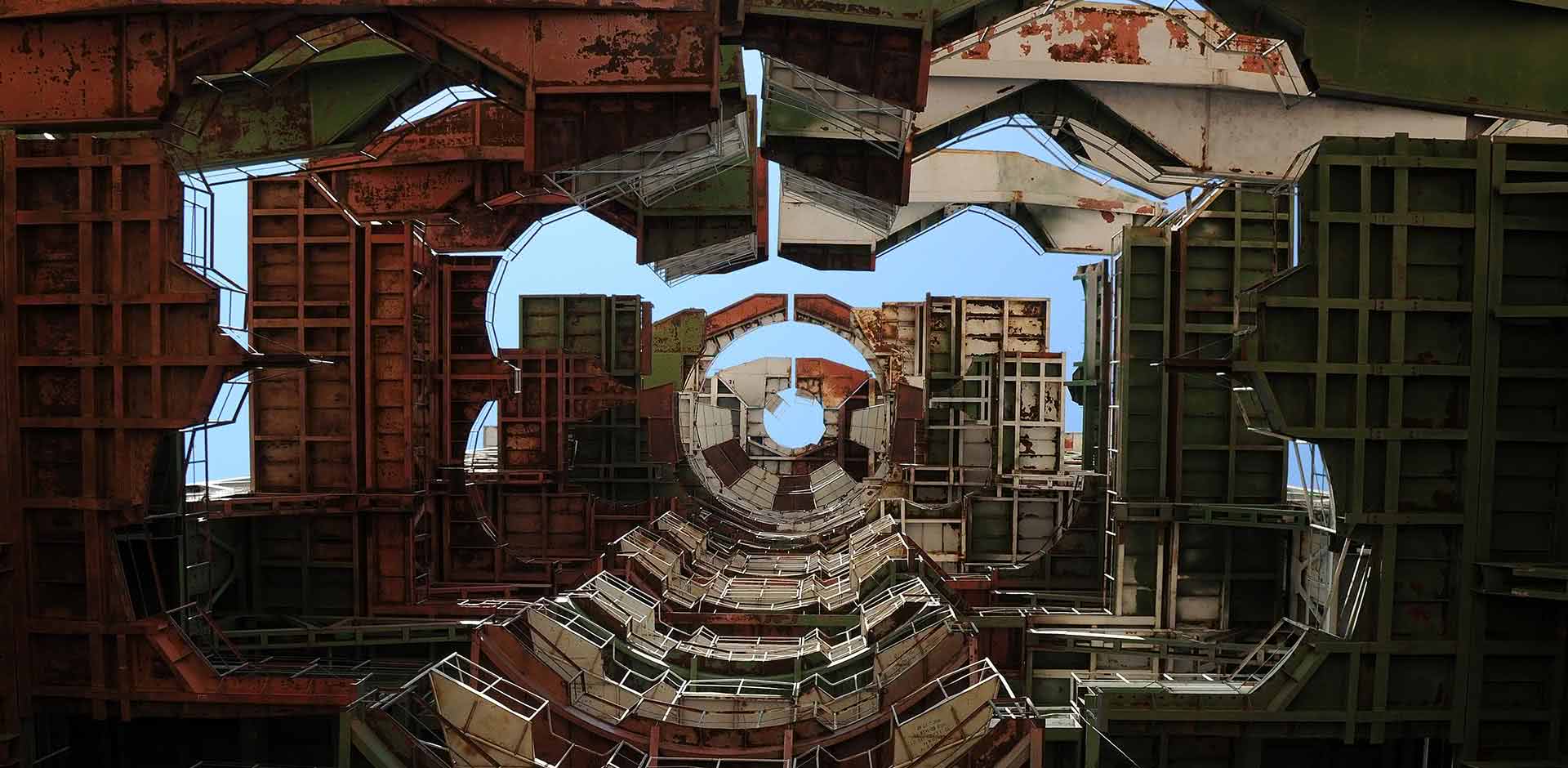 Day 3
Baikonur
An unforgettable, once in a lifetime (for most) experience awaits on this third day; today you will witness a rocket being launched into space. Watch, listen and feel the earth shake as "Soyuz" blasts off and into the earth's stratosphere. Following the epic show, it's on to visit two launch complexes ("Gagarin's Start" and "Zenith"), as well as the memorial house of Yuri Gagarin and Sergei Korolev.
Day 4
Turkestan
A good part of this fourth day will be spent on a train, as you make your way to the ancient city of Turkestan. The journey is comfortable, providing a full lunch and refreshments, and there's the chance to take in the stunning Kazakh landscape along the way. Upon arrival in Turkestan, visit the incredible mausoleum of the great Muslim sage, Hodzha Ahmed Yassavi. There's also time in the afternoon to check out some medieval bath houses.
Day 5
Tashkent
It's a new day and time for a new country. The drive to the Kazakh - Uzbek border provides a perfect opportunity to stop off and visit the interesting museum in village Shaulder and also the Otrar ruins – a settlement which was once widely known as the capital of the province and the birthplace of the great medieval philosopher Abu Nasr al-Farabi. After arrival in Tashkent (a 4-hour drive), the capital of Uzbekistan, you'll have a brief tour of all the ancient sites and places of interest in the afternoon.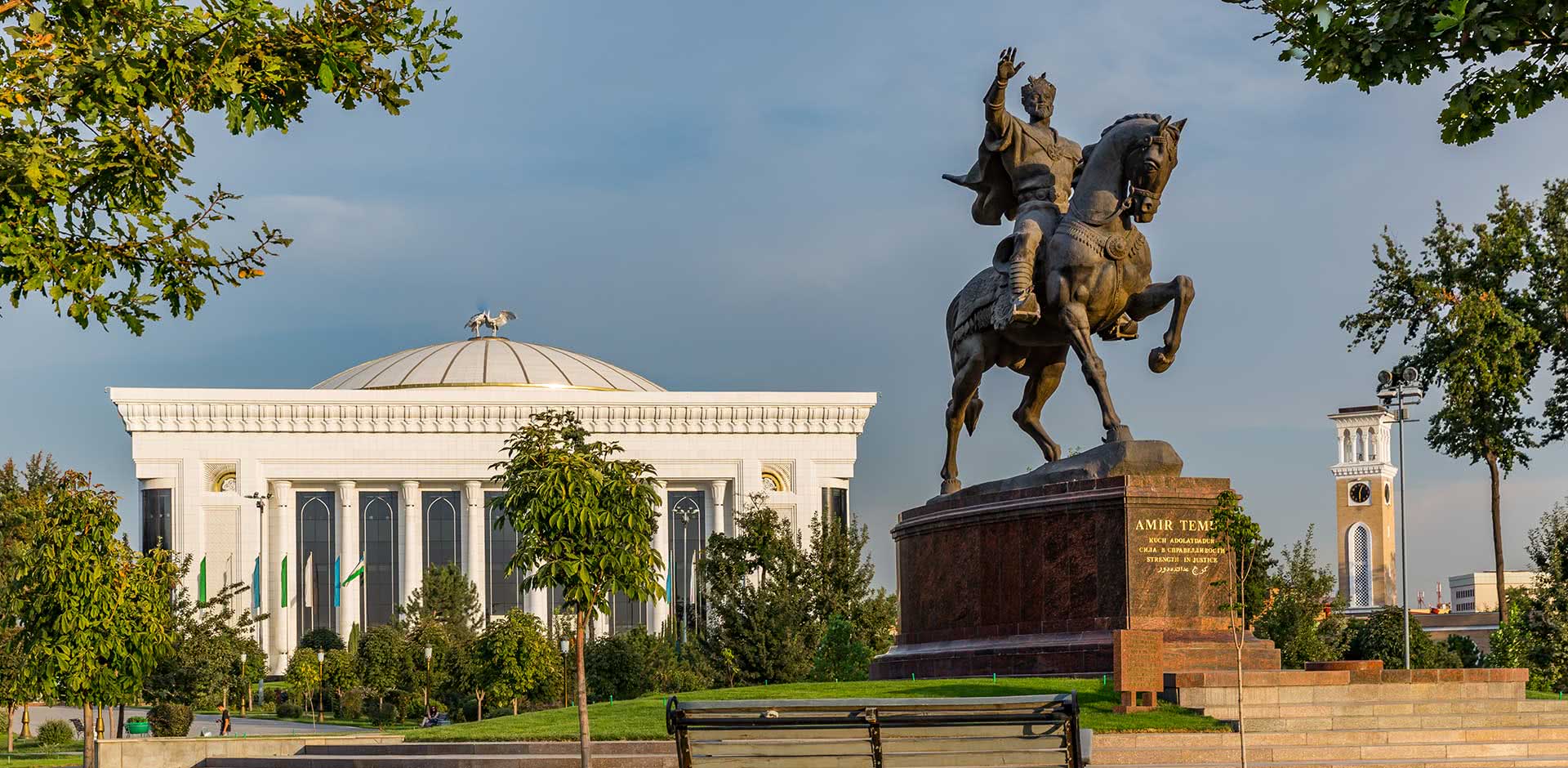 Day 6
Khiva
Leave hotel in the morning to catch a flight to Urgench. Lying 40 miles away from here is the museum-like city of Khiva; a maze of ancient Islamic architecture boasting beautiful palaces, awe-inspiring mausoleums and well-preserved ruins. On the agenda of the day-long tour are the Djuma Mosque, the spiritual center of Khiva with 212 wooden carved columns; Kunya-Ark fortress, former home of Muhammad Aurang-Khan; and the Tash Hauli Palace, a mesmerizing, intricately detailed building.
Day 7
Bukhara
Depart to Bukhara (around 7 hours away), crossing the Kyzyl-Kum desert and Amu Darya river. On the way there's a scenic picnic stop for lunch together with a meeting some Karakul sheep experts – famous to this part of Central Asia. Arrive later in Bukhara, a monastery city, and historic a place of religious education and pilgrimage. Check in to your hotel and prepare for a full day of exploring Bukhara tomorrow.
Day 8
Bukhara
In the morning you'll visit Lyabi Hauz Place – one of the most famous and beautiful places in this elegant city. The site is comprised of a plaza built of water with a series of buildings around the edge, dating back to 1620. This is then followed by a trip to the Poi-Kalyan place, with its Kalyan minaret, and Ismail Samani mausoleum – the oldest building in the Central Asia. Dinner is at the stunning Nodir Divan Begui madrasah with a traditional folk show.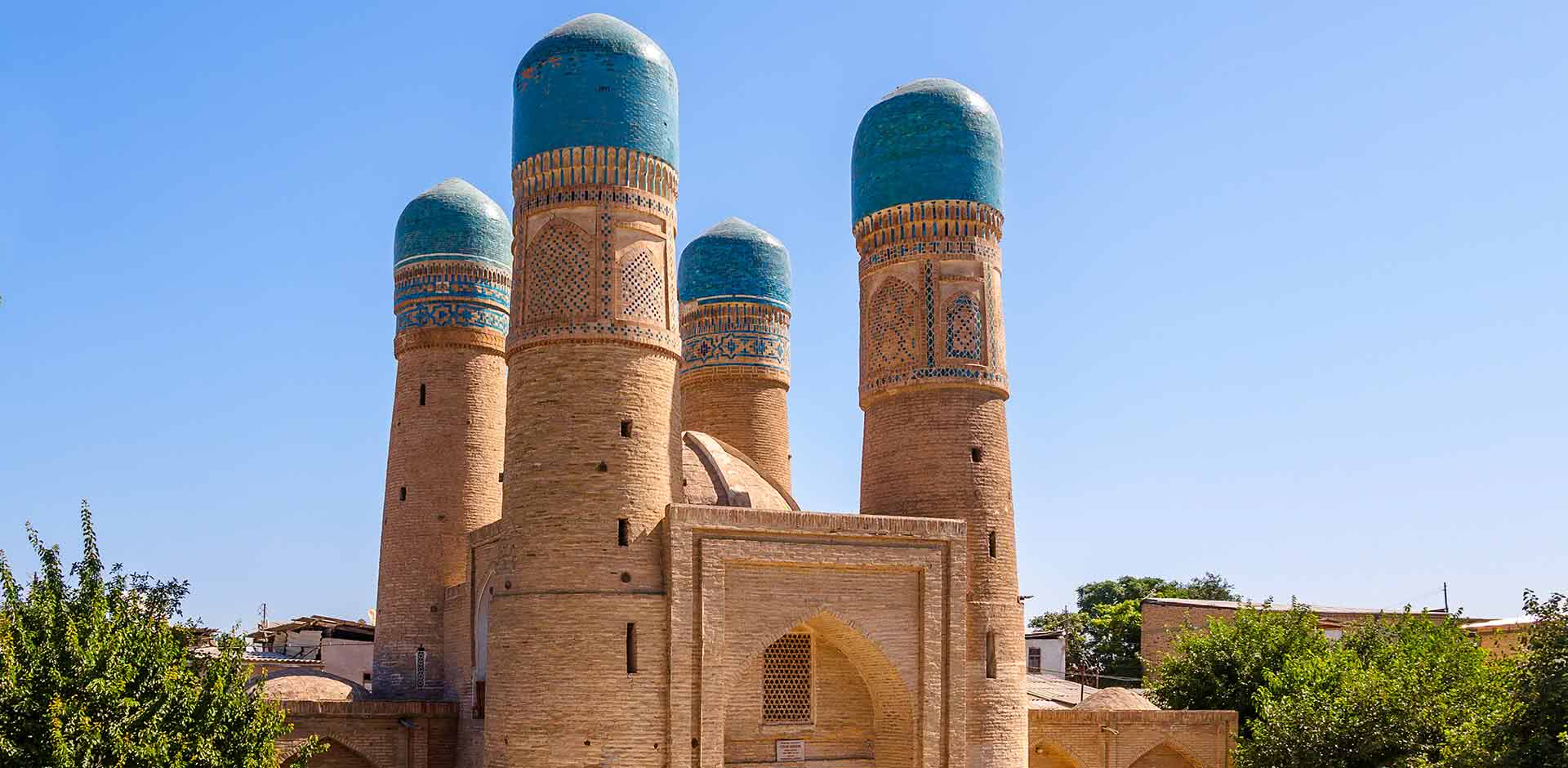 Day 9
Bukhara
The legendary city of Bukhara really deserves your time, not only for its sheer beauty but also its wealth of fascinating attractions, so spending a third full day here is understandable. Visit the Royal Mosque of Bolo Khauz, followed by Sitorai Mokhi Khosa – the former residence of Emir of Bukhara. In the afternoon it's off to see the Bahauddin Naqshband ensemble; an incredible pilgrimage stop renowned across the world for its central dome and intricate blue tile work.
Day 10
Samarkand
Say goodbye to Bukhara and begin the morning drive to Samarkand via Shakhrisabz (around 4 hours). The road goes through the beautiful mountain landscape and there's a short sightseeing tour of Shakhrisabz (famous for its links to the ancient Tamerlane ruler) to break up the journey. Here, a visit to the Ak-Saray Palace – the summer residence of the great ruler – is a must. After lunch it's back on the road to Samarkand.
Day 11
Samarkand
Waste no time rising on this eleventh day; the blue-washed city of Samarkand, one of the most popular tourist destinations in the country, is waiting to be explored. The day's visits in this once Tamerlane-ruled empire include Bibi-Khanym Mosque, known for its huge blue dome that competes with the firmament; Registan Square, the heart of Samarkand with its three madrasahs; and Gur-Emir mausoleum, the burial place of Tamerlane.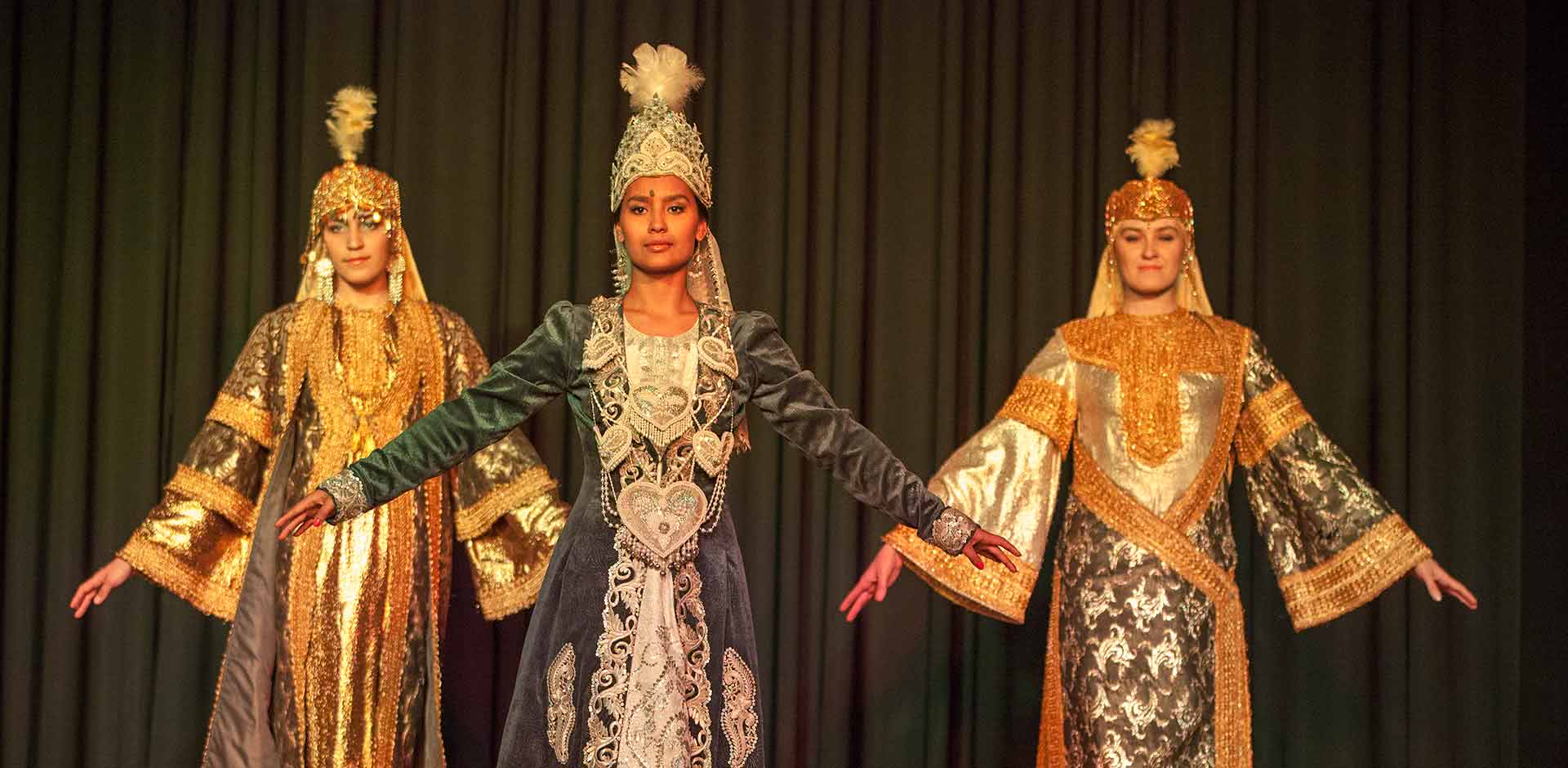 Day 12
Samarkand
Another day sightseeing in Samarkand represents another chance to unearth even more of this historic city's captivating past. Shakhi-Zinda, which you'll visit in the morning, is a mini necropolis comprised of narrow streets with looming buildings, sparkling blue-tiled tombs and various mausoleums. Then, head to Ulugbek observatory (the first and biggest observatory in Central Asia) and finish off with a visit to a traditional paper-making factory in the afternoon.
Day 13
Tashkent
It's time to leave Samarkand and make your way back to the Uzbek capital of Tashkent. The 400-mile journey takes you across the rugged, enthralling terrain of Uzbekistan for one last time, and there's a chance to stop off at Bakhmal village for a quick lesson on how cotton honey is made. After arrival and check-in at your Tashkent hotel, make some last city visits before a farewell dinner.
Day 14
Departure
Your two-week discovery through Uzbekistan and Kazakhstan has come to an end. Enjoy a buffet-breakfast at the hotel before a comfortable morning check-out. Private transport takes you to the airport for your onward flight to your next destination.
TERMS AND CONDITIONS
Price is based on double or twin hotel room occupancy and includes accommodation, transfers, car/driver, English-speaking guide, activities and entrance fees, breakfasts and some casual lunches while touring. Flights and optional special activities will be quoted separately. Most personal expenses, including dinners, alcoholic beverages, spa treatments and gratuities can be paid on the spot while traveling. Prices may vary depending on season, choice of accommodation and other factors.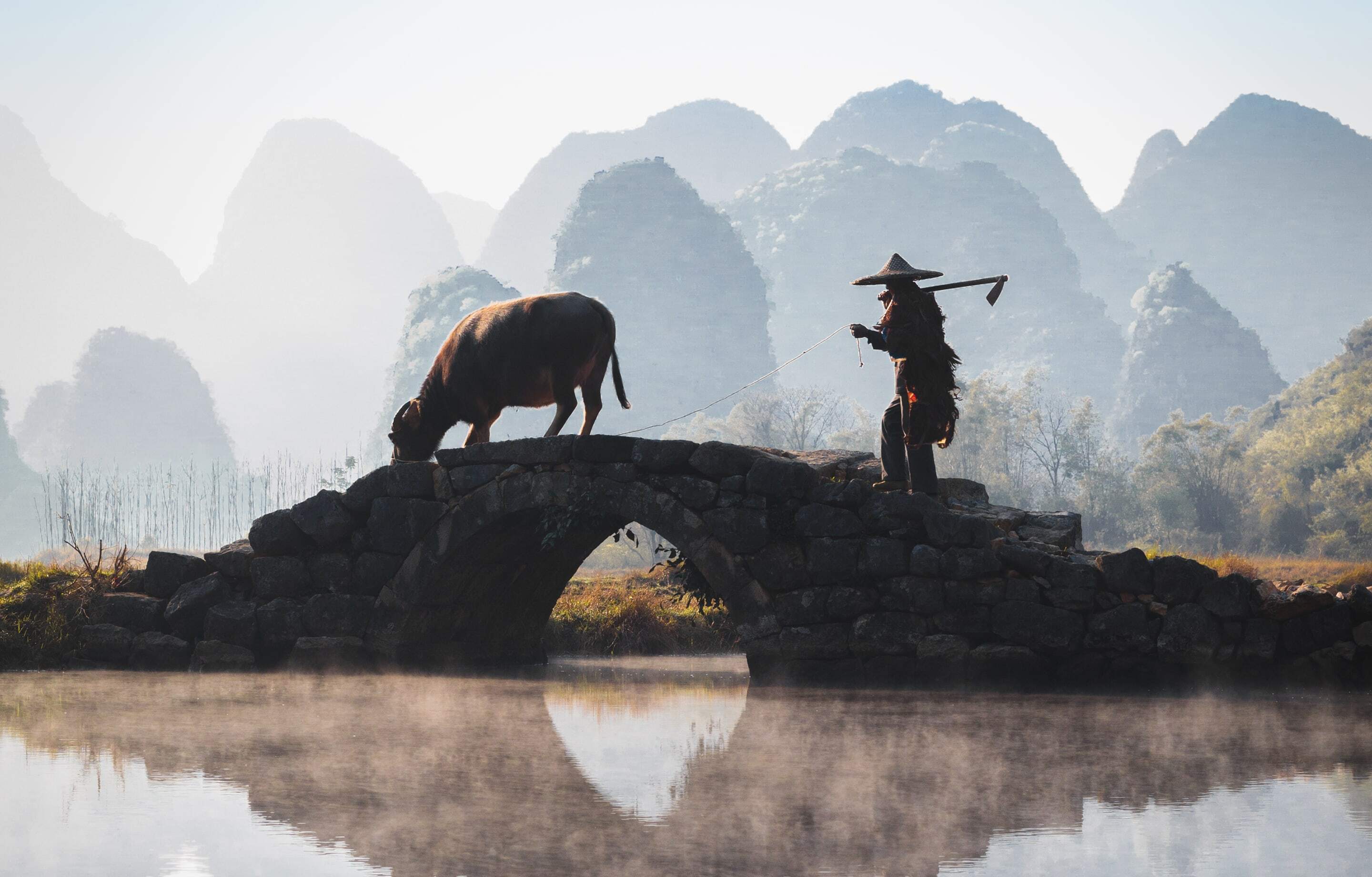 Why Remote Lands?
Exclusively Asia
With Remote Lands you'll travel with people who have made Asia the solitary focus of their own lifelong adventure. As our guest, you'll discover Asia on a journey that is completely, authentically your own, adapted from our own remarkable experiences and adventures over the years.
With Remote Lands you'll travel with people who have made Asia the solitary focus of their own lifelong adventure. As our guest, in the continent that our north American founders Catherine and Jay have adored and explored for decades, you'll discover Asia on a journey that is completely, authentically your own, adapted from our own remarkable experiences and adventures over the years.
Travelogues
An Asia-focused magazine brought to you by Remote Lands – a platform for adventure, luxury, and authenticity from experts and explorers around the continent.
What Others Say
Here is a small selection of the kind words our guests have said about us, as well as features by journalists and travel writers.
From the moment I happened upon the REMOTE LANDS website over a year ago, browsed the options, I knew that this would be well worth it. The entire staff is nothing less than professional with service that made us feel like royals.
This was truly the trip of a lifetime. Magical destinations, the most luxurious hotels in the world, and the most wonderful travel companions we could've wished for. We were treated like family everywhere we went and we have 14 new best friends.
We have used some of the top rated travel specialists all over the world and, without question, Catherine Heald and Remote Lands are at the very top of the list!