Example Itinerary
Landscapes and Cityscapes of Uzbekistan & Kyrgyzstan
Spend a spellbinding 14 days exploring two mesmerizing countries on this incomparable tour, which will whisk you from the Uzbek capital of Tashkent, through the historic cities of Samarkand, Bukhara and Khiva, with their stunning ancient architecture, and on into beautiful Kyrgyzstan. In the city of Bishkek, you'll discover traditional felt and silk fusing, and enjoy a stunning scenic journey into the Tian Shan mountains to spend time picnicking by lakes, hiking in the hills and relaxing in green, verdant valleys. Stay in a traditional Kyrgyz guesthouse and watch a nomadic horseback sport before returning to beautiful Bishkek to uncover treasures in its great bazaar.
This itinerary is an example. It's designed to inspire you and provide you with thoughtfully curated ideas. You can choose to do this exact itinerary or completely personalize it. All trips are 100% bespoke.
Highlights
• Architecture: The colorful tiled mosques, minarets, and madrassas of Uzbekistan's ancient cities never fail to impress.
• Golden Spa: Altyn Arashan's alpine hot springs are the perfect place to reenergize tired muscles after a day's hiking or horseback riding.
• Nomadic Sports: Also known as Buzkashi, Ulak Tartysh is played by Kyrgyz nomads on horseback with the aim of getting a goat or calf carcass into a goal.
Day-by-Day
Day 1
Tashkent
On your first day, check in to your cozy hotel and then hit the town to get familiar with your amazing new environment. Explore Tashkent's famous Khast Imam Mosque complex, home to the world's oldest Koran, visit the artisans at the Barak-Khan madrassah and browse the buzzing Chorsu Bazaar for local crafts and trinkets.
Day 2
Samarkand
Hop aboard the express train to historic Samarkand and enjoy the stunning Uzbek countryside as it slides past your carriage. Discover this historic city's incomparable architecture from the turquoise dome of the Bibi-Khanym mosque to the three towering madrassas which surround vast Registan Square to the Gur-Emir mausoleum where lies mighty Tamarlane himself.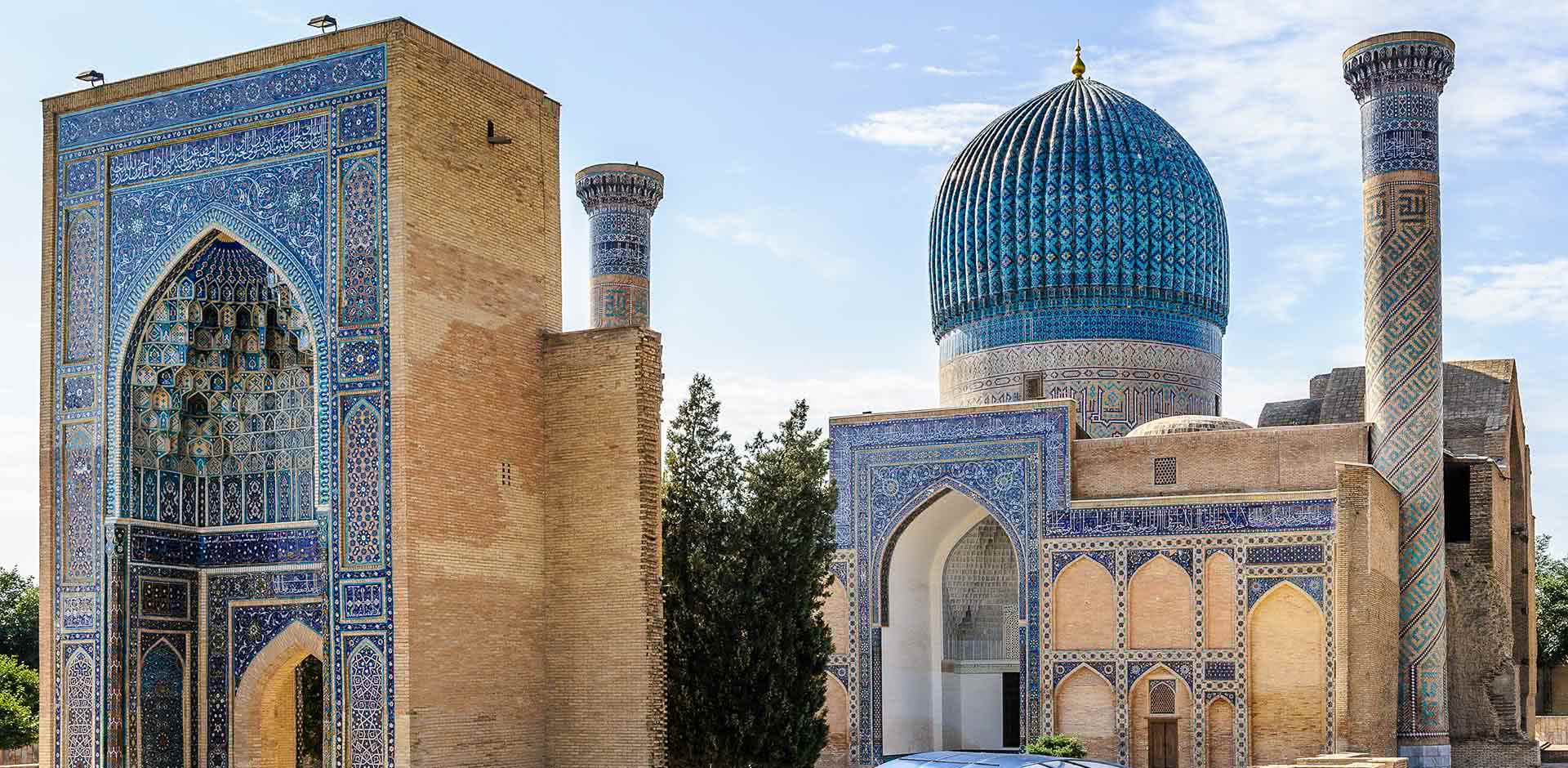 Day 3
Samarkand
Continue your adventures in this city of wonders: delve into the maze of mausoleums in the Shak-i-zinda complex and stare at the sky from Ulugbek - the world's oldest observatory. Stand in the mausoleum of Daniel the Prophet, the place where three religions intertwine and observe ancient paper-making techniques in action at Samarkand's old paper factory.
Day 4
Bukhara
Enjoy a relaxing train journey to yet another center of cultural marvels. Bukhara is home to the Lyab-i-Hauz - a madrassah complex surrounding a shady pool, and the Po-i-Kalyan with its skyscraping minaret. Be stunned by the intricacy of the mosaic work that covers Mir-i-Arab, central Asia's biggest mosque, and visit the jewelers of Toki Zargaron and the hatters of Toki Telpak Furushon.
Day 5
Bukhara
Stroll around the pool by the beautiful Bolo-Khauz Mosque and get a dose of royalty in the Emir's residence at Sitorai-Mokhi-Khosa. Then, just a short drive outside the city, visit the sacred memorial of Baha-ud-Din Naqshband and witness a 16th-century forge still in action to this day.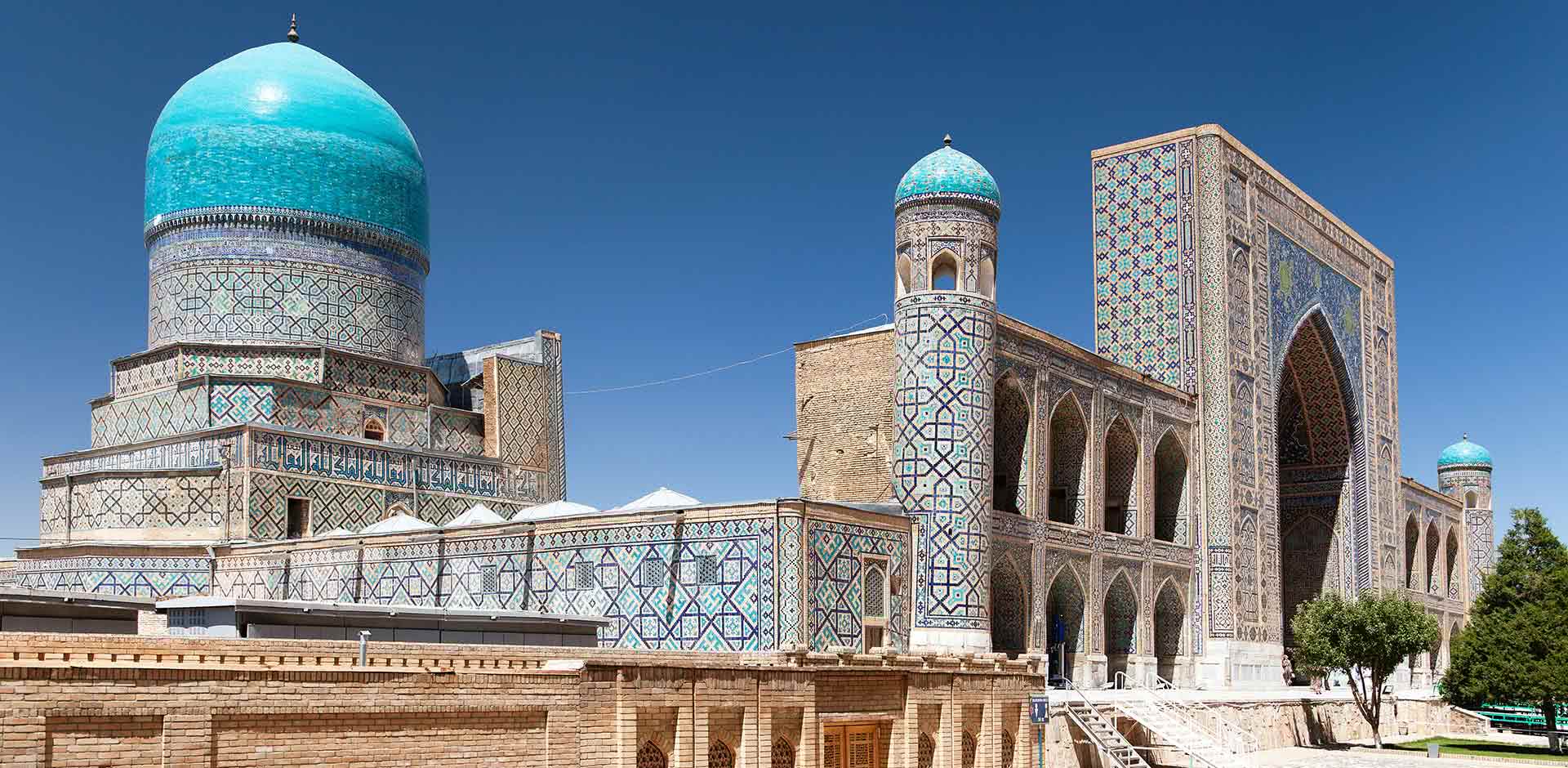 Day 6
Khiva
Take a scenic 7-hour journey across the dramatic landscape of the Kyzyl Kum desert and marvel at the red sands stretching as far as the eye can see. Stop for a traditional Uzbek picnic lunch by the waters of the Amu Darya, the 'unrestrained river' and meet the shepherds and their Karakul sheep before continuing on to your destination at ancient Khiva.
Day 7
Tashkent
Within the crenellated walls lies Itchan Kala, the old part of Khiva, which is home to more than fifty historic monuments including the Djuma Mosque, supported by 112 columns. See inside the vast Kunya-Ark Fortress, once home to the Khan; marvel at the stone work of Tash Khauli Palace and Kalta Minor Minaret and visit the mausoleum of poet Pakhlavan Mahmud, Khiva's holy patron. Finally drive to Urgench for your flight to Tashkent, where you will bed down for the night.
Day 8
Bishkek
From Tashkent, it's a short flight to Bishkek in Kyrgyzstan, where you can check in and relax at your hotel. After a leisurely lunch, hit the town to visit the monument to Manas, a Kyrgyz national hero and get to grips with the local culture at Central Square and the city's museums. Visit the workshop of Aidai Asangulova, an artisan whose felt and silk fusing techniques are famous throughout the country.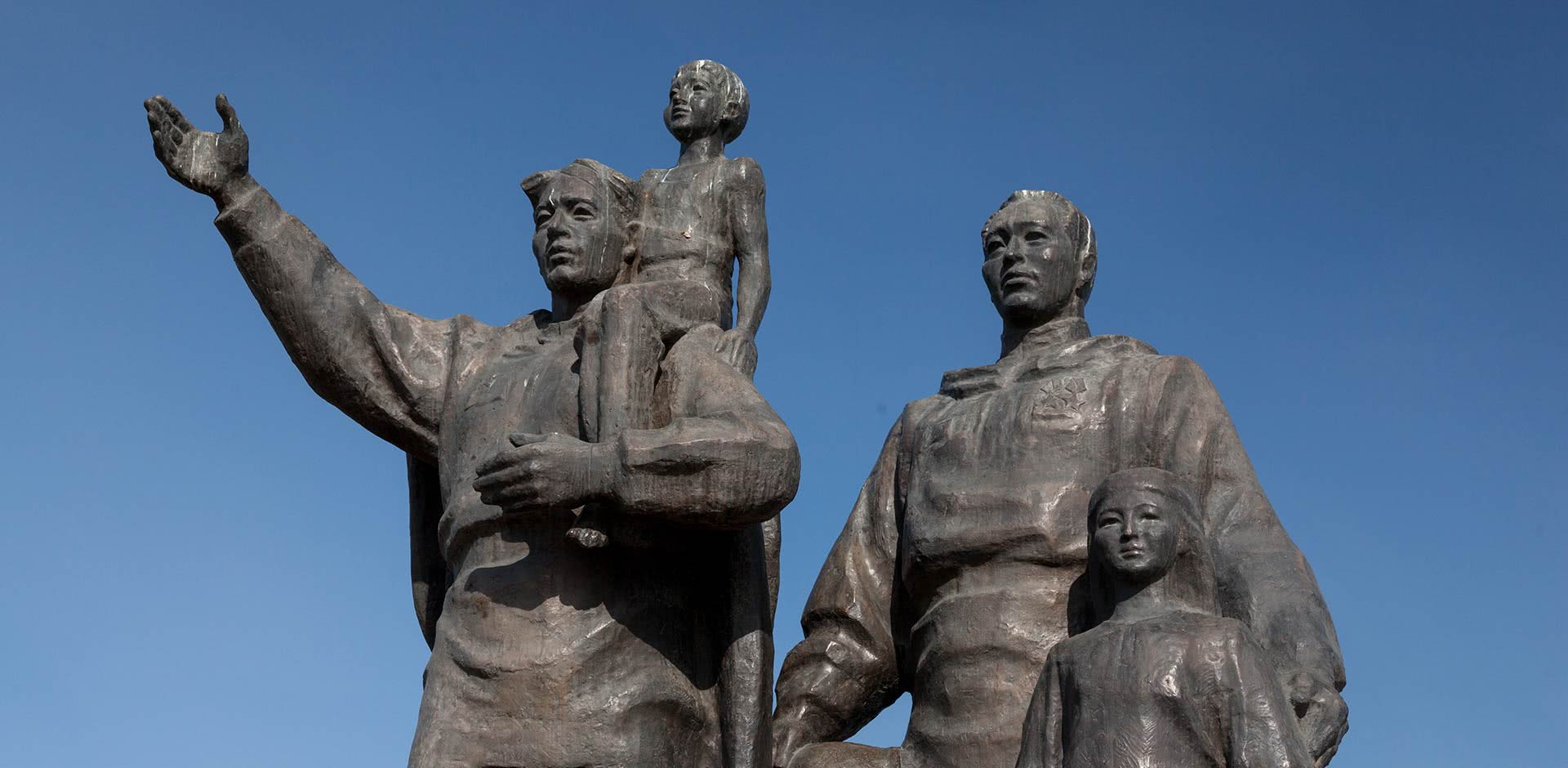 Day 9
Kochkor
Enjoy breakfast at your hotel before a 5-hour drive into the Tian Shan mountains. Stop off to climb Burana tower, one of the only remnants of the ruined city of Balasagun. Higher up, surrounded by snowy peaks, is one of the world's largest mountain lakes, Issyk Kul. From here, it's on to Kochkor to meet the craftswomen who make shyrdaks - brightly colored and beautifully embellished felt carpets.
Day 10
Karakol
Explore the 'stone garden' at Cholpon Ata, a mesmerizing gallery of prehistoric stone circles and tombs in the mountains, overlooking glassy lake waters. From here, you will drive through more beautiful scenery to Karakol (around 2.5 hours) with its wooden mosque and wooden Russian Orthodox cathedral. Visit the museum of Nikolai Przhevalsky and learn about this remarkable Russian and his geographic discoveries. In the evening, relax with dinner and traditional Kyrgyz music and poetry.
Day 11
Karakol
After breakfast, climb into a Russian military truck to access the beautiful and remote Altyn Arashan alpine valley. Enjoy the views of green and verdant plains with horses and yurts overlooked by Palatka Mountain. Bathe in the natural hot sulphur springs and benefit from their healing properties before a picnic lunch on the grass. Back in Karakol, join a Dungan family for dinner in their home.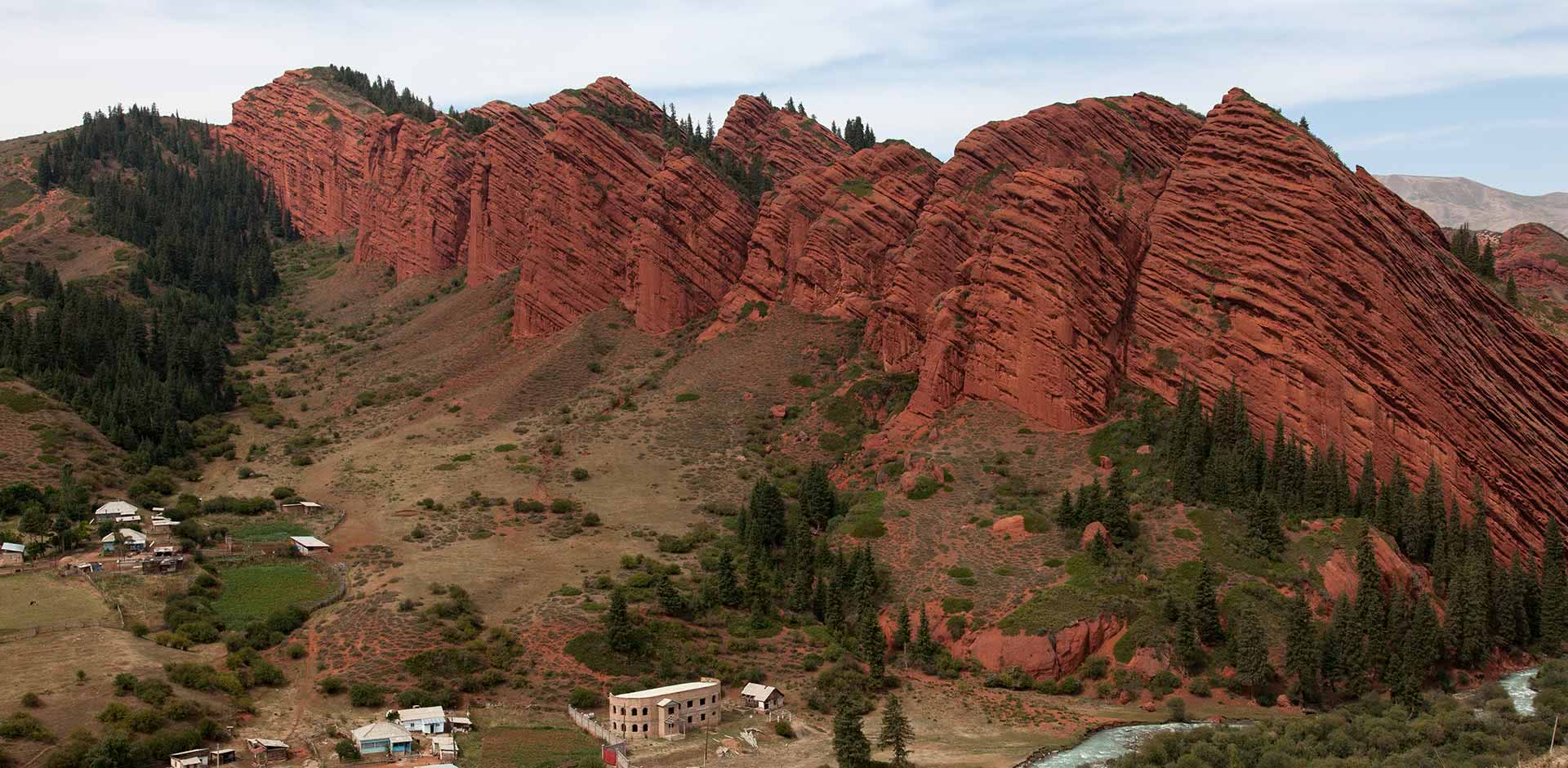 Day 12
Kalmak Ashu Village
After a restful night, take a 2.5-hour drive out to the green gorge of Jety Oguz - named 'Seven Bulls' for its dramatic red rocks. After a leisurely hike in the hills, relax for a picnic lunch in a pretty meadow and then continue the scenic journey through the Chon Kemin valley to the Kalmak Ashu village. Enjoy a traditional meal before bedding down in the quaint and cozy guesthouse.
Day 13
Bishkek
In the morning, there's a delicious breakfast at the guesthouse before the chance to see a traditional match of Ulak Tartysh, a high energy game played on horseback by nomads. Head back to the guesthouse for lunch and then begin the beautiful 2.5-hour drive back to Bishkek. On your return, check in to your hotel and browse the treasures of Osh Bazaar before your farewell meal in the evening.
Day 14
Departure
After a refreshing night's sleep, you'll enjoy your final breakfast in Uzbekistan, before checking out of your hotel. You'll be driven to the international airport, where you'll be assisted with check-in for your onwards journey, either home, or to your next exciting destination.
TERMS AND CONDITIONS
Price is based on double or twin hotel room occupancy and includes accommodation, transfers, car/driver, English-speaking guide, activities and entrance fees, breakfasts and some casual lunches while touring. Flights and optional special activities will be quoted separately. Most personal expenses, including dinners, alcoholic beverages, spa treatments and gratuities can be paid on the spot while traveling. Prices may vary depending on season, choice of accommodation and other factors.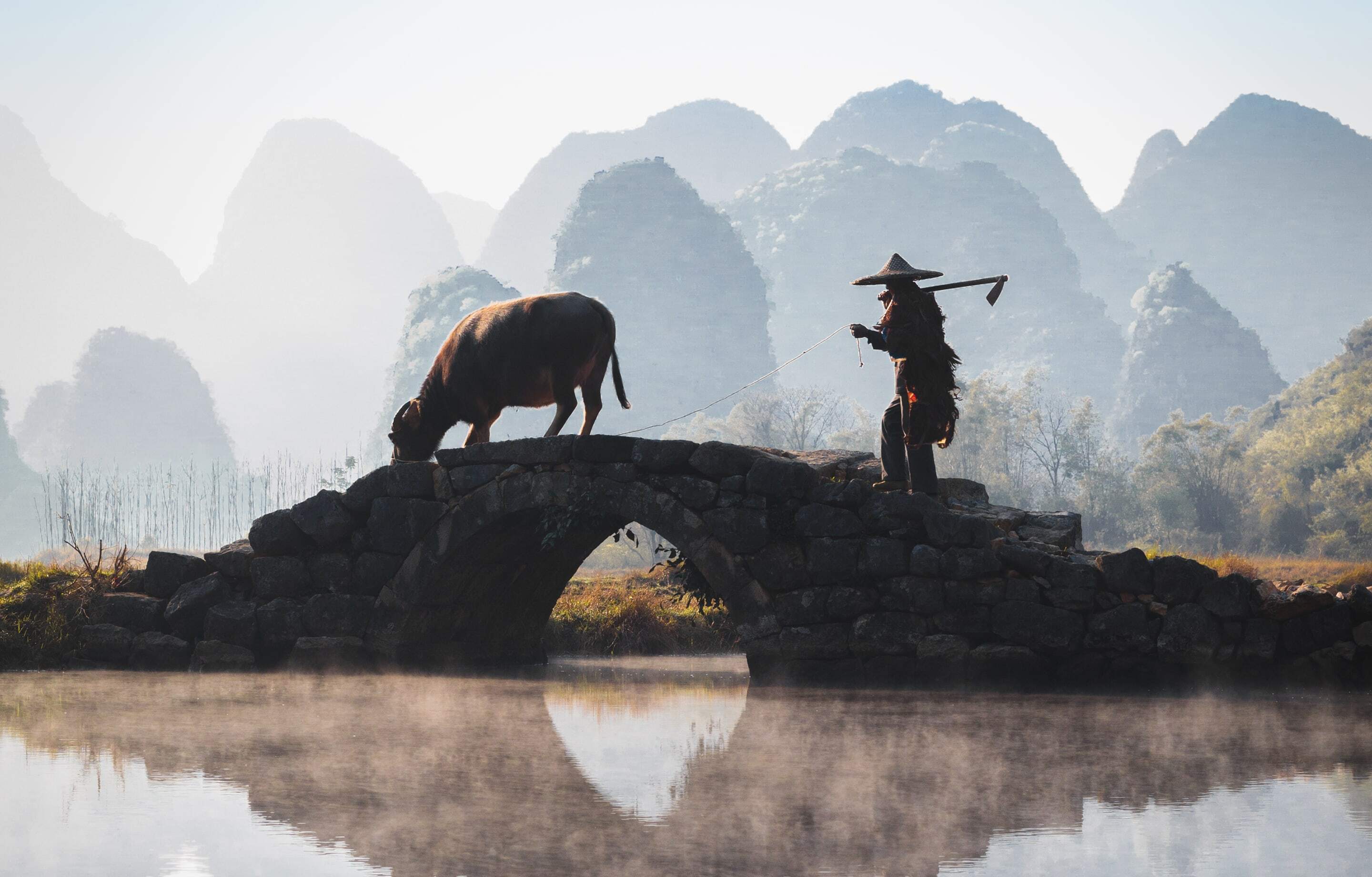 Why Remote Lands?
Exclusively Asia
With Remote Lands you'll travel with people who have made Asia the solitary focus of their own lifelong adventure. As our guest, you'll discover Asia on a journey that is completely, authentically your own, adapted from our own remarkable experiences and adventures over the years.
With Remote Lands you'll travel with people who have made Asia the solitary focus of their own lifelong adventure. As our guest, in the continent that our north American founders Catherine and Jay have adored and explored for decades, you'll discover Asia on a journey that is completely, authentically your own, adapted from our own remarkable experiences and adventures over the years.
Travelogues
An Asia-focused magazine brought to you by Remote Lands – a platform for adventure, luxury, and authenticity from experts and explorers around the continent.
What Others Say
Here is a small selection of the kind words our guests have said about us, as well as features by journalists and travel writers.
From the moment I happened upon the REMOTE LANDS website over a year ago, browsed the options, I knew that this would be well worth it. The entire staff is nothing less than professional with service that made us feel like royals.
This was truly the trip of a lifetime. Magical destinations, the most luxurious hotels in the world, and the most wonderful travel companions we could've wished for. We were treated like family everywhere we went and we have 14 new best friends.
We have used some of the top rated travel specialists all over the world and, without question, Catherine Heald and Remote Lands are at the very top of the list!