Example Itinerary
Classic Mongolia
Mongolia, evocative of endless open space, is not as plain as it sounds. Under the big blue sky is a dramatic terrain of sweeping plains, deep gorges, crystalline lakes, snow-topped mountains, rolling plateaus, and arid deserts. This 8-day journey takes you to these amazing landscapes and reveals there is more than meets the eye. Discover dinosaur fossils and petroglyphs in the desert, see the last remaining wild horses in the world, listen to unique throat singing, sleep in an authentic ger tent, and more.
This itinerary is an example. It's designed to inspire you and provide you with thoughtfully curated ideas. You can choose to do this exact itinerary or completely personalize it. All trips are 100% bespoke.
Highlights
Land of Dinosaurs: In the far reaches of the Gobi desert amongst fiery red cliffs, in an arid and unforgiving landscape where little life survives, is where the dinosaurs once roamed - as evidenced by the monumental discovery of the first fossilized eggs ever found. Come see for yourself the dinosaur fossils embedded in the cliffs and bedrock, a childhood dream fulfilled.
Gobi Desert Glamping: Camping in the vast Gobi desert does not need to be an ascetic or uncomfortable endeavor. It is quite the opposite when staying at Three Camel Lodge which offers a high-end take on the traditional nomadic lifestyle.
Lunch with Nomads: Tens of thousands of Mongolians resist the draw of cities and still choose to live the traditional nomadic lifestyle in present day. With portable gers, these families drive their herds across the vast steppes without a single road or sign in sight. Meet one of these families and be welcomed into their ger for a traditional lunch and gain insight into their humbling lifestyle.
The Last Wild Horses: The only still-living wild ancestor of the domestic horses we know today is called the Przewalski horse and once freely roamed the vast Mongolian plains. After becoming extinct in the wild by the end of the 1960s, a successful reintroduction program at Hustai National Park brought back these wild horses to their homeland where you can once again see them roam today.
Day-by-Day
Day 1
Ulaanbaatar
Arrive into the capital city of Ulaanbaator where you will be met at the airport and transferred to your hotel via private car. After checking in and freshening up, step back out to explore the city. Begin at the Black Market, said to have everything you would want. This authentic market is for the locals who come to shop for textiles, snuff bottles, carpets, horse saddles, ger materials, winter clothes, and other necessities for life in the steppes. Then, visit a cashmere factory to see the quality goods produced by the cashmere capital of the world. Finally, visit the Winter Palace of the Bogd Khan, where Mongolia's eighth Living Buddha and last king lived. Now it is a museum with royal relics and interestingly, an array of stuffed animals.
Day 2
Ulaanbaatar
Explore more of the capital today. Meander through Sukhbaatar Square, named for the country's hero, and spot the Parliament Building, the Mongolian Stock Exchange and the Royal Ballet House. Stand in awe at the famous larger-than-life Tyrannosaurus Bataar skeleton that was found in the Gobi desert and is now on display in the square. Also visit the impressive Gandan and Choijin Lama Monasteries. The monasteries contain important pieces of cultural artwork. Sample traditional Mongolian barbeque in the town center before catching this evening's performance of throat singing by the acclaimed Tumen Ekh Ensemble. This unique and ancient style of singing produces distinctive sounds in which you can hear two different pitches at once.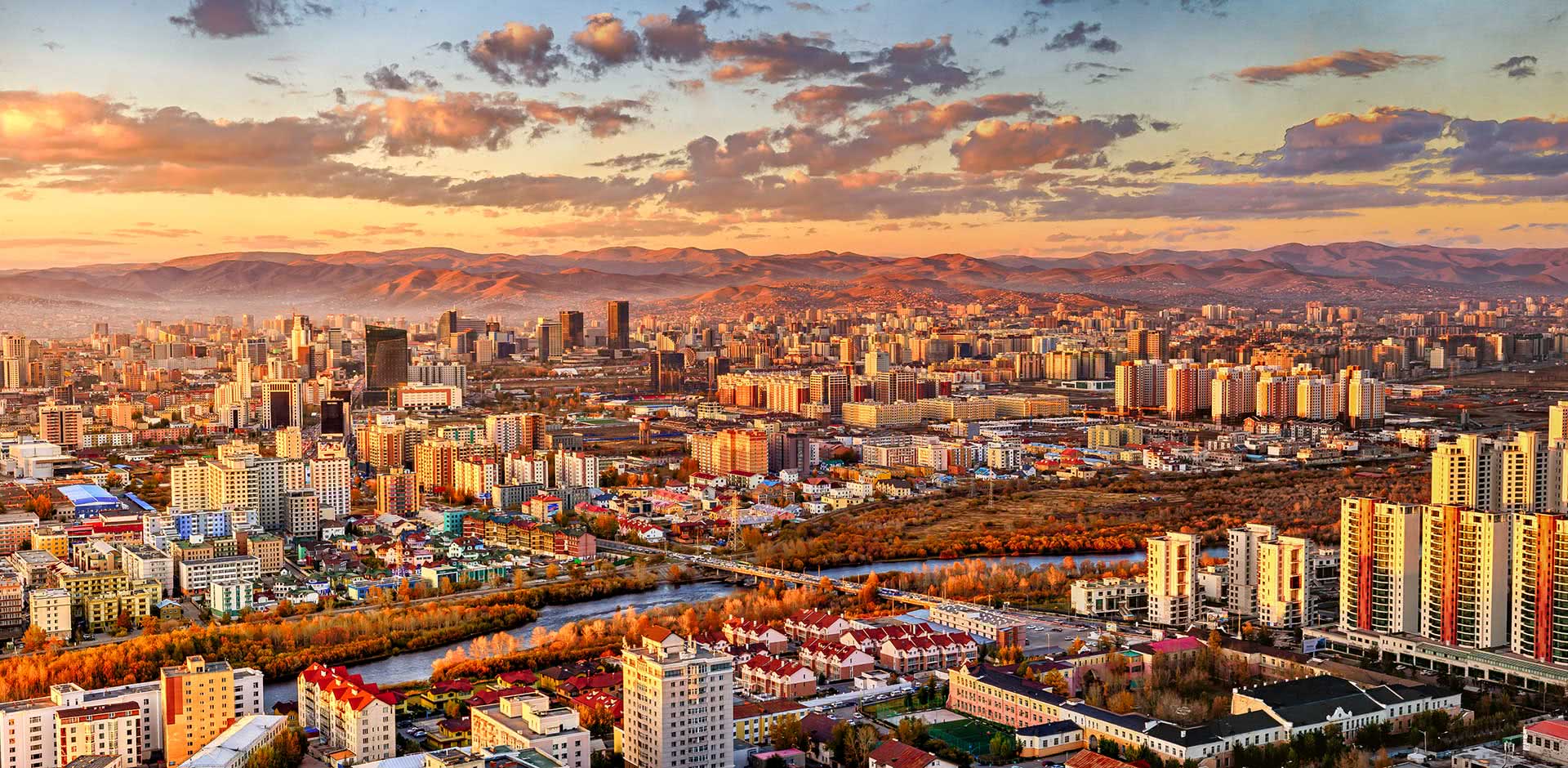 Day 3
Gobi Desert
Fly to Dalanzagad and then embark into the Gobi desert. Get situated at your luxury eco-lodge and have an early lunch before heading out for an expedition in Yol Valley, a deep and narrow gorge in the Gurvansaikhan Mountains. Explore this dramatic ravine by foot, looking out for remarkable petrified wood, the ice gorge that remains frozen most the year, and wildlife. The valley, Yol, is named after the rare bearded vulture that nests in the cliffs. Other rare animals in the area include the Siberian ibex, argalis, and snow leopards.
Day 4
Gobi Desert
The Gobi desert's vast expanse actually yields few sand dunes. This morning drive an hour out to Moltsog Els, one of the few areas with sand dunes, where you can visit a local camel herding family and ride a Bactrian camel on the dunes. After lunch back at the lodge, head out for another adventure, this time to Bayanzag. Bayanzag is also referred to as the Flaming Cliffs for its red sandstone that juts into the sky sharply, an incredible sight in the tangerine sunset. These ancient formations have revealed many incredible paleontological discoveries including the first dinosaur eggs ever found and a fossil of a Protoceratops and Velociraptor locked in a fight. It is speculated that the South Gobi was a site of mass extinction where avalanche-like sandslides preserved these prehistoric wonders.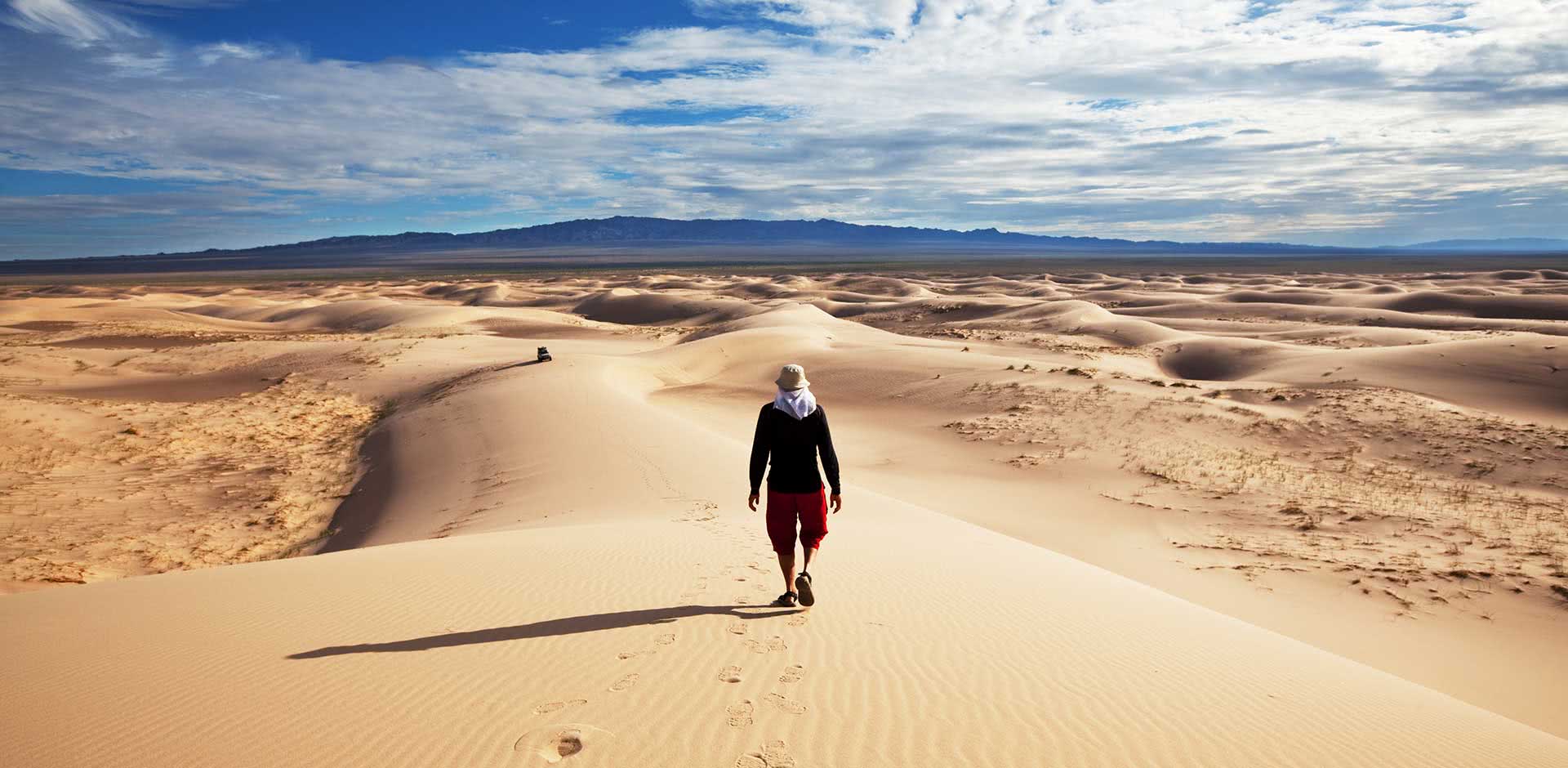 Day 5
Gobi Desert
Yet another wonder awaits this morning out in the isolated Havtsgait Valley: hundreds of ancient petroglyphs created by early settlers in the Gobi Desert. Dating back as far as 5,000 years, these rock drawings depict horses pulling carts and riders on horseback. Stop by the unassuming Natural History Museum for more excellent paleontological samples.
Day 6
Hustai National Park
Trade the desert for the plains today as you on are your way to Hustai National Park. Travel back to Dalanzadgad for a flight to Ulaanbaatar, followed by a short drive west. Enroute, stop by the Bayansonginot Community, a collective of just over ten pastoralist families. Meet these local nomas and be welcomed into their gers for a homemade traditional lunch. Experience and learn about the unique customs and etiquette. Continue onward to the grasslands and check into your ger lodge.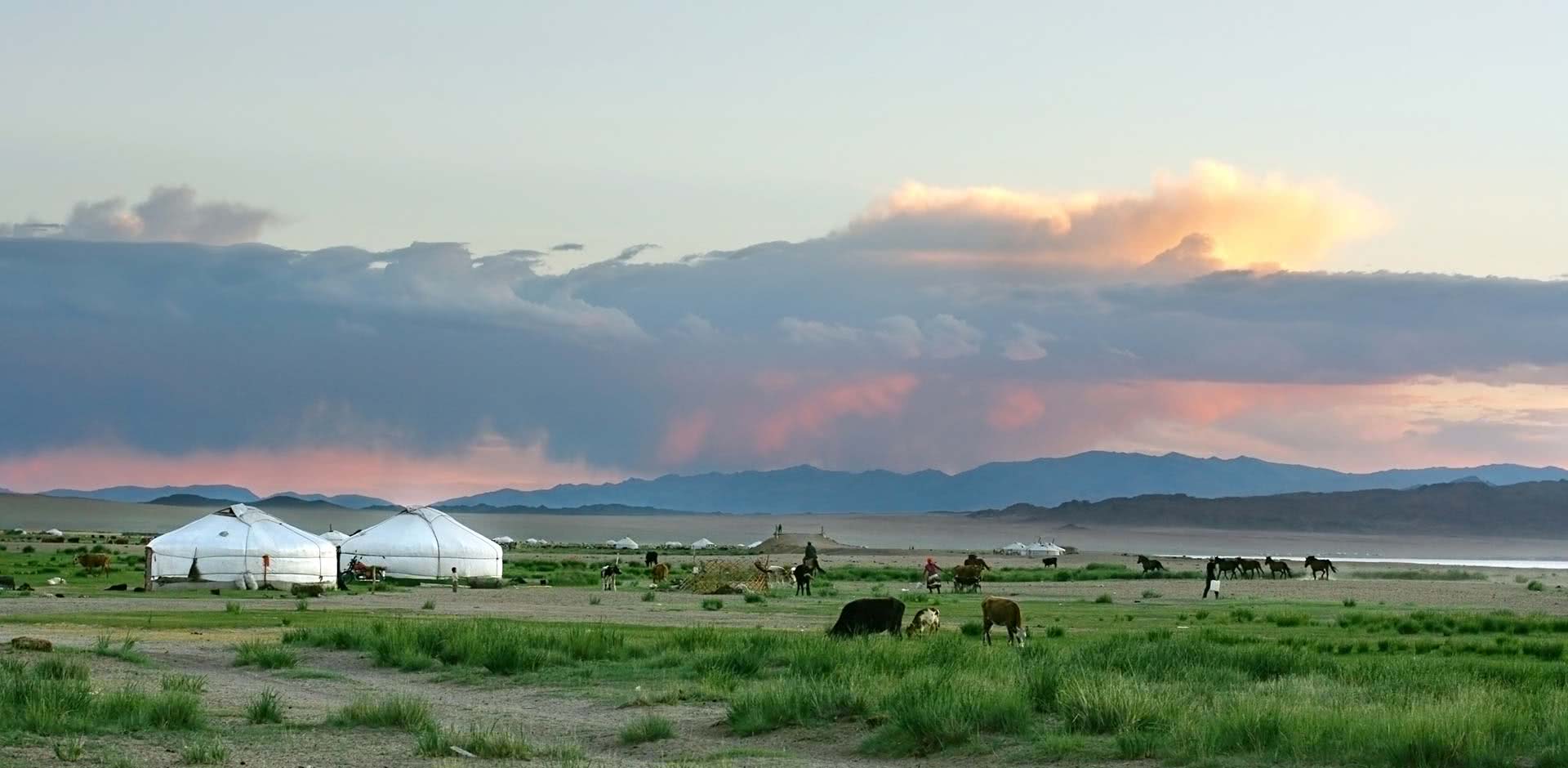 Day 7
Hustai National Park
Today you will explore the varied wildlife habitats of Hustai National Park. One of the best-managed Specially Protected Areas in Mongolia, Hustai National Park is known as the home of the last remaining wild horses in the world. A successful reintroduction program in the early 1990's has resulted in the return of the wild Takhi to its native habitat. The park is also home to other wildlife including Mongolian gazelle, ibex, grey wolves, and over 200 species of birds. Hike the ridges of the partly forested mountains for views of the distant desert, as well as a gully to look-out points to spot eagles and falcons. You will also, of course, see the wild horses freely roaming the plains.
Day 8
Departure
Enjoy breakfast with a view of open plains and sky one last time before your private transfer back to the capital for your flight onward.
TERMS AND CONDITIONS
Price is based on double or twin hotel room occupancy and includes accommodation, transfers, car/driver, English-speaking guide, activities and entrance fees, breakfasts and some casual lunches while touring. Flights and optional special activities will be quoted separately. Most personal expenses, including dinners, alcoholic beverages, spa treatments and gratuities can be paid on the spot while traveling. Prices may vary depending on season, choice of accommodation and other factors.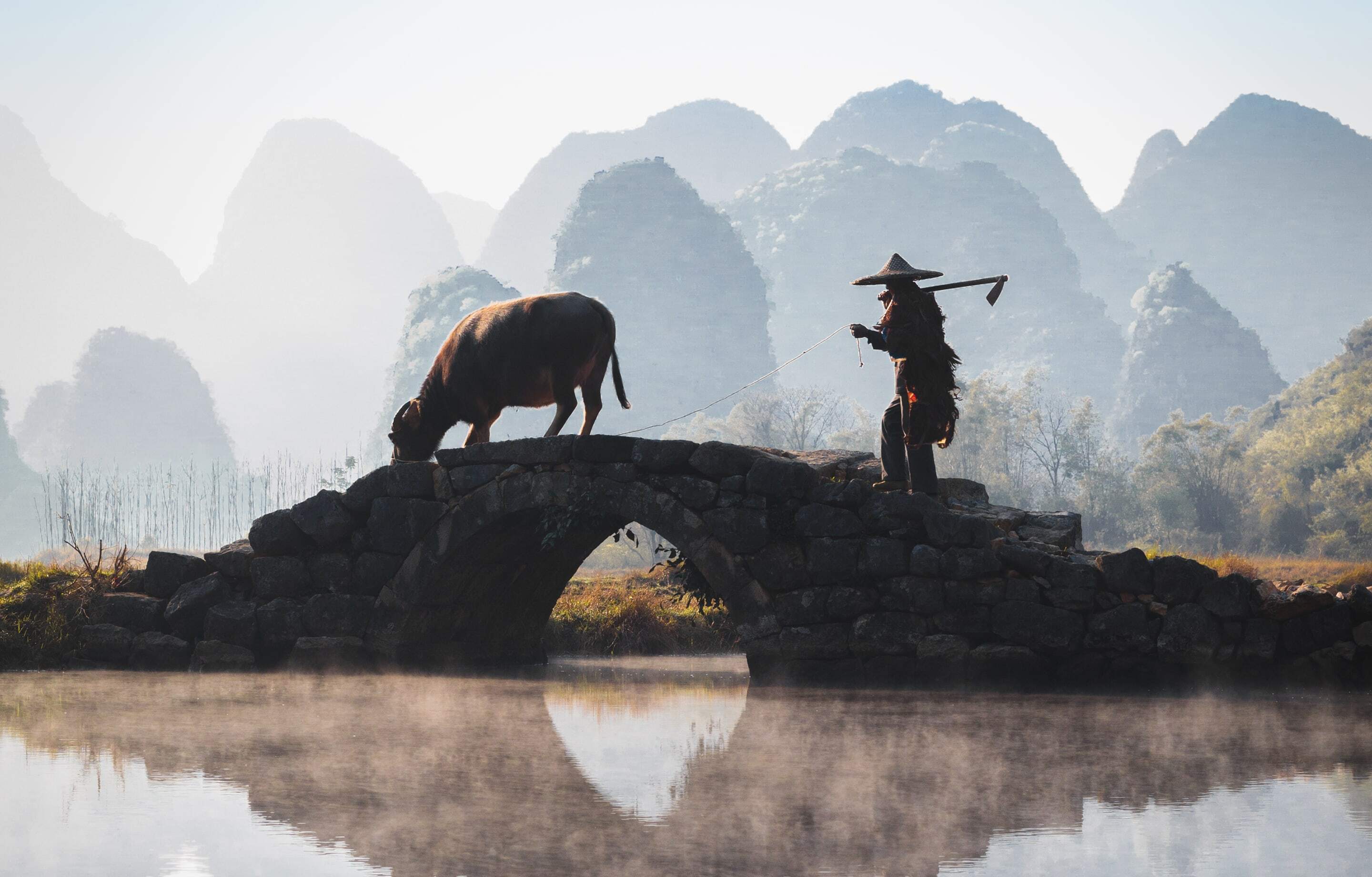 Why Remote Lands?
Exclusively Asia
With Remote Lands you'll travel with people who have made Asia the solitary focus of their own lifelong adventure. As our guest, you'll discover Asia on a journey that is completely, authentically your own, adapted from our own remarkable experiences and adventures over the years.
With Remote Lands you'll travel with people who have made Asia the solitary focus of their own lifelong adventure. As our guest, in the continent that our north American founders Catherine and Jay have adored and explored for decades, you'll discover Asia on a journey that is completely, authentically your own, adapted from our own remarkable experiences and adventures over the years.
Travelogues
An Asia-focused magazine brought to you by Remote Lands – a platform for adventure, luxury, and authenticity from experts and explorers around the continent.
What Others Say
Here is a small selection of the kind words our guests have said about us, as well as features by journalists and travel writers.
From the moment I happened upon the REMOTE LANDS website over a year ago, browsed the options, I knew that this would be well worth it. The entire staff is nothing less than professional with service that made us feel like royals.
This was truly the trip of a lifetime. Magical destinations, the most luxurious hotels in the world, and the most wonderful travel companions we could've wished for. We were treated like family everywhere we went and we have 14 new best friends.
We have used some of the top rated travel specialists all over the world and, without question, Catherine Heald and Remote Lands are at the very top of the list!