Example Itinerary
Dubai to Abu Dhabi - Sun, Sights, Sand & Shops
Rich in both culture and extraordinary wealth, Dubai is a city with sky-high iconic buildings, man-made beaches and all the extravagant luxuries one could think of. Shop, dine and discover the history behind the city and what Emirati culture is all about. Travel to Al Maha, a stark contrast to city life and spend time surrounded by lush flora and incredible fauna with sand dunes like waves in the sea that seem to go on to infinity. Relax, unwind and stay at Qasr Al Sarab, an incredible hotel by Anantara,resembling an entrancing desert oasis where every luxury imaginable is available .Finally to Abu Dhabi, a city to rival Dubai, with the same luxuries but a sense of depth and more culture to be felt in the daily buzz that fills the streets.
This itinerary is an example. It's designed to inspire you and provide you with thoughtfully curated ideas. You can choose to do this exact itinerary or completely personalize it. All trips are 100% bespoke.
Highlights
• Spirituality: Sheikh Zayed Mosque is the largest and most important site of worship in the country.
• Birds of Prey: Falconry is one of the oldest Emirati traditions and travelers will learn about the special bond between falcon and falconer in the Dubai Desert Conservation Reserve.
• Sweet Treats: Dates are a significant symbol of Middle Eastern culture and a staple food in this part of the world. Meander through Abu Dhabi's Date Market to sample the delicious fruit.
Day-by-Day
Day 1
Al Maha
Located within the Dubai Desert Conservation Reserve 25 miles and only 40 minutes from Dubai, Al Maha is a picturesque place filled with flora and fauna creating an amazing desert oasis. Discover the magical world of Falconry, learning about these majestic creatures who soar through the skies or trek the desert with a guide and discover what lays in the sandy dunes that stretch on forever.
Day 2
Al Maha
Awake to a day of leisure in Al Maha with an endless list of activities to enjoy. Go horse riding through the sea of sand dunes on stunning Arabian horses and watch the sunset or for the adventurer, discover the thrill of the dunes in a 4x4 with an experienced driver before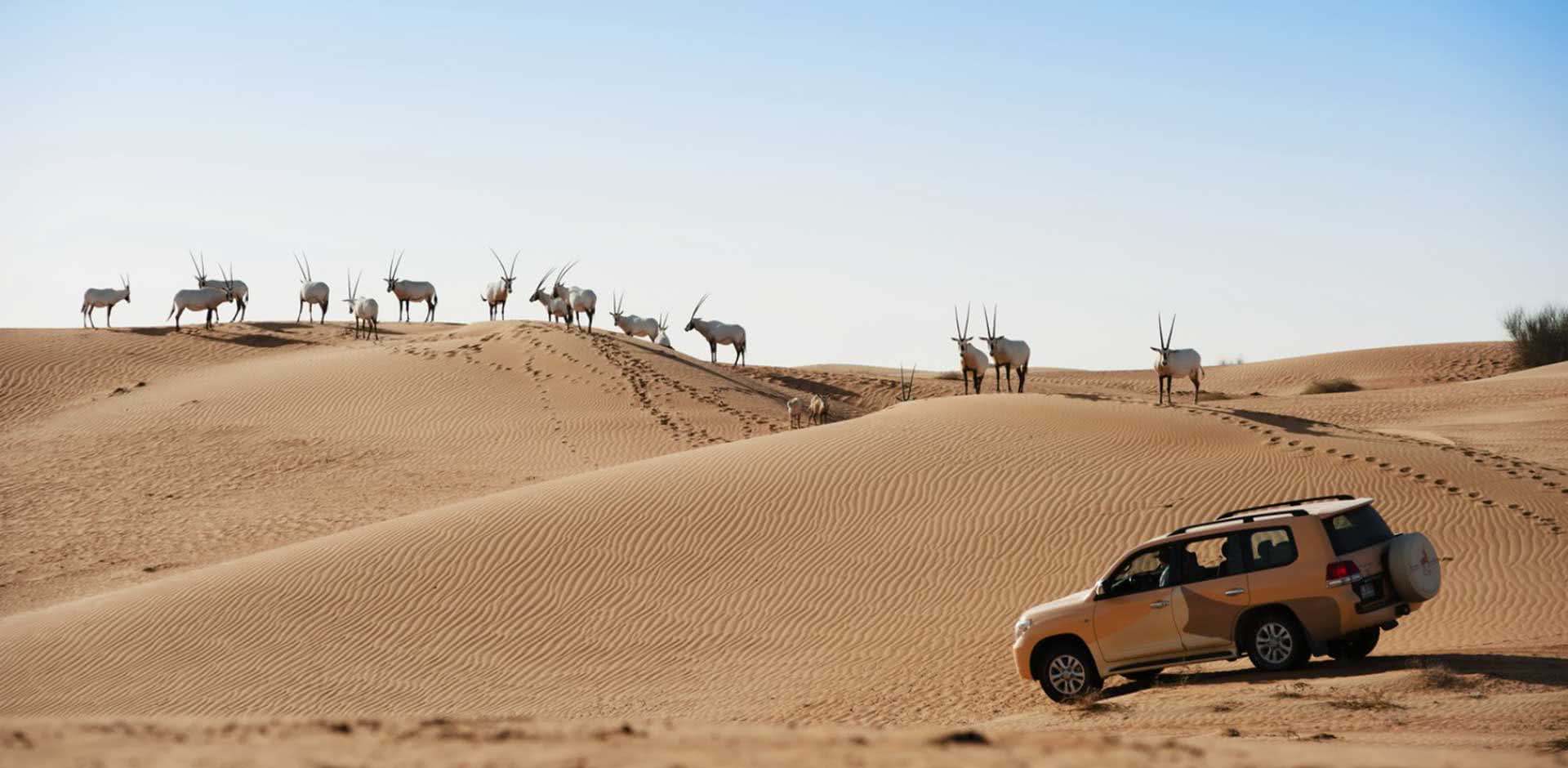 Day 3
Qas Al Sarab
Just shy of four hours' travel and 218 miles is the Anantara Qasr Al Sarab resort. Awaken to travel and experience the visually impressive sand dunes that surround this resort, then appearing like an oasis in the desert, the resort unfolds with unbelievable views of the surrounding landscape.
Day 4
Qas Al Sarab
Enjoy the luxuries of the resort from indulgent spa treatments, to traditional tea offerings, dine in one of the many restaurants or visit the resort's animal friends with its resident falcons, the sleek Saluki dogs (Arabian Greyhounds) and the many camels that belong of the land.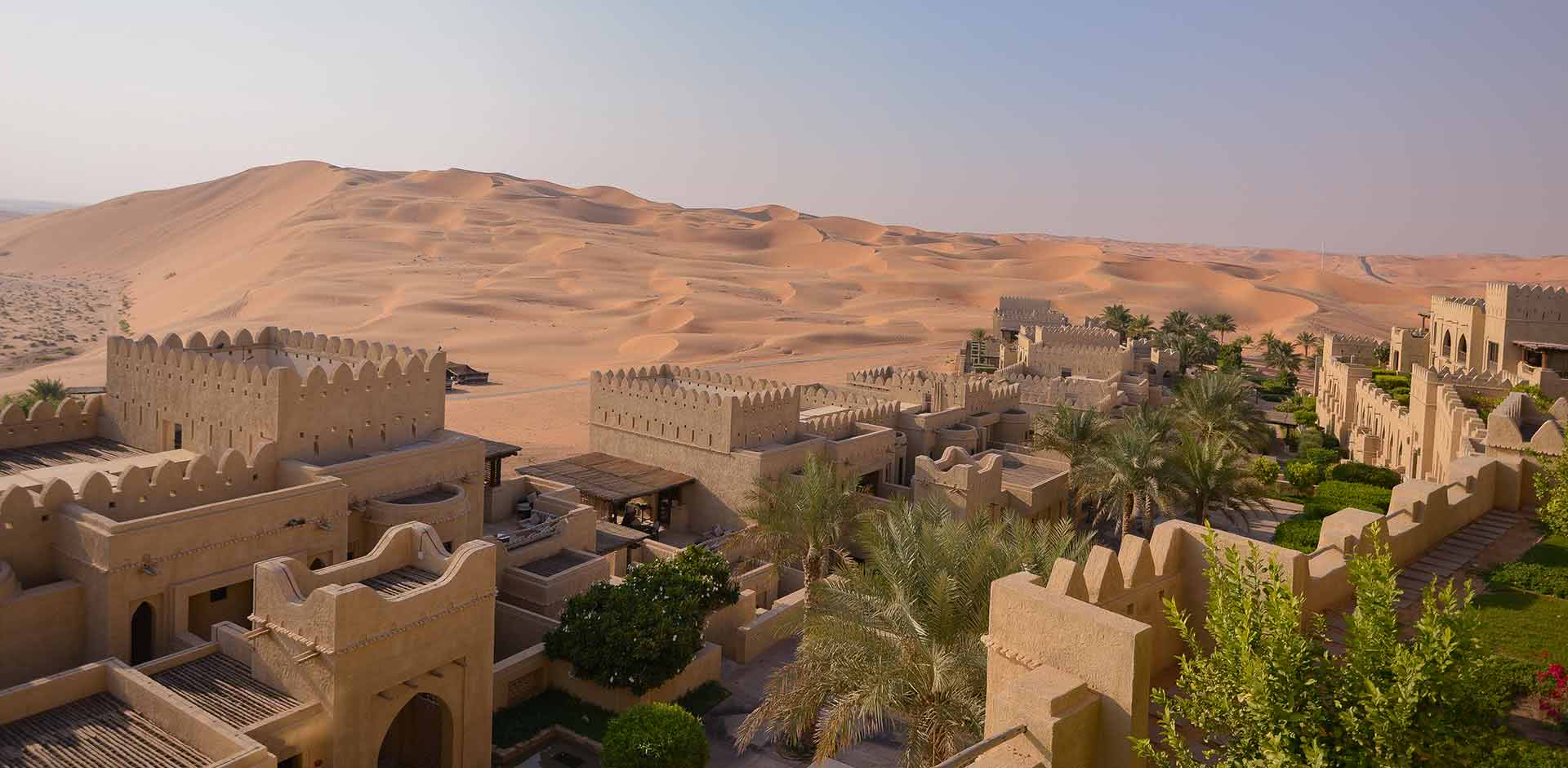 Day 5
Abu Dhabi
Around 130 miles away and just over 2 hours is the city of Abu Dhabi, the next stop on the journey. Much like Dubai, with its modern landscape, it is a unique city with much to offer the fussiest of travelers and those who love to shop and explore.
Day 6
Abu Dhabi
Rise in the morning to explore the delights of Abu Dhabi and the incredible skyline with its impossibly high buildings. Discover the iconic Sheikh Zayed Mosque that is considered the most important site of worship in the country or learn about falconry watching the birds and their masters at work, a tradition embedded within Emirati culture for centuries. Lastly, you cannot visit Abu Dhabi without wandering the aisles of the Date Market, with literally hundreds of sweet and sticky varieties to sample.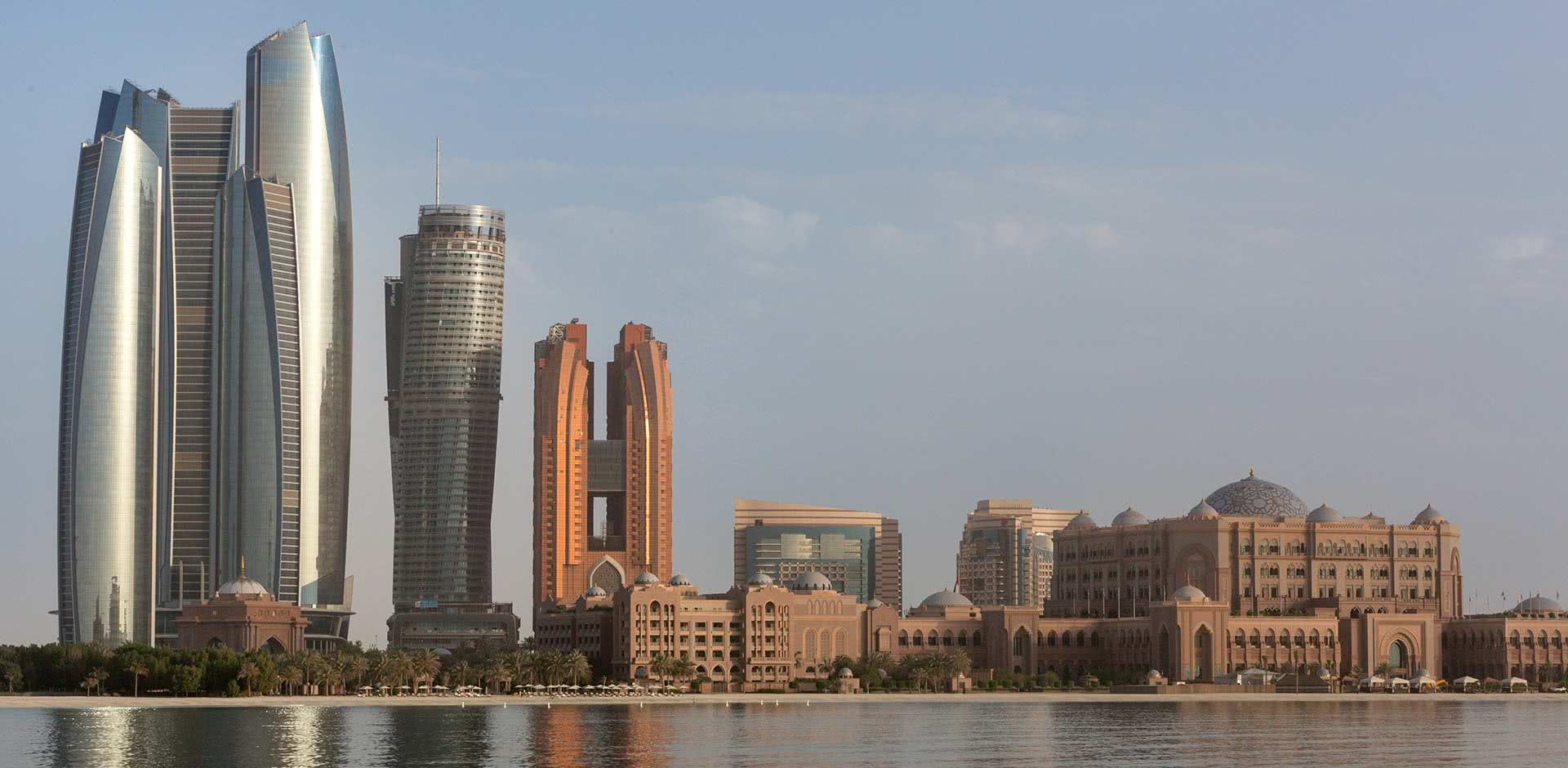 Day 7
Dubai
Only an hour and a half away, spanning 86 miles, transfer back to Dubai spending the evening at the hotel, enjoying fine cuisine, spa treatments or relaxing in the comfort of the rooms.
Day 8
Dubai
Dubai - known for its shopping and today is the day! Explore the hundreds of outlets, glitzy brand name department stores in the refreshing cool of air-conditioning, or hit the local markets and purchase authentic Arabian trinkets and textiles to take back home. At every turn you will find something to purchase and a shop that sells it.
Day 9
Departure
Say goodbye to Abu Dhabi with the journey heading back to Dubai only 86 miles away - leaving this magical city to head off on the next adventure
TERMS AND CONDITIONS
Price is based on double or twin hotel room occupancy and includes accommodation, transfers, car/driver, English-speaking guide, activities and entrance fees, breakfasts and some casual lunches while touring. Flights and optional special activities will be quoted separately. Most personal expenses, including dinners, alcoholic beverages, spa treatments and gratuities can be paid on the spot while traveling. Prices may vary depending on season, choice of accommodation and other factors.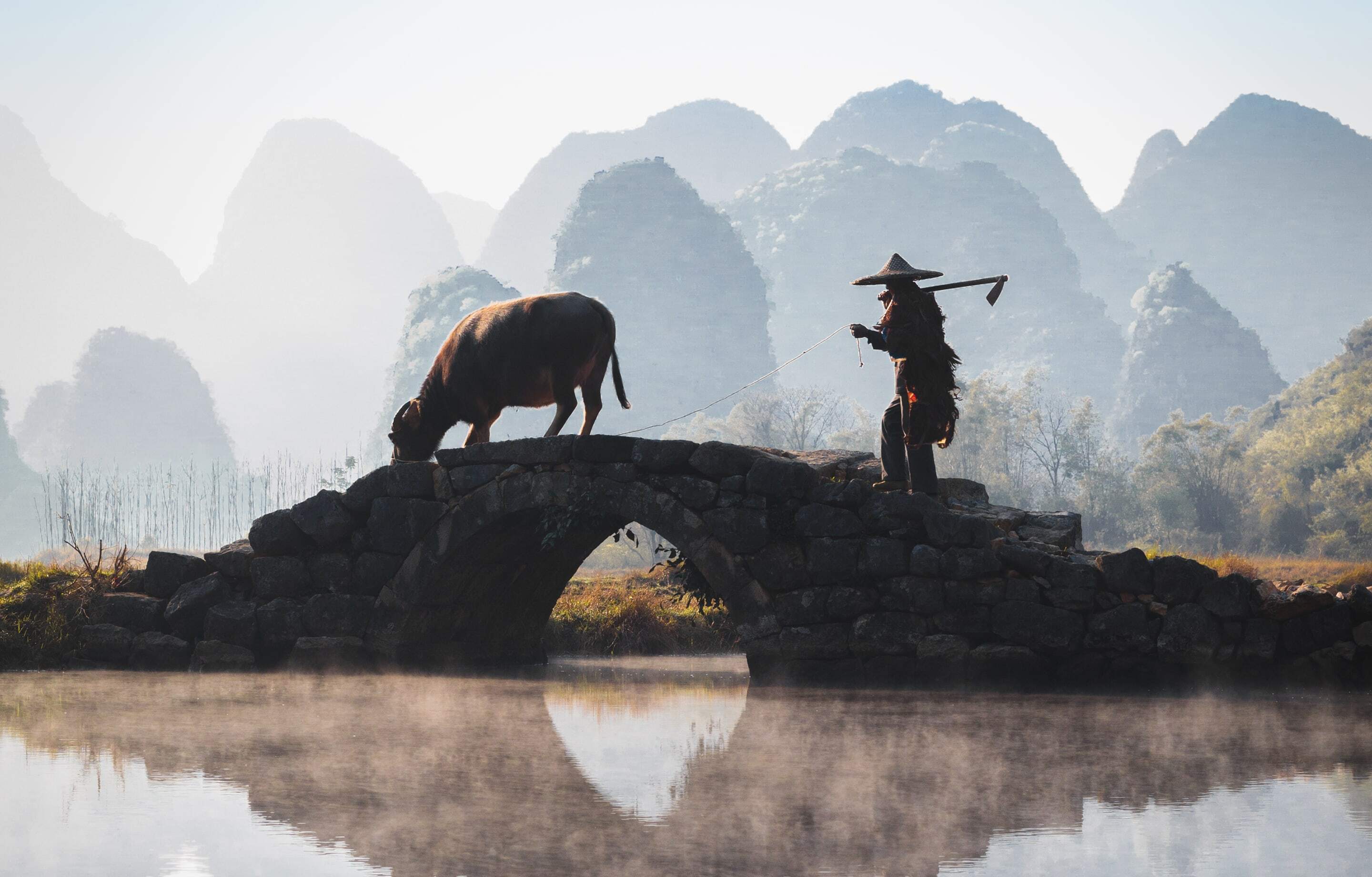 Why Remote Lands?
Exclusively Asia
With Remote Lands you'll travel with people who have made Asia the solitary focus of their own lifelong adventure. As our guest, you'll discover Asia on a journey that is completely, authentically your own, adapted from our own remarkable experiences and adventures over the years.
With Remote Lands you'll travel with people who have made Asia the solitary focus of their own lifelong adventure. As our guest, in the continent that our north American founders Catherine and Jay have adored and explored for decades, you'll discover Asia on a journey that is completely, authentically your own, adapted from our own remarkable experiences and adventures over the years.
Travelogues
An Asia-focused magazine brought to you by Remote Lands – a platform for adventure, luxury, and authenticity from experts and explorers around the continent.
What Others Say
Here is a small selection of the kind words our guests have said about us, as well as features by journalists and travel writers.
From the moment I happened upon the REMOTE LANDS website over a year ago, browsed the options, I knew that this would be well worth it. The entire staff is nothing less than professional with service that made us feel like royals.
This was truly the trip of a lifetime. Magical destinations, the most luxurious hotels in the world, and the most wonderful travel companions we could've wished for. We were treated like family everywhere we went and we have 14 new best friends.
We have used some of the top rated travel specialists all over the world and, without question, Catherine Heald and Remote Lands are at the very top of the list!