Example Itinerary
Land of the Seven Lakes: Natural Beauty of Tajikistan
Get ready for an unforgettable trip through the mountains of Tajikistan. This incredible 11-day journey whisks you from the historic capital of Dushanbe, with its museums, gardens, and markets, high into the mountains and deep into valleys and canyons, where you'll be swept away by the remote, natural beauty – among the best Tajikistan has to offer. You'll picnic alongside rivers and set up camp in verdant valleys, as you make your way to the legendary "Seven Lakes," renowned worldwide for their beauty.
This itinerary is an example. It's designed to inspire you and provide you with thoughtfully curated ideas. You can choose to do this exact itinerary or completely personalize it. All trips are 100% bespoke.
Highlights
• Trekking: Tajikistan's soaring, ancient mountains boast some of the most incredible natural landscapes in Central Asia.
• Al Fresco Accommodation: Bed down under the stars in valleys and beside lakes, where the fresh, serene atmosphere lulls campers to sleep.
• Fann Mountain Lakes: Swim in one of the legendary "Seven Lakes," and learn the magical tale of how the lakes came to be.
Day-by-Day
Day 1
Dushanbe
Touch down in the afternoon at Dushanbe's international airport, where you'll be met and transferred to your hotel in town. Settle in to your new surroundings, and enjoy the rest of the day at your leisure, to either relax or explore the area as you please.
Day 2
Dushanbe
Enjoy breakfast at your hotel on the first full day of your exciting Tajikistan journey. Afterwards, you'll head out on a tour of the country's capital city, stopping at the Antiquities' Museum – complete with 40-foot statue of Buddha, the Musical Instruments Museum, Botanical Gardens, Somoni Place, and the oriental market, stopping along the way to eat lunch and dinner at local restaurants. Bed down tonight back at your hotel.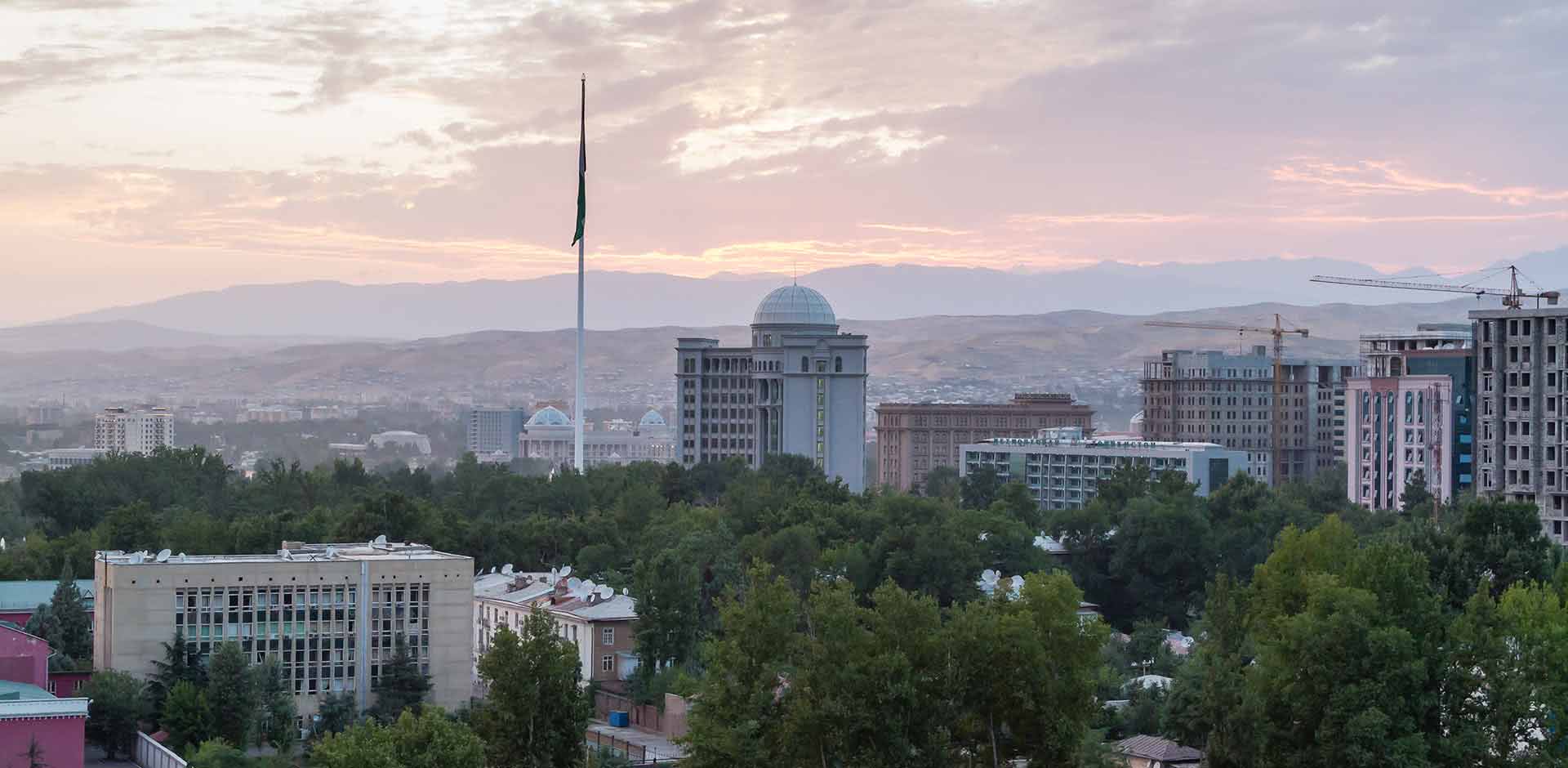 Day 3
Varzob Canyon Karakul River
Today you're off to the picturesque Varzob canyon, and through the lengthy and dark tunnel to Iskanderkul, eating lunch along the way. Upon arrival at Iskanderkul lake, you'll stop to take in the beauty of a waterfall. Your journey then continues, past Saritag village to Karakul river, 7,700 feet above sea level. Set up camp for the night and enjoy dinner under the stars.
Day 4
Karakul river Pastyshiy Kamen (Shepherd's Stone)
Start your day off with a hearty breakfast, followed by a trek alongside a mountain river called Dugdon. After four hours of trekking, you'll find yourself at a tent camp some 9,500 feet above sea level. Stop for a picnic, and set up camp – you'll be spending the night here, giving you plenty of opportunity to take in the picturesque surroundings.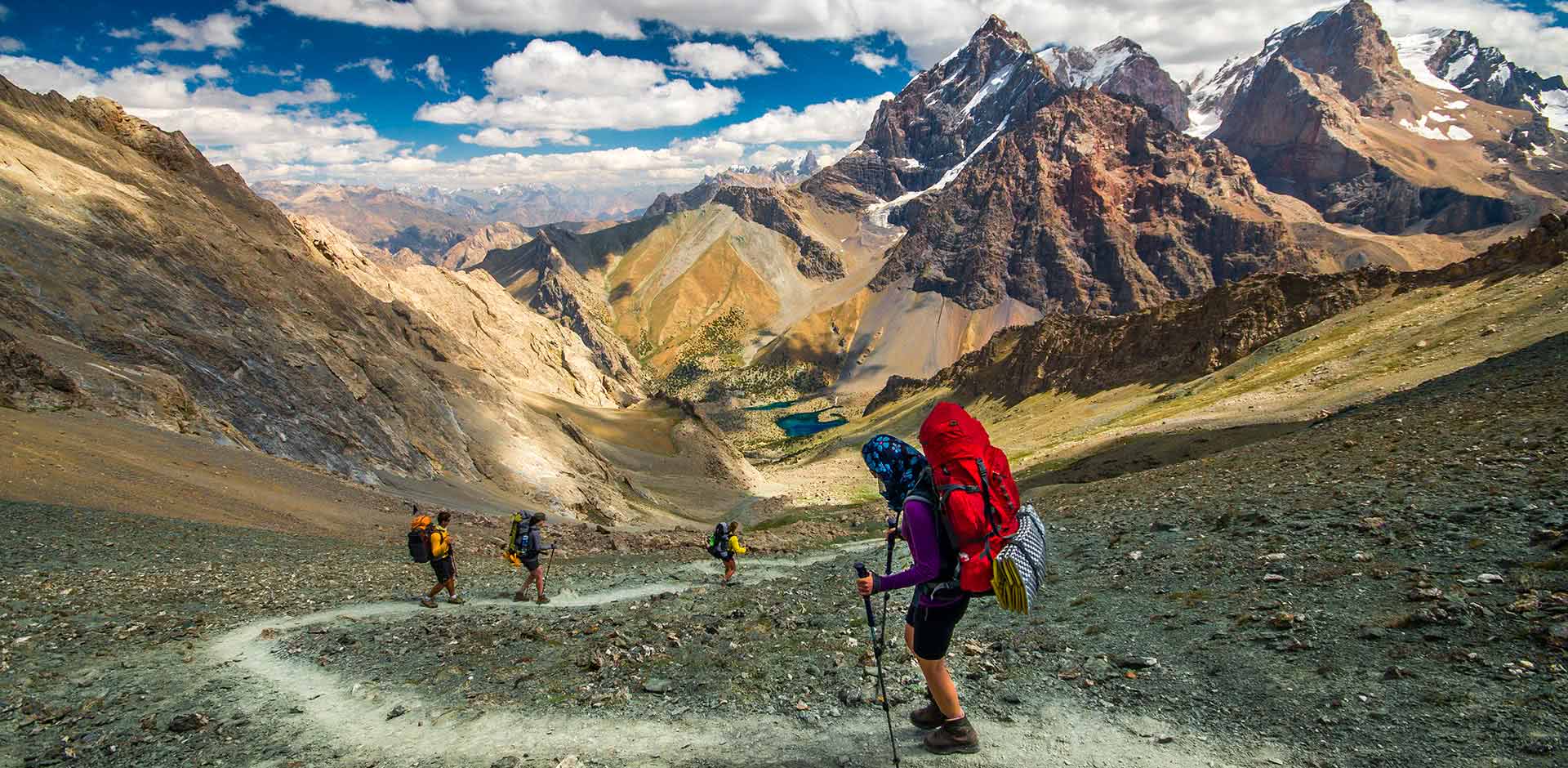 Day 5
Dugdon Pass Sarihodan Canyon
Lace up your hiking boots once again, for this morning you'll be trekking across the Dugdon pass – at 12,500 feet in elevation. Sit down to a delightful picnic, enjoying the highland atmosphere. After your picnic lunch, you'll trek down to the beautiful Sarihodan canyon – a total of seven hours trekking today, where you'll be treated to an exquisite view of the glaciers in the near distance. Set up camp for the night, and enjoy an al fresco dinner as the sun sets upon the mountain ridge.
Day 6
Pushtikul Pass Obi-safed
Wake up to the fresh mountain air this morning, and breakfast before heading back onto the path for another four to five hours of trekking. You'll stop first at Pushtikul Lake - 8,000 feet above sea level, before making your way to the Obi-safed river, where you'll set up camp and eat dinner before resting your tired legs for the second-half of your journey.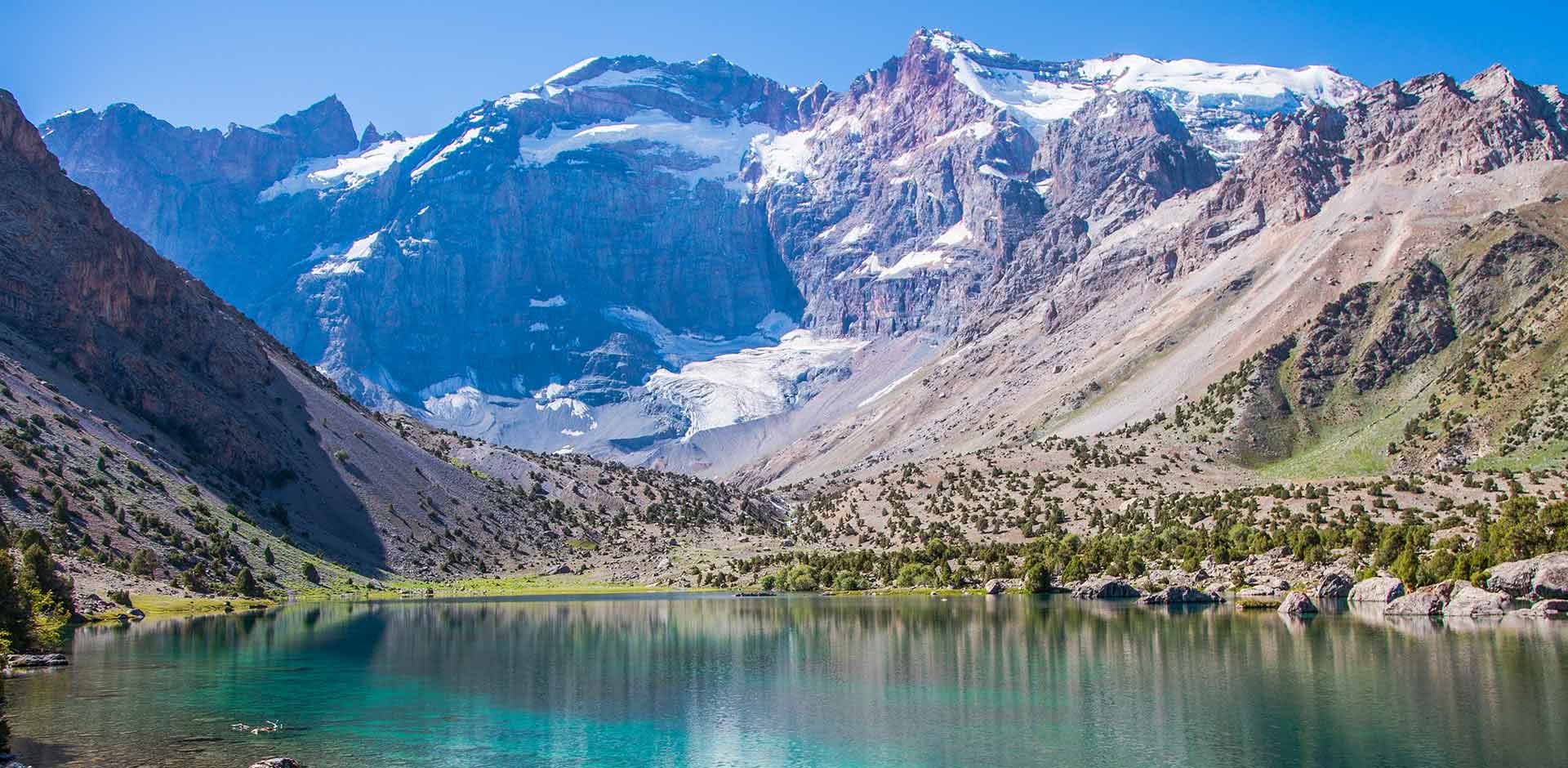 Day 7
Munora Pass - Sarimat River
Wake up on the riverside and start your day off with a nutritious breakfast. You'll be trekking six to seven hours today, so you'll need the sustenance. Trek up and pass over Munora – over 11,000 feet above sea level – and then descend to the Sarimat river, where you'll enjoy a leisurely picnic lunch. Here, you'll also set up camp and bed down for the night, enjoying the afternoon at your leisure.
Day 8
Tovassang pass - Hazorchashma Lake
After breakfast, you'll trek over to Tavassang pass, nearly 11,000 feet above sea level. Next, you'll descend to Hazorchashma lake, where you'll dine on a picnic lunch and then set up camp and enjoy leisure time in Tajikistan's great outdoors for the remainder of the day. Hazorchashma lake is the seventh of Tajikistan's legendary "Seven Lakes," also known as the Maruzor lakes. They are famous across the country and indeed the world for their beauty.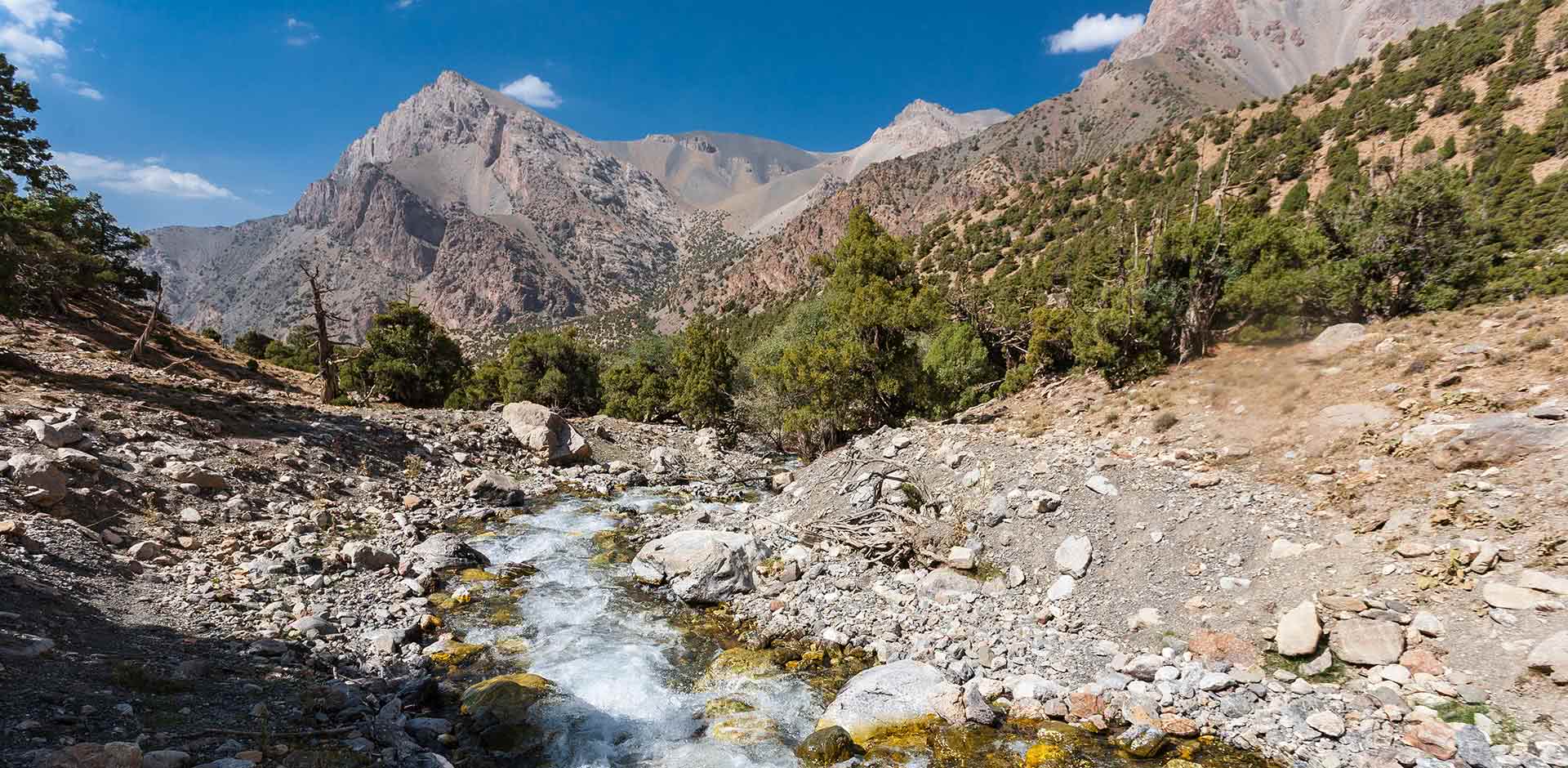 Day 9
Hazorchashma - Pendjikent
Today is your chance to discover the exquisite Seven Lakes and decide which is your favorite. Bathing is possible in Lake Gushor – the third lake. You'll then transfer to Penjikent, where you'll sit down to a picnic, followed by an insightful city tour. Enjoy dinner in town, and check in to a local guesthouse, where you'll spend the night.
Day 10
Dushanbe
Today you're headed back to the Tajik capital of Dushanbe. Upon arrival, enjoy lunch at a local restaurant, and then visit the Guissar fortress 19 miles outside of town. This evening, sit down to a farewell dinner, before heading back to your hotel to rest for your departure tomorrow.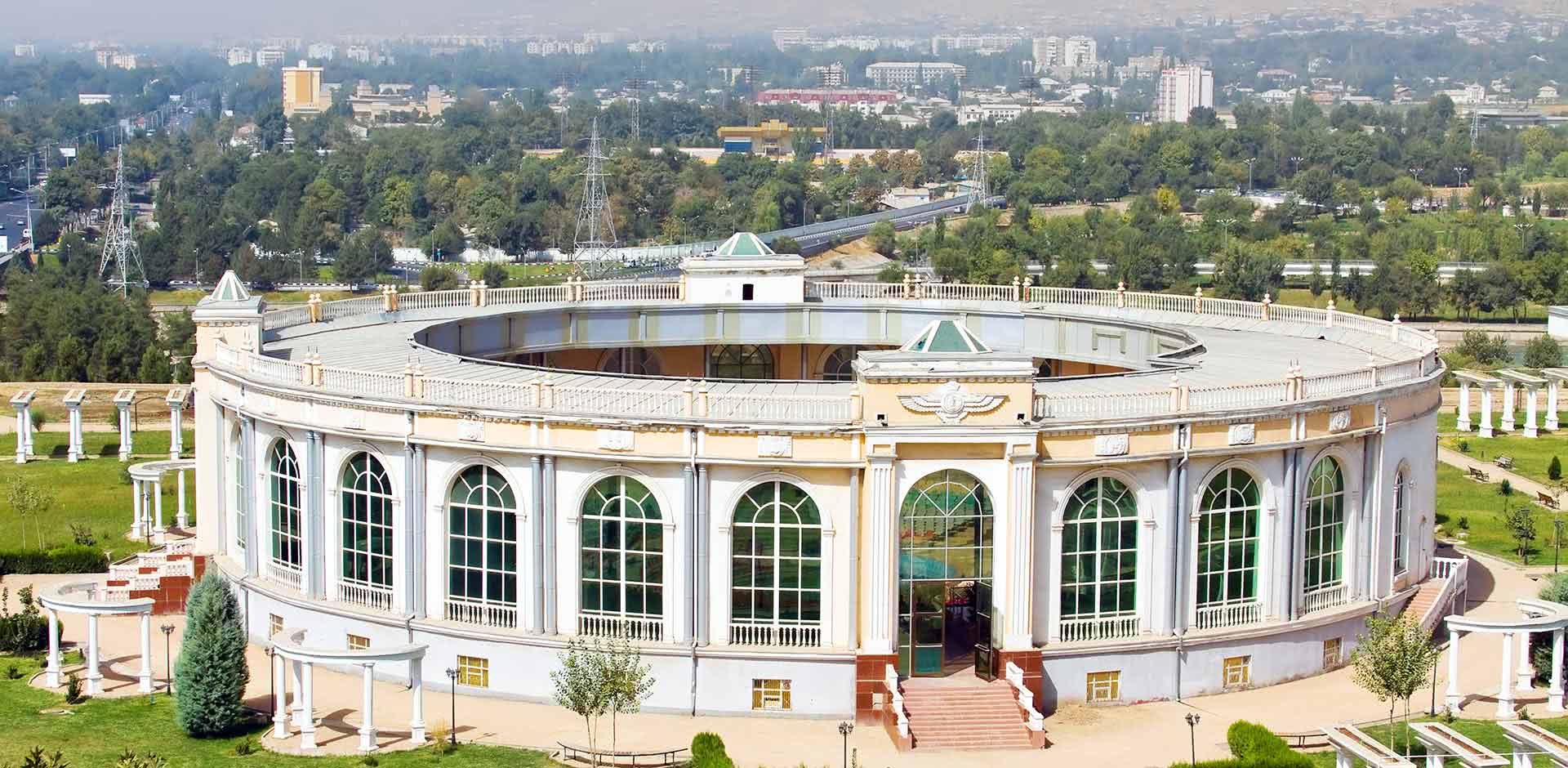 Day 11
Departure
Check out of your hotel this morning and bid Dushanbe and Tajikistan adieu. You'll be transferred to the international airport, where you can check in for your flight on to your next exciting destination.
TERMS AND CONDITIONS
Price is based on double or twin hotel room occupancy and includes accommodation, transfers, car/driver, English-speaking guide, activities and entrance fees, breakfasts and some casual lunches while touring. Flights and optional special activities will be quoted separately. Most personal expenses, including dinners, alcoholic beverages, spa treatments and gratuities can be paid on the spot while traveling. Prices may vary depending on season, choice of accommodation and other factors.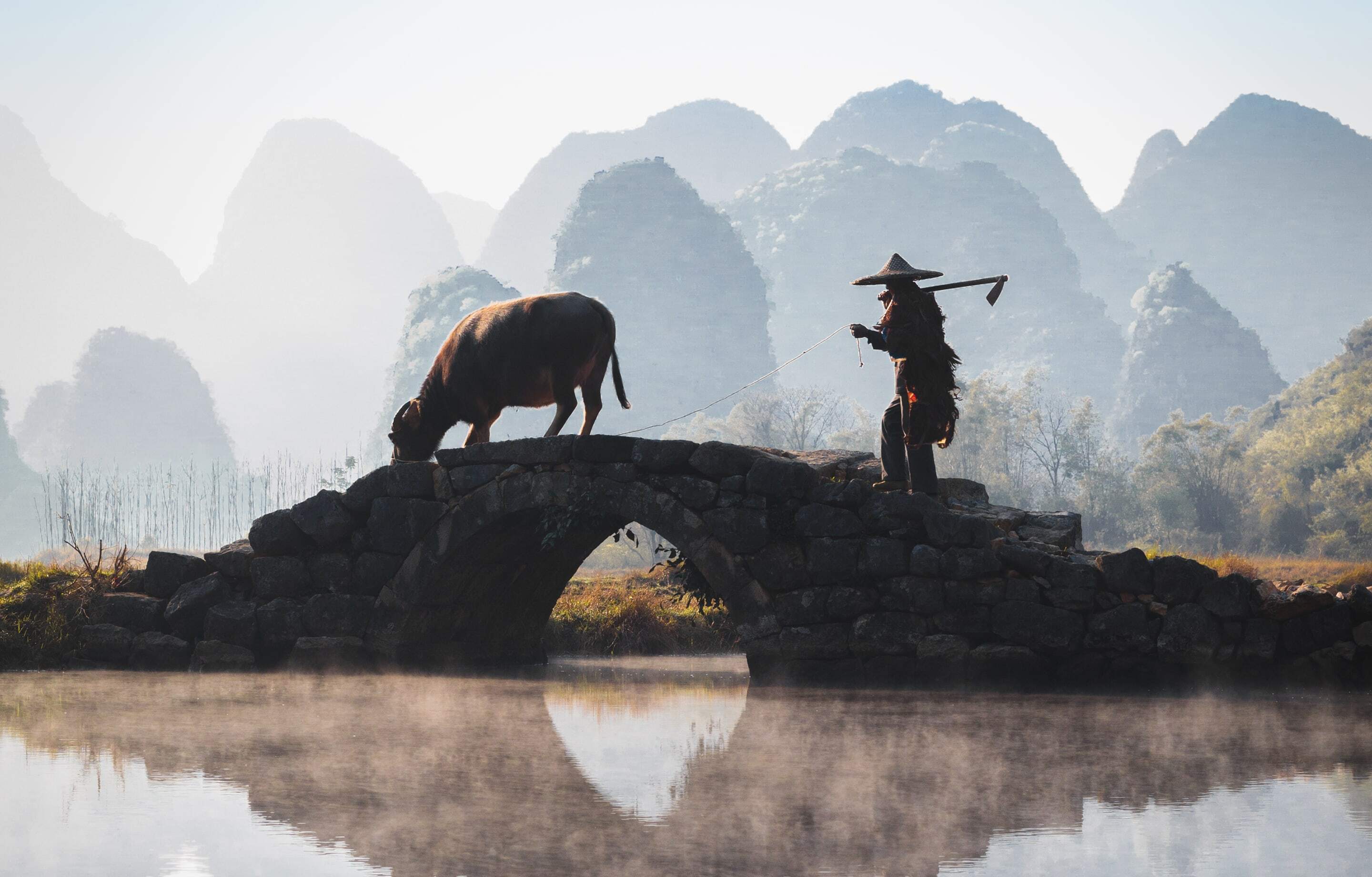 Why Remote Lands?
Exclusively Asia
With Remote Lands you'll travel with people who have made Asia the solitary focus of their own lifelong adventure. As our guest, you'll discover Asia on a journey that is completely, authentically your own, adapted from our own remarkable experiences and adventures over the years.
With Remote Lands you'll travel with people who have made Asia the solitary focus of their own lifelong adventure. As our guest, in the continent that our north American founders Catherine and Jay have adored and explored for decades, you'll discover Asia on a journey that is completely, authentically your own, adapted from our own remarkable experiences and adventures over the years.
Travelogues
An Asia-focused magazine brought to you by Remote Lands – a platform for adventure, luxury, and authenticity from experts and explorers around the continent.
What Others Say
Here is a small selection of the kind words our guests have said about us, as well as features by journalists and travel writers.
From the moment I happened upon the REMOTE LANDS website over a year ago, browsed the options, I knew that this would be well worth it. The entire staff is nothing less than professional with service that made us feel like royals.
This was truly the trip of a lifetime. Magical destinations, the most luxurious hotels in the world, and the most wonderful travel companions we could've wished for. We were treated like family everywhere we went and we have 14 new best friends.
We have used some of the top rated travel specialists all over the world and, without question, Catherine Heald and Remote Lands are at the very top of the list!