Hangzhou isn't China's most famous city. It's not the biggest. It's not the most dynamic or important. But, it is indeed romantic. Why? Well, there are the vistas of the idyllic West Lake. Maybe it's the luxurious tea farmed in bucolic fields moments from the city center. It could be the imperial scenes of manicured gardens or sunsets over Leifeng Pagoda. However, in China, Hangzhou is known for the romantic Legend of the White Snake.
In a myth that has twisted from a morality tale into a love story, a white snake spirit transforms into a woman and falls in love with a man on the Broken Bridge who lends her his umbrella. A rich tale of adventure, heartbreak, death, and woe ensues, and what is remembered is a tale of love – all of which can be traced around the abiding history of Hangzhou.
For lovers looking for a pastoral and urban getaway in China, they'd be hard-pressed to find a more easily accessible or uniquely romantic major city in the Middle Kingdom. In all of the Song Dynasty history, lakeside charm, and garden magic, three hotels stand out among the rest.

Amanfayun for the Unparalleled Luxury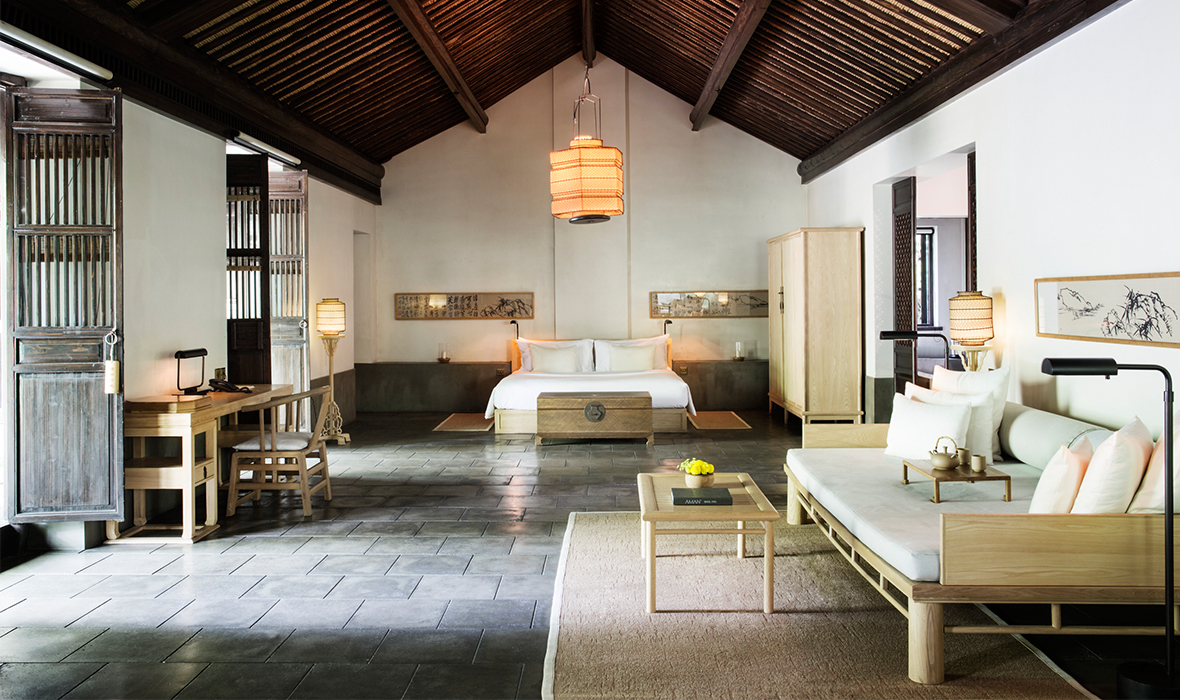 Hangzhou travelers wanting to experience a slice of traditional, albeit privileged, Chinese life need look no further than the Amanfayun. This luxurious resort occupies a traditional Chinese courtyard village, and some of its guest villas are over 100 years old.

The décor for all of its 42 rooms, suites, and villas is rooted in distinctively Chinese aesthetics. Rustic structures are constructed with timber, clay, tiles, earthen brick and stone; interiors are adorned with intricate woodwork and fine calligraphy art pieces. In the morning, guests can wake up to tai chi, yoga, and meditation sessions.

Put simply this Aman destination is the most luxurious stay in Hangzhou. One would have to travel to the city's dynamic neighbor of Shanghai for anything as opulent.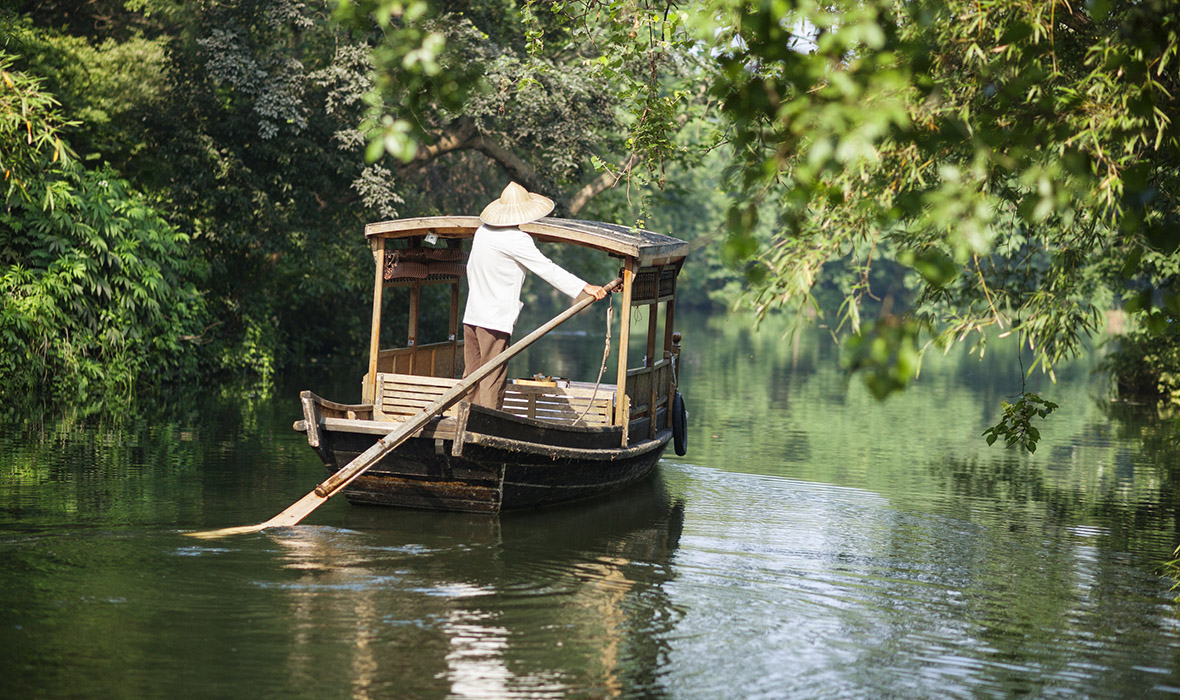 Days are spent walking among the surrounding tea fields or traveling along a pilgrimage circuit between significant Buddhist temples. Enjoy traditional tea ceremonies and bamboo aromatherapy massages. The whole experience may leave some guests so drunken off of ancient Chinese sensibilities that they lose touch of their own.
No need to worry, though, there are TVs and a Wi-Fi connection to whisk them back into the present along with a number of international dishes to rekindle their Western inclinations. Such indulgences provide a brief intermission from the resort's intoxicating aura before authentic dumplings at the Steam House return them to their pre-modern, East Asian whimsies.
Banyan Tree for the Wetlands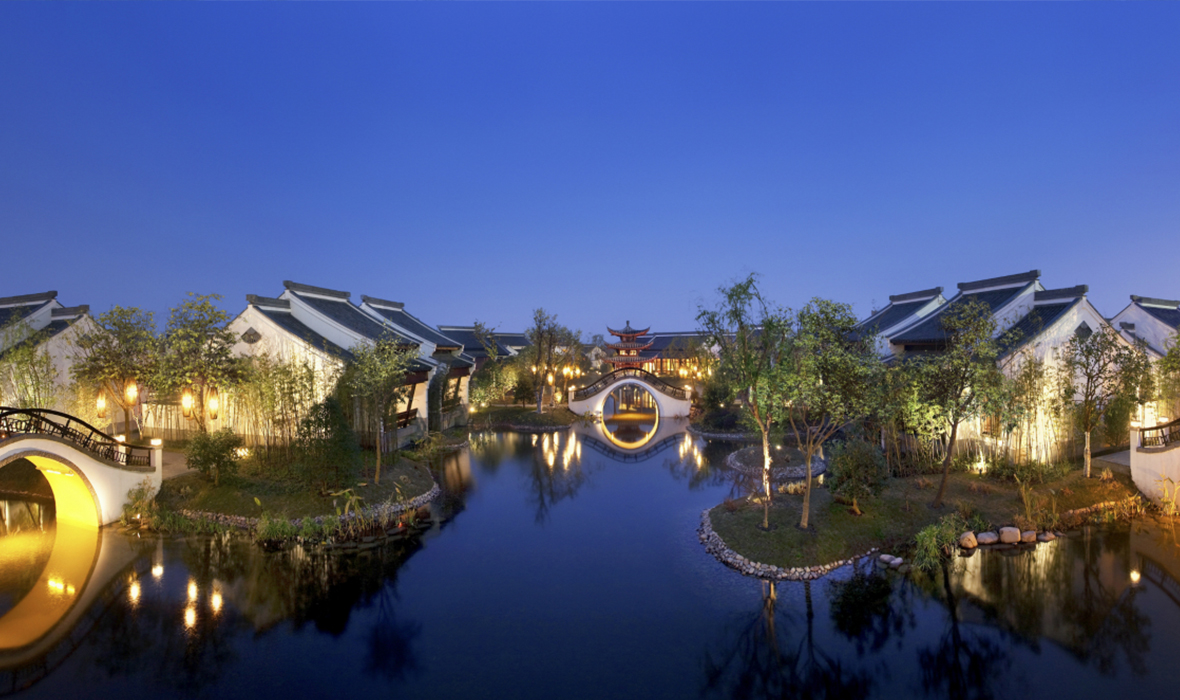 A mere 15-minute walk from downtown Hangzhou's famous West Lake lies China's first and only wetland preserve, and along its picturesque landscapes lies the Banyan Tree Hangzhou. This area offers excellent observation points during bird-watching season and rich biodiversity surrounds it in every direction. Nature lovers should be prepared for more garden-style wetlands than endless tracts of watery scenery, but it's ideal for romantic strolls through pastoral vistas.

The resort is modeled after a traditional wetland village, and its Jiang Nan-style architecture is complete with slate grey tiled roofs, ivory walls, and dark woods. Furnishings are delicately carved and the décor meticulously arranged. With a  spa that employs traditional Chinese techniques and world-class class cocktails at the hotel lobby, it is a haven for lovers of luxury, and its gourmet dining options are not to be overlooked.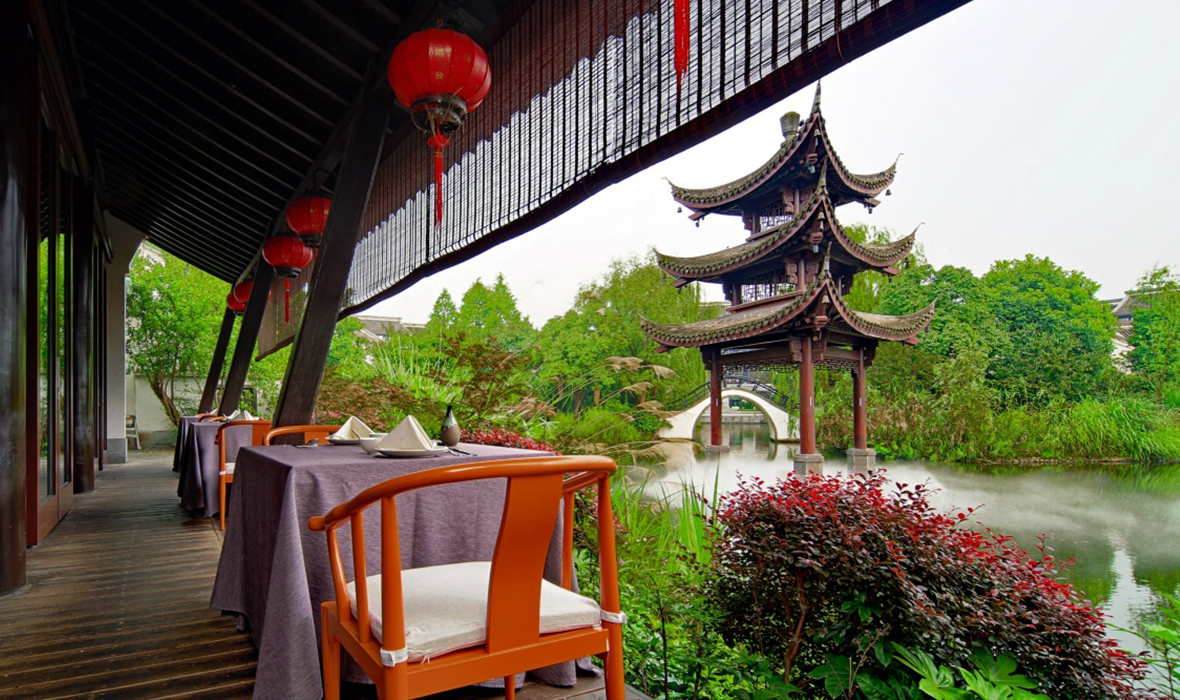 Especially Bai Yun, the resort's signature restaurant of authentic Hangzhou dishes and Cantonese flavors. Some may hastily equate wetlands with mosquitoes and humidity, and they're probably not wrong, but a word to the wise: the views are worth it. And even when the weather does get on the hot side, it doesn't feel nearly as bad when you have a temperature controlled room to return to that's fitted with seemingly every luxury amenity imaginable, at least that's our perspective.
Four Seasons for the West Lake
Throughout Chinese history, Hangzhou's West Lake has inspired poets, painters, and even royalty; the Ten Scenes of the West Lake are ten views appointed by Emperor Qianlong to be the most impressive vistas in Hangzhou, chosen for their bucolic majesty. Perhaps planners at the Four Seasons conglomerate were caught in such a dreamlike daze when they decided to place their Hangzhou incarnation within a five minutes' walk of the famed lake, or perhaps they just realized the obvious: it's beautiful.
Whatever the case, the hotel itself is also a testament to luxury. Overlooking the lake, the hotel itself captures the region's distinctive aesthetics with black-tiled roofs and pagoda-style pavilions. It is nestled among bamboo forests, ornate gardens, and lily-strewn ponds.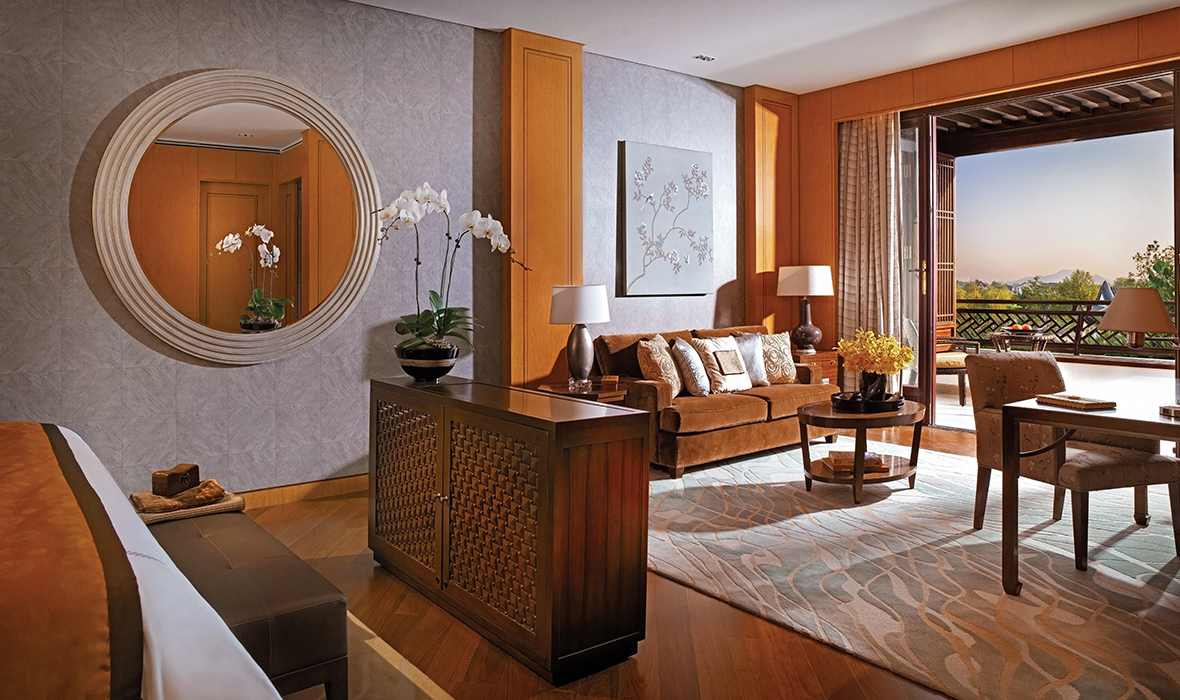 The 81 guest rooms, suites, and villas fuse Chinese art and tapestries with sleek modernist furnishings. In-room technology is state of the art, furnishings are luxurious, and amenities are top of the line. They are also the largest accommodations in the city, starting at 678 square feet. The elegant Jin Sha restaurant serves classic Chinses dishes from its light filled dining hall while the West Lake Bistro serves a mixture of Western and Asian flavors.

There is a luxurious spa, two expansive pools, and guests are even treated to a gondola ride upon check-in. Huang Zunxian once wrote, "I've never traveled to Hangzhou's West Lake, but seem to have experienced it somewhere in my dreams." Stepping between the opulent spa, gourmet restaurants, and spacious rooms, one may wonder if they're lost in a dream or not. Step out into the bustling city streets of Hangzhou, and the honking may jerk you back into reality – or perhaps it will only drive you further away.