Remote Lands is proud to be featuring The Bill Bensley Trail, a once-in-a-lifetime, 15-day experience across four countries to see Asia through the eyes of one of the most extraordinary design minds on Earth: Bill Bensley. One of the stops on the Bensley trail is the Shinta Mani Wild, the culmination of Bill Bensley's 30 years of experience. It's an adventure, a tented camp, a wildlife refuge – and, of course, what would a Bill Bensley destination be without luxury. Travelers here can go out with Wildlife rangers to save the Cardamom National Forest, sip champagne, or enjoy the waterfalls. For Bill, this property is something very special indeed; Travelogues from Remote Lands sat down with Mr. Bensley for a chat about his newest, coolest jungle adventure.

In my 30 years years of constructing 200 plus hotels, the Shinta Mani Wild is the piece de resistance. I bought a piece of land there and it's about the size of Central Park with the intent of teaching the Cambodian people that conservation is much more important and smarter than extraction.
We have a big problem in the Cardamom National Forest of illegal poaching and illegal logging. My presence in the south of that park also supports the Wildlife Alliance rangers. Those rangers go on very long walks and bike rides with AK-47s – always traveling in a group of four – to do some very serious conservation work. In the past 10 years, they've been responsible for capturing 71,000 live animals and returning to the wild. But, they've also been responsible for seizing 72,000 pounds of deal wildlife meat.
That just give you an idea that this is serious business. There is some serious money going on in the poaching trade and the wildlife meat trade that are going into China and going into Vietnam. That's what Shinta Mani Wild is all about I want to be part of reversing that trend of the destruction of these forests.
These forests are so important to the Cambodian people because it's largest contiguous piece of rainforest in Southeast Asia, and that creates the rain for the rice bowl in the rest of Cambodia. If the Cardamom National Park would continue to be deforested, there would be no more rain. People would go hungry once again in Cambodia. So, that's even more important.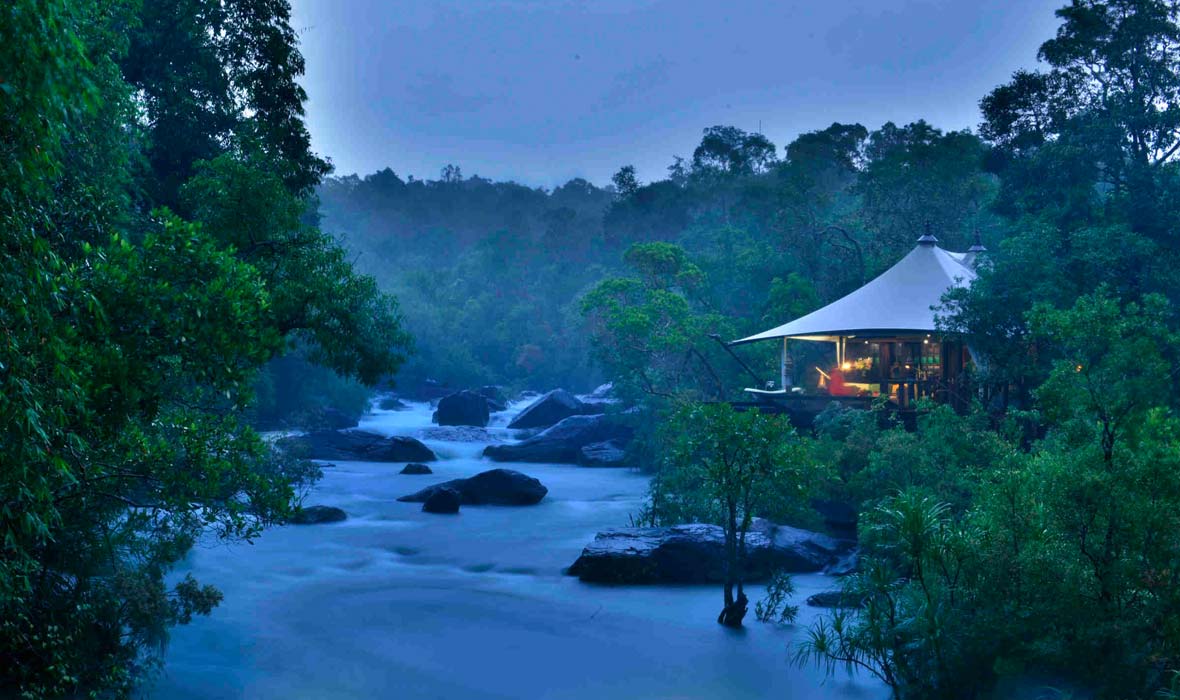 From Bill's kitchen in Bangkok and the charm of Luang Prabang to the rain forests of Cambodia and the beaches of Vietnam, explore four countries with the genius and charisma of one of the most exciting characters in the travel industry. Stay in tented camps, urban retreats, beachside getaways, and go behind the scenes for a look at Bensley's creative process. With anecdotes from the lively Bill Bensley and some of the finest accommodations on the continent, indulge in Southeast Asia like never before.
Hosted by Bill Bensley himself: Stay at some of the most acclaimed hotels in the world, hosted by the man who designed them.
Stay at the new Shinta Mani Wild: Experience this eccentric rainforest conservation retreat, deep within a national park.
VIP Angkor Experiences: Take an aerial tour of Angkor Wat by helicopter & enjoy a private dinner in an ancient Khmer temple.
MandaLao Elephant Sanctuary: Meet the elephants rescued from loggers and sustained through responsible tourism.
Dinner with Bill Bensley in his Bangkok home: Exclusive soirée at Bill Bensley's stunning private residence in Bangkok.
Sneak Peek at Bill Bensley's Design Process: Go behind the scenes of BENSLEY Design Studios for a peek into the magic of Bill Bensley's creative process.