Shinta Mani has long provided fresh and modern hospitality in Siem Reap. And their latest addition is set to refresh guests in a new way – with the temple city's sole boutique gin bar.
Bensley's Bar reopened in the new year as a gin lover's paradise, launching with 20 artisanal gins, tonic pairings and a range of signature cocktails. Their ambitious new Food and Beverage Manager Cyril Grouvel hopes to expand the collection to a list of 50 revolving gin varieties over time.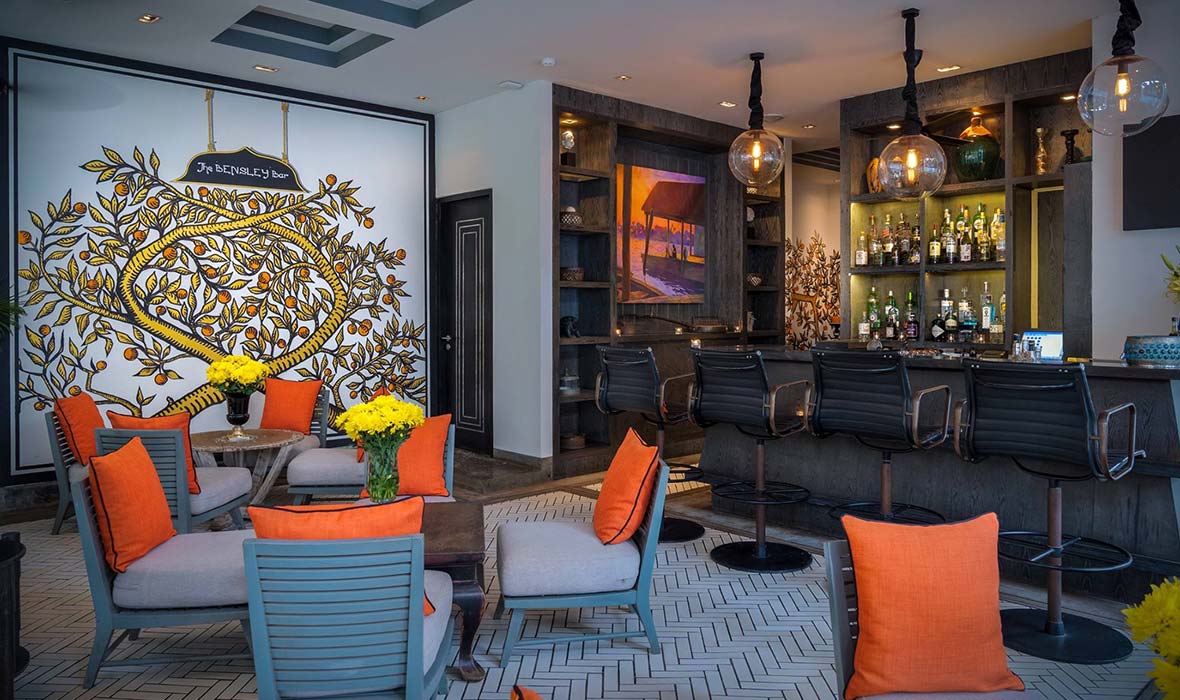 For the uninitiated, Shinta Mani Siem Reap is an estate-like property co-owned by esteemed hotel designer Bill Bensley that sprawls languidly across both sides of Oum Khun Street. The 39-room, high-end Shinta Mani Angkor features low, romantic lighting, modern Cambodian touches, and lots of dark gray – including an intriguing slate lap pool with a waterfall at one end. Of course, Bensley's signature black-and-white stripes make an appearance along pillows and upholstery, providing the place with a crisp, modern feeling.
Across the street is the more accessible Shinta Mani Shack, a hotel just a few storeys high featuring rooms that open onto a courtyard with serious colonial vibes. Green lawns, white wooden loungers, striped towels, lawn blankets and throw pillows set the scene. Guests sip Lemongrass Collins cocktails and nibble Prawn and Pomelo Salad beside a dreamy, Instafamous blue-and-black striped pool.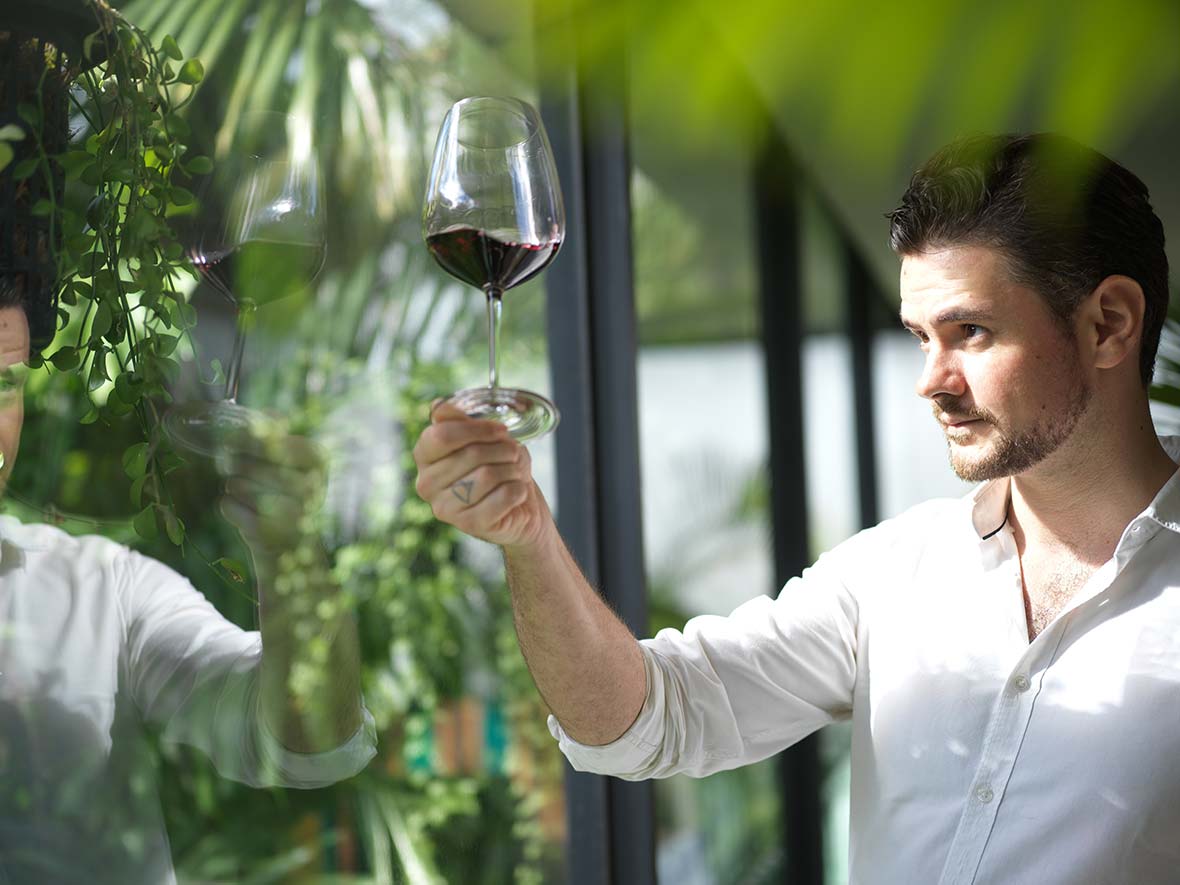 "He's famous for his big pours! When he heard about the gin bar idea, he thought it was great."
Completing the compound is the most recently opened accommodation, the ultra-luxe Bensley Collection, ten gorgeous private pool villas with their own open-air lounges and dining areas on the rooftops.
Shinta Mani Siem Reap continued their upward trajectory with the hiring of Grouvel last year. The Aix-en-Provence native and sommelier has worked in the bar and restaurant industry since he was just out of his teens and relocated to Siem Reap five years ago. He brought with him a deep passion for wine – his hometown is known as the rosé city – and cocktails.
Grouvel began with an overhaul of the wine list, the most comprehensive of which is available at The Steakhouse Siem Reap, the property's fine dining outlet. Though the manager's wine choices are reflected throughout the property, it's at the steakhouse that guests can delve into both a standard and reserve list. With seemingly endless connections in the world of vintners and vintages, he was able to create a comprehensive collection featuring several labels that can not be found elsewhere in Cambodia. "They are not all French, but the very best ones are French," he said with a laugh.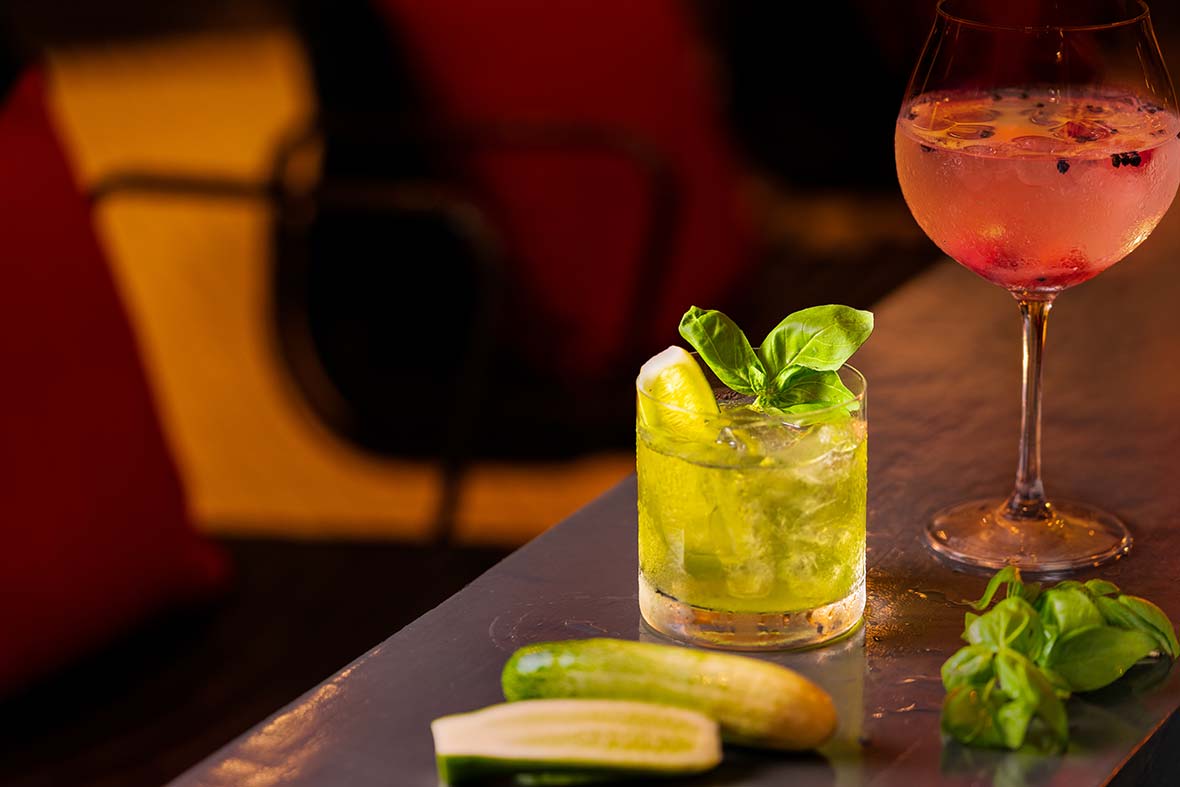 Grouvel's next project was a conceptual revamp of Bensley's Bar, a secreted away watering hole up a set of stairs inside Shinta Mani Angkor. When they first showed him the intimate little bar – perched above Kroya restaurant with open-air window seats that allow tipplers to watch the comings and goings beneath – he immediately saw its potential. "It was a nice bar, but it was just a hotel bar. It had no concept, it was a place to have a beer or glass of wine before you went somewhere else."
Since then, the bar has undergone a redesign, now lighter and brighter with a herringbone tiled floor, pale gray chairs and bright yellow touches. It feels inviting enough to stay for more than just one – and Siem Reap's expats and visitors alike are starting to do just that.
The decision to go with a gin theme seemed a natural one. "There is a gin trend at the moment, sure, but more than that, it's a spirit that you can have fun with. You can pick the botanical that you want to feature and bring it out with other ingredients. You can't do that with vodka, for example, or many other liquors. You don't have all those flavours to play with."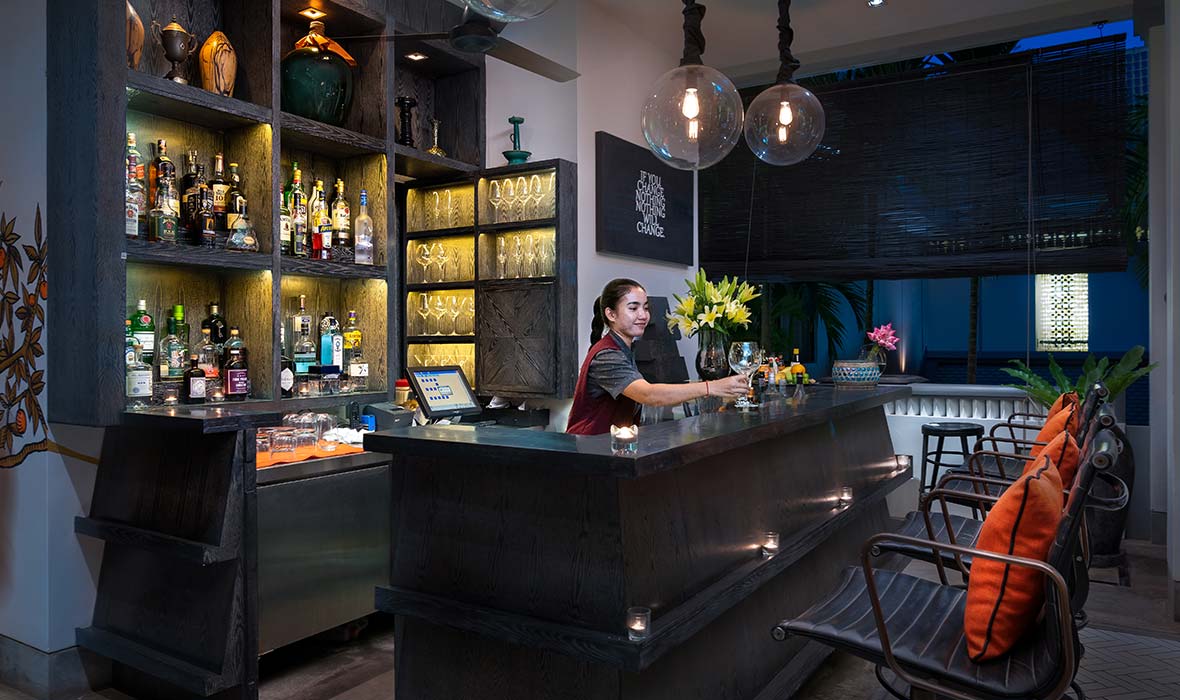 The choice also suits Bensley's Shinta Mani brand. The co-owner's love of a classic G&T is well-documented – and as Shinta Mani General Manager Stuart Gemmell said – "He's famous for his big pours! When he heard about the gin bar idea, he thought it was great."
The first item that Grouvel knew he had to put on the menu was Seekers Mekong Dry Gin, an artisanal spirit made in Phnom Penh that's gaining popularity both domestically and abroad. "Their gin uses all the botanicals found in the Mekong: Khmer basil, pandan, kaffir lime, and Battambang green oranges" explained the manager.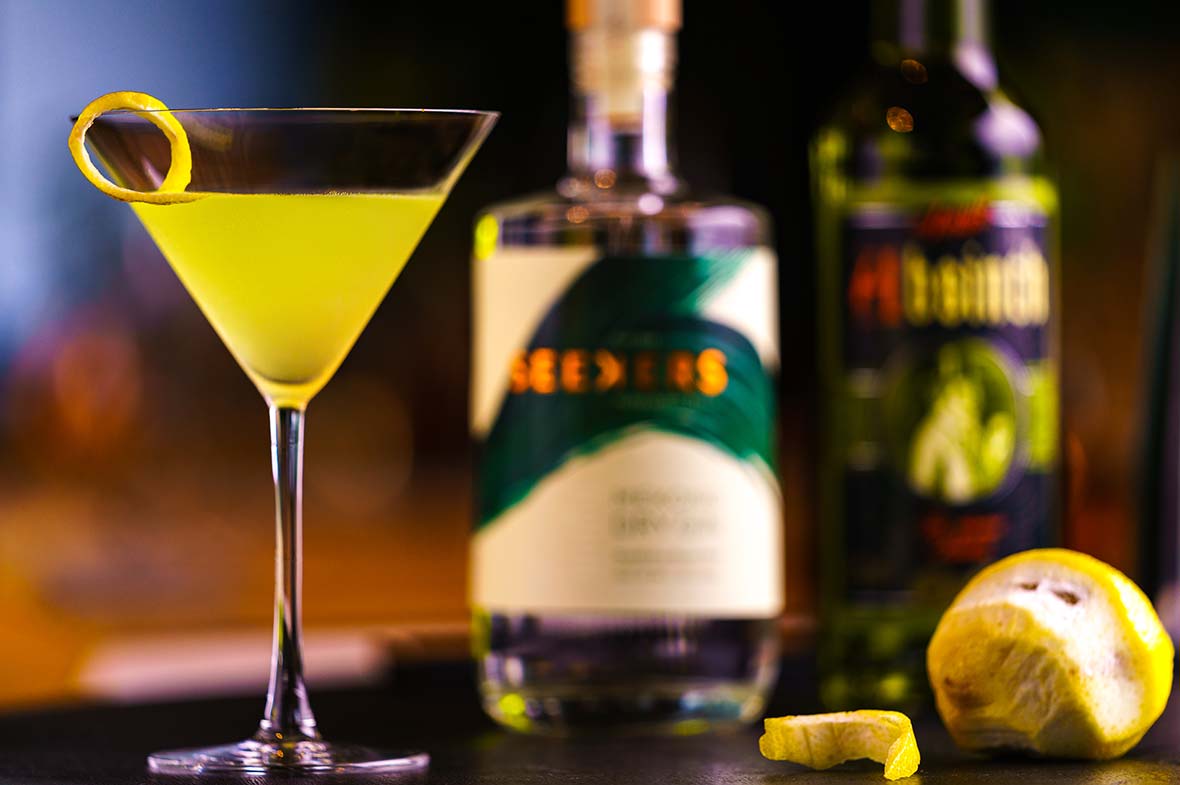 "I asked them what is the absolute best to pair with their gin, and they said, 'Just add a single, freshly-cracked kaffir lime leaf and Fever Tree Indian Tonic'. It was the first drink on the menu and is one of the most popular. Not only because it's delicious but because it's local and has a story, that's what people are looking for now," said Grouvel.
At the first taste of the signature G&T, we sensed an alluring mix of sour and sweet nestled just below the typical bitterness of the drink. It had us continuously trying another sip to figure it out. Thankfully, in true Bensley style, the cocktail was potent and oversized, keeping us drinking for nearly an hour.
Other gin highlights include Tassier, a UK-produced gin inspired by the flavours of Asian street food, and Bloody Shiraz, an Australian gin infused with shiraz grapes. Choices like Germany's Monkey 47 reflect worldwide gin tastes of the moment. "It's among the best, it doesn't even need much garnish," said the manager.
No matter what you choose from the menu at Bensley's Bar, it's sure to impress. In some ways, the venue is similar to the temple city in which it sits. As Grouvel said, "Siem Reap is a gem in the middle of Asia, people don't know about it – but that's one of the best things about it."