The Andaman and Nicobar Islands are India's slice of Southeast Asia: beaches, tribes, and island magic. For Western travelers, this chain of islands separating the Bay of Bengal from the Andaman Sea is rarely visited. The geographically isolated area is made even more difficult to visit travel restrictions, but recent years have seen this region's popularity boom.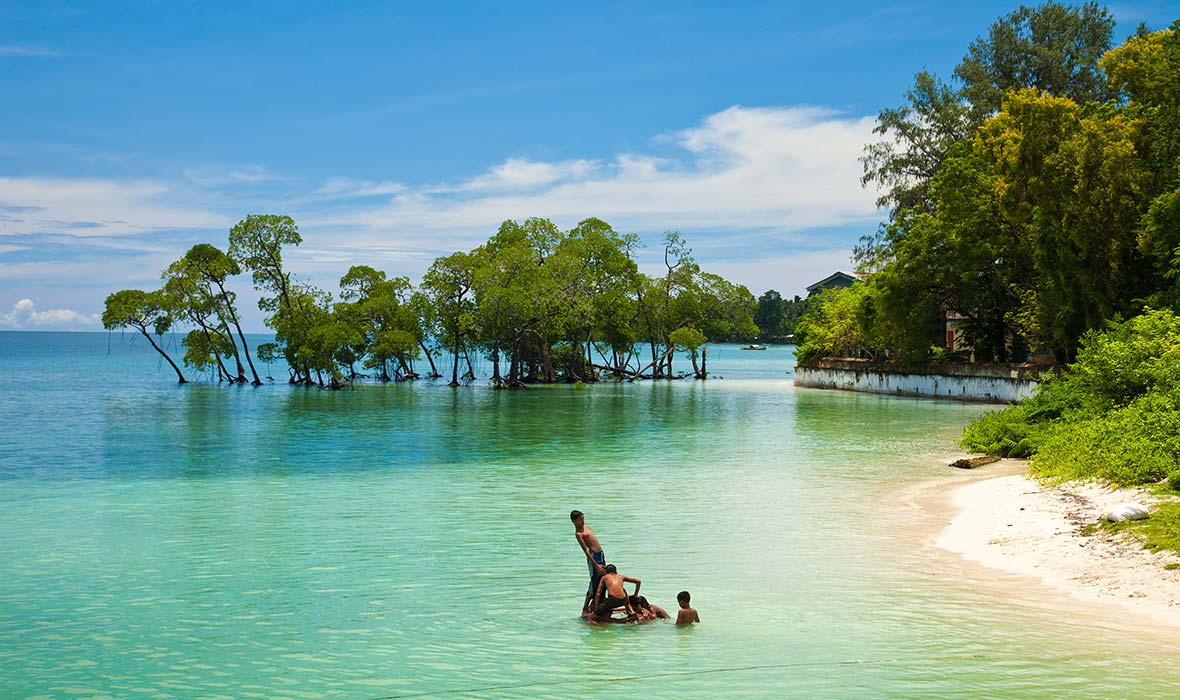 Apart from the well-known Radhanagar Beach, there are a number of shores to discover. Elephant Beach is known for its marine life and coral reefs, and Vijaynagar Beach is an established spot for swimming and surfing, famed for its shallow, sky-blue waters.
Below the waves, Corbyn's Cove, off the capital of Port Blair, is a popular diving destination, as is Wandoor Beach's Mahatma Gandhi National Marine Park where glass-bottom boating is available for those who prefer to view sealife in more comfort.
The volcanic Barren Island, less frequented by tourists, provides more experienced divers the opportunity to swim with green sea turtles, colorful reef fish, octopus, and manta rays. Diving highlights include the walls off Havelock Island and Dixon's Pinnacle, all best experienced from October to May.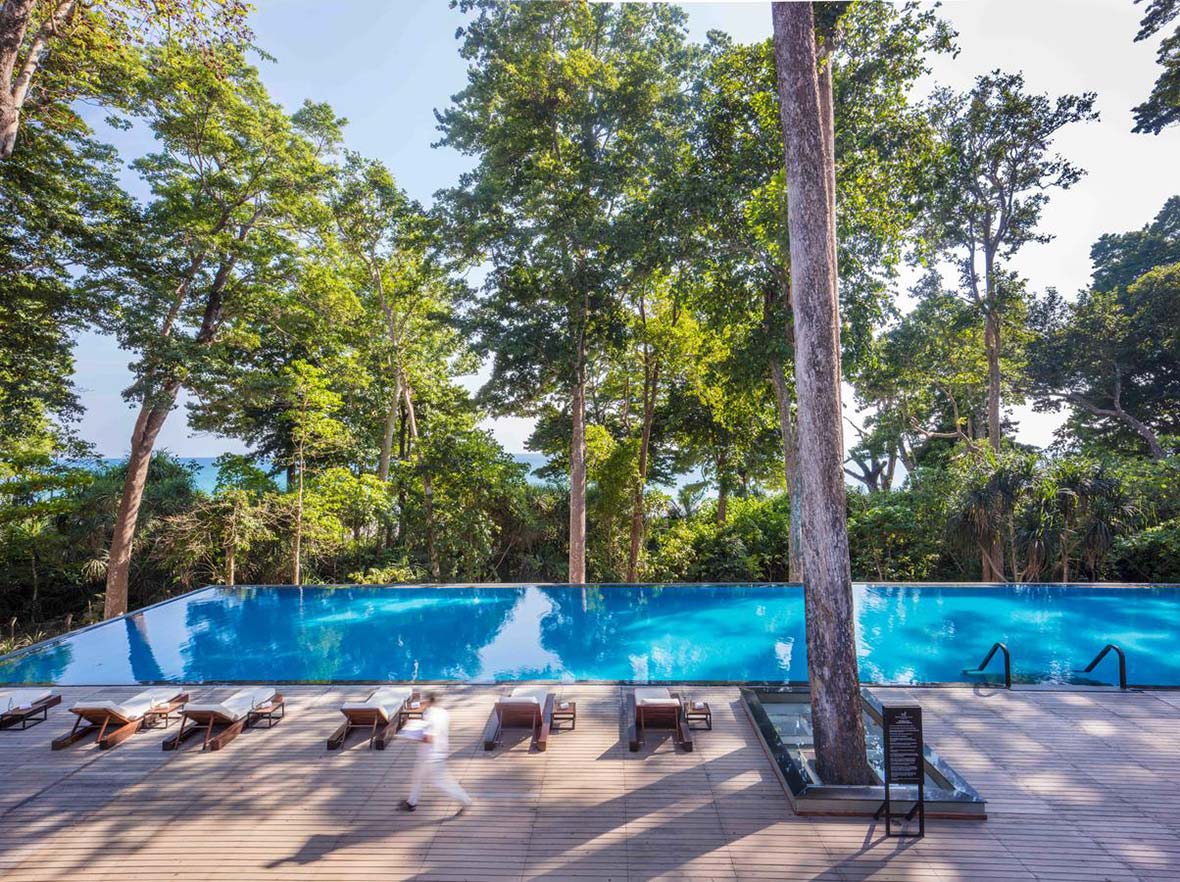 Opening in 2018, the Taj Exotica Resort & Spa, Andamans is found in the Havelock Islands, the resort is set on the crescent-shaped Radhanagar Beach, once named the world's seventh best beach by Time magazine. It is a world-class complex of 50 villas, encompassing 46 acres of mangrove and rainforest.
The construction was inspired by the native Jarawa tribe's stilted huts with pitched roofs. This Taj resort allows for panoramic beach views and includes a 50-meter infinity swimming pool. The on-site restaurants consist of Shoreline, offering regional curries; the Turtle House, focusing on Italian, Mediterranean, and Indian grills; and The Settlers, specializing in fine-dining.
One unique experience here is that of nocturnal kayaking through the mangroves, where bioluminescent phytoplankton entertain paddlers with their fluorescence.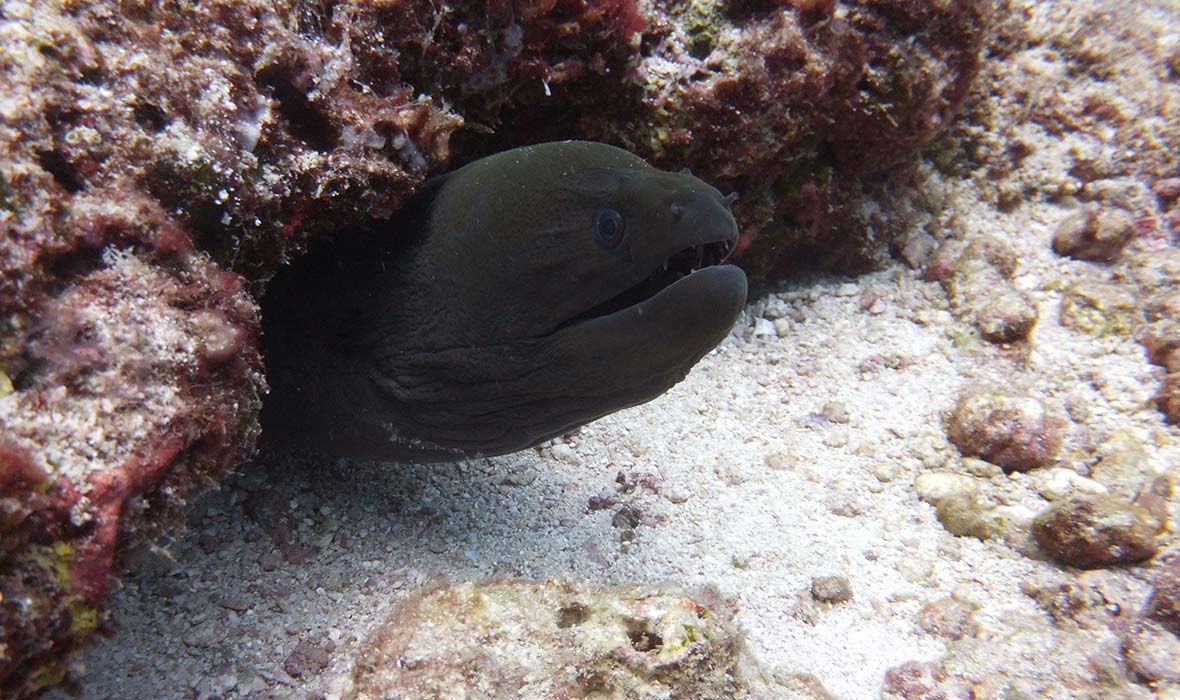 Snorkeling & Scuba Diving
Havelock island is home to a variety of diving sites with rich marine life, such as Seduction Point, Aquarium, Lighthouse, Pilot Reef, Mac Point, Minerva Ledge, and Turtle Bay. The ideal dive season is from December to May. Due to the calm, clear waters, snorkeling is also a great way to see schools of fish living amongst the coral beds.
Bird Watching
Home to both aquatic and shore birds, these isolated islands have an abundance of endemic species of bird. variety of birds. Birdwatchers can fill their time visiting the protected forests where these rare avian species thrive.
Kayaking
An ideal way to see the nature of the Andaman Islands in peace, the calm waterways make for easy kayaking through the islands' mangroves.