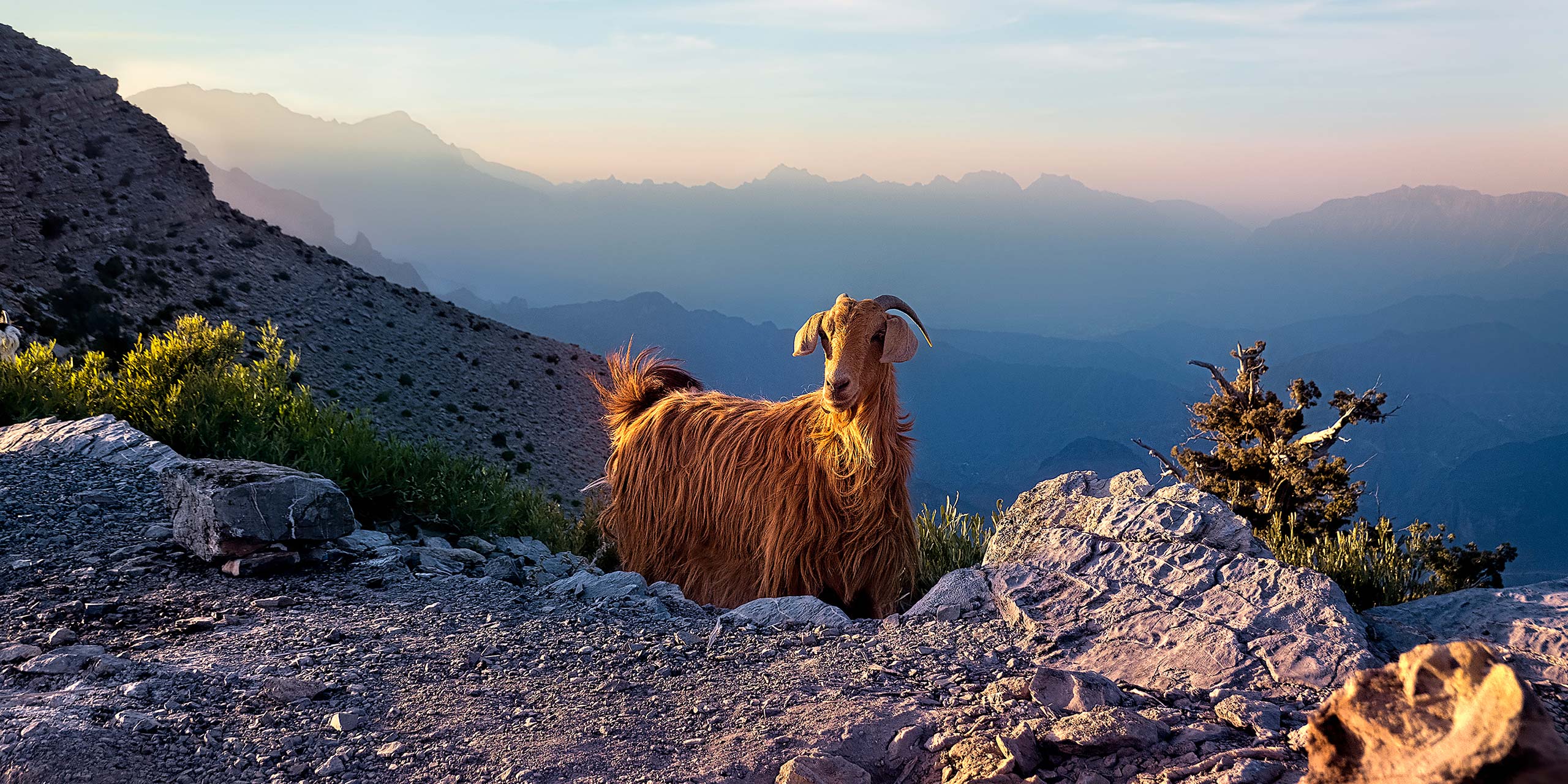 I've spent my life in search of wild and empty places. But staring up at the 5000-foot cliff in front of me, I was starting to question my passion for getting lost. My wife and I were on a multi-week traverse of the Western Hajar Mountains, a dramatic and imposing mountain range that runs across the north of Oman and is one of the wildest and most remote areas of the Middle East.
While local mountain clubs have created a list of routes through the valleys, canyons, and plateaus here, they aren't what most hikers would consider trails. Instead, paint mark blazes have been sprayed onto rocks, giving a supposed route of least resistance through boulder fields and stony high desert terrain.
The "path" we were on, the W8, leading up to a high mesa from the medieval-looking oasis village of Bald Sayt, was considered a "man track" according to our notes.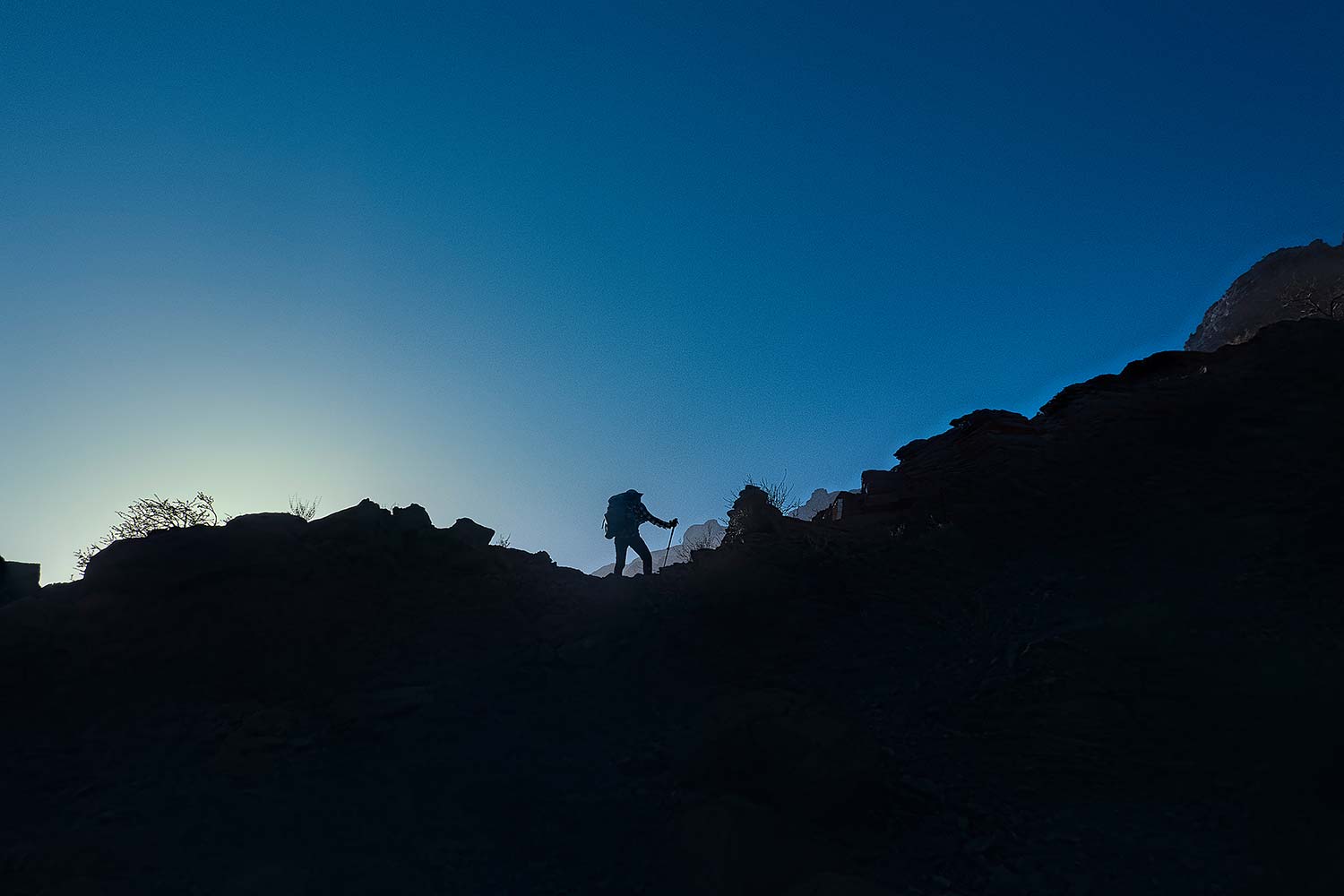 That designation contrasted to the supposedly easier "laden donkey" and "unladen donkey" tracks we had been on in previous days, meaning that a donkey (with or without luggage) couldn't travel here due to steepness.
However, it looked like we were following an "exposed man track" — the next category up — which is essentially rock-climbing terrain, scrambling on all fours, and thinking about using a rope.
Our route followed paint marks, sometimes elusive to find in the sun and monotone desert colors. A better way of navigating was to make sure you could always see some blazes because if you didn't, it most likely meant you'd gone the wrong way and were heading for trouble. Even when we were on track, we were climbing hand over hand, often moving up higher on loose rocks that had been piled up to create a makeshift stepladder, shuffling across exposed ledges with nasty drops to the valley floor.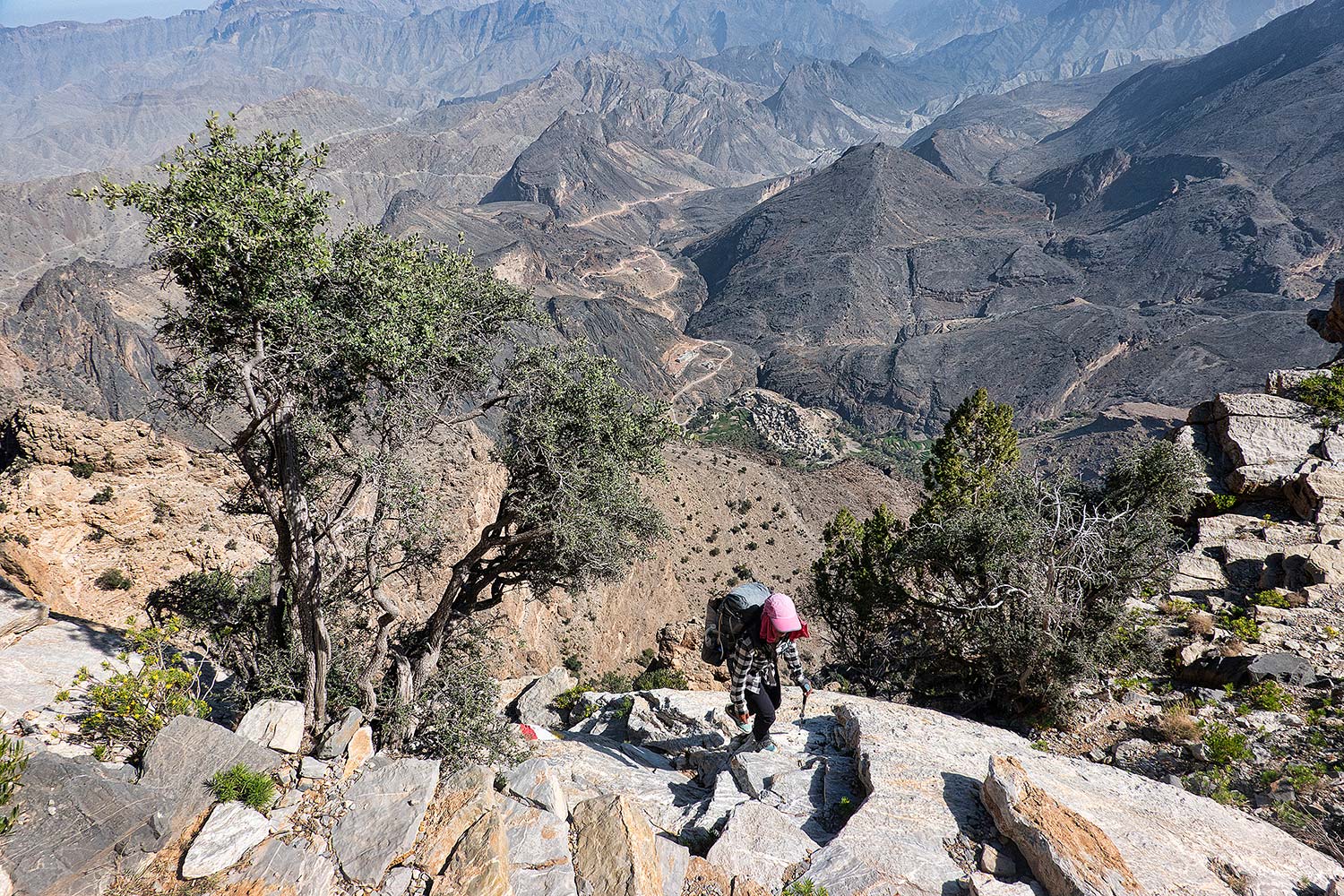 In a week of travel, we'd seen zero other trekkers. And for that matter, once we got a mile or so out of any of the small mountain villages, we weren't running into locals either. Our only reliable companions were goats, wandering wild, and looking far more adept at handling the air beneath our feet than us.
After clambering in and out of wadis (canyons) full of spiky flora, and walking on rock fields that resembled a bed of marbles, I could see why most folks wouldn't want to spend a relaxing holiday here. Every step was a potential ankle-breaker, there were no water sources between villages and a misstep or getting lost out here could be fatal.
While walking through the wadis during the summer monsoon season here isn't advisable (the narrow canyons are prone to flash floods with any significant rainfall) most of the year they are bone dry, and the carcasses of perished donkeys we occasionally came across were grim reminders of how unforgiving the desert could be.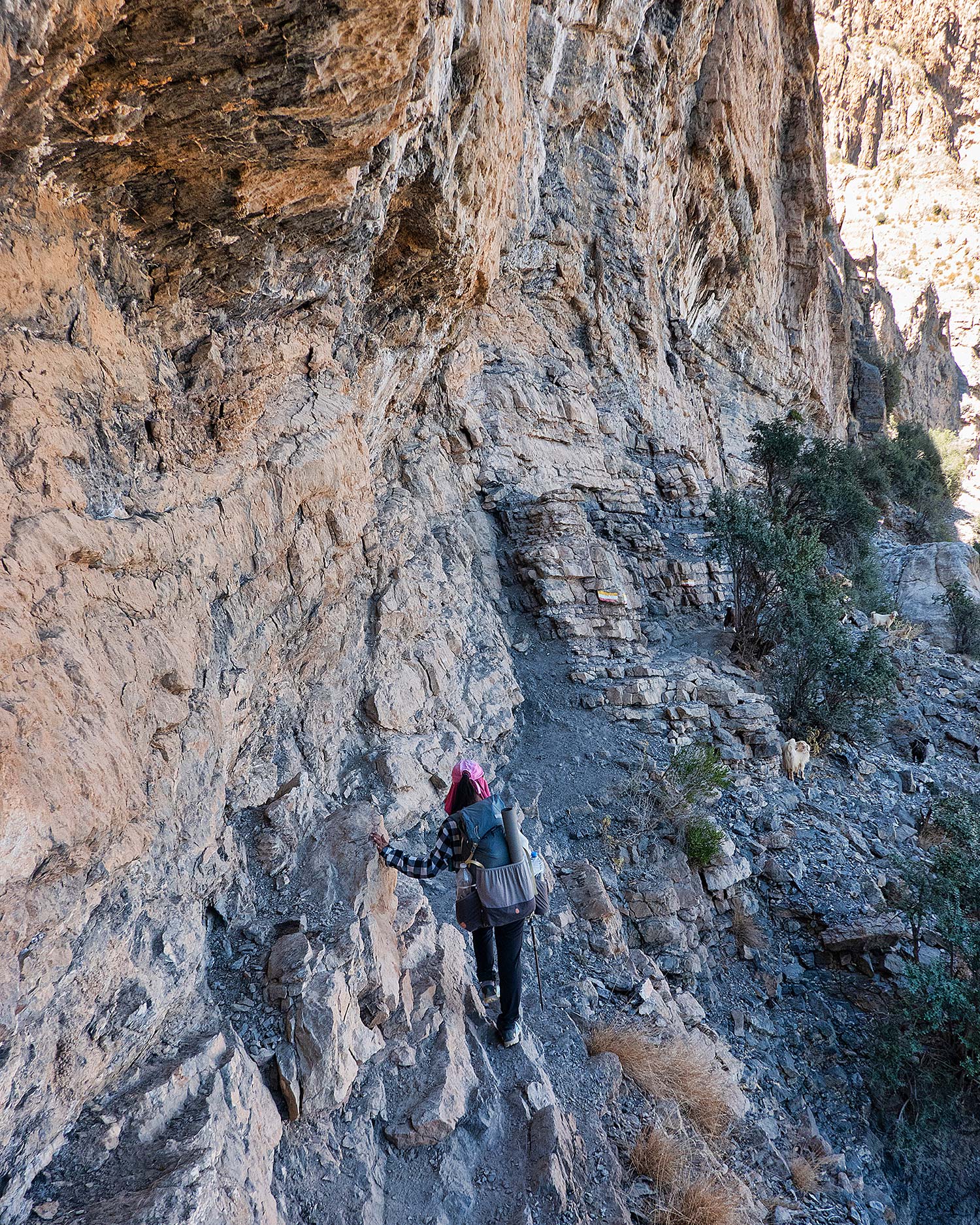 We had walked from Mexico to Canada a year before, covering 2654 miles on the famed Pacific Crest Trail. During that journey, walking 25 miles in a day had become a norm for us. But here in the Hajars, the best mileage we could muster was a brutal 1-mile-an-hour pace, ending up just a stone or wadi's throw from where we'd started at the beginning of the morning, with plenty of energy exerted on route-finding, staying upright, and not stumbling into bushes, shrubs, and trees with needles long enough to make shish kebab with.
Yet the rewards for taking on the harsh terrain were many. We'd arrive at the end of each day to a postcard-perfect Omani mountain village, its green oasis of date palms, gardens, and centuries-old water channels known as falaj creating an amazing contrast with the barren brown peaks we'd just descended from.
Villagers still lived in old mud-brick homes and greeted us with dates, cardamom-laced coffee, and an invitation to camp anywhere we liked. Water was plentiful, and the relatively flat ground to pitch the tent on was a beacon of comfort.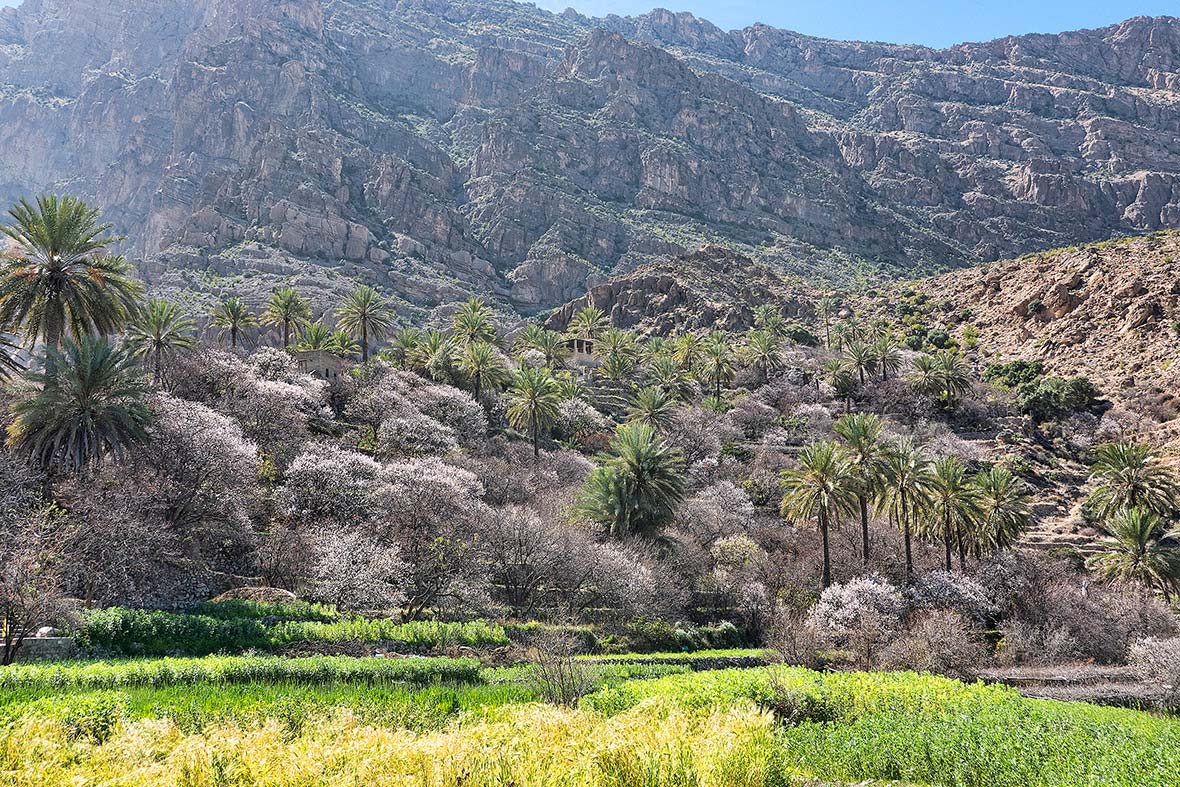 Trekking here was also an insight into Omani culture and just how recent the modern well-off lifestyle led by most Omanis is. One of our cross-mountain routes led us from Wakan, a beautiful hamlet full of apricot orchards all starting to blossom, up onto a high plateau where the Omani army used to drop large water tanks so that shepherds and goat herders that roamed here could survive.
And then on to the village of Al Suwjara, where six families had lived in stone homes built right into a cliff. The families had since moved across the canyon to a new village but wanting to keep the memory of their original home alive, had turned the former dwellings into an upscale resort, where intrepid travelers could now come spend a night in the middle of stunning scenery at the seeming end of the world.
The manager of the resort, Mohammed, grew up in the village and told us that as recently as 2010, there was no road up onto the Jebel Akhdar plateau. Villagers had to ride donkeys for several days to bring goods to sell and trade to the plains below, and Mohammed recounted going to school by helicopter when the Omani government paid for all children in the mountain villages to fly to boarding schools to be educated. These days, Toyota 4x4s and air conditioning are the norms, but nobody has forgotten the survival skills and mindset needed to live up amongst the goats.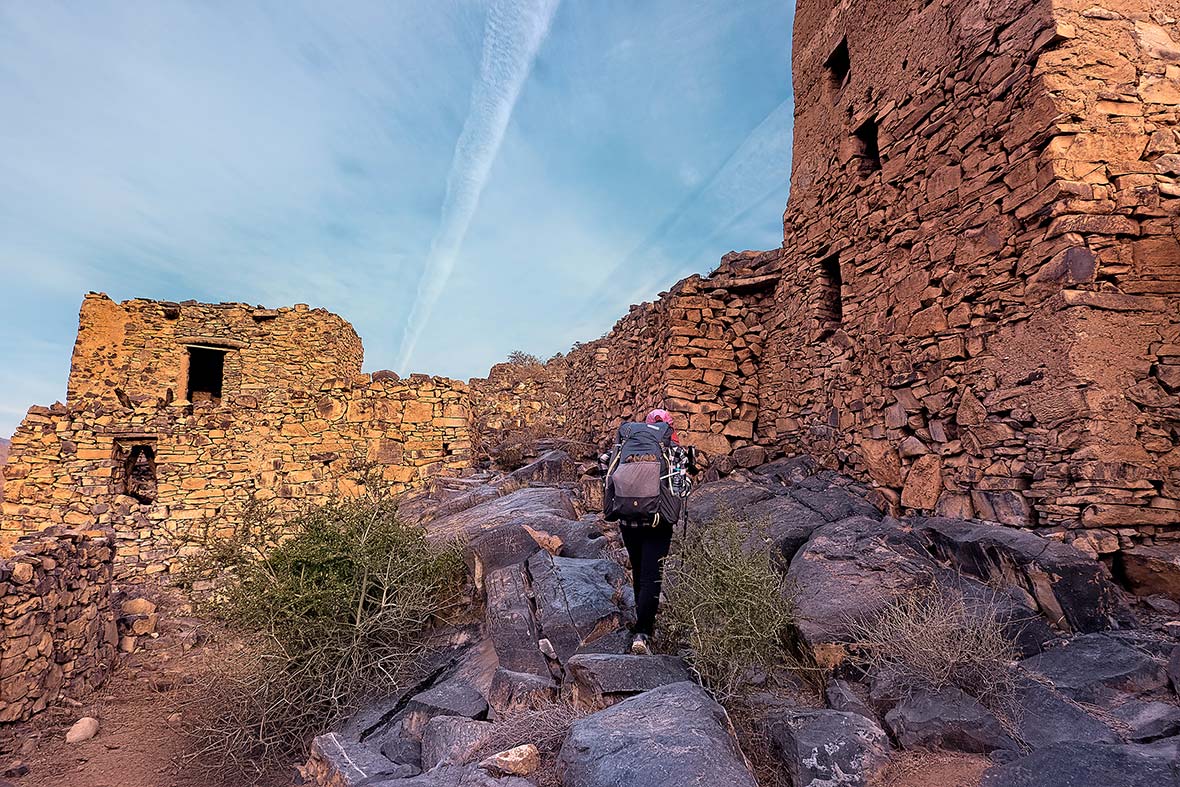 The highest mountain in Oman is Jebel Shams, just shy of 10,000 feet. Two weeks before we'd arrived there had been a blizzard with snow on the peak, but as we started our two-day ascent from the base, it was over 90 degrees in the sun without a tree or shrub in sight. We started our climb from Wadi Ghul, an abandoned village of stone houses at the mouth of a vast canyon, leading into Wadi Nakhr, known as the Grand Canyon of Oman. It's an appropriate moniker, as the massive wadi is the deepest canyon in the Middle East, and second in the world only to its namesake in Arizona.
Ghul means female demon or evil genie in Arabic, often associated with graveyards, and from where the English word "ghoul" originates, and it also is the Arabic name of a cliff racer snake, but these days all that you'll find in this former Persian settlement are the atmospheric old ruins of the stone homes, which glow orange in the day's early or late light, and are made even more attractive fronted by the still-tended green fields in the wash below.
From Ghul, the route hugged the edge of the canyon, climbing up on boulders and then traversing right next to an incredible drop without any kind of guardrail or protection, with the layers, folds, and different color bands of the canyon cliffs becoming more captivating the higher we went. Further up, we reached a set of resorts perched right near the canyon rim, respites where we could refill water and set up camp before making the grueling 11-hour return trek up to the summit. Once we left the jeeps arriving for the night we were almost alone again, just us and the goats, making our way around the canyon's upper rim, towards a pinnacle in the distance that was the highest point in Oman.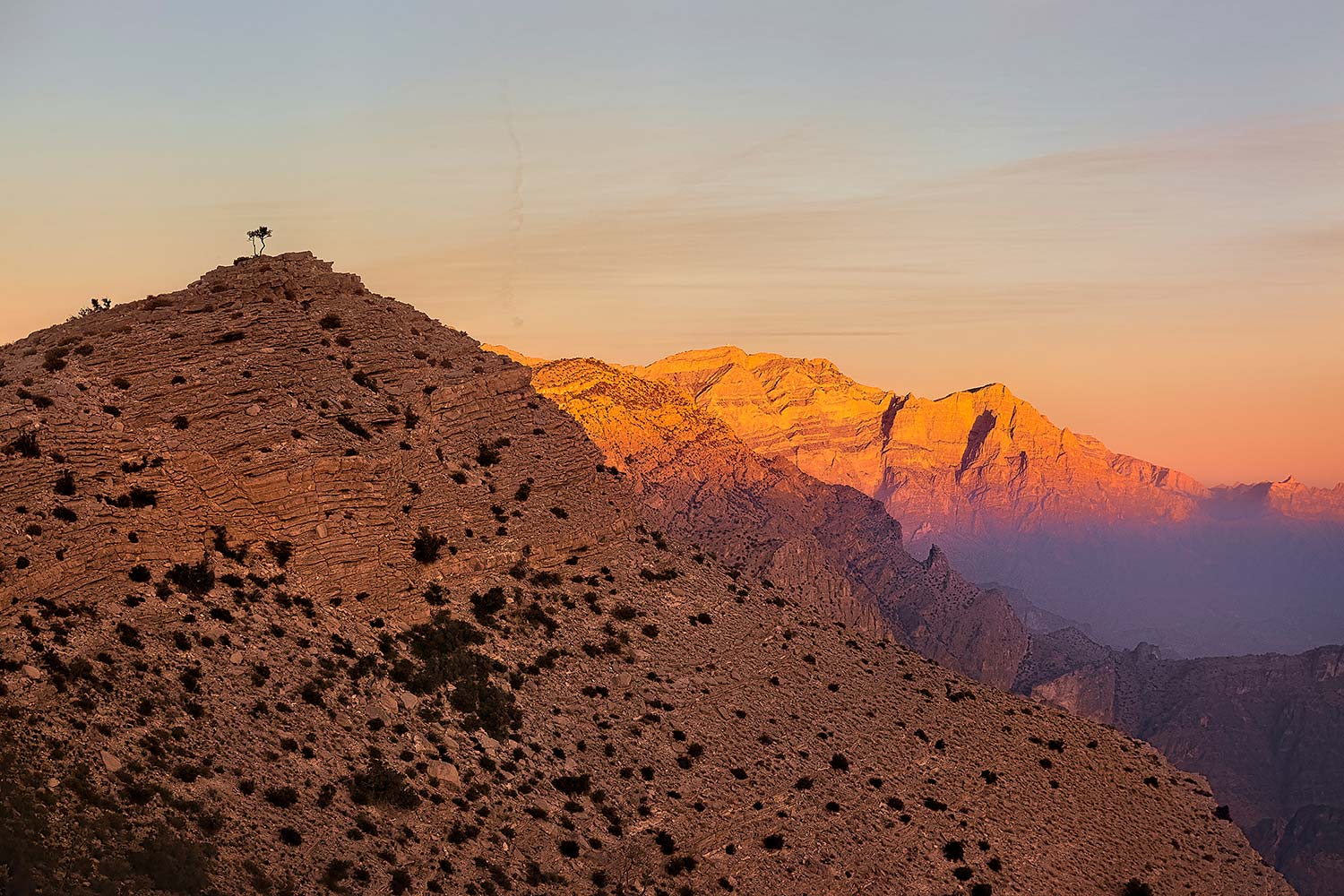 We passed several false summits, then wove our way through a final climb down and up a wadi, and as we neared 10,000 feet our progress slowed as our breathing became more labored, feeling the altitude. It didn't matter up here though, as we were stopping every minute or two anyways to take photos of the entire Grand Canyon, which sprawled out below us. Finally, the grade slackened and shortly thereafter we reached the top of Oman, with sweeping 360-degree views of endless valleys fronted by endless ranges going into the horizon.
There was a summit register on the top, with several recent signatures, so people did make it up here. But on this day it was just the two of us, and of course, a shaggy goat making its way up the cliff face on the other side, taking the hard "exposed goat route." Famed mountaineer and photographer Galen Rowell once referred to the Karakoram Range in Pakistan as the "Throne Room of the Mountain Gods," and I concluded that here in backcountry Oman, we were firmly in the throne room of the mountain goats.