Gold-leafed food is having a bit of a moment these days, as chefs offer everything from gilded dark chocolate and gold infused cocktails to what a New York City gourmet food truck claims to be the most expensive burger in the city: the $666 dollar Douche Burger, a heap of truffles, caviar, lobster, and beef wrapped in gold and served on brioche. Kanazawa, in this respect, is ahead of the curve.
"Japanese people have a special connection to gold leaf as we use it to pay respect in our temples by adding layers of it to Buddha images so that they shimmer in the breeze," says food critic and blogger Tomako Shiratori. "This makes us feel like the spirit is with us, that doesn't mean it shouldn't be wrapped around ice cream and eaten though."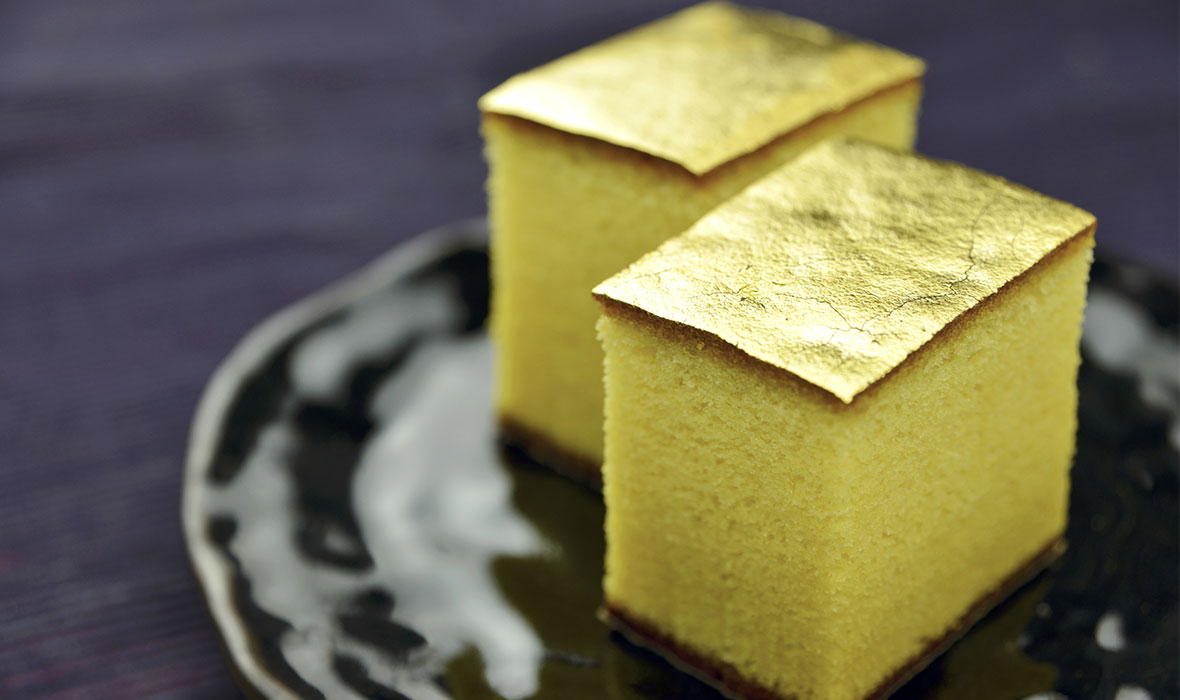 Shimatori lives in Tokyo but isn't against making countrywide trips to eat and write about her favorite dishes including the many gold covered meals of Kanazawa. Kanazawa, known as little Kyoto for its manicured gardens, is Japan's premier source of gold leaf; the city produces 98% of all the country's leaf, drawing tourists as much for its decorative foods as its parks and famous Samurai era castle.
Edible gold leaf, or maiko in Japanese, is applied to food in more or less the same process as anything gilded. The gold leaf – which is backed by blotting paper for support – is layed over the sushi, ice cream cone, or whatever else using special tweezers, gold side down; the blotting paper is pulled away and,viola, your food is transformed. The gold leaf is so thin it conforms to the contours of the food without any kind of adhesive. On hot food it melts on cold food it freezes but it is tasteless and completely harmless.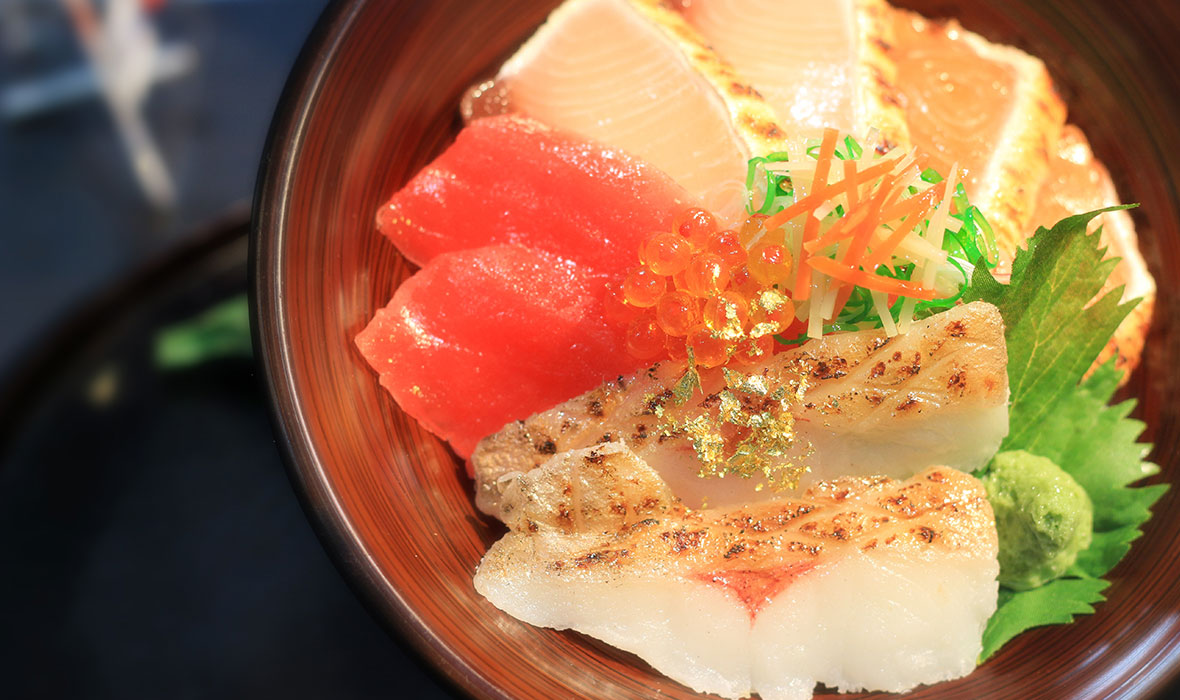 Though Shimatori declined to fess up on how much she spent she did name names. She suggests starting out in Higashi Chayagai, the tourist area, and then moving on to freshly baked korokke, Japanese croquette, a common Japanese lunch served with gold infused heavy cream at Ville de Croquettes made with sweet shrimp and Japanese sweet potatoes. She also recommends the golden wrapped sushi from Kirari, castella cake milkshake with gold flakes at Ukeain, and of course gold wrapped ice cream.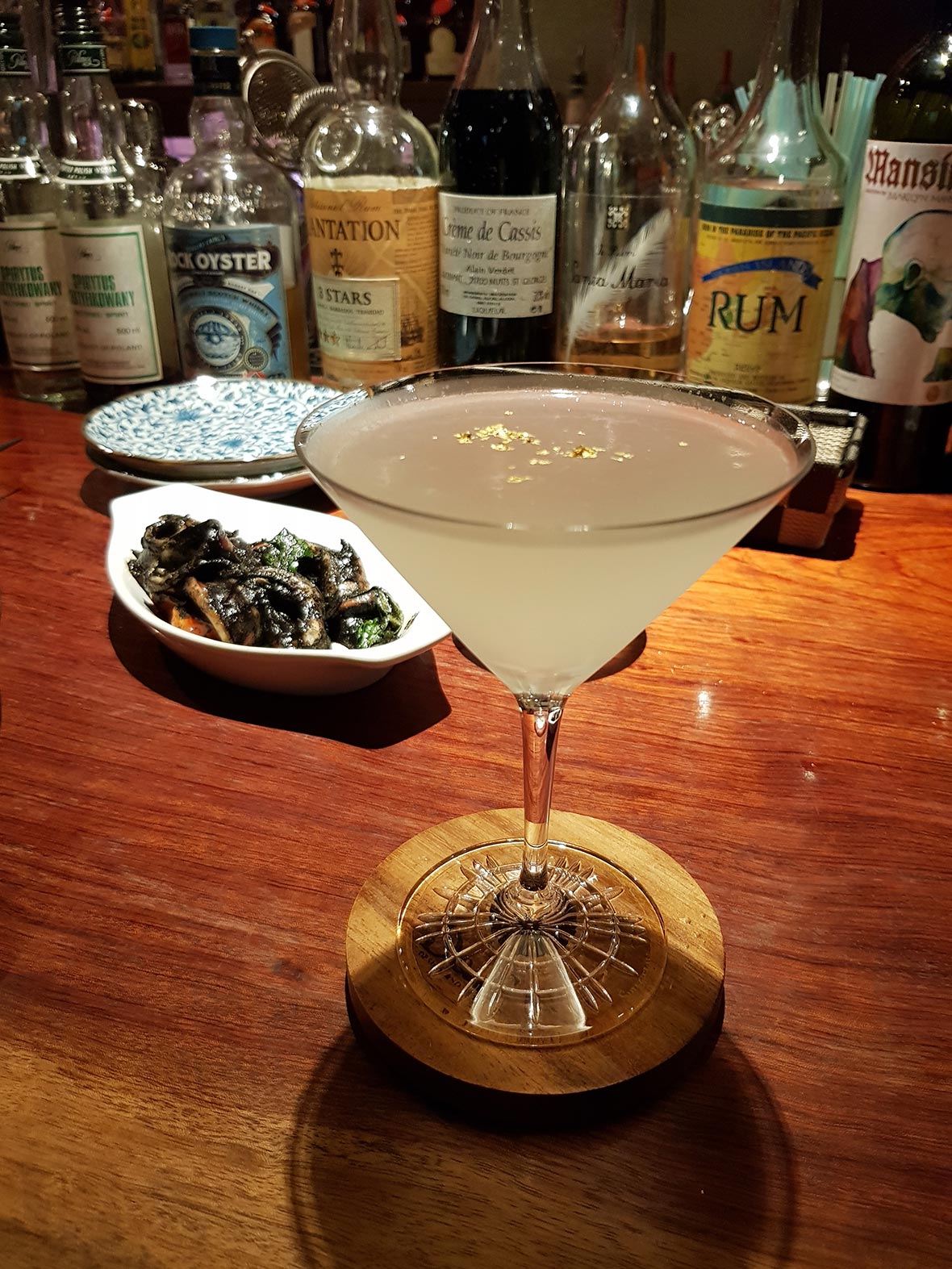 Beyond ice cream and sushi there is also gold dipped chocolate and strawberries, coffee with gold dust, even gold-leafed seaweed snacks. There are, in fact, golden versions of most anything you might ever want to buy in Kanazawa: make up, cell phone cases, and even USB memory sticks.
Kanazawa which literally translates from Japanese as 'golden marsh' has been producing gold leaf for over 400 years but became Japan's leading producer during the restoration of Kanazawa castle after parts of it were destroyed in a fire during the 19th century. Since then the city has perfected the delicate process, and its gold leaf is highly sought throughout the world.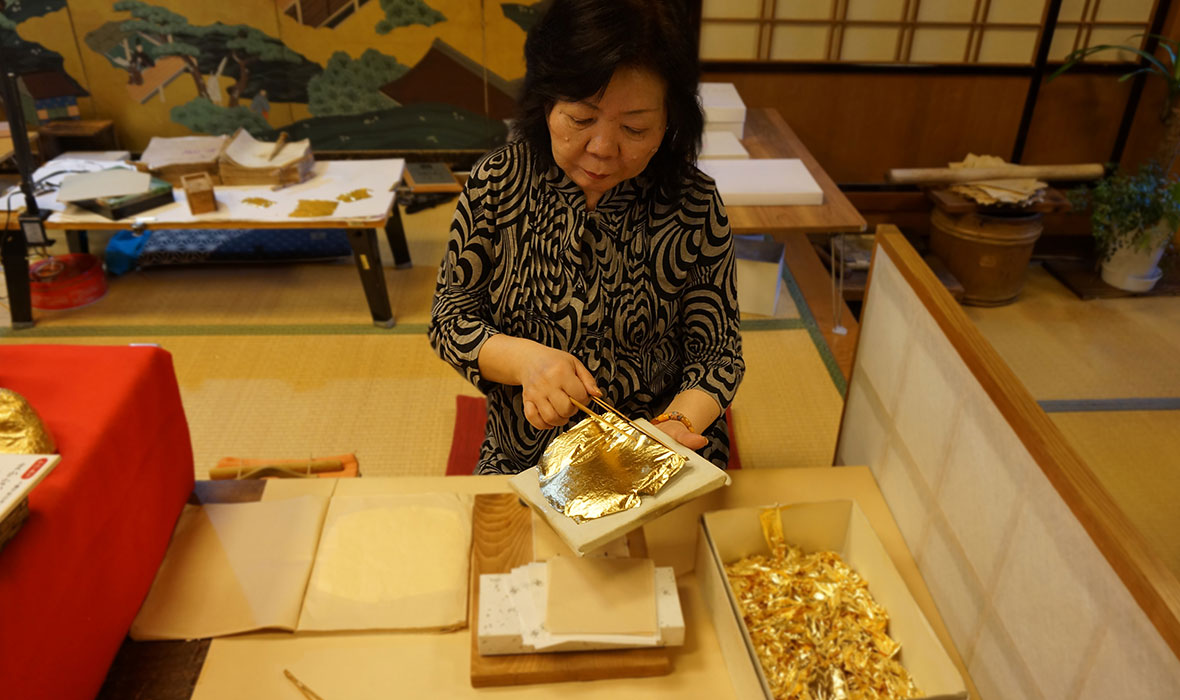 It may seem like the height of modern decadence but it's not the first time gold covered food has been the flavor of the day. The recent Food in Medieval Times by Melitta Weiss Adamson documents recipes from as far back as the 13th century which describe covering all manner of food with gold. She documented that it was so common in Italy that the city of Padua had to limit its use to one or two courses to prevent a gold shortage.
Gold leaf is produced by mixing gold with silver and copper which is sandwiched between blotting paper and repeatedly machine beaten into sheets 2/10,000 of a millimeter in thickness. So thin it will disappear between rubbing fingers.
The gold leaf industry is so important in Kanazawa there is a gold leaf museum in the city dedicated to the process of creating it as well as teaching the application process. The museum opened in 1974 by famed local gilder Yasue Takaaki to ensure the traditional practice didn't disappear in modern times. The museum has over 300 pieces on exhibit, though none of them are food related. For that, hit the streets.