Phuket has no shortage of private islands and plush resorts, and Anantara Layan is definitely on the list of the latter. The key to a good time in Phuket is getting away from the crowds. On land, that's a chore, less so on the water. Last year Anantara made headlines for its opulent 007 experience, but it's the Major Affair – which, incidentally, flies under the British flag – that will take travelers to their choice of Andaman adventure.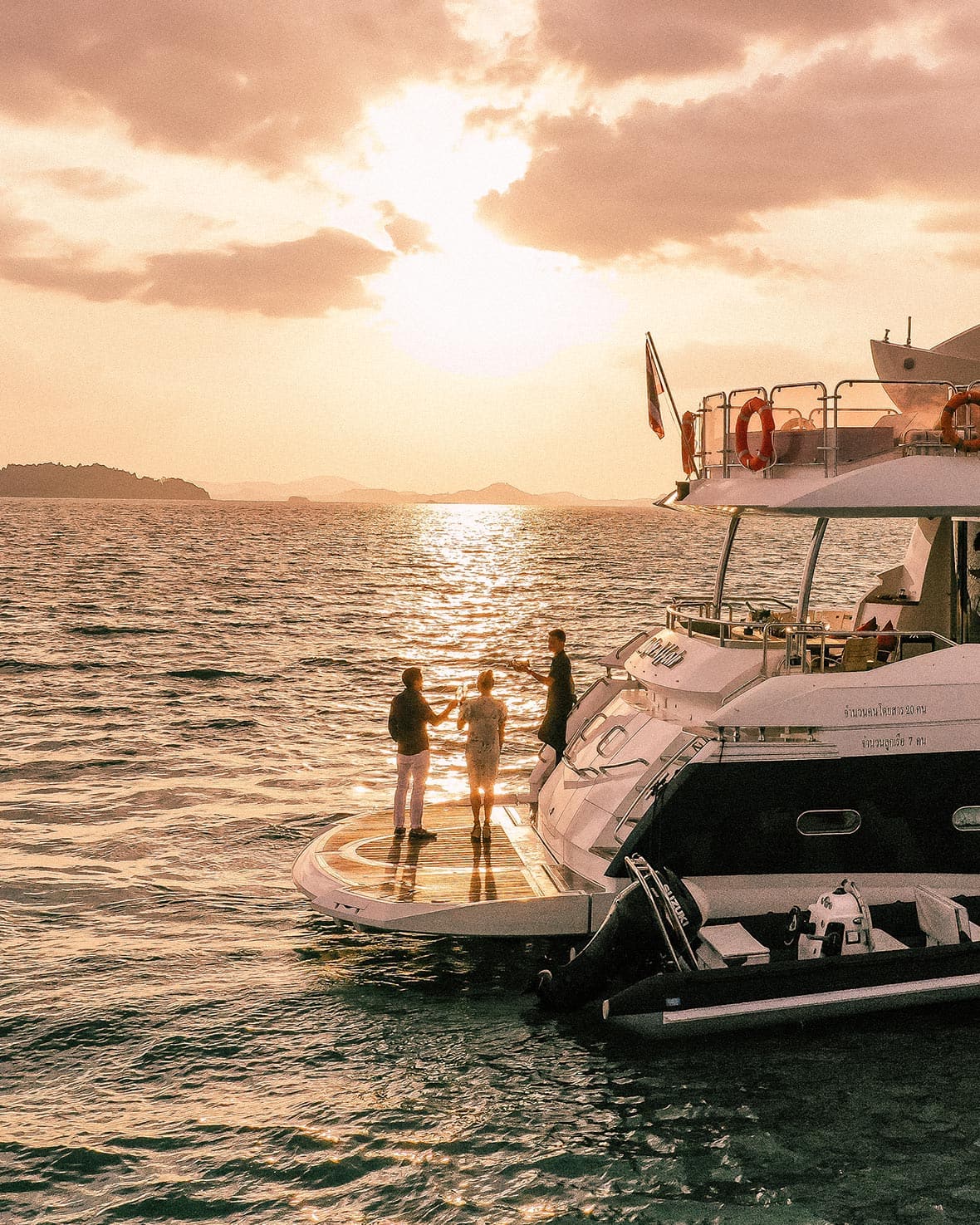 The Major Affair is a 90-foot Sunseeker yacht kitted out with all the major amenities one would expect from the flagship liner of a five-star hotel. The Major Affair features four cabins: an aft Master cabin, a VIP forward cabin, and two cabins starboard and port.
At 28 meters, this Sunseeker 90 was designed to maximise outdoor space. The flybridge includes and wet bar, and guests can sunbathe or dine in one of two dining areas on the large deck. The Major Affair also features an expansive swimming platform that accommodates a 4.6 meter tender, leaving the sundecks clear for all manner of water sports, including waterskiing, wakeboarding, and snorkeling.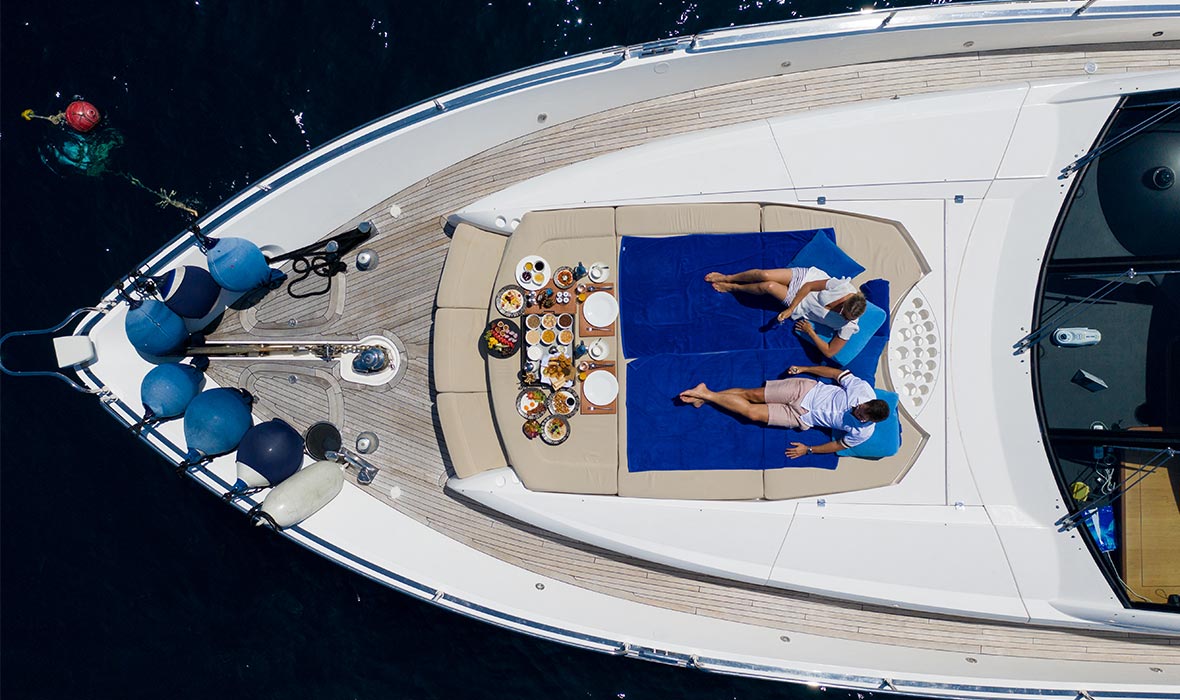 Major Affair is available for day trips for up to 15 people and for longer overnight journeys for nine. On a simple day trip from 9am to 5:30 pm, travelers receive a full complement of crew and will hit Ao Po Marina, Koh Hong Phang Nga, and Koh Hong Krabi on their travels, a journey that includes lunch and snorkeling. A separate trip features a stop and lunch at the famed Koh Phi Phi.
For an overnight journey, travelers aboard the Major Affair will see, Koh Hong, Phang Nga, Koh Phi Phi, and sty overnight at Koh Dam Khwan. For even longer journey's Anantara Layan offers three and five night trips to the Surin and Similan Islands and to Krabi islands like Koh Lanta, Koh Bulon, and Koh Adang.
The Major Affair is also crucial to the aforementioned "Golden Gun Experience" with Anantara, which includes a cruise around Phang Nga Bay, where The Man with the Golden Gun was filmed. During the excursion, guests can enjoy free-flow Krug champagne and tuck into a gourmet barbecue prepared by the on-board private chef. And what yacht-based Bond adventure would be complete without a visit to James Bond Island (Scaramanga's hideout, to Bond fans).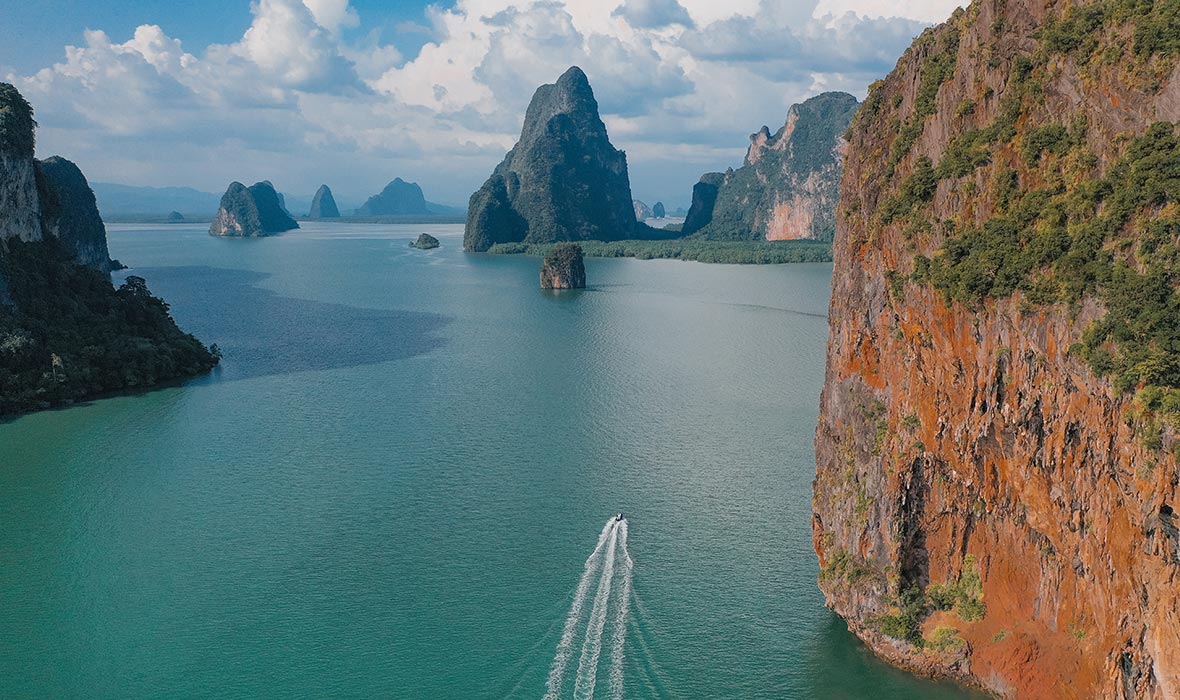 For those who might blanche at chartering the Major Affair for a day for around $10,000, there is another Anantara option: the Siam Seas. The smaller day-use Siam Seas speedboat can accommodate up to eight passengers and can explore as far afield as Koh Khai, Coral Island, and Phang Nga Bay.
The 36 foot ship features outside seating and a covered cabin that is better for family journeys. Of particular interest to the kiddies is Koh Panyi, which gives travelers a (small) chance of spotting sea otters.
Anantara Layan Phuket Resort is a longtime Remote Lands favorite, in no small part because of the pristine private stretch of Layan Beach. Found on Phuket's western coastline, the Anantara brand is renowned for its world-class hospitality in this tropical sanctuary. The dining options at Anantara Layan will include Dee Plee, and Sala Laylan.