Set unobtrusively amid the remarkable landscape of north Taiwan's Taroko National Park, the Silks Group's restorative retreat is tailor-made for stressed professionals to seek harmony within breathtaking natural surrounds
The car journey from Hualien's train station to Taiwan's foremost national park takes around 40 minutes on the Central Cross-Island Highway, through streets lined with colorful stores and homes. But it only takes seconds to succumb to the exceptional natural beauty of Taroko. As you snake around twisting hairpins, zoom through tunnels and veer into low-lying cloud, the views below start to dazzle. Awe-inspiring limestone rock formations are crowned by dense forestation; suspension bridges traverse the Liwu river; and meteorite-sized, marble-rich white boulders lie at the foot of Taroko Gorge.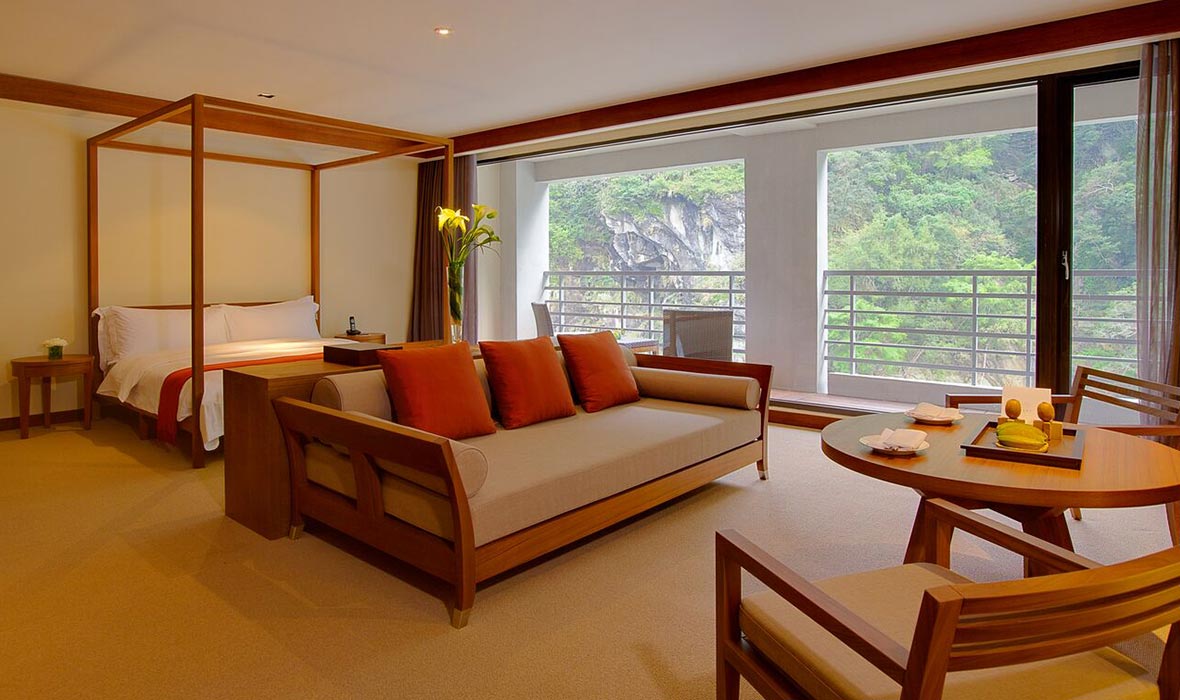 The one thing you'll rarely see in this stunning landscape is any obvious sign of tourism. The park re-opened to the public in 1986, but it has been impeccably managed to protect the environment and prevent the perils of over-tourism; now only one hotel is in operation, on a site originally completed in 1961 under the name Tian Hsyang Lodge.
Early visitors to this pioneering venue, managed by an organization known as the Spirit Encouragement Society, included Republic of China leader Chiang Kai-shek, the Korean president and the Japanese prime minister. The lodge became known as a Taiwanese government officials' retreat until it was acquired in 1991 by the FIH Regent Group as Grand Formosa Taroko, before eventually rebranding under the Silks Hotel Group a decade ago and undergoing a wholesale facelift into a luxurious 160-room sanctuary.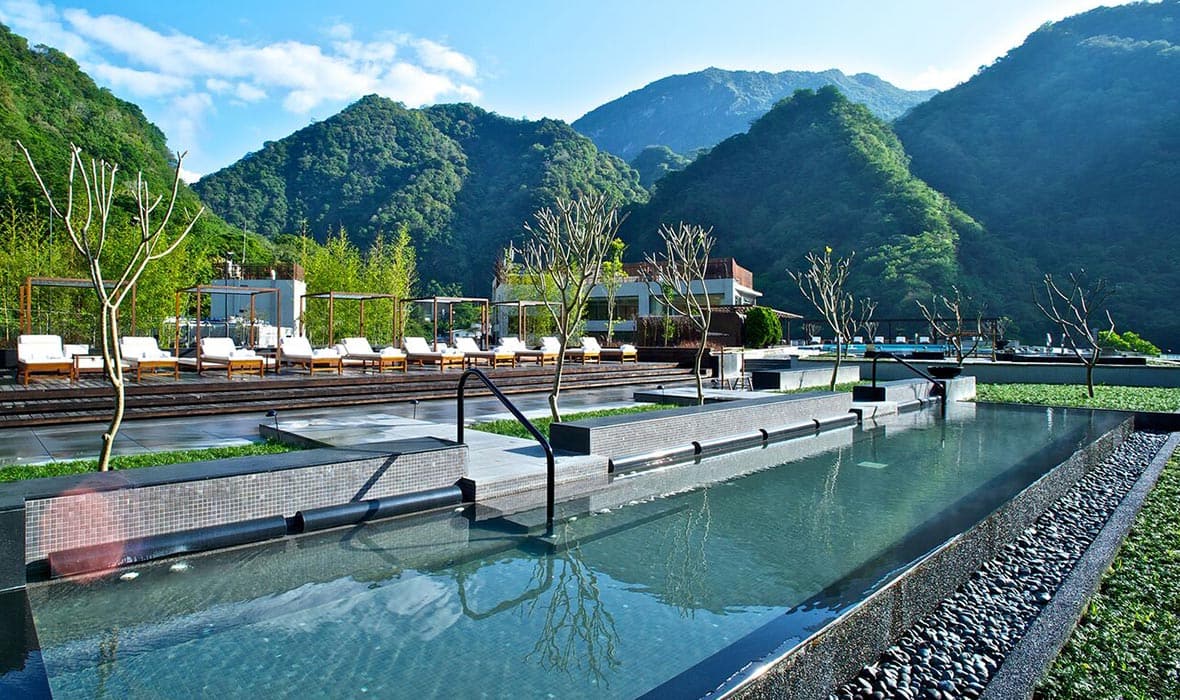 Designers Nancy Hu and Irving Huang set about dismantling the aboriginal tribe-referencing totem decorations and transforming the space into a contemporary bolthole that blended seamlessly with its immediate environment. Their masterstroke was to introduce natural elements of mountain, wood, water and stone amid a series of broad, spacious rooms decked out with gratings, marble, woodcarvings and huge landscape windows.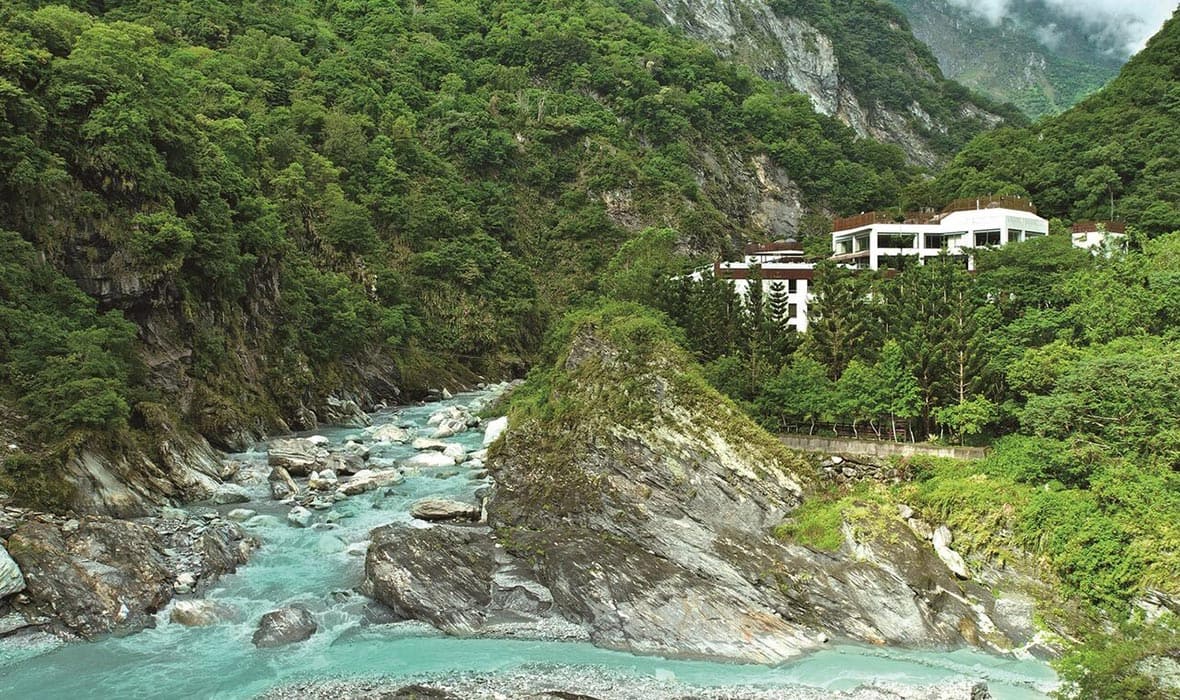 At the Courtyard Floor's Wellesley restaurant, outdoor diners recline in warm sunshine on scarlet-cushioned chairs as butterflies flit around the branches of trees. The opulent reception area's golden glow and Japanese design influence instill instant inner harmony. In the guest suites – which were half the size until reconstruction began – long balconies overlook the mountain scenery, while unfussy interior design and warm hues convey simplicity, space and serenity. And on the top floor, the Retreat Lounge's open-plan feng shui – conducive to relaxing with informal drinks – reflects the great wide yonder just outside with its uncluttered furniture arrangement.
But it's the rooftop that most guests make a beeline for, and for good reason. We visited in January, during the low season, and while the weather was untypically warm, we were still surprised to find guests sauntering around in dressing gowns or even just bathing suits.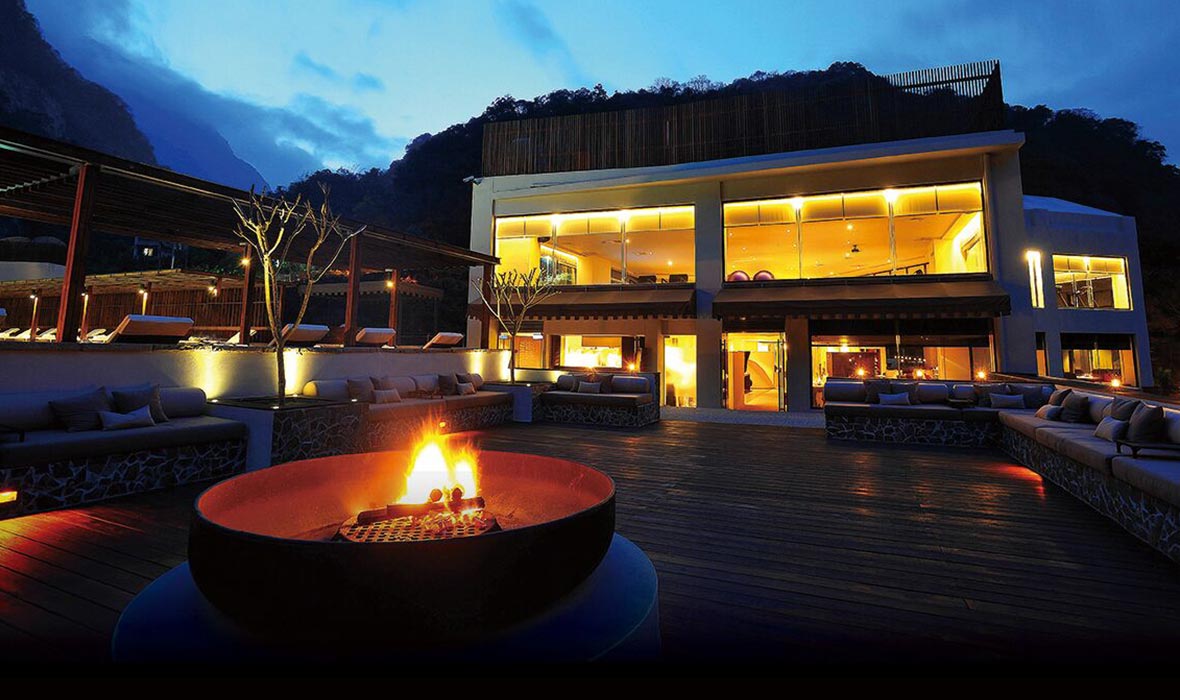 On this top deck – with its marvelous 360-degree panorama of the bridges, church and dramatic hills that surround the property – a brilliant turquoise pool tempts swimmers and photographers, with stripped, skeletal trees spaced around it; three mini-jacuzzies bubble away at 38C temperatures; and a movie screen stands in front of loungers at the far end. A tennis court enjoys an impressive location on the other side of the rooftop, while indoors, yoga rooms and a gym fill the remainder of the top-floor space. And just outside the Retreat Lounge, aboriginal performers stage energetic nightly displays of music and dance that are illuminated by the billowing flames of the Fire Pit.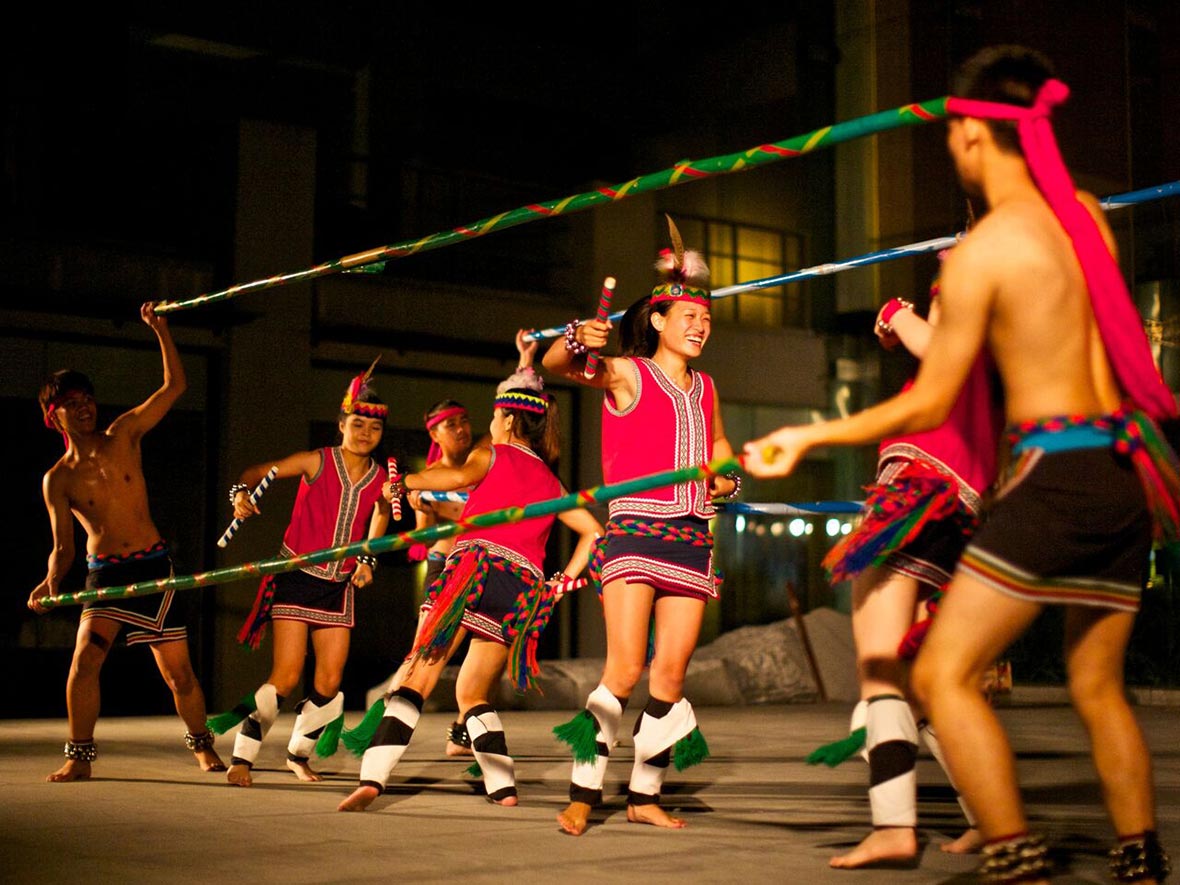 The tribal theme continues in the drink selections, with a selection of 16 cocktails that underscore the Silks Group's commitment to going the extra mile. The beverages use millet wine as a base for fruity concoctions that are inspired by the culture of 16 Taiwanese aboriginal groups – all of whom were once based in Taroko, but are now dispersed throughout the country.
The "Cocktails Combo" drinks are served in shot glasses, on a wooden board that resembles a map of Taiwan, and their ingredients cannily reference the clothing, beliefs, dietary traditions and environment of the tribes. Thus, H'la'alua contains purple sweet potato – a nod to the group's agricultural skills – alongside Baileys Irish Cream, while Saisiyat's peach liqueur, black vodka and star anise reflect the emblematic colors of its namesake tribe.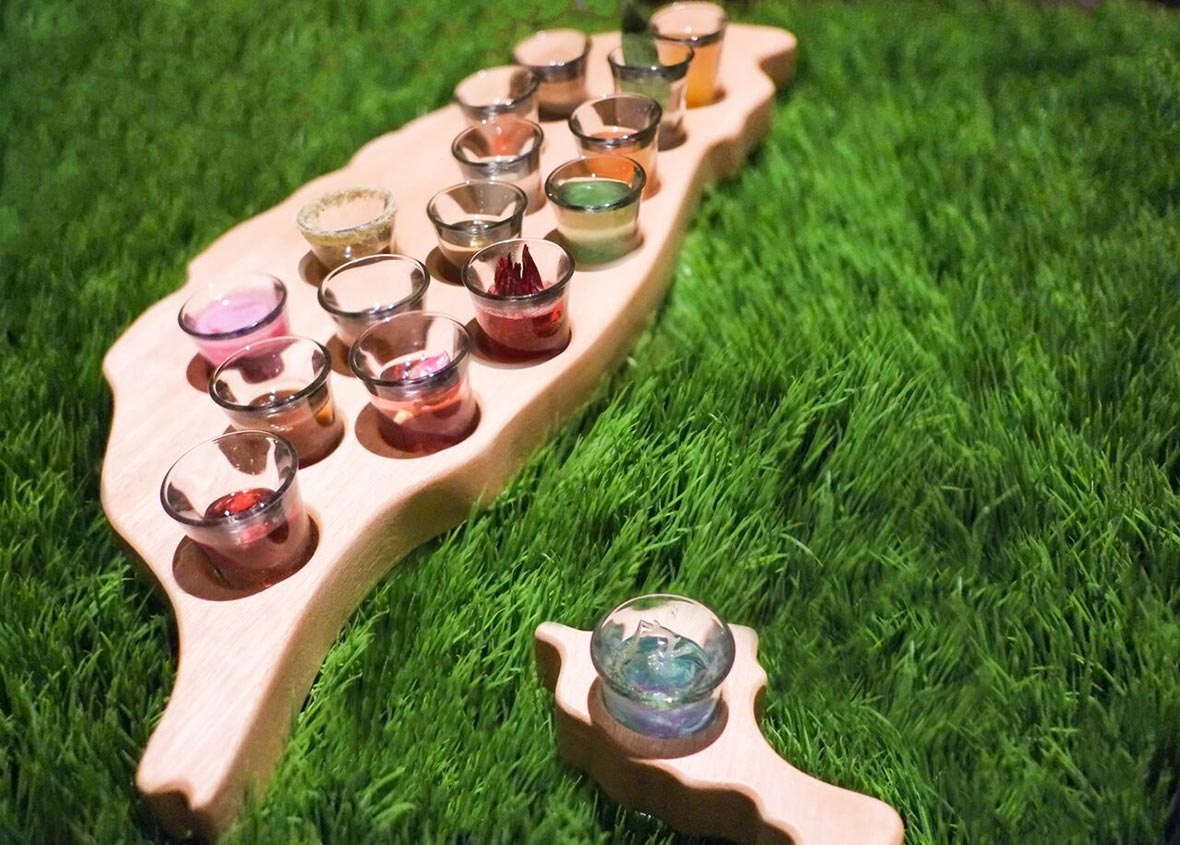 No less ingenious are the food selections available from the special Chef's Table menu, which incorporate local ingredients into intricate dishes such as roasted tomahawk steak served with sea bass, coconut rice and pickled olives. This unlikely surf-and-turf recipe takes its cue from the warrior spirit of the aboriginals and their Harvest Feast, with a serving of coconut rice draped with shall flower that represents a playful local twist on the banana rice enjoyed by the Taroko tribe.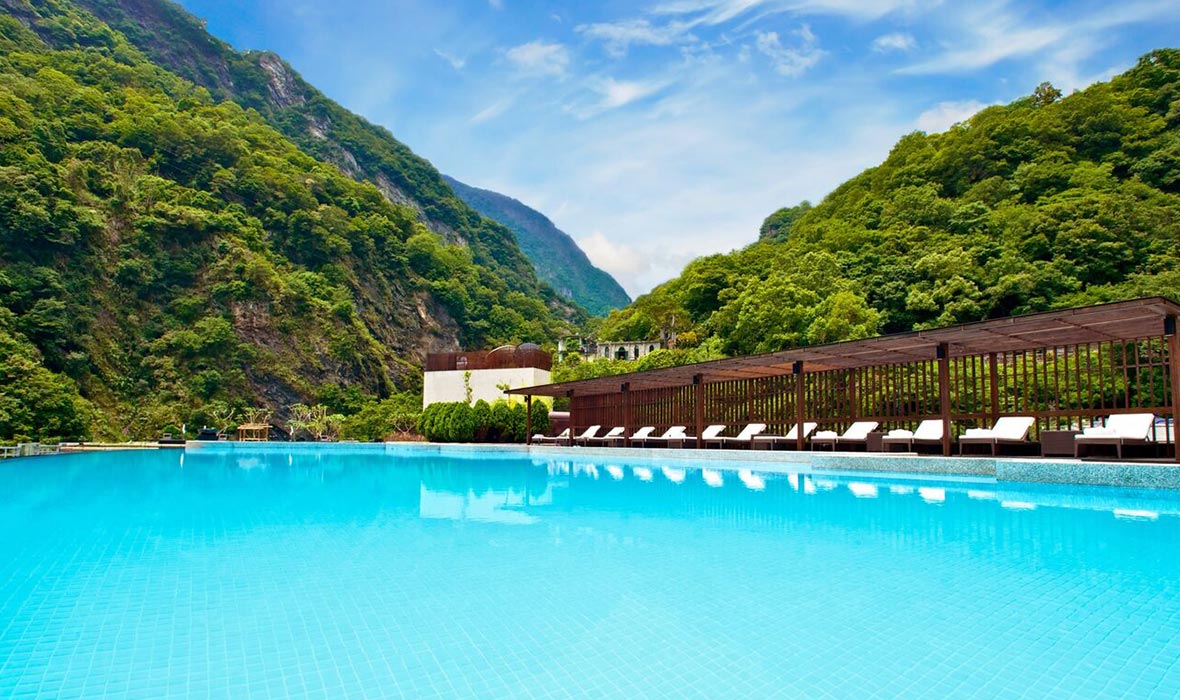 The Silks Group's philosophy of attention to detail is reflected in small touches that make a big difference. On returning to my River View Suite after the aboriginal show, I found a pumpkin soup – served to warm up visitors on cooler nights – in a thermos flask on my desk, and though I was full from the night's feasting, it was still warm the next morning. It made the ideal fuel for tackling the 2 kilometer-long Lushui trail a few minutes' ride from the hotel: a glorious, easygoing amble along river terraces, a 30 meter tunnel, a suspension bridge and pavilions, and shaded paths lined by fragrant camphor and oak trees and common schefflera plants.
There's a similarly meticulous presentation on display at the Recreation Centre, which is divided between a children's play space and a row of neatly partitioned stalls resembling the rooms of a home; while at The Shop, the wares of local artisans, from hats and shoes to toiletries and toys, are available next to a small café area.
High season is spread across three separate periods – Christmas, Chinese New Year and summertime (June to September) – but the sheer breadth of activities, picturesque surrounds and comfort factor on offer at Silks Place Taroko make this unique hotel a restorative retreat at any time of the year