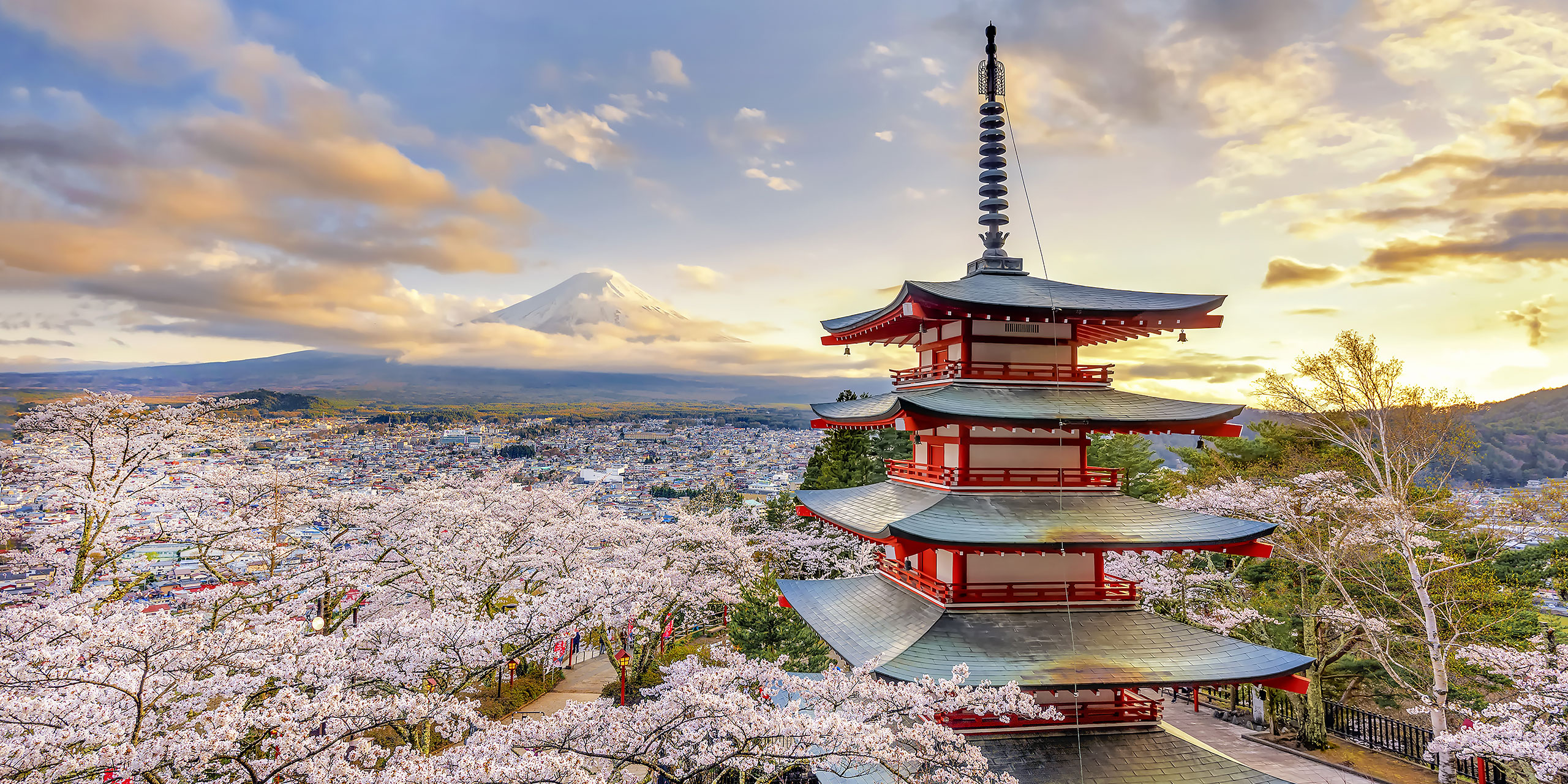 Japan's rivers and mountains turn pink and white with the flowering of the cherry blossoms, or sakura. Japan's most famous seasonal attraction blooms from south to north, beginning in Kyushu in March all the way to Hokkaido in May, and with Remote Lands, travelers can see Japan change in style.
A week in the later blooming season at Kitakami Tenshochi Park, Kakunodate, and Hirosaki Castle.
Between late April to early May, the springtime cherry blossoms of the Tohoku Region come alive with their gentle, pink resplendence. This week-long tour of the region takes travelers to some of the best sites in Tohoku, and arguably the country, for viewing the blossoms such as Kitakami Tenshochi Park, Kakunodate, and Hirosaki Castle. The region's later blooming season means smaller crowds and cheaper tickets, but the scenery is equally beautiful. Along the way, you'll also get a taste for the northern region's culture, have some great meals, and stay at luxurious accommodations.
Hirosaki Castle, undoubtedly a highlight for photography fans, abounds with cherry blossoms, covering the gently sloping hills and ponds to create a mesmerizing viewing experience. Similarly, Kitakami Tenshochi Park is Home to nearly 10,000 cherry blossom trees, a dreamlike landscape that can be explored by foot, boat, or even horse and carriage. For history lovers, Kakunodate is a wonderfully preserved samurai district, made all the more eye-catching when sakura come into season.
Osaka Castle, Philosopher's Walk, Himeji Castle, and more in seven days of magic in the early bloom. A little bit of sakura, a little bit of Kobe beef, a little bit of everything. Stock up on electronics in the world's technology epicenter, then soak in the incredible views from Mount Misen of Hiroshima below.
The cherry blossoms are best seen at Osaka Castle, Kyoto's Philosopher's Walk and Himeji Castle, all prime sakura viewing locations, perfect for a photography session, and best followed by the picnicking tradition of hanami in a local park. A highlight of any Japan visit, travelers can enjoy a Geisha Dinner, a rare cultural experience as you savor a traditional Japanese meal served by geisha. In Kobe, travelers will learn how rice wine is made and sample authentic sake at a local brewery in Kobe, then wash it down with the world's finest beef.
Eight days with the family to Tokyo's canals, Kyoto's castles, Mount Fuji's lakes, and more. A great journey any time of year, this trip will see travelers to Tokyo, Hakone, Kyoto, Nara and Osaka, packed with fun activities.
With high-speed trains, deer-filled forests, and a relaxing soak in a natural hot spring – there's something for everyone in the family. Sample unique local cuisine and even learn to make select Japanese delicacies that will wow your friends at home. Your kids can even learn to wrestle sumo style. Explore and catch a unique glimpse into Japanese culture and life during the day and enjoy the sweet life in your luxury hotels at night.
Harajuku is the capital of kawaii, or cute. Take the kids here for weird costumes, excellent shopping, and the stranger side of the Japan's capital. In Nara Deer Park the kids can feed deer by hand and then learn how to make takoyaki (octopus dumplings), a popular Osakan street food.