Example Itinerary
Spring in Tohoku: The Ultimate Cherry Blossoms Path
Between late April to early May, the springtime cherry blossoms of the Tohoku Region come alive with their gentle, pink resplendence. This week-long tour of the region takes you to some of the best sites in Tohoku, and arguably the country, for viewing the blossoms such as Kitakami Tenshochi Park, Kakunodate, and Hirosaki Castle. The region's later blooming season means smaller crowds and cheaper tickets, but the scenery is equally beautiful. Along the way, you'll also get a taste for the northern region's culture, have some great meals, and stay at luxurious accommodations.
This itinerary is an example. It's designed to inspire you and provide you with thoughtfully curated ideas. You can choose to do this exact itinerary or completely personalize it. All trips are 100% bespoke.
Highlights
• Hirosaki Castle: The castle park abounds with cherry blossoms, covering the gently sloping hills and ponds to create a mesmerizing viewing experience.
• Kitakami Tenshochi Park: Home to nearly 10,000 cherry blossom trees, this dreamlike landscape can be explored by foot, boat, or even horse and carriage.
• Kakunodate: This town features a wonderfully preserved samurai district, made all the more eye-catching when sakura come into season.
Day-by-Day
Day 1
Tokyo
When the wheels touch down in Tokyo, you will have officially arrived in the Land of the Rising Sun's capital — a city of wonderfully preserved temples and gardens, incredible cuisine, and a bold art scene. Along the horizon stands Mount Fuji, which dominates the skyline, beautifully complementing the modern architecture below. We recommend staying at the Peninsula Tokyo or Aman Tokyo, and if time permits you should take some time to explore this exciting city.
Day 2
Aizuwakamatsu, Fukushima
A morning train will take you to Fukushima (Koriyama Station) this morning to start out your day. This is followed by a 30-minute drive to see the renowned Miharu Takizakura cherry tree. More than a thousand years old, this is widely considered the most beautiful of its kind in Japan, and "Takizakura" translates to "waterfall cherry tree," describing the dramatic arcs of its branches. After this you'll have a one-hour drive to Aizu for lunch, followed by an afternoon exploring the town. Stop by the rebuilt Tsuruga Castle, see how the surrounding park's cherry blossoms contrast with the traditional architecture, and even enjoy a cup of tea at a teahouse on castle grounds. Nearby is the Aizu Sazaedo Temple, which is a one-of-a-kind double-helix pagoda with an ingenious design that allows people to walk up and down it while always traveling in the same direction. Along Nanukamachi Street there are famous Aizu crafts to be seen such as urushi-nuri lacquerware and akabeko, a kind of toy cow. There are also antique stores you can step into, and some even exhibit Showa-era artifacts. For dinner, enjoy a kaiseki meal at your ryokan accommodation.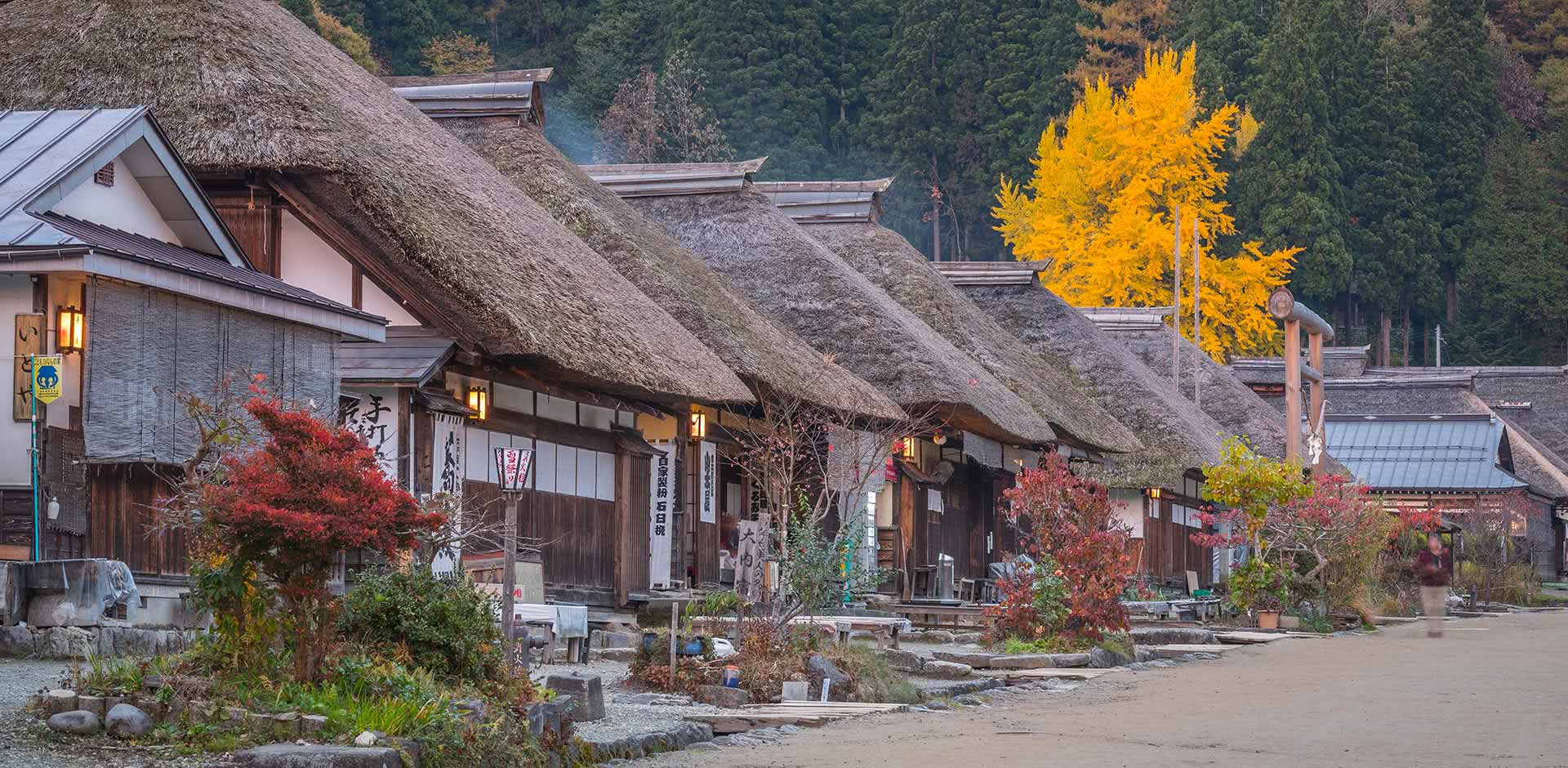 Day 3
Yamagata City, Yamagata
Today you're headed to Yamagata City, but first make a stop by Fukushima City for cherry blossom viewing in Hanamiyama Park, whose name literally means 'cherry blossom mountain.' There are various walking routes within the course that take you through cherry blossom-lined paths and to different views of the scenery, and the Azuma Mountains provide the park's backdrop. The next en-route stop is Yonezawa village to see its annual Uesugi Festival where past battles are reenacted. The Uesugi Shrine is the site of a former castle featuring a moat lined with cherry trees. Enjoy lunch near the Uesugi Memorial Hall which sells famed Yonezawa beef only in this season. After your meal, you'll head to Yamagata City via the Okitama Sakura Corridor, a 38-kilometer cherry tree-lined strip that runs through idyllic onsen towns and many popular cherry blossom sites. If anything along the way piques your interest, feel free to stop and explore. After arriving in Yamagata City, check in and have the evening to spend at leisure.
Day 4
Yamagata City, Yamagata
This morning take an excursion to the Yamadera Risshakuji Temple, a mountainous temple complex founded in 860 CE. Its structures hug the mountainside from its foothill all the way to the summit and offer stunning views of the surrounding valley. At the nearby Yamadera Basho Memorial Museum, stop for tea and refreshments on the hill while looking across a cherry blossom-laden vista. Afterward, you'll head to Yamagata City for lunch before exploring the Kajo Castle Park, the former site of Yamagata Castle. Originally built in 1357, this park features remnants of moats and stone fences among a forest of cherry trees. Roughly 1,500 of these trees bless this park, and they're illuminated at night. The rest of the afternoon will be spent at your leisure. Consider exploring the French-style architecture around the city or strolling along the Mamigasaki River's "sakura" — cherry blossom — lane, especially at night when they're lit up. Stands of festival food line the street and are perfect for getting a snack.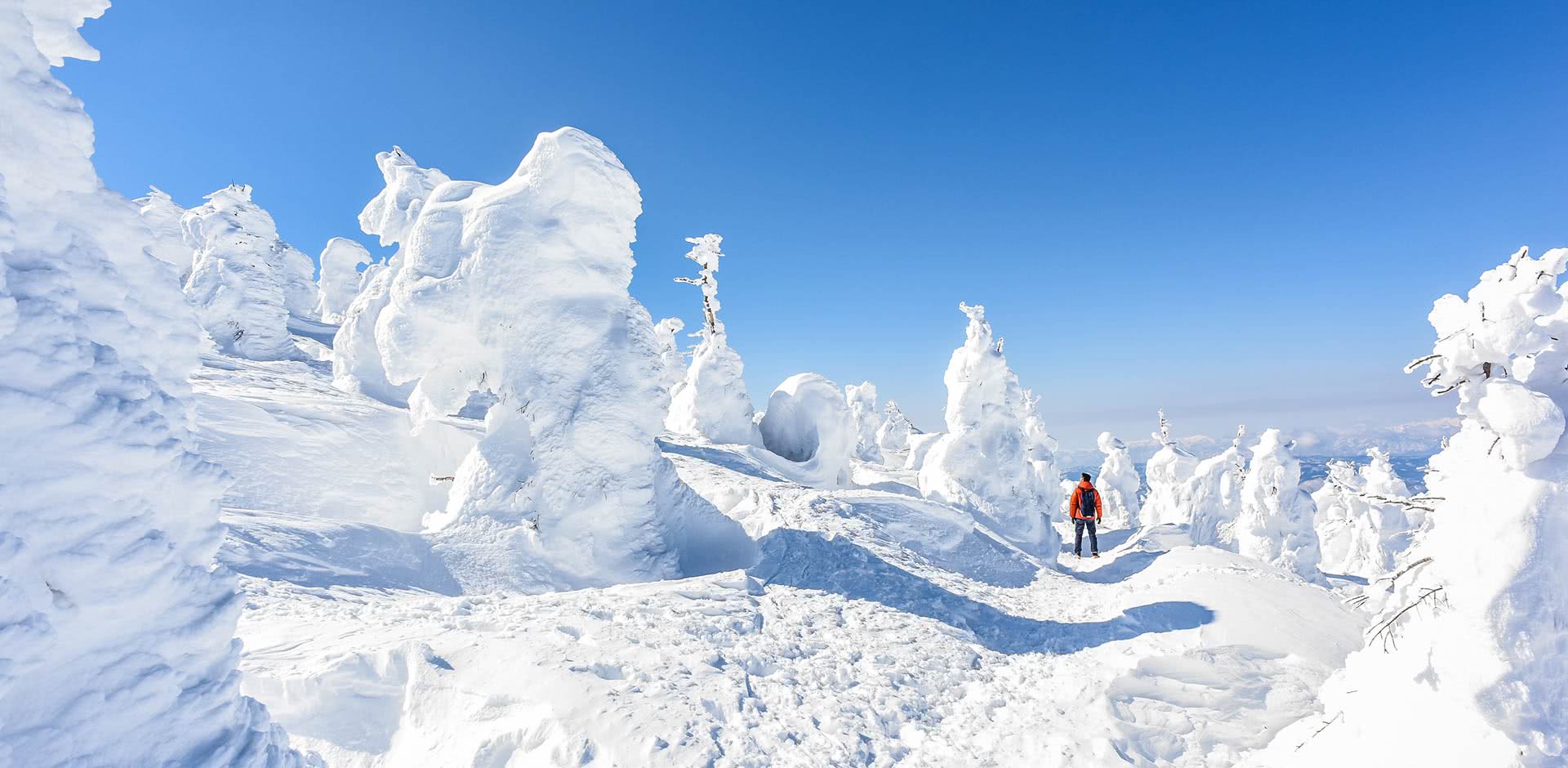 Day 5
Kakunodate, Akita
Head to Kakunodate, Akita Prefecture, this morning to tour this town of a rich samurai history and dazzling cherry blossoms. Within the town's samurai district, you'll stop by two traditional samurai residences, the Aoyagi and Ishiguro Houses, which are now museums and offer a glimpse into the traditional samurai way of life. Beautifully preserved, these museums are filled with authentic artifacts. You can explore the roads of the area by foot or rickshaw, and the picturesque town is particularly beautiful at this time of year, especially along the Hinokinai riverside with its two full kilometers of a blossom-veiled tunnel. At night, make your way back to your ryokan to enjoy your private outdoor bath filled with natural hot spring waters and a deck that offers incredible star gazing.
Day 6
Morioka, Iwate
Enjoy this morning at leisure, we suggest a morning riverside walk through the cherry blossom tunnel. Later, transfer to Kitakami Tenshochi Park, Iwate Prefecture, one of Japan's foremost cherry blossom viewing sites. Stretching along the east shore of the Kitakami River, this park sees nearly 10,000 cherry blossom trees bloom in season, producing a floating sea of gentle pink. There are snack and food stalls along the way, and you can take a horse-and-carriage ride through the park or a scenic boat cruise. The Kitakami City Museum and Michinoku Folklore Village are also located in the park. The museum contains Buddhist art and Jomon Era earthenware, while the village is an open-air museum featuring 30 preserved farmhouses and other structures representative of different historical periods of the Tohoku Region. The next stop is Morioka, about a one-hour drive away, where you will check into your hotel and, if time permits, visit the Rock-Breaking Cherry Tree. This stunning, 400-year-old cherry tree grew out of a crack in a granite boulder and today stands in front of a district courthouse.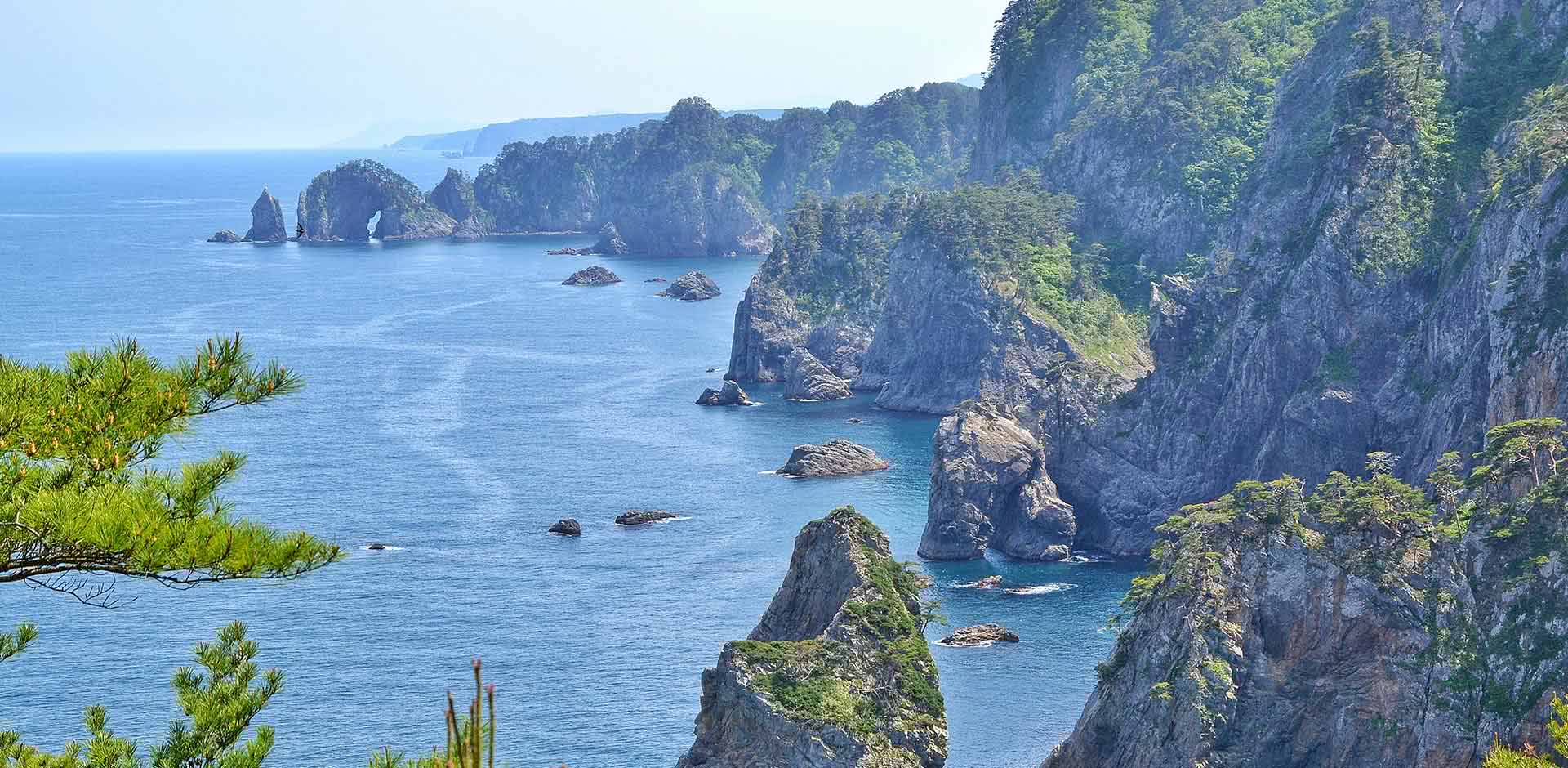 Day 7
Hirosaki, Aomori
Arise early to visit the Mikoda Morning Market. It's the largest domestic market in Japan, in terms of customer volume, that is home to a variety of produce and homemade delicacies like rice balls and tempura. After meandering among the stalls, drive to Hirosaki, Aomori Prefecture, to explore the Hirosaki Castle Park. This is one of the premier cherry blossom viewing destinations in the Tohoku Region. The park features a three-story castle tower and other old fortifications sprinkled among a landscape of gently rolling hills, ponds, and an abundance of cherry blossom trees. The pink petals are so numerous that they fill the moats and ponds, creating an opaque layer of undulating pink. Later you'll explore the town's samurai district, a collection of buildings with traditional architecture that date back hundreds of years, along with the traditional Western-style buildings that remain throughout town. A major producer of apples, the city also has a surplus of confectionaries, and you should check out the delicious apple pie for which they've become famous. At night, if you wish, take a final look at the blooms and head back for yozakura — an illuminated nighttime viewing of the cherry blossoms.
Day 8
Departure
This morning, transfer to Aomori's airport to take your connecting flight to Tokyo, where you will board your homeward-bound flight.
TERMS AND CONDITIONS
Price is based on double or twin hotel room occupancy and includes accommodation, transfers, car/driver, English-speaking guide, activities and entrance fees, breakfasts and some dinners at your Ryokan. JR Bullet Train from Tokyo to Koriyama Station (Grand Class). Flights and optional special activities will be quoted separately. Most personal expenses, including dinners, alcoholic beverages, spa treatments and gratuities can be paid on the spot while traveling. Prices may vary depending on season, choice of accommodation and other factors.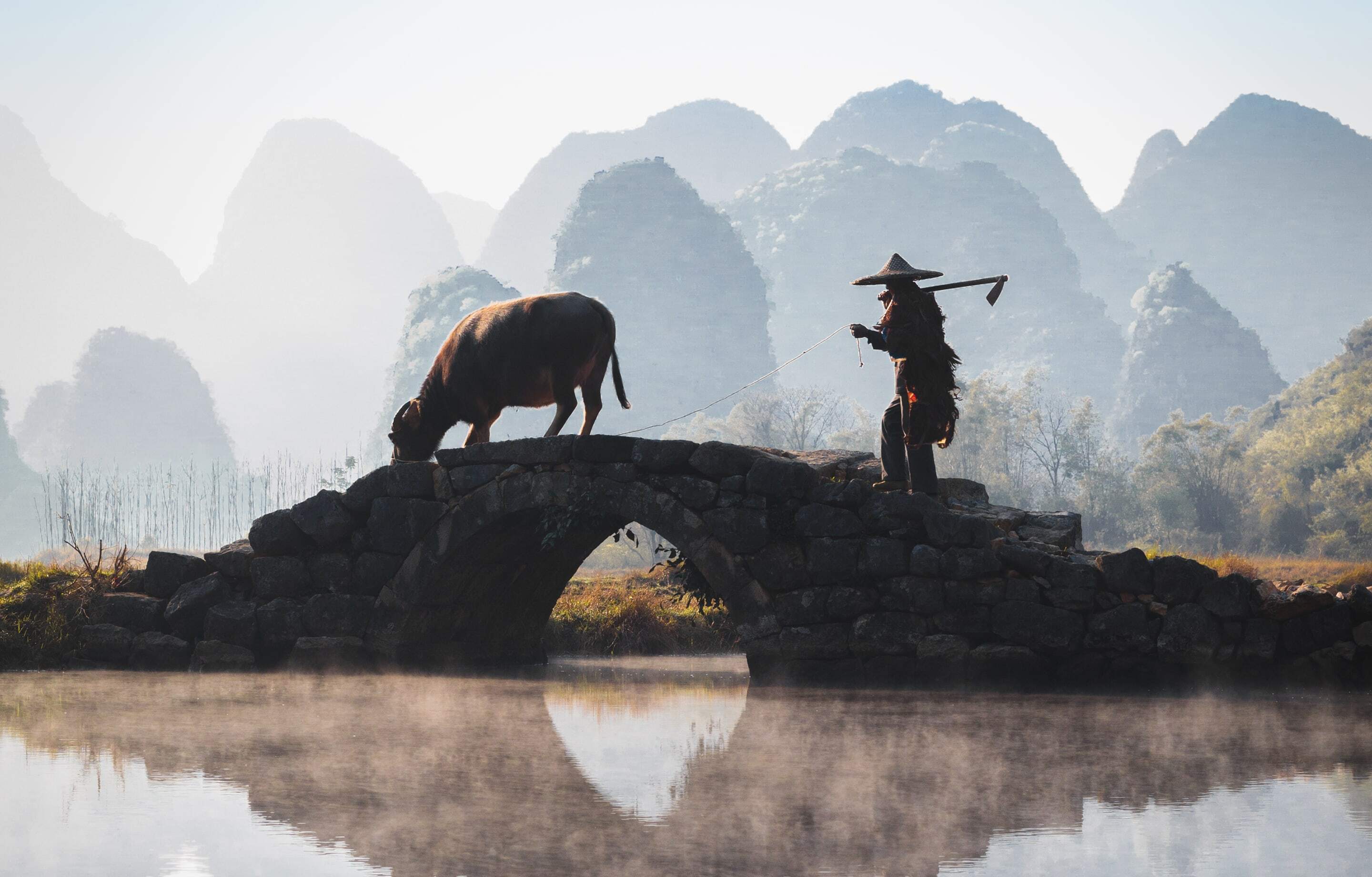 Why Remote Lands?
Exclusively Asia
With Remote Lands you'll travel with people who have made Asia the solitary focus of their own lifelong adventure. As our guest, you'll discover Asia on a journey that is completely, authentically your own, adapted from our own remarkable experiences and adventures over the years.
With Remote Lands you'll travel with people who have made Asia the solitary focus of their own lifelong adventure. As our guest, in the continent that our north American founders Catherine and Jay have adored and explored for decades, you'll discover Asia on a journey that is completely, authentically your own, adapted from our own remarkable experiences and adventures over the years.
Travelogues
An Asia-focused magazine brought to you by Remote Lands – a platform for adventure, luxury, and authenticity from experts and explorers around the continent.
What Others Say
Here is a small selection of the kind words our guests have said about us, as well as features by journalists and travel writers.
From the moment I happened upon the REMOTE LANDS website over a year ago, browsed the options, I knew that this would be well worth it. The entire staff is nothing less than professional with service that made us feel like royals.
This was truly the trip of a lifetime. Magical destinations, the most luxurious hotels in the world, and the most wonderful travel companions we could've wished for. We were treated like family everywhere we went and we have 14 new best friends.
We have used some of the top rated travel specialists all over the world and, without question, Catherine Heald and Remote Lands are at the very top of the list!