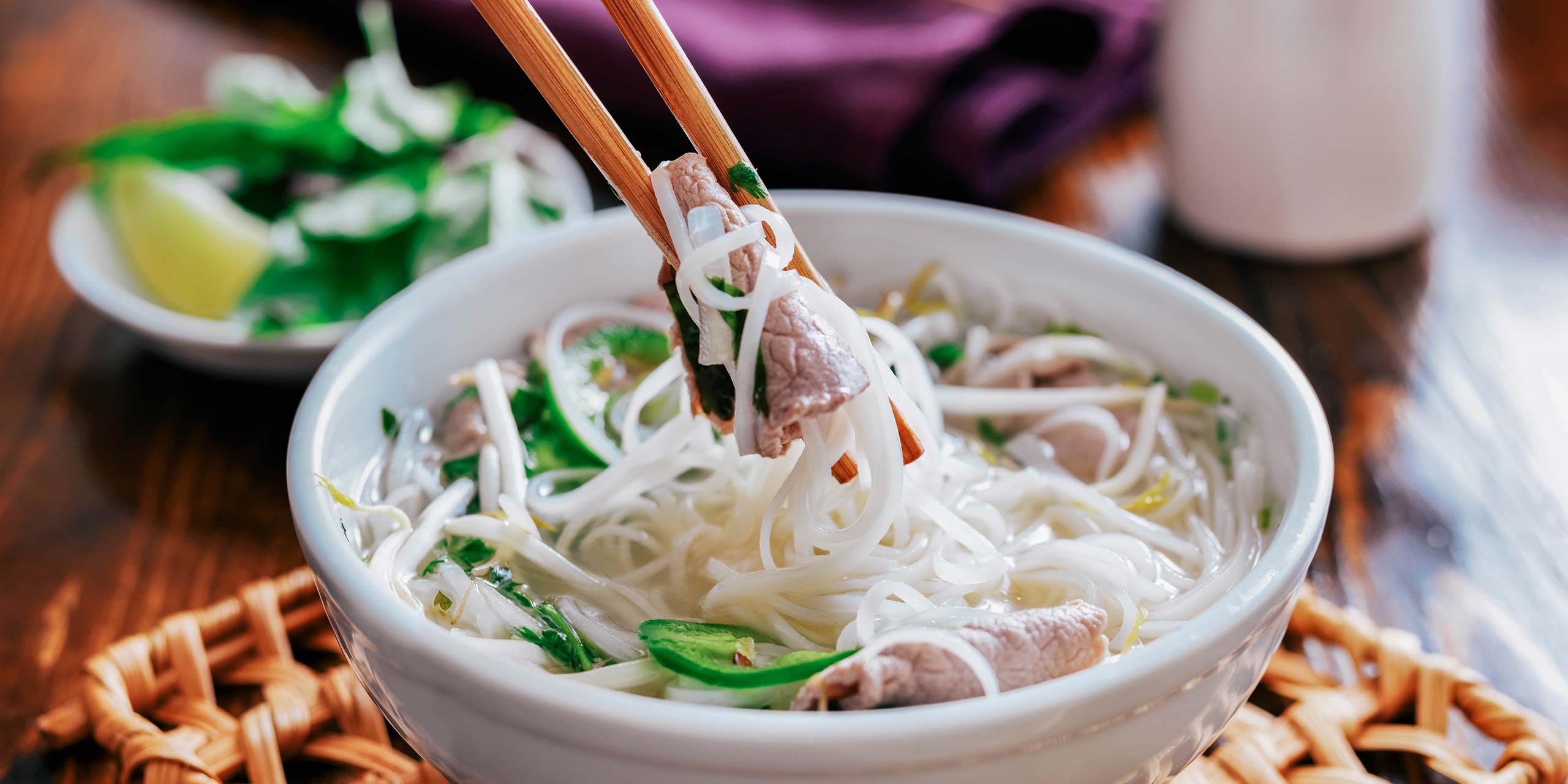 At simple restaurants around Ho Chi Minh City, you'll find hungry locals hunched over steaming bowls of beef and chicken noodle soup, the slow-cooked broth wafting alluring scents of ginger, star anise, cinnamon, and cloves around the room. A characteristic southern addition, meanwhile, is the giant piles of fresh herbs with which Saigonese like to garnish their bowls. With long-standing independents vying with specialist mini-chains, pho fans are spoiled for choice in Vietnam's southern hub.
Pho Hoa Pasteur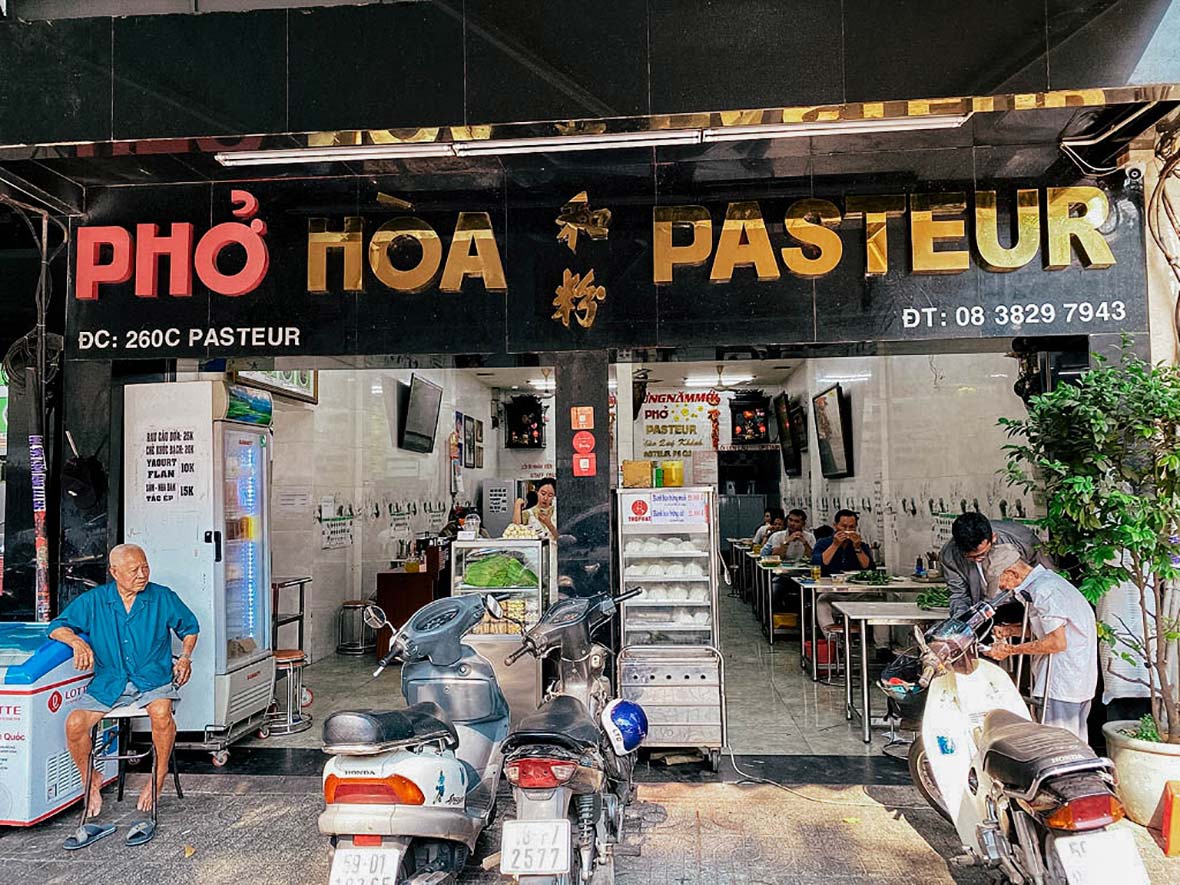 The name of this restaurant will be familiar to anyone who has ventured into a Vietnamese neighborhood overseas. When setting out their pho stall in a foreign country, homesick southern exiles frequently branded their restaurants in honor of this venerable establishment, one of the oldest in Ho Chi Minh City. The southern-style pho here is worthy of widespread imitation. Generous portions and plentiful extras such as herbs, bean sprouts, and gio chao quay (fried breadsticks) complement the clear, balanced broth and the fresh, soft rice vermicelli noodles.
Pho Tau Bay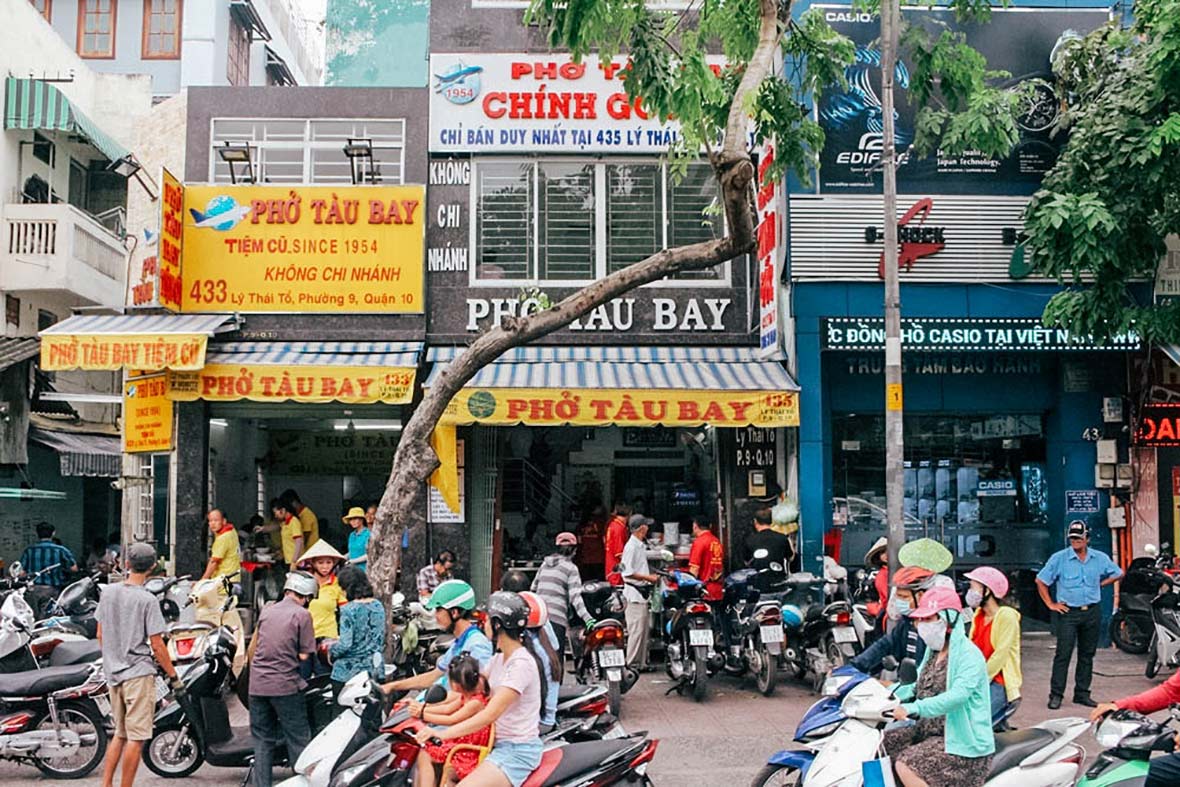 A veteran dating back to 1954 Pho Tau Bay is highly regarded for its purist approach. Set up by emigres from Nam Dinh Province in northern Vietnam—regarded as the motherlode of the dish—the shop specializes in simple, almost austere, northern-style pho. Northerners have never been very keen on the additions (herbs, sauces, beansprouts, etc.) favored by those in Ho Chi Minh City. And, while the owners have relented to local tastes and introduced limited sundries, it's the rich soup, tinged with subtle hints of star anise, cinnamon, and burnt ginger, itself that is the main attraction.
Pho Le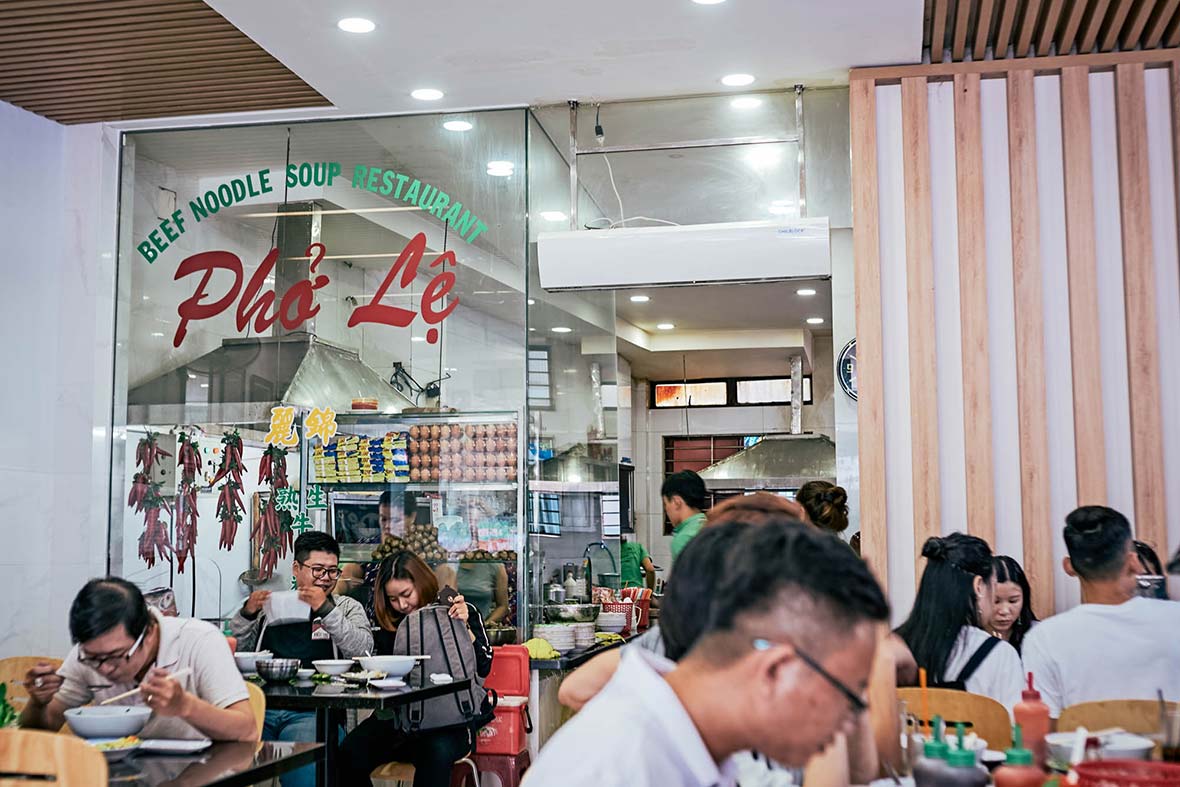 With its two city branches almost permanently packed with patrons, Pho Le deserves its reputation as a reliable crowd-pleaser. Its popularity is due, in part, to its famously rich broth, which is thicker than other versions and is bubbled with fat. With a decadent base on which to add other building blocks, the restaurant comes up trumps. Of the meat cuts, the rare steak and the peppery beef balls are both delicious. The venture's southern roots, meanwhile, are to the fore in the veritable hedgerow of herbs and the steaming mound of warm beansprouts that are presented alongside the bowls.
Pho Quynh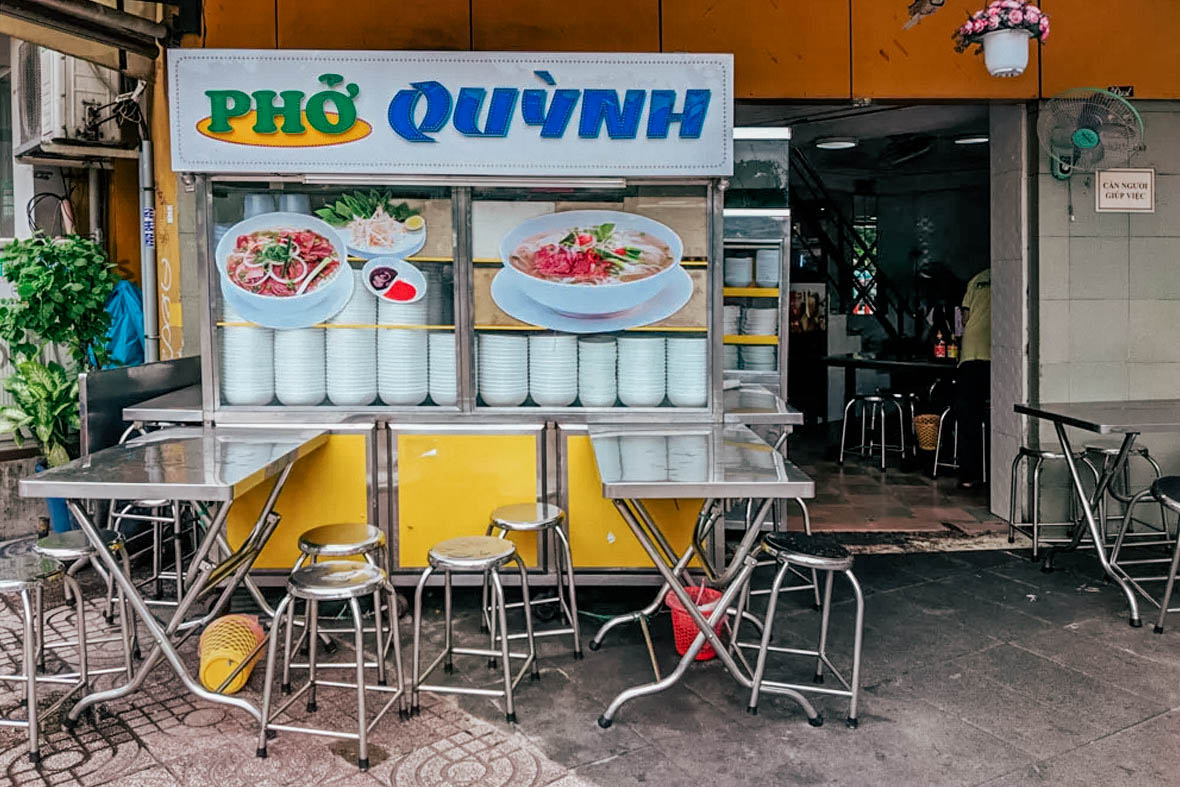 Pham Ngu Lao, Ho Chi Minh's backpacker neighborhood, is also one of its liveliest areas for dining and imbibing. If you find yourself chasing the neon lights down here then it is likely that the first bowl of pho sampled will be the version at Pho Quynh, which stands like a sentinel at one of the area's busiest junctions. Luckily, it's a fine place to start any Vietnamese food odyssey, with a hearty broth forging a joyous union with generous portions of different beef cuts.
Pho Phuong 25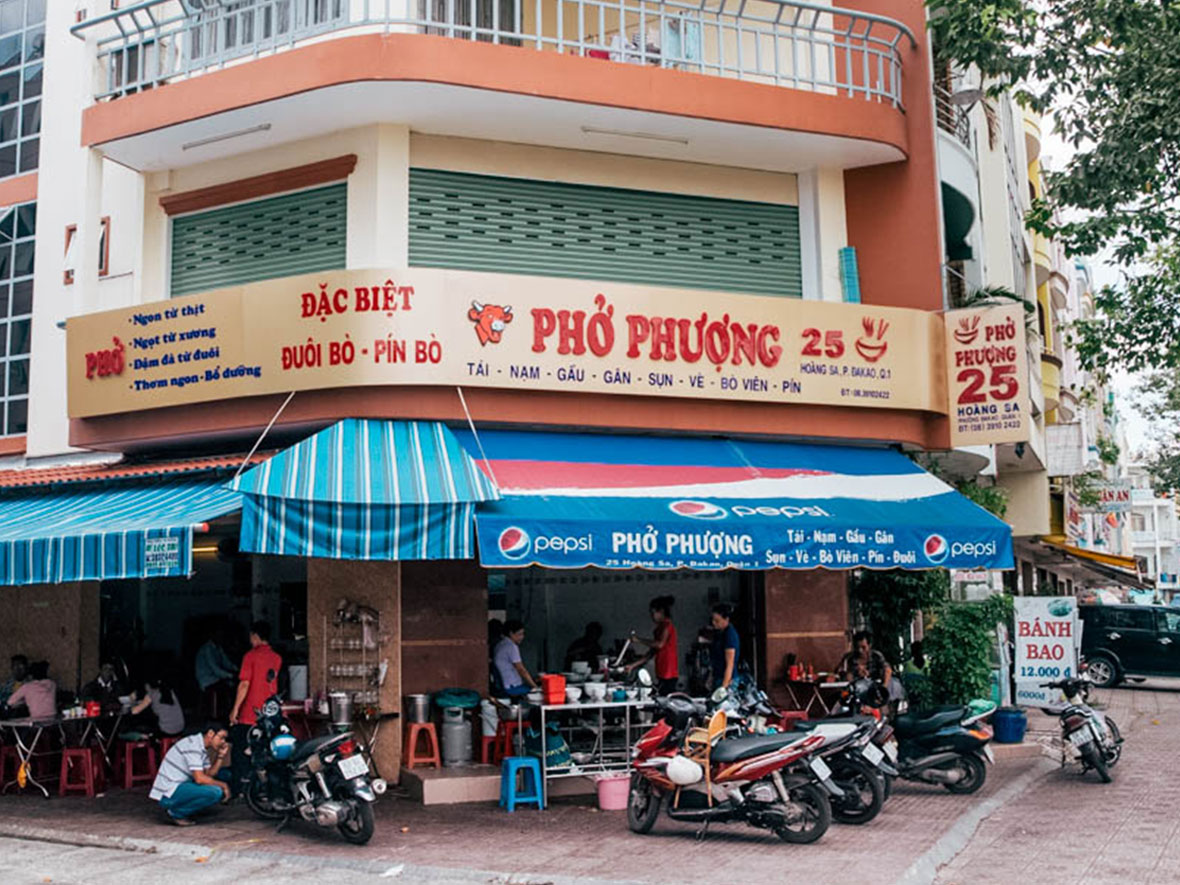 It's not exactly a rule of thumb, but the presence of northerners in the kitchen is a reliable stamp of quality when it comes to pho. Such is the case at Pho Phuong 25, which enjoys a pleasant location by the banks of the Thi Nghe canal. A family from Hanoi owns the restaurant and their roots shine through in a fully flavored broth, which carries more depth and bite than the sweeter southern-style soup. Cinnamon notes dominate the broth, but the spice is abetted by a supporting cast of star anise, cloves, and a side order of sawtooth coriander and basil leaves.