It's not just the capital of Sichuan province and a gateway to West China, Chengdu is the first UNESCO-designated City of Gastronomy in Asia. It's the home of sizzling spicy Sichuan food, one of China's four major regional cuisines, liberally laced with Sichuan peppercorns that have a pungent, distinctive taste and aroma as well as chili peppers. Fiery food fans, rejoice: the basic taste is "numb and hot," or ma la, considered healthy in traditional Chinese medicine. These dishes are must-try tastes on your panda adventure to Chengdu.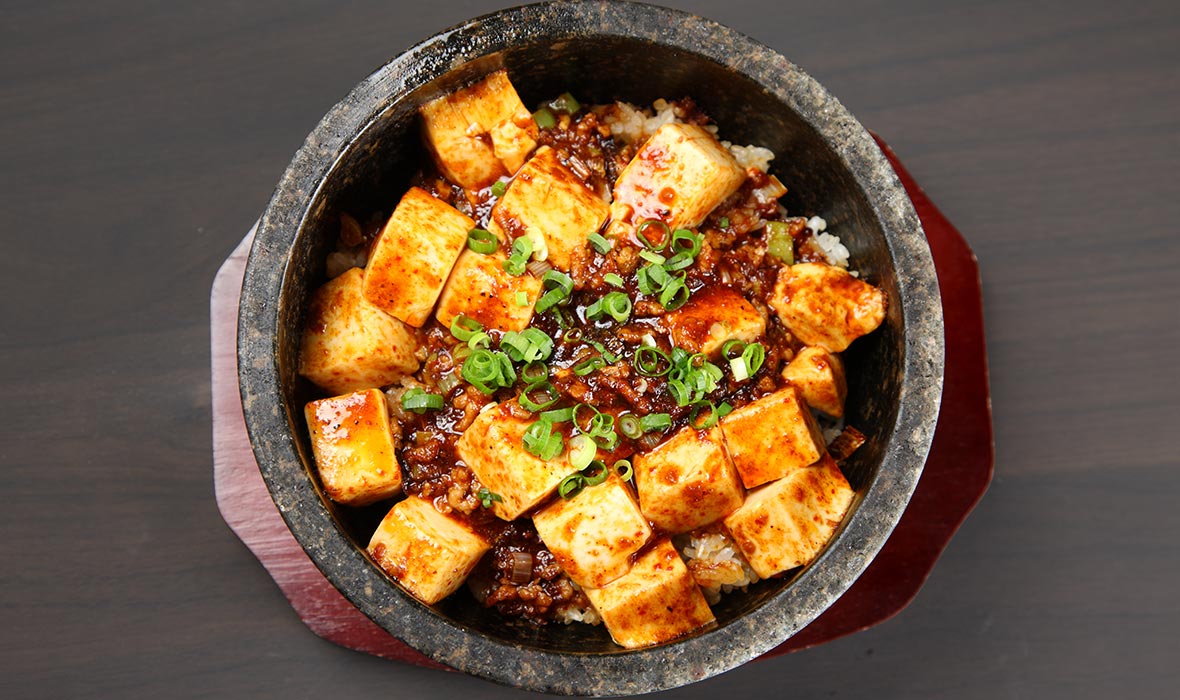 Intensely spicy despite all the tofu, this bowl of vivid red, white and green with splashes of black is described with eight Chinese adjectives: spicy, numbing, savory, tender, lively, flaky, aromatic and hot (temperature-wise). The oily paste, named for Pixian, a town northwest of Chengdu, features in many Sichuan dishes and boasts a 300-year-old history. It's a blend of fava beans fermented for at least six months, fresh Erjintiao chili peppers (akin to long thin cayenne peppers), salt and wheat flour. A second fermenting, of the beans and chiles (both chopped into chunks), together, takes at least three months. When stir-fried, the paste turns a dark brick-red.
This classic dish is cubed bean curd heaped with minced beef, Pixian chile bean paste, ground Sichuan chile pepper powder, baby leeks, ginger, garlic, ground chile peppers, fermented soybeans and soy sauce.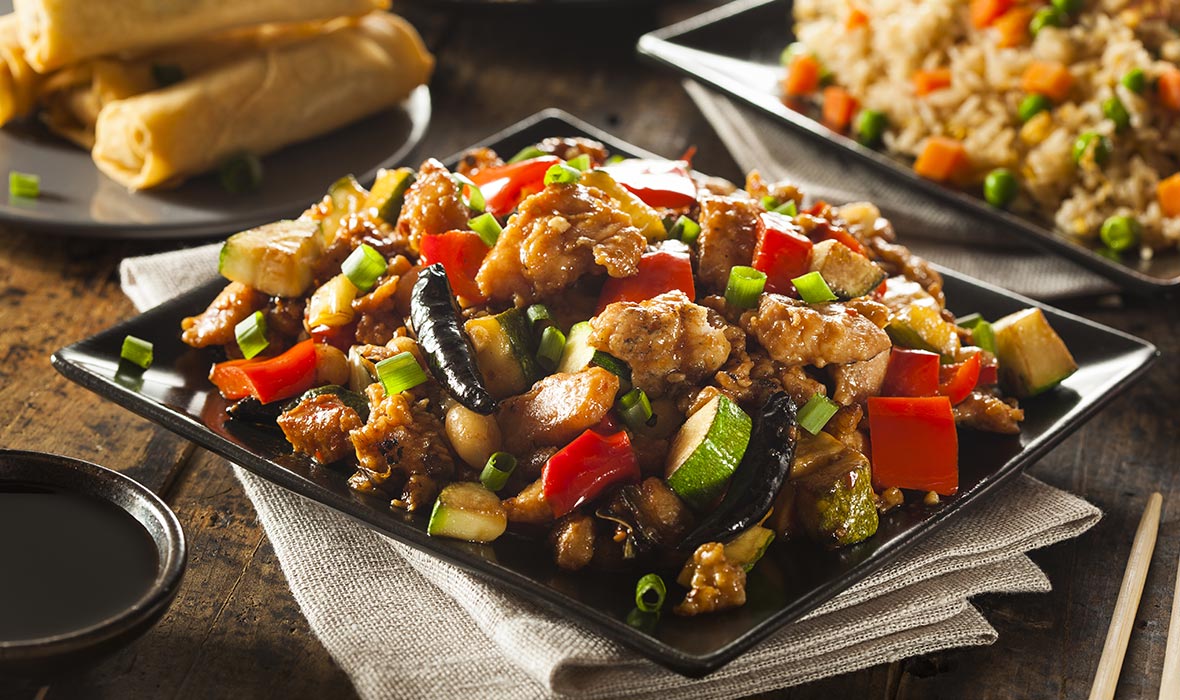 A common dish on menus around the world, Kung Pao, or gong bao chicken, is probably the planet's most popular Sichuan dish. It's cubed chicken, dried chilis, finely-chopped scallions, sliced ginger and, dark soy sauce, and vinegar. When the pan ingredients are sprinkled with Shaoxing rice wine, they dramatically burst into flame (as I found at my cooking class at Chuancais Museum, the Chengdu Sichuan Food Museum, located in Pixian). The dish was a favorite of a governor-general of Sichuan in the 19th century, Ding Baozhen, and is named for him, the story goes.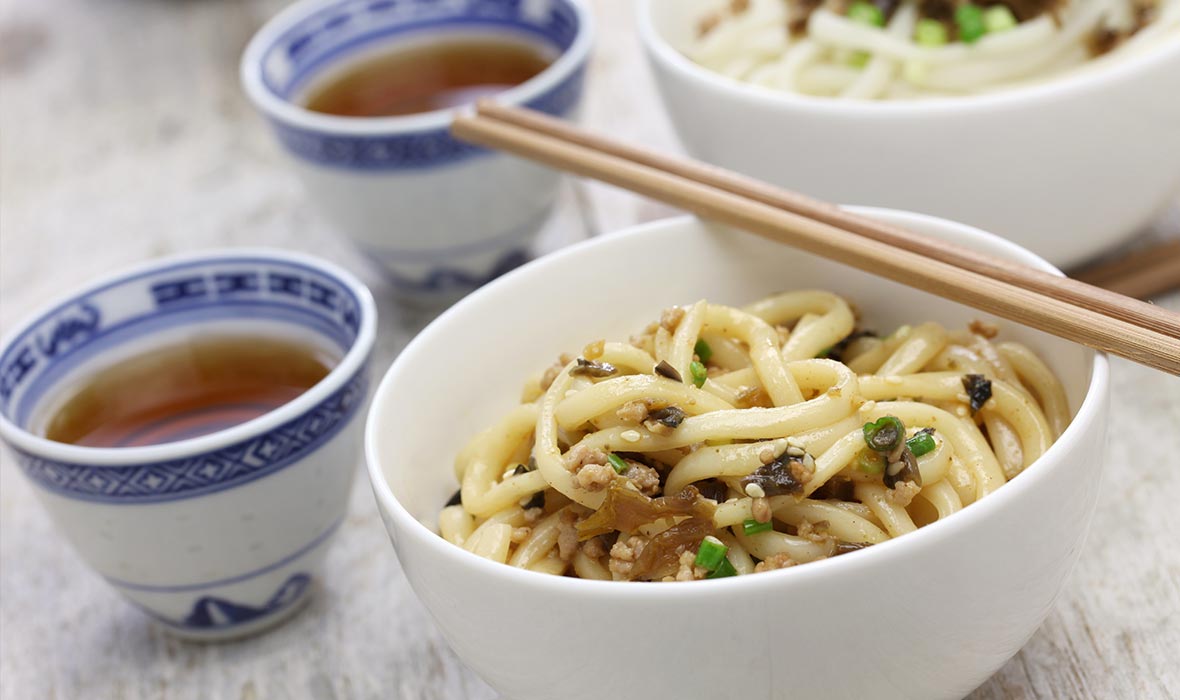 Dan dan noodles, a popular street food, are spicy noodles cooked with minced pork, lots of scallions and mustard greens, and a sauce of ground Sichuan peppercorns, sesame paste, garlic, soy sauce, chile oil and black vinegar. The bowl of noodles looks innocuous, but don't be fooled: all the fiery stuff is at the bottom, so mix it well for the noodles to soak up the familiar, addictive tongue-tingling sensation. Watching the hand-pulled fresh noodles being made is fascinating. The cook beats the dough repeatedly until it's a long strip, then keeps folding and beating it, then whirls the dough in the air like a pizzaiolo, pulling and folding it into long thin noodles. They're known as "carry pole" noodles, since they were hung on wooden poles and carried by street vendors.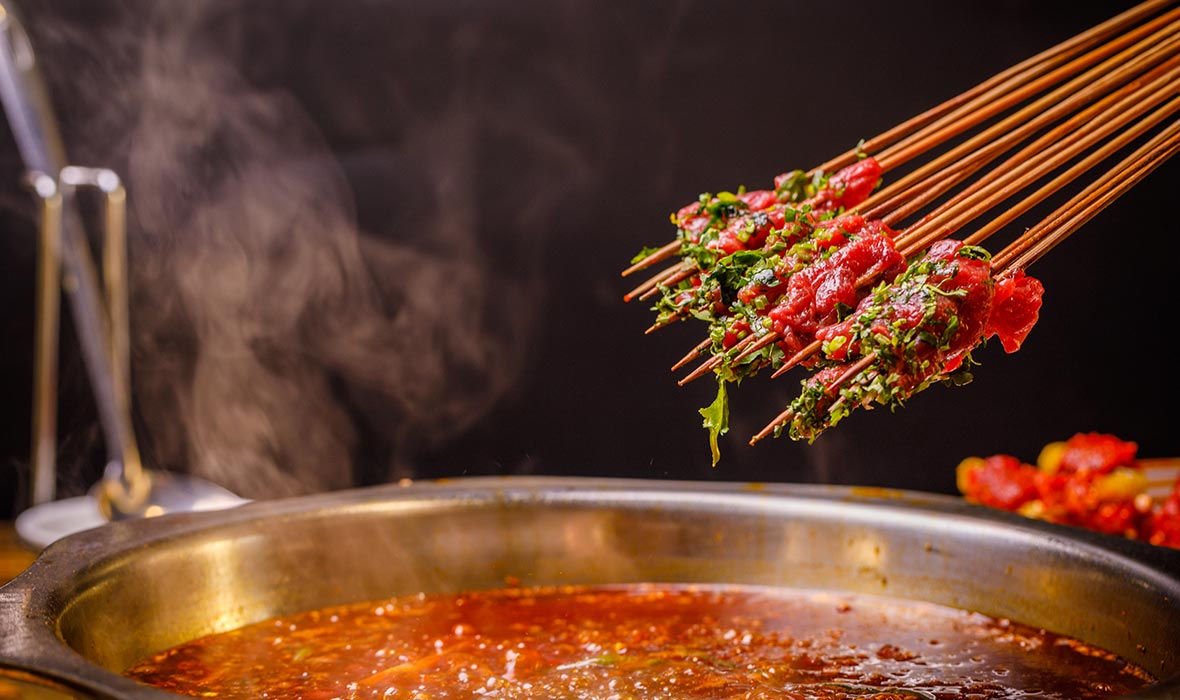 Hot pot is what you make of it — literally. You cook fresh meats, seafood, and vegetables at your table by dipping them into a pot of simmering broth with chopsticks, after marking them on the menu you're given. It's a great way to party like a local. There are different hot pot styles, but Chengdu's own style, chuan chuan xiang, involves skewers of meat, seafood, and vegetables from sweet potato to lotus root.
Chuan, or chuan'r for the Dongbei crowd, meaning skewers is a popular street food all over the Middle Kingdom. It's pretty easy to spot; the character 串 looks like two pieces of meat on a stick. The most popular chuan in Chengdu is spicy beef, mala niurou.
Often it's self-service and casual: you tell the server what type of broth you want, then you pick the items from a menu or refrigerator. At some places you can create your own sauce at the dry spice and oil bar, where you'll find finely-chopped chile peppers, sesame paste, garlic, coriander, and ground chile powder.
For non-chuan hot pot, the most common meat ordered with hot pot is tripe. While it's hard to find a vegetarian-only restaurant in pork-loving Sichuan, Mi Xun teahouse, in Temple House, a luxury boutique hotel abides. Here at Mi Xun, my vegetarian hot pot features mushrooms of several types, from king trumpets and Yunnan black mushrooms to orange cordyceps (which looked like shredded carrots), spinach dan dan noodles and chayote leaves in a broth of braised coconut-chile oil — with a high heat level I intensified by adding lots of chiles, both chopped fresh and ground powder.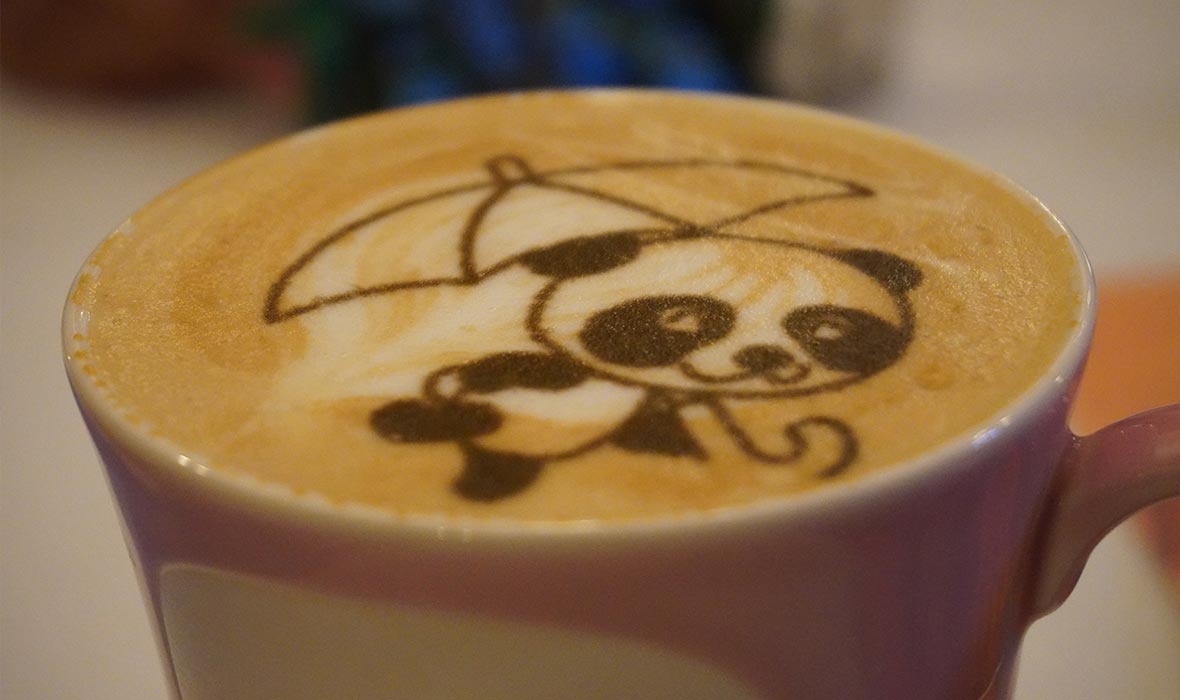 Pandas are everywhere here: not just at the Giant Panda Breeding and Research Base, where you can see them chomping on bamboo, but also on plates. Don't worry, it's in the form of cute little desserts, where black beans form the ears, eyes, and mouth of a red bean paste-stuffed dough ball made from glutinous rice and wheat flour. Red bean dumplings are popular all over China, but panda-crazed travelers can learn to cook these cute confections at the Chuancais Museum. Visitors will also find panda-shaped ice cream, cookies, and panda designs in coffee at the Crowne Plaza Chengdu Panda Garden hotel, a 10-minute drive from the panda center.