Example Itinerary
Wild Horses: Faraway Mongolia
Your 8-day itinerary will take you to Mongolia's most stunning locations in an exhilarating journey full of history and natural beauty. Starting in the capital of Ulaanbaatar, you'll visit the UNESCO World Heritage Site of the Orkhon Valley - Mongolia's ancient imperial capital - exploring the remnants of temples, palaces and forts. You'll see plains where native wild horses graze and travel to the breathtaking Lake Hovskol, where you'll hike and camp. Overnight stays in traditional ger tents are an unforgettable part of this journey.
This itinerary is an example. It's designed to inspire you and provide you with thoughtfully curated ideas. You can choose to do this exact itinerary or completely personalize it. All trips are 100% bespoke.
Highlights
• Wild Horses: The rare and endangered Przewalski's horse is the world's last truly wild horse species and it can be found in the mysterious Hustai National Park.
• Orkhon Valley: Explore the UNESCO-protected birthplace of Mongolian Buddhism and visit the city of Khar Balgas, the ancient capital of the Uyghur Empire.
• Lake Hovsgol: Hike Mongolia's largest lake, with waters so fresh it is pure enough to drink untreated, and keep an eye out for wildlife, as the area is frequented by ibex, elk, brown bears, and Siberian moose.
Day-by-Day
Day 1
Ulaanbaatar
This morning, you will arrive in Ulaanbaatar, the capital of Mongolia. You'll start your exciting 8-day journey in the city's economic hub, Sukhbaatar Square, where historic monuments, ex-Soviet buildings and cultural landmarks will give you a sense of place. Next, you'll head to the Winter Palace of the Bogd Khan - the only residence of the last Mongolian Emperor still standing. Now a museum complex, it houses six temples and many fascinating relics, art collections and regalia. In the evening, settle into a luxury hotel in Ulaanbaatar - we recommend the Blue Sky Hotel, a modern high-rise property with commanding views over the city and mountains.
Day 2
Hustai National Park
Rise early today and head to Hustai National Park, two hours away. You'll go on a wildlife hike through the hills and forests of this protected zone, spotting Przewalski's horses and red deer, and keeping an eye out for resident birdlife - falcons and eagles both call this area home. Next, enjoy an activity with close ties to Mongolian culture - horseback riding - before heading to your accommodation for the night in a ger camp. A traditional nomadic dwelling, the ger tent is a comfortable round hut - the camp offers hot and cold running water and has a restaurant that provides authentic Mongolian meals. Located in a fertile plain, the camp is perfect for nature lovers. A luxury alternative can be arranged upon request.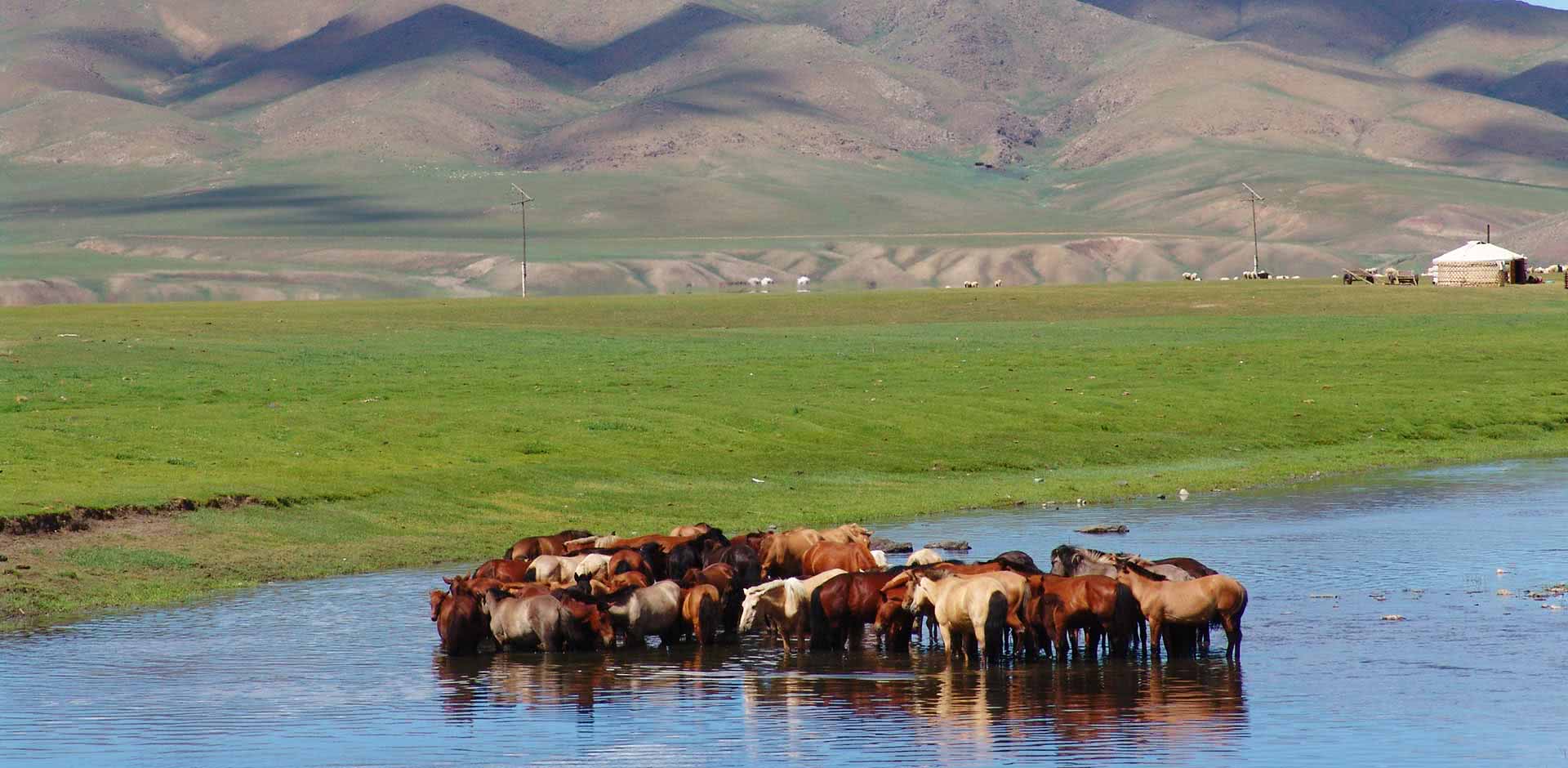 Day 3
Hustai National Park
Today you'll set out specifically to see the Takhi, or Mongolian Wild Horse. Not long ago, this beautiful creature was extinct in the wild, but a conscientious preservation program reintroduced the Takhi to these plains and the horses have made an unlikely comeback. Unlike other wild horses, the Takhi has never been domesticated - today you can see them roam free in their natural habitat. Tonight, spend another night in your tent under the stars.
Day 4
Karakorum
Believed to be the oldest Buddhist monastery in Mongolia, today you'll make your way to the Monastery of Erdene Zuu. This beautiful site was built in the 16th century and features a long wall of stupas reaching out across the tundra. Next, visit the city of Khar Balgas, the ancient capital of the Uyghur Empire, founded by a group of nomadic tribes. Very little of the original fortifications remain, but as part of the larger Orkhon Valley UNESCO World Heritage Site, the ruins offer a glimpse into Mongolian history and the location's significance in the evolution of nomadic societies. Tonight, you'll stay in a ger camp in your own private tent. The camp has communal Japanese-style bathing facilities, karaoke, and massage. Alternatively, you can stay in a hotel room onsite or in your own luxury ger tent.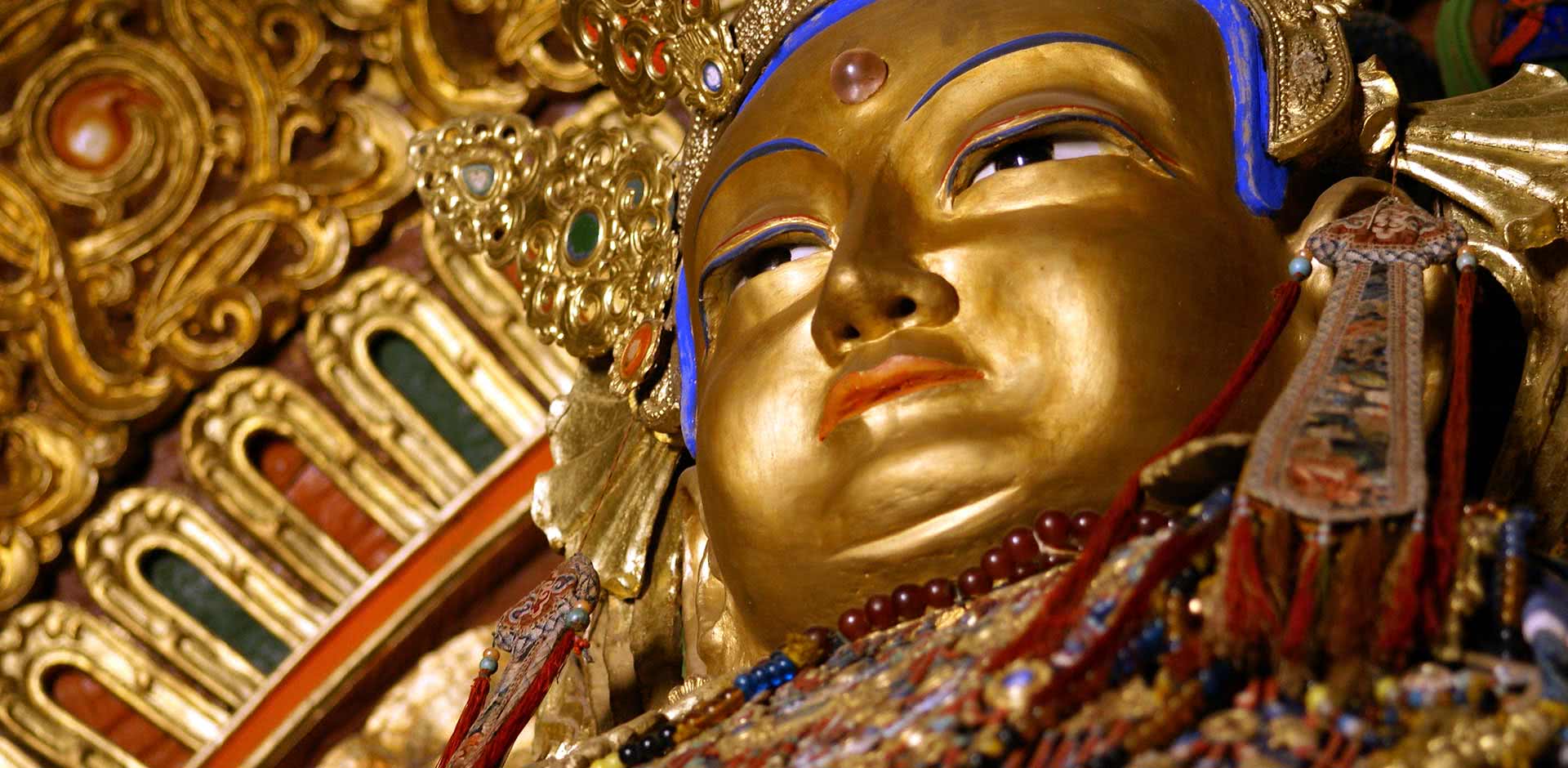 Day 5
Karakorum
Today you'll explore more Mongolian history, starting with a visit to Tuvkhun Hermitage. This small, remote structure is still largely intact and is part of the Orkhon Valley UNESCO-protected site as one of the places Mongolian Buddhism was first developed. Next, you'll visit one of the most significant historical landmarks in Mongolia - the Orkhon Inscriptions, carved in the old Turkic alphabet in the 8th century. The inscriptions recount the epic story of the Turkic tribes and were erected in tribute to two legendary Turkish princes. In the evening, return to your accommodation in the ger camp.
Day 6
Lake Hovsgol
You'll enjoy a private charter to Lake Hovsgol today, the largest lake in Mongolia and a breathtakingly beautiful destination. The fresh waters here are among the most pristine in Asia - pure enough to drink untreated. Surrounded by mountain ranges, this is one of the most picturesque locations in Mongolia: the mountainous home to an array of wildlife. On a hike around the lake, you'll have the chance to spot ibex, elk, musk deers, brown bears and Siberian moose, among others. The best way to enjoy this remote location is to camp, and tonight you'll be set up in your own modern campsite, with all amenities provided.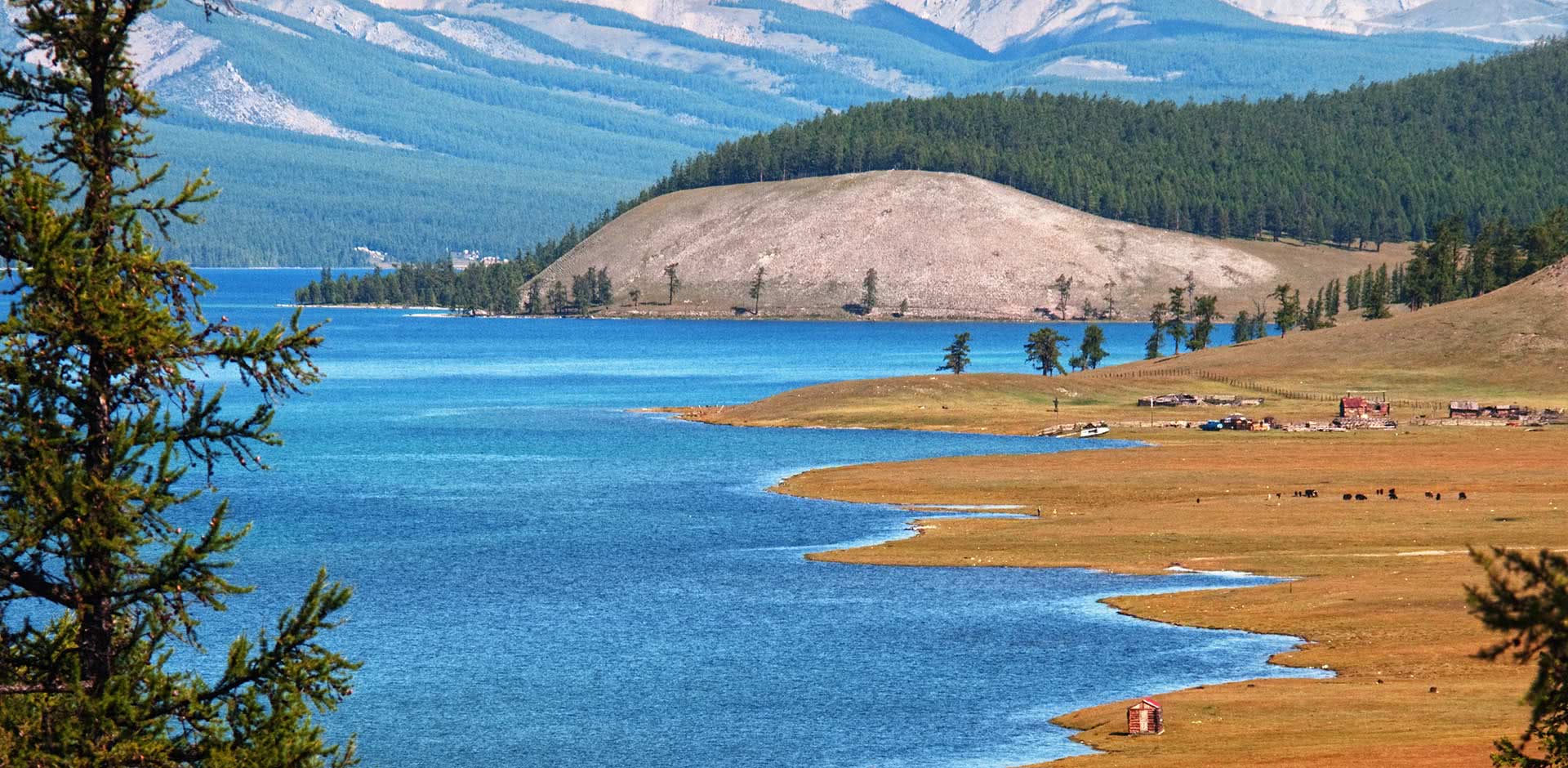 Day 7
Lake Hovsgol
For the best views of the surrounding countryside, you can't do better than a vantage point on Ikh Uul Mountain. Today you'll rise early for a day-hike up to Ikh Uul's apex at 10,000 feet. It's an intense day of hiking and the ascent is challenging in parts, but well worth the effort for the unsurpassed panoramas of Lake Hovsgol and beyond. After a full day of hiking, enjoy another night camping in the beautiful Mongolian wilderness.
Day 8
Ulaanbaatar
Today you'll travel back to Ulaanbaatar where you will be transferred to the airport for your departing international flight.
TERMS AND CONDITIONS
Price is based on double or twin hotel room occupancy and includes accommodation, transfers, car/driver, English-speaking guide, activities and entrance fees, breakfasts and some casual lunches while touring. Flights and optional special activities will be quoted separately. Most personal expenses, including dinners, alcoholic beverages, spa treatments and gratuities can be paid on the spot while traveling. Prices may vary depending on season, choice of accommodation and other factors.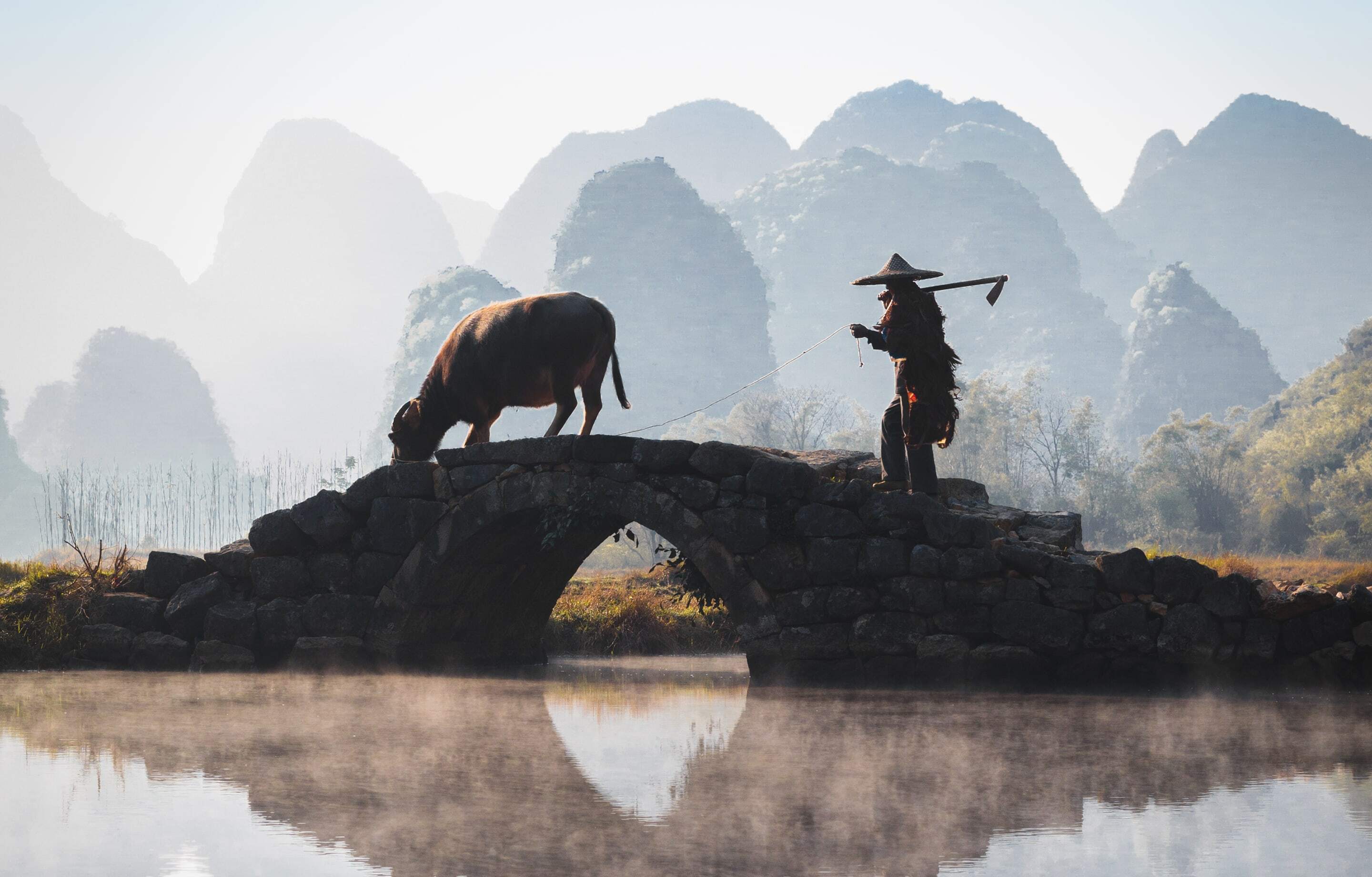 Why Remote Lands?
Exclusively Asia
With Remote Lands you'll travel with people who have made Asia the solitary focus of their own lifelong adventure. As our guest, you'll discover Asia on a journey that is completely, authentically your own, adapted from our own remarkable experiences and adventures over the years.
With Remote Lands you'll travel with people who have made Asia the solitary focus of their own lifelong adventure. As our guest, in the continent that our north American founders Catherine and Jay have adored and explored for decades, you'll discover Asia on a journey that is completely, authentically your own, adapted from our own remarkable experiences and adventures over the years.
Travelogues
An Asia-focused magazine brought to you by Remote Lands – a platform for adventure, luxury, and authenticity from experts and explorers around the continent.
What Others Say
Here is a small selection of the kind words our guests have said about us, as well as features by journalists and travel writers.
From the moment I happened upon the REMOTE LANDS website over a year ago, browsed the options, I knew that this would be well worth it. The entire staff is nothing less than professional with service that made us feel like royals.
This was truly the trip of a lifetime. Magical destinations, the most luxurious hotels in the world, and the most wonderful travel companions we could've wished for. We were treated like family everywhere we went and we have 14 new best friends.
We have used some of the top rated travel specialists all over the world and, without question, Catherine Heald and Remote Lands are at the very top of the list!