There's no shortage of beachfront in a land of 18,000 islands, but for the discerning traveler, finding the right Indonesia island getaway can be a tough decision. There are islands with primeval forests accessible only by private seaplane, exotic surfing destinations tucked away in jungles, and luxury liveaboards for travelers who want to see as many islands as possible. Summer is the best time to visit Indonesia, and Remote Lands has the best island getaways for 2019.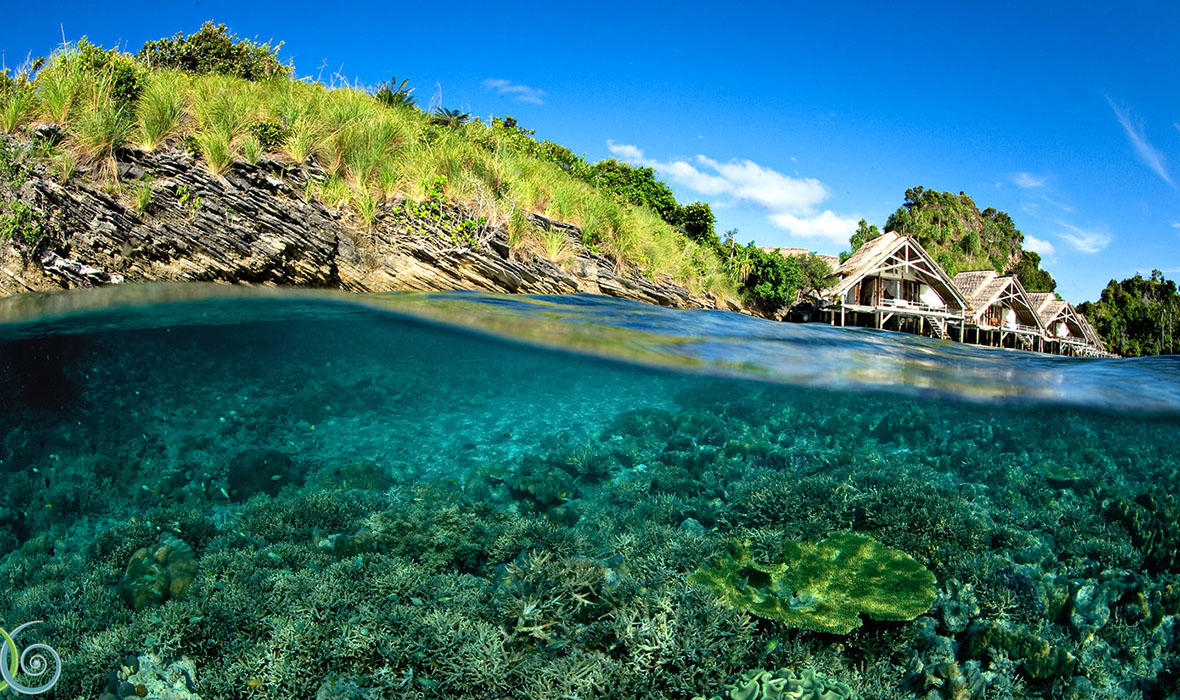 Considering the Raja Ampat archipelago comprises more than 1,500 small islands, cays, and shoals, most choose to explore the area by liveaboard, but the Misool Eco Resort offers a rare chance to have a sustainable and comfortable five-star experience in one of Southeast Asia's most coveted diving hotspots.
Set on a secluded island filled with rich foliage that receives abundant sunshine, the Misool Eco Resort is composed of eight over-water cottages, three seaside villas, and five beachside villas, all built from local resources. The chartered boats and private guides – along with every modern amenity imaginable – give guests the option to see Raja Ampat at their own pace, knowing that a luxury resort awaits them at the end of the day. In terms of underwater life, the island is second to none; the nearby house reef makes for leisurely snorkeling, and the resort itself is located at the epicenter of the 300,000-acre Misool Marine Reserve.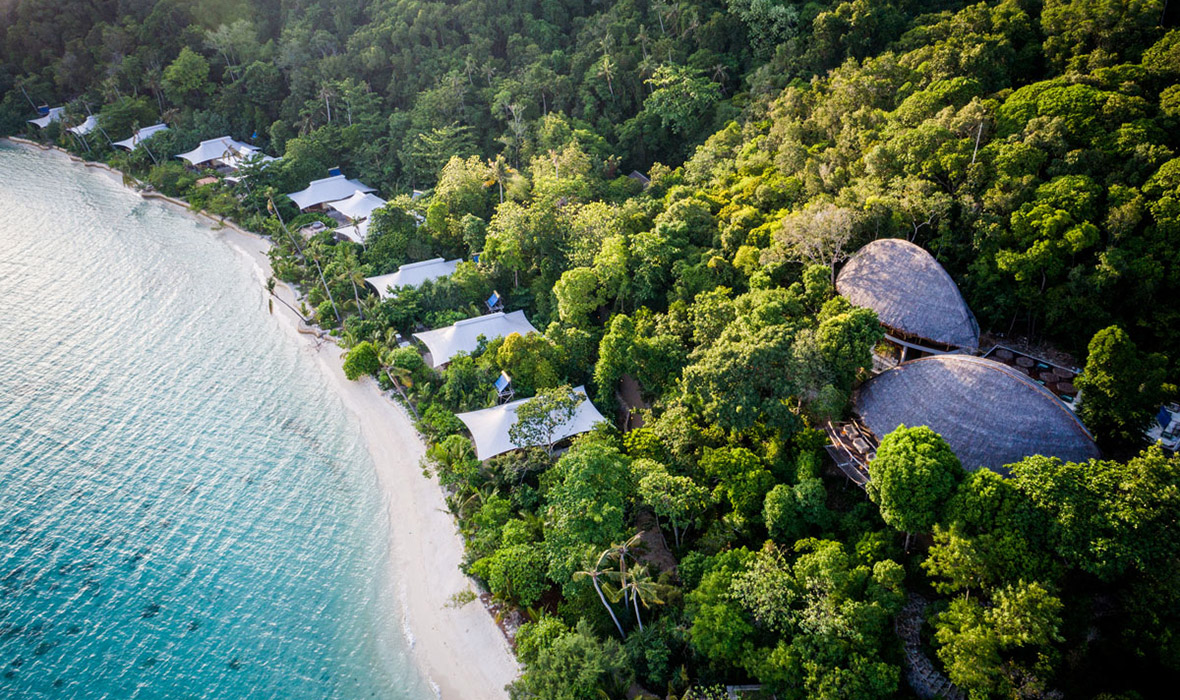 In the Indonesia issue, you're going to hear a lot about Bawah. Why? Well, it's relatively new, ultra-luxe, and a textbook island getaway. Accessed by yacht or private seaplane, this luxury resort comprises a cluster of five islands filled with primeval forest and white sand. At Bawah, reefs are found mere feet away from beachfront suites at an eco-friendly resort that is never home to more than 70 guests at a time.
Having only just opened in 2017, Bawah Reserve has quickly garnered a reputation as the finest accommodation on the map between peninsular Malaysia and Borneo.
This unique location makes Bawah an ideal destination to pair with luxe trips to Singapore and Batam Island (the seaplane's departure point) and allows yachters to explore the lesser-traveled coral marvels of Riau Archipelago. Of particular interest to luxury travelers is the in-house service, which mirrors that of the more mainstream resorts found on Bali.
Only just recently Bawah Reserve hired a second seaplane to ensure that travelers can get to Bawah Island via seaplane seven days a week.
Komodo isn't just Komodo; it's Rinca, Padar, and a whole host of other islands. Everywhere the island-hopping traveler goes, there's something to see around the Komodo National Park region. Huge clusters of manta rays? Sure. Pink beaches? Certainly. Dragons? Of course. But the one thing you won't find is a luxury hotel with easy access to all of these treasures. When it comes to seeing Komodo, you need a private schooner.
The ideal tour of Komodo passes through Loh Liang Bay. The private schooner should visit Rinca and Padar and will even allow travelers to do some hiking to see deer and buffalo. Of course, travelers shouldn't miss the obligatory stop to see Komodo dragons within the park, but what matters most is how visitors spend their time after venturing through Komodo. Remote Lands recommends traveling east to the Riung Islands and perhaps even all the way to Mount Kelimutu. But the great thing about having your own private schooner, after all, is getting to chart your own course.
Karimunjawa itself is a nice getaway, but for proper luxury travelers need to hop on a speedboat and head to Kura Kura Resort. Found just west of Karimunjawa, Kura Kura Resort is a remote private island experience in the Java Sea with first-class amenities. The suites are well appointed, and the natural coral around the island teems with life. In contrast to roaming about Komodo or doing an all-day dive at Raja Ampat, this hideaway is a tiny slice of Indonesian tropical paradise perfectly suited for relaxation in a tranquil, intimate setting.
Kura Kura Resort's 20 villas may seem small compared to its Karimunjawa counterpart, but Kura Kura Resort's Krakal takes the "Castaway" experience to a whole new level. Made for two people to have their very own deserted island, Krakal is found just 30 minutes away from the main resort and offers the ultimate in remote privacy. Travelers should be warned, though, that Krakal is best kept to a one-night experience, as the lack of electricity can cause some to jones for their phones. In fact, maybe take a volleyball for company just in case.
The Mentawai Islands boast some of Indonesia's best waves, and at Kandui Villas travelers can get comfy while hitting a reliable stream of sixfoot swells. Waves up to 15 feet high are not uncommon here and are most consistent around March through November.
Almost entirely alone on the little-known Karangmajat Island, the Kandui Villas are an ideal setting for travelers who live to surf. Travelers should consider visiting the fast and hollow Kandui Left, the easy-breaking Playground, and the Kandui Right, said by some to be the best right-breaking wave in Indonesia. Kandui Villas may not be able to boast the luxury of places like Nihi Sumba, but it certainly has the waves.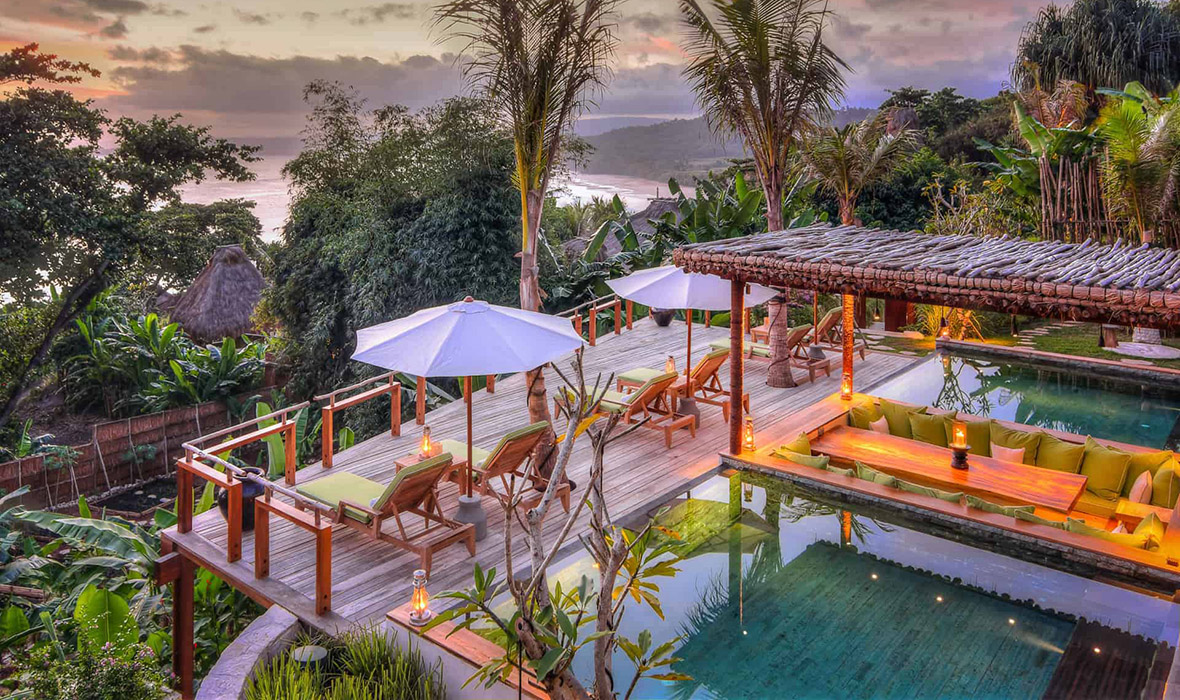 Nihi Sumba is the top luxury surfing resort in Asia – bar none. But, it's more than that. It's an adventure playground of horseback riding and biking, a decadent chocolate indulgence, a cultural experience, and a fivestar accommodation and dining treasure hidden in a private corner of Sumba Island.
Most famous here is Occy's Left. It's not just a good wave; it's an exclusive wave. Only 10 surfers a day get to try their luck at Occy's Left, named for Australian surfer Mark Occhilupo. Surfers who catch this wave are in for a 200- to 300-meter ride. As to the resort itself, Sumba isn't exactly a tiny, isolated island, but the corner of it into which Nihi Sumba is nestled certainly is, far from any other resorts and found on an isolated beach.
A number of on-land excursions are available through Nihi Sumba, including treks to the nearby NihiOka valley, Lamboya, and Blue Waterfall.
No one can see all of Indonesia's islands in one trip, but your best chance involves bedding down on a hearty ship. The Kudanil Explorer is the best new chance to see Indonesia from the water in absolute comfort. With eight specious berths that can accommodate 16 guests, the Kudanil at first glance may not look like a five-star experience, and that's because it has been adapted from a safety and rescue vessel. While this means it may not appear as outwardly fancy as something like the opulent Aqua Mekong, the Kudanil can go places other ships won't.
The vessel takes different seasonal trips, traversing Raja Ampat, Komodo, the Spice Islands, Sumba, Papua, and just about every hard-to-reach Indonesian destination imaginable. Surfing and scuba diving are an option during the voyages, and the ship offers floating five-star luxury with no big-box cruise corner cutting. A crew of 21 in total looks after 16 guests on this adventure through many of Indonesia's most-hidden spots.
Of particular interest is the Kudanil's journey to Western Papua, a lesser-traveled region, but during the summer it's best to book the Kudanil for Komodo.