Example Itinerary
Borneo & Beyond
This 10-day adventure brings you deep into Indonesian Borneo, the gorgeous natural habitat of colorful wildlife such as orangutans, hornbills and proboscis monkeys. When you're not cruising through mangroves and rainforests, you'll be exploring some of the most prolific spiritual and historical sites in Yogyakarta, including ancient Hindu and Buddhist. You'll also enjoy downtime in the spectacular Karimunjawa Archipelago, where you'll have free time to dive local reefs and wrecks, and swim in the sparkling Java Sea.
This itinerary is an example. It's designed to inspire you and provide you with thoughtfully curated ideas. You can choose to do this exact itinerary or completely personalize it. All trips are 100% bespoke.
Highlights
River Safari: Take to the Sekonyer river by boat in search of the area's critters, from proboscis monkeys, to water lizards, and exotic birds. If you're lucky, you might spot the famous hornbill.
Orangutan Sanctuary: Visit an orangutan sanctuary to observe and feed these magnificent animals and learn about the rehabilitation efforts.
Remote Island Gems: Situated between Java and Borneo is Karimunjawa Archipelago, a national marine park with 27 islands and a paradise of white sands, pristine reefs, and calm lagoons - all still unknown to mass tourism.
Day-by-Day
Day 1
Jakarta
You'll start your 10-day journey in Indonesia's frenetic capital, Jakarta. After being greeted at the airport, you'll be chauffeur-driven to your luxury hotel. Jakarta is a cosmopolitan city with plenty of great accommodation options – we recommend the luxurious Ritz-Carlton or the elegant and historic Dharmawangsa Hotel. After check-in, enjoy the remainder of the day at your leisure - shopping and fine dining are two popular activities in Jakarta.
Day 2
Tanjung Puting Reserve
Begin the day early with gourmet breakfast at your luxury hotel before being transferred to the airport for your flight to the island of Borneo. You'll touch down in the riverside town of Pangkalan Bun, where you'll be greeted by your guide and transferred to Kumai, 20 minutes away. Here, you'll join a live-aboard boat, where you can relax and enjoy lunch as you make your way along the Sekonyer River to Rimba Lodge, your accommodation for the night. After you've checked in, you'll join a short afternoon expedition along the river, on the lookout for proboscis monkeys, crocodiles and water lizards. Many species of birds fly through the branches of Borneo's jungles, and if you're lucky you'll see its most famous – the hornbill, with its distinctive orange beak. Return to the lodge in time for dinner.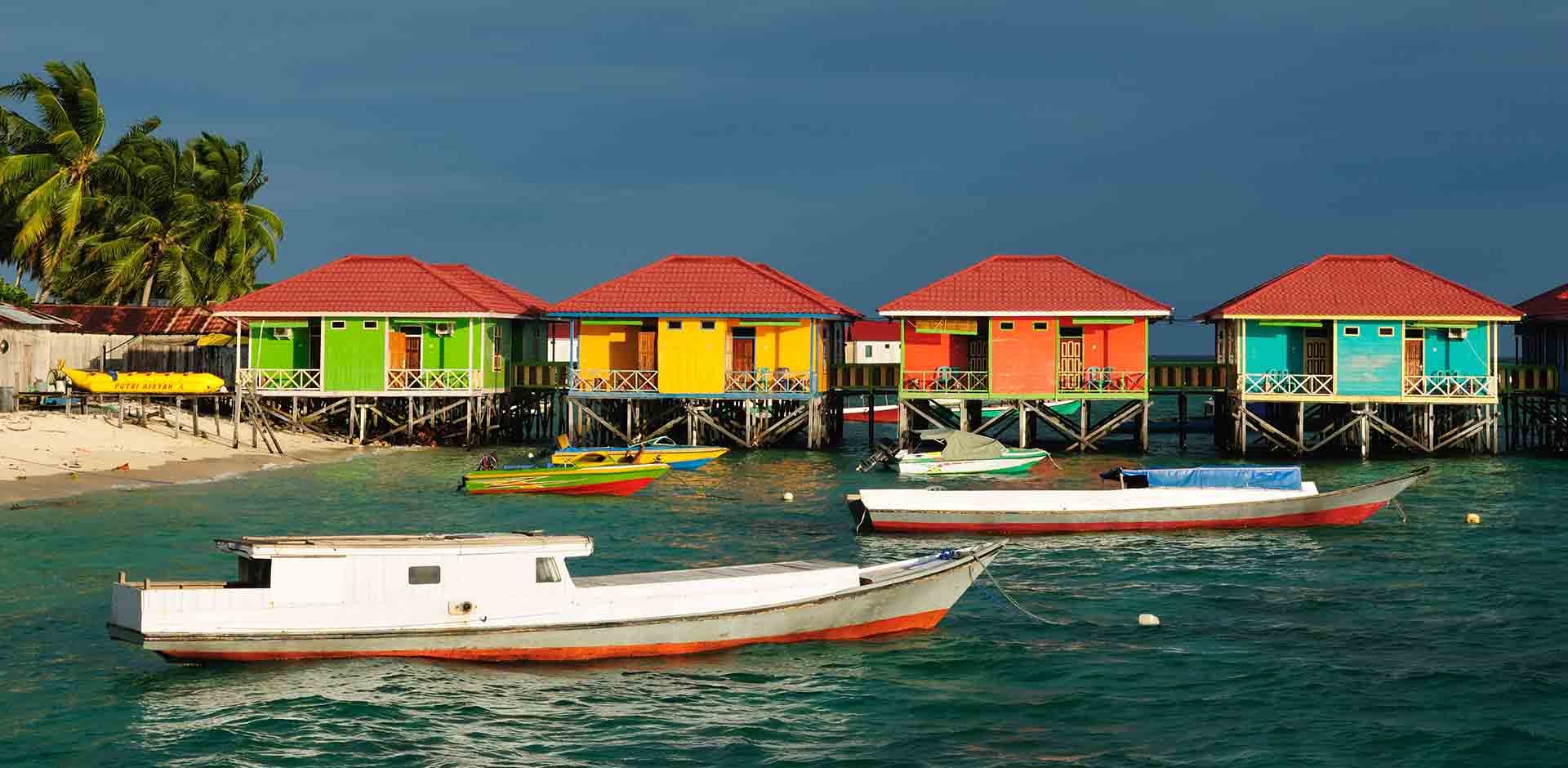 Day 3
Tanjung Puting Reserve
One of the greatest experiences of any Borneo excursion is coming face to face with an orangutan. Today you'll do just that, meeting these gentle animals at Camp Leakey orangutan foundation located in Tanjung Puting Reserve. Camp Leakey is a leisurely 2.5-hour cruise along the Sekonyer River, past the mangroves of Black River, giving you another chance to spot local wildlife. At Camp Leakey, you'll have the unique opportunity to observe and feed the orangutans, meeting the sanctuary's resident dominant male, Tom. You'll return to the boat for lunch, cruising onward to Tanjung Harapan Village. Here, you'll explore the Malayan and Semi Dayak settlements, where you can buy traditional Dayak handicrafts. After that, it's on to Tanjung Harapan rehabilitation camp, where you'll meet up with a ranger and see orangutans being prepared for their release back into the wild. Return to Rimba Lodge for the night.
Day 4
Karimunjawa Islands
You'll leave the lodge early today to make your flight to Semarang. Upon arrival, you'll be met by a guide and escorted to your connecting flight to Karimun Jawa, 40 minutes away. In Karimun Jawa you'll board a speedboat and make the 45-minute trip to Kura Kura Resort on the idyllic island of Menjawakan. Kura Kura means "sea turtle" in Bahasa Indonesia, so-named after the turtles that used to lay their eggs in the sand nearby. After a period of absence, the turtles have returned and the resort has built a sanctuary for the babies where they can grow until they're old enough to be released into the sea. Enjoy a romantic dinner at Kura Kura, which serves up a variety of cuisines, including fresh seafood, authentic Indonesian and Mediterranean.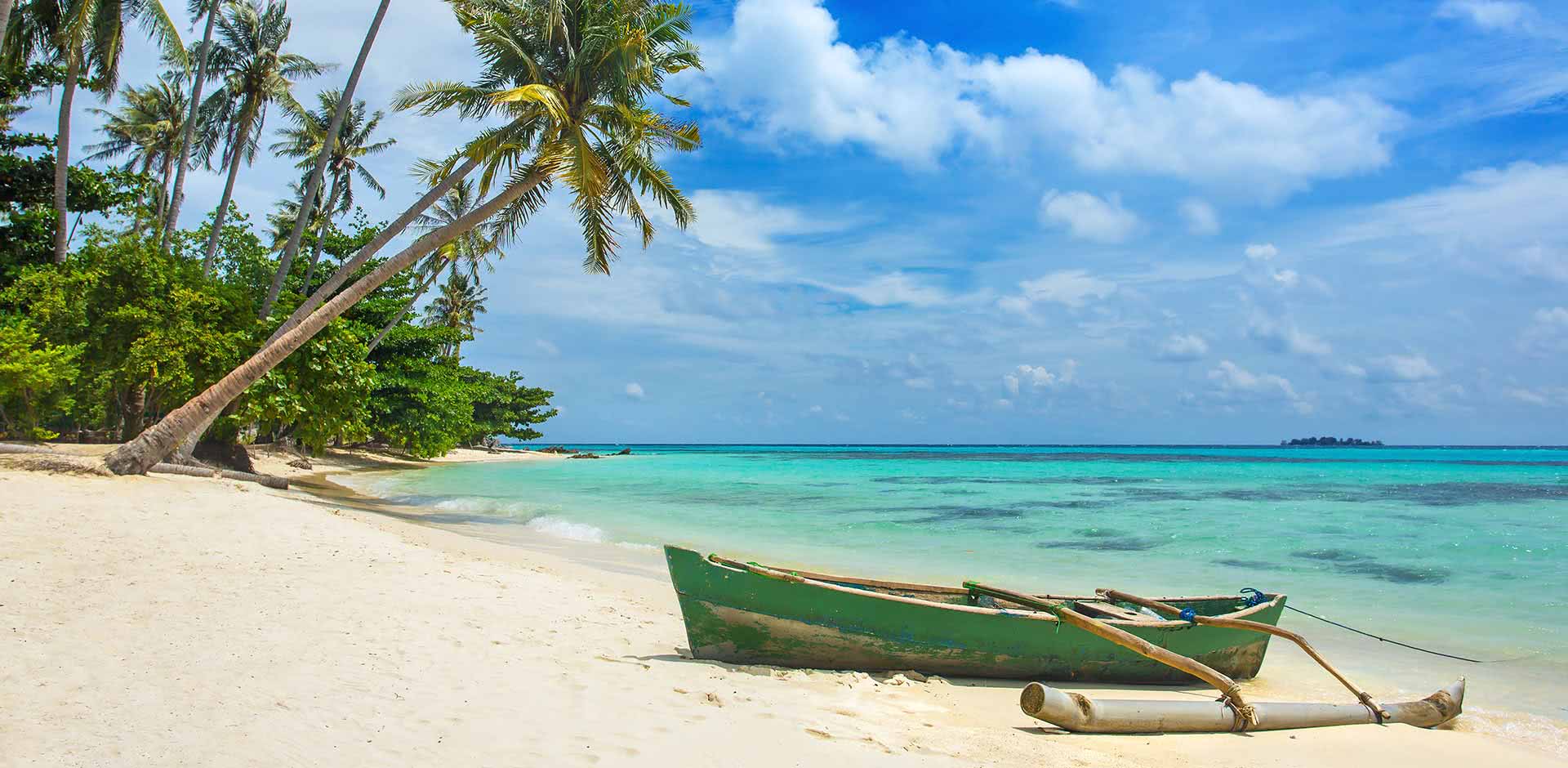 Day 5
Karimunjawa Islands
Enjoy two days at your leisure at Kuru Kuru Resort, swimming in the beachfront pool, lazing on white sands, diving nearby reefs, and kayaking around the calm waters of the lagoon. The Karimunjawa Archipelago offers a wide selection of world-class diving sites, with wrecks, fringing reefs and barrier reefs within close range of Menjawakan Island.
Day 6
Karimunjawa Islands
Enjoy more beach time today, or some beach lounging under the tropical sun. Alternatively, you may choose to spend your time enjoying cocktails on your patio. Accommodation at Kuru Kuru Resort is stylish and luxurious, offering rooms equipped with all modern conveniences – many with their own private pool.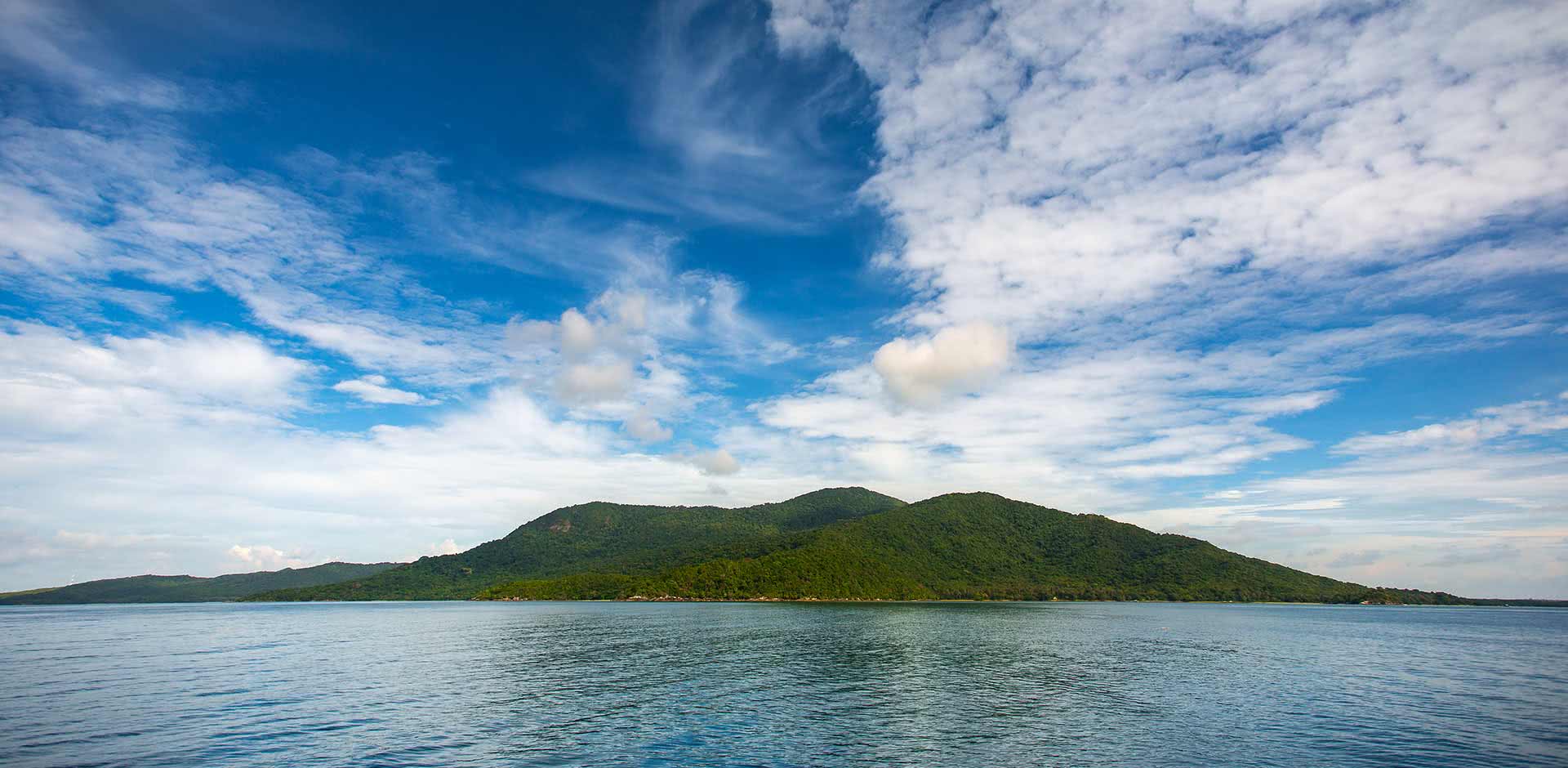 Day 7
Yogyakarta
You'll depart Kura Kura Resort after breakfast today, taking the speedboat back to Karimun Jawa. From there, you'll fly to Semarang – a flight of just 40 minutes – where you'll be greeted by your guide and escorted to your beautiful accomodation at the Hotel Tentrem in Yogyakarta. The three-hour drive across Central Java provides beautiful scenery as you wind between the lush green hillsides of active volcanoes. Once at the Hotel Tentrem, rest and reshen up before going to see the Prambanan Hindu shrine. This intricately carved 9th-century structure bears stone reliefs that tell the story of Ramayana, an epic poem that acts as an allegory for ancient Hindu teachings. After seeing the Ramayana carvings in person, you'll be treated to a dance performance interpreting their meaning. Enjoy dinner as you watch the show in the garden restaurant of Purawisata. In the evening, head back to the Hotel Tentrem and enjoy some of their amenities, which include an art gallery, tennis courts, a swimming pool, and their Gahara Spa and Fitness Center.
Day 8
Yogyakarta
Today you'll enjoy some sightseeing throughout Yogyakarta, starting with the Kraton Ngayogyakarta Hadiningrat – the Sultan's palace, a living museum showcasing Javanese culture. Built between 1756 and 1790, the kraton's design replicates the Javanese-Hindu Kingdom, with each architectural feature representing a different mythical location. Next, you'll go to Taman Sari Complex – also known as the Water Castle – an 18th-century royal garden retreat with an artificial lake. Remarkable architectural features here include an underwater tunnel, sunken bathing pools and meditation chambers.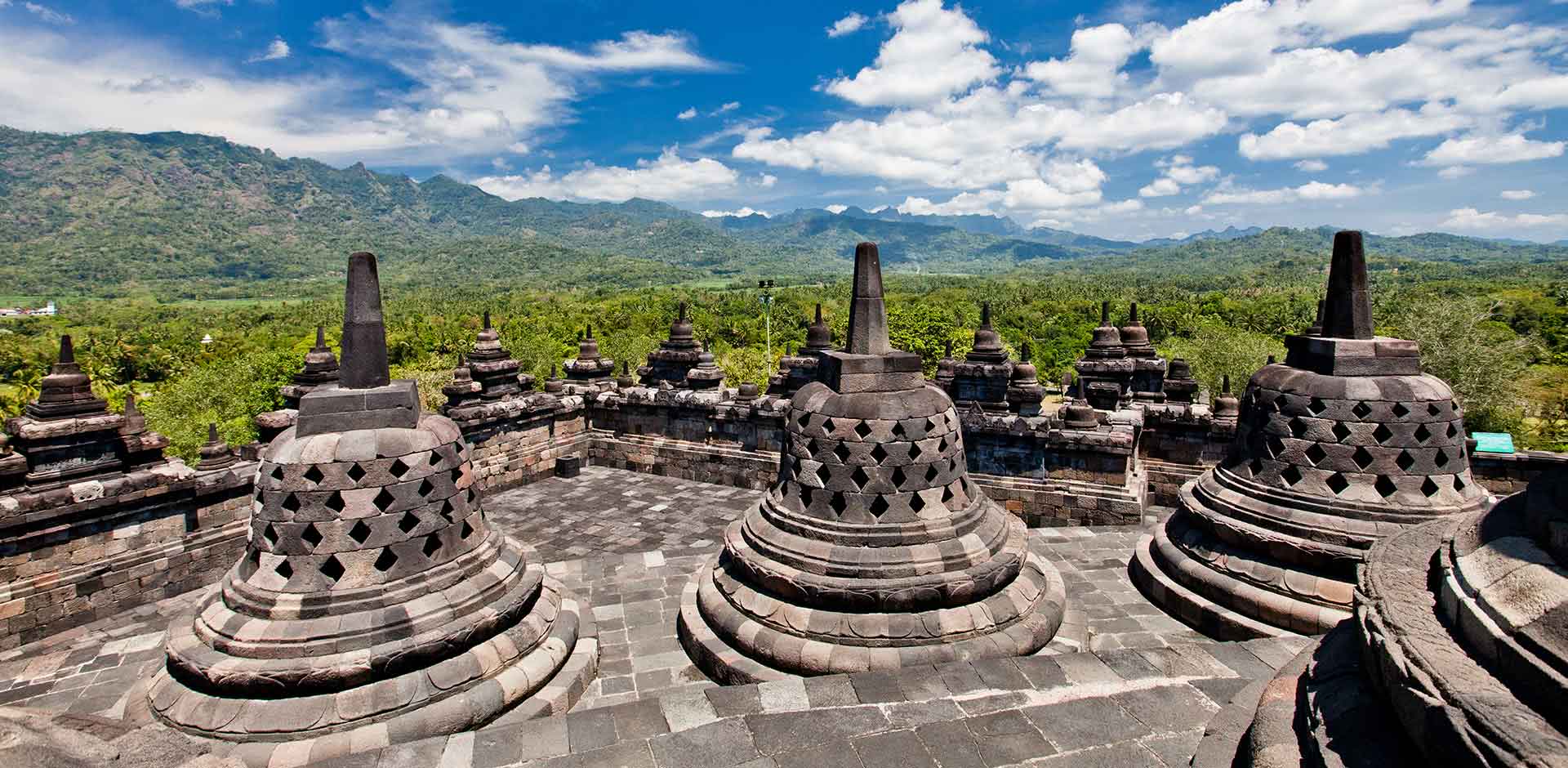 Day 9
Borobudur
This morning, you will leave Yogyakarta for Borobudur, an approximate 75-minute drive. Today, you'll visit Borobudur's most famous landmark – the Borobudur Mahayana Buddhist Temple. This beautiful UNESCO World Heritage Site was constructed in the 9th-century, and seeing the sunrise here is a profoundly spiritual experience. A private guide will walk you through the temple grounds, explaining the myths carved into its stone reliefs. Today, you'll also visit Mendut Temple in Candirejo Village, home to a large Buddha Sakyamuni statue. This evening, we recommend that you stay at either the stunning Amanjiwo or the eco-friendly Plataran Borobudur.
Day 10
Enjoy a hearty breakfast at your hotel this morning before being transferred by private vehicle to the airport for your departing flight.
TERMS AND CONDITIONS
Price is based on double or twin hotel room occupancy and includes accommodation, transfers, car/driver, English-speaking guide, activities and entrance fees, breakfasts and some casual lunches while touring. Flights and optional special activities will be quoted separately. Most personal expenses, including dinners, alcoholic beverages, spa treatments and gratuities can be paid on the spot while traveling. Prices may vary depending on season, choice of accommodation and other factors.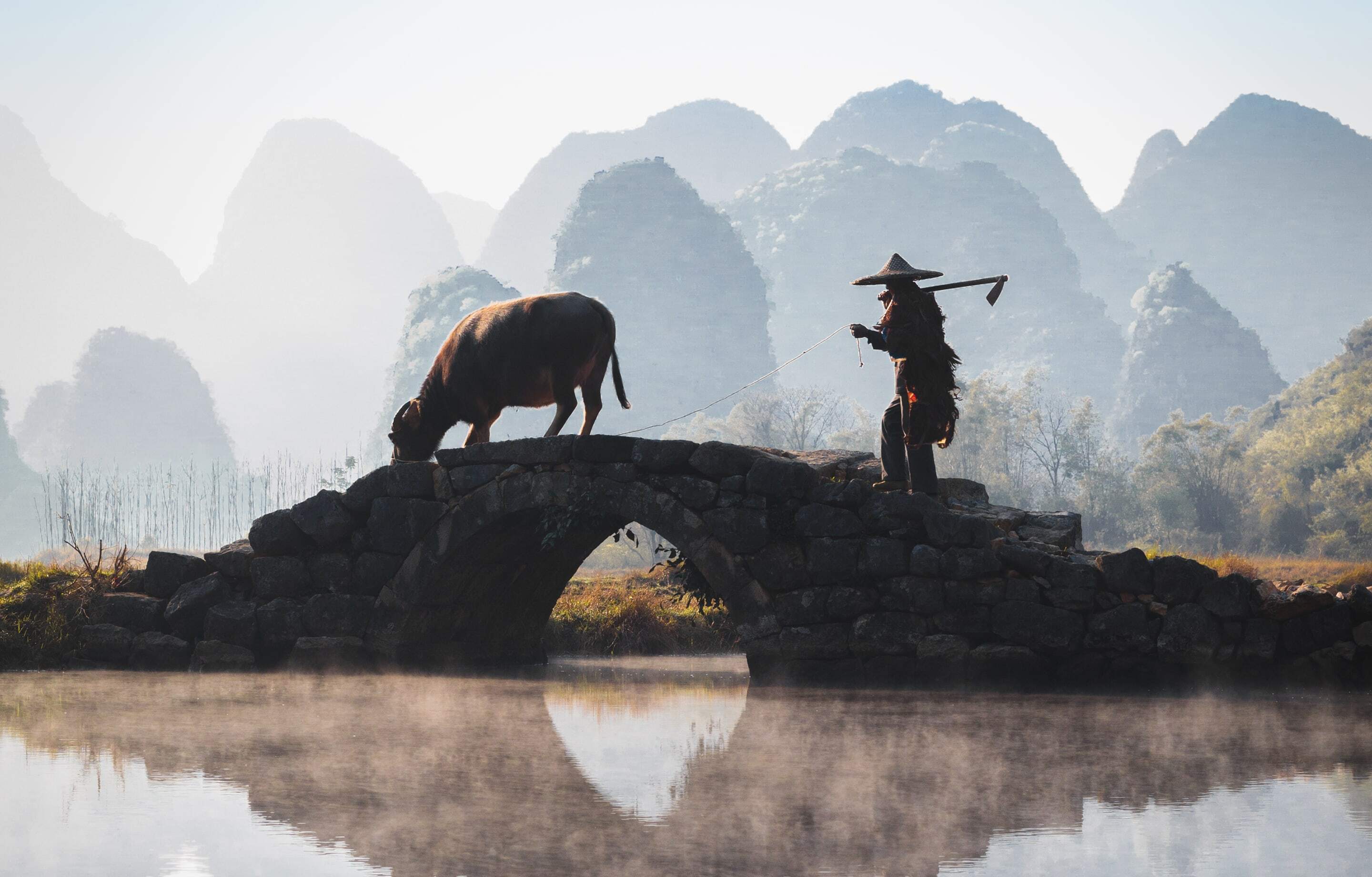 Why Remote Lands?
Exclusively Asia
With Remote Lands you'll travel with people who have made Asia the solitary focus of their own lifelong adventure. As our guest, you'll discover Asia on a journey that is completely, authentically your own, adapted from our own remarkable experiences and adventures over the years.
With Remote Lands you'll travel with people who have made Asia the solitary focus of their own lifelong adventure. As our guest, in the continent that our north American founders Catherine and Jay have adored and explored for decades, you'll discover Asia on a journey that is completely, authentically your own, adapted from our own remarkable experiences and adventures over the years.
Travelogues
An Asia-focused magazine brought to you by Remote Lands – a platform for adventure, luxury, and authenticity from experts and explorers around the continent.
What Others Say
Here is a small selection of the kind words our guests have said about us, as well as features by journalists and travel writers.
From the moment I happened upon the REMOTE LANDS website over a year ago, browsed the options, I knew that this would be well worth it. The entire staff is nothing less than professional with service that made us feel like royals.
This was truly the trip of a lifetime. Magical destinations, the most luxurious hotels in the world, and the most wonderful travel companions we could've wished for. We were treated like family everywhere we went and we have 14 new best friends.
We have used some of the top rated travel specialists all over the world and, without question, Catherine Heald and Remote Lands are at the very top of the list!